The belt—the little fashion accessory that does so much. Let's state the obvious first—men's belts keep our pants up. No plumber's crack, no constantly having to hitch up our legwear while we're giving a presentation. Who knows how many business deals might have been lost if a spokesman's pleats had decided to head south right when he was wrapping up a killer pitch?
But that's only half the story. When used right, the best belts for men can deliver a whole lot of fashion punch to your wardrobe. You can see for yourself right now. It doesn't matter what pants and top you are wearing, throw on a belt, and then match your belt with shoes of the same color.
Bam! You look sharper, right? Even if you're wearing the most casual gear, the belt-and-shoe combo automatically ups your fashion game and makes you look more put-together.
So imagine how much more effective this little fashion trick is going to be when you get your hands on the right belt suited for a specific wardrobe and occasion. What constitutes the "right belt?" Read on and find out!
The 21 best belts for men
Luca Faloni: Best men's belt overall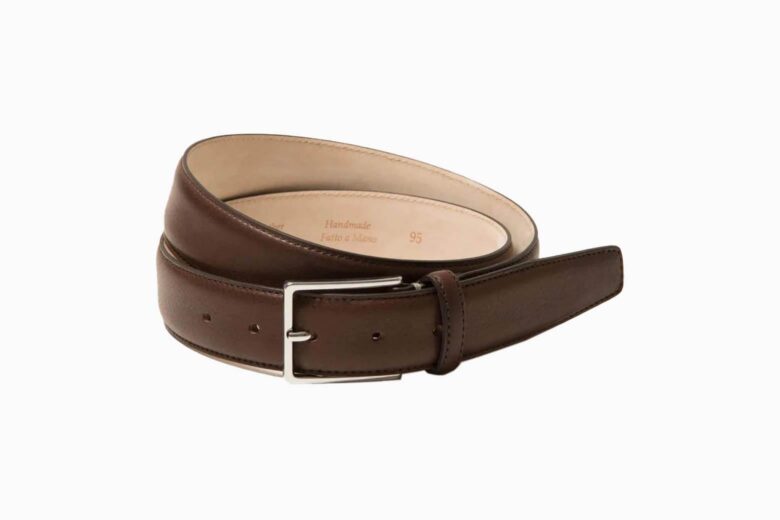 The Luca Faloni brand is based on bringing artisanal artistry and quality to the world. Luca Faloni's calf leather belts are no exception. Hand-stitched to ensure strength and quality, this leather belt will work with almost any wardrobe and will last for years. That makes it a great investment for both your wardrobe and the world.
| | |
| --- | --- |
| Best for: | Transcending fashion trends forever. |
| Colors: | Dark Brown, Black |
Gucci: Best luxury belt for men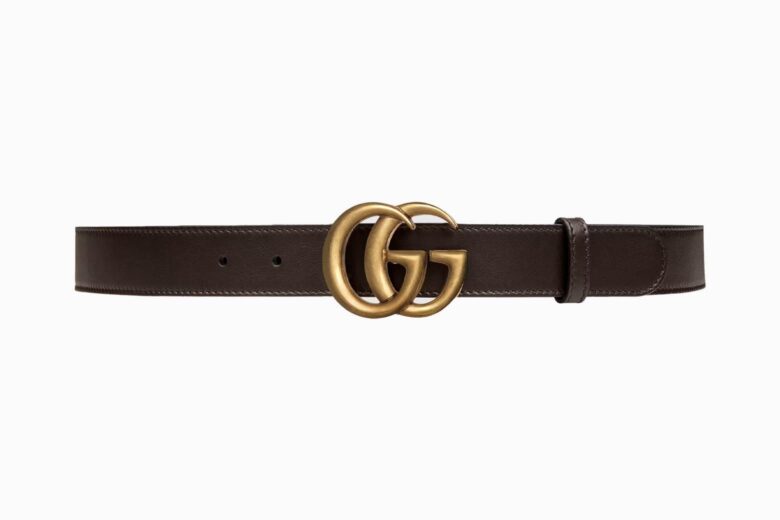 Looking to show off a little? Gucci's Double G Buckle belt is anything but subtle. The great big double Gs grab the eye and let admirers know that you enjoy wearing the best of the best. Looking for some wardrobe inspiration to go along with the big double Gs? Look to Chance The Rapper, a known Gucci fan who knows how to build a good-looking casual outfit.
| | |
| --- | --- |
| Best for: | Boldly GGoing where few have gone before. |
| Colors: | Boldly going where few have gone before. |
Alpha Industries: Best value men's belt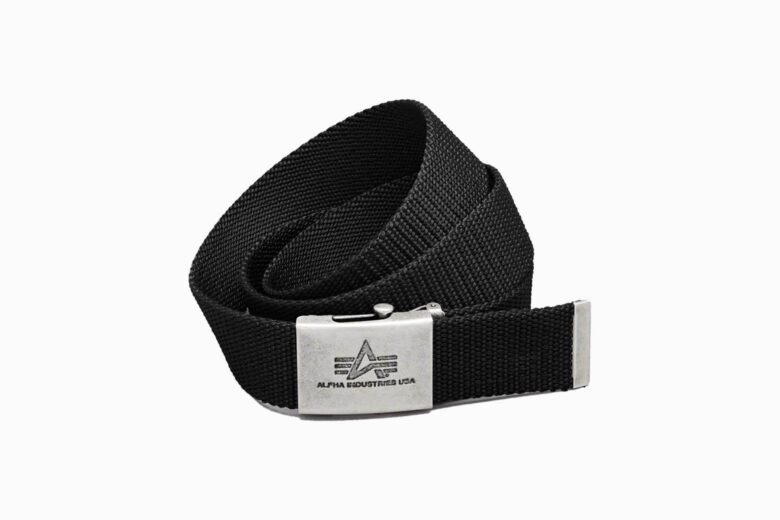 Now that's a bold buckle. Alpha Industries puts its pride in its products up front and center with its Alpha Industries All Black Belt. The logo-embossed buckle, with its strong geometric presence, will act as an exclamation point to a colorful outfit. Use it to stabilize a smart casual blazer and pants combo with bright colors, bringing what might otherwise be a gaudy display back down to Earth.
| | |
| --- | --- |
| Best for: | Making your brightest ensembles behave. |
| Colors: | Black |
Mulberry: Best men's braided leather belt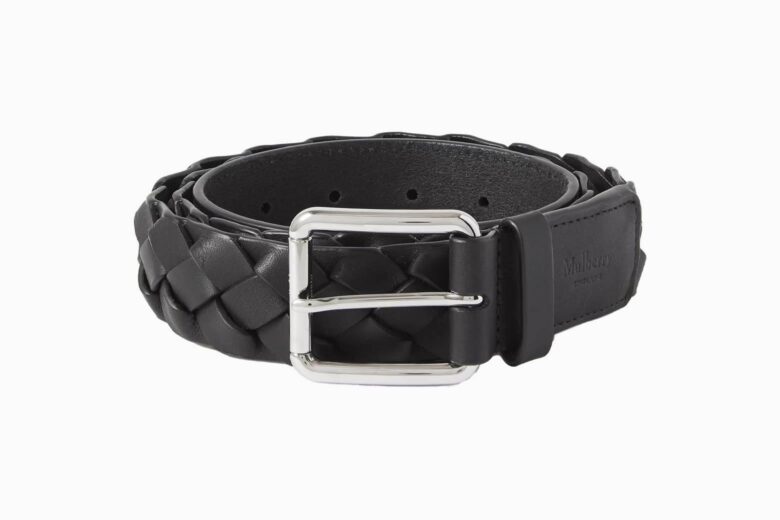 Men's dress belts can sometimes be uncomfortable affairs. The Mulberry Braided Leather Belt to the rescue! This black leather belt has a sneaky (and very welcome) little secret—the buckle portion presents a traditional belt face to the world, but the rest is constructed with a braid. That means it's a professional dress code in the front, with a relaxed and forgiving braid in the back hidden by your blazer. Don't worry, we won't tell.
| | |
| --- | --- |
| Best for: | Sneaking comfort into your most serious professional situations. |
| Colors: | Black |
M.Gemi Grado: Best reversible belt for men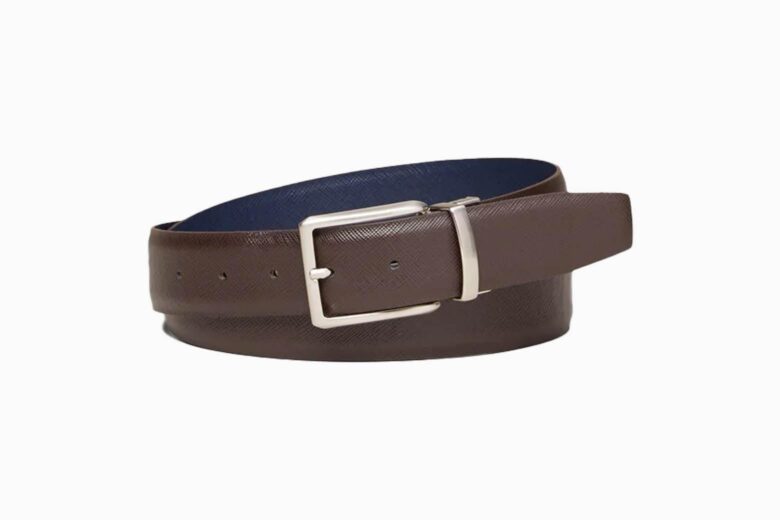 You're perusing luxury belts for men. If you're looking to score some quality Italian-made leather belts on the (relative) cheap, you'd be hard-pressed to do better than M.Gemi's Grado Reversible Belt. The color combos are the most prevalent for men's belts, giving you plenty to work with belt-wise. Your reversible belt will be able to match up with just about any business casual outfit you can whip up.
Learn more about the story behind M.GEMI.
| | |
| --- | --- |
| Best for: | Being ready for any costume combination you can think up. |
| Colors: | Walnut and Navy, Black and Walnut, Navy and Arancia |
Western Rise Webbed Belt: Best budget belt for men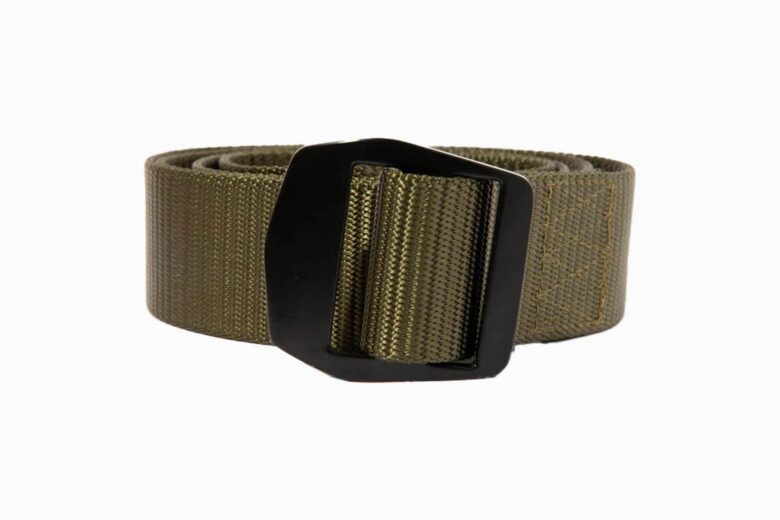 Webbed belts step up when you need something that's going to stand up to both the elements and some rough handling. Good for both the golf course and the worksite, webbed belts can handle far more wear and tear than the more stylish belts on our list.
However, that doesn't mean you have to forgo any sense of fashion if you want work belts for men. Western Rise's Webbed Belt has all the toughness of a traditional webbed belt, but its simple black design also makes it a stylish choice.
| | |
| --- | --- |
| Best for: | Enduring while being endearing. |
| Colors: | Black, Olive, Navy |
Shinola: Best rambler belt for men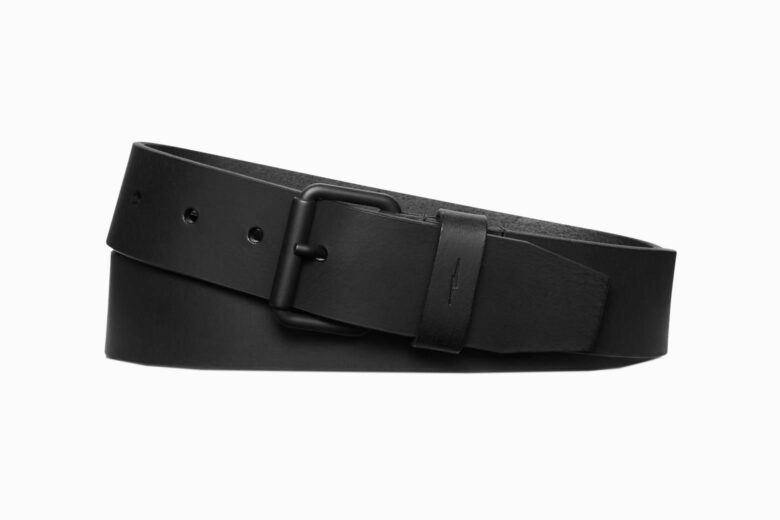 Rambler belts are for men on the move. Going hiking? Mountain climbing? On a safari? Need something that won't let you (or your pants) down on the worksite? Need a belt that will stay in good shape if you hang tools or walkie-talkies off of it? Strap on one of Shinola's Rambler Belts. They retain their shape under tough conditions, and fashion-wise they're just cool belts.
| | |
| --- | --- |
| Best for: | Being a ramblin' man. |
| Colors: | Black, Dark Brown, Tan |
Saint Laurent: Best men's black belts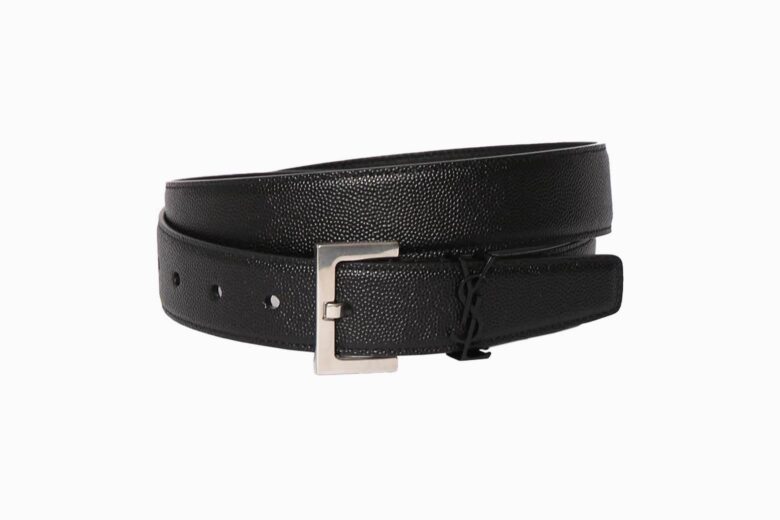 Black belts are one of the most versatile accessories going. You can use them to spruce up your favorite jeans and sneakers. They're understated, but a silver or gold buckle can match up nicely with a similarly-colored luxury watch or cufflinks. And of course, they're an essential part of a serious business wardrobe.
We like the Saint Laurent Pebble-Grained black leather belt. This designer belt for men is going to look equally at home as part of your casual outfits or with your no-nonsense workplace wardrobe.
| | |
| --- | --- |
| Best for: | Bringing it back to basics. |
| Colors: | Black |
Bottega Veneta: Best brown belts for men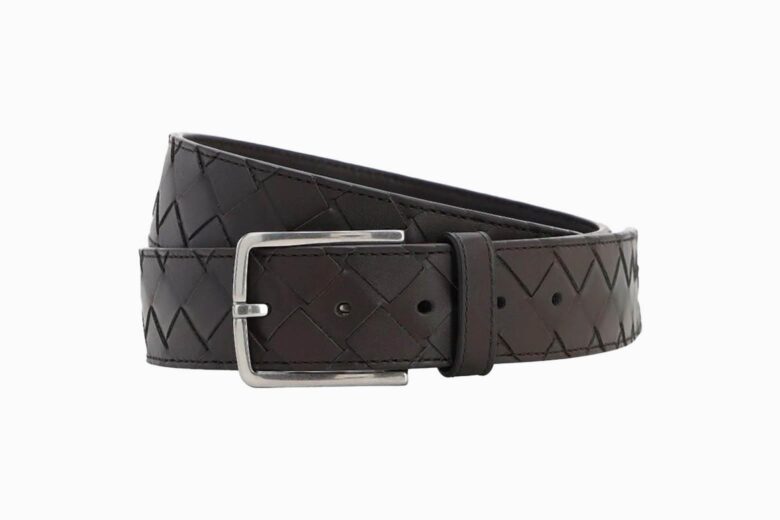 Brown belts make for a nice break from the traditional black, and can make for a nice color border between the top and bottom of your wardrobe. Bottega Veneta's Intrecciato leather belts are perfect for both your casual wear and more formal attire. The patterned surface adds some sophistication to the belt's look, while the simple buckle makes it friendly for both casual and spruced-up wear.
| | |
| --- | --- |
| Best for: | Boosting your accessory brawn. |
| Colors: | Brown, Bright Green, True Black |
Versace: Best men's white belt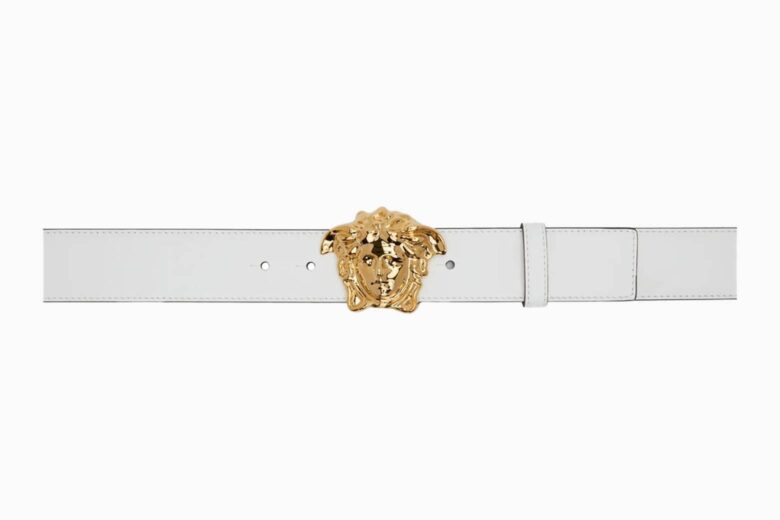 When in white-belt doubt, think buckles. Specifically, showing it off. White belts work best when they're all about a snazzy and eye-catching buckle, like a colorful painting set off by a white wall. Versace's White Medusa is a champ amongst designer belts for men, featuring an attention-magnet golden Medusa head as the buckle.
| | |
| --- | --- |
| Best for: | Turning your belt into a shining beacon of fashion boldness. |
| Colors: | White |
Alpha Industries Alpha: Best web belt for men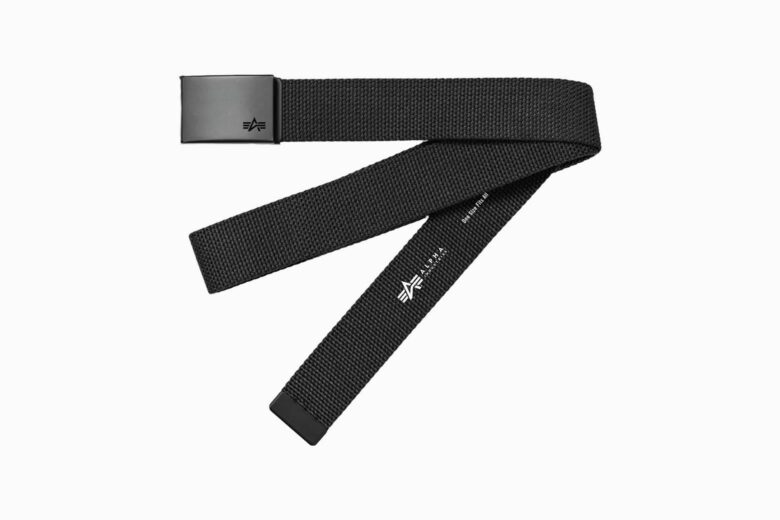 There's a reason military organizations use web belts—they're built to last. Take them to your worksite, on a canoe trip, or maybe on a long-distance trek; any way you use them you won't wear them out.
Just because web belts are utilitarian doesn't mean they can't look good too. That's why we're giving Alpha Industries' Alpha Webbing Belt the nod. This webbing belt looks good and can take just about anything you can throw at it.
| | |
| --- | --- |
| Best for: | Outlasting the elements. |
| Colors: | Black, Dark Green |
Polo Ralph Lauren: Best summer belt for men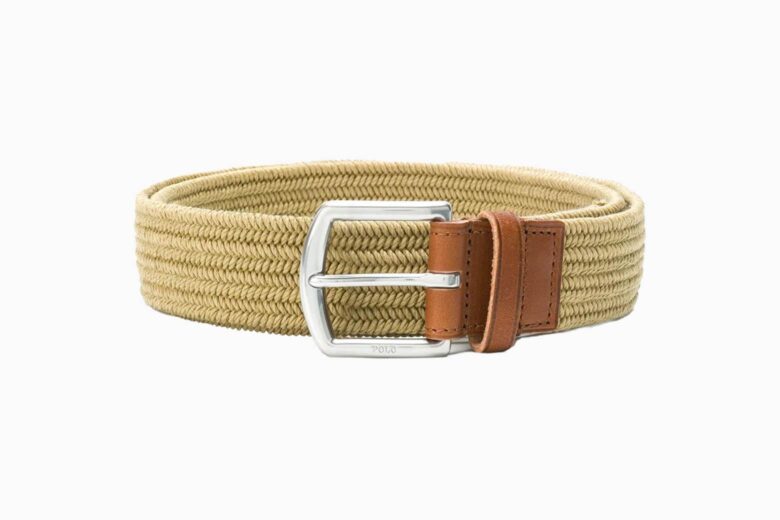 Amongst the coolest summertime kick-back accessories we could find is Polo Ralph Lauren's Woven Belt. Match it up with your blue jeans or cargo shorts, a white or light blue top, and white sneakers. Cloth belts are relaxed in fit, stretching nicely to accommodate your range of motion, making them a perfect component of your summertime ensemble.
| | |
| --- | --- |
| Best for: | Weaving together an easy-breezy outfit. |
| Colors: | Beige |
Hugo Boss: Best men's designer belt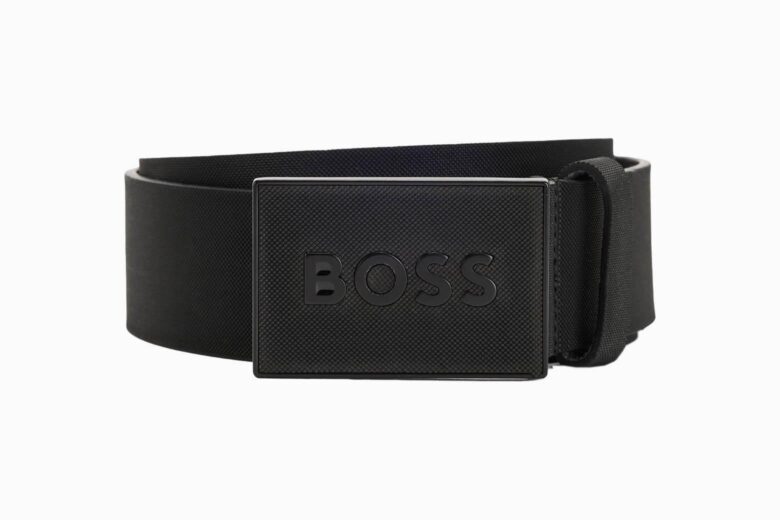 Hugo Boss' Plaque-buckle Belt has a very solid and sleek look, with the appearance of being stamped in metal. Giving out the feeling of strength, this designer belt for men would look right at home in a nightclub's VIP section. This is the belt for those that want to set trends, instead of following them.
| | |
| --- | --- |
| Best for: | Wearing the future around your waist. |
| Colors: | Black |
Tom Ford: Best dress belt for men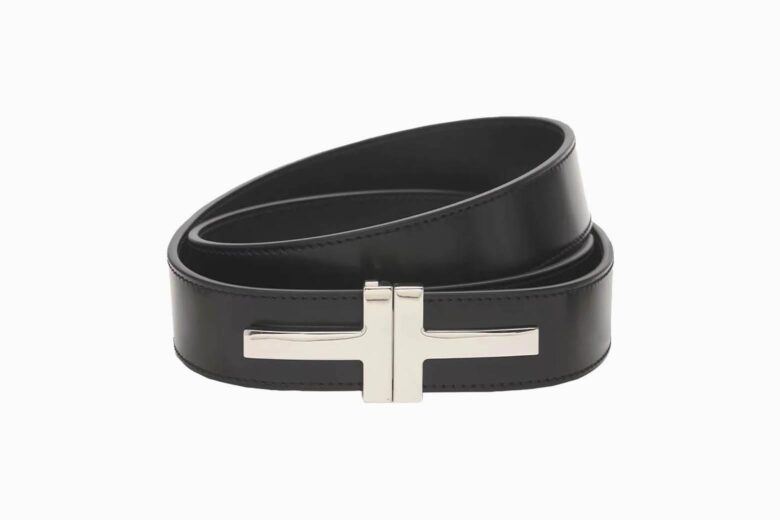 Going formal? Tom Ford's Double T Belt does two things very well. Its classic black streamlined look keeps you well in the classic arena. However the double-T buckle breaks away from traditional buckles, making it an attention-grabber. Maximize the impact by matching this buckle with a silver watch, cufflinks, or tie clip, and you'll stand out from the usual business crowd.
| | |
| --- | --- |
| Best for: | Sharing some flash with the class. |
| Colors: | Black |
Robert Graham Ohana: Best men's casual belt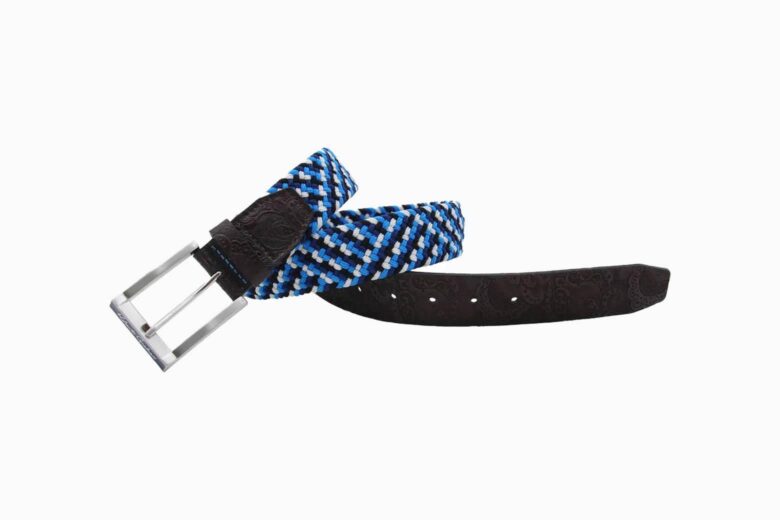 Ready for some all-out summer fun? Robert Graham's Ohana Belt is a whimsically bright cotton blend front that can add a lot of color and pattern to your sunshine outfits. Use it as a focus piece by matching it with cargo shorts or cuffed jeans and a pale mono-colored top. Or you can blend it in with a colorful patterned untucked beach shirt.
| | |
| --- | --- |
| Best for: | Having fun with your summer fashion. |
| Colors: | Brown, Cognac |
Timberland: Best men's belt for jeans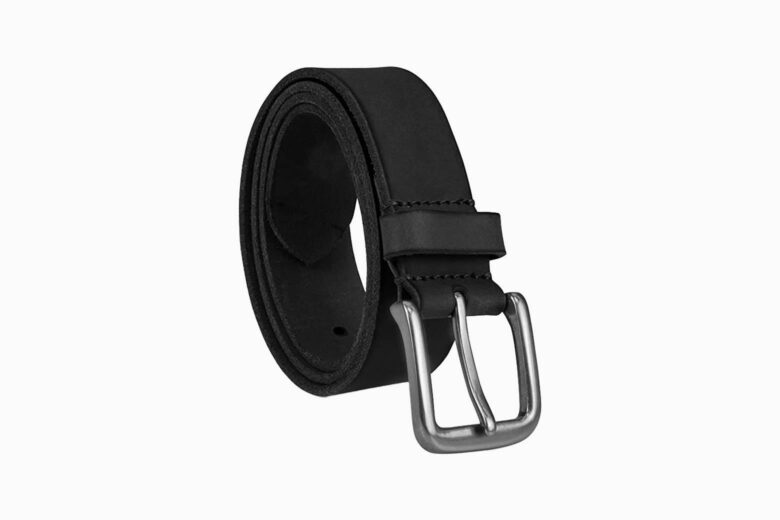 Men's casual wear really just doesn't get any more classic than jeans with a good-looking belt. There's lots of room to play with fun and playful belts. But if you're looking for a solid starting point, we'd definitely recommend Timberland's Classic Jean Belt. Featuring an antique-style belt buckle, the belt's leather length has a strong solid feel to it, nicely matching the vibe put out by a solid set of jeans.
Check our round-up of the best jeans' brands for men if you want the perfect pants to match that belt.
| | |
| --- | --- |
| Best for: | Bold basics making the man. |
| Colors: | Black, Brown, Wheat + More |
Anderson's: Best woven elastic belt for men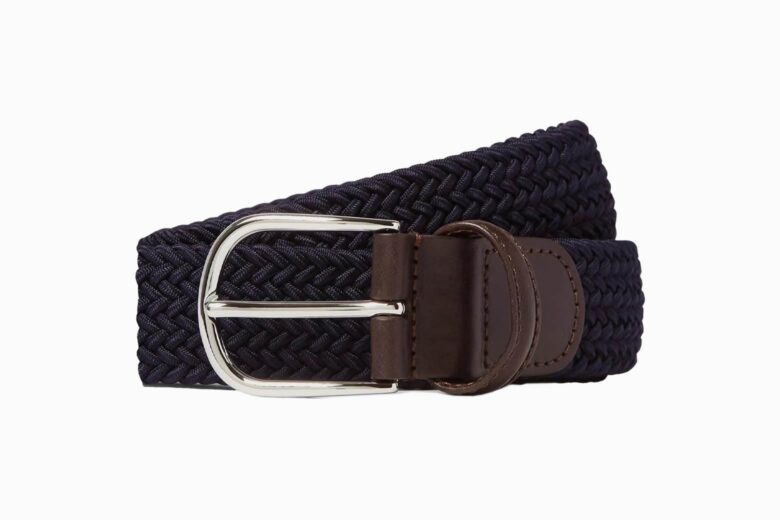 Flexibility is the name of the game with Anderson's Woven Belt. The belt is made from woven elastic, giving it a nice amount of stretchiness that delivers a premium amount of comfort.
The belt is also flexible in its uses. While we wouldn't recommend it for full-on formal wear, it will work very well for outfits that are semi-formal right on through to completely casual. Match it with pleats and a button-down, and you're good for dinner on a restaurant's patio, or pair it with cargo shorts and a beach shirt and go catch some rays.
| | |
| --- | --- |
| Best for: | Stretching out your fun factor. |
| Colors: | Blue, Black, Green |
Lemaire: Best cowboy belt for men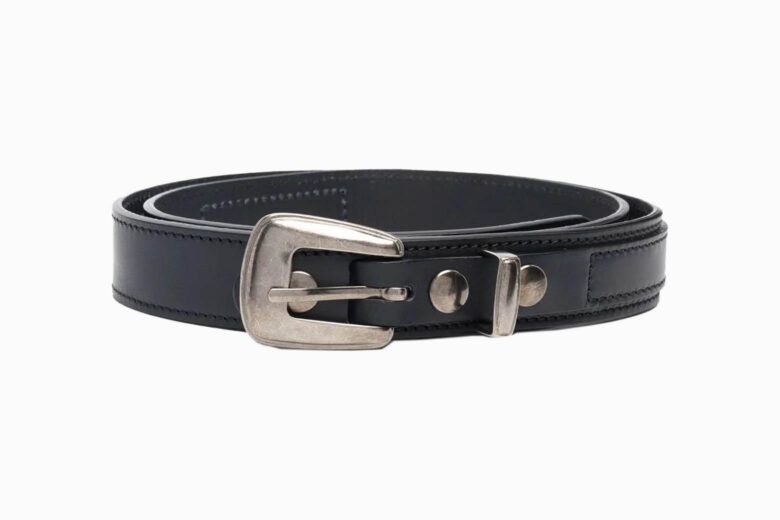 Don't let rodeo pictures of dudes with giant belt buckles scare you off the rugged good looks of a traditional cowboy belt. You don't need to wear a belt buckle the size of a license plate to enjoy the cowboy belt aesthetic. This minimalist belt from Lemaire features the thin silver-on-black look of classic cowboy wear without the overpowering buckle.
| | |
| --- | --- |
| Best for: | Giddy-upping your wardrobe's variety. |
| Colors: | Black |
Luca Faloni: Best men's woven suede belt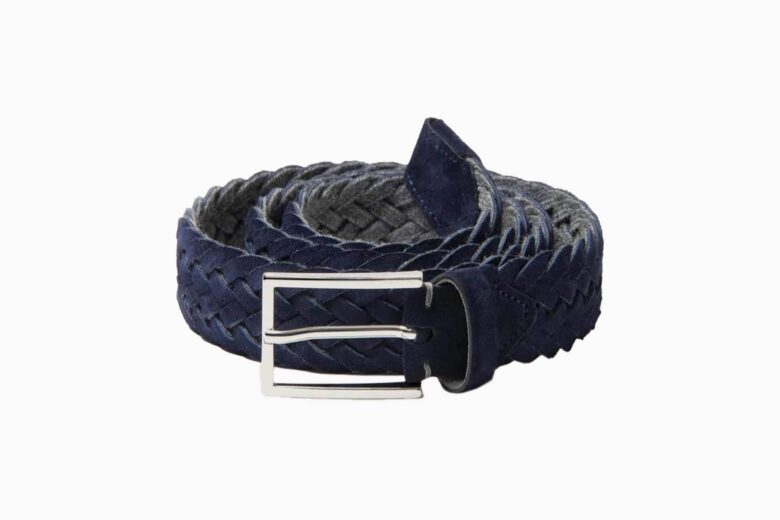 A good woven belt not only offers a more relaxed look to your outfit but it also gives a relaxed feel. A suede woven belt goes beyond that to add a surprisingly appealing amount of softness to the accessory, which is a pleasure that not enough men know about.
Luca Faloni's Woven Suede Belt is a nice match for dressy casual wear, and the suppleness of this belt can't be overstated.
| | |
| --- | --- |
| Best for: | Giving yourself the gift of supple softness. |
| Colors: | Navy Blue, Grey, Dark Brown + More |
Loro Piana: Best men's suede belt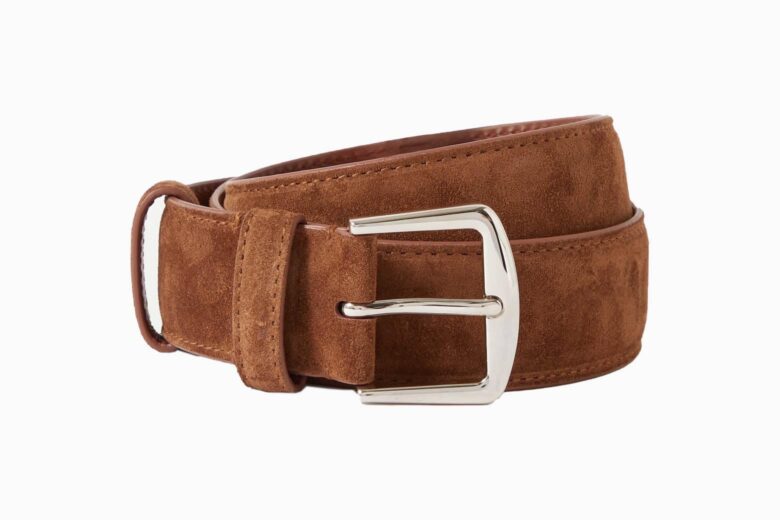 Suede belts are a bit of a sneak—they have the appearance of durable tough-guy belts, but that suede construction makes for a soft tactile treat. This aesthetic combination of class and toughness makes them versatile enough to work with everything from your favorite blazer to your best bomber jacket.
Loro Piana Suede Belt epitomizes exactly what we're talking about—a robust-looking exterior that delivers a pleasant velvety touch.
| | |
| --- | --- |
| Best for: | Per-suede-ing your admirers that you're a man that works on many different levels. |
| Colors: | Tan, Midnight Blue, Gray + More |
Brunello Cucinelli: Most expensive men's belt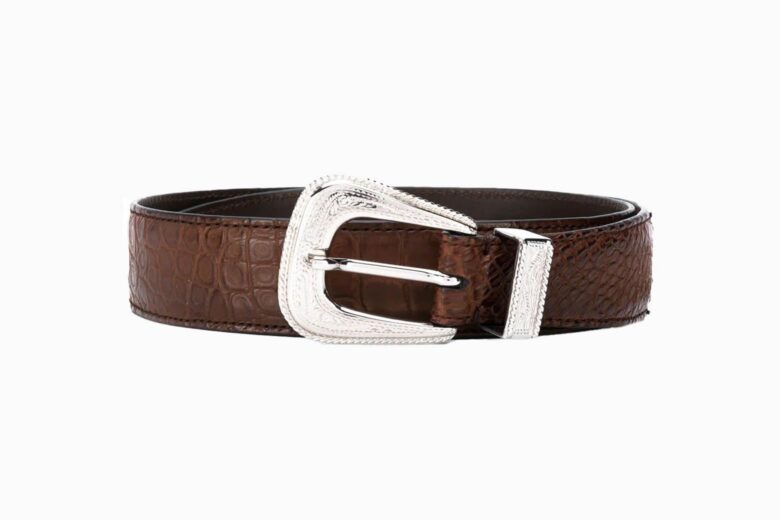 Brunello Cucinell's Crocodile Effect Belt's slim design, brown crocodile-effect texture, and silver buckle plus belt-tip point make for an eye-catching combination. Use it as a starting point for your more rugged casual wear: think jeans, denim jackets, bombers, work boots.
Then zag while you have people thinking you're going to zig and match the belt with a silver watch, and you have yourself an outfit that is going to grab people's interest.
| | |
| --- | --- |
| Best for: | Redefining yourself with every step you take. |
| Colors: | Dark Brown |
Buyers' guide to high-quality belts for men
For such a simple accessory, belts sure do come with a lot of terms.
This quick buyer's guide will give you a better idea of what to look for in a quality belt.
Belt materials
If you're going to be working under rugged conditions or will be exposed to the elements, nylon belts are the way to go. Nylon is a synthetic fiber specifically designed for toughness, which means a nylon belt will be able to take quite a lot of rough handling.
If you want a belt that has a classic look and feel, then you're going to want to look into leather. Not all leather is created equally. Old and poor-quality leather is prone to cracking and warping, which means the section of your belt that folds into the buckle is going to permanently crumple. You can tell you have a higher grade of leather by trying to score it with a fingernail—good leather will "recover" quickly or won't be scratched at all. "Full-grain" leather is the top tier of leather found in belts.
Cattle leather is the standard for leather belts. However, if you're looking for something extra-soft, look for calf or lamb leather.
If you'd prefer not to have animal products in your belt but you still want a classic look, there are alternatives made with "faux leather".
Belt buckle types
Not all buckles work the same way. The buckle on a webbing belt (like the Alpha Industries Alpha Webbing Belt) has little teeth that catch in the material in order to hold it in place.
The more common belt buckle is made up of a bar (the part that is permanently sewn into the belt's strap), prongs (the part that goes through the punched holes), and the frame (the moveable square or U-shape piece that the prong rests against). Sometimes these three pieces are hidden behind a buckle's ornamentation, like those seen on flashy cowboy belts.
Speaking of which, just where did those giant cowboy buckles come from?
Suspenders used to be the order of the day for cowboys, back when pants were worn up past the waist. However, as the waistlines dropped on men's pants, suspenders were no longer practical, and cowboy belts for men took over. Somewhere around the 1950s, big showpiece buckles started trending in Wild West movies, and real-life cowboys took to wearing them as "cowboy calling cards".
Buckles are not necessarily permanent. Some belts come with a selection of buckles that can be swapped out.
Belt sizing
The rule of thumb when it comes to sizing belts is that you buy a belt about 1 to 2 inches longer than the size of your pants' waist. So if you're a 32" waist in pants, try out a 33" or 34" belt. It's possible that fittings will differ by the designer, so keep your eyes open for sizing advice when on a designer's website.
Belt width
There are, of course, all sorts of exceptions, but generally when it comes to the width of men's belts, the rule of thumb is that the narrower a belt gets, the dressier it becomes.
Belt colors
So just when do you wear a men's brown belt, instead of the classic black? The easiest point of reference is to match your shoes when wearing formal wear—if you're wearing brown dress shoes then go with a brown men's leather belt. If you're really on the fashion ball, you can match those brown shoes and belts with a brown leather watch strap.
Rules get looser when you're talking about casual wear. A brown belt is fine with blue jeans. If your pants are in the lighter browns, then a brown belt should work here too. If you're still in doubt, ask someone you trust if your belt is working with your outfit.
White belts for men can be tricky. Traditionally, they've been matched up with white pants and tops, while dark clothing and shoes have been avoided. But like all things in the fashion world, the "rules" are fluid, and these days we're seeing white belts being worn with blue jeans and darker shoes.
Frequently asked questions about belts for men
What belt size should I get?
In terms of length, aim for 1 to 2 inches longer than your pants' waist. So if you wear a 36" waist in pants, try out a 37" or 38" belt. In terms of belt width, a very general rule of thumb is that the wider the belt, the more casual it is. However, there are plenty of exceptions to this rule.
What kind of belt lasts the longest?
Belts made from nylon are very durable and we recommend them for situations where they may take some rough handling or will be exposed to the elements. That being said, leather belts can last you for years if you take proper care of them. Look to your belt's designer's website for maintenance suggestions and review our selection of the best belts for men to find the perfect one for you.