Want to know a little swimwear secret?
The best men's swim trunks don't necessarily have to be just about swimming. They can serve as shorts for when you're mowing the lawn, going for a run, or even if you're just lounging around your home during those hot summer days. Men's bathing suits have come a long way in the past few years, and have become a casual-wear go-to when a man has nothing but relaxation on his mind.
Nowadays it's completely acceptable to match your men's swim shorts with one of your beach-ready casual shirts and a slick set of sunglasses and leave it at that. You'll be all set for that restaurant patio or for hanging out with friends for a backyard barbecue.
That being said, there are a lot of styles of men's swimwear out there. Like… a lot a lot. And of course, some are designed for activities, while others are much better suited for lounging around the pool.
Today's list is not short of options. We'll fill you in on which men's swimsuits look good for lounging, and which hold up to a workout. We'll even get this mandatory pun out of the way right off the top… scroll down and dive in.
27 best swim trunks for men
Western Rise Movement Shorts: Best overall swim trunks for men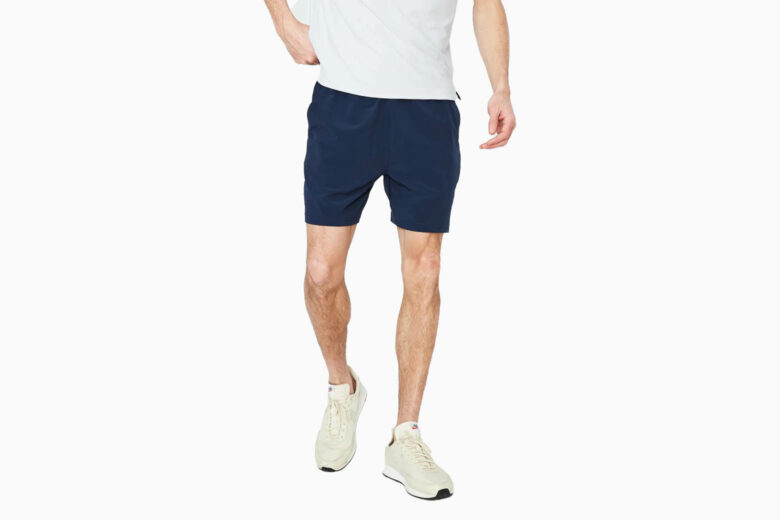 Designed for the man on the move, Western Rise's Movement Shorts are moisture-wicking and breathable. Not only do they make the grade as a spiffy pair of swimming trunks, but they're also athletic shorts at the same time.
Best for: Swimming, winning, sunning and funning.
| | |
| --- | --- |
| Material: | Polyester |
| Lined: | No |
Gucci Swim Short With Bee: Best designer swim trunks for men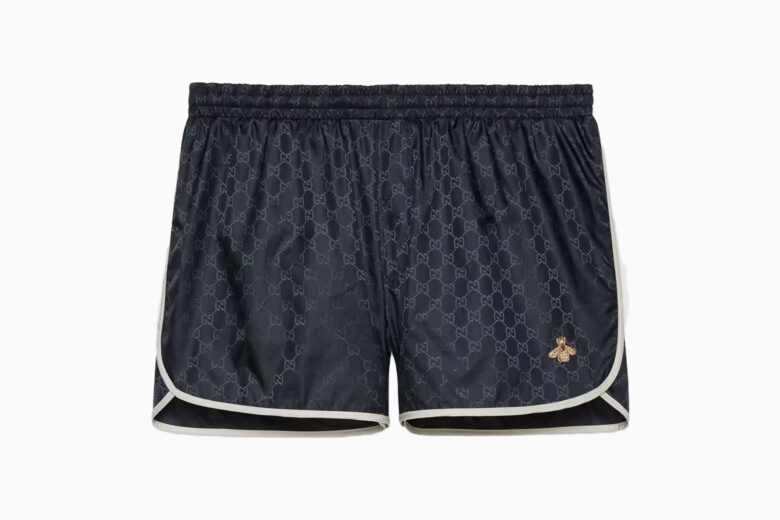 Now here's an eye-catcher. Gucci's swim shorts with their bee appliqué and repeating GG motif pattern are guaranteed to stand out around the poolside. Match these up with a pair of swank slides and people are going to resent it when you go in for a dip because they won't be able to admire your fashion-sense while you're underwater.
Best for: Bringing poolside chatter to a complete halt.
| | |
| --- | --- |
| Material: | Polyamide |
| Lined: | No |
Adidas Classic 3-Stripes: Best value men's swim trunks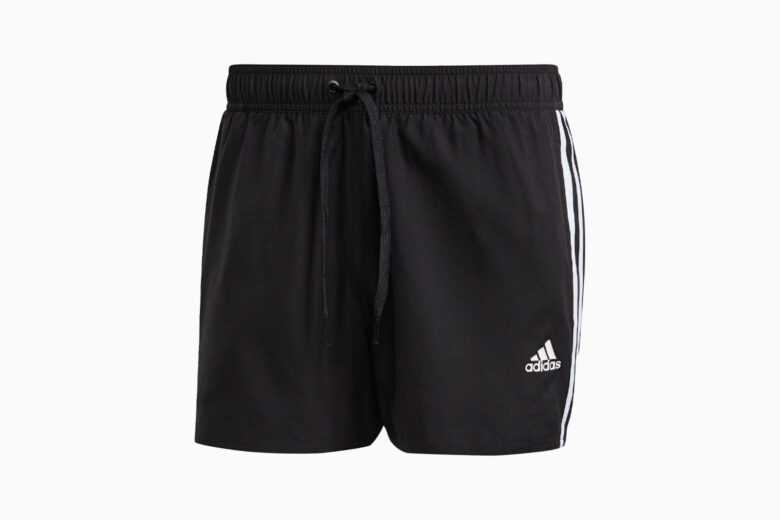 Adidas calls these men's lined swim trunks "classic", and we're forced to agree. Generations of men have enjoyed the quick-drying action of Adidas' Classic 3-stripe swim shorts. They move well, and that solid monotone look (with three white stripes, naturally) makes them easy to mix and match with your favorite beach-friendly t-shirts.
Best for: Get to the beach without breaking your piggy bank.
| | |
| --- | --- |
| Material: | Polyester |
| Lined: | Yes |
Nike 9" Packable Trunks: Best men's swim trunks with pockets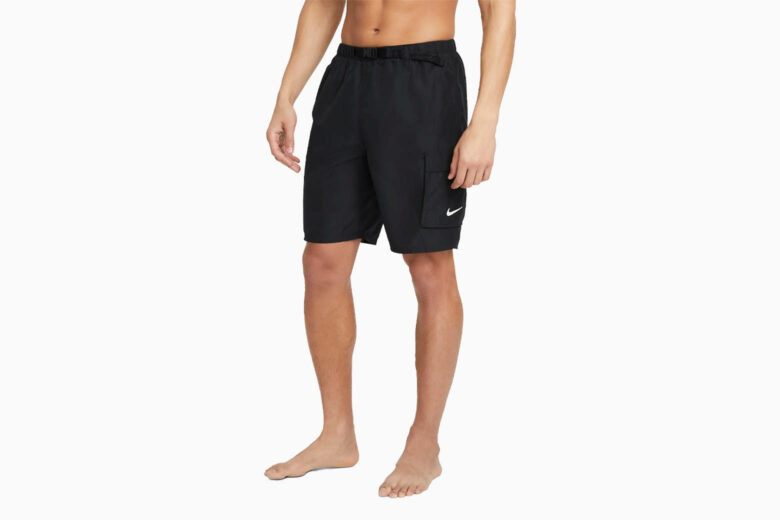 You're at the beach and you're playing volleyball or maybe flinging around a Frisbee with your friends. You don't want your stuff flying off in every direction, but you also don't want to leave it just lying on your towel for some sticky fingers to pick up.
Nike's 9" packable swim trunks are just the ticket. The protected pockets (velcro on the side pockets, a zipper on the back) let you comfortably keep your stuff with you, and they're made from mesh which allows water to drain out if you're going for a swim.
Best for: Keeping your stuff to yourself.
| | |
| --- | --- |
| Material: | Polyester |
| Lined: | Yes |
Hugo Boss: Best quick-drying swim trunks for men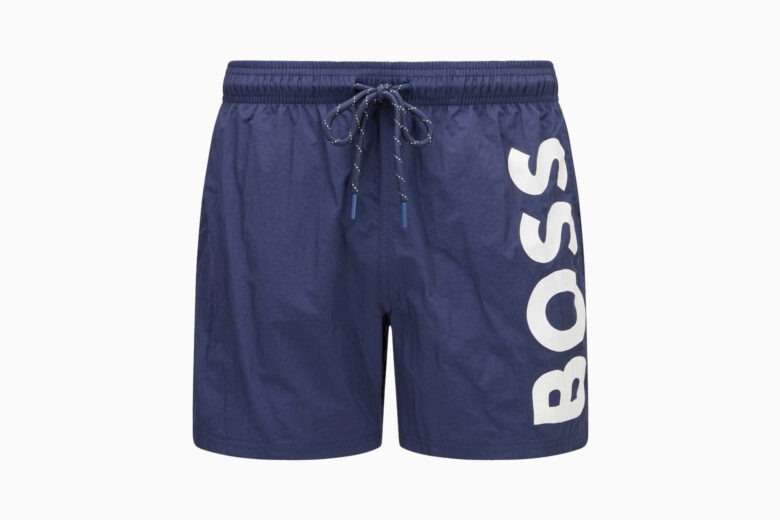 Nobody wants to sit around feeling soggy all day. After your swim, you want to be able to enjoy the next item on the day's itinerary without feeling hampered by water-logged beachwear for men. That's why we like Hugo Boss' quick-drying swim shorts; they're quick to dry and they look spiffy while doing it.
Best for: Easy breezy transitions from water to land and back again.
| | |
| --- | --- |
| Material: | Polyamide |
| Lined: | Yes |
Robert Graham All At Sea: Most colorful swim trunks for men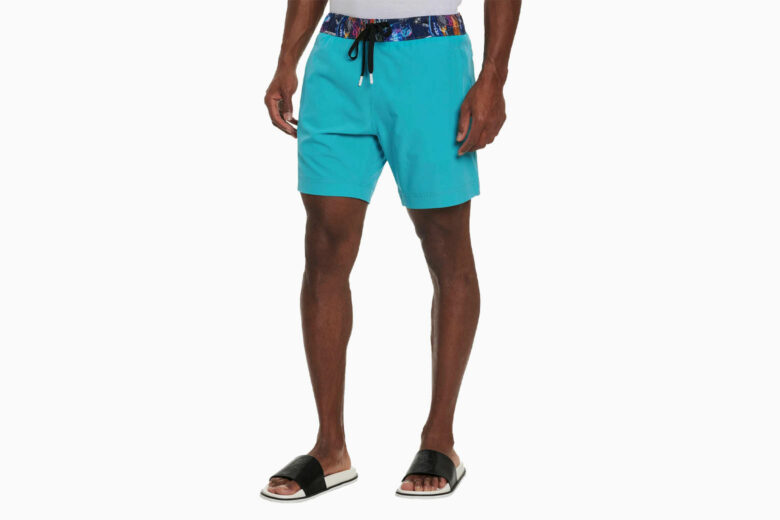 Days at the beach are supposed to be all about fun. A beautiful ocean view, happy people splashing around, children building sandcastles, all that good stuff. Robert Graham's All At Sea swim shorts are men's swim trunks without mesh liner that add to the beach vibe with their fun and colorful look.
Best for: Doing your part to brighten up the beach scene.
| | |
| --- | --- |
| Material: | Polyester, Spandex |
| Lined: | No |
Asos Design Swim Shorts: Most inclusive men's swimming trunks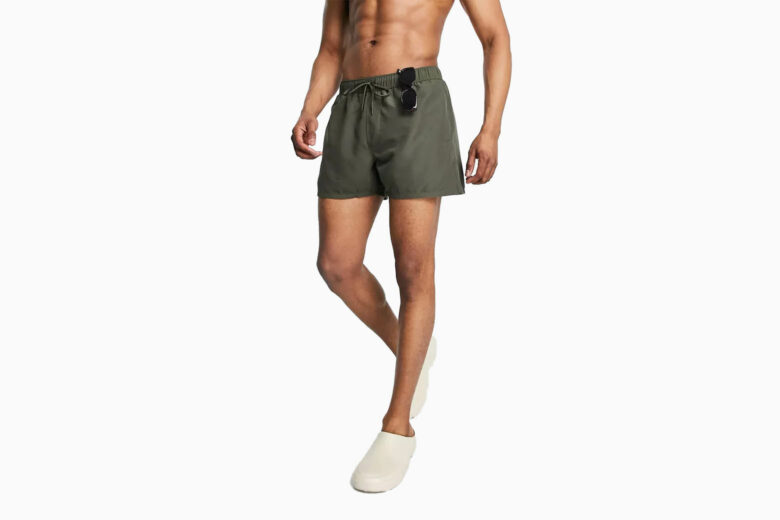 On the go? Don't want to waste time changing back and forth from a swimsuit to shorts? Not a problem. Asos Design's swim shorts are styled like an ultra-comfortable pair of athletic shorts, but are equally at home in the water. These lined swim trunks are what you need if you want to stay on the move.
Best for: When you don't want your swim shorts slowing you down.
| | |
| --- | --- |
| Material: | Polyester |
| Lined: | Yes |
Orlebar Brown Bulldog: Best tailored swim trunks for men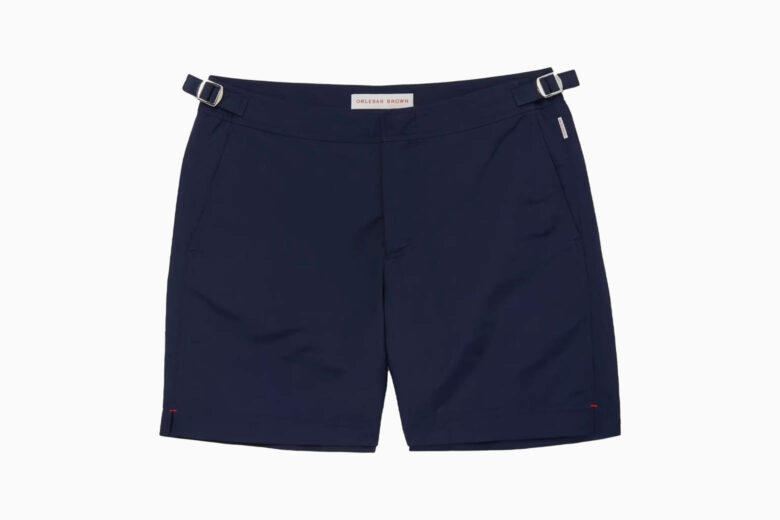 These sneaky little entries by designer Orlebar Brown look like well-tailored shorts, but are in fact also a stylin' pair of swim trunks at the same time. These guys would look just fine on a golf course or doing chores around town. Just make sure you empty your pockets before you dive in.
Best for: Carrying tip-top style with you wherever you go.
| | |
| --- | --- |
| Material: | Polyamide |
| Lined: | Yes |
Sunspel Swim Shorts: Best men's swimsuit with liner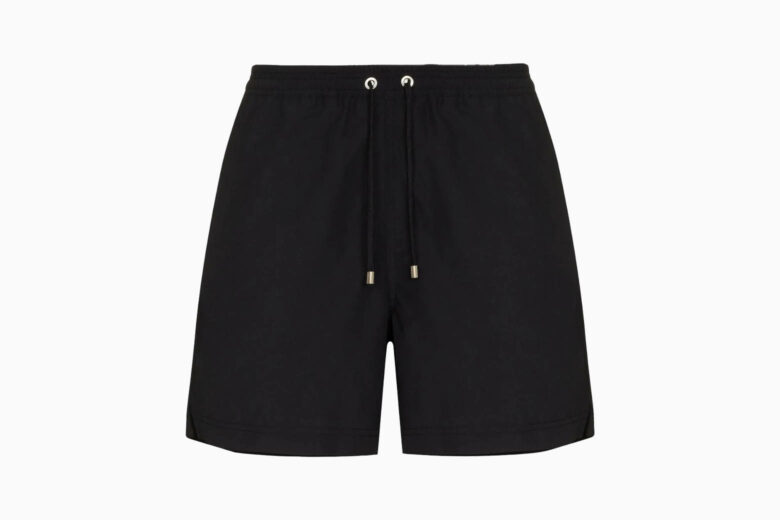 Some men avoid swimsuits with liners because poorly-made liners can result in chafing. If that's you, we'd recommend you try out Sunspel's swim shorts before you give up on liners completely. Sunspel put extra effort into making their liners, and you may be surprised by how comfortable they feel in this swimsuit.
Best for: Underlining the comfort in comfortable swim trunk liners.
| | |
| --- | --- |
| Material: | Polyester |
| Lined: | Yes |
Alo Plow: Best board shorts for men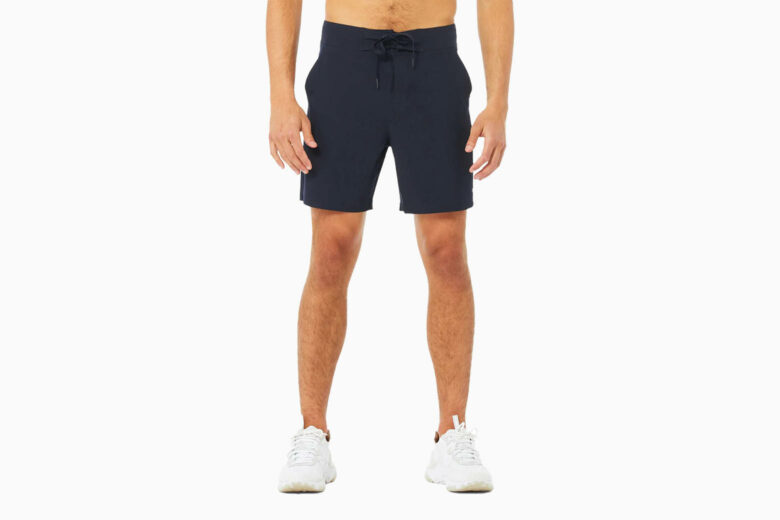 Exercise time! Work out at the beach, at the yoga studio, or anywhere else you please with this extra-comfortable entry, Alo's Plow Board shorts. Woven for a 4-direction stretch, these shorts give you plenty of room to work in, feature a mesh interior to allow for breathability, and look good doing it all.
Best for: Pushing your limits, not your patience.
| | |
| --- | --- |
| Material: | Polyester, Spandex |
| Lined: | No |
Western Rise Boundless Short: Most versatile men's swim trunks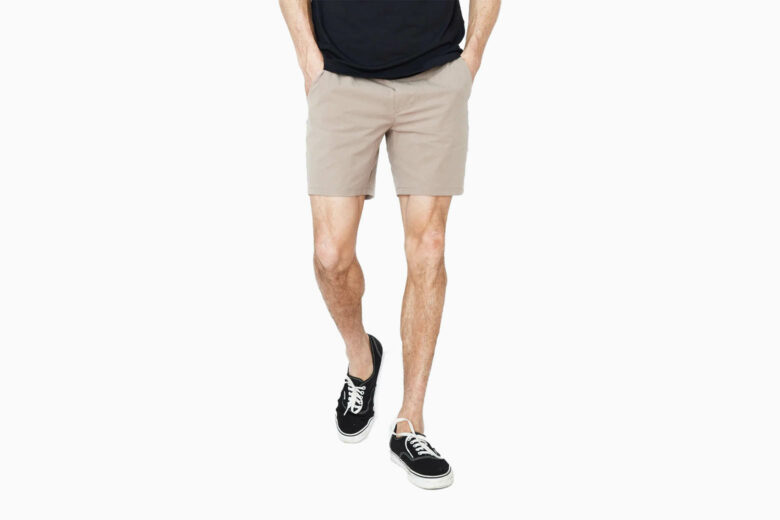 What are you going to wear out today? Khaki shorts or a bathing suit? Or there's option C, which is a pair of Western Rise's Boundless shorts. A perfect melding of the casual khaki shorts style with functional swimwear, these quick-drying trunks will have you ready for the streets minutes after emerging from the waves.
Best for: Making the most of your summer days in every way possible.
| | |
| --- | --- |
| Material: | Polyester |
| Lined: | No |
Columbia Backcast: Best men's swim trunks with built-in UPF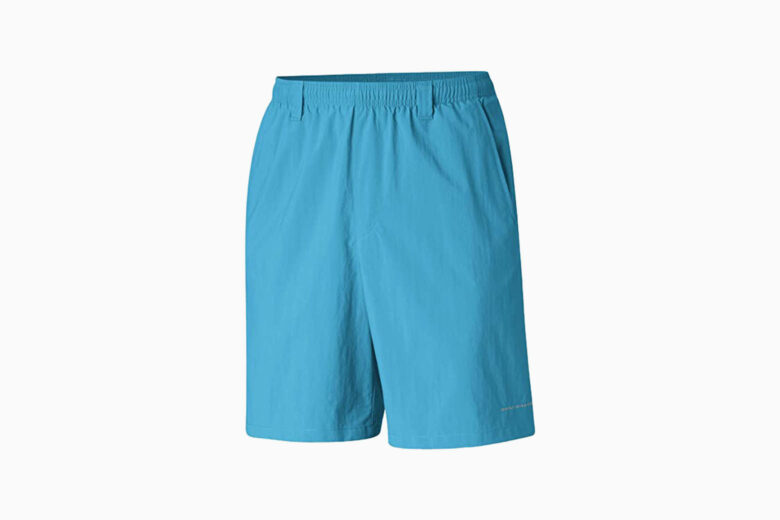 Unfortunately one of the risks of a day at the beach is sunburn. And yes, it is possible for you to be burned right through your clothing, depending on the material. Columbia's Backcast water shorts have you covered, quite literally, with built-in UPF 50 (Ultraviolet Protection Factor) material.
Best for: Avoiding sunburns in all the best places.
Frescobol Carioca Copacabana: Best short swim trunks for men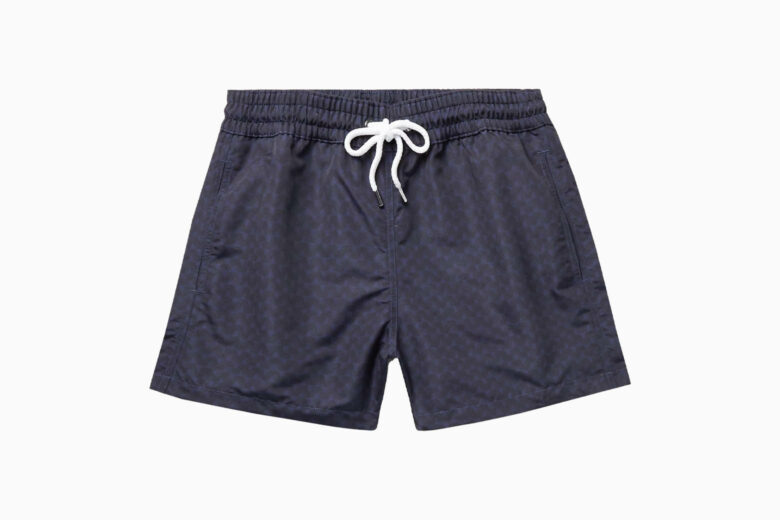 Let's throw a little bit of artistic style into the swimsuit mix, shall we? Frescobol Carioca's
Copacabana Printed Swim Shorts lightly printed pattern was inspired by Rio De Janeiro's promenade on Copacabana Beach. And of course, these trunks aren't just easy on the eyes, they do a bang-up job as your go-to swimwear.
Best for: Bringing a sense of style to the beach.
| | |
| --- | --- |
| Material: | Polyester, Cotton |
| Lined: | Yes |
Versace Greca Border Swim Shorts: Best long men's swim trunks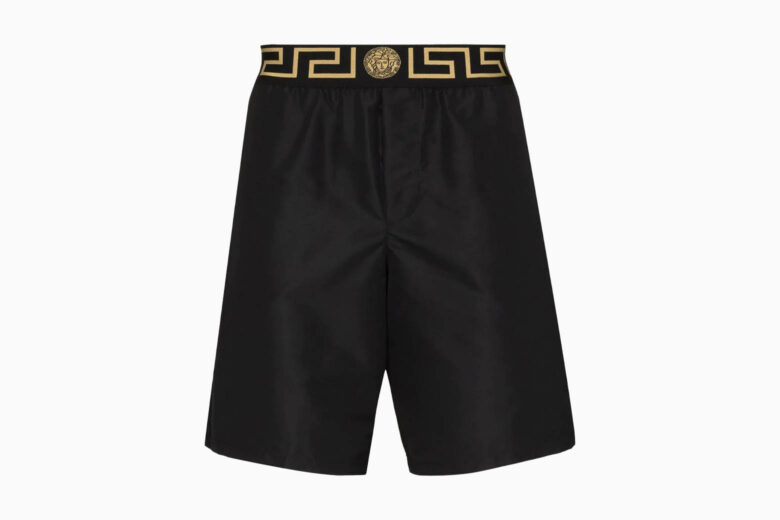 If you want to stand out from the poolside crowd, these trunks are how you do it. Versace's Greca Border swim shorts feature a long cut, resembling a boxer's trunks. The legs are a solid black, all the better to make the waistband's stylized border art stand out that much more.
Best for: Making waves of your own.
| | |
| --- | --- |
| Material: | Polyester |
| Lined: | Yes |
Moncler Tech Swim Shorts: Best men's swim trunks for an active summer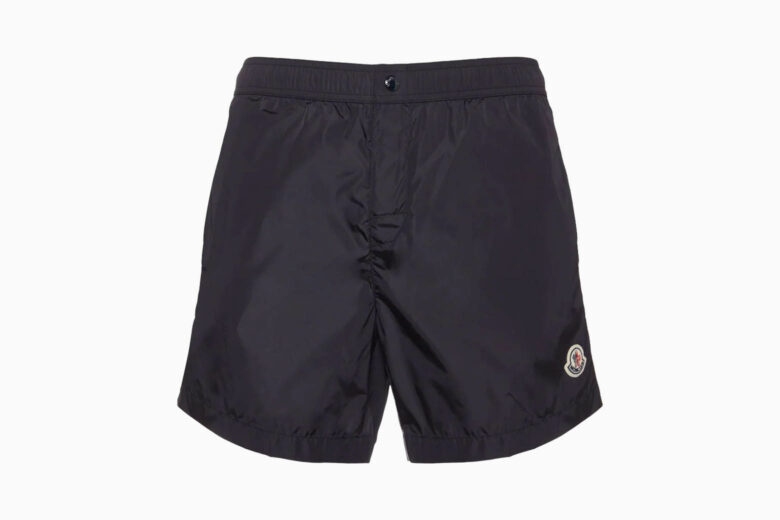 If you think the summer's too short to spend it lying around, we'd suggest you give Moncler's Tech swim shorts a look before you head out. Stretchy, and with plenty of room to move, these are the swim shorts you're going to want if you're planning to spend the season going all out.
Best for: Sweatin' out the summer in style.
| | |
| --- | --- |
| Material: | Polyamide |
| Lined: | No |
Robert Graham Hibiscus: Best floral swim trunks for men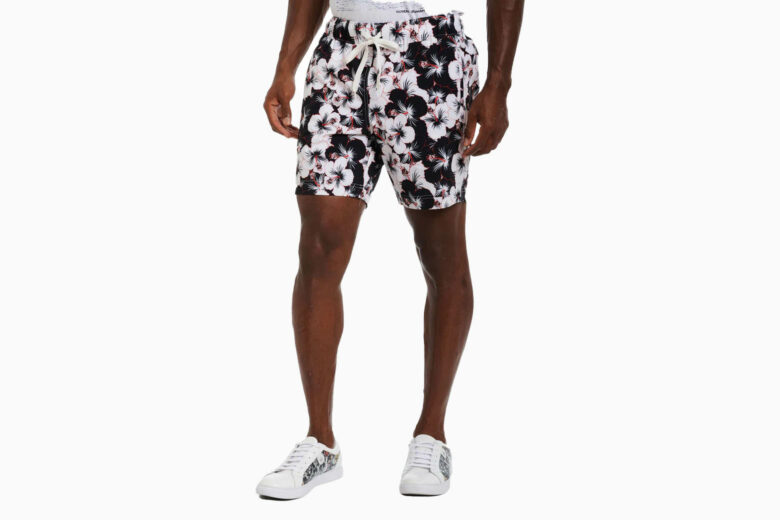 It's time for some summertime fun. Celebrate the season with Robert Graham's Hibiscus swim shorts. Featuring a sharp-looking floral print, these shorts are going to make for a super-stylish outfit when paired with a mono-colored luxury polo or summer-friendly t-shirt.
Best for: Going all out with a beach vibe.
| | |
| --- | --- |
| Material: | Polyester, Spandex |
| Lined: | No |
Derek Rose: Best pinstripe swimsuit for men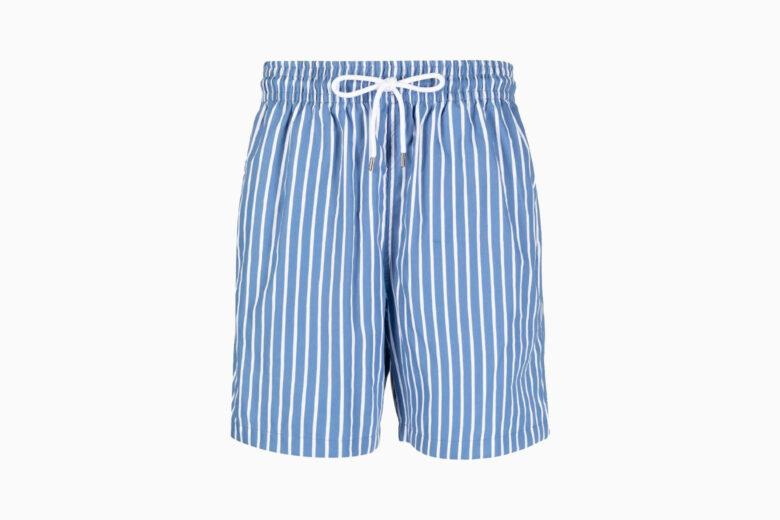 Here's something you don't see everyday. Pinstripes add a sense of class to any article of clothing, and Derek Rose's pinstripe swim shorts prove the case for men's swimwear. They're going to look great in the pool, or up by the bar matched with a classy unbuttoned casual shirt. And like any clothing with pinstripes, vertical stripes can make shorter fellows look a little taller.
Best for: Upping your classiness factor.
| | |
| --- | --- |
| Material: | Polyamide |
| Lined: | No |
Prada Re-nylon Swim Shorts: Best nylon men's swim trunks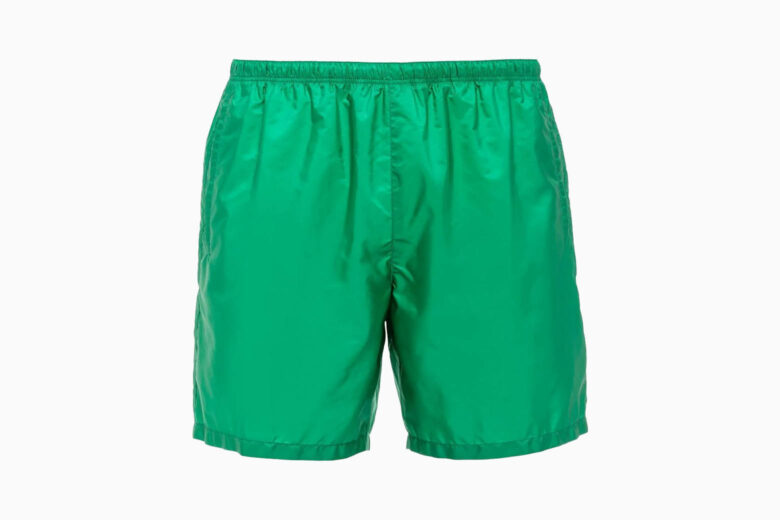 First of all, these swim trunks are from Prada, so you already know you're going to look good in them. But here's what makes them extra special; "Re-nylon" means these Prada trunks are made from recycled or upcycled nylon. So you can look slick, and feel like you've done the planet a favor, all at the same time.
Best for: Looking good and feeling even better.
Tom Ford: Best-fitting swim shorts for men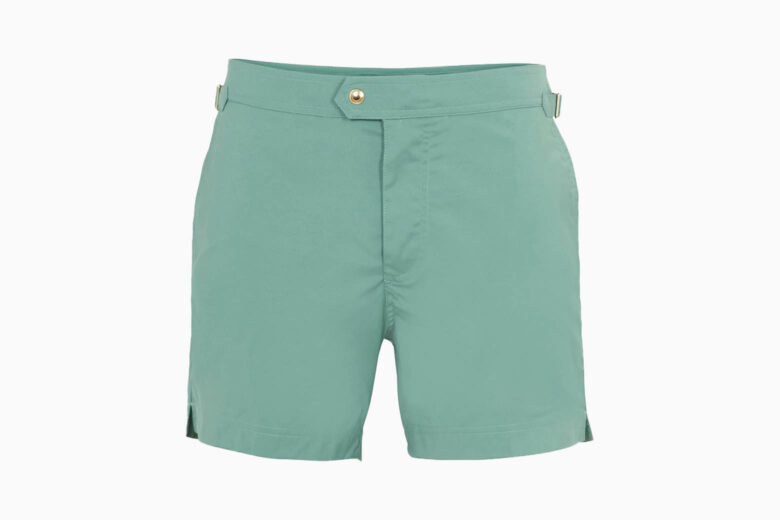 If you want to replicate that legendary Casino Royale moment of James Bond emerging from the ocean, try the looks provided by Tom Ford's swim shorts. This run of bathing suits sports a classy stylized look that swims in the same waters as Daniel Craig's trunks from that famous moment.
Best for: Making a good oceanside first impression.
| | |
| --- | --- |
| Material: | Polyester |
| Lined: | Yes |
Fendi FF Swim Shorts: Best printed men's swim trunks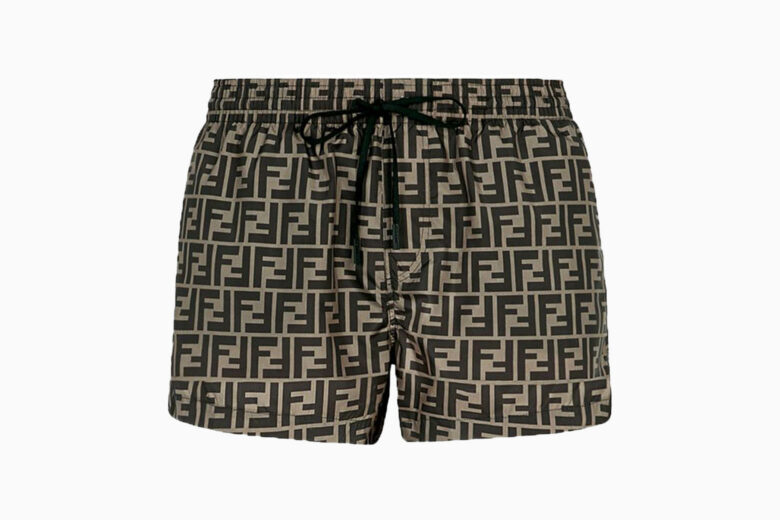 Bring on the razzamatazz. Fendi FF swim shorts are printed all over with Fendi's double-F motif. There's no way you're not going to draw some attention with trunks like these. And because of their pattern and color selection, they can work with other prints or a monotone up top. Try out different shirt styles to see what you like best with them.
Best for: Going on the fashion offense.
| | |
| --- | --- |
| Material: | Polyester |
| Lined: | Yes |
Vilebrequin Moorea: Best lightweight swim shorts for men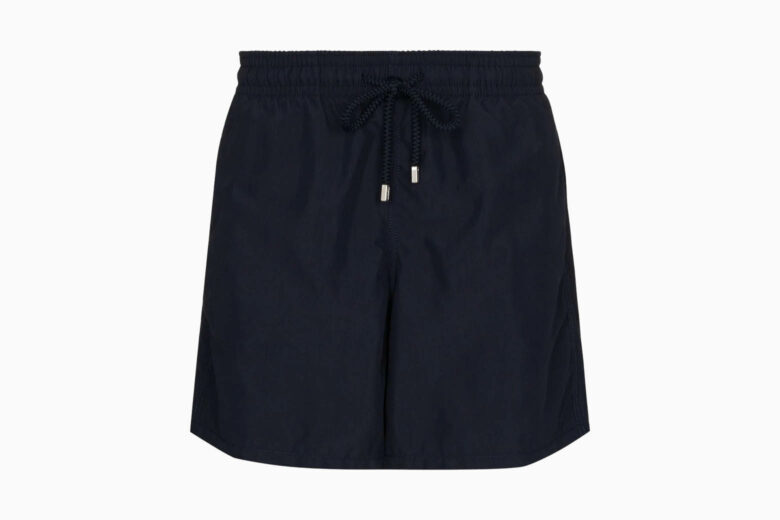 Vilebrequin debuted its Moorea Swim Shorts back in the 1970s, and they've been kicking around ever since. You can see why—the solid colors and classic drawstring waistband offer up a clean and classic look. No tricks or gimmicks here, just good old-fashioned swimwear know-how.
Best for: Being a high-class beach bum.
| | |
| --- | --- |
| Material: | Polyamide |
| Lined: | Yes |
Atalaye Fregate: Most comfortable men's swim trunks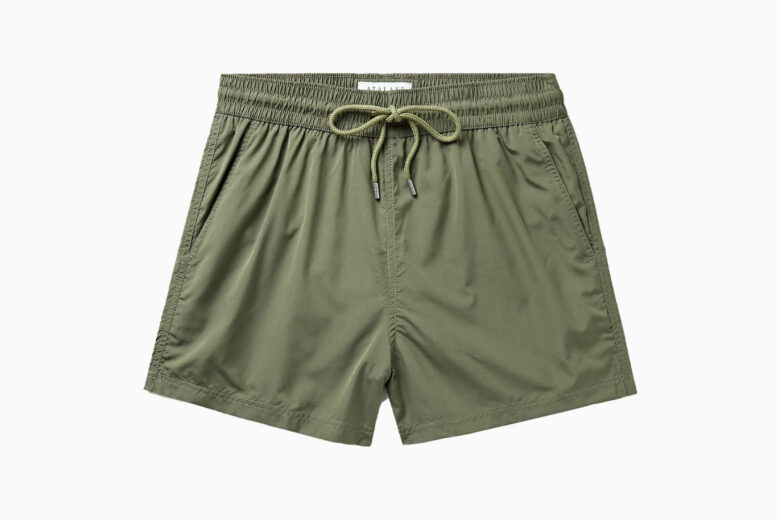 Is comfort at the top of your must-have list for men's swim trunks? Treat yourself to a pair of Atalaye's Fregate swim shorts. On the beach, in the water, or on a bar stool, these trunks are the answer to anyone on a quest for feelgood swim shorts.
Best for: Maxing out your comfort levels during your vacation time.
| | |
| --- | --- |
| Material: | Polyester |
| Lined: | No |
True Tribe Neat Steve: Best slip-on swim shorts for men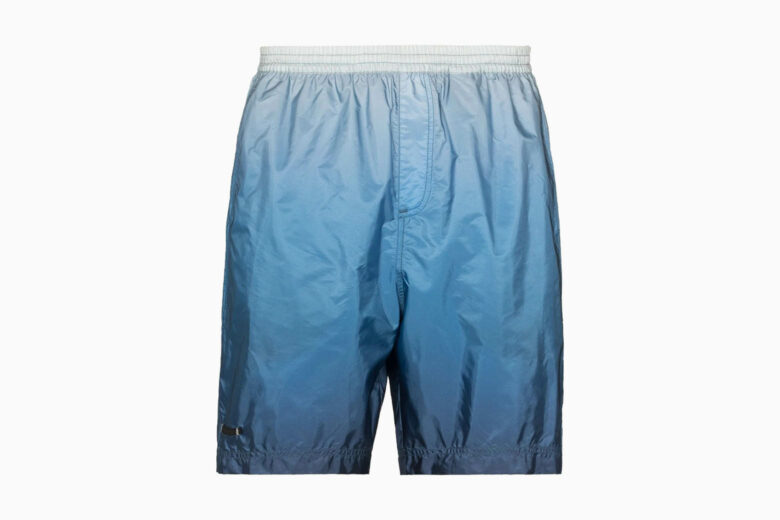 Slip 'em on and move on out! On those scorcher days, you don't want to waste a single second getting into the water. Leave behind the buckles, belts, clasps, and drawstrings. Just whip on your True Tribe Neat Steve swim shorts and get wet, pronto.
Best for: Letting nothing get between you and a good time.
Solid & Striped The Classic: Best classic men's swim trunks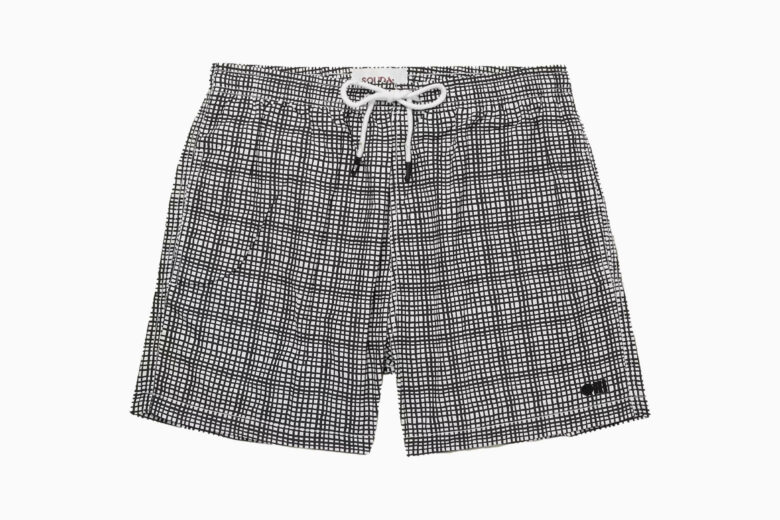 Cowabunga, dude! It's old-school all the way with Solid & Striped's The Classic swim shorts. Nab yourself a classic look beach-bum shirt and look like you're straight out of a 1950s drive-in movie. Way cool, daddy-o! The fact that they're comfortable and offer plenty of pocket space is just icing on the way-back cake.
Best for: Showing the hipsters how it's really done.
Ami Paris Swim Shorts: Best minimalist swim trunks for men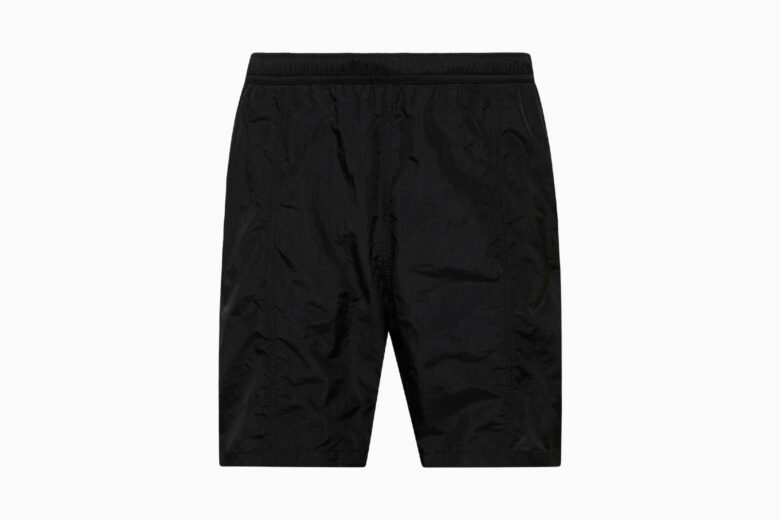 Some guys like to gussy up their swimwear, others like their trunks straight and to the point. If you're in the latter category, check out Ami Paris' swim shorts. Featuring a mid-length cut, these trunks are one solid color and have a simple-as-simple-gets waistband. No muss, no fuss, just a solid swimsuit.
Best for: Keeping it simple by the seaside.
| | |
| --- | --- |
| Material: | Polyamide |
| Lined: | Yes |
Birdwell Beach Britches Board Shorts: Best retro men's swim shorts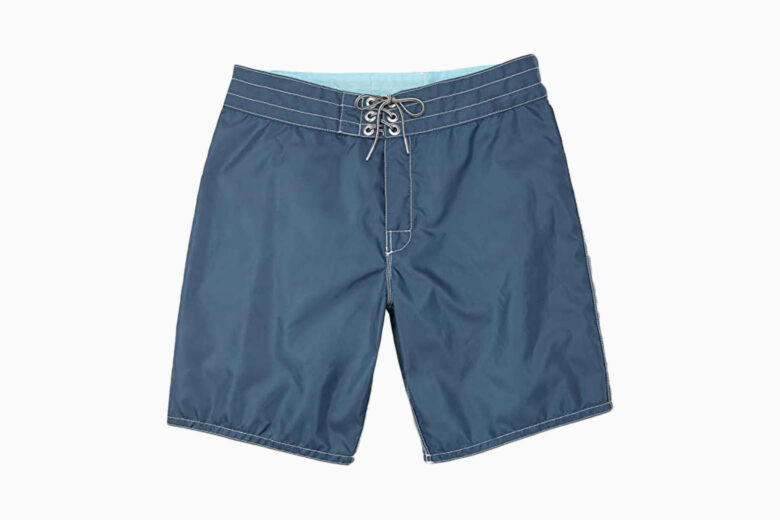 Just like Granddad used to wear. Bring some old-school charm and class to the pool with Birdwell's Board shorts. The white outline detailing speaks of summer days gone by, when the world seemed a little bigger and moved a little slower. In addition, the SurfNyl material and nickel-plated waist grommets add durability to the timeless look of these trunks.
Best for: Taking a well-deserved time-out from your busy life.
| | |
| --- | --- |
| Material: | SurfNyl |
| Lined: | No |
Goodthreads Swim Trunks: Best budget swim trunks for men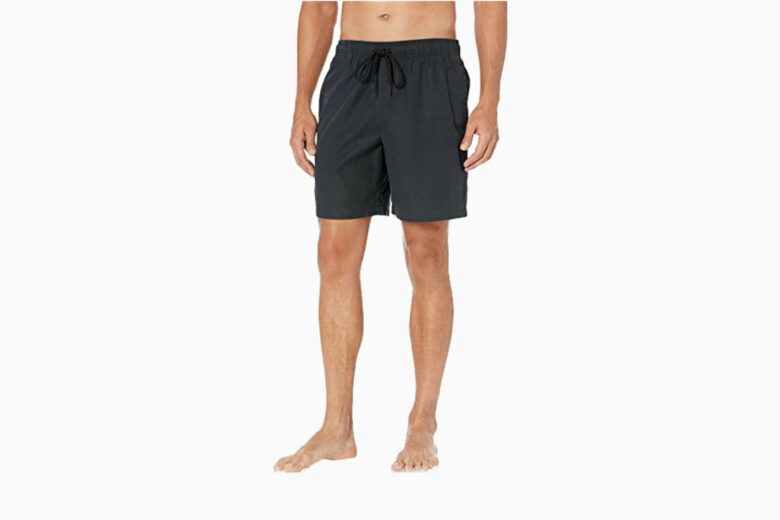 Summertime vacations are for taking a breath from the worries and woes of your everyday life, including fretting about your finances. Goodthreads' swim trunks can help you with that last part. They're fantastically priced for such a solid piece of swimwear, meaning you can head out to the beach feeling financially guilt-free.
Best for: Being vacation-ready without feeling a financial pinch.
| | |
| --- | --- |
| Material: | Polyester, Cotton, Nylon |
| Lined: | Yes |
Buyers' guide for men's swim trunks
Linings
Having a lining in your swimsuit is a personal choice. Linings are there to add support and comfort while you're swimming or otherwise moving about, since most swim trunks are loose and can lead to some of your choice body parts flopping around while you're in motion. Also, linings can reduce some of the clinginess you experience when you climb out of the water.
The main reason to go without a lining is because they can possibly cause some abrasion. Because of all the movement you get up to while swimming or playing volleyball, et cetera, the lining may rub against where your legs join with your main trunk.
Materials
If you've looked through our list you've probably noticed that almost every single swim short is made up of either nylon or polyester (polyamides are a more durable relation of polyester, both of which are man-made fibers).
The reason for this is that nylon and polyester dry quickly and repel water. They can also do a dandy job of cutting down on UV rays, protecting your skin.
While cotton does occasionally show up in some of the swim trunks, it's a much more water-absorbent material, meaning that it takes much longer to dry out and can grow heavy in water (think about how it would feel to wear cotton jogging pants in a pool).
Sizing
While of course you don't want a swimsuit to fit too tightly, it's not a bad idea to make sure your trunks are nice and secure around your waist. Remember, water drags on any clothing you're wearing as you move through it, so a set of loose-fitting swim trunks may get pulled right off of your body by water-resistance, especially if you're playing around in some waves.
Also remember, water can cause your swimsuit to ride up your thighs, so be conscious of this when you're choosing the length of your inseam (how long your bathing suit is).
Speaking of length, the general consensus is that the leg of your swimsuit should end about three fingers (roughly two inches) above the top of your knee. If you're a shorter man, start with swimsuits that have a five-inch inseam, and work out from there. If you're going to be trying out surfing, you may want to go a bit longer than usual, since you're going to be flipping and flopping all over the place, so you'll want more coverage than usual.
Just like with any other kind of pants, if you've got a bit of extra meat around your middle go with elastic or drawstring waistbands that allow you to adjust for comfort.
Frequently asked questions about men's swim trunks
What kind of swim trunks should men wear?
This depends on what you're going to be doing while wearing the trunks. If you're just going to be lounging, highly-styled trunks like Tom Ford's swim shorts look great. If you're going to be active (swimming, beach sports, etc.), start with something like Moncler's Tech swim shorts.
How do men choose swim trunks?
Most men put comfort and coverage at the top of their list as they want a swimsuit that won't accidentally expose them to the general viewing public. Next comes function—will you be swimming, surfing, doing athletics on the beach, or hanging out at a bar? And then there's style—will you be trying to match your trunks to a t-shirt or other casual shirt?
How long should men's swim trunks be?
For most men, you're going to want your swim trunks to end two inches above the top of your kneecap. For surfing, go a bit longer to avoid mishaps during tumbles. Check our selection of the best swim trunks for men to find the perfect one for you. 
How do I choose a swim trunk?
First, decide on a length that you're comfortable with. Next, consider what you're going to be doing in your trunks; lounging around a pool doesn't put much demand on your swimsuit, but playing volleyball can cause chafing with the wrong pair of trunks. And of course, there's style—are you going to be wearing the trunks on their own, or matching them with a top?