If you pay the slightest attention to what people wear in the office, you've surely noticed how men's business attire has changed over the years.
Men's office wear is now a lot more casual than ever before. That's mostly thanks to the IT department and Hawaii (see how it all started here).
That's not a bad thing. Being more casual at work breaks the rigid style rules and gives you more space to express your personality.
But it also opens the door to many more faux pas. You've undoubtedly noticed around you a few men who don't seem to know how to dress properly for the office.
If you're reading this guide to professional business attire, you know how important it is to dress for the part. Whether it is for an interview, your first day in a new job, or to upgrade your wardrobe as your career progresses, your professional business look is a reflection of how much you care about your career. Your clothes show the level of respect that you have for yourself.
This guide to the office wear for men will help you look better when you're working. But more importantly, it will show you how to dress appropriately for that next promotion and elevate your career to new heights.
Don't believe us? Continue reading to see why.
Exploring the professional business style
Let's get one thing out of the way first: dressing for the office doesn't have to be expensive. While you can spend a lot of money on a luxury business suit and tie if you want to, you don't necessarily have to.
You'll see in this guide that with just a few well-chosen items, you'll be able to look great whatever your office style might be.
This article is part of a style series covering the seven essential dress codes for men:
The modern business professional look
Welcome to Luxe Digital's business professional look guide for the modern man. We've broken down this guide into several sections. You can skip to the part that's most important to you.
What is the Business Professional style?
The business professional look is easy to define. Unlike smart casual or business casual, the professional business style for men has a clear set of rules and principles.
It doesn't mean that it's easy to execute with class, however.
Your office style should send a powerful message to your coworkers: you're smart, efficient, ambitious, and ready to maximize your potential.
The secret to a successful office wardrobe for men is in the details. The quality of your suits' cut and fabric. The fit of your shirt. The finishing and details of your shoes. And how well you're able to pull it all together in an attractive and compelling way.
Dress code definition: What does business professional mean?
Your business professional attire starts with a suit, a shirt, a tie, and a pair of dress shoes. It's that simple.
Once you have the foundations taken care of, you can start to work with accessories to complete your look: a belt, a dressy watch, and cufflinks.
Let's look at each garment one by one. Our style experts have handpicked specific recommendations to help you achieve the look.
1. A suit that means business
A business suit is a set of garments made from the same cloth. A two-piece suit consists of at least a jacket and trousers. A three-piece suit includes a waistcoat underneath the jacket.
We will focus here on the two-piece suit as it's the most commonly worn by men in the office. A three-piece suit is now mostly reserved for weddings or very formal occasions.
Every grown-up man needs at least one suit in his wardrobe. If you expect to wear a business suit every day for work, you should buy two or three more of different colors.
For your first suit, start with a plain dark navy color with no pattern. Navy is the most flexible color that can easily be combined with different shirts and ties. Your second suit should be dark charcoal or even black. It's also easy to combine with other colors and can be worn for more formal occasions (think weddings and funerals).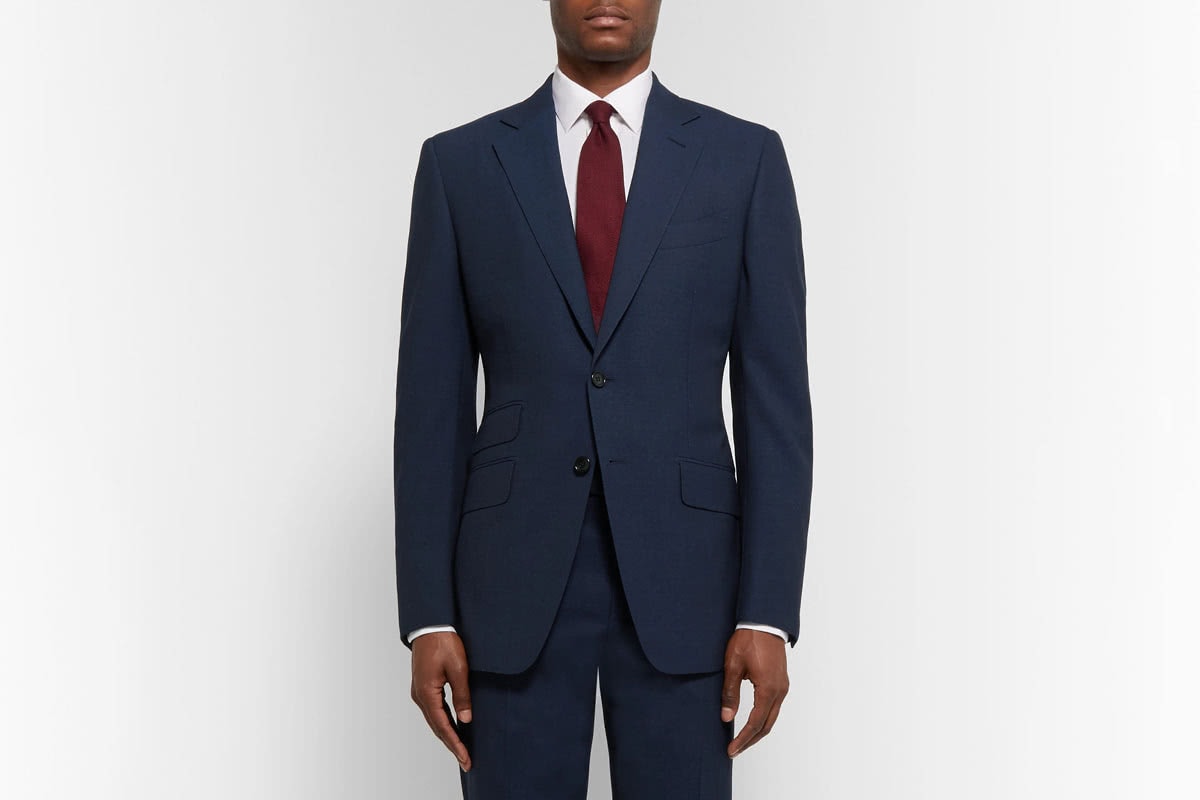 2. A set of button-up collared shirts
Next on the list are your business shirts. Stick to the timeless classics when selecting your shirt. Begin with a few simple white collared shirts.
When selecting your business shirts, make sure that they look good when fully buttoned up. You want the collar to have some substance and structure to frame your tie perfectly (see next section).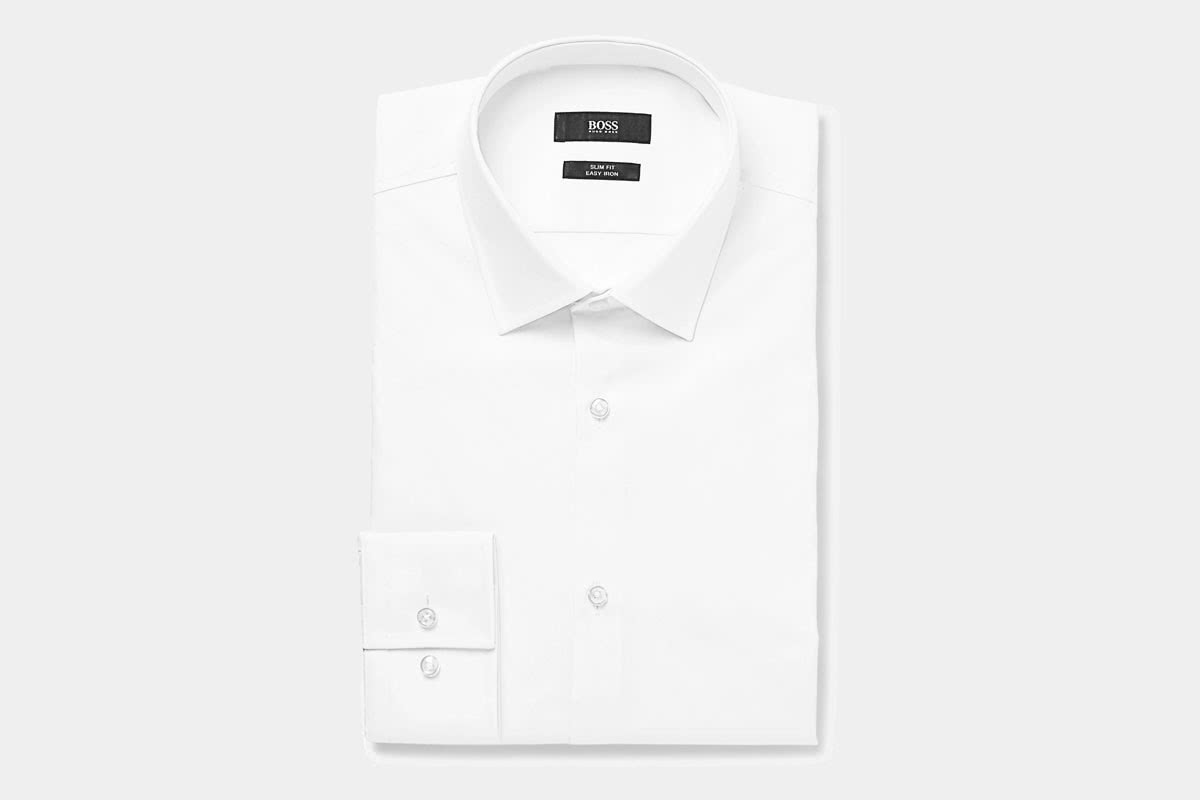 3. Add subtlety with your ties
A tie is your chance to express emotions and personality through your business professional attire. Tie colors, in a particular context, can express your political views, for example.
In the office, a set of different ties will also help you change your overall look while wearing the same suit and shirt. A navy suit with a white shirt and a navy tie will look very different than the same suit and shirt with a bright orange tie.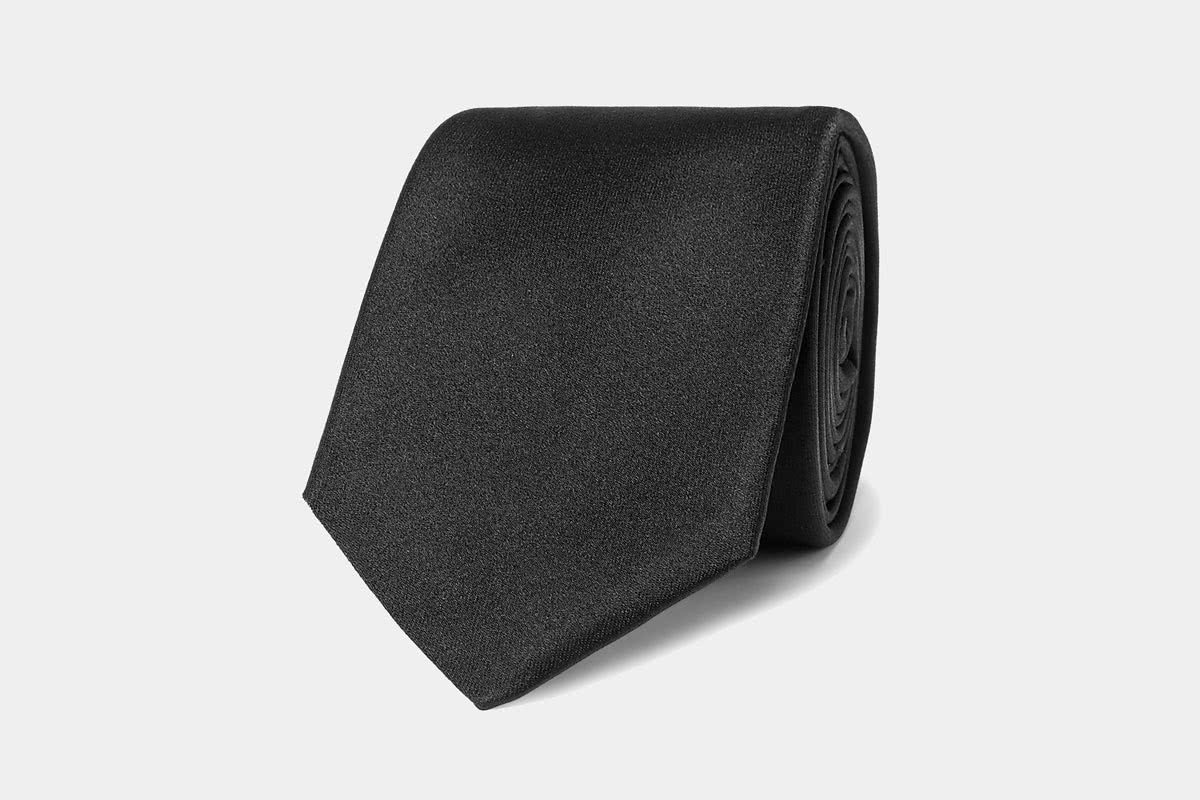 Expert tip: your tie knot should always conceal your shirt's collar behind it. Tighten it up until it does.
4. Carefully choose your dress shoes
The last critical element of your professional business attire is a pair of dress shoes. The most commonly worn business shoes are called Oxfords (or sometimes also Balmoral in the United States).
Named after the Oxford University, Oxford shoes are the quintessential dress shoe.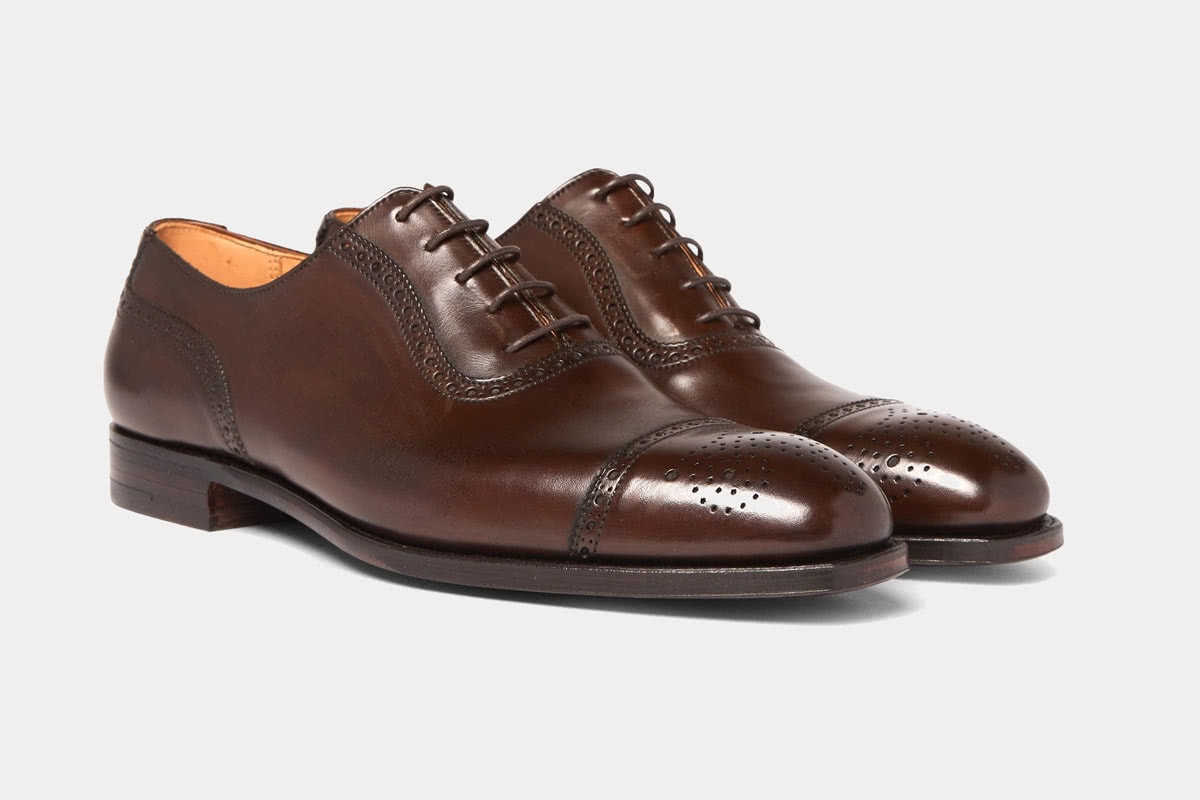 Pro tip: Dress shoes can be uncomfortable when worn all day long. Check our review of the cleverly designed Amberjack dress shoes for a great alternative to classic models. We also have an in-depth round-up of the best dress shoes for men if you want to see more options.
5. Elevate your business look with the right accessories
Once the foundations of your business attire are in place, you can start adding accessories to express your personality and style further.
Here are a few suggestions of accessories that you can keep for years to elevate your business casual look.
5 Men's business fashion style rules to guarantee success
When you're ready to build up your business professional wardrobe, there are five simple rules that you should always keep in mind. These style rules will help you execute your business look with class and elegance every time.
Rule 1: You need to care
When a man doesn't care about his look, it is immediately apparent. In a business environment, someone who doesn't care about his look might be perceived as a man who doesn't care about his job, his career, or the people that he works with.
If you want to be taken seriously in the office, you have to show that you care.
There is no other around it. People around you will look at how you dress and form their opinion of who you are. At least for people who don't know you very well. If you want to project a powerful image and gain your coworkers' respect, you have to start with your professional business attire.
Rule 2: Invest in timeless clothes of the best quality you can afford
The business clothes that you buy today will stay with you for years. It is especially the case for your suits and your shoes. So take the time to select garments that are timeless, then invest in the highest quality that you can afford.
Even though the office dress code continues to evolve, classic styles and timeless men's fashion items will remain the same.
Expert tip: your timeless clothes should be easy to combine so you can create multiple looks with the same items. The same suit worn with a different combination of shirts and ties can produce very different styles.
Rule 3: Know what to hang and what to fold
It's a very simple rule but equally important if you want to keep your business clothes in impeccable condition for a long time.
Your shirts, jackets, and trousers should be hung. Always.
For your jackets, make sure to use extra-wide shoulder hangers to prevent damage. You don't need to spend on a lot of money on expensive hangers, a high-quality set like these ones will do just fine. But make sure to get a good set of proper hangers to keep your jacket in good condition.
Your knitwear, T-shirts, underwear, and everything else should be folded. Pay special attention when folding your knitwear, such as cardigans and sweaters, to preserve the quality of the fabric.
Rule 4: Use shoe trees to keep your Oxford in shape
It's another simple but effective rule. If you invested in high-quality dress shoes that should last you for years, it's worth spending a little bit on a set of shoe trees to preserve the shape of your shoes. Here again, you don't need to spend a fortune, this high-quality pair will be perfect.
Rule 5: Don't overcrowd your wardrobe
You don't need many clothes for your business professional outfit. Keep it simple. And keep it well organized. You should be able to easily find what you need every morning to look sharp without spending hours dressing up.
7 Pro style tips and basic principles to always get your business professional look right
We've reached out to a panel of expert stylists and fashion advisers to ask for their recommendations on the business's professional dress style. Here are their tips to help you look great when dressing for the office:
Start with your goals. This will form the backbone of your style. Do you want to project an air of assurance? Do you want to show that you care about an occasion and dressed up accordingly? Or do you prefer to prioritize comfort?
Dress accordingly and with consistency. Pick an outfit that will help you achieve your goals. When dressing for work, men should also consider what their usual business attire is and maintain a degree of consistency with their usual look.
A few timeless items are worth investing more in. Some items in your wardrobe won't last for more than a season. You shouldn't spend too much on those. But others will stay with you for years. That's particularly the case with your suit and your watch. Decide which pieces you want to keep and invest in quality over quantity.
Cover your bases. When starting to build up your wardrobe, begin first with neutral colors such as black, white, navy, tan, grey, and brown for your outfit. Those are all easy to mix and match and will never go out of fashion.
Elevate and personalize your look with one or two items. Once you have the foundations of your style in place, you can add personality to your outfit by playing with luxurious fabrics such as silk or cashmere and bolder colors. These should be reserved for your accessories, such as your belt, watch strap, socks, etc.
Consider the occasion and the weather before selecting your business outfit. Whatever your style is, you should always pay close attention to your environment and social context. Understand what is expected and then design your outfit according to your goals.
Always look for the right fit. There is nothing more saddening than seeing a man pulling out the right style with the wrong fit. It will completely ruin your efforts if your clothes are overly tight and uncomfortable or too baggy and sloppy. If you invest time in defining your style, make sure that the execution is right.
5 business professional brands men need to know
When shopping for new clothes, you should always decide first what you want and then look for the best items to complete your look. We don't recommend that you start by picking a brand and then aimlessly browse through their collections.
That said, there are a few selected brands that our style editors tend to favor over others. Those are the brands that offer superior quality for the right price and never seem to disappoint us.
It's essential that you know which brands you can trust when shopping online, so you don't waste time or money. Check also our list of the 15 most popular luxury brands of the year for more inspiration.
Here is our selection of the five best casual attire brands for men.
1. Tom Ford
2. Ermenegildo Zegna
3. Brioni
4. Hugo Boss
5. Lanvin
Business Professional dress code: Frequently asked questions
Question: What is the business professional dress code?
Answer: A business professional dress code means that you are expected to wear a certain type of clothes when going to work. Most often in Western countries, this means a suit, a dress shirt, and a pair of dress shoes. Different companies may have different interpretations of the business attire, so try to understand your office culture when in doubt.
Question: What color shirts are business professional?
Answer: As long as you wear plain colored shirts as part of your business outfit, you should be ok. When in doubt, opt for white and light blue as those colors are versatile.
Question: What is the difference between business professional and business casual?
Answer: The business casual attire is a more relaxed and less formal dress code than the traditional business professional outfit. Usually, it means not wearing a tie. In some offices, you could wear a jacket with chinos or khakis. Read our detailed guide on the business casual dress code for men to see the difference.
Question: Do you need a suit for business professional?
Answer: Yes. In most cases, a professional business attire means wearing a suit for men.
Question: Do I have to wear a blazer for business professional?
Answer: You should wear your suit jacket for your business professional attire. A blazer with different trousers is less formal and can be worn as part of your business casual outfit.
Question: Is a bow tie business professional?
Answer: In most cases, a bow tie is not part of a business professional outlook. The bow tie is normally reserved for the more formal evening dress code for black tie or white tie occasions. A bow tie can also be part of a more creative attire if you work in a less formal industry. When in doubt, opt for a normal tie instead.
Question: Can you wear khakis for business professional?
Answer: No. You should wear a two-piece suit when dressing business professional. Khakis and chinos can be worn as part of your business casual outfit, however.
Question: Do you need a tie for business professional?
Answer: Yes. In most cases, a business professional attire means wearing a tie for men.
Resources and further reading recommendations about the cocktail attire
We used several authoritative sources to help us write this guide to men's cocktail attire. We recommend that you read them if you want to learn more about dress codes in general. These are also great resources if you want to understand a particular aspect of men's fashion or want to stay up-to-date with the latest trends: