You know what's in fashion this season? Looking cool while staying warm. Nothing ruins your look quite like blue fingers and chilblains, so, if there's one item of clothing you don't want to scrimp on during the colder months, it's a good quality winter coat.
There are thousands of men's winter coats out there, from stylish winter jackets to those designed to fight the extreme cold. Sure, you probably won't wear the same jacket for evening drinks as you would when scaling a mountain, but a good quality winter coat will ensure you look suave no matter where you're going.
From stylish trench coats to vintage-inspired shearling jackets, parkas, and puffers, here's your guide to winter coats for men.
The 19 best men's winter coats and jackets
To help you find the jacket that's best for you, check our style guide to choosing the best winter coats for men after the list.
Western Rise Airloft Hooded Jacket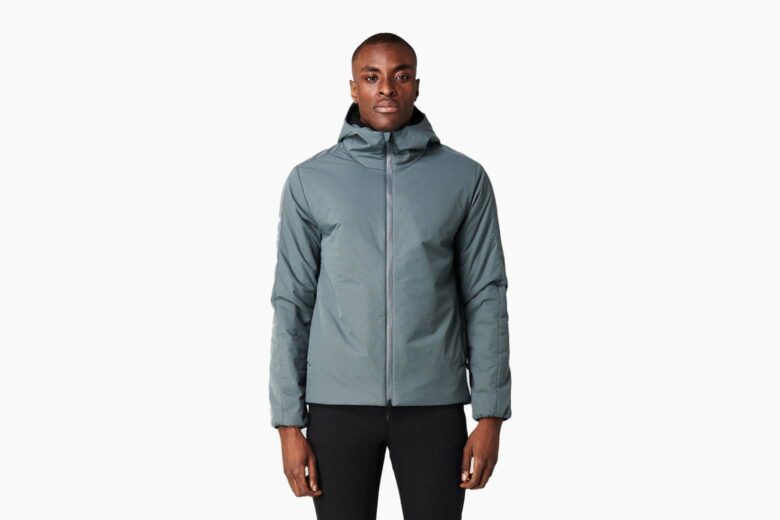 As design enthusiasts and self-proclaimed aficionados, we're always on the lookout for elevated essentials—those being basics that do more and go the extra mile. Our latest discovery (and the one we can't stop speaking about) is the Airloft Hooded Jacket.
Engineered by scientists and tested by athletes, the quality materials are temperature-regulating, water-resistant, stain-proof, ultra-breathable, and incredibly light. The smart design features plenty of pockets, including a practical back pocket. And the brand's signature four-way stretch means that you can move around unencumbered.
The Airloft Hooded Jacket is also surprisingly warm for how light it is. We recommend extra layers for extreme winters, however.
| | |
| --- | --- |
| Best for: | Getting you comfortably onboard with the changing seasons. |
| Colors: | Blue grey, navy, black, olive. |
Vetements: Best designer winter coat for men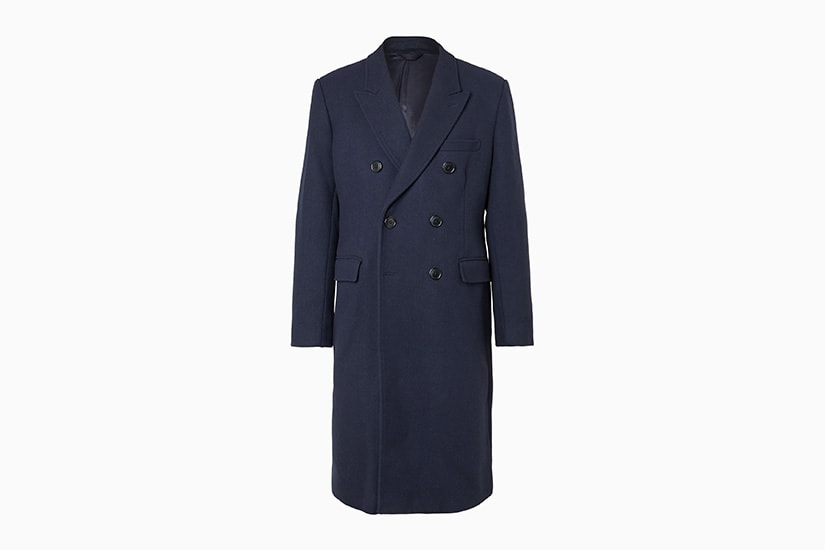 It's impossible to look uncool wearing anything by Vetements, and that's a fact. Sometimes known for its out-there styles that might be more suited to Fashion Week than everyday dressing, the brand is also known for its staple pieces that you'll admire in your wardrobe for seasons to come. The Vetements Double-Breasted Virgin Wool-Blend Coat is an investment piece that you'll proudly slip into conversation every time you're wearing it (and even sometimes when you're not).
This almost obnoxiously cool French brand has a legion of loyal celebrity fans, including Kanye West and Jared Leto. Even if you're not someone who would typically go down the streetwear route, this Vetements wool coat is a classic piece with the brand's trademark boxy fit. A virgin wool blend with a hint of cashmere, along with the double-breasted finish, adds to this coat's instant appeal.
| | |
| --- | --- |
| Best for: | Fans of understated high fashion. |
| Colors: | Navy |
Carhartt Active Jacket: Best value winter coat for men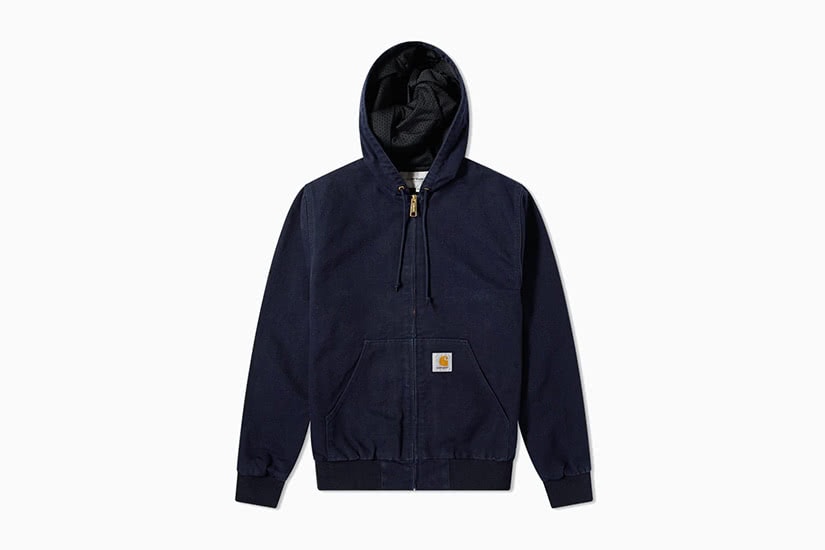 You'll be keeping an eye out and waiting for the temperature to plummet when you've spied Carhartt's coolest coat this season. A failsafe brand that fuses the gap between form and function, Carhartt is one of those brands suitable for any man – no matter whether you're a streetwear aficionado or prefer a more formal look. And, along with being versatile and stylish, Carhartt's also known for producing great quality coats.
Carhartt Men's Quilted Flannel Lined Duck Active Jacket ticks every box when it comes to finding a suitable winter coat that won't drown you. Warm enough to wear as a standalone coat but roomy enough for a jumper underneath and a scarf on top for those truly freezing cold days, it's an easy choice. And, did we mention it's under $150? Buying this winter coat is a no-brainer.
| | |
| --- | --- |
| Best for: | A budget and fashion-friendly winter staple. |
| Colors: | Black, grey, brown |
The Jacket Maker Furcliff: Best winter shearling for men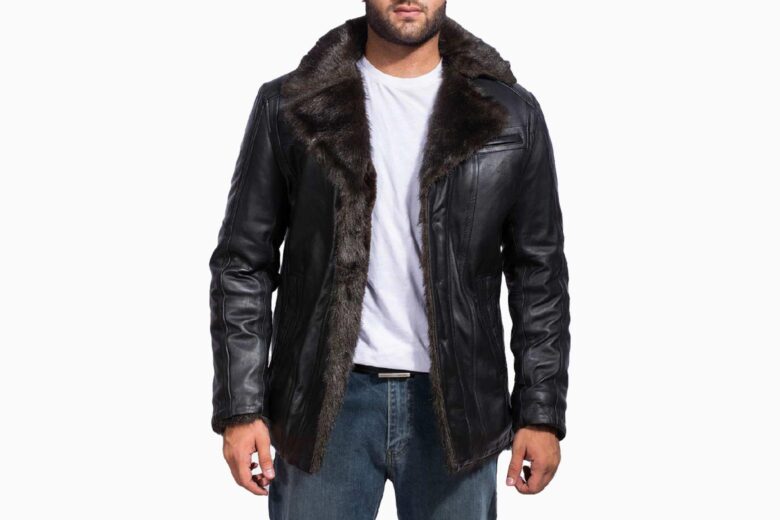 Reimagining the leather outerwear market, The Jacket Maker is a lot more affordable than other luxury brands without compromising the quality of their luxury jackets. This shearling iteration is a case in point. Created using the brand's signature full-grain authentic leather, the suave silhouette is both rebelliously trendy and endlessly timeless. And the faux fur-lined torso adds a subtle sophisticated edge, whilst simultaneously keeping you warm and cozy in icy climates.
Each Furcliff Black Leather Coat is handcrafted one piece at a time with precision and careful attention to detail. As a result, the stitching is impeccable and made to endure countless snowy adventures and suave soirees alike.
This is the kind of jacket you can throw over anything without thinking twice. But it's also the kind of jacket that you can style to show off your low-key affiliation for fashion. Because when done really well, the combination of shearling and black leather is unmatched in Voguish versatility.
| | |
| --- | --- |
| Best for: | Faux fur finesse. |
| Colors: | Black |
Alpha Industries B-15: Best men's bomber jacket for winter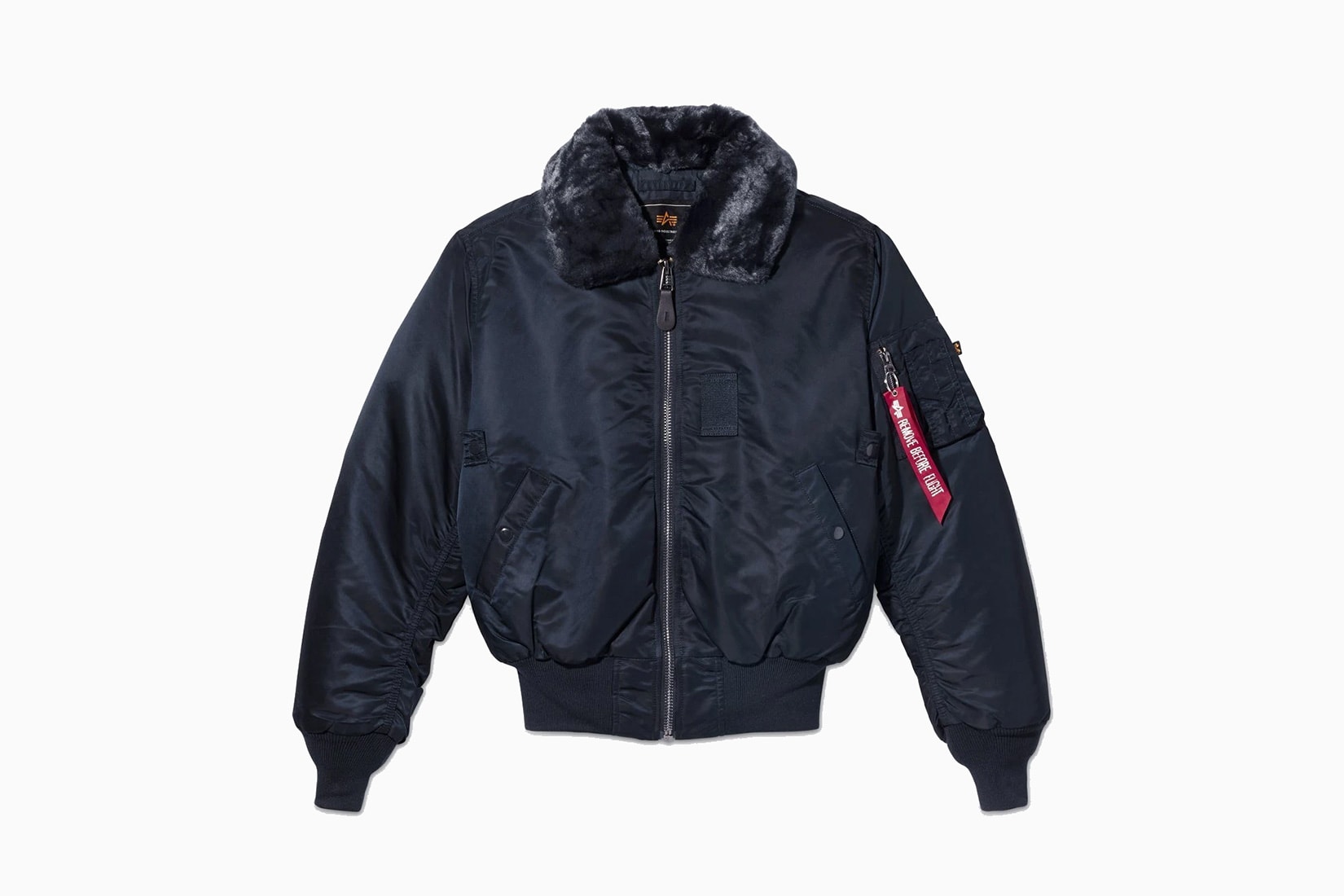 You can show up to work looking a little sharper in a bomber jacket, and Alpha Industries is our top choice. Promising a hefty dose of warmth without being overly formal, a bomber jacket is your go-to option for evening drinks or weekend strolls through the park. It's also a great style of jacket for shorter guys. We have an entire guide dedicated to the best bomber jackets for men if that's what you're after.
The Alpha Industries B-15 Bomber jacket is a hip-length piece in a sleek blue shade with a water-resistant shell. It is also available in black and sage green.
Taking a seasonal upgrade from the summer bomber jacket style, this one comes with a genuine shearling collar for added luxe points and a quilted lining for optimum coziness. A bomber jacket fits most guys' personal style without delving too deep into any one subculture. Pair it with a dark outfit for winter-ready chic that never goes out of fashion. It's a win-win piece that'll quickly become a firm favorite.
| | |
| --- | --- |
| Best for: | Effortlessly pulling together your outfit. |
| Colors: | Blue, black, or sage green |
Mackintosh Peacoat: Best winter peacoat for men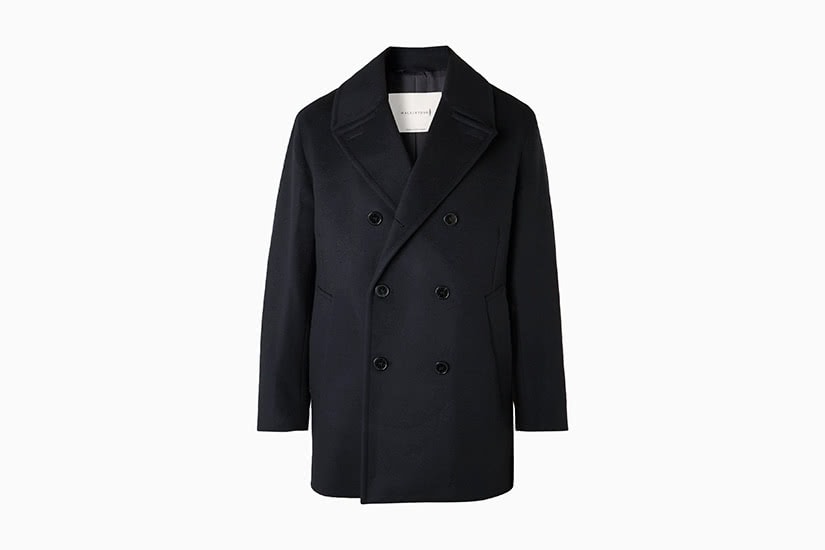 Embrace formal winter fashion with a peacoat that updates your day-to-day look in a matter of seconds. It doesn't matter what you're wearing underneath; a peacoat instantly elevates your look with a touch of formality that'll take you from the office to dinner and drinks. A peacoat is maybe the easiest addition to your wardrobe when it comes to the colder months because it's a style that suits everyone and is heavyweight enough to withstand all of the elements. Wear it to work or throw it on for a weekend away, and you'll never look underdressed.
Our favorite peacoat is the Mackintosh Double-Breasted Wool and Cashmere-Blend Peacoat. A classy midnight blue shade adds a preppy touch to your look, and a wool and cashmere blend will keep you deliciously toasty wherever you may find yourself. It's your secret weapon to December dressing.
| | |
| --- | --- |
| Best for: | Formalwear's answer to winter dressing. |
| Colors: | Navy, grey |
Burberry Kensington: Best men's trench coat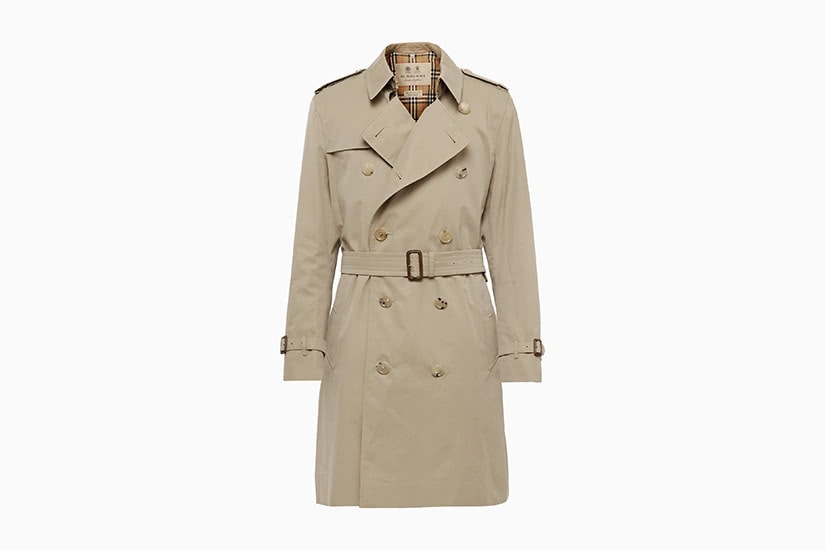 We could talk for hours about the beauty of trench coats when it comes to transitional dressing. We like trench coats so much, in fact, that we put together an entire guide of them. And while it might have been a tough decision to choose just one trench for this list, it had to be a Burberry trench coat.
The father of all trench brands, no one does trenches better than Burberry, and the Burberry Kensington Cotton-Gabardine Trench Coat is a traditional staple that you'll love for years to come. This timeless beige trench comes with all of the sleek Burberry features that we know and love: the signature check lining on the inside, the house's own weatherproof cotton gabardine and a tailored silhouette to bring it all together. No wardrobe is complete without at least one Burberry trench.
| | |
| --- | --- |
| Best for: | Being season-ready in the most stylish way possible. |
| Colors: | Beige |
Columbia Ascender: Best softshell winter jacket for men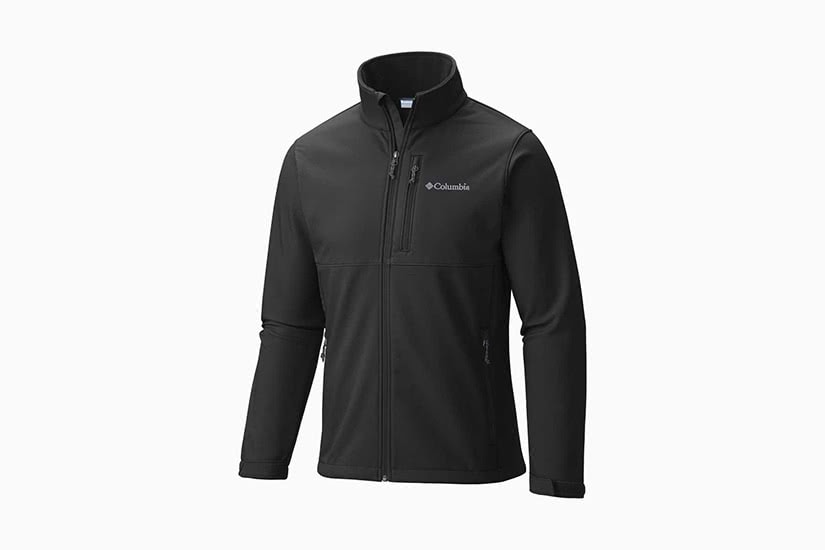 A softshell jacket might look too lightweight for winter, but it's a deceivingly warm option that comes with plenty of uses. Sure, if it's heavily snowing outside then it might not be your first choice, but it's slim enough to wear underneath your larger coat when the weather's taking no prisoners. And a good quality soft-shell jacket will ensure you stay warm without needing too many extra layers. For a premium option that comes in a range of mostly muted colors, look no further than Columbia.
Straight out of the Pacific Northwest, Columbia's Men's Ascender Softshell Jacket is water and wind-resistant and refuses to let you down when you've forgotten an umbrella. You'll find yourself warm and dry thanks to its durable shell and thick base. This winter-ready jacket is an everyday style piece that'll easily blend with the rest of your wardrobe.
| | |
| --- | --- |
| Best for: | Subtly incorporating color into your wardrobe. |
| Colors: | Black, navy, olive |
Mr P.: Best winter wool coat for men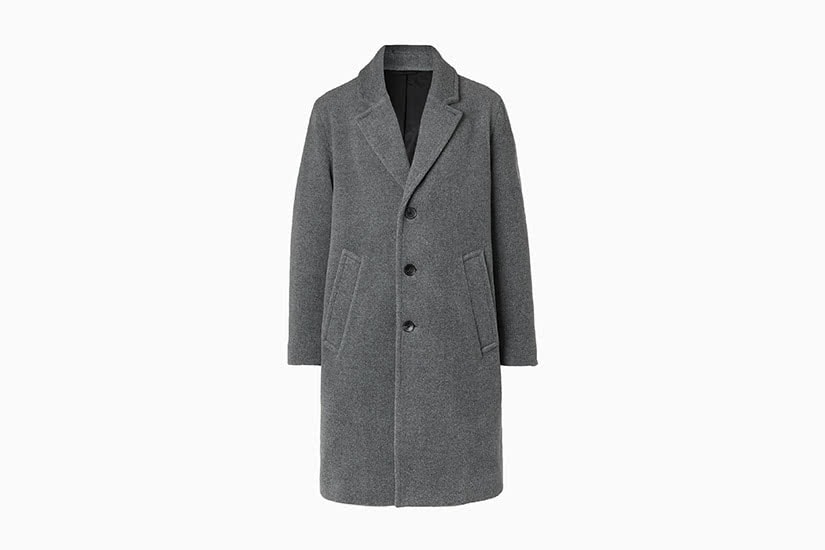 There's no two ways about it: an oversized wool coat is the height of sophistication and will keep you looking suave no matter how cold it is outside. Shivering might not be especially chic, but you'll find yourself embracing the cold weather as an excuse to bring out your big coat again. Mr P's Oversized Mélange Wool Coat is truly the dictionary definition of a winter coat, providing enough warmth in a relaxed cocoon style by itself but also being oversized enough for a cozy knit jumper underneath.
The combination of a smooth grey colorway and the luxe feel of this premium quality wool act as the deciding factor when choosing whether or not to invest in this winter coat. Once you've tried it on and slipped your hands into the pockets, you'll struggle to bring yourself to take it off. Maybe it's time to swap the tropical island getaway for a wintery European break this year.
| | |
| --- | --- |
| Best for: | Looking suave in the snow. |
| Colors: | Grey |
Canada Goose Sydney: Best winter puffer jacket for men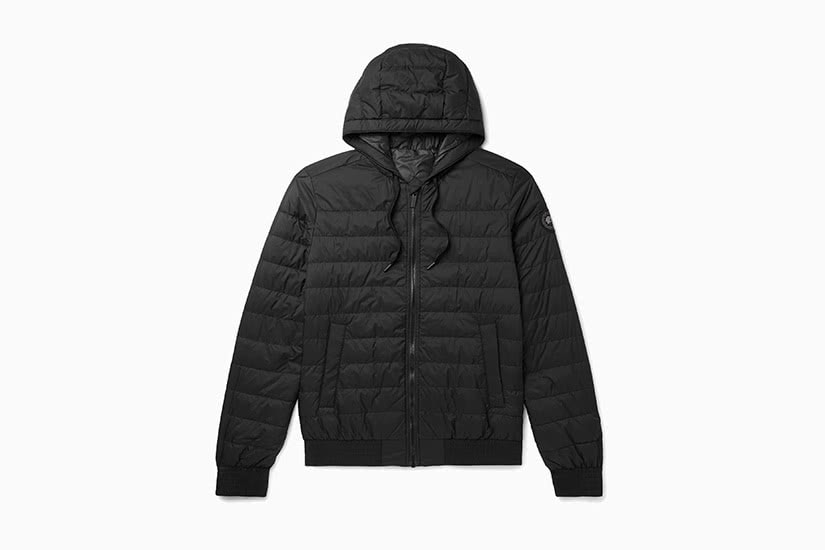 A quintessential puffer jacket is a staple choice for any man but finding one that's puffer style without being comically puffy can be tough. But say goodbye to any second thoughts or reconsiderations because here's a stylish winter jacket that'll keep you warm no matter whether you're walking the streets or trekking the Arctic. The Canada Goose Sydney Slim-Fit Quilted Feather-Light Ripstop Hooded Down Jacket isn't quite as traditionally puffer style as the rest because it's based on the classic hoodie.
But that just adds an extra layer of style to this super warm option. A slim fit style and plenty of down feathers might seem like an oxymoron of a combination but the smooth design of this winter coat means you'll look great without being too bulky. A jet-black color means you'll always look on-trend wearing this.
| | |
| --- | --- |
| Best for: | Convincing your friends that puffers are fashionable again. |
| Colors: | Black |
Alpha Industries N-3B: Best men's winter parka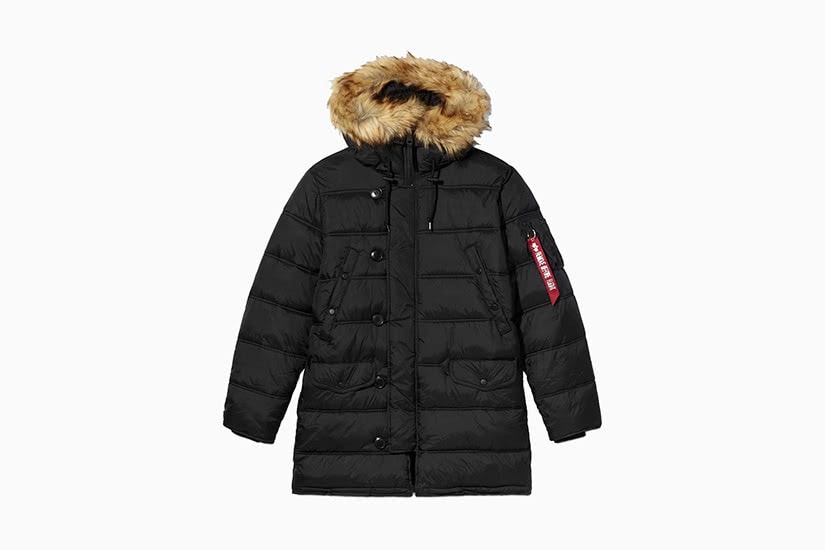 Parka jackets might typically be associated with all things Liam Gallagher, but they're perpetually in style and offer a failsafe choice that suits any man. Keeping you warm, dry and comfortable while also looking good, a parka delivers in all the key areas. With its undeniable style, Alpha Industries' N-3B Echo II Parka has a water-resistant covering and a faux fur hood, protecting you from all the elements.
Alpha Industries, as a brand, is designed for extreme cold weather, which means you're in safe hands no matter which piece(s) you choose. Think of a buzzword that you'd use for element-protecting weather, and you'll likely find it here. We're talking channel quilted lining, handwarmer pockets, Ottoman knit cuffs, and Faux mouton lined hood. Not entirely sure what all of these things mean? No stress – the only thing you need to focus on is how cozy you feel wearing this jacket.
| | |
| --- | --- |
| Best for: | Classic comfort in a timeless style. |
| Colors: | Navy, black, sage |
Arc'teryx Thorium: Best winter down jacket for men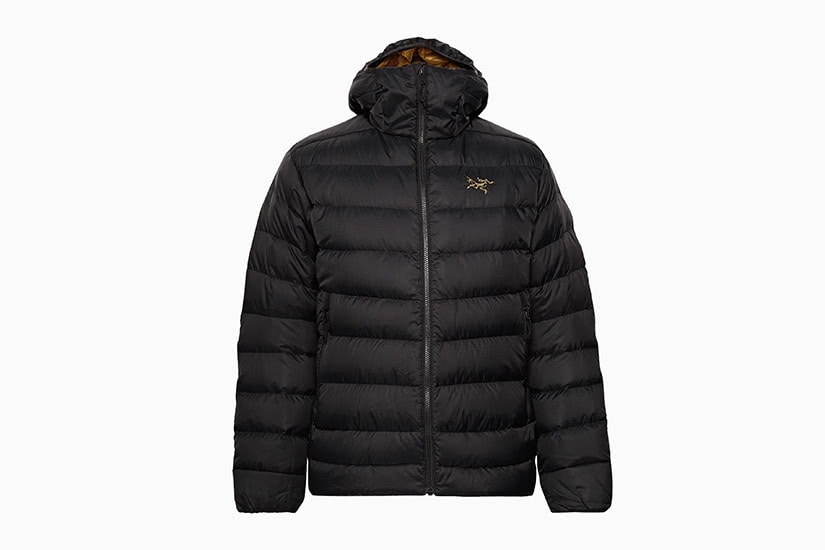 If there's one brand that knows what's what when it comes to men's winter jackets, it's Arc'teryx. This brand tests each of its products in the Canadian wilderness, and if it's good enough to keep you toasty in Canada then it's guaranteed to keep you possibly even too warm elsewhere in the world. So if you're looking for a safe bet in the world of warming jackets, Arc'teryx should be top of your list.
One of the brand's most popular jackets is the Arc'teryx Thorium AR Quilted Nylon Hooded Down Jacket. Combining everything you need for even the coldest adventures, this coat comes with 750-fill down (most coats range between 250 and 800, for reference) and a technical-sounding StormHood that's designed to ward off all of the elements. Despite its shorter length, this is a coat that'll have you feeling cozy and warm almost the second you put it on.
| | |
| --- | --- |
| Best for: | Accidentally leaving your scarf at home and still staying warm. |
| Colors: | Black |
Canada Goose Macmillan: Best winter down parka for men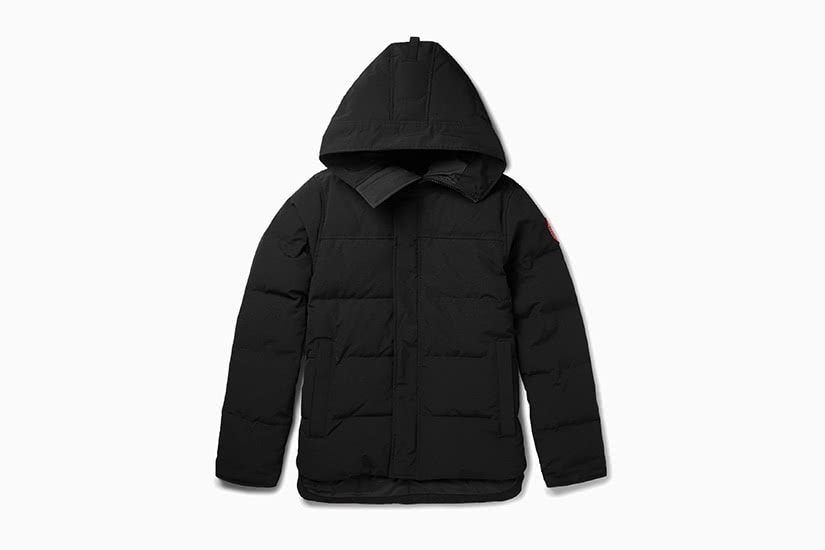 A down parka is the coat you need if you're looking to cover all bases. Thick, premium quality insulation and a slightly longer length mean you'll have no trouble exploring the outdoor world no matter whether you find yourself in the north of England, the depths of Canada, or even the Arctic. A down parka basically ticks every box in the world of warm winter coats, and it's a brilliant addition to your winter wardrobe regardless of where you're based.
Canada Goose's Macmillan Quilted Shell Hooded Down Parka is another to be influenced by the weather of the world's most exposed locations. Test-driven by the rugged demands of the Arctic, Canada Goose is a firm favorite for anyone who counts hiking, trekking, or mountaineering as a hobby. A wind and water-resistant shell fights all the battles even when the weather is determined to make a scene and a three-way adjustable hood keeps warmth in and icy winds out.
| | |
| --- | --- |
| Best for: | Combining all the winning features from your previous favorites. |
| Colors: | Black |
Moncler: Best winter down gilet for men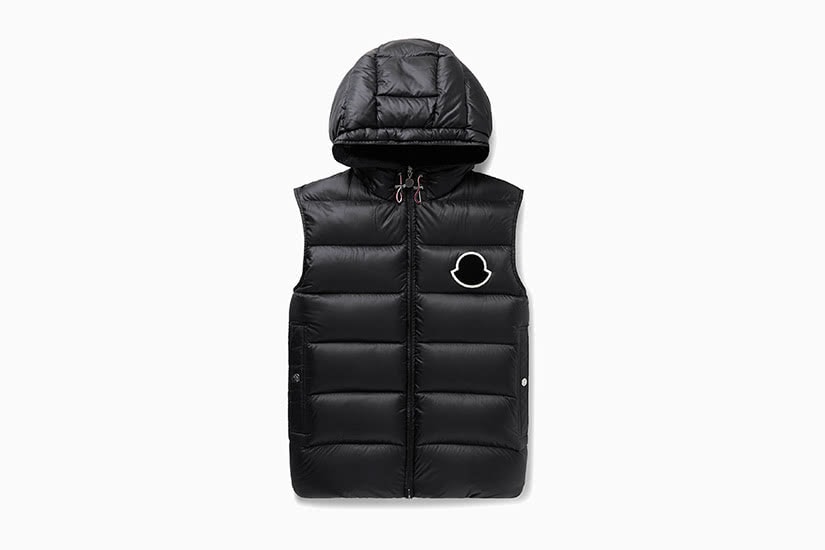 A Moncler jacket is one of those you'll admire for years on end, eyeing up not so subtly whenever a friend or colleague walks in wearing one and admiring on an almost daily basis when you've got one yourself. And a gilet is another essential to your wardrobe that you'll rely on for many occasions. So, really, it only makes sense to kill two birds with one stone and invest in a Moncler gilet.
Without sounding too cliche, this isn't just a Moncler Vanoise Logo-Appliquéd Nylon Quilted Hooded Down Gilet. It's also a Moncler gilet filled with enough natural warmth that you'll convince yourself you'll never need an armed jacket again. It also comes in a sleek, black color, adding an instant touch of cool to whatever you're wearing alongside it. Gilets are a great transitional staple that you'll wear mostly in the Autumn, which means now's the time to buy one. Just think of it as a very early Christmas present to yourself.
| | |
| --- | --- |
| Best for: | Freedom of movement, but make it wintery. |
| Colors: | Black |
Columbia Steens Mountain: Best winter fleece jacket for men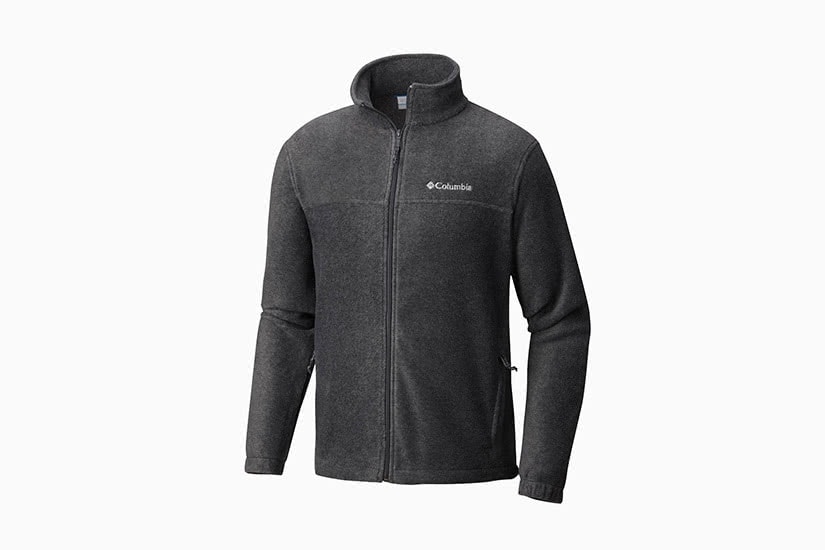 Before you skip past – we're here to make you rethink the humble fleece jacket. Don't immediately scroll on, because a fleece jacket is an important purchase that you'll kick yourself for not buying earlier in the year. A well-styled fleece jacket is the difference between trying to make shivering look fashionable and actually looking fashionable. The first step, obviously, is to hunt down a fleece jacket produced by a stylish brand, and that's where Columbia comes into play.
Columbia Men's Steens Mountain Full Zip 2.0 Fleece comes in a large range of colors, but, if you're not a fully paid-up member of the Fleece Appreciation Club yet, stick to a statement black colorway. Ultra soft and made from a thicker-than-it-looks material, this fleece is the winter coat to throw in your bag when you're not sure how long you'll be out or where you may end up.
| | |
| --- | --- |
| Best for: | Your "why didn't I think of that?" answer to layering this season. |
| Colors: | Black, bluestone, fossil |
Canada Goose Chateau: Best men's winter coat for extreme cold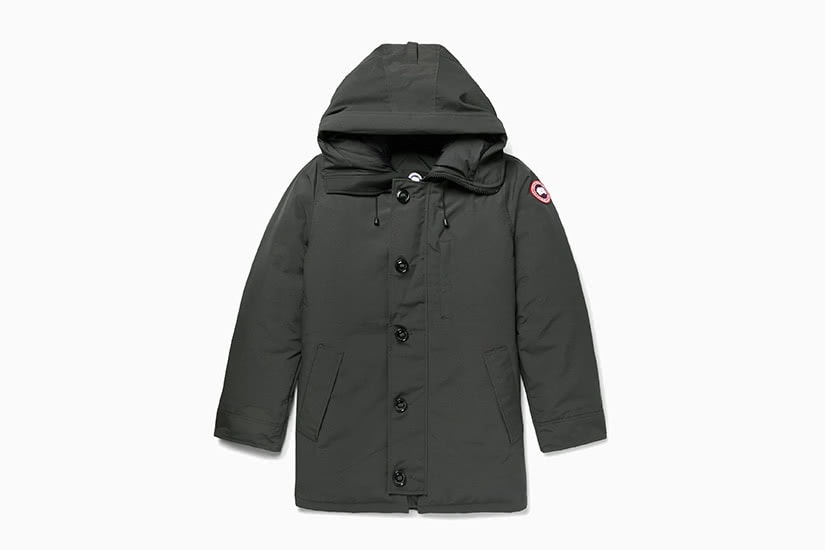 Plenty of brands might vie for the title of the warmest winter jacket, but you'll struggle to find another that deserves the top spot quite as much as Canada Goose does. Another CG offering to be inspired by the coldness and conditions of the Arctic, it's a coat that will almost scoff when you bring it out for commuting as if to say "This? This weather is nothing." You'll put it on, brace yourself for the cold and feel…perfectly fine.
Be prepared to be converted if you don't yet own a Canada Goose jacket, is all we're saying. The ultimate best winter coat for extreme weather is the Canada Goose Chateau Shell Hooded Down Parka. A dark green color will help the adventurer in you to tackle the cold, and a 650-fill power down combined with fleece-lined pockets will promise that you never feel anything other than delightfully toasty.
| | |
| --- | --- |
| Best for: | Almost challenging yourself to find somewhere colder. |
| Colors: | Dark green, black |
Polo Ralph Lauren: Best waterproof winter coat for men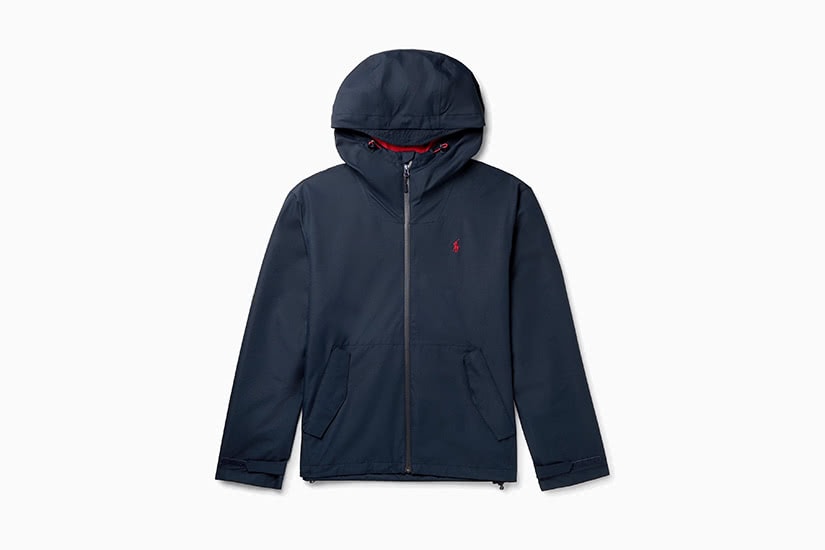 Ralph Lauren is the ideal brand for any man who wants a fashion-forward piece ready and waiting for when the colder season comes around again. A failsafe brand, Ralph Lauren never goes out of style and will ensure you look the part, whatever the occasion. This is a jacket that delivers in every aspect, from the preppy navy and red colorway to the protective hood and waterproof shell.
An important distinction here that sets the Polo Ralph Lauren Portland Hooded Shell Jacket apart from others is the fact that it's waterproof – not just water-resistant. The best choice if you're living somewhere with unpredictable weather (or just want to look perpetually on trend) this jacket is just as weather appropriate as its name would suggest. A shell jacket style makes it suitable for more casual occasions, and a signature logo at the chest adds an extra touch of sophistication.
| | |
| --- | --- |
| Best for: | Not letting the downpour ruin your evening. |
| Colors: | Navy |
Amazon Essentials Puffer Jacket: Best budget winter coat for men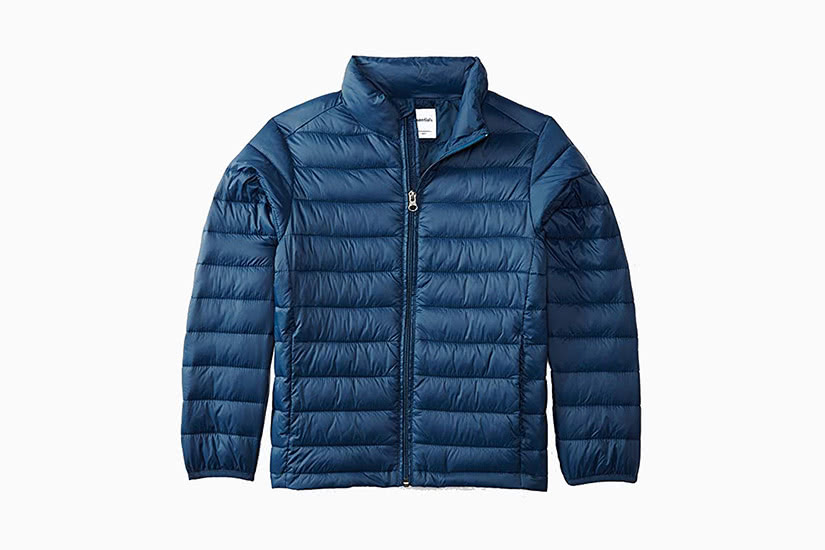 Sometimes you just need a reliable jacket that does the job without bringing any extra attention or making too much of a fuss. Amazon Essentials is the brand to run to if that's what you're after, with a range of pieces that are just as swish as they are suitable for cooler months. And, at less than $50, you'll be hard-pressed to find a reason not to buy one of these jackets.
Amazon Essentials' Packable Puffer Jacket is a versatile coat that does exactly what it says on the tin. It'll keep you warm and dry with a classic style that suits any man. You'll struggle to find a coat of this quality for a lower price – and it's at your own risk as to whether any competing piece would keep you just as warm. Better to stick with what you know and kit yourself out in one of the many colors this jacket comes in.
| | |
| --- | --- |
| Best for: | A reliable friend of a coat that's always there for you. |
| Colors: | Black, blue, red |
Loro Piana Bomber Jacket: Most expensive winter coat for men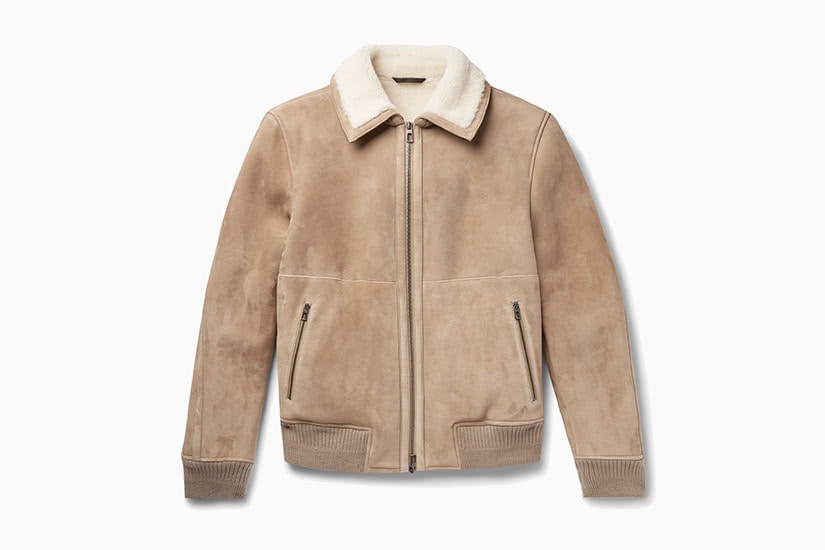 Some men's jackets are just designed to look expensive. Some of them might look incredible but not actually do the job of keeping you warm. Fortunately, Loro Piana's Cashmere-Trimmed Shearling Bomber Jacket fulfills both parts of the deal: not only does it look soft and suave, but it'll actually keep you just as warm as its buttery material would suggest. In fact, if there's one brand that breezily guarantees top-notch quality it's Loro Piana, thanks to its textile specialism.
This shearling jacket is an investment piece that you'll treasure for years to come, thanks to its ability to instantly upsell the rest of your outfit. Relaxed coziness merges with a cool silhouette to promise complete and utter warmth even in the dead of winter. It's a perfect travel companion that will find its place in many photo albums after various wintery weekend trips across Europe.
| | |
| --- | --- |
| Best for: | Spotting on the pages of your favorite fashion and lifestyle magazines. |
| Colors: | Light brown |
Buyers guide to men's winter coats: How to choose the right winter coat?
Coat vs jacket
You'll find the words "coat" and "jacket" used pretty interchangeably nowadays, so don't be put off by a new winter coat if it refers to itself as a jacket. However, a coat rightfully implies more warmth and layers, so choose accordingly depending on where you're going. Coats are also generally more formal than jackets, making a winter coat the answer if you're dressing smart or a jacket if you're just going for evening drinks.
Material
Wool coats and parkas will keep you warmest, along with those that have a down rating of more than 500. Leather is also a great choice for keeping you warm during winter. Poly fabrics, when layered appropriately, can be a strong option. You'll also want to keep an eye out for wicking material, which will absorb moisture and keep you warm without feeling sweaty.
Down vs synthetic
Down refers to naturally insulated coats, usually made from the plumage of a duck or goose. Synthetic insulation has the ability to be just as warm with the added benefit of a lower cost.
Length
Longer coats tend to look more formal than their shorter counterparts. A short coat is more versatile and tends to be the chosen style for shorter guys. A longer coat will offer more warmth but might not be suitable if you're climbing mountains or trekking through the forest.
Water-resistant vs waterproof
Many winter coats are water-resistant rather than waterproof. This means they'll tackle the drips from a light drizzle but won't offer much protection when the heavens open. If you're looking for a winter jacket that'll protect you from the rain, look for one that's waterproof rather than just resistant.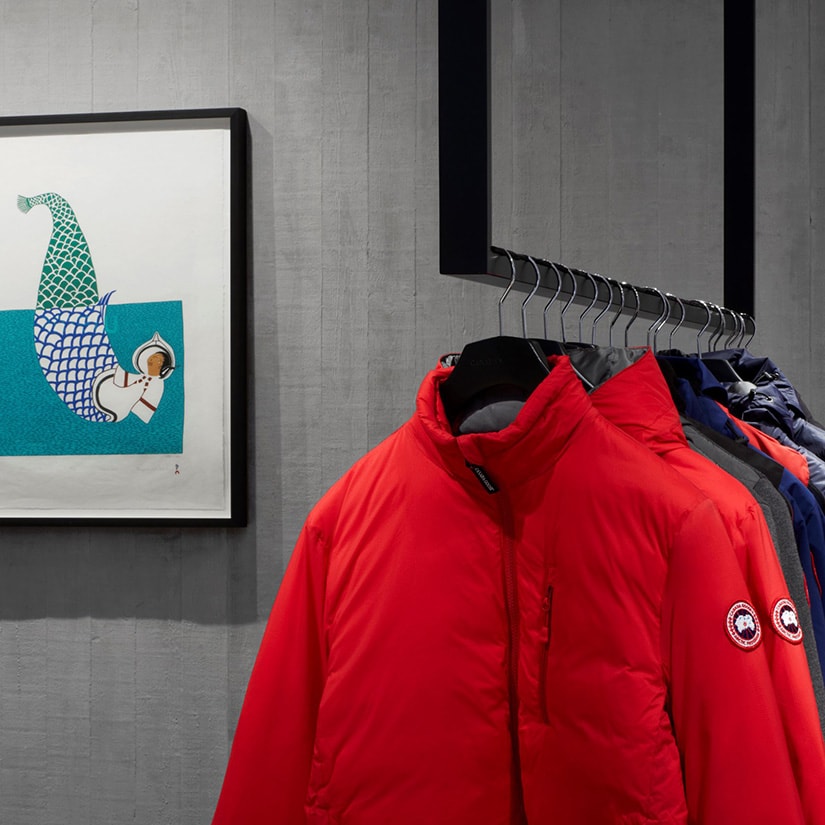 Frequently asked questions about men's winter coats
What is the warmest winter jacket for men?
The warmest winter jacket for men is the Canada Goose Chateau Shell Hooded Down Parka. Inspired by the harsh wind and coldness of the Arctic, this coat is water-resistant, fleece-lined, and filled with 650-fill power down.
Which type of jackets is best for winter?
Shearling jackets and thick bomber jackets both provide an extra layer of warmth that'll see you through winter. Choose brands like Alpha Industries, Moncler, and Canada Goose for a selection that'll keep you toasty. Our full guide breaks down all of the best men's winter coats for this season.
Which type of coat is best for winter?
For the coldest temperatures, choose a peacoat, a parka, or a wool coat. These styles all provide enough warmth to keep you toasty even when the elements are testing you. Read through our full guide of winter coats for men to find your new favorite jacket.
Who makes the best winter jackets?
Some of the best winter jackets come from Western Rise, Alpha Industries, Canada Goose, and Columbia. These brands are all known for releasing staple jackets that'll see you through the colder months. Check out our full guide to discover your new favorite winter jacket.