Wedding, gala, award ceremony, or milestone birthday — the rules of black tie formal wear are always the same. And, in many ways, a black tie dress code does a gentleman a favor. It's simple and specific. Clear conventions about what to wear take some of the pressure off.
For men, the monochromatic uniformity of wearing a dinner jacket and a crisp white shirt is synonymous with sophistication. There's a reason why James Bond, infinitely suave and style-savvy, always appears at least once in a tuxedo during a movie.
But while it's hard to get the black tie look completely wrong, there's still space for a sartorial faux pas, whether you're a black tie novice or not.
So do you really understand the difference between a tuxedo and a suit? When should one wear a cummerbund? Are colorful bow ties a black tie blunder? And what's the deal with smoking jackets?
Black tie sends a message of elegance and quiet confidence. But for black tie to work its magic, it must be worn correctly.
This article aims to remove any ambiguity around black tie attire. You'll learn what black tie means, the difference between a tuxedo and a suit, and how to carry black tie off with style.
Feel free to skip ahead to the section that applies to you.
The modern black tie look
Welcome to our black tie look guide for the modern man. This article is part of a style series covering the seven essential dress codes for men:
Tuxedo vs suit: see exactly what each style is
If your invite says black tie optional or black tie preferred, you have a choice. You can either go for a tuxedo, aka dinner jacket, or a dark suit. But what's the difference, exactly?
The biggest difference between a tuxedo and a normal suit is the satin detailing. Dinner jackets have satin facing on the lapels, buttons, and pockets. A satin stripe also runs down the leg of the trousers. With suits, the jacket, lapel, and trousers are all made of the same material.
Another difference is the buttons. Suits usually have plastic buttons — or buttons faced with the same fabric as the jacket itself. Tuxedos have satin buttons.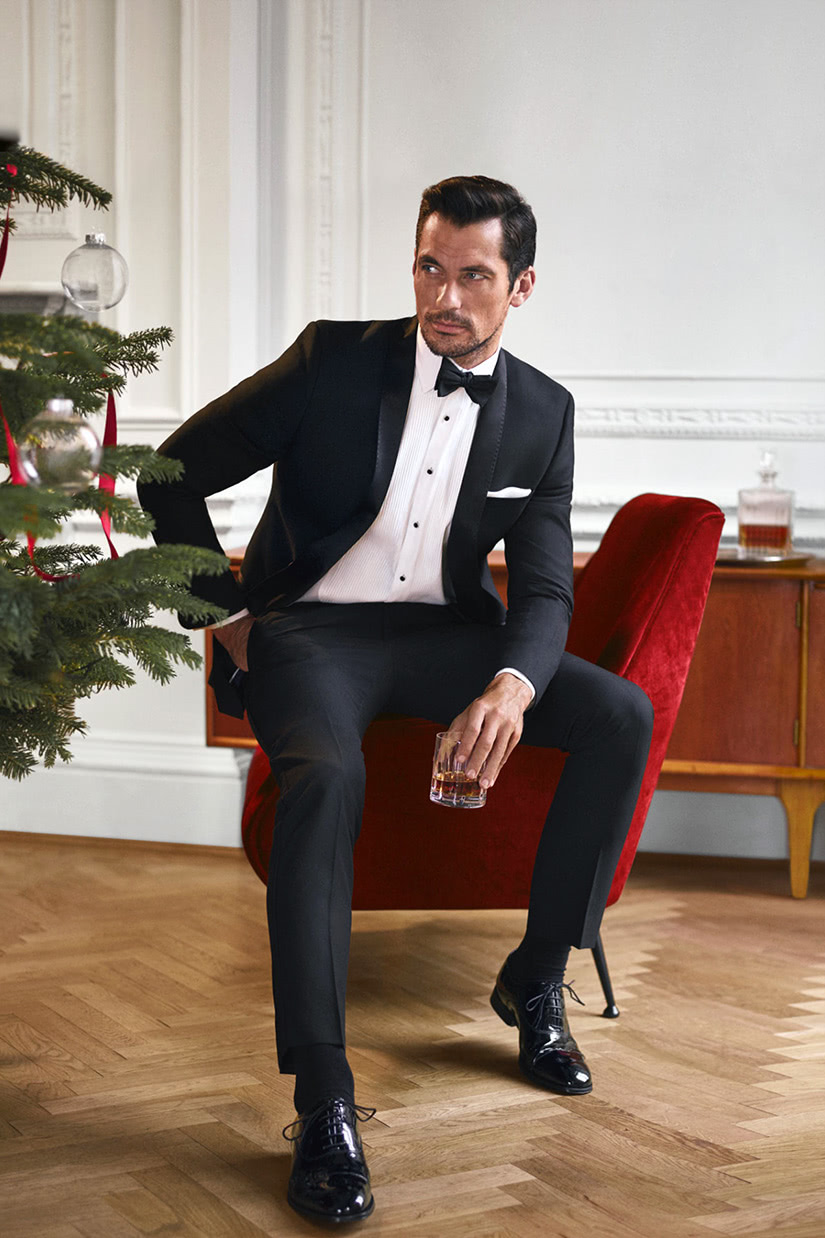 How should men dress for a black tie event?
Black tie is a dress code that requires men to wear a dinner jacket with matching trousers, a pleated white shirt, black formal shoes, and a bow tie. Optionally, men can also wear a cummerbund or a waistcoat.
If an event invitation calls for a black tie attire, it is important for men to dress appropriately to show that they are able to conform to the formality of the evening. Wearing black tie attire is also a mark of respect to the party host.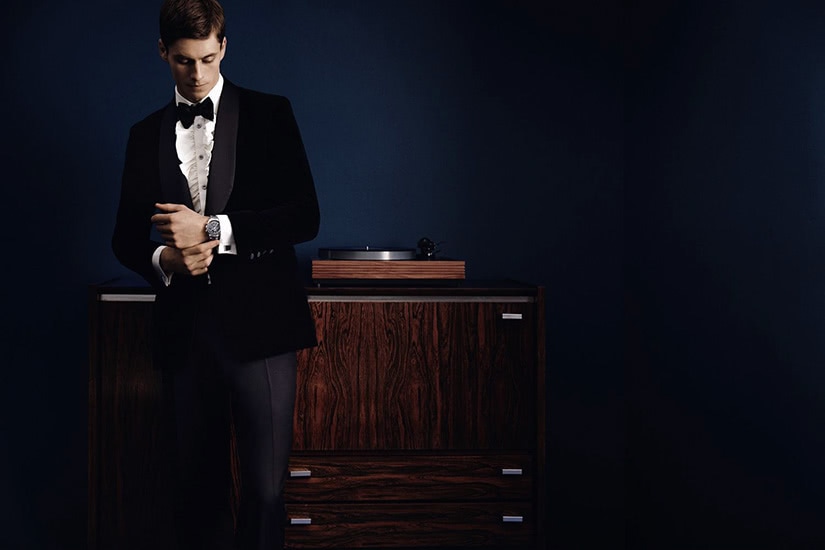 Black tie dinner jacket
What do you need to know when choosing a dinner jacket?
Traditionally, tuxedos were made of silk. But today you're more likely to find one in wool barathea or ultra-fine herringbone.
Black or dark blue are your best color choices. In fact, originally, black tie wasn't black but midnight blue.
The reason? Black tends to look dusty under artificial light. So opting for dark blue marks you out as a fashion-literate guest.
Fancy something a little different? A velvet smoking jacket in dark blue, burgundy, or bottle green could lend your look a chic vintage edge.
This navy tuxedo by Richard James is a luxurious combination of satin and velvet.
A dinner jacket in off-white with black lapels can look great in warm climates. But be sure to pair with black trousers.
So far, so simple. But it's time to broach the subject of lapels.
There are two types of acceptable black tie lapels: peaked or shawl. The peaked lapel is popular, flattering, and straightforward. The shawl lapel is more traditionally elegant.
This jacquard tuxedo jacket by Giorgio Armani is a good example of the modern-day sophistication of peaked lapels.
Shawl lapels convey a timeless elegance – especially with a single-breasted close.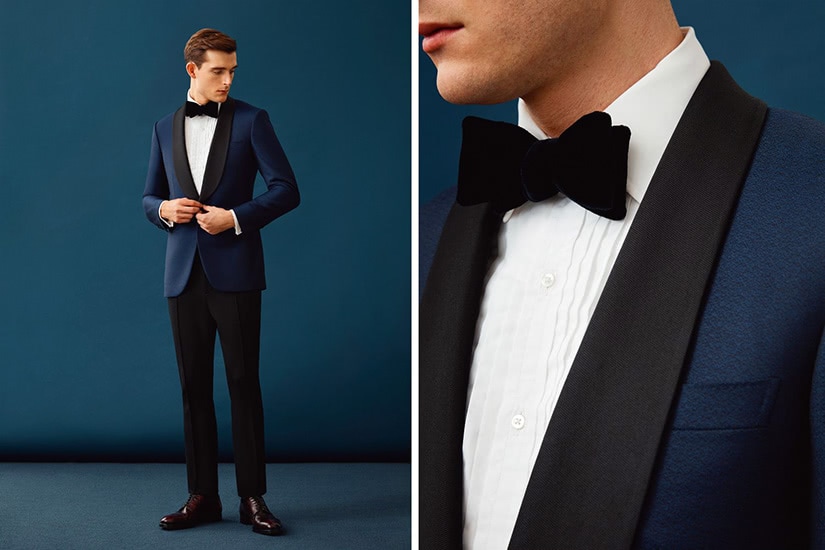 Matching black tie trousers
There are far fewer rules when it comes to black tie trousers. Simply choose a dark-fitted pair that matches your jacket. They should also have a natural taper.
Beware the classic error of choosing trousers that are slightly too short or too long. You want a pair that flatters your body shape and aren't too baggy. Traditional black tie trousers have a single row of braiding running down the leg. However, that's not a necessity these days.
For something modern and versatile, try these Kenneth Cole Reaction trousers.
Pleated white shirt
Black tie shirts, or dress shirts, are usually made from marcella, a stiff cotton fabric. They have black or white buttons, plus holes for cufflinks.
A wing collar is traditional but a standard collar is fine too. Pleats are common but avoid them if you're wearing a cummerbund. You don't want to make your profile too busy and distracting.
This formal white shirt from Mr Porter has a ribbed bib and classic collar.
If you choose to wear a suit rather than a tuxedo, try to avoid patterns or bright colors. A white or light blue shirt looks best.
Bow tie
When it comes to bow ties, a dash of color can give your look some personality without breaking any black tie dress code rules. But no white. That's reserved exclusively for white-tie events.
Ensure you choose a bow tie that's proportional to your head. Hand-tied is much preferred. But if you struggle with the finger gymnastics required, a pre-tied one is fine. If it's slightly imperfect, it will make it look like you tied it yourself.
These days, people often opt for regular black ties over bow ties — referred to as "Hollywood black tie." But this is more appropriate for those wearing a regular suit rather than a dinner jacket.
Cummerbund
A cummerbund is a broad pleated sash worn around the waist. It creates a sleek and streamlined profile. Colors like dark green, burgundy, and plum are all elegant choices.
Or you might choose something simple but timeless, such as this black silk-satin cummerbund by Tom Ford.
Note: opt for a cummerbund or waistcoat — but not both.
Waistcoat or a vest
Waistcoats also create a smooth and sophisticated look, accentuating the deep V of the dinner jacket. Choose black for a traditional mood or something in a textured fabric to add aesthetic interest.
Wearing a dark suit rather than a tuxedo? Waistcoats can elevate your look from business casual to after-dark elegance. For example, this three-piece suit from Salvatore Exte.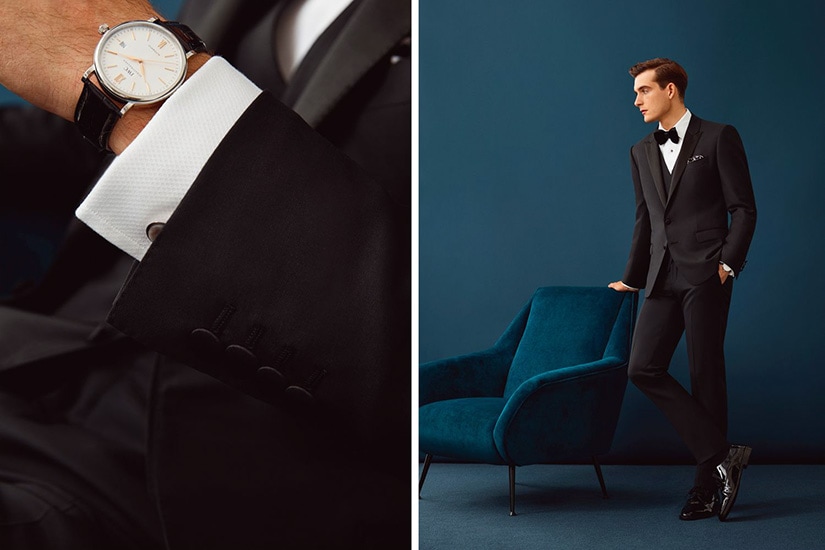 Black formal shoes
Your everyday office shoes just won't do here, unfortunately. You need to take it up a level. Black and patent is the classic look. Narrow and round-toed is recommended.
This straightforward black Oxford by Amberjack will do the job nicely. It's designed to be timeless and classic yet super comfortable.
Velvet slippers are another good choice. But avoid suede. It will look dusty and messy in bright lights.
Designer sneakers have been making regular appearances at black tie events in recent years — especially on the red carpet. It's not an easy look to pull off, but if you succeed, it marks you out as one of the more sartorially daring guests. Here's our rundown of some of the best luxury sneakers on the market.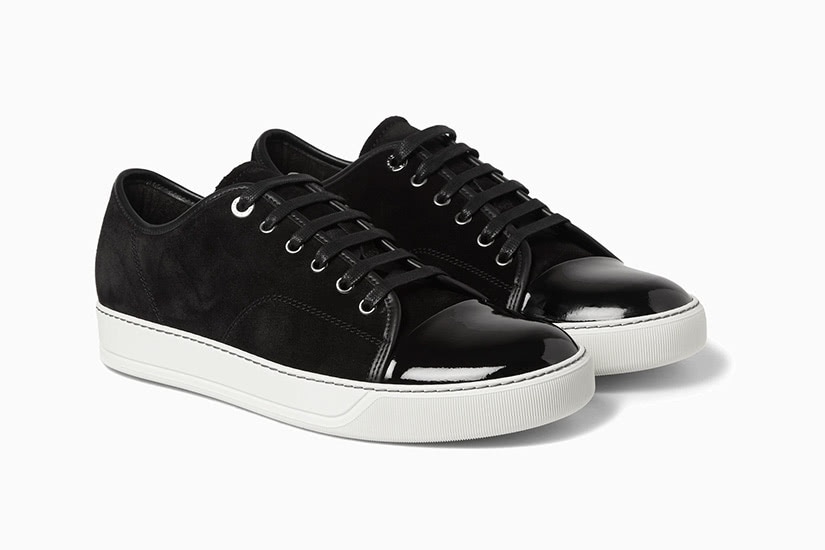 If you've gone for a suit over a dinner jacket, pair with loafers, brogues or slip-ons.
Socks
Stick to black and stay away from gimmicks. Even if it's the festive season, now is not the time for those Christmas socks — or any other novelty hosiery. This is a classy event. Stick with a pair of clean and classic black socks.
Accessories
Traditionally guests wouldn't wear watches to a black tie event as it was considered rude to check the time. But if you do want to wear a watch, it should be slim and gold. Or opt for something more unique with one of these luxury watches for men.
Like the rest of the outfit, cufflinks should be simple and elegant. And a white pocket square is the perfect finishing touch. For example, this white silk pocket square by Lanvin.
In a nutshell: Black tie is uniformity and simplicity
The overall message with black tie is uniformity and simplicity. This is not the time for standing out or letting your creative flair shine. Black tie events exemplify the power of sophisticated consistency. Allowing free rein for color or patterns can ruin the visual effect.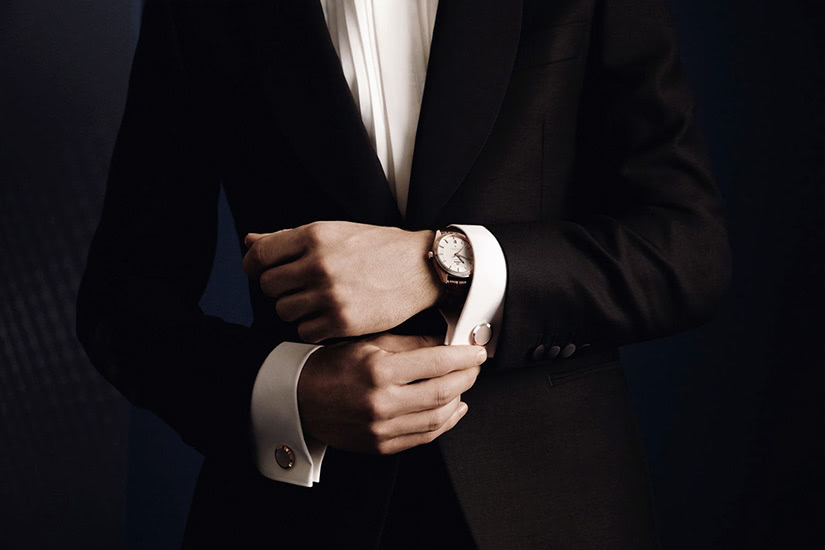 Learn more about the history of the black tie dress code
Today we associate black tie with the most formal of events. But this wasn't always the case.
Black tie was born as a fashion concept in 1885. Originally, it represented a relaxing of attitudes around dress codes.
Edward VII, tired of traditional formal wear, decided to swap out his typical tailcoat. To replace it, he commissioned a silk smoking jacket with matching trousers designed by iconic Savile Road tailor Henry Poole. 
This new style retained some elements of traditional evening wear: the winged collar and the bow tie. But the overall look, without the tails, was far more casual and comfortable.
Members of the Tuxedo Club in New York soon adopted this style. Hence the Americanism, tuxedo. In the UK, it's a dinner jacket.
White dinner jackets appeared in the 1930s, designed for wealthy holidaymakers. Because a black suit in tropical weather was hardly appropriate.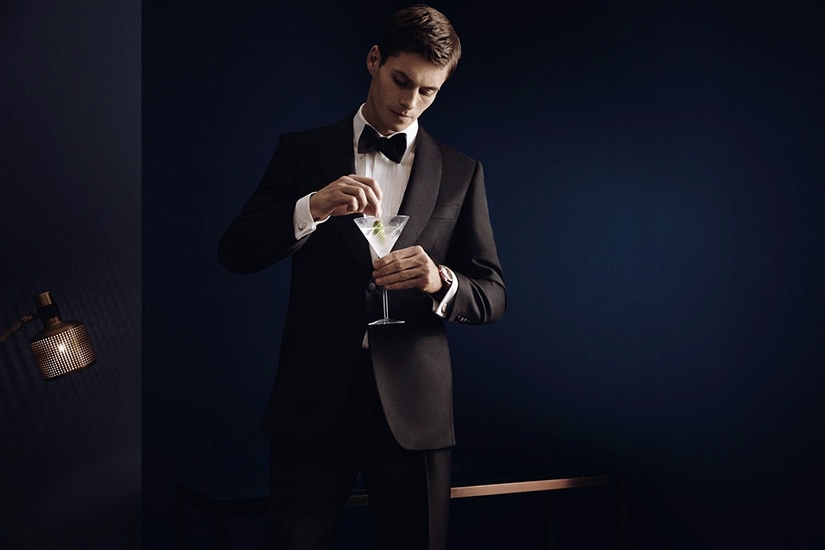 Terminology: the terms to know when shopping for black tie tuxedos or suits
The world of formal menswear is full of technical jargon and foreign-sounding terminology. Here are some key terms to get to grips with:
Barathea: a high-quality cloth with a diagonal weave and broken rib effect, smooth to the touch.
Bib: a panel up the front of a dress shirt to ensure it appears bright white and isn't at all transparent.
Boutonniere: a couple of flowers worn on the left lapel of a tuxedo or suit.
Butterfly bow tie: the classic bow tie. Big and luxurious. A black tie staple.
Double-breasted: a double-breasted jacket with two parallel columns of buttons and overlapping flaps.
Notched lapel: a notch is the V-shaped indentation in a lapel where it meets the collar.
Oxford: Oxford shoes have low heels, an exposed ankle, and closed laces. They are considered the smartest men's shoes.
Peaked lapel: comes to a peak at the edge, pointing upwards. It's more formal than a notched lapel and creates a slim and elongated effect.
Shawl lapel: round-edged lapels are mostly only seen on tuxedos. The skinnier they are, the more modern they appear.
Stud: a decorative fastener that fits into a buttonhole on formal shirts.
Wing collar: a heavily starched collar with tips that stand up and point horizontally like wings.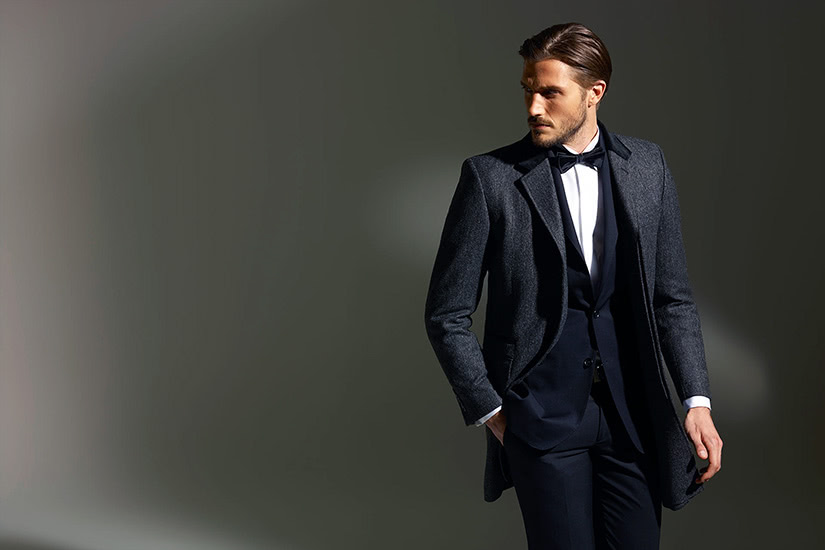 Decoding the dress code lingo
Confusing terminology isn't limited to the clothes. Sometimes understanding exactly what the dress code is asking for can be difficult.
Black tie
This is just as it sounds. Adhere to the rules of black tie attire as far as possible.
Black tie requested or preferred
Black tie will be worn by most of the guests and is encouraged by the hosts. You should wear black tie if you can — but you won't get refused entrance without a tux. While your hosts don't want to exclude anyone, they are trying to create a formal atmosphere and would prefer that guests dressed accordingly.
Black tie optional
Similar to black tie preferred except more relaxed. You can expect fewer people in dinner jackets. Opting for a dark suit, tie, and white shirt means you won't get mistaken for a waiter if the majority of guests choose to ignore the request.
Creative black tie
Somewhat dreaded among partygoers, creative black tie requires a whimsical or playful accessory. Just what that entails is up to you. Perhaps some colorful socks or a patterned bow tie. Aim for unconventional but understated.
Frequently asked questions about the black tie dress code