What makes work boots work boots? Well, essentially, they're designed for work. Not work a 9-5 in an office, obviously. We're talking serious labor. The kind of work that involves elbow grease and rolling up your sleeves.
If sneakers are like that friend who's always up for a laugh, Chelsea boots are your friend that fancies himself a rocker, and desert boots are your best-dressed and most sophisticated pal, then work boots are the friend you can depend on. The one who'll help you move house or come around to fix your boiler last minute. Straight-talking and always there for you—you need a pair of the best work boots for men in your life.
The best men's work boots have to perform highly in three important categories. First, they've got to protect your feet from hazards often found on construction sites and industrial environments, which range from falling objects to electrical charges. Two, comfort. No blisters, aching soles, sweaty feet, wet feet from the rain, or numb feet from the snow.
And three, they've got to last. You'll be putting these work boots through their paces, whether you're wearing them on the job, out on hikes, or literally anywhere else. The best work boots for men won't cower and crumble at the first sign of a challenge.
After checking out the men's work boots reviews, we've selected the top boots for working men available today. From budget-friendly boots to splash-the-cash indulgences, from steel-toe boots to the best lightweight work boots, as well as the most comfortable work boot and the best work boots for contractors, these are the shoes you want on your feet when it comes to putting your nose to the grindstone and your shoulder to the wheel.
The 17 best work boots for men
Check our special men's work boots buyers' guide after the list to see exactly what you should pay attention to before purchasing your next pair of work boots online.
Timberland: Best overall work boots for men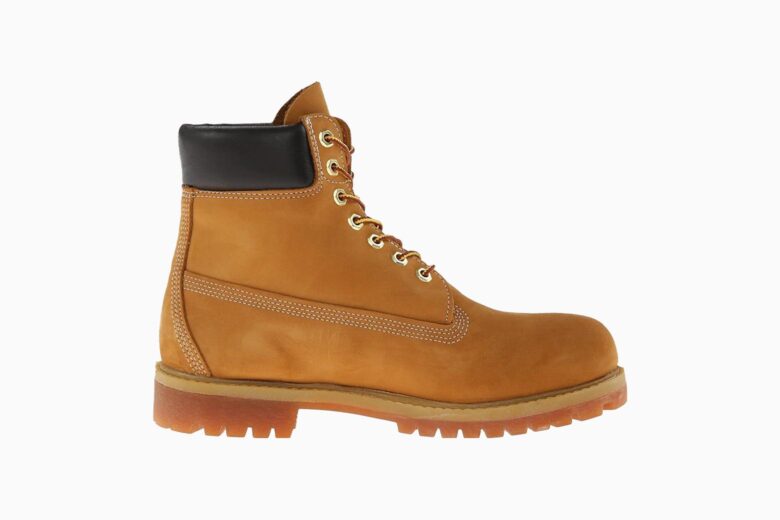 You can rely on Timberland work boots. The brand has been making some of the best boots for men since 1952—boots originally designed to tackle New England weather with its blizzards and rainstorms. These classics are our pick for the best men's work boots around.
These waterproof boots were originally released 40 years ago and are still best-seller today. Pretty iconic, in other words. The eyelets are rust-proof, there are 400 grams of insulation specifically designed to avoid bulk and compression, and a leather-covered footbed to deliver just the right amount of cushioning—perfect if you're looking for the best work boots for heavy guys.
We also enjoy the anti-fatigue midsole with cone support for added comfort when you're spending all day on your feet. And with rubber lug outsoles for traction and durability, these Timberland boots are sure to keep pace with you, whatever the job entails.
| | |
| --- | --- |
| Best for: | Boots that will have your back (and feet) for many years to come. |
| Colors: | A range including brown, black, or dark green |
Danner Acadia: Best high-end men's work boots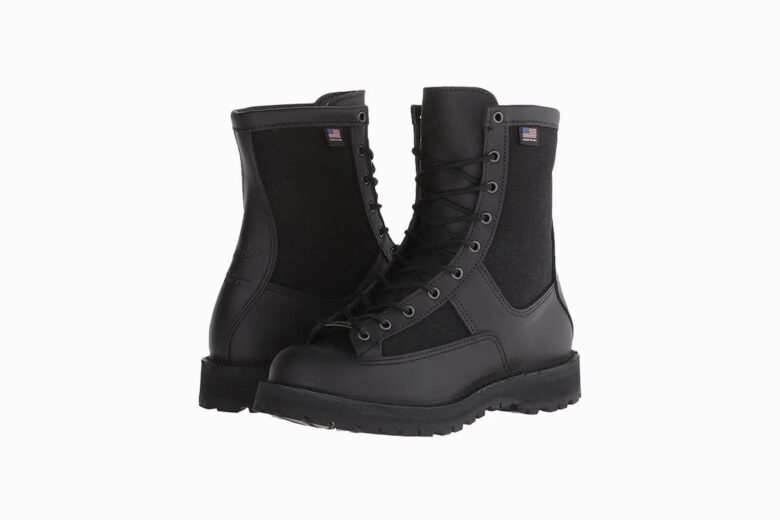 You might not want to shell out lots of money on shoes for work. After all, you're there to make money, not spend it. But there's a reason why Danner boots are expensive. They're super high-quality and manufactured in the US so you know they've been made according to the highest ethical and sustainable standards and with serious attention to detail.
A favorite boot among tactical teams and those in uniform, the Danner Acadia 8 is durable, waterproof, and easy to clean—the latter being particularly useful if you're trying to maintain an aura of professionalism.
These work boots are made of a combination of leather and nylon. The former can be polished to an impressive gleam while the latter is abrasion, tear, and scuff-resistant, as well as breathable and fast-drying.
A waterproof and breathable Gore-tex liner will keep you dry and comfortable, while fiberglass shanks add lightweight support and stability. Consider these Danner's top-rated work boots tools of the trade just as much as any machinery or equipment.
| | |
| --- | --- |
| Best for: | Trusty American craftsmanship and a truly high-quality boot. |
| Colors: | Black |
Larnmern: Best value men's work boots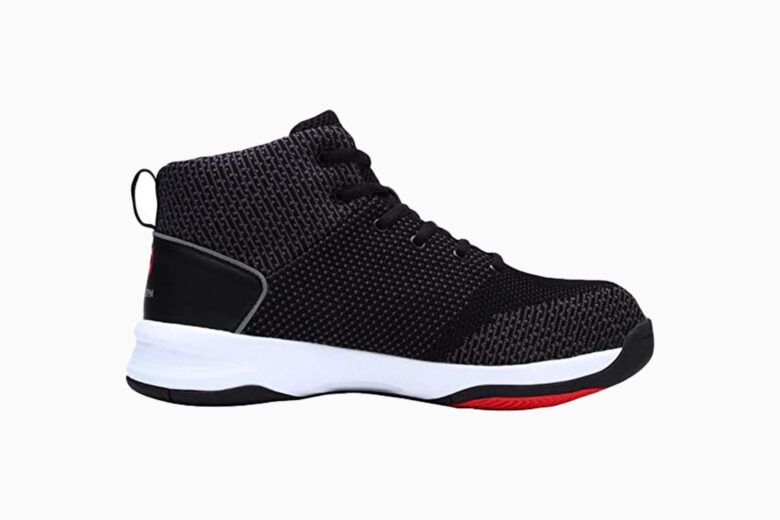 Protection, durability, and comfort shouldn't leave you scrabbling around trying to find the cash. Larnmern ensures high-quality work boots are accessible to everyone with these super hardy work boots for men.
These cheap work boots tick all the boxes for great on-the-job shoes. For comfort, they've got a cushioned memory foam insole and a high-top upper for added padding and support around the ankle.
For durability, they're made of premium leather with a woven mesh—breathable and long-lasting. They're also slip-resistant with a sole design that allows for superior grip in both wet and dry conditions.
Finally, the anti-smash steel toe cap and puncture-proof midsole meet the ASTM F2413-18 safety standard. Inside these Larnmern boots, your feet are more than secure.
| | |
| --- | --- |
| Best for: | Taking care of your feet and your bank balance simultaneously. |
| Colors: | Black with a range of different coloured details |
Skechers: Most comfortable work boots for men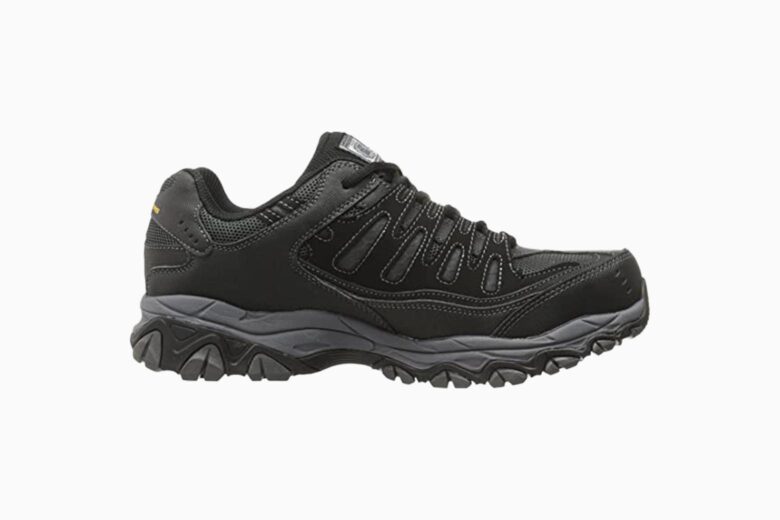 The thought of blisters can make it even harder to get out of bed in the morning. So grab yourself a pair of these Skechers work sneakers. Yes, you heard. Work sneakers. They combine the best of work boot durability with sneaker-like comfort, and you'll never want to take them off.
The Skechers Work Cankton work shoe features cushioned memory foam insoles, so you'll feel like you're still in your slippers, even on-site on a Monday morning. They're made from durable and abrasion-resistance leather along with a synthetic and mesh fabric upper for breathability.
You'd never guess these lightweight and athletic-style shoes contain a steel toe—but you'll definitely be grateful for it in the event of an accident. Some of the most comfortable steel-toe boots for standing all day, these Skechers work boots are also EH rated for safety. All that, and they'd still be more than appropriate for weekend attire. Talk about work-life balance.
| | |
| --- | --- |
| Best for: | Shoes that work hard and play hard, just like you. |
| Colors: | Black or grey |
Timberland PRO Hyperion: Best steel-toe work boots for men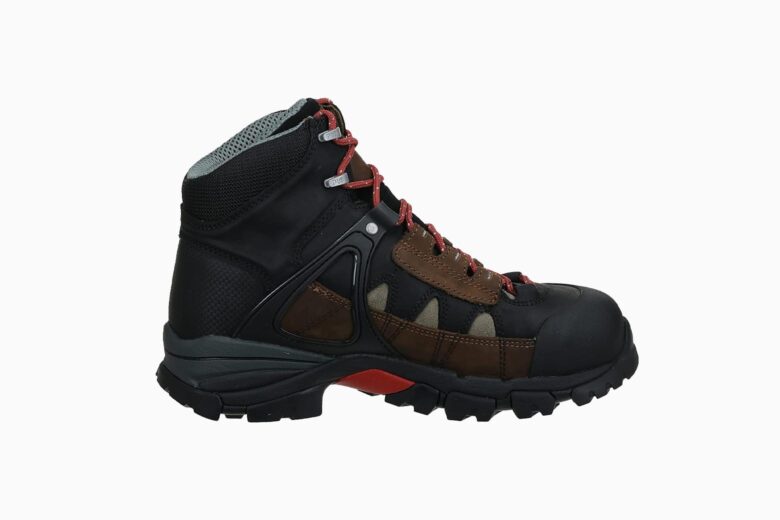 Don't let anxiety about safety add to stress on the job. Make sure you've got the necessary protection with these steel-toe boots by Timberland. Not only are they some of the most high-quality work boots we've seen, but they're also the most comfortable steel-toe boots around.
The Timberland PRO Hyperion boots feature alloy safety toes that provide protection without added weight as well as a generous fit, making these some of the best steel-toe boots we've come across. The Everguard leather is also abrasion-resistant for added security.
But despite all that robust ruggedness, these boots still deliver on the comfort, with lightweight EVA midsoles and anti-fatigue technology that gives energy back to your foot during the day, especially in those areas prone to pain. Now that's what we're talking about. Boots that actually add to our stamina.
| | |
| --- | --- |
| Best for: | Like two hefty henchmen ready to protect your toes. |
| Colors: | Black or brown |
Keen: Best composite toe work boots for men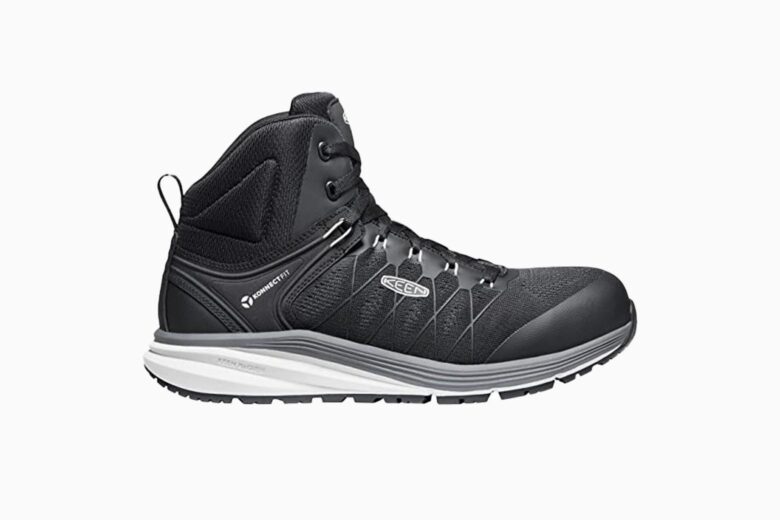 If you're less fussed about work boots that are totally uncrushable than having a pair of comfortable and lightweight shoes that you won't want to remove by mid-day, then these composite toe work boots from Keen are ideal.
That's not to say these Keen boots aren't super protective. The carbon-fiber toes may be unobtrusive and 15% lighter than steel, but they still meet or exceed ASTM standards. And the fact they're not metallic means you can pass through metal detectors no problem.
Meanwhile, the boot also features oil and slip-resistant rubber outsoles, while the moisture-wicking lining will keep your feet dry and comfortable.
Finally, these Keen Vista Energy shoes feature a heel-capture system for that snug locked-in feel that all top-rated work boots offer.
| | |
| --- | --- |
| Best for: | A boot-shaped bastion of strength for your feet. |
| Colors: | Black or black and grey |
Reebok: Most lightweight work boots for men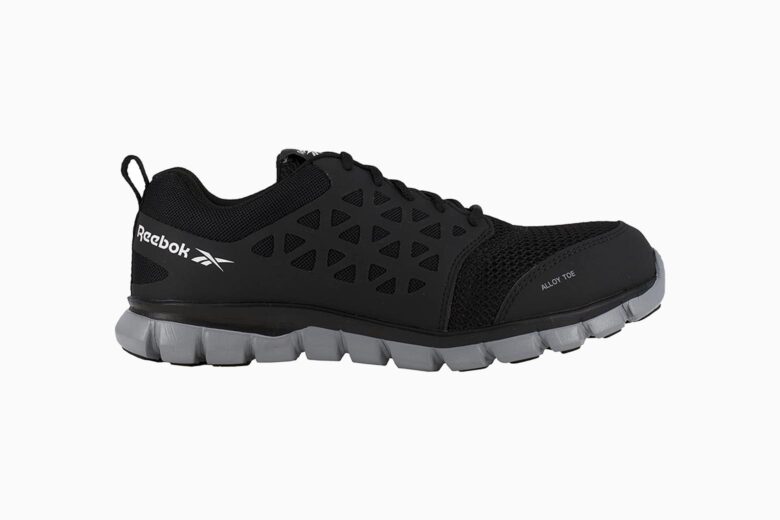 While work boots are almost synonymous with stompy, it is possible to find lightweight boots that won't make you feel like you've got a few tons of steel strapped to your feet. Like these athletic work shoes from Reebok.
These work boots achieve the impossible. They're lightweight and flexible, thanks to the light midsole and deep flex grooves that offer an optimum range of motion, but they're also protective with an ASTM F2413-rated alloy toe cap.
Rubber offers traction where your heel strikes the ground without adding extra weight. Meanwhile, the uppers are made of mesh—breathable and moisture-wicking. And the MemoryTech Massage footbed adapts to the contours of your foot.
Weighing just 350 grams, you'll basically forget you've got these Reebok boots on. Some of the best work boots for contractors who are always on the move.
| | |
| --- | --- |
| Best for: | Staying light on your toes and quick on your feet. |
| Colors: | Black |
Timberland PRO Rigmaster: Best waterproof work boots for men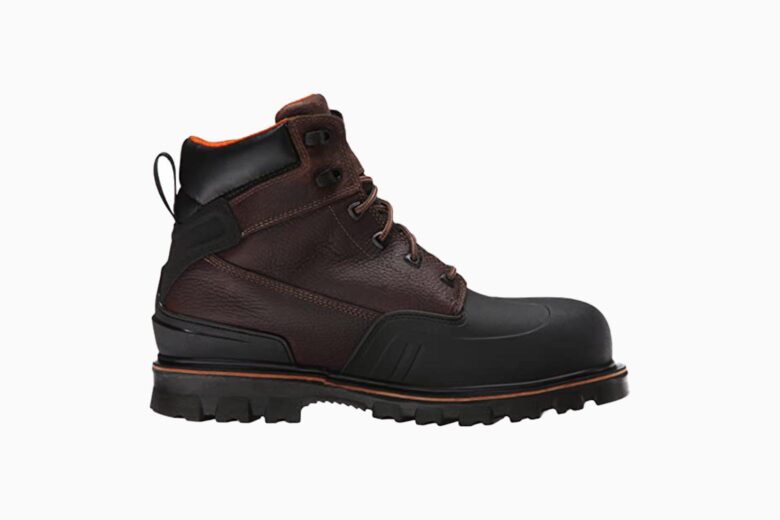 As all the work boots reviews attest, Timberland makes the best boots for guys. There's so much we love about these Timberland work boots that it's hard to know where to start. It's like they were sent by heaven, especially to make our working day a little more bearable.
First up, for anyone who works outdoors, rain or shine, you're going to appreciate the superior waterproofing of these boots. You're also going to enjoy the next-level slip resistance, not to mention the anti-fatigue and shock-diffusion technology that delivers the requisite comfort.
Part of the brand's PRO workwear collection, which consists of workwear staples reinvented with new and high-spec technology; these Timberland PRO Inch Rigmaster are ideal for those who work in grueling conditions. Everything in the PRO collection meets the minimum safety standards as set by the International Organization for Standardization.
| | |
| --- | --- |
| Best for: | Saying goodbye to soggy socks forever. |
| Colors: | Brown |
Timberland Pro Wedge Sole: Best construction boots for men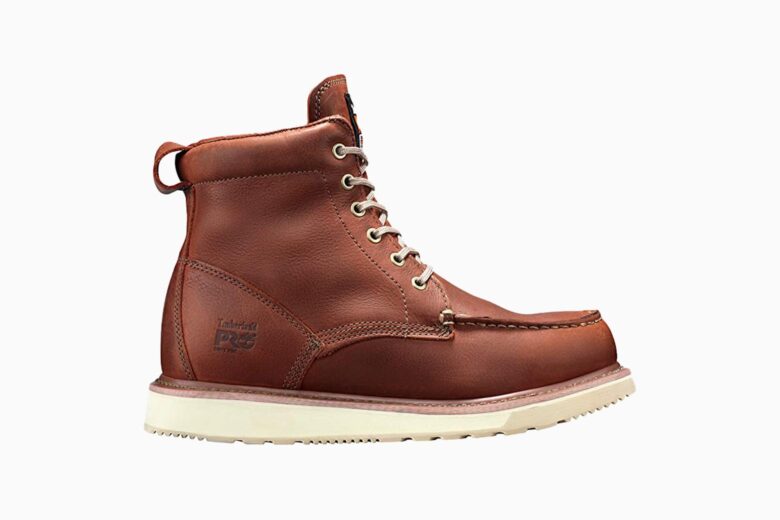 On construction sites, keeping a grip is essential—and we're not just talking about staying calm. We mean having non-slip boots that allow us to feel the surface beneath our feet. That's what makes these Timberland shoes the best boots for construction work that we've come across.
Another pair of boots from the brand's ultra-modern workwear collection, the Pro Wedge Sole boots feature a flat sole that means you can feel the surface below the boots and grip more effectively. This massively reduces your chance of slipping.
These Timberland work boots also feature a rather stylish moccasin toe and a contrasting platform sole and wouldn't look out of place at after-work drinks once the job is done and dusted.
| | |
| --- | --- |
| Best for: | Superior on-site practicality with premium materials and pioneering craftsmanship. |
| Colors: | Brown |
Danner Quarry: Most durable men's work boots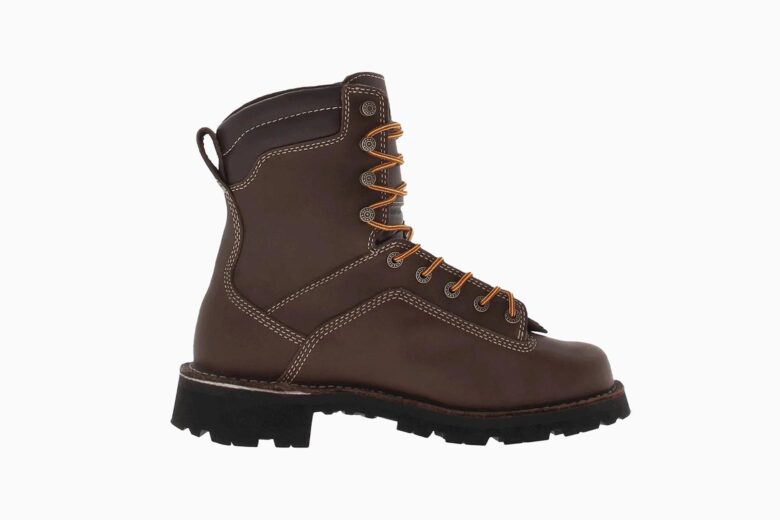 Whether you're just starting out at a new job or you're a veteran, the last thing you want is your boots to give up the ghost before you've handed in notice yourself. So get yourself a pair of these top-rated work boots by Danner. These things are as tough as nails.
The full-grain leather uppers aren't going to break anytime soon, and the triple-stitched thread means the machine has sewn over the same spot three times, adding durability. Meanwhile, the midsole is made in a single solid piece. This means it will last longer.
And it's not all about durability. There's also a Gore-tex liner (waterproof and breathable) as well as an oil and slip-resistant outsole with a non-linear lug pattern that provides traction. The outsole also has a debris release feature, so you don't get chunks of grit stuck to your boot.
Plus these Danner Quarry USA boots meet all the necessary standards for electrical hazards and have an alloy toe for extra protection.
| | |
| --- | --- |
| Best for: | Boots that you'll probably still be wearing when you finally get to enjoy your pension. |
| Colors: | Brown |
Thorogood: Best men's work boots for walking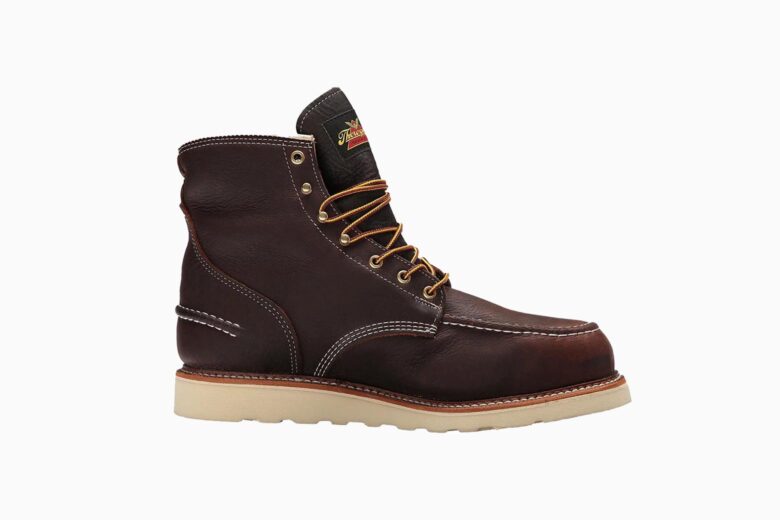 If you're on the hunt for a pair of boots that are as well-equipped for weekend walks as they are for getting the job done Monday to Friday, then check out these beasts by Thorogood.
These boots are a great choice for walking thanks to the shock-absorbent rubber midsole and memory foam footbed, which offers comfort and support all day. It can also be removed if you need to replace it in a few years.
These Thorogood boots also feature a waterproof membrane for protection against storms and downpours and Goodyear storm welt construction, which essentially means a wider welt for greater durability. There's also a steel toe cap that meets the necessary ANSI/ASTM F2413-11 M 1/175 C/75 EH safety standards and a slip and oil-resistant outsole for traction and stability.
| | |
| --- | --- |
| Best for: | Racking up the miles without ruining your feet. |
| Colors: | Brown |
Timberland Mudsill: Best safety toe boots for men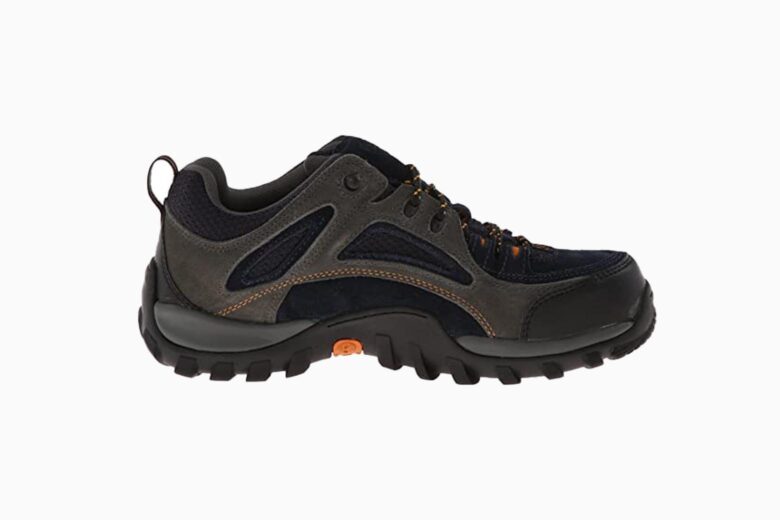 Boots that will keep you safe both on duty and on the trail? Yes, please. These Timberland work boots can do both, making them the perfect weekday-to-weekend shoe choice.
First things first, these boots take safety seriously. They feature steel toes for extra protection against compression and impact from who knows what. There's also a rubber outsole that's oil, slip, and abrasion-resistant.
But safety isn't much good if it comes with discomfort. Luckily, these boots also feature a compression-molded foam-like EVA midsole. Lightweight, flexible, cushioning, and stable, the midsole makes these some of the best work boots for heavy guys, especially alongside the open-cell PU footbed for breathability.
Finally, these Timberland Mudsill hiker boots also look pretty swish with their suede uppers. So at least you'll look like you're keeping your cool even when you're really not.
| | |
| --- | --- |
| Best for: | A safe haven for your toes no matter how serious the job gets. |
| Colors: | Blue |
Whitin: Best outdoor work boots for men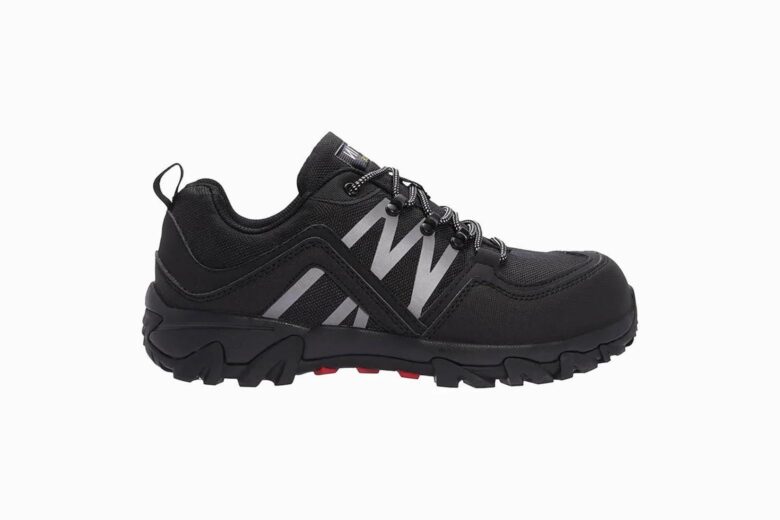 Conditions on construction sites can be challenging, especially when the weather takes a turn for the worst. So if you're looking for a pair of solid and reliable outdoor work boots, you need a pair that won't flinch at the first sign of a snowstorm or rain shower—like these ones by Whitin, some of the best work boots for walking we've seen.
These boots feature a rubber sole—shock-absorbent for all the trail-pounding you plan to do. There's a padded mesh collar that enhances comfort, especially for those extra-long shifts.
Then there's the steel toe and electrical hazard protection, as well as a synthetic toe guard that's abrasion-resistant. Meanwhile, the insole is puncture-resistant, so no stressing about nails or other sharp objects on the floor.
Is there anything these Whitin boots aren't resistant to?
| | |
| --- | --- |
| Best for: | Fearless and ultra-functional footwear that can handle the worst of the weather. |
| Colors: | A range including black, black and grey, and black and red |
Carhartt: Best insulated men's work boots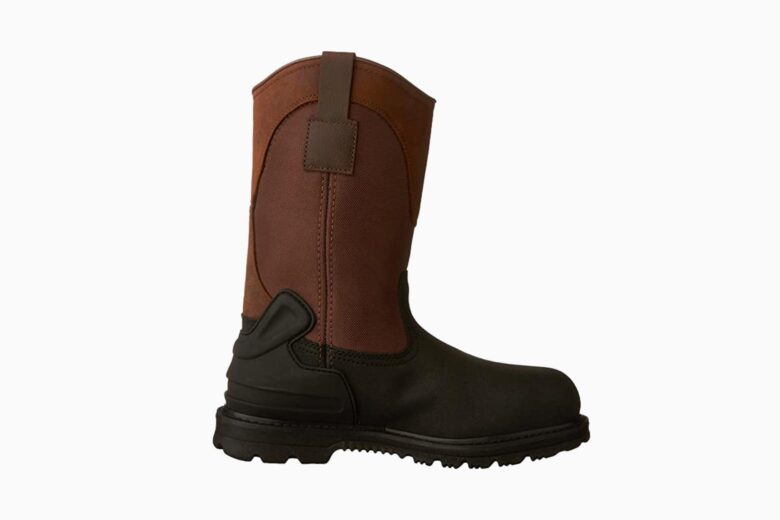 If there's one thing worse than blisters, it's having toes so numb you can't feel them anyway. But no more risk of frostbite with these Carhartt beauties on your feet.
They're designed to keep your feet completely dry, no matter how sloshy and sloppy it gets with a waterproof and breathable membrane that promotes airflow and circulation but keeps water firmly away.
Then there's the 400 grams of 3M Thinsulate—a microfibre that traps air molecules for added warmth. That will keep your feet toasty in chilly conditions.
Finally, these Carhartt boots feature a TPU heel guard for ankle stability and heel protection. Your feet have never been so well taken care of.
| | |
| --- | --- |
| Best for: | The snuggest of foot-sized shelters for when temperatures dip and blizzards threaten. |
| Colors: | Brown and black |
Timberland PRO Powertrain: Best electrical hazard-safe work boots for men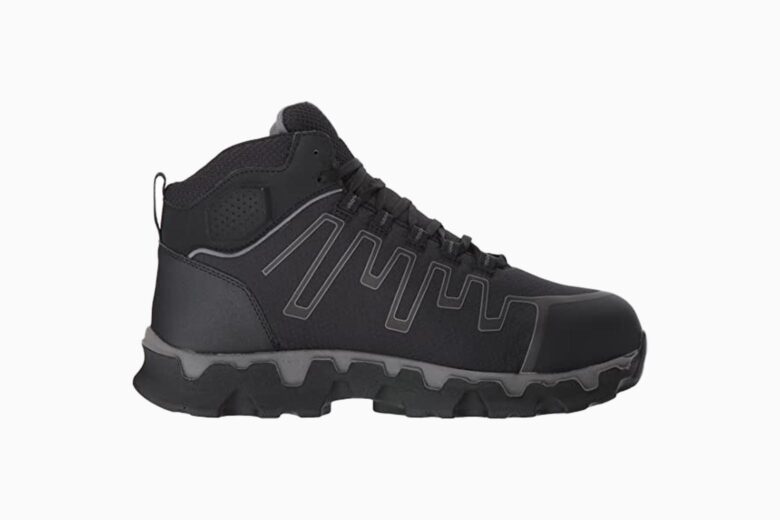 The most important feature of these Timberland athletic work shoes? They're EH-safe. In layman's terms, that means they've been rated as safe for electrical hazards by the American Society of Testing and Materials and will provide protection against electrocution. We don't need to explain to you why that's a massive bonus on a work site.
But despite being super hardy, these Timberland PRO Powertrain boots are quite athletic in design, offering lightweight performance while still delivering the highest level of protection.
They feature slip-resistant outsoles, anti-fatigue technology that will keep you on your toes, and look casual enough to team with a pair of jeans for a post-work craft beer. Definitely some of the best work boots for contractors around.
Oh, and did we mention the mesh lining with antimicrobial treatment for odor control? Even if you don't appreciate it, we're sure your partner will.
| | |
| --- | --- |
| Best for: | Rugged defence for your feet, ready for the riskiest of situations. |
| Colors: | Black |
Rockrooster: Best budget work boots for men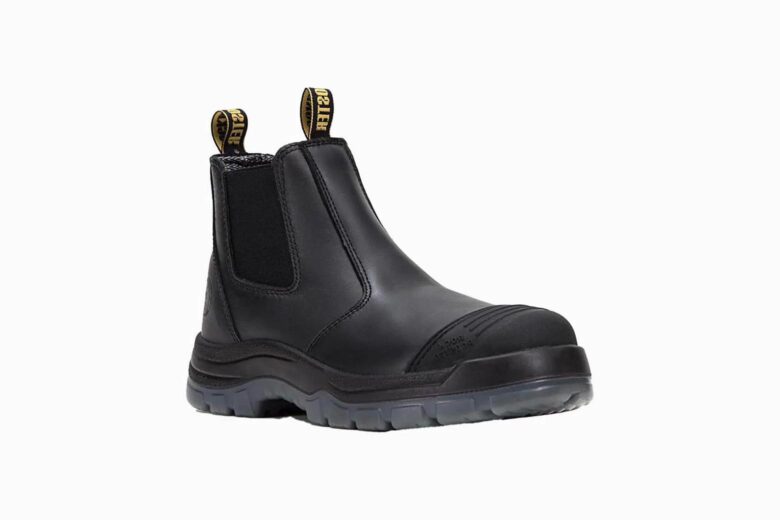 If we told you that you could pick up a pair of durable, comfortable, protective, and top-rated work boots for under $100, you wouldn't believe us. But miracles do happen, and Rockrooster's budget-friendly work boots for men are the perfect choice for those who need to tighten their purse strings.
Rockrooster has been making boots for loggers, farmers, miners, and other hard-working individuals since 1980 so you can rely on them to look after your feet.
While these Rockrooster boots are soft-toe, so not as protective as composite or steel-toe boots, they're still static dissipative and slip-resistant thanks to the TPU outsole. Plus, the soft toe means an extra roomy fit that's a real win. They're also made of full-grain leather—durable and breathable.
| | |
| --- | --- |
| Best for: | The most affordable, action-ready, and adventurous boots you'll find. |
| Colors: | Black |
Brunello Cucinelli: Most expensive men's work boots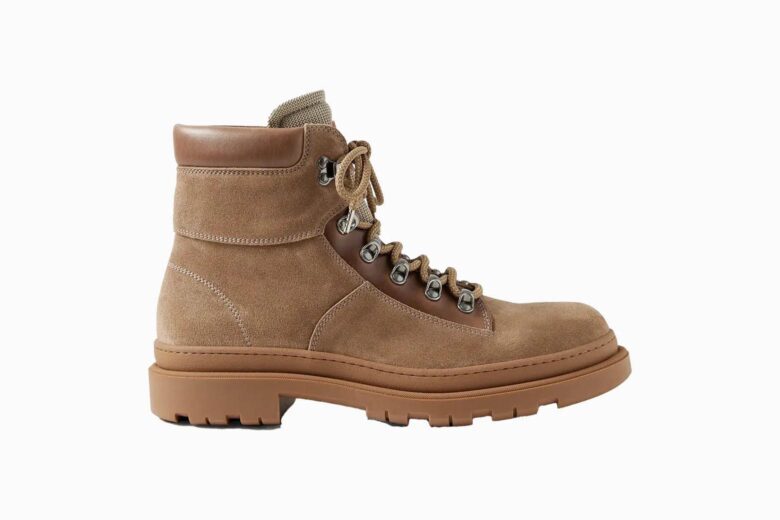 When talking about men's work boots, you're not meant to swoon over superficial things like leather trims and elegant silhouettes. But you have to admit it. These Brunello Cucinelli boots are seriously stylish.
Brunello Cucinelli makes luxury Italian goods infused with inimitable Mediterranean glamour. Even when it comes to something as practical as work boots, the designer manages to add timeless sophistication.
These luxury work boots are made from a combination of leather, suede, and light-brown mesh. The rubber-lug soles have deep indentations for added grip and slip resistance.
Hand-crafted in Italy, you know you're getting classic Italian quality. And even if you don't plan to do a single day's work in these Brunello Cucinelli boots, they're perfect for adding a bit of attitude and grit to your weekend ensemble.
| | |
| --- | --- |
| Best for: | Like the boot equivalent of a bodyguard to the stars. |
| Colors: | Brown |
Buyers guide: how to choose a pair of men's work boots
Not all men's work boots are created equal when it comes to protection, comfort, and durability. Here's everything you need to know to make an informed choice.
Protection
Depending on what exactly your job involves, you may need to invest in a pair of boots that offer protection from certain hazards. Look out for ASTM ratings which means that the American Society for Testing Materials has certified a pair of work boots for safety.
Steel toe vs composite safety toe
Extra protection in the toe area is a wise idea, especially on construction sites.
Steel toe cap boots contain steel to protect your toes from hazards such as large weights falling on your foot. The impact and compression resistance of steel toe boots makes them a good choice if you work with heavy machinery.
Composite toe caps are an alternative option. They're typically made with fiberglass, Kevlar, or carbon fibre. They're lighter than steel-toe boots, don't set off metal detectors, and are better at regulating temperature.
Other important things to consider when looking for protective work boots:
Electrical hazard resistance – EH-rated boots protect you from electric shocks as the surface is made from a non-conductive material, isolating you from the ground. EH rated boots will have an EH rating, which means they've been tested by the ATSM.
Slip resistance – look for boots with rubberized soles and a grippy tread pattern, especially if you work in environments where there could be water, oil, or grease on the floor.
Shanks – some work boots feature shanks that sit between the insole, upper, and midsole like a spine, creating structure. A strong shank stops the boot from flexing too much, ideal for staying stable on uneven surfaces or up ladders. Shanks also provide shock protection from vibrations.
Comfort
As we've mentioned, steel shanks are a good feature if you're looking for added comfort as they provide extra support for your feet.
You also want boots with lots of cushioning in the footbed, as well as moisture management to stop your feet from getting sweaty. Most insoles can be removed and changed once they get worn down.
Midsoles should be made from PU or EVA for cushioning and support. PU is hard-wearing but quite heavy and expensive, while EVA provides good shock absorption and is lightweight but tends to compress over time.
You'll also want boots with a breathable but waterproof liner that allows moisture to evaporate while preventing it from penetrating from the outside.
Finally, you'll want to consider insulation. 400-600 grams of insulation is a good choice for work boots on cooler days. 800 grams of insulating material will keep your feet comfortable when the temperature falls below 10 degrees Celsius.
Durability
When it comes to work boot durability, you really want Goodyear welting.
This is when a strip of leather is attached to both the insole and the upper. The stitching goes around the outside of the sole rather than under the foot, increasing water resistance. The welt can also be unstitched easily, making it easy to re-sole your boot.
The other factor that will affect the longevity of your work boots is the construction material. Work boots are typically made from either leather or synthetic materials such as polyester, nylon, and Kevlar. Leather is very durable but not as breathable as synthetics.
The outsole will be made from either PU, rubber, PVC, or TPU. PU is waterproof, durable, slip-resistant, and shock-absorbing. Rubber is flexible and waterproof. PVC is very tough and supportive but less pliable than PU.
Meanwhile, TPU is highly abrasion-resistant, lightweight, and resistant to many oils and chemicals. It's also great for uneven and slippery surfaces but isn't that durable and can be expensive.
Frequently asked questions about men's work boots