At the very edge of technical innovation and trailblazing design, On Running pushes the limit in every way possible. Never settling for society's idea of "what's possible," the active brand has reimagined a world of running in which pavement pounders are supported by heart rate-reducing technologies, impossibly light silhouettes and energy-enhancing soles.
And when it came to sustainability—well, the team said game on—and by pioneering superior circular systems, alternative materials and eco-friendly processes, this brand became a frontrunner in that too.
At a glance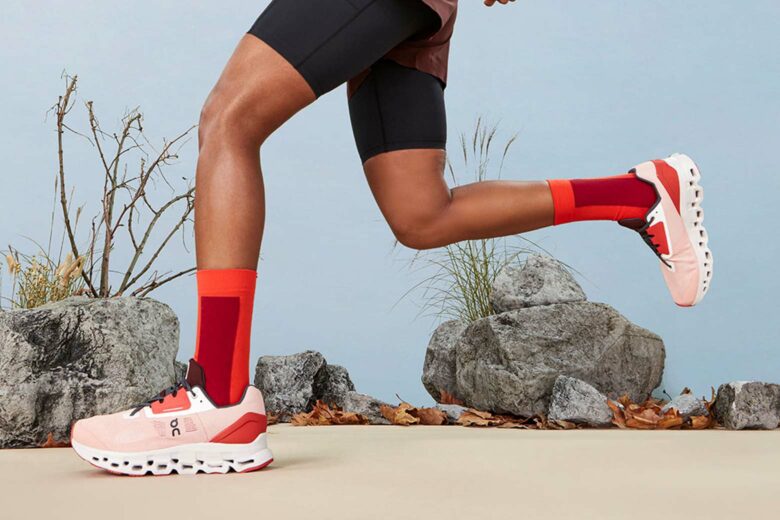 Behind the brand
History of On Running
Never underestimate three friends on a mission to change the world of running. In 2009, Oliver Bernhard, David Allemann and Caspar Coppetti were hiking in the mountains. As self-proclaimed sneakerheads and avid adventurers, the trio connected on many points—with the most significant being their mutual disdain for the running sneaker market. They wanted to push the limit when it came to technical innovation and design. And they began to reimagine running with high-tech, high-performance sneakers.
Before establishing On Running, Olivier Bernhard was already a three-times World Duathlon Champion. And David Allermann was a multiple Ironman Winner. Combine this with Caspar Coppetti's doctorate in Economics and the trio were unstoppable—both on and off the tracks. In 2010, On Running was launched in Zurich, Switzerland. And whilst the team was confident in their distinctive patented technologies and superlative designs, they had no idea just how successful the brand would become.
Fast forward 10 years and On Running seems to be the only shoe that celebrities wear. In 2020 Dwayne "The Rock" Johnson made his iconic-but-controversial appearance in On shoes despite his sponsorship with Under Armour. And in 2021, On Running founders learned that Roger Federer was also a massive admirer of the Swiss brand. As long-standing fans of his, the founding team recognized a potential partnership. In 2021, Roger debuted the The Roger Pro On Court tennis shoe, and later he joined the trio as a friend and investor.
But On Running isn't just for big-shot names and world champions. The brand aims to change the game for everyday pavement pounders and outdoor enthusiasts. And that's exactly what it's done with its trailblazing technologies.
Interesting facts about On Running
The brand's name was a simple play on a radical idea that guided the entire brand. The motivation behind On Running was to inspire movement through unparalleled comfort, support and high-performance technologies. The goal was to make everyday pavement pounders feel as if they were running on clouds every time they took to the road or track. Bearing this in mind, the name "On" represents the shoes' signature comfort. Whilst it simultaneously speaks to the resilient mindset and positive attitude of moving forward and going on.
With an extra bounce and heart-rate-reducing technologies, On shoes are engineered to make runners feel switched on. Hence the On Running logo. The simple lettering features an "o" and "n" stacked on top of one another in contrasted black and white print. While the subtle uptick on the "o" seems to be the only real characterizing feature of the otherwise minimalist logo. The uptick on the "o" is a play on the old style of light switches, pointing to the brand's innovative "game-changing" technologies as well as the feeling of being switched on.
Tech innovation is the brand's superpower, with the brand's biggest claim to fame being its proprietary cushioning technology. The CloudTec outsole is instantly recognizable by its unique aesthetic. But we love it even more for its uncanny ability to make running so much more enjoyable by reducing heart rate, cushioning every step and providing unrivaled support and breathability. Another one of On's most popular features is the brand's "speed-lacing system." The cutting-edge design allows you to slip your shoes on and off in a snap. And whilst this may seem small, when you're rushing out the door, it's the thoughtful details that make all the difference.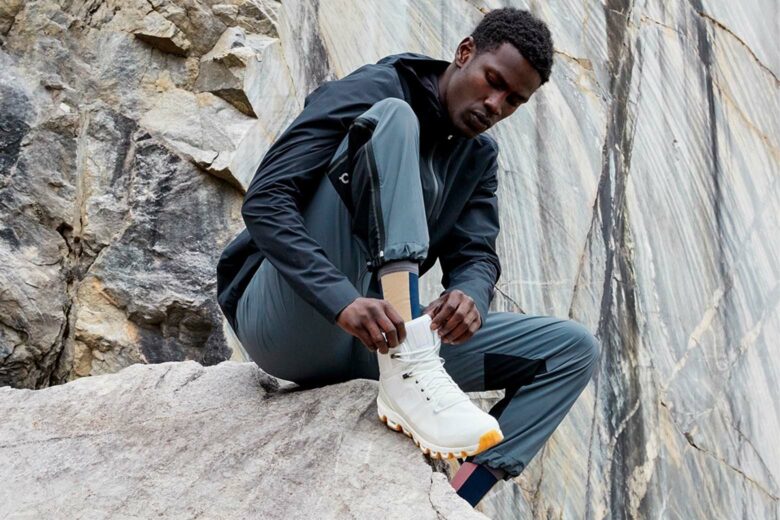 On Running product range
On Running specializes in running shoes, with the On Running Cloud 5 remaining one of the brand's most popular models. But since the brand's inception in 2010, On Shoes has expanded its range into many different variations of On Cloud shoes, Roger court classics and everyday street style collections. Plus, its range of activewear apparel and accessories is the perfect complement to a life in motion.
All On Cloud shoes feature the brand's signature CloudTec outsoles and will forever be the face of the On's trailblazing technologies. From the iconic Cloudrunner to the Cloudwander and Cloud Play, there are many different ways to introduce On's premium cloud-like comfort to your life—even if it's just a pair of the best men's shoes for standing all day.
Slightly less popular than the brand's running collection yet equally comfortable, On also features some of our best men's hiking boots, as well as our best walking shoes and workout shoes for women.
Signature materials and craftsmanship
Pushing the limit in every way, On Running is also one of the most sustainable and ethical brands. And whilst designing high-performing products remains the priority in the On Lab, these Swiss engineers are determined to protect the planet in the process through three key focal areas: alternative materials, circular systems, and sustainable production.
Alternative materials
Animal lovers rejoice: On only uses vegan fabrics in footwear. On top of this, the brand's innovating team is constantly creating and investigating materials that are better for the environment, including fossil-free materials, recycled fibers, carbon-emissions based fabrics and bio-based materials. For example, the brand's CleanCloud soles are made from captured carbon-emissions. While On is working towards using 100% certified organic cotton and 100% mulesing-free wool in its high-performance apparel.
Circular systems
Products should be designed to live in a loop, not in a landfill—a point taken seriously by On Running. On Running products are engineered and manufactured to be used and reused over and over again. The brand's zero-waste shoe is case in point. Engineered from castor beans, the shoe is 100% recycled and recyclable. After six months, On invites you to send back your worn-out pair and they'll replace them with no materials wasted.
Sustainable production
As well as using alternative materials and circular systems to reduce its carbon footprint, On Running also drives sustainable production. By partnering with eco-conscious manufacturers and adhering to strict third-party requirements, On Running has greatly reduced resources used, greenhouse gas emissions and overall waste.
Where are On Running shoes made?
The Swiss-born brand continues to design all its products in the On Lab in Zurich, Switzerland. And although its products are manufactured across the globe, the ethical brand is transparent about all its international factories and warehouses. As the brand's flagship collection, the manufacturing of all On Cloud shoes primarily takes place in Vietnam, where the factories go beyond the standard requirements to manufacture high-quality products in a socially responsible way.
Brand values
| | |
| --- | --- |
| Vegan options | Yes |
| Carbon-neutral | No |
| Gives back | Yes |
Our favorite finds from On Running
On Running Cloud 5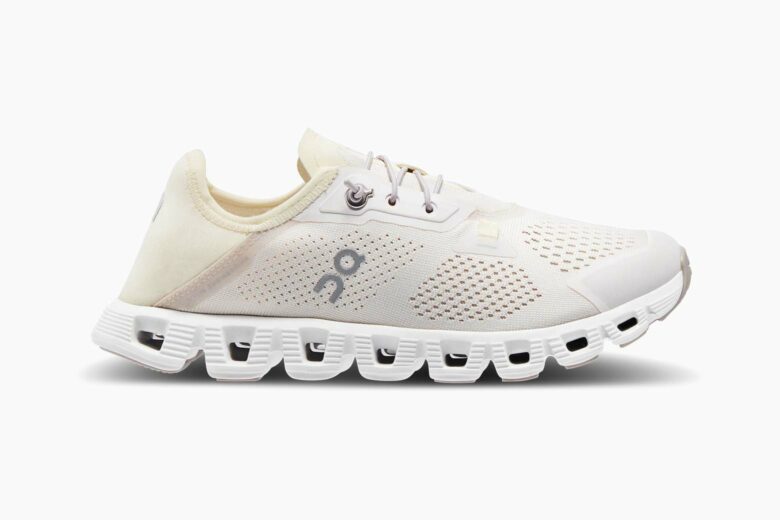 We already know that On makes the best trainers—from our best luxury sneakers for men to our best sneakers for women. And whilst we love all On Running shoes, we're particularly partial towards its On Cloud running shoes. The On Running Cloud 5 collection takes innovation one (giant) step forward with ultra-lightweight, heart rate-reducing soles and breathable, sustainable materials that are 44% recycled.
We received two pairs of On Running Cloud 5 for testing from the brand last year, and they haven't left our feet since. They've literally become our go-to pairs of daily sneakers.
The brand has expanded on the collection since. From waterproof models to summer special editions and trail-ready iterations, check our hands-on On Running Cloud 5 review to see what we think about the shoe in more details.
On Running The Roger Sneaker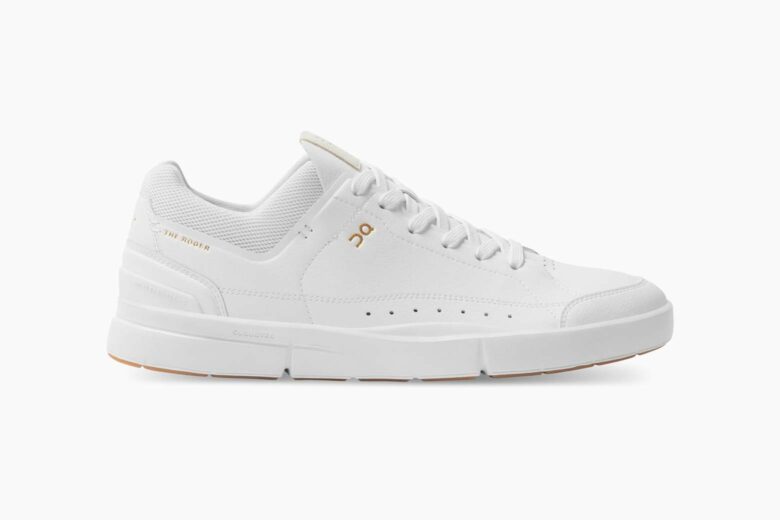 Grand Slam-worthy with a timeless aesthetic, The Roger collection encapsulates everything we adore about the formidable-yet-classy tennis champion. Partnering with Federer himself, The Roger infuses cutting-edge technologies with an elegant style to create a premium collection that performs as well on the court as it does off. With extra cushioning, minimal stitching, and ample support, we think the brand has aced this court classic collection.
We also received a pair of Roger On Running sneakers from the brand for testing and we were impressed with how light the shoe feels. For some reason, the men's version sizes a little bit smaller than the Cloud 5, so you might want to take half a size bigger when ordering yours. But they're beautiful and super comfortable to wear all day long. Check on first-hand impressions of On Running's The Roger sneakers to learn more.
On Running Cloudwander shoes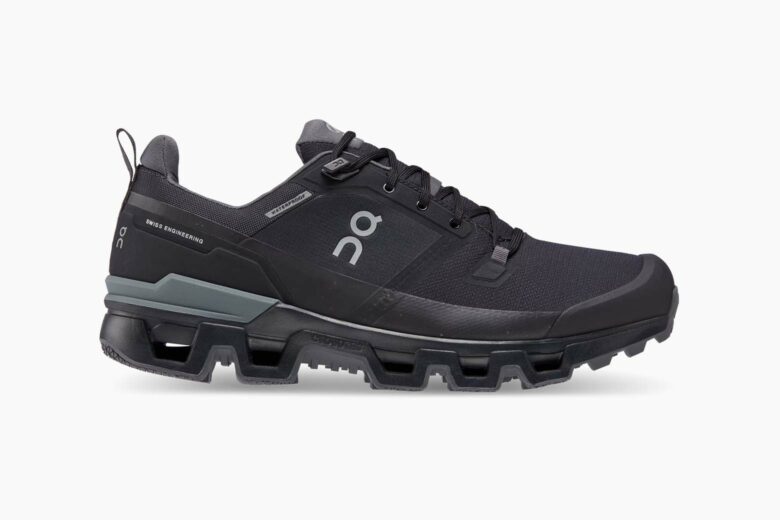 The Cloudwander collection is similar to our best hiking shoes for men—the Cloudventure—but even more multifunctional. Designed for everyday outdoor activities, including long hikes in the mountains, the Cloudwander collection is completely waterproof and ready to tackle all climates. The improved Missiongrip is extra reliable in dry and wet conditions. While the lightweight silhouette helps you exert as little energy as possible.
Where to buy On Running
On Running has brick-and-mortar stores around the world. Although our favorite way to shop the brand's full collection of sneakers, activewear, and accessories is the official On Running online store.
On Running price
With a huge focus on high-performance technologies, unrivaled quality, and lightweight silhouettes, On Running is still more affordable than many other affluent labels. All our favorite On Running shoes are priced between $139 and $199. While On Cloud apparel ranges from $69 to $369.
On Running discount code
The official On Running online store has a Last Season page where you can find all On Running sale items that have been reduced between 20% and 50%.
On Running shipping
On Running ships to over 50 countries worldwide. And the brand offers free shipping on all items to almost all countries—except India, Indonesia, Malaysia, and Israel. Depending on where the order is being shipped to, shipping can take anywhere between 1-16 days to arrive at your doorstep. On Running also has expedited shipping options for speedier deliveries.
On Running return policy
On Running has a full money-back guarantee on all orders returned within 30 days of purchase. The brand will even take care of the cost of return shipping. And your money will be refunded to your account within 21 working days of the return.
Frequently asked questions about On Running
Who is On Running owned by?
On Running is primarily owned by the brand's founding team, Olivier Bernhard, David Allemann, and Caspar Coppetti. But it also has some major investors, including Stripes and Roger Federer. Read our in-depth brand story to learn more about On Running.
Is On Running a good shoe brand?
On Running is one of the best shoe brands in the world. Born to reinvent running through shoes, the brand is unrivaled when it comes to performance-enhancing technologies and cloud-like comfort. It is also one of the most sustainable shoe brands with a huge focus on alternative materials, circular systems, and eco-friendly production. Check on hands-on On Running sneakers review to see if they're a good fit for you.
What does the On Running logo mean?
The On Running logo is simply an "o" and "n" stacked on top of one another in black and white print. The minimalist logo features a subtle uptick on the "o." This is a play on the old style of light. And it speaks to the brand's game-changing technologies, as well as On Running's goal to make runners feel switched on while pounding pavements.
Why is On Running popular?
As one of the most popular sneaker brands, On Running has received its fair share of celebrity endorsements—from Dwayne "The Rock" Johnson wearing On Running during his 2021 Superbowl halftime performance to Roger Federer partnering and investing in the brand. But famous athletes aren't the only ones impressed by the brand's high-tech shoes, On Running sneakers are making moves in all circles.