Carnelian is one of those gemstones that's as charming as it is versatile. If you're in search of inspiration to get through creative blocks or need a little confidence boost then carnelian is the stone you can turn to. The rich yet earthy tones of carnelian make it a great addition to any crystal collection, not to mention the wonderful effects it has in balancing your chakras.
Folklore and legends that surround the carnelian gemstone only serve to add to its mystique. One famous story is of how Napolean Bonaparte closely guarded the carnelian seal stone he discovered on his Egyptian campaign. Another is of The Prophet Muhammad who wore an inscribed carnelian signet ring which was used to seal important documents. The carnelian was seen as a stone of good luck and kept by all those who knew its value.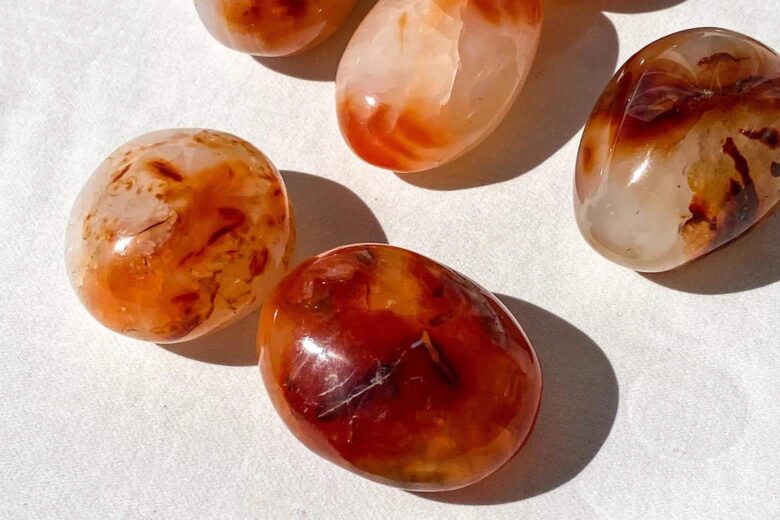 | | |
| --- | --- |
| Carnelian Colors | Red, orange, amber |
| Zodiac Sign | Virgo |
| Hardness Scale | 6.5 – 7 on Mohs Scale |
| Mineral Class | Chalcedony |
| Symbolism | Creativity, courage, motivation |
What is Carnelian
Carnelian is a translucent gemstone of the silica mineral class Chalcedony. Its reddish-brown colors are due to the presence of iron oxide. Carnelian gemstones are similar in nature to Sard, the browner of the two Chalcedony gems. The term Carnelian and Sard are often used interchangeably although carnelian leans towards the redder spectrum while sard is closer to the brown spectrum.
The name carnelian is derived from the Latin word "carneus" meaning flesh, which is used to describe the color of the stone. Carnelian gemstones were known as Cornelian in the Middle Ages. The Sunset Stone is a name that was given to carnelian gemstones centuries ago by the Ancient Egyptians. The reddish-orange to pale pink hues of the carnelian gemstones conjure up visions of a dreamy sunset.
These gemstones are linked to energy and creativity, so it's no wonder that they go by the monikers of The Singer Stone and The Artist Stone. Carnelian promotes confidence and is recommended for singers to keep the stone on them during their performance. It also serves as a companion to artists, allowing their creativity to flow smoothly.
What does Carnelian look like
Carnelian is an opaque gemstone that comes in shades of brown, red, orange, and pink. The shades differ from pale to brightly colored depending on their mineral composition. Iron oxide is the main contributor to the deep rusty colors of the carnelian.
Carnelians are easily heat-treated to bring out a more intense coloring of the stone. When exposed to heat, the color of the carnelian gemstone will darken as the iron oxidizes. Even by simply leaving the stones out in the sun, they can darken their color.
Carnelians are closely related to other gemstones in the Chalcedony family which they are often confused with. Gems that are closer to brown are known as Sard while the orange, red, and brown tones mixed together are known as jasper.
The value of Carnelian
Carnelians are not rare stones and therefore are some of the more affordable gemstones around. The brighter colored red-orange tones of carnelians are likely to fetch a higher price than their brown counterparts. The bigger the stone the higher its value. Cleaner stones also command higher prices than the average carnelian.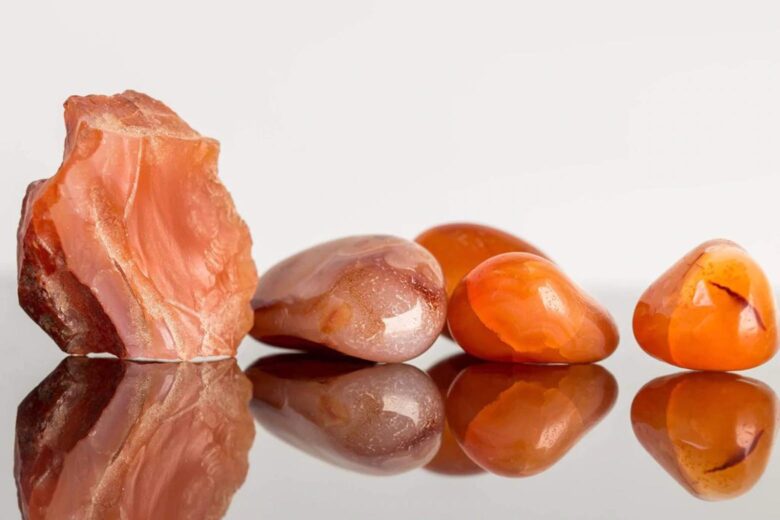 History and mythology of Carnelian
Carnelian played a major role for the Ancient Egyptians. Not only was it used as a stone of fertility but also carried by warriors to strengthen their courage. It was also used by the architects of the pyramids and sphinx to distinguish them in rank from others.
In ancient Greece, Babylon, and Persia, carnelian was used as talismans to protect against natural disasters. These kingdoms were prone to earthquakes and an old saying goes that "No one who wore Carnelian was ever found beneath a broken house or fallen wall".
Carnelians were used by wizards as a trigger stone because of their powerful energy. Ancient Romans made use of carnelian in signet rings to seal important documents since wax does not stick to the gemstone's smooth surface.
The enigmatic Taj Mahal built by Shah Jahan in memory of his beloved wife Mumtaz is decorated with thousands of carnelian gemstones. These special gems were imported to India from Saudi Arabia.
Carnelian's meaning and symbolism
Carnelian symbolizes creativity, bold energy, courage, and motivation. Throughout the ages, they have been used as amulets for protection and good luck. Carnelians are used to increase one's spiritual growth and awareness.
Ancient Egyptians considered the orange shaded carnelians to be linked to the goddess Isis. These gemstones are associated with feminine energy and represent fertility and the menstrual cycle. Whereas the more red-toned gemstones are linked to the masculine energy used to enhance love and passion.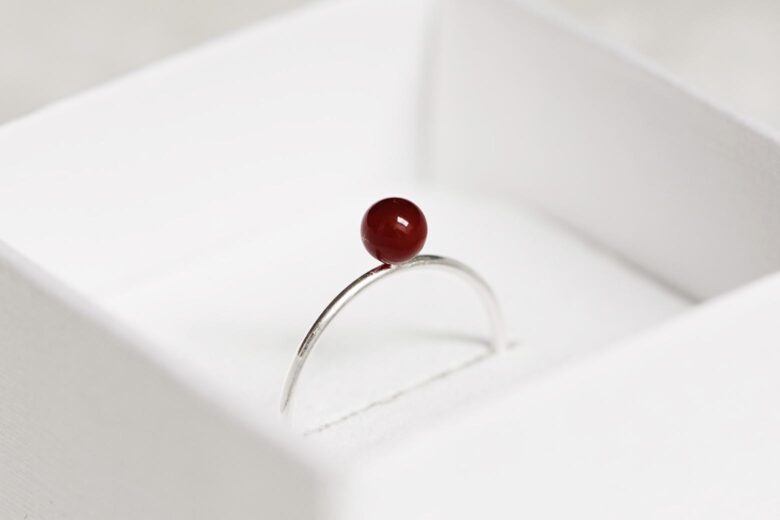 Where does Carnelian come from
Carnelians are mined at many locations around the world. They have been found in India, Brazil, Egypt, and Uruguay with India being a major source of commercial orange carnelian for thousands of years. Other countries that mine carnelian include Australia, China, parts of the US, and Western Europe.
Carnelian and Zodiac signs
Carnelian is not a traditional birthstone but it is most often associated with the zodiac sign Virgo. Those born under the signs of Leo and Aries also benefit from carnelians fiery nature. If you could do with a boost of creativity and passion then it may help to keep carnelian gemstones close by.
Carnelian gemstone family
Carnelian is a semi-precious gemstone that is part of the Chalcedony family of gemstones. They formed millions of years ago within volcanic lava or igneous rocks. Carnelian is just one of many varieties of chalcedony. Other gemstones in this family include aventurine, bloodstone, onyx, tiger's eye, chrysoprase, agate, jasper, and many more. The different forms of Chalcedony are quartzes that can be differentiated by their color, patterns, bands, or stripes.
Birthstones chart
Find your birthstone by month
---
Carnelian gemstone uses
Historically, carnelian was used in amulets and carried around as talismans for its mystical properties. These gemstones are quite durable, rating between 6.5 and 7 on the Mohs hardness scale making them the ideal stone for a variety of uses. They can be used for carvings and ornamental pieces and were often used in cameos and intaglios in the past.
Today you will find carnelian cabochons of oval and dome shapes used in jewelry and crystal healing practices. They can also be faceted or carved into more intricate shapes for one-of-a-kind pieces. Bracelets, brooches, earrings, pendants, and rings with carnelians close to the skin are an amazing way to feel the energy of the stone.
Carnelians are also used in the beauty industry as face rollers. A few benefits of the carnelian face roller include promoting blood circulation, improving elasticity, and reducing puffiness.
Frequently asked questions about Carnelian gemstone
What Chakra is Carnelian stone for?
Carnelian gemstones with orange hues are connected to the sacral chakra which is located just below the navel. It is said to invigorate creative and sexual energies and at the same time boost vitality. The red-colored carnelians are associated with the base chakra which you will find at the base of your spine. These gemstones relieve anxieties relating to your work and home life.
Is carnelian good for love?
Carnelian is said to attract love, passion, and desire in one's life. This gemstone is used to help the user in their relationships and get them through any emotional blockages.
Can you wear carnelian gemstones every day?
Yes, you can wear carnelian gemstones every day. Alternatively, if you're not comfortable wearing jewelry you can also carry carnelians with you daily in your pocket or bag. They are durable and affordable gemstones that are said to bring many positive attributes to those who keep them.
How much is Carnelian worth?
The price of carnelians differs based on the color, size, and quality of the gemstone. Carnelians are generally modestly priced. The cheaper varieties are priced at around $1 per carat while the more expensive stones can go higher than $20 per carat.