Precisely 96 Burmese rubies adorn one of Queen Elizabeth II's royal tiaras. A-list celebrities, including Scarlett Johansen, Taylor Swift, Bella Hadid, Penelope Cruz, and countless others have worn rubies to red carpet events. The famous 16.99 carats Jubilee Ruby is the most expensive ever sold in the United States, fetching a jaw-dropping price of $14.2 million in 2016.
Few gemstones have as rich of a history as the magnificent Ruby. While its origins can be traced back as far as 200 BC, the allure and prestige of this July birthstone live on. Here's a quick guide to the value, quality, and history of this magnificent gemstone.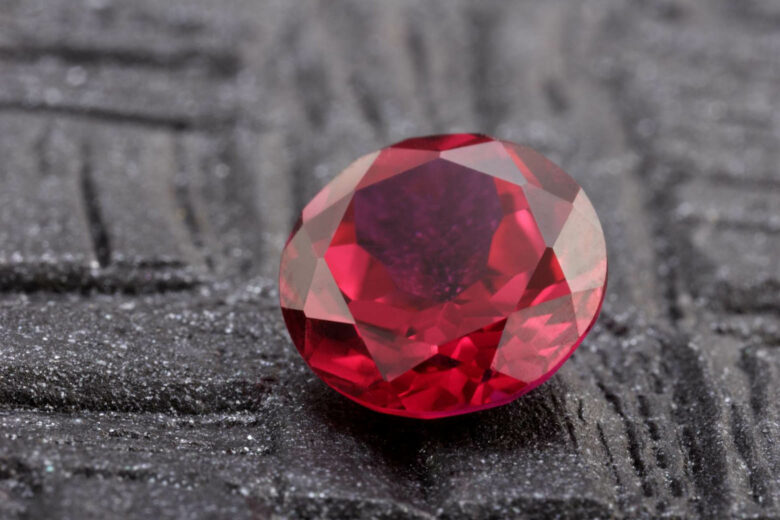 Ruby Color
Primary Color: Red
Secondary Colors: Pink, Orange, Brown, Purple, Red
Popular Colors: Vivid Red, Raspberry, Pigeon Red, Orange-Red, Violet-Red
Birthstone Month
July
Hardness Scale
9 on Mohs Scale
Mineral Class
Corundum
Symbolism
Romance, Passion, Success/ Prominence, Nobility, Power, Energy
What is Ruby?
Rubies are natural, precious gemstones. A cousin to the Sapphire, rubies are known for their exceptional red beauty and value. Rubies are made into necklaces, earrings, bracelets, and even engagement rings. Rubies are also used for luxury watches and even stylized on some of the most expensive women's shoes of all time. 
Rubies are the rarest gemstones in the world. They are also durable, with a Mohs hardness rating of 9 out of 10. While popular demand goes up and down, their value remains high. Many rubies are worth more than colorless diamonds.
The benefits of rubies are many. From adding allure to an outfit to serving as an investment or even offering healing properties, the value of rubies is timeless.
What does Ruby look like?
Rubies are known for their vibrant red hue, but the color of rubies is more complicated. Rubies have a primary color and a secondary color. Rubies range from raspberry pink to fiery orange to boysenberry purple. The most valuable rubies are vivid red and have not been treated with heat.
For instance, a Burmese Ruby is a pigeon or blood red. Rubies from Burma are worth an average of $15,000 to $25,000 per carat. Other rubies are priced at an average of a few hundred dollars (low-quality, synthetic) to $12,000 per carat.
Rubies are graded by gemologists to determine their value and also describe their appearance. Color is most important, followed by clarity and luster.
Grading for natural rubies
| Ruby Grade | Appearance |
| --- | --- |
| AAAA | The top 10 percent. These rubies have a deep, distinct red hue, including the most valuable "Pigeon Blood." These rubies have few inclusions and brilliant luster. |
| AA | The top 20 to 30 percent. These rubies have a medium red hue, sometimes with some orange undertones. Inclusions are moderate and luster is noticeable. |
| A | The top 50 to 70 percent. These rubies may have a pale, less saturated hue. They have noticeable inclusions which impact luster. |
The most popular cuts for rubies include oval, cushion, and emerald shapes. The finest-quality cuts optimize brilliance and highlight the deep red hues.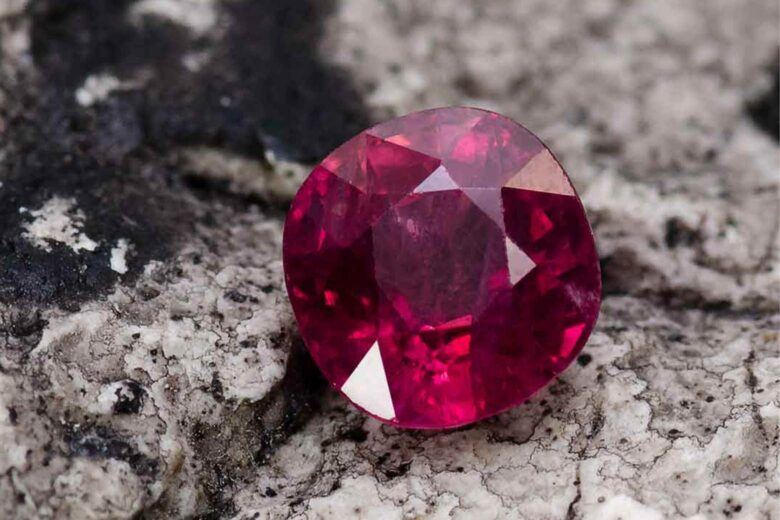 History of the Ruby
Like diamonds, rubies have an extensive history. Rubies can be traced back to 200 BC when they were traded along the Silk Road. Asian countries, especially China and Burma, have cherished rubies as a protective and valuable gemstone for centuries. 
However, when Myanmar began mining in 1990, heat treatment was introduced. Rubies are often heat-treated to artificially enhance their hue. Naturally vivid rubies are more valuable than ever. At the same time, lab-grown rubies have made this gemstone available at far more affordable prices.
Meaning of the Ruby
The passionate red hue of rubies is matched with rich symbolism. The meaning of a Ruby has long been one aligned with power, passion, and romance. As rubies have been worn by royalty and those in power, it's also connected to nobility, prominence, and wealth.
Others see the Ruby as an expression of creativity, energy, and enthusiasm for life. The vibrant energy of a Ruby is connected to supposed healing benefits. Some wear rubies to ward off negative energy and mitigate physical ailments.
Where does Ruby come from?
Rubies are mined in Australia, the United States, Afghanistan, Cambodia, India, Madagascar, Mozambique, Pakistan, Sri Lanka, Tanzania, Vietnam, and Malawi. But the most expensive rubies are sourced from Myanmar.
Rubies are formed under conditions of excessive heat and pressure underground. In these circumstances, aluminum and oxygen combine and form corundum. Corundum and chromium are the properties that give rubies their reddish appearance.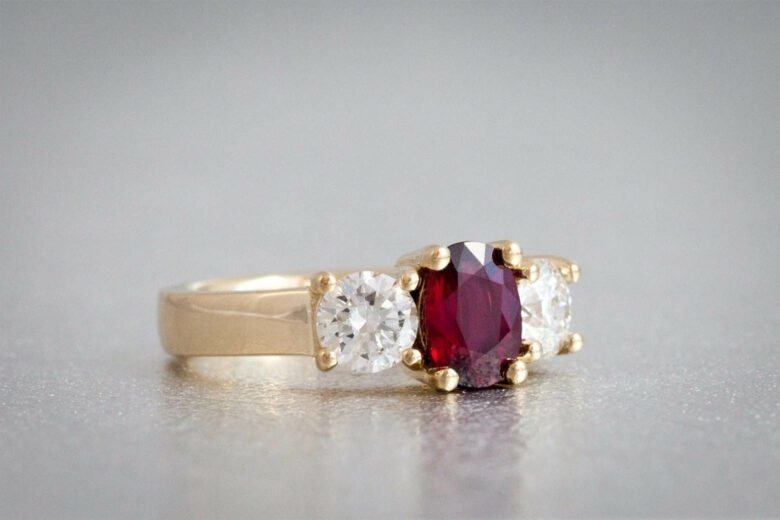 What zodiac sign is associated with the Ruby?
Rubies are the most valuable birthstone for July. But while many gemstones are associated with just one zodiac sign, rubies are tied to two signs. 
The first zodiac sign for a Ruby is Cancer. As water signs, Cancers are known for their deeply emotional and spiritual personalities. Cancers, like Rubies, can be extraordinarily passionate, and expressive.
Rubies are also aligned with the Leo zodiac sign. Leos are a fire sign and known for their leadership skills. They mirror the more powerful and noble properties of rubies. Often theatrical, creative, and bold, it's easy to see how the Leo zodiac sign is a great fit for rubies.
Which family is Ruby from?
Rubies are from the Corundum family. The Corundum family also includes the beloved Sapphire and is known for gemstones with high price points and rarity. Corundum usually forms as a six-sided crystal that parts into a pyramid. 
Corundum doesn't have noticeable cleavage, nor is it brittle. Its compact composition makes it durable. Both members of the Corundum family are highly valued and among the hardest gemstones in the world.
Because of this, the Corundum family is highly sought after by consumers and jewelry makers alike. The Corundum family appears slightly different depending on the lighting. This quality only adds to their elegance and beauty.
Birthstones chart
Find your birthstone by month
---
Frequently asked questions about rubies
What is a Ruby used for?
Rubies are used in fine jewelry and designer jewelry. From dramatic engagement and cocktail rings to captivating necklaces or iconic earrings, rubies make a statement. Some who practice alternative medicine use rubies to protect against negative energy and restore physical health problems. You'll also find rubies in some of the finest luxury watches.
Why is Ruby so good?
Rubies are highly prized for several reasons. First, they are durable, with a Mohs hardness rating of 9 out of 10. Rubies, at their best, are valuable and beautiful. Their saturated red hue is not only aesthetically pleasing but also steeped in lore and symbolism. Rubies are sometimes used as alternatives to diamonds for a unique and expressive look.
Where are rubies found?
While the most valuable rubies are found in Myanmar and Burma, rubies are mined from many regions of the world. Australia, the United States, Afghanistan, Cambodia, India, Madagascar, Mozambique, Pakistan, Sri Lanka, Tanzania, Vietnam, and Malawi are other countries that source rubies. Rubies are also grown in labs and treated with heat to make them more affordable.
Why is Ruby called Ruby?
Ruby is derived from the Latin term rubber, which translates to red. While rubies are known as red gemstones, there's more range to their hue. Rubies range in color from orange with red undertones to purplish red. The reddish hue rubies are known for can be traced to their chromium composition.