For centuries, gemstones have been renowned for their energetic, mystical, and healing properties. Many ancient civilizations worshiped them, seeing the natural wonders of the world reflected in the dazzling brilliance of these stones, and believing that they had the power to convey to the owner the energy, strength, and passion of these elemental forces.
The golden-yellow stone citrine has long been an important member of the gemstone family, celebrated since 300BC for its sensational color, which has led to it being associated with the life-enhancing and healing qualities of the sun. The Romans believed that citrine contributed to a long and happy life, and used its radiance as a protective shield on their breastplates.
Today, a gemstone continues to be a prized possession, a precious gift bestowed on loved ones or close friends. The sparkling sunny-gold tones of citrine make it an eye-catching and elegant choice when mounted as the centerpiece of a pendant or ring, and hand-cut clusters of citrine make beautiful and unusual decorations for the home or office.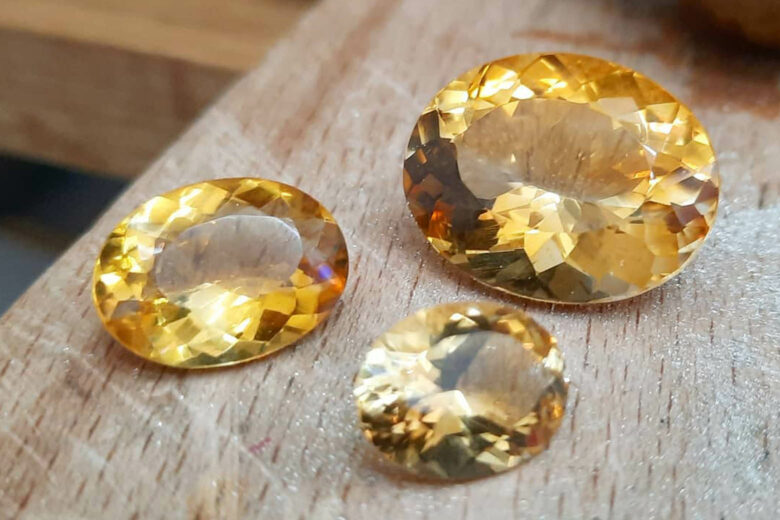 | | |
| --- | --- |
| Citrine Color | Yellow |
| Birthstone Month | November |
| Hardness Scale | 7 on Mohs Scale |
| Mineral Class | Quartz |
| Symbolism | Prosperity, joy |
What is Citrine stone?
Citrine is an opaque pale yellow to a deep orange gemstone that radiates with positive energy. The name citrine comes from the Latin 'Citrina' or citrus, and means lemon in many languages.
Otherwise known as the 'Golden Amethyst', it is a member of the mineral quartz family and said to have healing properties. The spiritual meaning of citrine is prosperity, positivity, and joy.
What does Citrine look like?
Citrine is known as the sunshine stone, due to its yellow to orange hues, which are said to be uplifting. Citrine stone colors can range from light lemony yellow though to a dark, burnt orange, bright amber, or 'Madeira', which is a rich orange color with red flashes. The color intensity varies depending on the amount of iron oxide that has been crushed into the stone, and can greatly affect the value of citrine. Natural citrine has a cloudy, opaque look.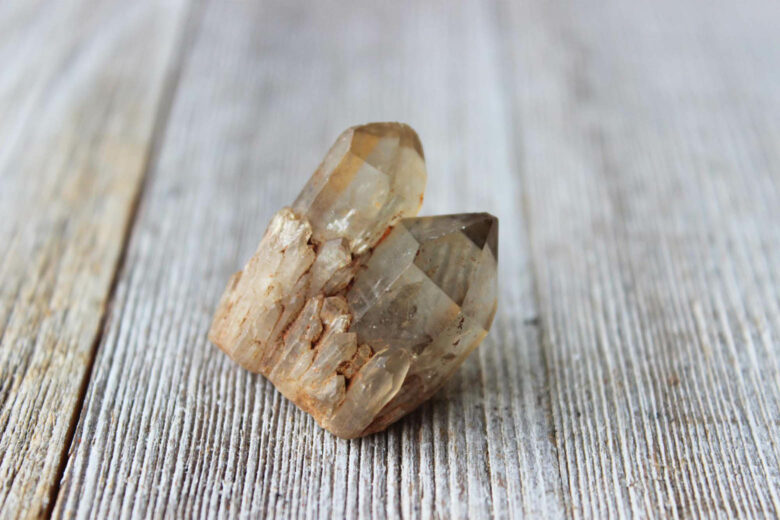 History of the Citrine stone
During the Hellenistic Age, citrine became a prized possession amongst powerful women in Greece, who admired its fiery amber tones. In the Art Deco period between the two world wars, citrine came to be favored among the Hollywood elite, and was made into extravagant pieces for stars such as Greta Garbo. More recently, citrine has been worn on the red carpet by the likes of Kate Winslett, Angelina Jolie, and Jessica Chastain.
Meaning of Citrine stone
As a 'sun stone', citrine is generally understood to have positive and healing powers. The name originally derives from the Latin 'citrina', meaning citrus, reflecting the pale to bright yellow qualities of the stone. Spiritually, it means prosperity and joy, and is a gemstone that's believed to have the powers to unleash creative energy, inspire optimism, and banish dark moods.
Where does Citrine come from?
The largest deposits of citrine are found in the deep rainforests of Brazil, and the mineral-rich Ural mountains of Russia. However, other notable sources include the highlands of Scotland, Argentina, Uruguay, Bolivia, France, Madagascar, Myanmar, Namibia, Spain, and Zambia.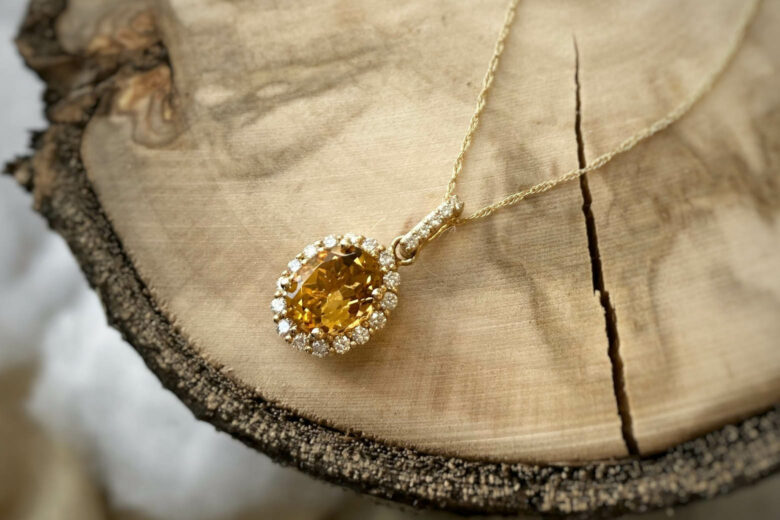 Citrine and Zodiac signs
Citrine has increased in popularity in modern times due to it being the birthstone for the month of November. November is a dark, winter month, when the warmth and energy-giving properties of citrine are perhaps most needed. Those born under the sign of Scorpio will feel the flood of optimism that citrine brings, along with a healing flow of energy to banish the winter blues and warm the soul to face the cold months ahead. See our detailed guide on birthstone by months to learn more.
Which family is Citrine from?
Citrine is a yellow gemstone that is a variety of Quartz, along with amethyst, smoky quartz, and rose quartz. Natural citrine is rare in comparison to amethyst and smoky quartz, which are often heated to turn their natural color into that of citrine.
Birthstones chart
Find your birthstone by month
---
Frequently asked questions about Citrine
What is citrine stone good for?
Citrine is said to shine the yellow light of summer onto your soul and is considered one of the most popular healing stones. 
Emotionally, citrine is believed to funnel the power, light, and warmth of the sun to energize and uplift your spirit, enabling you to be more optimistic, bestowing radiance, and elevating your self-esteem. Read our citrine guide to learn more about the stone.
Is citrine a lucky stone?
Many believe that citrine is one of the best gemstones for the manifestation of wealth, prosperity, and success. Also known as 'The Merchant's Stone', citrine is said to draw all the good things in life towards it. Decorating your office or home with a piece of citrine is said to bring luck, abundance, wealth, and positivity to your surroundings
Who can wear citrine?
With shades ranging from blond champagne though to burnished orange, citrine complements a vast range of skin tones. It is a stone that gives out heat and color, therefore giving golden warmth and light to cool and paler skin, but the honey-toned stone also looks fantastic on those with darker skin. Red-heads in particular stand out when wearing citrine, as the whisky-red hues in the stone reflect the beautiful strands of color in auburn hair.
Is citrine stone expensive?
The average price of citrine stone ranges from $10-$30 per carat. However, the quality of the stone's color has an enormous impact on its price, as does the type of citrine stone. Natural citrine stone is rare and sells for a premium. The more saturated the color is, the higher the price of the stone. The deep orange hues with the fiery red flashes inside, known as 'Madeira' citrine, are the most sought after by buyers and hence the most valuable.