Fire agate is one of the more rare gemstones around, and its unusual patterns ensure that every piece makes a bold statement. Whether set in charming jewelry or simply displayed ornamentally, fire agate is one of those gems that go beautifully in any setting.
These gemstones can be found in only a few locations worldwide, which makes them special to every gem collector. From its dramatic start when volcanic activity dominated the earth, fire agate has always carried deep spiritual significance for many cultures. Fire is seen as a life source which made fire agate a gem to be revered over the centuries. Bringing healing, protection, and balance to those who kept them close at hand.
| | |
| --- | --- |
| Fire Agate Colors | Brown, red, yellow, blue, green |
| Zodiac Signs | Aries, Gemini |
| Hardness Scale | 6 – 7 on Mohs Scale |
| Mineral Class | Chalcedony |
| Symbolism | Protection |
What is Fire Agate
Fire agate is a translucent to opaque stone of the mineral class chalcedony. The unique coloration and patterns of fire agate inspired its name. The different chemical compounds found in layers within this variety of agate create flecks of yellow, red, and orange to name a few. The flickering effect created by these colors when the stone is turned or the light source moved, makes it look like the flames of a fire.
Fire agate ranks between 6 and 7 on the Mohs scale of hardness making it ideal to be set in jewelry that can prevent it from being easily scratched. Raw or carved fire agate is used for ornaments and in alternative healing.
What does Fire Agate look like
Fire agate has a semi-transparent brown to slightly reddish base. The stone contains thin layers of iron oxide, goethite, or limonite within its crystal structure. These chemical compounds create hemispherical surfaces within the stone and are known as a crystal habit called the "botryoidal habit" of agate. These layers give the fire agate gemstone a fascinating iridescent sheen.
Fire agate is known as a "phenomenal gem" in gemology. These are gems that react with the light entering them to create captivating optical effects. Sparkling displays of vibrant orange, green, red, yellow, and gold can be seen at different angles from which the stone is viewed.
The value of Fire Agate
Fire agate, though rare and unusual is not a widely known gem. It has not been massively promoted and is usually modestly priced. The value increases by the size, color, and intricate patterns of the stone. Custom designs will be more expensive due to the craftsmanship put in rather than the value of the stone.
Fire agate that displays a wider range of colors will cost more than those with a single color. Colors that have the most appeal are blue, green, and purple while yellow and red are more common. Fire agates with toned-down colors and a spotty appearance are priced much lower than the others.
The properties of the inclusions in the rough fire agate determine how the stone should be cut. Fire agates are hard stones to cut and polish and require special tools when working with them. Jewelers use diamond cutters since diamonds are the hardest known material in the world they work perfectly. Each piece of fire agate that is cut for jewelry will require a special setting as each stone and shape is unique.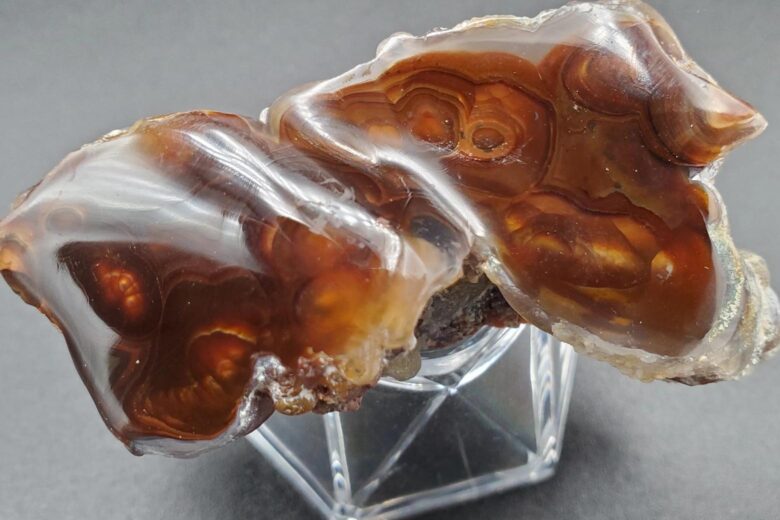 History and mythology of Fire Agate
Fire agates were historically used in alchemy to evoke fire as it was thought to hold the essence of fire within the gem. Many cultures used fire agate as a talisman to protect against harm and they were also used in rituals to worship fire deities.
Ancient Romans used the fire agate to thwart the effects of snake bites and receive acclaim from the gods. Native Americans held fire agate in high esteem as a stone of protection and healing. In folklore, you will find many benefits to keeping fire agate close by. From curing insomnia to protecting one from diseases, fire agate has been exalted for centuries.
Fire Agate's meaning and symbolism
Fire agates share many of the traits of all other agates such as grounding and balancing. These stones keep you open to receiving abundance in your life. Fire agate offers protection by creating a shield around the user that deflects harmful thoughts and ill wishes that are sent by others.
Fire agates have often been associated with the lower chakras which in turn energize sexual and physical energy. It is an amazing stone to keep at hand when making tough decisions, fire agate allows you to meet every challenge and come out stronger.
Where does Fire Agate come from
Fire agate has only been found in a few locations thus far. Areas like northern Mexico, Brazil, and southwest America (Arizona, California, and New Mexico) have been able to produce commercial quantities of fire agate.
They have formed approximately 36 million years ago when the mountain ranges and deserts went through major volcanic activity during the Tertiary period. Many speculate that fire agate got its color from the volcanic activity in the surrounding rocks.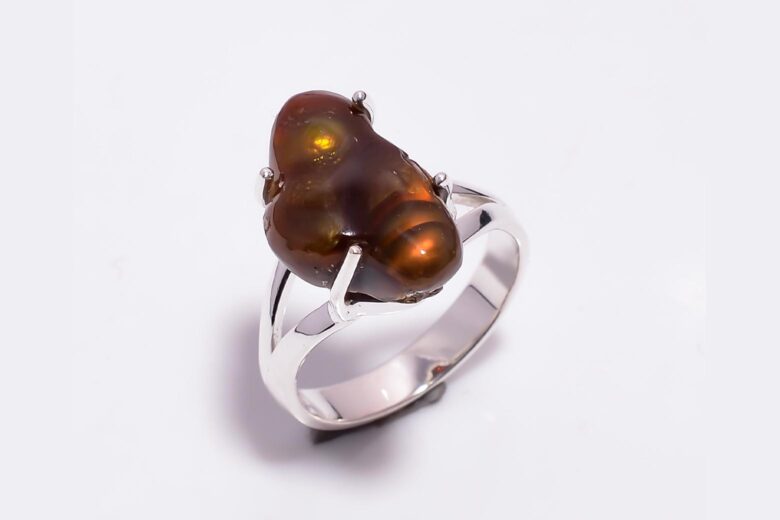 Fire Agate and Zodiac signs
Fire agate is not a traditional birthstone but they work well for the zodiac signs Aries and Gemini. They are stones that offer protection to the user and are powerful gems to wear.
Fire Agate gemstone family
Fire agate is a semi-precious gem that is part of the Chalcedony gemstone family. This mineral is in turn part of the quartz family. Fire agate is just one variety of agate. Different types of agate exist such as moss agate, blue lace agate, dendritic agate, yellow agate, and many more.
Other varieties of chalcedony include aventurine, bloodstone, carnelian, chrysoprase, onyx, tiger's eye, jasper, sardonyx, and many more.
Birthstones chart
Find your birthstone by month
---
Fire Agate gemstone uses
Fire agate is most commonly available as tumblestones that are used for feng shui and crystal healing. Different shades of fire agate are used at different chakra points to bring balance to your spiritual and physical energies. Rough or raw fire agate carries the same energy as polished gemstones. Other exquisite specimens have made their way into museums and gem collections around the world.
The high sheen of polished fire agate makes them spectacular gems to use in one-of-a-kind jewelry pieces. Aside from the beautiful pendants, earrings, and bracelets for women, many masculine pieces are created from the deep brown fire agates. They work well in signet rings, tie tacks, and cufflinks.
Frequently asked questions about Fire Agate
What is the spiritual meaning of fire agate?
Spiritually, fire agate has a strong grounding and protective nature. It is said to shield the user from negative psychic forces and calm one's energy.
Is fire agate rare?
Yes, fire agate is rare. It is in fact one of the rarest forms of agate in the world. Fire agate is also one of the rarest gems in the world, even more rare than diamonds, emeralds, and rubies.
What chakra is fire agate good for?
Fire Agate is good for the base, sacral, and heart chakras. Brown fire agate at the base chakra stimulates spiritual and physical energies. Gold-orange fire agate at the sacral chakra brings balanced emotions. Green fire agate at the heart chakra allows for open communication in all your relationships.
Is flame agate the same as fire agate?
No, flame agate and fire agate are not the same. They are both different varieties of the agate family. Flame agate has red and orange flame-shaped inclusions within the stone and has also been called Apache Flame Agate or Mexican Red Apache Agate.