The brilliant blue of sapphire is instantly recognizable as one of the most precious gemstones in the world. Azure, cerulean, cobalt, indigo, the many shades and hues of sapphire dazzle the eye and are a wonder to behold. Beloved throughout history by noble and royal families both ancient and modern, the dignified yet brilliant tones of this precious gem have never gone out of fashion. 
Sapphire makes for an invaluable gift, and has long been an elegant choice as the stone to set off a unique engagement ring. Velvety sapphire looks captivating when set amongst diamonds as the centerpiece in a pendant or earrings, and unpolished, uncut sapphire crystals have become a unique collector's item.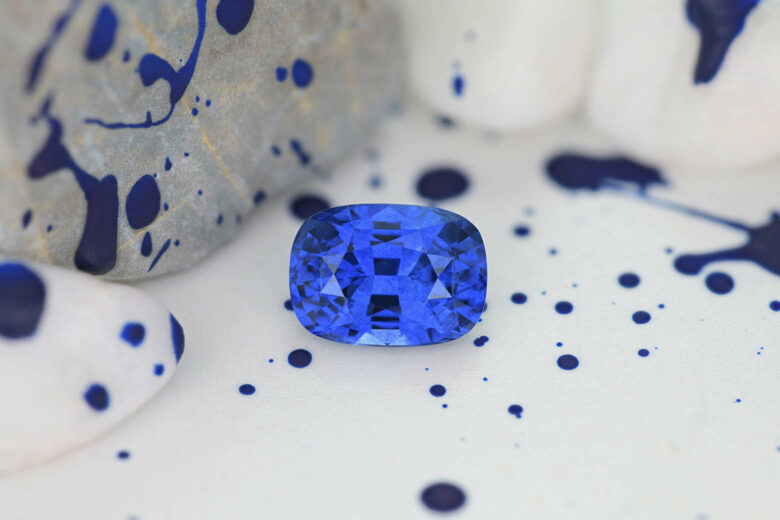 | | |
| --- | --- |
| Sapphire Color | Blue, green, white, yellow, purple, pink |
| Birthstone Month | September |
| Hardness Scale | 9 on Mohs Scale |
| Mineral Class | Corundum |
| Symbolism | Wisdom, truth and constancy |
What is Sapphire?
Sapphire is a striking, velvety, pure blue transparent gemstone, which is highly valuable. It is one of the four most sought-after, precious gems in the world, alongside diamonds, rubies and emeralds. Long cherished by noble families throughout the world, the ancient Greeks and Romans believed that blue sapphire attracted wealth and protected its owners from envy and harm. Contrary to popular belief, not all sapphires are actually blue, but come in all the colors of the rainbow, with the exception of red. 
What does Sapphire look like?
A deep sparkling, cerulean blue, sapphire is one of the most impressive and breathtaking gems in the world. The tone of blue sapphire can vary however, from a light lazuline blue through to the bright azure of clear morning skies, to the vivid, brilliant royal blue hues which are the most valuable. However, sapphire comes in many other colors other than blue. These other sapphires are commonly named after their color, and as such are referred to as pink sapphires, yellow sapphires, white sapphires, green sapphires and purple sapphires, and are collectively known as 'fancy sapphires'.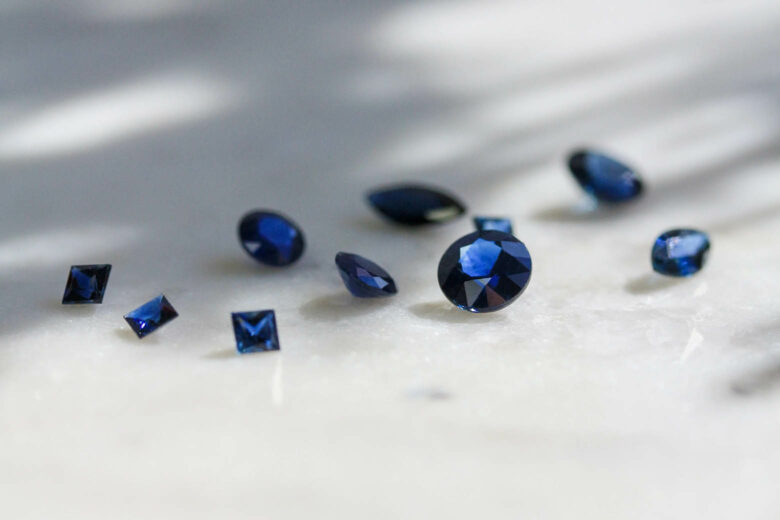 History of the Sapphire stone
Sapphire stone has been well-documented through the ages. In 'Gem and Stone', Jenifer Altman writes that 'Greek mythology holds that the first ring ever worn was made of sapphire'. Prince Charles caused a stir in 1981 by gifting Lady Diana a sparkling sapphire Marguerite engagement ring (now worn by the Duchess of Cambridge, Kate Middleton), instead of the more traditional diamond. This ring was in fact itself inspired by a sapphire and diamond brooch that Prince Albert had created for his future wife, Queen Victoria, in 1840, and which she wore on her wedding day.
Many celebrities followed in Prince Charles's footsteps, with both Javier Bardem and David Beckham proposing to their future wives with a brilliant blue sapphire. Sapphire's burgeoning popularity today is in part due to its ubiquity on the red carpet, with the likes of Elizabeth Hurley, Helen Mirren and Angelina Jolie favoring the majestic indigo stone.
Meaning of Sapphire
The name sapphire comes from the Greek word 'Sappheiros' and the Latin 'Sapphirus', which are roughly translated as blue stone.
In 'The Curious Lore of Precious Stones', foremost gemologist George Kunz elegantly explains that 'The sapphire – the gem of autumn, the blue of the autumn sky – is a symbol of truth, sincerity and constancy'. In the medieval and ancient worlds, sapphire was believed to bring many benefits. Blue sapphire was regarded as a sign of divine celestial faith, a guardian of the heavens and as a bestower of good fortune and wealth. Today, the popularity of sapphire as an engagement ring is connected to its spiritual meaning, that of truth, constancy and loyalty.
Where does Sapphire come from?
The most highly-prized sapphire stones come from Kashmir and can fetch breathtaking prices at auction. A 28.18-carat Kashmir sapphire and diamond ring sold for an incredible $5,093,000 at Sotheby's in New York in 2014. Kashmir stones are a deep vivid blue, and include fine silk inclusions which give the stone a velvety glow.
Other notable sources of sapphire are the slopes of Myanmar, where high quality violet blue sapphire is found, and Sri Lanka, which produces a special peachy, orangey-pink sapphire known as padparadscha, which means 'lotus flower' in local Sinhalese language. Australia gives rise to dark colored sapphire, and Thailand is home to stones of a greenish-blue hue.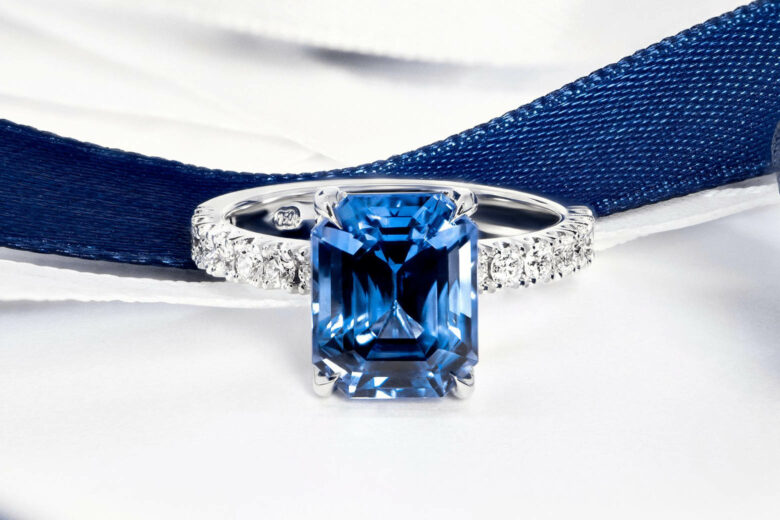 Sapphire and Zodiac signs
Sapphire is September's birthstone and is also the official jewel used to celebrate the 45th wedding anniversary. George Kunz believed that the calm, noble and dignified colors of sapphire were 'appropriate to the autumn season, when the declining sun no longer sends forth the fiery rays of summer, but shines with a tempered brilliancy'.
Which family is Sapphire from?
Sapphire springs from the corundum group, a family of rock-forming minerals made of aluminum oxide. Sapphire has a very high scoring of 9 on the Mohs hardness scale, meaning that it is the third hardest mineral in the world; its durability further adding to its popularity as a jewelry stone.
Birthstones chart
Find your birthstone by month
---
Frequently asked questions about Sapphire
What does sapphire symbolize?
Sapphire is said to symbolize wisdom, truth and constancy. It typifies calm and loyal affection, rather than heady passion, perhaps one of the reasons for which it is favored among royalty, who cherish the dignified aura of this midnight blue stone.
How much is blue sapphire worth?
Sapphires vary wildly in price, from $25 per carat to over $25,000 per carat. This wide fluctuation in price is due to the variation in the color of the stone. The closer to a pure blue the better, though what is most important in determining the value of sapphire is its saturation. The best sapphires reach vivid saturation and are transparent, while sapphires of lesser value are darker and grayish in tone.
Are sapphires rare?
Plentiful quantities of sapphires are found all over the world, but sapphires which are characterized as being of 'gem-quality' are highly rare and unearthed in far fewer spots. The most valuable blue sapphires hail from Sri Lanka and Kashmir, and Australia, Myanmar, Thailand and the US state of Montnana are home to valuable sapphires of all colors.
Is sapphire blue or purple?
When jewelers refer to sapphire, they mean the rich blue transparent stone. However, there are other types of sapphires, otherwise known as 'fancy sapphires', which are referred to by their color first and the name sapphire after. 'Purple sapphires' do occur, usually in Sri Lanka or Madagascar.