Emeralds have been called life-affirming stones. Such is the rich symbolic history and culture surrounding this enchanting green gemstone. A symbol of peace, truth, and personal growth, emeralds are one of the most valuable birthstones.
The endless beauty of emeralds is exhibited in hues of yellow-green to striking bluish-green. But there's more than meets the eye to even the most brilliant emeralds. From Colombian emeralds to ones mined in the United States, here's a preview of this timeless beauty.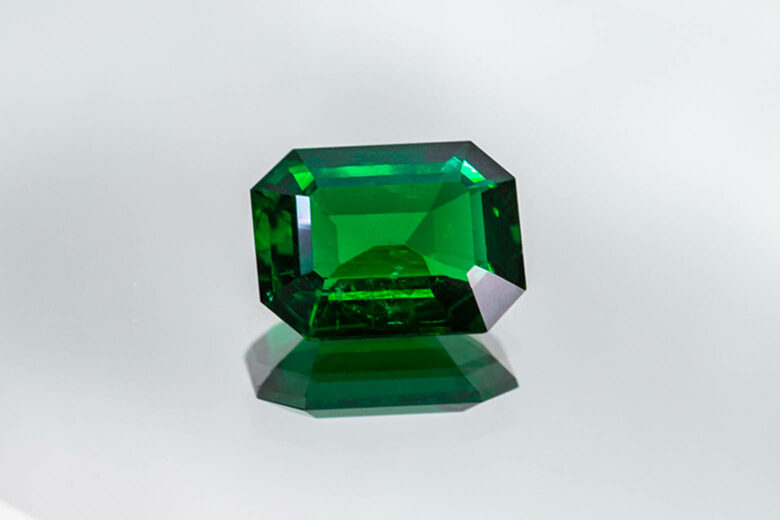 | | |
| --- | --- |
| Emerald Color | Yellow-Green, Medium Green, Bluish-Green |
| Birthstone Month | May |
| Hardness Scale | 7.5 to 8 on Mohs Scale |
| Mineral Class | Beryl |
| Symbolism | Fortune, Truth, Peace, Growth, Loyalty |
What is an Emerald?
Emerald is a natural, precious gemstone in the Beryl family. Emeralds are known for their auspicious green hue and versatility. They are featured as pendant necklaces, statement rings, earrings, bracelets, and even crown jewels. 
Emeralds have a Mohs hardness rating of 7.5 to 8. They can be scratched with heavy wear, yet are fairly durable. With their beauty and symbolic meaning, emeralds remain highly cherished around the world.
The average price of a natural emerald ranges from around $200 to $19,000 per carat. The most expensive emerald ever sold was the flawless Rockefeller emerald, priced at $5.5 million.
What does an Emerald look like?
Emeralds, of course, are green gemstones. But understanding the quality and spectrum of an emerald's appearance is important for appreciating its value. 
Emerald colors range from yellow-green medium-green to green with blue undertones. The most expensive emeralds are bluish-green with vivid saturation, as well as deep green. Emeralds are graded based on color, clarity, and luster.
These colors can be affected by treatment. Untreated emeralds are as they appear naturally. Treated emeralds use oils and resins to cover imperfections. Treated emeralds make up 99 percent of emeralds sold. There are also lab-grown emeralds, which are more affordable.
Main types of Emeralds
| Type of Emerald | Description |
| --- | --- |
| Bahia Emerald | Rough emeralds that are quite expensive and rare, with a bluish-green hue |
| Brazilian Emerald | Usually yellowish-green and more affordable |
| Columbian Emerald | Most prized and expensive, bluish-green and warm hues, known to be more brittle |
| Trapiche Emerald | Medium to sage green, from South America, with a cat's eye effect |
| Zambian Emerald | More bluish-green, popular and more affordable than Columbian |
| Synthetic Emerald | Any emerald grown in a lab. These are less expensive, less valuable, and can range in quality and hue |
Emeralds are versatile and can be cut into most shapes. The name emerald cut, however, was popularized by the emeralds.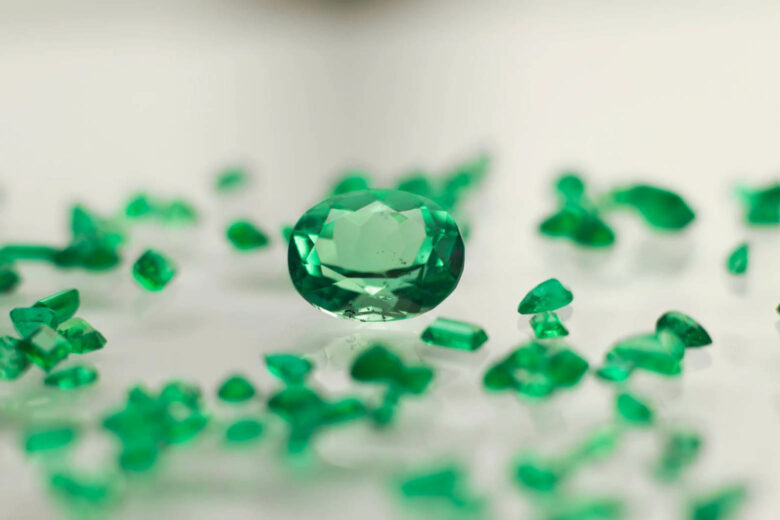 History of the Emerald
Emeralds has been prized for their beauty and supposed benefits as far back as 330 BC in Ancient Egypt. In Ancient Egypt, emeralds were a status symbol but also used for religious purposes. Monarchs wore emeralds in life and death to protect themselves from evil spirits and enemies. Ancient Romans used emeralds to reduce anxiety.
The indigenous people of Muzo in Columbia likewise cherished emeralds. Though these emerald mines were eventually overtaken by Spanish Conquistadors, their source remained hidden for two decades. Hindus have, and some continue to, tout emeralds for their source of wisdom and connection to Krishna, the god of the high heavens.
Emeralds were popularized in Spain by the 15th century. They have been featured in royal crown jewels within India, Iran, and Russia. One of the most famous modern emeralds were those featured in actress Elizabeth Taylor's jewelry collection. 
The meaning of the Emerald
Emeralds is as symbolic as they are beautiful. The most revered meaning of emeralds is candor and love. Emeralds represent honesty, inner peace, and personal growth. They also are expressive of loyalty.
Perhaps the most famous meaning of emeralds is good luck. The Aztecs saw a connection between Emeralds and the natural Earth, suggesting the stone provided benefits for good health. Many still wear, carry or give emeralds as tokens of fortune.
Where does an Emerald come from?
Emeralds are sourced from Pakistan, the United States, Ethiopia, Russia, Afghanistan, Australia, and other parts of Africa. However, most natural emeralds are mined in Zambia, Brazil, and Columbia. Columbia's natural gemstone is an emerald.
Within Columbia, the prominent mining districts are Muzo and Chivor. Emerald crystal formation is abundant, though the humid conditions make mining an arduous task. Columbia produces around ⅔ of the emeralds in the market. Columbia also provides some of the most popular, vivid, and valuable emeralds.
Emerald crystals form when magma cools and solidifies alongside beryllium. Sometimes they form within the crust of layered magma. Both terrace mining and open-pit mining are used to source emeralds. There's a push to ensure more ethical mining standards, but much work still needs to be done.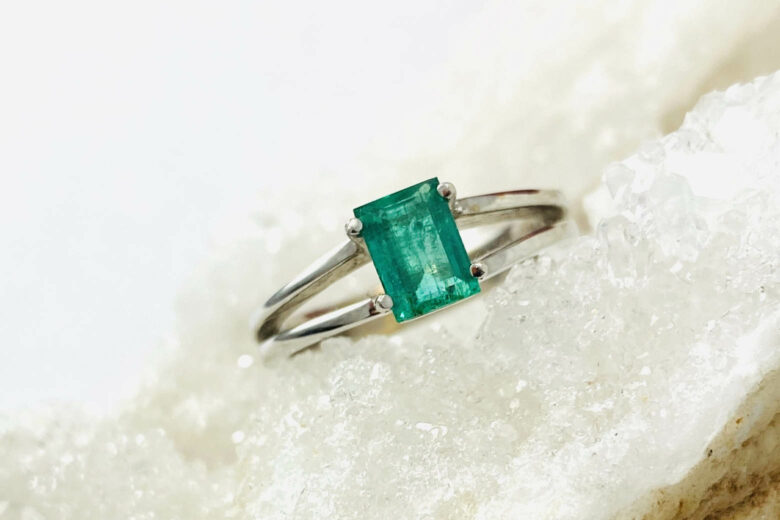 Which zodiac sign is associated with the Emerald?
Emeralds are one of two birthstones for May, alongside Agate. However, this whimsical green gemstone is also associated with three zodiac signs: Cancer, Taurus, and Gemini.
Taurus are known for their extravagance and their love for impressive things: a great match for an expensive emerald. Taurus can be materialistic, fanciful, and a little stubborn. Yet they also are compassionate and loving.
Cancers, like emeralds, can be surprising with their changing temperament (or colors). Both are also wise, perceptive, and insightful. This aligns with the belief that emeralds open up the mind and enhance perception.
Emeralds are a great match for a Gemini, too. Geminis are known for their dual nature: at once smart and flexible, and at times impatient or changeable. As a Gemini, the range of emeralds and the different hues will keep people guessing.
Which family is the Emerald from?
Emeralds are from the beryl family. The Beryl family of gemstones also includes Aquamarine, Morganite, Goshenite, Bixbit, Heliodor, and Yellow Beryl. Needless to say, the beryl family is abundant in its variety and is quite popular. The most common places to find beryl gemstones are within Pakistan, parts of Africa, and South America.
Members of this family usually have hexagonal crystals and can be cut into a range of shapes. Their versatility makes them all that much more useful for jewelers. Beryl gemstones likewise have special interactions like light—such as star and cat's eyes effects.
Birthstones chart
Find your birthstone by month
---
Frequently asked questions about emeralds
What does emerald symbolize?
Emeralds are precious gemstones that symbolize a new beginning. For many, the meaning of emeralds is multifaceted. Emeralds symbolize inner peace, self-improvement, and wisdom. At the same time, they also are associated with vibrancy, youth and luck. Emeralds are also the national jewel of Columbia and a source of pride within that country.
Is emerald expensive?
Emeralds are among the most expensive gemstones. Natural emeralds are rarer than many diamonds, and thus more expensive. The price of emeralds, though, varies greatly. The average emerald costs a few hundred dollars to a little under $20,000 per carat. Synthetic emeralds of poor quality are cheaper, while the most expensive emeralds can cost up to $100,000 or more.
Who should wear emerald stone?
Emeralds are advantageous for many zodiac sun signs, including Gemini, Virgo, Libra, Taurus, Capricorn, and Aquarius. For them, an emerald ring bestows fortune and well-being.
What are the benefits of emeralds?
Many believe that emeralds have psychic benefits. Emeralds are a mind-opening stone, promoting awareness, greater focus, and a deeper understanding of oneself. Beyond bestowing wisdom, emeralds have been used to see into the future. More grounded in everyday life, emeralds are worn or placed in rooms to enhance memory and provide clarity.