This alluring purple stone is one of the most beloved gems in the world. From the light violet varieties to the deep red purple, all amethyst types can be incorporated into a range of jewelry. Amethysts are not only admired for their beauty, but are sought after for their healing properties as well.
Amethysts are the most spiritual gemstone, if you find yourself drawn to this beautiful, gentle stone, then you may be about to embark on a spiritual awakening and healing. Whether you choose to sleep with an amethyst under your pillow, wear an uncut crystal around your neck while you meditate, or as an expertly cut gem worn as jewelry, the powers of amethysts will guide you in your metaphysical quest.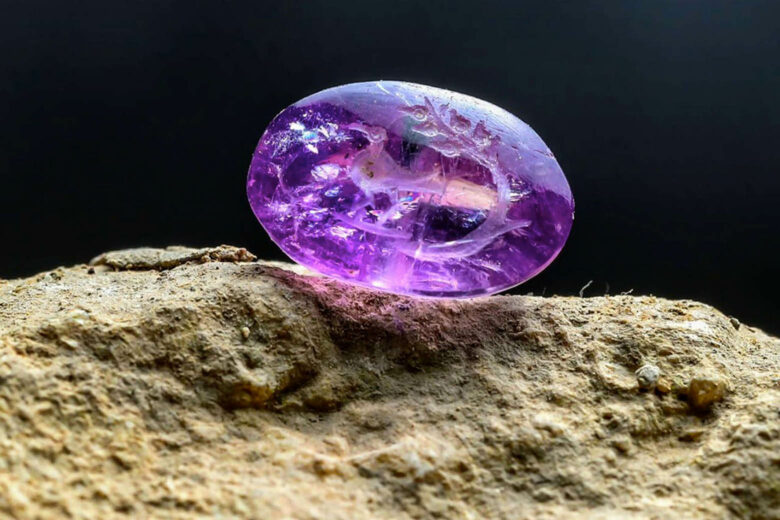 | | |
| --- | --- |
| Amethyst Color | Light violet to deep red purple |
| Birthstone Month | February |
| Zodiac sign | Aquarius |
| Hardness Scale | 7 on the Mohs scale |
| Mineral Class | Quartz |
| Symbolism | Wisdom, clarity of thought, and spiritual healing |
What is an amethyst
An Amethyst is a popular purple semi-precious quartz stone known for its ability to aid in spiritual healing.
What does an Amethyst look like
The purple color of the Amethyst gemstone is due to trace amounts of iron which affect the quartz crystal. Once crystallization has occurred, radioactive properties in the rock emit gamma rays, irradiating the iron in the rock. Amethyst properties are almost exactly the same as other quartz crystals (such as rose quartz and rutilated quartz). The purple color is the only difference in their physical makeup.
Amethyst colors are available in a range of purple tones, from a semi-transparent light violet with white striations to a dark, almost opaque reddish purple.
Nowadays, the lighter amethyst variety is used as a calibrated stone, common in mass-produced jewelry, while the darker, maroon gems are used for fine jewelry.
Amethyst gemstones should be stored in a dark place, such as a drawer or a jewelry box, as the color is prone to fading when exposed to too much light, diminishing the amethyst value.
Amethysts can be heated to cause a color change. The resulting yellow and golden quartz crystals are known as citrine.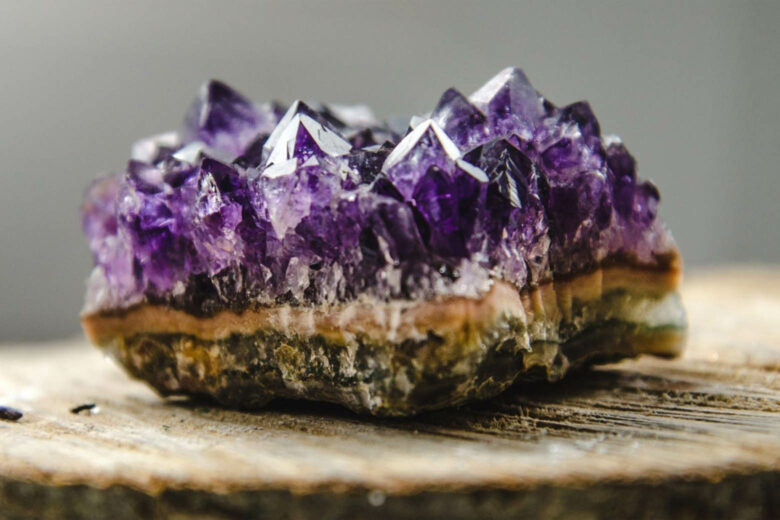 History of the Amethyst
Ancient Greeks, Romans, and Egyptians, from as far back as 25,000 BC, have been drawn to the healing properties of amethysts.
The name is derived from the Greek word Amethystos, translated to "not intoxicate", as the ancient Greeks would wear the stone to prevent them from becoming intoxicated.
Meaning of the Amethyst gemstone
The ancient Greeks recognized amethysts as an antidote for drunkenness. This association with clear thinking, contemplation, and an overall sense of control over the wearer's life has prevailed throughout the centuries.
Amethyst stones are now also associated with intuition, spirituality, and clairvoyance, guiding the wearer in their spiritual awakening.
Where does Amethyst come from
Amethysts naturally occur in South Africa, Namibia, Tanzania, Madagascar, India, Sri Lanka, Morocco, Mexico, Brazil, Uruguay, Myanmar, France, Canada, and the United States.
Amethysts can be found within metamorphic and sedimentary rocks and in the fractures and cavities of igneous rocks. Known as amethyst geodes, they are characterized by large rocks filled with amethyst crystals.
Large amounts of amethyst are found in the cavities of basalt flows in Brazil and Uruguay. These cavities can contain tons of amethyst crystals.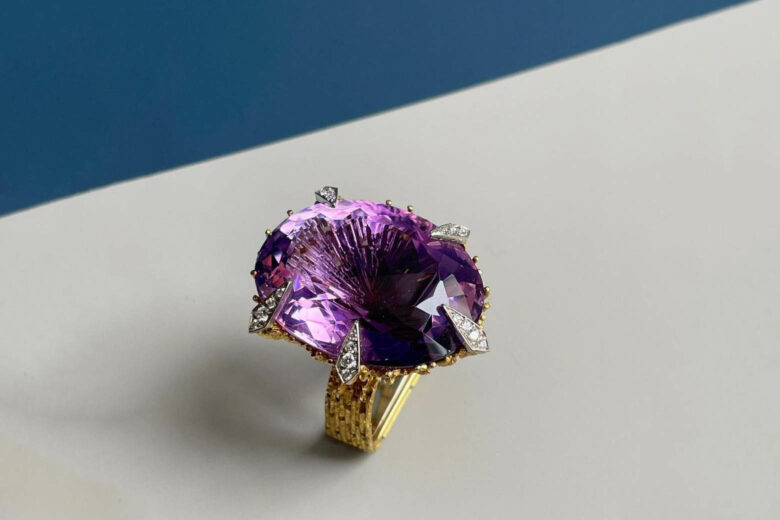 The value of Amethyst
Much amethyst is available in South America and Africa, and it can be harvested easily without the significant costs of mining required for other gems. This keeps the amethyst price quite affordable.
Gems of pure, dark purple, with no color zoning, are preferred, making them the most valuable of the varieties. Inexpensive, amethyst jewelry can be worn every day and not just kept for special occasions.
Synthetic amethyst has been manufactured since the 1970s. While it is cheaper, it does not hold the spiritual healing properties that genuine amethysts do.
Amethyst as a birthstone
Amethyst is traditionally known as the birthstone for people born in February. It is also considered to be one of the birthstones of the zodiac sign of Aquarius.
Birthstones chart
Find your birthstone by month
---
Frequently asked questions about amethysts
What is amethyst crystal good for? 
Like other crystals and semi-precious stones, amethyst's meaning has long been thought of as an instrument of spiritual healing and an aid in meditation. They are associated with the crown chakra and its ability to link the physical and metaphysical world.
What powers does amethyst have?
Amethyst gemstones benefit physical, emotional, and spiritual needs. They are said to be an immune booster, assisting in deep, undisturbed sleep and pain relief for migraines, headaches, and insomnia.
What does amethyst stone symbolize?
Amethysts are associated with wisdom, both insights about yourself and spiritual wisdom, allowing you to advance along your personal journey. Amethysts also offer clarity of thought and peace, as they are associated with spiritual healing.
Does amethyst protect you?
The amethyst gemstone is believed to protect against negative energy, headaches, nightmares, and insomnia.