A breathtaking gemstone that looks different from day to night, Alexandrite is truly exceptional. Dazzling colors, unique properties, and a rich history are a few reasons why Alexandrite is the most unique birthstone for June. But how much do you know about this mysterious gemstone?
As one of the rarest and most valuable gemstones, many are unaware of just how wonderful Alexandrite is. Like its ability to change colors, the meaning of Alexandrite has changed over time. Once a gemstone associated with Russian royalty, Alexandrite is now featured on unique engagement rings and designer jewelry. Here's a quick guide to this enigmatic gemstone.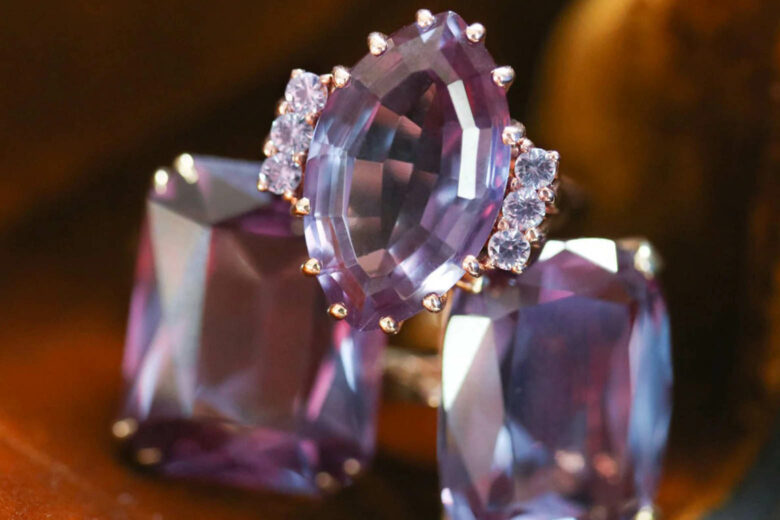 | | |
| --- | --- |
| Alexandrite Color | Blue-Green in Daylight; Purplish-Red at Night. Lower-quality Alexandrite may have undertones of yellow or brown. |
| Birthstone Month | June |
| Hardness Scale | 8.5 on Mohs Scale |
| Mineral Class | Chrysoberyl |
| Symbolism | Wisdom, Prosperity, Good Fortune |
What is Alexandrite?
Alexandrite is a rare and valuable gemstone. It's naturally formed in only a few regions of the world and its price is only rising every year. While not as durable as a diamond, Alexandrite has a Mohs hardness rating of 8.5 out of 10. It's resistant to scratches and moderate levels of heat and humidity. 
Due to its exquisite beauty and value, Alexandrite is becoming more common for fine jewelry. Someone looking for a diamond alternative may choose Alexandrite for an engagement ring. Alexandrite is also made into pendant necklaces, dazzling earrings, and luxurious bracelets. 
What does Alexandrite look like?
Alexandrite is one of the most beautiful precious gemstones that occur naturally. Its colors are exceptional from day to night. The unique color-changing properties of Alexandrite are the reason why it's called an "emerald by day, ruby by night". 
During daylight, Alexandrite is bluish-green or a peacock blue. At dusk, that color transforms into a magnificent purple with red undertones. This change occurs because of the way Alexandrite absorbs light.
The Gemological Institute of America (GIA) classifies the most vivid colors like grass green and raspberry red. The more vivid and saturated colors of Alexandrite are the most valuable. Like other precious gemstones, Alexandrite is classified and graded based upon clarity, cut, and color intensity.
Alexandrite Grading Chart
| Letter Grade, and Name | Alexandrite Description |
| --- | --- |
| AAAAA – "Collector's" | Exceptionally rare, with a 90 to 100 percent color transition. This Alexandrite is sourced from Brazil and Russia and has exceptional clarity |
| AAAA – "Heirloom" | Top 1 percent of Alexandrite, with an 80 to 100 percent color transition. This Alexandrite has excellent clarity and vivid hues. |
| AAA – "Excellent" | Top 10 percent of Alexandrite, with present color change and vivid colors. Clarity is still above average, and these stones are more common for fine jewelry. |
| AA – "Very Good" | Top 25 percent of Alexandrite, with present color transitions and quality hues. The green and purple hues are paler, and the clarity is not perfectly eye-clean. |
| A – "Good" | Top 50 to 70 percent of Alexandrite, with acceptable clarity and light hues. |
Alexandrite is sold both as a raw crystal and as a faceted gemstone. Alexandrite is cut in a similar fashion to a diamond. The most popular cuts for Alexandrite include round cuts, pear-shape cuts, oval cuts, and emerald cuts.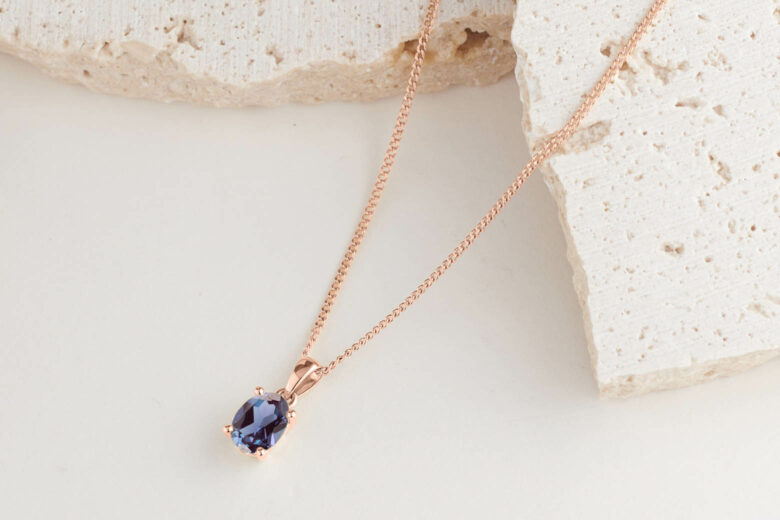 History of Alexandrite
Alexandrite was discovered in 1834 by the Finnish gemologist Nils Gustaf Nordenskiöld in the Ural Mountains. But this discovery is steeped in controversy. After locating Alexandrite beside the Tokovaya River, Nordenskiöld mistook it for an emerald. It was only by noting the color-changing properties that it became clear that this was a unique gemstone.
Alexandrite was named after Alexander II, the future Russian Czar at the time of its discovery. It was thus ushered in as a stone aligned with Russian royalty. Alexandrite rings flourished during the second half of the 19th century and the first half of the 20th century and prominently in Victorian England.
It wasn't until the late 1980s that Alexandrite was found in Eastern Africa, Sri Lanka, and Brazil. Still, Alexandrite is exceptionally rare, and it is not as popular today as it once was. Nonetheless, some signs are changing especially as lab-grown Alexandrite becomes more widely sold.
Meaning of Alexandrite
Alexandrite's history and rich hues tie it to wealth. Prosperity, royalty, and riches are the most obvious symbols of Alexandrite. However, the meaning of Alexandrite, like the stone itself, is multi-dimensional. Alexandrite is also seen as a stone of wisdom, change, and good fortune.
Another change in the meaning of Alexandrite stems from who wears it. Alexandrite was once limited to royalty and slowly tricked into mainstream popularity. While it's never fully recovered the height of its popularity, Alexandrite has become a strong contender as a diamond alternative.
Alexandrite means different things to different people, but its lore and symbolism make its appeal long-lasting.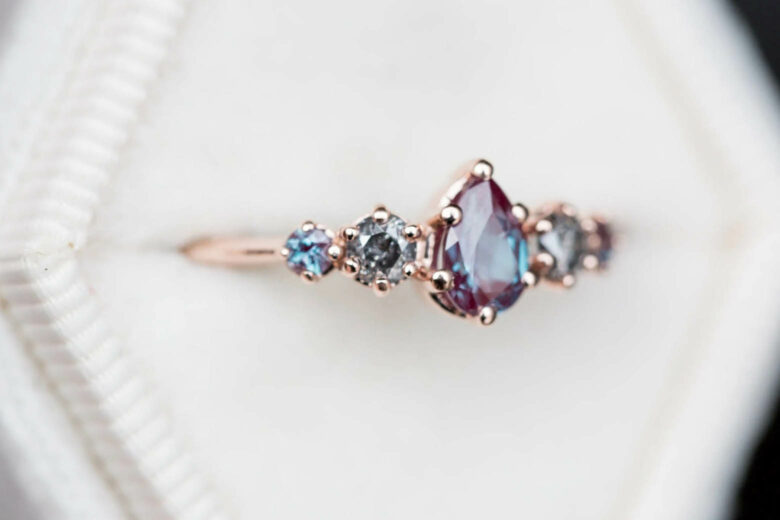 Where does Alexandrite come from?
Alexandrite's value can be attributed to its rarity and beauty. Alexandrite forms when beryllium, aluminum, chromium, iron, and titanium combine. Today Alexandrite is mostly sourced from Sri Lanka, Brazil, and Eastern African countries. Alexandrite from Russia fetches the highest price and is often high-quality.
However, natural Alexandrite is no longer the only option. Lab-grown Alexandrite is sold by fine jewelers as a way to offset sky-high prices and challenge sourcing natural gemstones. Lab-grown Alexandrite shares the same chemical and physical properties as natural Alexandrite.
However, it has a far lower value. Lab-grown Alexandrite has made this alluring gemstone more affordable and accessible for more people. Another advantage is that lab-grown Alexandrite doesn't face sourcing or environmental concerns.
What zodiac sign is Alexandrite for?
Alexandrite is one of the three birthstones for June (alongside the pearl and moonstone). As such, Gemini is the zodiac sign associated with Alexandrite. Just as Alexandrite impresses with its bold colors, a Gemini is known for its versatility. 
Geminis are extroverted and appealing. At the same time, this sign is known to be impulsive and prone to change. That fits in well with the beauty and appeal of Alexandrite. Alexandrite, like Geminis, is exceptional and prone to change.
Which family is Alexandrite from?
Alexandrite is from the chrysoberyl family of minerals. Chrysoberyl is known for its hardness and durability. Chrysoberyl is unique because this family of minerals has cyclical crystal properties called trillings. Trillings form hexagons, with 'twin' structures at 120 degrees each. Cymophane is another form of chrysoberyl.
However, Alexandrite is far rarer than other minerals in its family. This is attributed to trace amounts of iron and titanium. The unique properties are partially why Alexandrite is such a valuable form of chrysoberyl.
Birthstones chart
Find your birthstone by month
---
Frequently asked questions about Alexandrite
How much is a real Alexandrite worth?
Alexandrite is one of the most expensive gemstones on the market. GIA-graded, natural Alexandrite cost up to $15,000 per carat on average. However, exceptionally rare and high-quality Alexandrite retails for $50,000 to $70,000 per carat.
Is Alexandrite more expensive than diamonds?
Though diamonds remain the most popular option for engagement rings, Alexandrite is becoming more valuable. Alexandrite of reputable quality has a higher value than the average diamond. However, rare red diamonds and blue diamonds carry a higher price than most Alexandrite.
Why is Alexandrite so rare?
Natural Alexandrite is rarer than diamonds due to its unique chemical properties. Traces of iron and titanium distinguish Alexandrite from other forms of chrysoberyl. Alexandrite is found in just a handful of regions in the world: Russia, Brazil, Sri Lanka, and parts of Africa.
Is Alexandrite a real gemstone?
Alexandrite is a natural, rare gemstone. Known for its exquisite color-changing properties and value, it's easy to spot a fake Alexandrite. Fake Alexandrite won't display the same brilliant blue-green hues in daylight and purplish-red colors in the evening. There's also lab-grown Alexandrite, which is less valuable than natural Alexandrite but shares its chemical properties.