Stretch your arms out; bat your eyelids open; perhaps, if you're lucky, curl into your blankets for another stolen minute or two to dream. Roll over, check your phone, sit up, and yawn.
Whether you love a lie-in or are always up at the crack of dawn, the hours you spend on your mattress really count.
As it turns out, fighting fatigue depends on finding the best mattress that matches your unique sleep style and preferences. Some of us run naturally warm and need a cooling mattress to stop us from getting sweaty. Others toss and turn frantically, keeping their partners awake. And some of us are like the Princess & The Pea, able to feel every pesky lump and bump below the bed sheets.
So treat yourself to a luxury mattress that meets you on your terms. A mattress specifically designed to optimize your snoozing time. One that ensures you'll start the day full of vitality and drive, ready to take on life. A mattress that can guarantee superlative sleep so when you wake up, you actually feel awake.
These days you can nab without even leaving the house. The best online mattress brands offer a range of luxury mattresses, whether you're a side, back, or stomach sleeper, from memory foam masterpieces to all-organic latex creations.
If you find that choosing the right mattress can be a nightmare, you're in luck: we've compiled a list of the best luxury mattresses out there, from those with high-tech cooling capabilities to eco-friendly slumber solutions.
Because the last thing you want to do when you're already feeling drained and depleted is scouring the internet hunting down the luxury mattress of your dreams.
Good night.
In a rush? No problem! Here's a selection of three top mattresses to get you started.
BEST OVERALL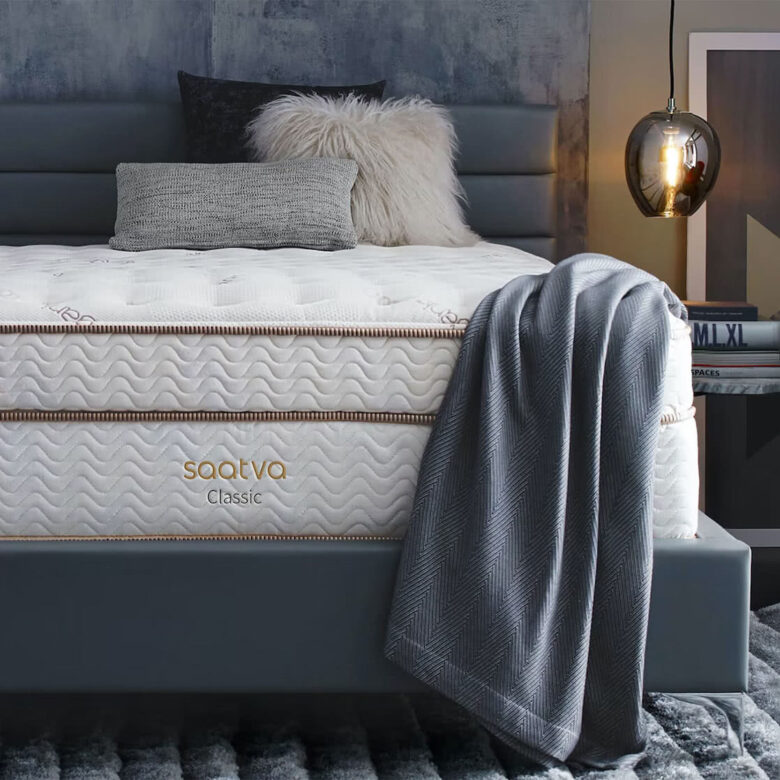 SAATVA
As a luxury hybrid innerspring mattress, it's the most popular option for most types of sleepers.
Mattress type: Hybrid Innerspring
Price: $$$
BEST VALUE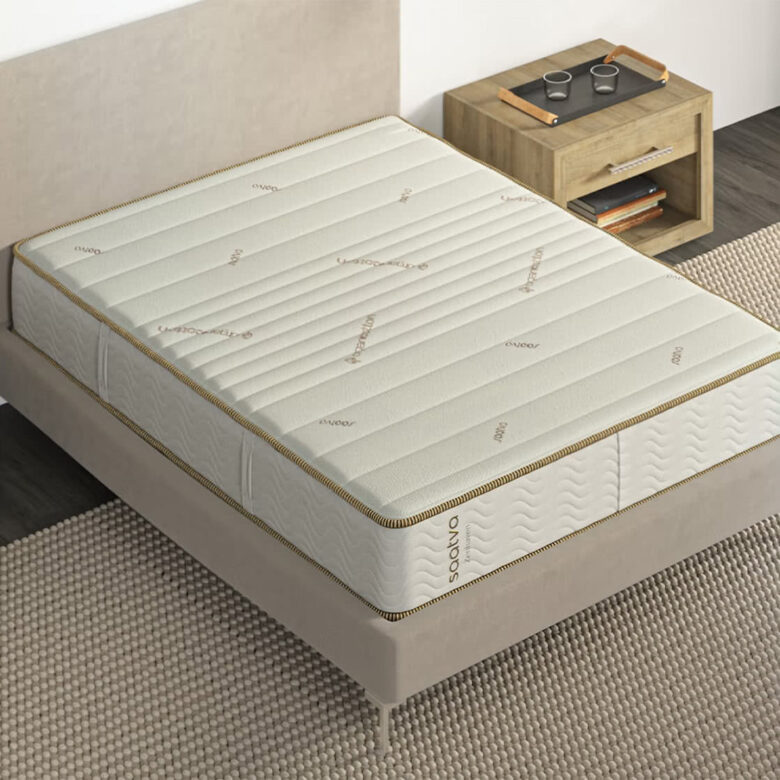 COCOON BY SEALY
With its cooling memory foam and silky cover, Cocoon by Sealy is hard to beat in terms of value.
Mattress type: Hybrid
Price: $$
BEST LUXURY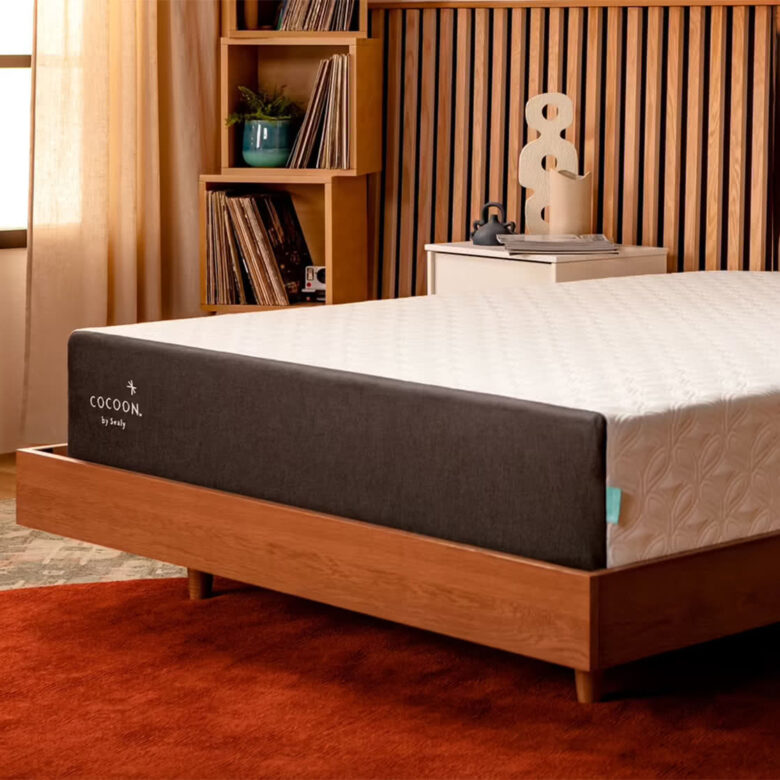 zenhaven
If you have the budget and are serious about your sleep quality, this is your best option.
Mattress type: Organic Latex
Price: $$$$
The best luxury mattresses of 2023
Check our special luxury mattress buying guide after the list to see exactly what you should pay attention to when shopping for mattresses online. All prices listed below are based on Queen size mattresses; more options are available.
Saatva Classic: Best overall luxury mattress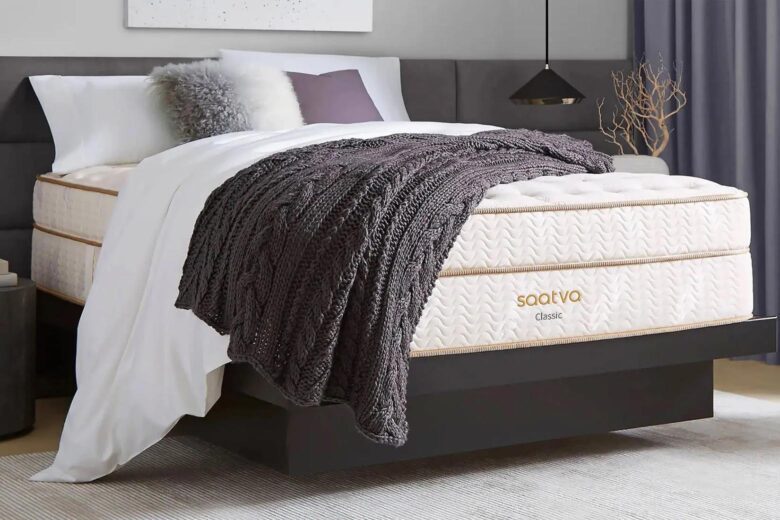 The Saatva Classic Mattress is a classic for a reason: There's a lot to like about this luxury mattress. Not only is it a hybrid mattress that delivers both support and glorious cushioning comfort, but it's also the best mattress for back pain that we've come across and easily wins the title of the most comfortable mattress around.
Saatva is one of the best mattress brands, and this best-selling mattress features a plush Euro pillow top for targeted relief to your back while the spinal zone technology and memory foam ensure correct alignment, further reducing pressure on your lower back. No wonder it's recommended by leading US chiropractors.
Other things you'll love about the Saatva Classic? The reinforced edges stop sagging near the perimeter, the breathable and hypoallergenic organic cotton top, and the fact you can choose between Soft, Medium, and Firm depending on your sleep style. You get 365 nights to try it out, and you'll feel like you're sleeping in a 5-star luxury hotel during each of them.
Get $200 off any order above $1,000 when using our link to Saatva's website. Check our in-depth Saatva mattress review to learn more about this top-rated mattress brand.
Best for: A luxury mattress that has your back, balancing support with slumber-ready softness.
| | |
| --- | --- |
| Sleeping position: | All sleeping positions |
| Mattress type: | Hybrid Innerspring |
| Firmness: | Soft, Medium Firm, and Firm |
| Sizes: | Twin, Twin XL, Full, Queen, King, Split King, Cal King, and Split Cal King |
| Trial period: | 365 nights |
Cocoon Chill Hybrid: Best value mattress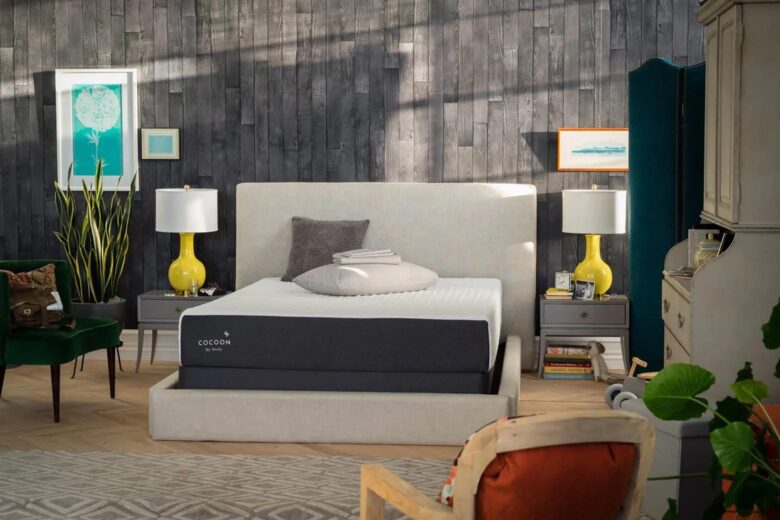 If you struggle with getting too hot through the night, you need a mattress optimized for airflow. The Cocoon Chill Hybrid is specifically designed to stop you from getting sweaty.
The Chill Hybrid features Phase Change Material that absorbs and dissipates heat. Then there's the coils, each one encased in fabric and moving independently for target support and to reduce motion transfer. The coils also channel the heat through breathable springs to ensure enduring coolness, making this the best luxury mattress for staying cool.
The Chill Hybrid also has a steel perimeter to stop you from rolling off the bed and premium memory foam that curves to your unique shape while supporting your spine and reducing pressure. Oh, and it does all this while selling for around $1,000, hence easily winning the spot of best value mattress on our list too.
We have a dedicated Cocoon by Sealy mattresses review if you're interested to learn more.
Best for: Maximising airflow for an easy-breezy sleep.
| | |
| --- | --- |
| Sleeping position: | All sleeping positions |
| Mattress type: | Hybrid (foam & spring) |
| Firmness: | Medium Firm |
| Sizes: | Twin, Twin XL, Full, Queen, King, and Cal King |
| Trial period: | 100 nights |
Zenhaven Latex Mattress: Best luxury mattress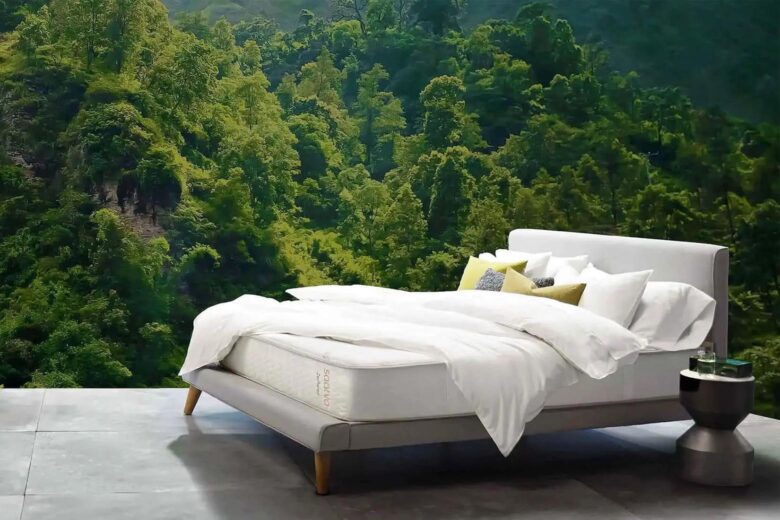 Another one from the Saatva mattress company, the Zenhaven is our favorite latex mattress. If you haven't already discovered the sleep-inducing properties of latex, consider this mattress your introduction.
Not only does the Zenhaven Talalay latex deliver pressure-free support with consistent firmness and superior buoyancy and softness to Dunlop latex, but it's also incredibly durable.
Plus, it's non-toxic, hypoallergenic, antimicrobial, and dust mite and mold resistant. Oh, and sustainably sourced and eco-friendly. If that won't help you to sleep easy, we don't know what will.
The Zenhaven can also be flipped according to your comfort preferences. You've got the Luxury Plush for a soft body-contouring experience or the Gentle Firm for a bit more firmness. Check our Zenhaven review to see more details.
Best for: Resting easier at night with an all-natural sleep solution that redefines the meaning of durability.
| | |
| --- | --- |
| Sleeping position: | Side sleepers |
| Mattress type: | Latex |
| Firmness: | Medium to Firm |
| Sizes: | Twin, Twin XL, Full, Queen, King, Split King, and Cal King |
| Trial period: | 365 nights |
Tempur-Pedic Breeze Mattress: Best breathable luxury mattress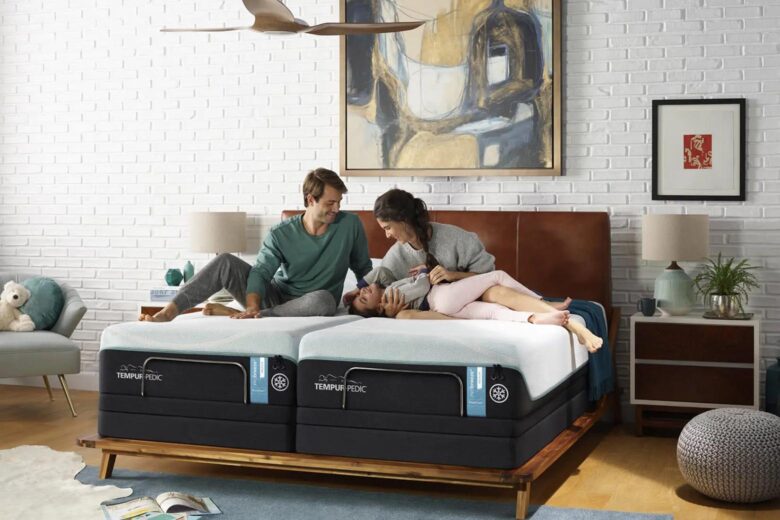 If your temperature naturally runs pretty high at night, then you need a mattress that can dissipate heat and keep you cool and calm. The best mattress for hot sleepers is the Tempur-Pedic Breeze. Say goodbye to sweaty pajamas.
You'll find that you fall asleep faster and stay asleep longer thanks to the cooling fibers, PureCool+ Phase Change material that absorbs heat and enables airflow, plus the comfort layer that allows heat and humidity to be cycled out, ensuring you wake up refreshed, not groggy.
Tempur-Pedic offers two levels of coolness (3 degrees or 8 degrees), plus two options of firmness—tailored comfort that we really appreciate. As for support, the Tempur-Pedic Breeze is made with a pressure-relieving material also used by NASA to absorb G-force in outer space. If it's good enough for astronauts, it's good enough for us.
The brand sells two other types of mattresses, check our Tempur-Pedic review to see them all.
Best for: Keeping sweaty sleepers cool and content.
| | |
| --- | --- |
| Sleeping position: | All sleeping positions |
| Mattress type: | Memory foam |
| Firmness: | Soft, Medium, and Firm |
| Sizes: | Twin Long, Full, Queen, King, Split King, CA King, Split CA King |
| Trial period: | 90 days |
Parachute Eco Comfort Mattress: Best minimalist luxury mattress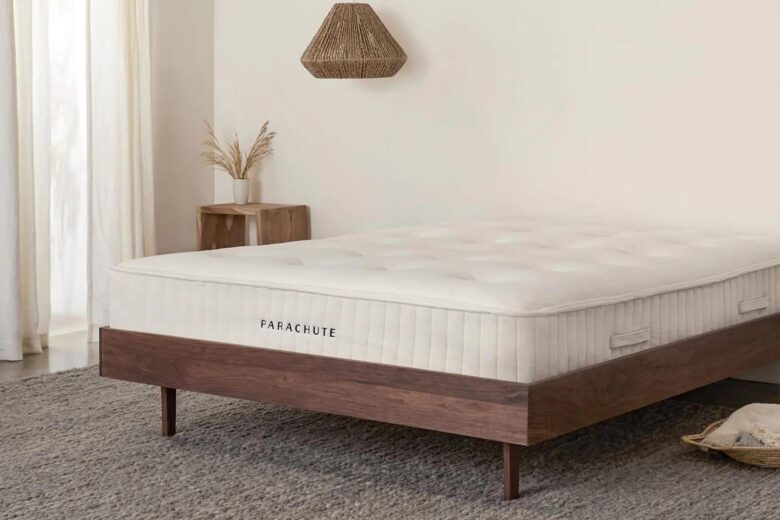 We already love Parachute robes. Now we're adding this Parachute mattress into our lounging arsenal, here to banish aches and pains from your morning routine with an innerspring design that's deceptively simple.
This reinvention of the traditional innerspring is constructed to be firm in the middle for maximum back support and softer at the head and feet, ensuring pressure point relief and spinal alignment.
It's engineered using eco-friendly materials with pure New Zealand wool and 100% organic cotton. The durable pocketed steel coils are hand-tufted for the most premium sleep experience, and there are no adhesives, petrochemicals, non-natural flame retardants, or other nasties, so you can sleep easily.
While this Parachute mattress is a bit too firm for some side sleepers, for back and stomach sleepers, the medium-firmness is ideal.
Best for: A simple, straightforward, and unfussy solution for a serene sleep.
| | |
| --- | --- |
| Sleeping position: | Back and stomach sleepers |
| Mattress type: | Innerspring |
| Firmness: | Medium Firm |
| Sizes: | Twin, Twin XL, Full, Queen, King, and Cal King |
| Trial period: | 100 nights |
Loom & Leaf Mattress: Best memory foam luxury mattress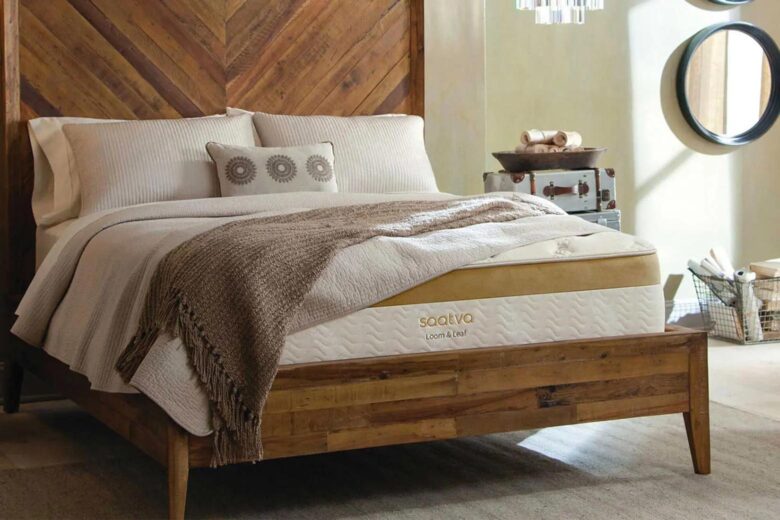 There's your average memory foam mattress, and then there's the Loom & Leaf memory foam mattress. They're worlds apart, as far as we're concerned.
For one thing, the Loom & Leaf is made with premium 5-lb memory foam with a high-density foam base. Together, they create a cradle for your body, providing relief to all major pressure points and ensuring you sleep like a log.
Memory foam mattresses tend to trap heat, but the Loom & Leaf features breathable gel-infused foam to keep you cool and support your lower back. Plus, the foam is made with renewable oils and produces fewer greenhouse gases, so eco points too.
The option to choose between the Relaxed Firm and the Firm models means even stomach sleepers can find the support they need for luxury-level shut-eye with the Loom & Leaf mattress.
Best teamed with a high-end sleep mask.
Best for: Being cocooned in cotton with ultra-plush cushioning for ultimate pressure-point relief.
| | |
| --- | --- |
| Sleeping position: | All sleeping positions |
| Mattress type: | Memory foam |
| Firmness: | Medium Firm and Firm |
| Sizes: | Twin, Twin XL, Full, Queen, King, Split King, Cal King, and Split Cal King |
| Trial period: | 375 nights |
Nectar Memory Foam Mattress: Best cooling mattress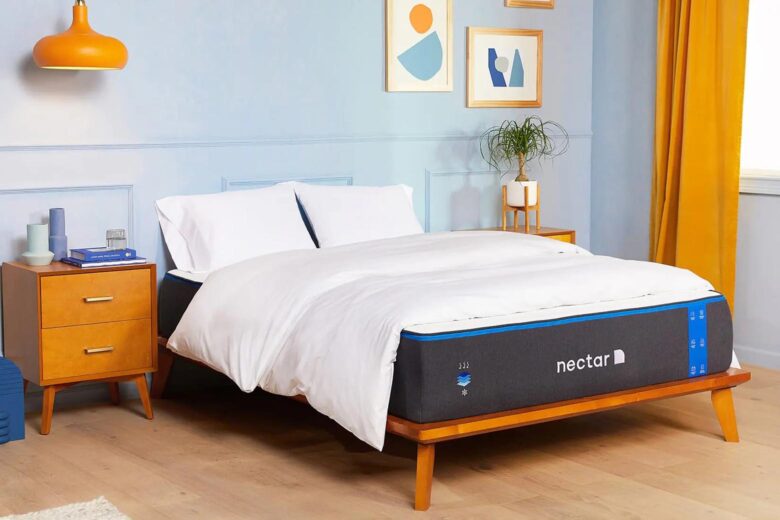 This Nectar Memory Foam is a guilt-free treat for any sleep-starved body. You even get 2 pillows, a protector, and a sheet thrown in too.
The affordable mattress features a cooling and airy cover, a layer of gel memory foam to distribute weight evenly, a responsive transition layer to avoid that quicksand feeling of some memory foam mattresses, and a reinforced and stabilizing base layer.
The result is a sleep solution that provides soft support and snug comfort and enough firmness that you can get up easily. And with a year to try it, you really can't go wrong with the Nectar. Definitely one of the best mattresses for the money.
Best for: A blissful body-hugging mattress that won't break the bank.
| | |
| --- | --- |
| Sleeping position: | All sleepers but especially side sleepers |
| Mattress type: | Memory foam |
| Firmness: | Medium Firm |
| Sizes: | Twin, Twin XL, Full, Queen, King, Cal King |
| Trial period: | 365 nights |
The Puffy Lux Mattress: Most versatile luxury mattress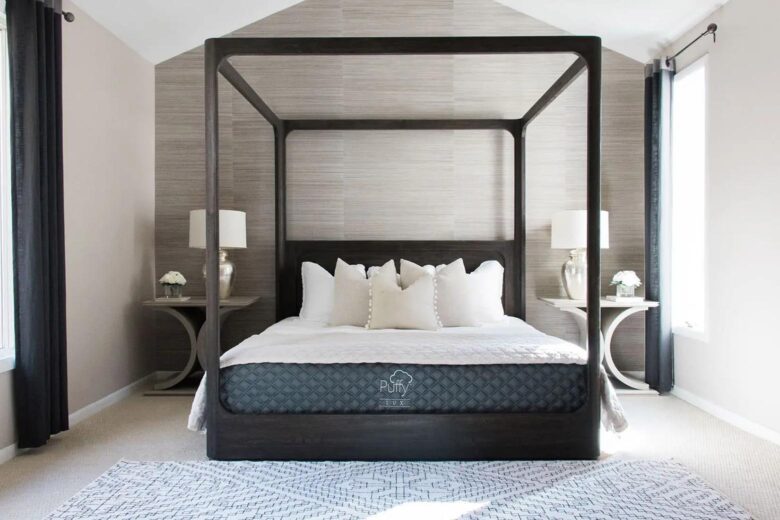 If you tend to sleep on your stomach but your partner always sleeps on their back, then you need a mattress that meets both of your needs. That mattress is The Puffy Lux, designed for all sleeper types, so you don't need to compromise. It's also designed to work on any kind of bed frame or surface.
The Puffy Lux features dual cloud foam that adapts to your body to minimize strain, a firm core support layer to keep your spine aligned and a ClimateComfort layer that reduces temperature swings, keeping you a pleasant level of warmth in any season.
It's not as dense as some memory foam mattresses, so you can easily switch positions. And the Puffy Lux comes with a stain-resistant cover. Less work for you and a mattress that always looks as good as new.
Best for: Support that hits that sweet spot between soft and firm.
| | |
| --- | --- |
| Sleeping position: | All sleeping positions |
| Mattress type: | Memory foam |
| Firmness: | Medium Firm |
| Sizes: | Single, EU Single, Small Double, Double, EU Double, King, EU King, and Super King |
| Trial period: | 101 nights |
Leesa Hybrid Mattress: Best hybrid mattress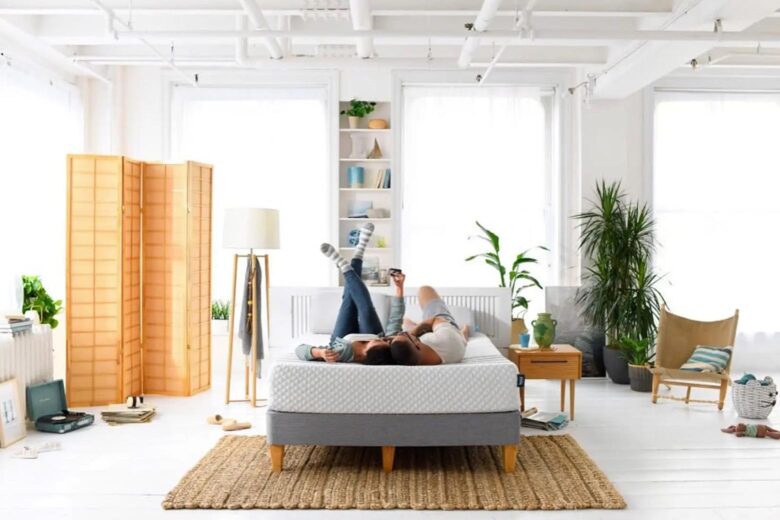 Firm support or cloud-soft comfort? Perfect body alignment or pressure relief? The beauty of a hybrid mattress like the Leesa is that you don't have to choose. Whether you're after a quick siesta or a deep sleep, the Leesa will ensure you nod off faster thanks to the perfect balance of comfort and support.
1,000+ active response pocket springs deliver durability and stability, responding to your position and sleep style, while the memory foam provides that hugging feeling and relieves pressure on back, hips, and shoulders. The top layer of foam is also punched with holes to ensure enough airflow.
It's the best of both worlds with the Leesa, which is ideal for all kinds of sleepers, as confirmed by mattress reviews.
Best for: Not having to compromise between hug and bounce, cushioning, or stability.
| | |
| --- | --- |
| Sleeping position: | All sleeping positions |
| Mattress type: | Hybrid |
| Firmness: | Medium Firm |
| Sizes: | Twin, Twin XL, Full, Queen, King, and Cal King |
| Trial period: | 100 nights |
Helix Dusk Luxe: Best luxury mattress for couples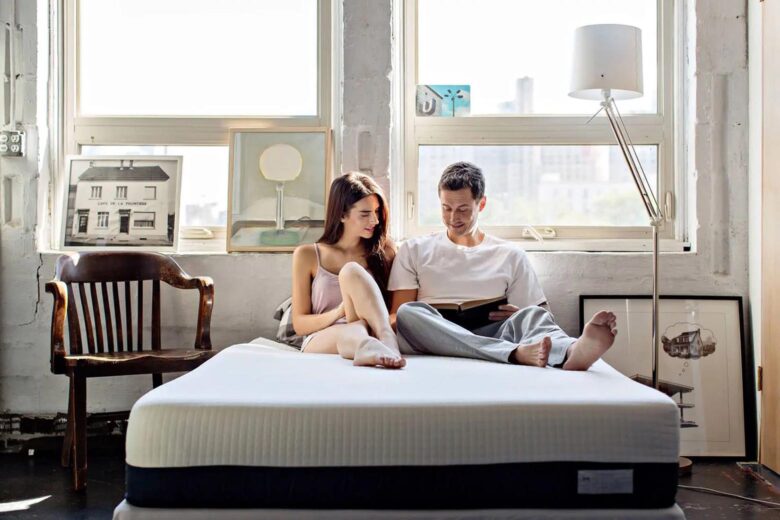 Sometimes sharing a bed sucks. You can't get the temperature right. When they move, you move. And they like their mattresses firm while you like them soft. Here to save your relationship and your sleep, it's the Helix Dusk Luxe.
The Helix Dynamic Foam delivers that perfect medium-firm feel to keep everyone happy while the polyfoam transition layer provides further ergonomic support. Then there's zoned lumbar support from spring coils to cradle your body and align your spine.
The Helix Dusk Luxe is the best mattress to buy for couples with different sleep schedules—or if one of you suffers from insomnia—thanks to its motion-absorbing qualities. As the mattress reviews confirm, the DuraDense base layer helps dampen movement so you can sleep soundly even while your partner tosses and turns.
Best for: A two-person slumber party where you actually get to sleep.
| | |
| --- | --- |
| Sleeping position: | Stomach or back sleepers |
| Mattress type: | Hybrid (foam & spring) |
| Firmness: | Medium Firm |
| Sizes: | Twin, Twin XL, Full, King, and CA King |
| Trial period: | 100 nights |
The WinkBed by WinkBeds: Best mattress for heavy people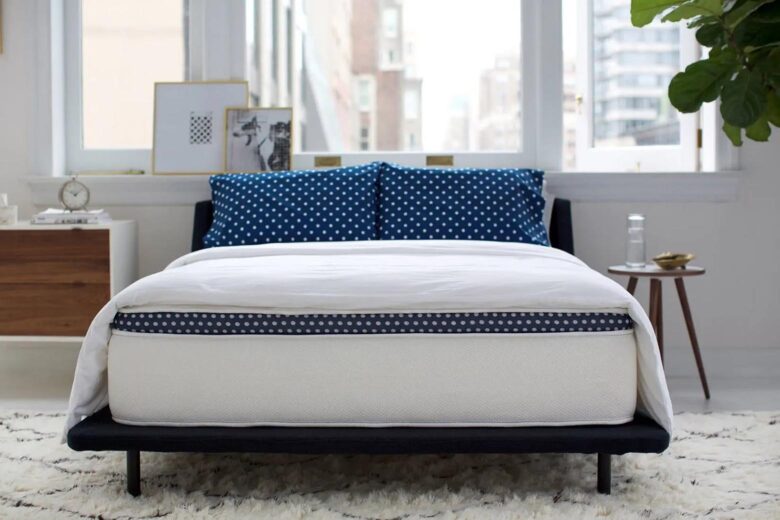 A hybrid luxury mattress like the WinkBed is ideal for heavy people as the individually wrapped coils give you an extra boost of support and maximize airflow while the foam delivers comfort. The WinkBed also comes with different firmness options for different weights.
The WinkBed also features an ExtraEdge support system, meaning that you can sleep right up on the edge of the mat without it sagging or feeling like you might roll-off. Then there's the moisture-wicking Tencel cover for a cooler and more comfortable visit to the Land of Nod. Plus, the combination of high-density foam and triple-tempered support springs ensures long-lasting durability.
The WinkBed is also our favorite pillow top mattress, featuring a Euro-Pillow top with gel-infused foam with enhanced pressure-relieving powers, ensuring your back, hips, and showers receive the support they need. No more post-sleep tight muscles.
Best for: A wonderful weightless sensation that will send you to sleep in a blink of an eye.
| | |
| --- | --- |
| Sleeping position: | Stomach or back sleepers |
| Mattress type: | Hybrid (foam & spring) |
| Firmness: | Soft, Medium Firm, Firm, and Extra Firm |
| Sizes: | Twin, Twin XL, Full, Queen, King, and Cal King |
| Trial period: | 120 nights |
Purple Mattress: Most innovative mattress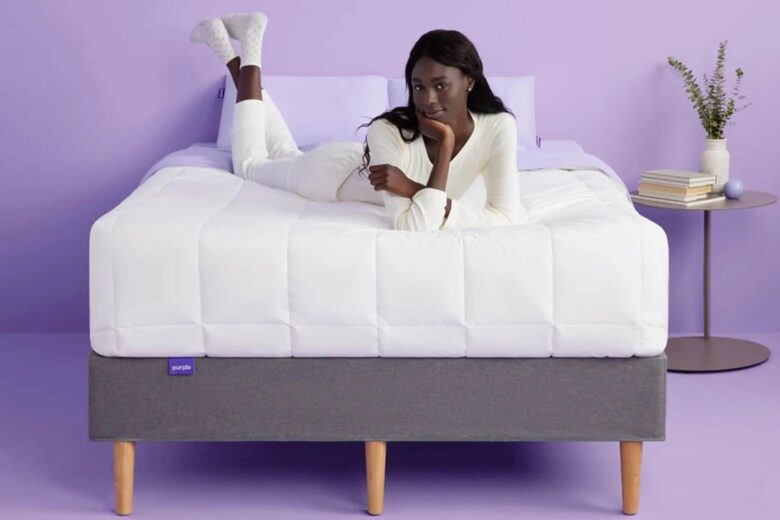 Pushing the boundaries of what mattresses are capable of, the Purple Mattress is the number one choice for people who want to enjoy a high-tech hibernation when it's time to hit the hay.
The Purple bed features 2 inches of breathable gel 'Grid', a cutting-edge hyper-elastic gel that took thirty years to perfect and was first designed for use in hospitals and wheelchairs. It offers unique pressure-relieving potential, flexing to support you and springing back into position once you move.
The Grid will keep you correctly aligned and, when teamed with a dual-layer foam base, delivers exquisite comfort. It also features 1,800 air channels for breathability. Trust us, with the Purple Mattress, you'll be out like a light.
Best for: A dynamic and pioneering design for your deepest sleep yet.
| | |
| --- | --- |
| Sleeping position: | All sleeping positions |
| Mattress type: | Hyper-elastic polymer |
| Firmness: | Medium Firm |
| Sizes: | Twin, Twin XL, Full, Queen, King, Cal King, and Split King |
| Trial period: | 100 nights |
Avocado Green Mattress: Best eco-friendly luxury mattress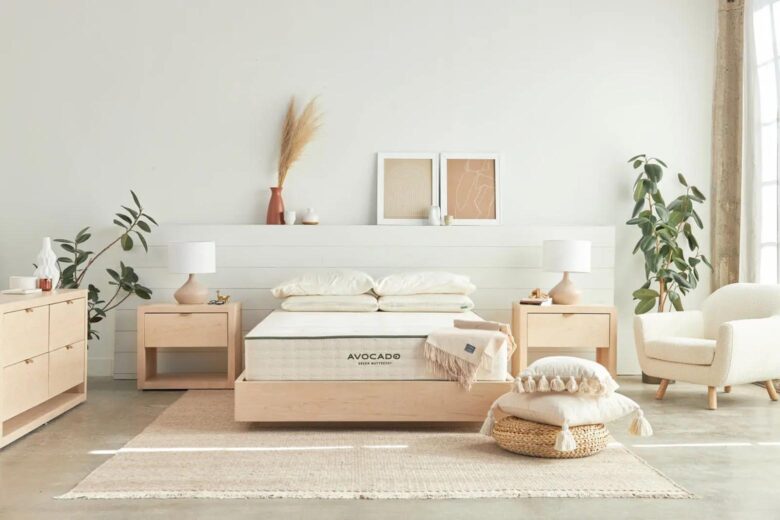 The best way to enjoy a restful night? Knowing that your mattress has been made with the utmost care for the planet. Like the Avocado Green Mattress.
It's made from all organic materials, from organic latex from the company's co-owned farmers' collectives to organic wool and cotton. Hence why this is our best-rated mattress with eco credentials.
The latex rubber foam also offers resilience, durability, and temperature control—the trifecta of ingredients for a winning luxury mattress. The wool wicks away moisture acts as a natural fire barrier, and is antimicrobial and dust-mite resistant. Plus, there's a steel perimeter for edge support.
The Avocado Green mattress offers a gentle yet firm feel. Add the lush pillow-top filled with 2 extra inches (5 cm) of foam if you're a side or combination sleeper.
Best for: Eco-warriors looking for a planet-friendly forty winks.
| | |
| --- | --- |
| Sleeping position: | All sleeping positions (side sleepers should add the pillow top) |
| Mattress type: | Hybrid (latex & spring) |
| Firmness: | Medium Firm |
| Sizes: | Twin, Twin XL, Full, Queen, King, and Cal King |
| Trial period: | 365 nights |
Casper Original Mattress: Best mattress in a box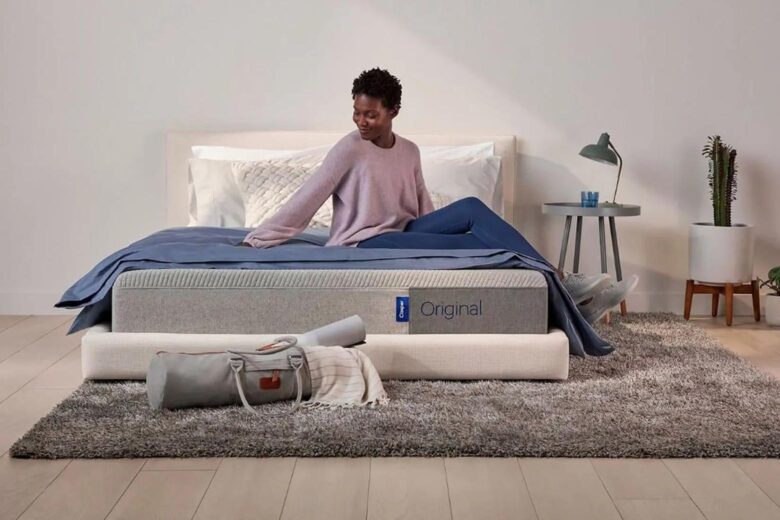 Many mattress brands now offer mattresses compressed into a box and shipped directly to your door, but none offer the quality and design knowledge of Casper Original, now a cult-favorite mattress.
The best-rated mattress that comes in a box, the Casper features three zones of targeted support, ensuring proper alignment, so you don't start the day achy and sore. There's soft foam around the shoulders for upper body support, while firmer foam under the hips, waist, and lower back protects your spine—ideal for anyone who spends long hours at a desk.
The top layer of the Casper Original also features perforated foam for improved airflow. Share a bed with your partner? Cuddling is now possible without overheating.
Casper also offers a hybrid version of the Original if you want more support.
Best for: Tailored comfort with zoned support for targeted pressure relief.
| | |
| --- | --- |
| Sleeping position: | All sleeping positions |
| Mattress type: | Foam |
| Firmness: | Medium Firm |
| Sizes: | Twin, Twin XL, Full, Queen, King, and Cal King |
| Trial period: | 100 nights |
Allswell Luxe Hybrid: Best budget luxury mattress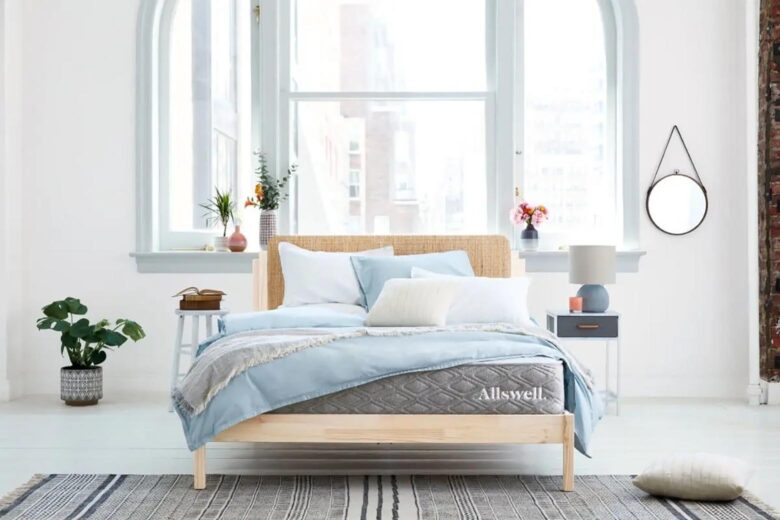 Looking for a luxury-grade mattress that won't give you stress-induced nightmares with its extortionate price? The best cheap mattress is the Allswell Luxe Hybrid.
Despite its accessible price, the Allswell offers the full package. A mixture of individually wrapped coils for motion isolation with high-density foam and gel-infused foam for joint and muscle pain relief (also infused with copper to destroy microbes). The Allswell is not only a great affordable mattress but also a top contender for the best firm mattress too.
Then there's the quilted top with 'cooling SwirlFoam' to keep you at a perfect temperature so you can sleep tight.
Take your lie-ins to the next level with this Allswell Luxe Hybrid mattress.
Best for: An bargain-priced mattress for the sweetest and smuggest of dreams.
| | |
| --- | --- |
| Sleeping position: | Combination sleepers and back sleepers |
| Mattress type: | Hybrid (foam and coils) |
| Firmness: | Medium Firm |
| Sizes: | Twin, Twin XL, Full, Queen, King, and Cal King |
| Trial period: | 100 nights |
Bonus: Hastens Vividus — the most expensive mattress in the world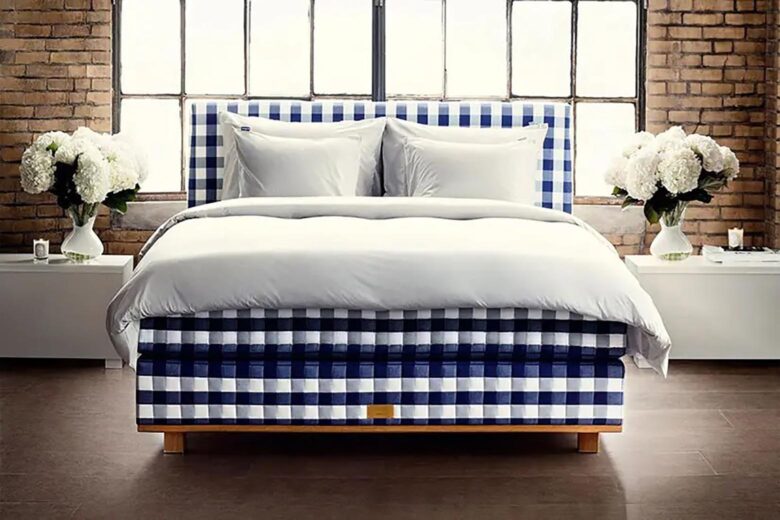 The craftsmen behind Hastens, a world-renowned luxury mattress manufacturer, began with a simple goal: to make the world's finest mattress, and a sturdy yet beautiful frame to go with it. Enter: The Vividus—a luxury bed so exquisite and exclusive that its price isn't listed on its site, and you have to make an appointment to go meet with it in person.
Taking 45 un-rushed days and nine skilled artisans to complete, the Vividus is sophisticated, gorgeous—and rumored to cost approximately the down payment on a good-sized home.
Mattress buying guide: how to choose a luxury mattress
Different sleep preferences and positions require different styles of mattresses. Here are the most important things to consider before buying your next luxury mattress.
Mattress cost
Higher-end mattresses may cost more, but they'll certainly last far longer—giving you a cost per night in fractions of pennies.
While some top-rated mattresses retail for over $2000, you can also find good quality top-rated mattresses for less than $1,000. Mattress-in-a-box options are usually cheaper than those that are hand-delivered.
Mattress types
There are four main mattress types: innerspring, memory foam, latex, and hybrid. Each type is best suited to a different sleep style and preference, as we outline below.
Hybrid mattresses: These are made of a combination of materials to offer a combination of qualities, from support and cushioning to cooling capabilities or targeted pressure relief.
Foam mattresses: The technical term for memory foam is actually Visco elastic foam, originally invented by NASA to ensure both the safety and comfort of their astronauts! What this means for you is simply that memory foam adapts to your body shape, contouring around your body for support tailored to your unique shape. They are also good at isolating motion.
Innerspring mattresses: These traditional mattresses feature tightly sprung coils, offering better airflow than foam mattresses and a supportive and responsive feel.
Latex mattresses: Latex is derived from the sap of a rubber tree; this all-natural material is sustainable, eco-friendly, non-toxic, hypoallergenic, antimicrobial, and durable.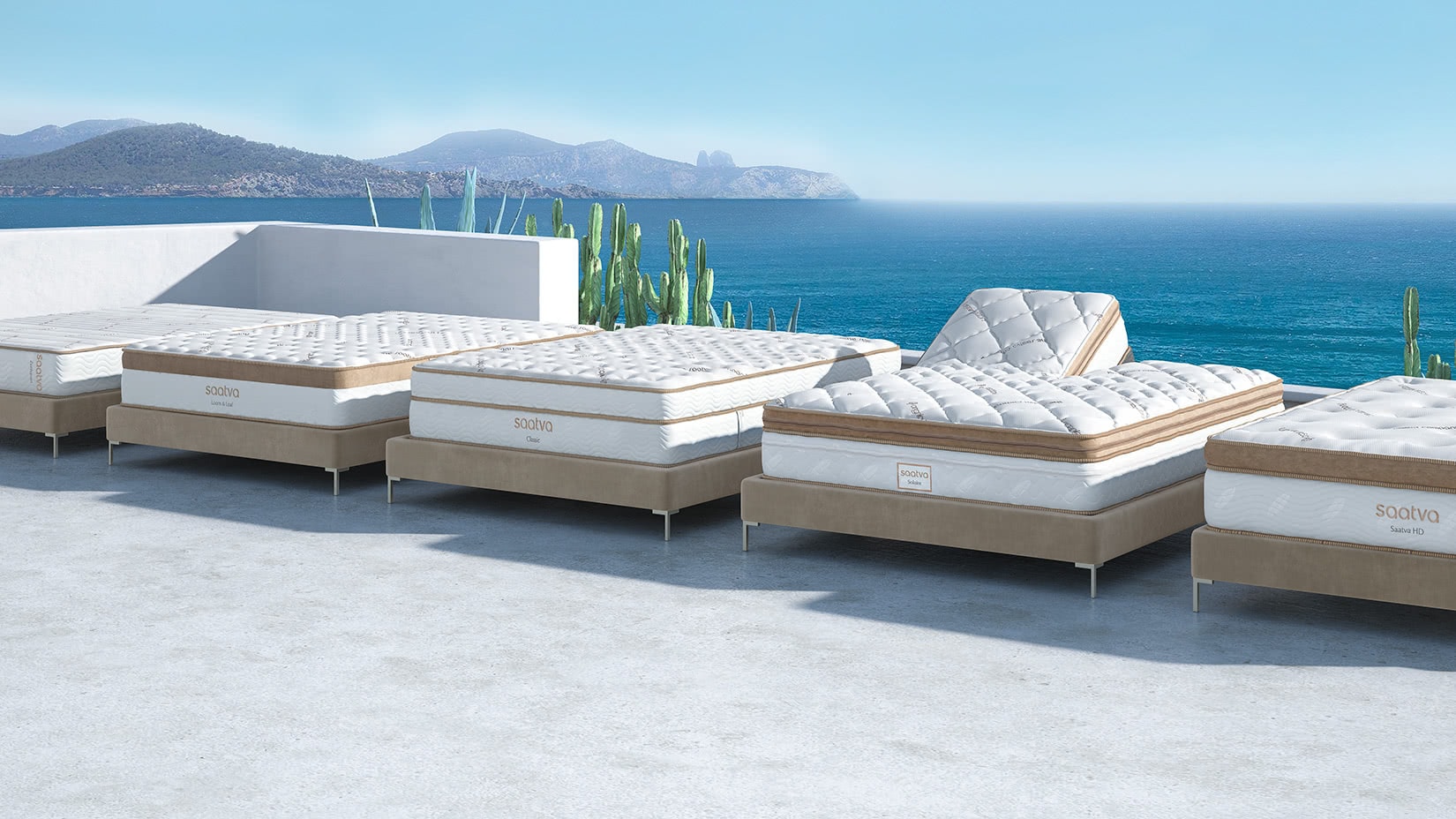 Quality of material
A mattress is a long-term investment so look for high-quality materials that are durable. Latex is a good option, especially Talalay latex. Not only is it eco-friendly, but it's also known for lasting a long time. Innerspring mattresses might start to sag if they aren't good quality, and with memory foam, the higher the density, the better the quality.
Mattress thickness
A mattress thicker than 16 inches (40 cm) provides elevated comfort. You should also take into account thickness when it comes to your style of bed, as it will affect how high or low it is.
Mattress firmness level
Mattress firmness is usually measured on a scale ranging from soft to extra firm. In general, most people will want something in the middle, offering a combination of support and cushioning. Memory foam is typically less firm than innerspring, offering a 'sinking in' feeling, while innerspring mattresses are more responsive.
Edge support
Reinforced edges are a good option for heavy sleepers as well as people who want to be able to sleep near the perimeter of the mattress without it sagging or sinking.
Motion Isolation
If you share your bed with your partner, you want a mattress that will absorb motion so that when they move, it won't disturb you. Mattresses with motion isolation absorb movement on one side, so you don't notice it on your side. Memory foam is the best material for motion isolation.
Temperature regulation
Look for a mattress with cooling capabilities, such as moisture-wicking materials, breathable foam, or coils that allow for plenty of airflow.
Ease of movement
Mattresses with deep cushioning may be incredibly comfortable, but getting off them can be tricky, as can repositioning during the night. Look for a mattress that is responsive with a bit of bounce. Memory foam typically offers less ease of movement than innerspring.
Sleep position
Best mattresses for side sleepers – look for mattresses with a soft surface to provide cushioning that conforms to your body's curve when you lie on your side. Memory foam or latex is a good choice, and a pillow-top offers added cushioning.
Best mattresses for back sleepers – a mattress with medium firmness will provide adequate support. Look for zones that provide targeted pressure-relief to the back region.
Best mattresses for stomach sleepers – stomach sleepers need a firm mattress that they won't sink into. For this reason, innerspring or hybrid mattresses are a better option than foam mattresses.
Best overall luxury mattress online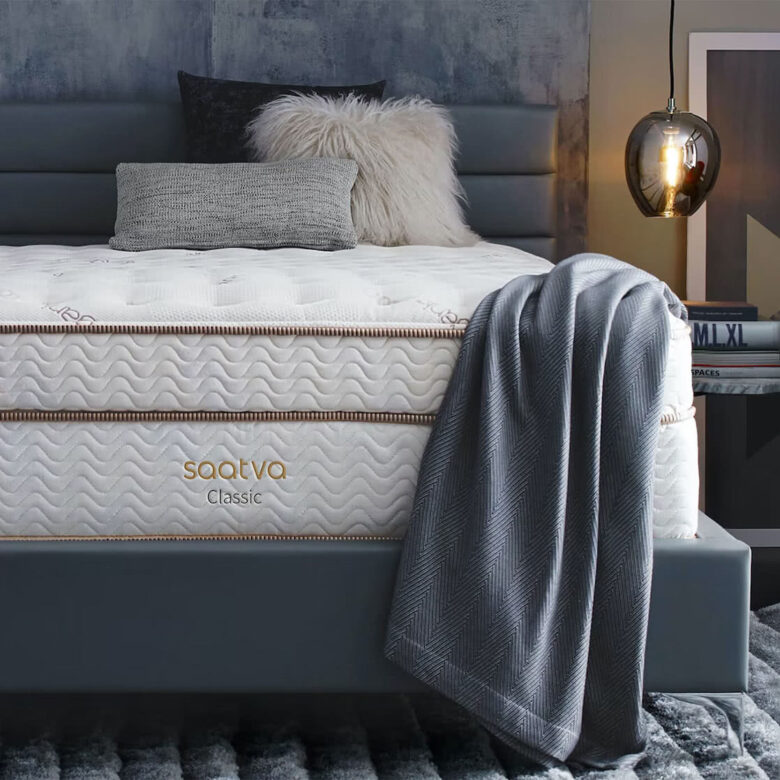 EDITOR'S CHOICE: Saatva Classic Mattress
Saatva's bestselling Classic Mattress is the complete package, suitable for all sorts of sleepers. We love that it offers quality construction, three different firmness levels, and convenient delivery. Oh, and a full-year home trial and a lifetime warranty! Verdict: Dreamy.
Frequently asked questions about high-end mattresses
What mattress do most luxury hotels use?
Many luxury hotels like St Regis, Four Seasons, and Park Hyatt use Saatva-like mattresses. Luxury hotels also often use mattresses specifically designed for use by guests, such as the W Plush Top Mattress in W hotels or the Hilton Bed.
What are the best-rated mattresses for 2023?
The best-rated mattresses for 2023 include the Saatva Classic (Hybrid), Loom & Leaf (Memory foam), and Zenhaven (Organic Latex). The Cocoon by Sealy hybrid mattress is a top-rated mattress for the money. See our article about the best luxury mattresses to find the luxury mattress that best suits your sleeping style and budget.
What is the most comfortable mattress in the world?
The most comfortable mattress in the world depends on your sleeping style and preferences. However, the Saatva Classic is a great all-rounder. It's a hybrid mattress that balances support and cushioning and comes in multiple firmness options.
Are luxury mattresses worth it?
Luxury mattresses are worth the higher price tag because of their superior design, quality, and longevity. They feature materials specifically designed to optimize comfort, including memory foam, cooling gel, breathable fabrics, and reinforced edges for better sleep.