With its unique pearlescent luster, opal is an instantly recognizable gemstone. In a distinctive class of its own, it is so unique that it even has its own descriptive vocabulary. Displaying a mesmerizing kaleidoscopic range of rainbow-like hues that dance and play across its surface, it is not surprising that the opal has long been believed to possess supernatural powers.
Opal is an invaluable gift, and has been used since ancient times for its spiritual properties as well as its breathtaking colors. A gold or diamond surround serves to enhance the wildfire of colors that live within this stone, making opal a stunning choice as luxury jewelry. However, the versatility of opal means it can also make a simple yet elegant everyday accessory. Shimmering bead bracelets and small crystal necklaces make for a distinctive and enchanting look.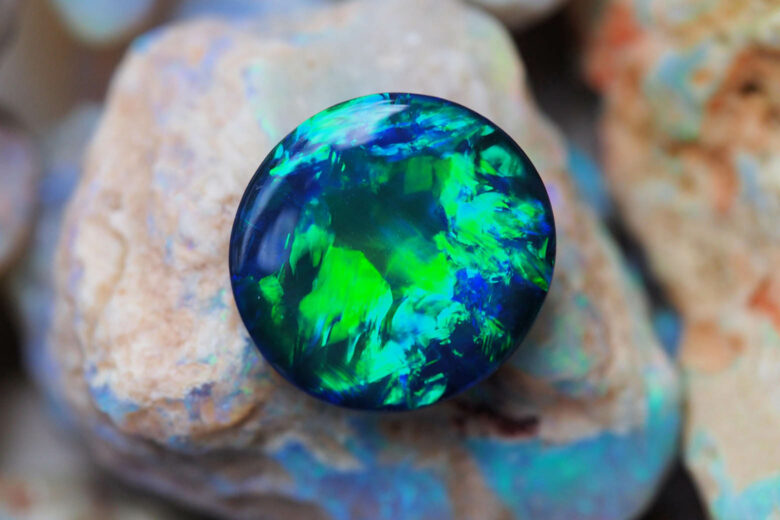 | | |
| --- | --- |
| Opal Color | Black, White, Orange, Yellow, Red, Green, Blue, Pink, Gray, Brown |
| Birthstone Month | October |
| Hardness Scale | 5.5 to 6.5 on Mohs Scale |
| Mineral Class | Silica |
| Symbolism | Hope, purity, truth |
What is Opal?
A translucent to transparent semi-precious gemstone, the shimmering milky to pearly iridescence of opal has captivated jewelry lovers for centuries. Well-loved as the birthstone for October, opal is an opalescent stone of the silica mineral family, which includes quartz and cristobalite. A distinctive feature of opal is the way its ivory white to pearly pink or pale blue colors shimmer and change as the stone is moved in different directions, a phenomena caused by the magical interplay of light among mineral cracks in the stone. 
What does Opal look like?
Opal is perhaps most well-known for its milky white to pearly pastel shades, which dance with rainbow like colors as the stone is viewed from different angles. However, these enchanting hues are a feature of precious opals, also known as 'noble opals', which dance with fire or exhibit the spectral 'play of color'. Common opal is opaque to translucent and does not show a play of colors.
Opals come in many other colors other than that of cloudy white, the rarest of which is black. Highly prized by collectors, black opal has a dark blue to grayish or black body color, and are 'fiery', or lit up from within by a spectacular interplay of greens, blues, yellows and reds.
Fire opals are quite unique in the opal world, and come in various shades of yellow, bright orange and burnished gold. These opals also possess the phenomenon known as 'play of color', which results in spots, flashes, and sparkles of different colors that race across the stone's surface, making the stone burn from within with the vibrancy and brightness of fire itself.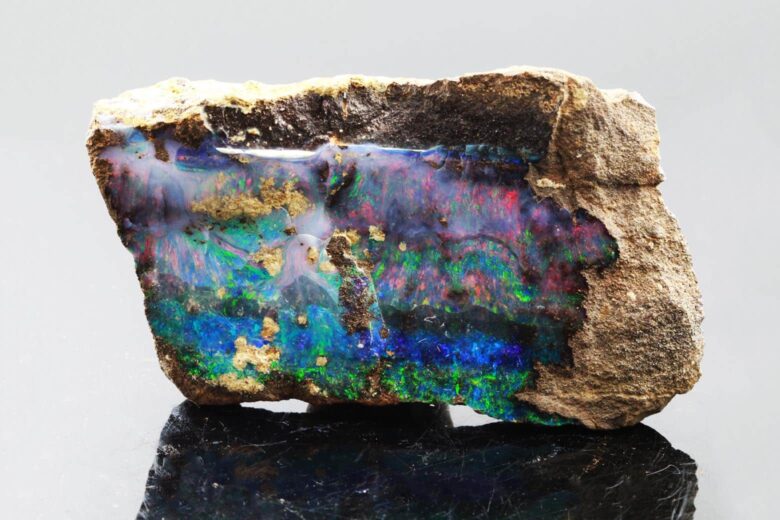 History of Opal
Throughout history, opal has been celebrated for its magical qualities and bewitching colors, which have led to the stone being poetically named 'Pandora' and 'Light of the world'. Arabic legends describe the way opal falls from the skies in flashes of lightning, and the stone has long been imbued with supernatural powers. In Ancient times, it was believed that opal possessed all the virtues of the gemstones whose colors flicker within it, and thus opal earned its reputation as the 'Queen of Gems'.
In Europe, opal is associated with hope, purity, and truth, and Queen Victoria gifted each one of her five daughters with opals on their wedding day.
Many tales and legends surround the orange to red Mexican fire opals.
Meaning of Opal
Many scholars believe that the opal gets its name from the Latin 'opalus' which itself is possibly derived from the Ancient Greek 'opallius' which means color changing. However, others maintain that opal takes its name from the Sanskrit 'upala' which means precious stone or jewel. The spiritual meaning of opal is that of hope, purity and truth. It is also known as a seductive stone that intensifies or amplifies emotional states and releases inhibitions. In the highlands of Mexico, the bold, brilliant lights of the amber firestones symbolize the deepest and strongest love.
Where does Opal come from?
Australia is renowned as a source of some of the world's finest opal, in particular superb black opal, which is rare and highly sought-after.
Adding to the appeal and unique value of the fire opal is the fact that it is only mined in Mexico and Honduras, and is also referred to as 'Mexican Opal'. These Mexican fire opals are often found hidden in extinct volcanoes.
Northern Brazil produces some striking white, yellow and fiery opal.
The Czech Republic and Slovakia are an ancient source of precious opal, particularly striking and unusual is the harlequin-patterned opal found here.
Other notable sources of opal include Ethiopia, Indonesia, Poland, Tanzania and the United States.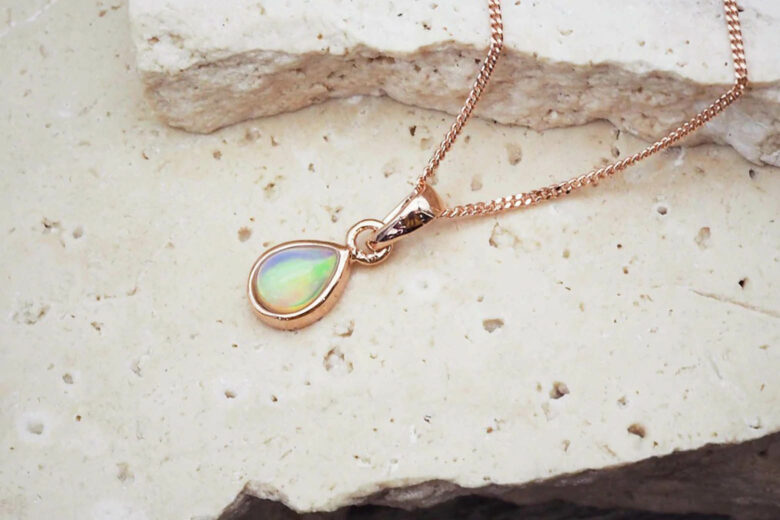 Opal and Zodiac signs
Those born in the month of October are lucky enough to have two birthstones to choose from, shimmering opal and the rainbow stone tourmaline. Opal is the traditional birthstone of Libras and Scorpios, whereas tourmaline is a more modern addition. Both stones are known for their kaleidoscopic color combinations, although whereas opal contains within itself a myriad of spectral colors, tourmaline distributes its diversity between separate crystals. Not being tied to a single color means that October babies are given the freedom to match their own tastes and styles to whichever shade or tone of the stone they please.
Which family is Opal from?
Opal hails from a large family of silicate minerals, which make up roughly 26% of the Earth's crust. Other well-known examples of silicate minerals include Quartz and Jasper. Opal is a delicate mineral, certainly the most delicate gemstone that is commonly worn, only scoring from 5.5 to 6.5 on the Mohs Hardness scale, and as a result it needs special care, especially when being stored or cleaned.
Birthstones chart
Find your birthstone by month
---
Frequently asked questions about Opal
How much is an opal worth?
The price of opal varies greatly, and depends on the color of the stone, its pattern and clarity. 
Common opals may range in value from $10 USD to $500 USD per carat. Precious opals are rare and therefore command a much higher price range, a high quality 1 carat opal that's classified as Extra Fine can sell for between $8,000 – $20,000 USD per carat.
What does an opal symbolize?
Opals have traditionally symbolized hope, purity and truth and they are the stone given to celebrate the 14th wedding anniversary. In ancient times the opal was a stone of fidelity and assurance, and was often worn as an amulet, to bring about loyalty and faithfulness.
What is opal good for?
The dazzling variety in both color and type of opal, and the enchanting hues that are captured within each individual stone, means that iridescent opal can satisfy any fashion requirement. Its shimmering, spectral reflections make for captivating and original jewelry. Opal is believed to be a balancing stone, and wearing opal is thought to bring harmony and peace to the mind of the wearer.
Why is opal expensive?
High quality opals are rarer than diamonds, and their scarcity pushes prices sky-high. The rarest variety of all opals are the stunning black opals with a harlequin pattern, found in Lighthouse Ridge in Australia, which can fetch up to $30,000 at auction.