Diamonds are said to be a girl's best friend and have been used in engagement rings for thousands of years. The folklore and history of this gemstone are what legends are made of. Tales about diamonds have carried for centuries before us and will continue for centuries to come. Prized amongst royalty and treasured by all who can get their hands on them, diamonds truly are enchanting gemstones.
The sparkle and allure of the rare colored fancies have given rise to some of the most expensive diamonds in the world. They have been the inspiration for songs, movies, and epic love stories. The appeal of diamonds is far more than a bling accessory, as you will soon find out.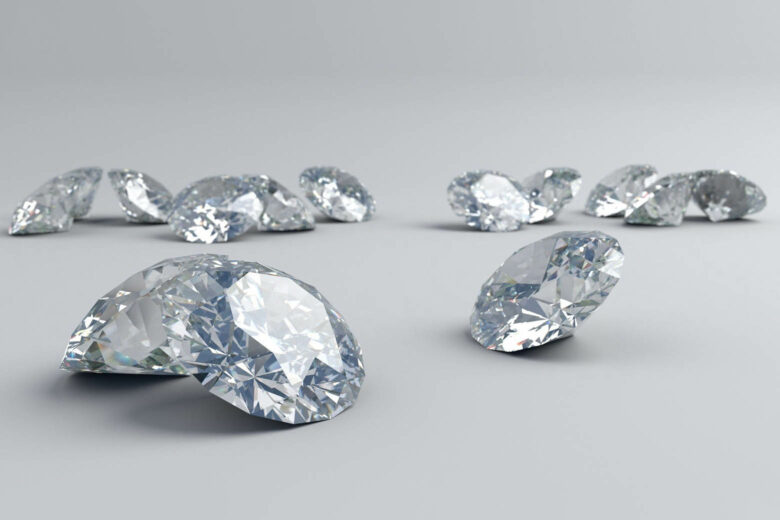 | | |
| --- | --- |
| Diamond Colors | White, blue, pink, and more |
| Birthstone Month | April |
| Hardness Scale | 10 on Mohs Scale |
| Mineral Class | Diamond |
| Symbolism | Abundance |
What is a diamond?
Diamond is a naturally occurring mineral made up of carbon. They form under high temperatures and immense pressure at depths of around 100 miles beneath the earth's surface. Natural diamonds were formed long before dinosaurs roamed the earth and are between 900 million and 3.2 billion years old.
The name diamond is derived from the Latin word "diamas" and Greek "adamas" meaning invincible. The tough nature of the diamond lives up to its name. Rated ten on the Mohs scale of hardness, the diamond is so hard that it can only be scratched by another diamond. It is the toughest gemstone and naturally occurring substance known to man.
The earliest known diamonds were found in India in the 4th century BC and were then carried to China along the Silk trade route.
What do diamonds look like?
When diamonds are mined, they are in the form of rough diamonds, which resemble chunks of pale glass with yellow or brown tints. These raw diamonds have an oily appearance without any sparkle.
Rough diamonds with a solid tint are less valuable than the ones with a less visible tint.
There's only a small percentage of colorless diamonds, which makes this variety of diamonds extremely rare. The diamonds that you find at jewelry stores are cut and polished to give them their faceted look and specific shape. 
Check our detailed guide to the most popular diamond shapes to learn more.
Diamonds also exist in other colors, such as yellow, brown, red, black, pink, blue, and grey. These are referred to as fancy-colored diamonds. The stronger and more vibrant the color of the fancy diamond, the more valuable it is.
Another type of diamond is man-made diamonds, also known as lab-created diamonds. These are developed in labs and have the same chemical structure as earth-created diamonds. They are said to have a lower carbon footprint than mined diamonds and cost up to 50% less.
The value of the diamond
Diamonds are consistently among the most valuable gemstones in the world.
The exact value of a diamond varies based on the 4 C's (carat, color, clarity, and cut). This is the global standard used to grade diamonds and other gemstones and determines the price of your stone.
See our stories on the most expensive diamonds and the most expensive engagement rings to see how far their prices can really go.
Carat
The size of the diamond contributes to its price. With bigger carat diamonds, the price increase is exponential. Larger diamonds that are of high quality are rare finds, hence the higher price.
Color
The value of diamonds is also dependent on the color of the stone. Colorless diamonds are highly favored. Diamonds may appear white or clear but usually contain slight tints of yellow-brown or blue. To the average buyer, the color differences are not distinguishable to the naked eye, especially once set in jewelry.
Fancy-colored diamonds are diamonds that are saturated in colors such as yellow, blue, pink, etc. The more vibrant and vivid the color, the more expensive the diamond. Pink, red, green, and blue diamonds are more scarce than the yellow, brown, and gray diamonds, thus more valuable.
Clarity
The fewer inclusions, the better the diamond is graded (Inclusions affect the brilliance of the stone). The highest clarity grade is "FL/IF" which is a rare find.
Cut
Different cuts of a diamond affect the price of the stone. The quality of the cut allows the diamond to sparkle and reflect more white light. The brilliant round cut is the most popular cut for diamonds that displays the sparkle best.
Another popular cut is the emerald cut, which was originally used to show off the color of emerald gemstones. This cut does, however, sacrifice the fire (dispersion) and sparkle of the diamond. Other cuts include the cushion, oval, pear, marquise, and princess cut. Some jewelry brands have also developed signature cuts.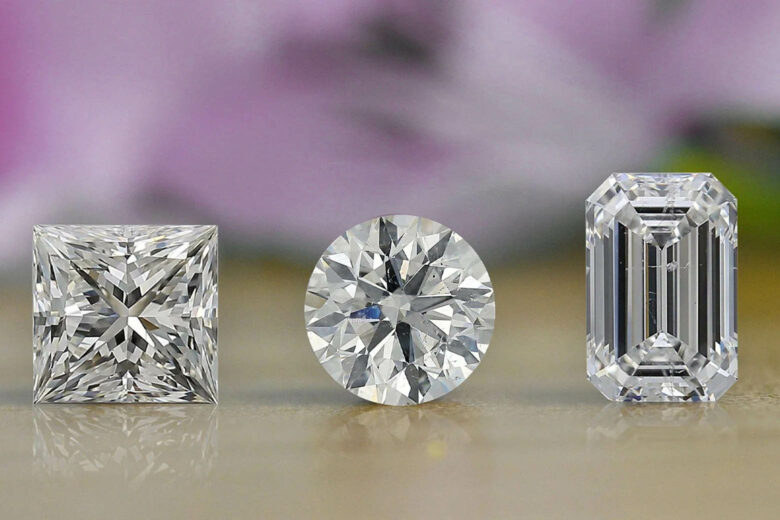 History and mythology of the diamond
Today diamonds are adored for their beauty in jewelry, but in ancient times diamonds were worn for other reasons. They were carried around as talismans to provide courage and ward off weaknesses. Diamonds were seen as tears of the gods by the Greeks and Romans and represented the sun in Egyptian folklore.
Diamonds were used to improve vision, counteract poison, and improve metabolism.
Diamond's meaning and symbolism
Diamonds symbolize abundance and wealth. The strong physical nature of the diamond has connected it with strength, courage, and invincibility. Spiritually the gem is seen as a representation of perfection, open-mindedness, imagination, and creativity.
Diamonds are associated with love and faithfulness, which makes them the perfect choice for most engagement rings.
Where do diamonds come from
Diamonds have been mined at different locations around the world. The most popular and valuable diamonds in the past were found in India and South Africa.
Botswana, Lesotho, Congo, Russia, Namibia, and Canada are a few other producers of diamonds. Australia has been a great contributor to the champagne and cognac-colored diamonds from the Argyle mine.
Unfortunately, not all diamonds are mined under proper conditions. Blood diamonds or conflict diamonds are found in impoverished countries. These diamonds are mined at the cost of devastating human rights violations and sold illegally.
The diamond as a birthstone
Those born in April and of the zodiac sign Aries are lucky enough to call the diamond their birthstone.
Birthstones chart
Find your birthstone by month
---
Diamonds are also given as gifts for the 10th and 60th wedding anniversaries.
The diamond gemstone family
Diamonds are unique minerals, and the only gem made up of a single element, carbon. The crystal structure of a diamond is isometric, which means that carbon atoms bond together in the same way in all directions.
Different types of diamonds include:
Fancy Diamonds – these are pink, blue, red, and green colored diamonds that are rare and valuable
Carbonado – known as black diamonds, is one of the toughest varieties of diamond
Canary Diamond – these are deep yellow-colored diamonds
Bort – industrial diamonds not used as gems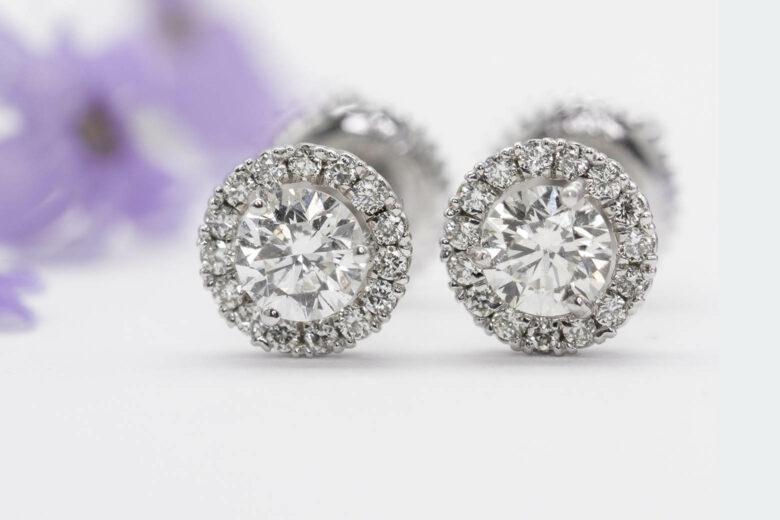 Diamond uses
Diamonds are most notably used in the jewelry industry. The diamond has been famously used for centuries as the gemstone of choice in engagement rings. Diamonds are the toughest among gems and can be used in all pieces of jewelry. Popular items of jewelry that include diamonds in their designs are tennis bracelets, earrings, brooches, pendants, and more.
Check our shortlist of the best jewelry brands to see how designers use diamonds to create objects of desire.
Many diamonds, especially the rare fancies, form part of collections of the ultra-rich. These gems command outrageous prices and are often bought as investment pieces.
With only 20% of diamonds being of gem quality, the remaining 80% are used for industrial purposes. They are used in rotary saws, as abrasives, and in optics and electronics.
Frequently asked questions about diamonds
What is the price of a diamond?
The price of diamonds varies depending on their color, clarity, cut, and carat size. Some diamonds can cost hundreds of dollars per carat, while others are priced in the thousands. Learn more about diamonds with our dedicated story.
Is a diamond a rock or stone?
Diamonds are minerals and don't fall under the category of rocks or stones. Even though they are called precious stones and referred to as rocks, this is scientifically wrong.
Which diamond is best?
The best diamonds are "D" colored or "FL" and are extremely rare and expensive. Read our in-depth article on diamonds to learn more.
Is a diamond a metal or stone?
Diamonds are not metal or stones. Diamonds are made of carbon, while metals are made of iron, gold, or silver, and stones are primarily made of grains of minerals.