The incredible spectrum of apple-greens, lemon yellows and vivid aquamarines that characterize the semi-precious gemstone chrysoprase are instantly recognizable, though few could match this gem to its rather cumbersome name. A remarkably colorful stone, it was a favorite of Alexander the Great, and has long been used in carving and masonry, most notably by Frederick II, King of Prussia, who used it to decorate the halls of his favorite palace, at Potsdam, near Berlin.
Today chrysoprase is still popular as a decorative stone, and fine examples are often carved into unique shapes, and used to adorn the home or office. The beautiful sea greens of Chrysoprase reflect the calming colors of water and the sea, and as such chrysoprase crystals are said to bring peaceful vibes and promote a restful environment. Fashioned into intricately shaped earrings or pendants, chrysoprase makes an enchanting gift for loved ones or friends.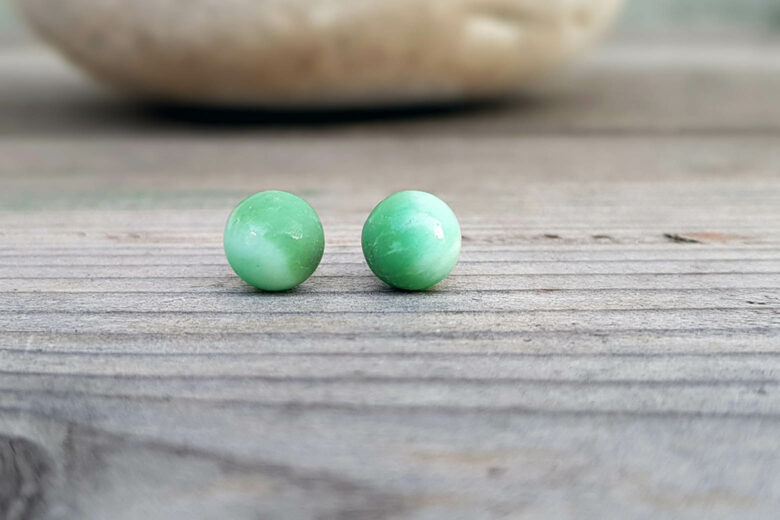 | | |
| --- | --- |
| Chrysoprase Color | Green |
| Birthstone Month | May |
| Hardness Scale | 7 on Mohs Scale |
| Mineral Class | Quartz |
| Symbolism | Happiness, Enterprise, Prudence |
What is Chrysoprase Stone?
Chrysoprase is a semi-precious gemstone of the quartz family. Due to its unique range of colors, from golden yellow to leafy green, it is a popular gemstone for jewelry. Its hardness rating of 7 on the Mohs scale means it is also often used to make beautiful carvings. Otherwise known as the 'stone of Venus', Chrysoprase is associated with joy, optimism and success.
What does Chrysoprase look like?
The vivid 'granny smith' color of Chrysoprase is striking, and stones of this lively, bright green hue are the most valuable. Very fine, highly saturated chrysoprase gems have often been misidentified as imperial jade. However, Chrysoprase in fact comes in a variety of green shades, from a pale, lemony absinthe, through vibrant aquamarine, to a deep moss color. It is the presence of nickel which gives Chrysoprase its spirited, spring green color.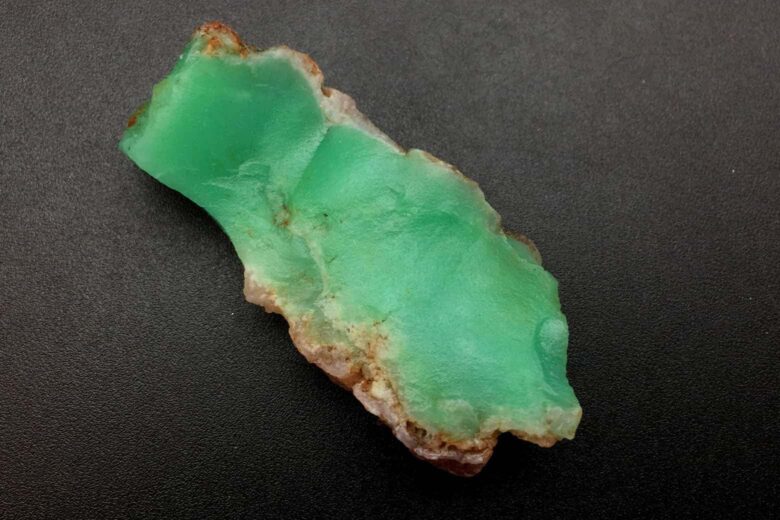 History of Chrysoprase stone
Chrysoprase is one of the oldest semi-precious stones used by mankind. The Greeks, Romans and Egyptians were drawn to its verdant hues, and used it to carve ornamental objects as well as to make jewelry, seals and signets. Alexander the Great is said to have favored Chrysoprase, and is reputed to have always worn a girdle into battle that was embedded with a bright chrysoprase stone, which he regarded as a precious talisman. Later, in the Victorian period, Chrysoprase again became popular as a stone for cameos, and was used to contrast with pearls and for creating cabochons. 
Meaning of Chrysoprase
An unusual and unique name, Chrysoprase is formed from two originally Greek words, 'chrysos', meaning gold or yellow, and the Greek 'prason', meaning leek, as a reference to the golden, pale green color of the stone. The green coloring of Chrysoprase has earned it the nickname 'Jadine' or 'Australian Jade', and indeed rich examples of Chrysoprase have often been confused with the highly valuable imperial jade stone.
The spiritual meaning of Chrysoprase is one of joy, prudence and happiness. It is the stone of enterprise, and said to bring success and good fortune.
Where does Chrysoprase come from?
The most highly prized examples of chrysoprase are found in the mines of Queensland, Australia, hence its nickname, Australian Jade. These deeply saturated stones with their distinctive apple-green hues are rare and valuable. Other sources of chrysoprase include the forests of Brazil, which are known for producing lighter shades of chrysoprase, varied in tone and hue but not so valuable. Chrysoprase can also be found in India, particularly in the Rajasthan region, and was once heavily mined in Szklary, Poland, though this mine was completely depleted in the 14th century.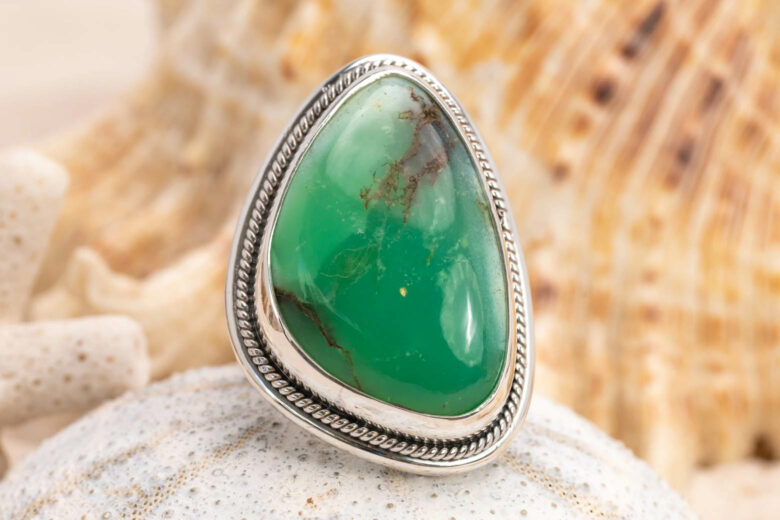 Chrysoprase and Zodiac signs
Although emerald is officially the birthstone for the month of May, chrysoprase is listed as one of the alternate birthstones for those born under the sign of Taurus, along with agate. Chrysoprase has traditionally symbolized happiness, enterprise and prudence, making it a popular stone as a gift for the workplace. Its rich range of green shades also means it makes for stunning jewelry, which works well as a present for loved ones or friends born in May.
Which family is Chrysoprase from?
Chrysoprase is a semi-precious variety of chalcedony, which is a non-crystalline quartz. It is the second most valuable form of chalcedony, after gem-silica. Chrysoprase is in fact rare in that it is one of a tiny number of green gems whose color arises from nickel. This unique sea-green or apple-green color will fade after heating or prolonged exposure to sunlight.
Birthstones chart
Find your birthstone by month
---
Frequently asked questions about Chrysoprase
What is the chrysoprase stone good for?
The radiant green hues of chrysoprase make it an eye-catching jewelry stone. Luxury chrysoprase looks exquisite as the center-piece of a silver ring or pendant, and makes for a  unique and striking look when knotted onto elegantly coordinated green silk thread. Placing chrysoprase crystal in a room is said to cultivate peaceful vibes and promote a calming environment.
What does chrysoprase symbolize?
Chrysoprase traditionally symbolizes happiness, optimism, enterprise and prudence. It is regarded as the stone of good fortune, and is said to bring prosperity. The beautiful aquamarines of chrysoprase symbolize the tranquil and calming properties of water.
How do you use chrysoprase for healing?
Chrysoprase is well-known for its rejuvenating properties, indeed, the vivid sea greens of chrysoprase are often said to symbolize the healing and tranquil properties of water. Placing a chrysoprase crystal close to your bed at night is believed to speed up the healing process when recovering from a wound or getting over an illness. Chrysoprase is also used in meditation when the concern is a matter of the heart.
What chakra is chrysoprase for?
Chrysoprase is connected to the heart chakra, and used to resolve issues that are centered there. Placing chrysoprase stones over the chest, or wearing chrysoprase close to the heart is said to help in removing toxic emotions from the body, and it is generally understood that chrysoprase helps ensure balance in body, mind and soul.