Deciding between a gemstone vs a diamond engagement ring is an arduous process. While diamond engagement rings are still more common, many couples are seeking non-traditional engagement rings. From yellow diamond rings to colorful gemstones like topaz and amethyst, there are more unique options than ever.
The beauty of colored engagement rings is how they reflect a couple's personality. Symbols of love, authenticity, and inner truth amplify the beautiful array of hues. Read on to discover the most popular and gorgeous non-traditional engagement rings.
Yellow diamond engagement rings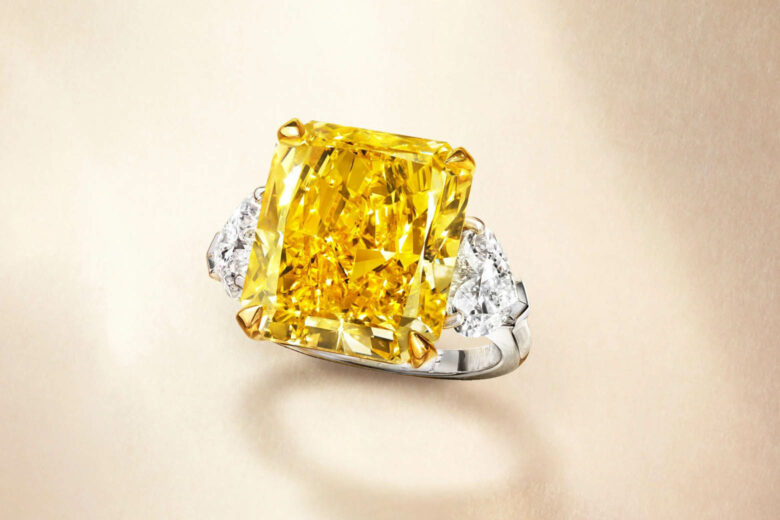 After the radiant cut was invented in the 1970s, yellow diamonds started to gain traction. A yellow diamond engagement ring symbolizes a fulfilling relationship. The Graff Vivid Yellow diamond is one of the most expensive diamonds in the world—showing that not only colorless diamonds are valuable.
A yellow diamond engagement ring is a beautiful choice for someone torn between a gemstone and vs traditional diamond engagement ring. Instead of round cuts, fancy shapes, such as pear, marquise, and radiant, are the best options for optimizing the unique colors of a yellow diamond.
Emerald engagement rings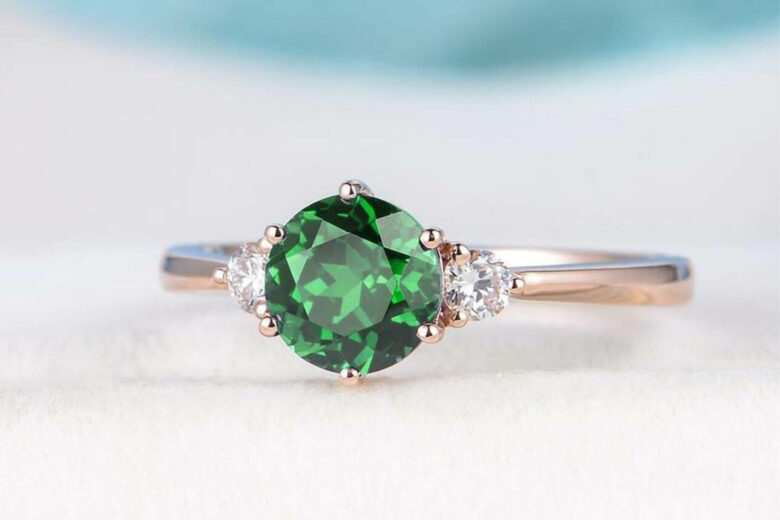 From Ancient Egypt and Cleopatra to Elizabeth Taylor, emeralds are steeped in history. As popular as emeralds are for birthstone jewelry, they're also alluring for a unique engagement ring. An emerald engagement ring is a symbol of loyalty, tranquility, and a new beginning.
This green engagement ring is at once timeless and daring. Vivid and bluish-green emeralds are especially beautiful. Colombian emeralds display multidimensional hues, especially with round brilliant cuts.
Blue Sapphire engagement rings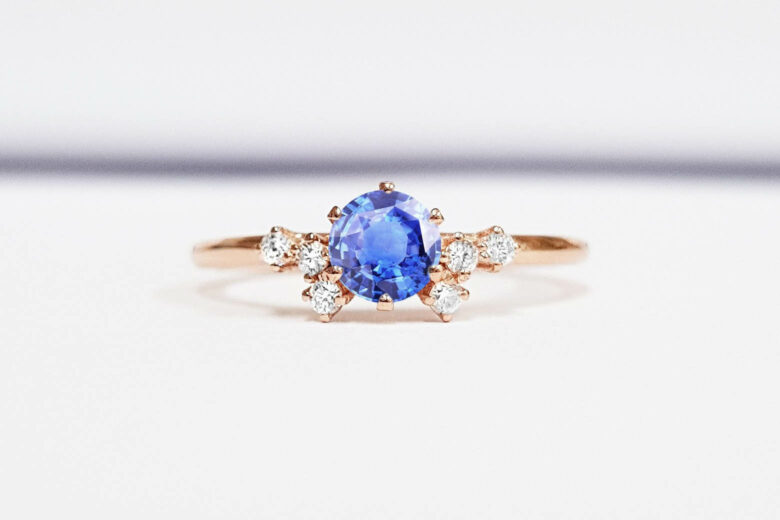 From cool blue to deep, vivid blue, a blue sapphire engagement ring is the most popular option for a non-diamond ring. Not only is a blue sapphire beautiful and durable, but it's also meaningful.
It's an excellent idea for someone spiritual, as it symbolizes hope, faith, and connection to a higher power. Those drawn to royalty will also love this colorful gemstone ring. Perhaps the most stunning blue sapphire engagement ring was worn by the late Princess Diana. That same ring is now worn by Kate Middleton after Prince William proposed in 2010.
Ruby engagement rings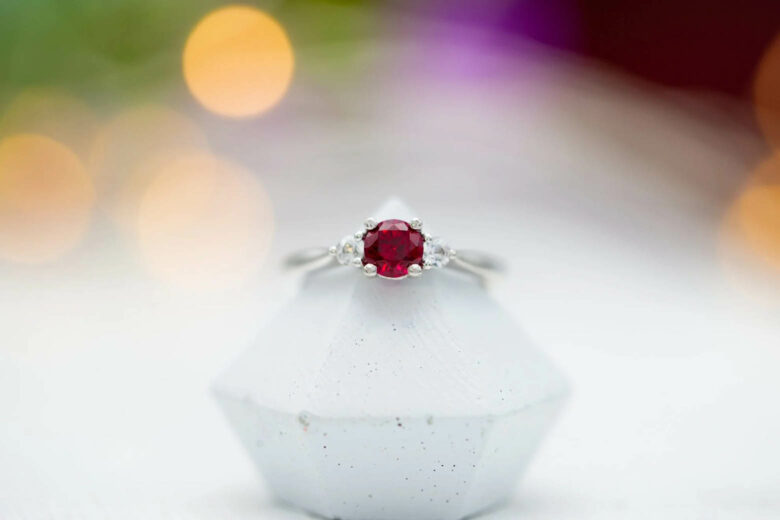 Romance, passion, and success: that's what a ruby engagement ring symbolizes. This colorful gemstone ring is best suited for daring, bold, and romantic lovers. A ruby engagement ring is also one of the most expensive engagement ring options.
Traded as far back as 200 BC along the Silk Road, rubies have a history of prestige and power. Ruby gemstone rings have been worn by royalty around the world.
Aquamarine engagement rings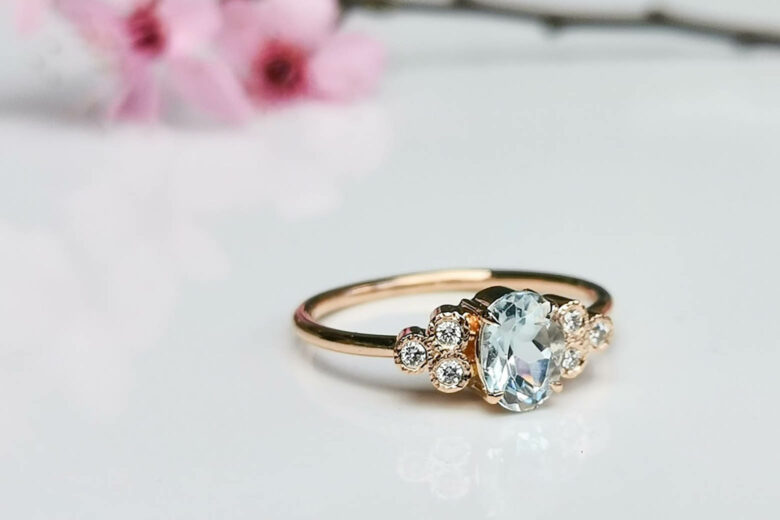 Aquamarine engagement rings are a beautiful option for semi-precious stones. A crystal to teal hue symbolizes tranquility, harmony, and inner peace. Those who seek peace and contentment will be in love with this unique engagement ring.
Called by Ancient Romans the "water of the sea," the cool blue engagement ring option was worn by actress Jessica Biel. An aquamarine engagement ring is stunning when paired with a white gold or platinum band. Vintage cuts, such as a princess, pear, or marquise, add to its unique appeal.
Topaz engagement rings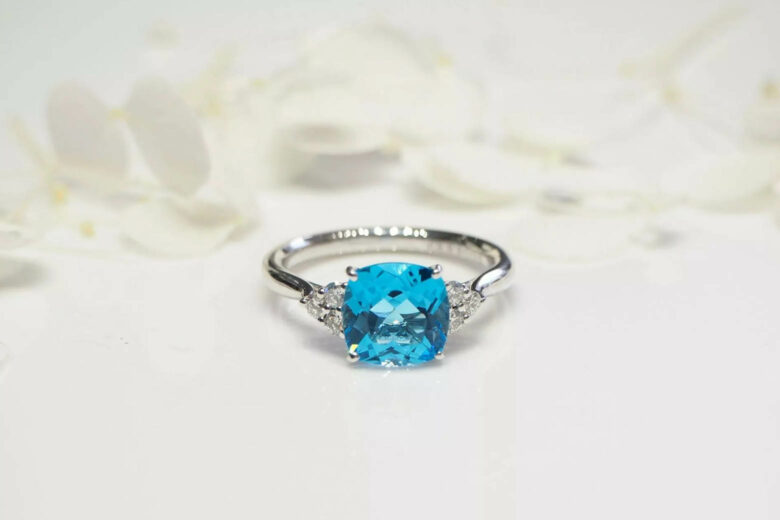 Beloved by Russian czars during the 19th century, topaz has now become a unique alternative to a diamond engagement ring. As November's birthstone, topaz is also suitable for romantics at heart. A symbol of love, affection, and sweet disposition, topaz engagement rings wow with an array of colors.
Those gemstone colors range from yellow and orange to purple-red, blue, and green. For an engagement ring, orangish-red stones are the best option, though blue is more widely available. Oval and pear cuts captivate by displaying different hues at every angle.
Garnet engagement rings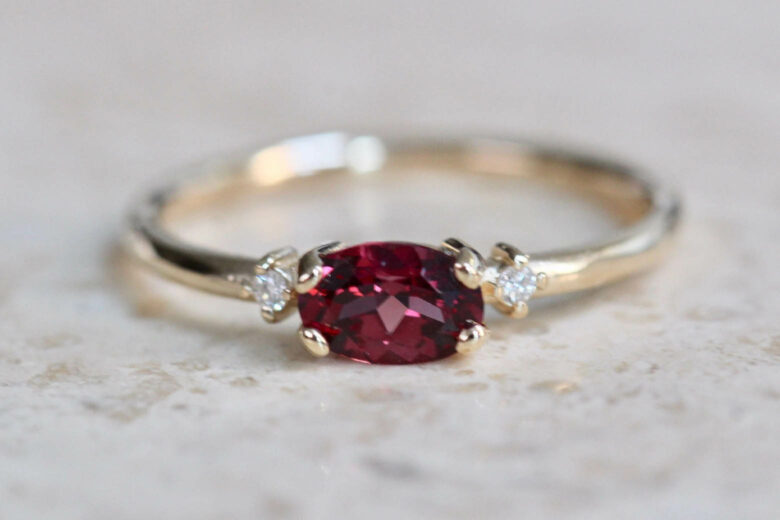 A red garnet engagement ring symbolizes love, and romance, and is a striking option for a unique engagement ring. Couples who believe in Feng Shui and bringing balance to their lives will delight in its stunning beauty. Lovers of history may also be intrigued: garnet rings have been worn as far back as the Bronze Age.
A more affordable alternative to a ruby engagement ring, garnet is gorgeous on yellow gold or rose gold bands. An orange-red with a vivid hue isn't the only option, however. Rare green garnet gemstones can mimic emeralds.
Citrine engagement rings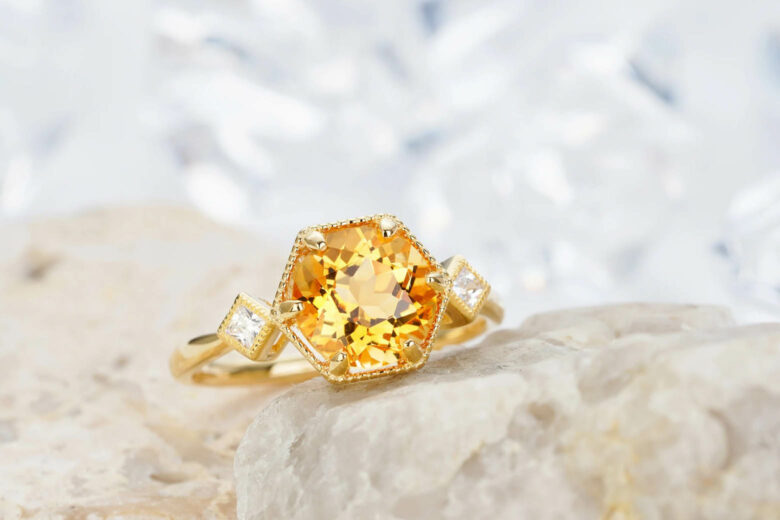 From pale yellow to golden yellow and amber, a citrine engagement ring symbolizes joy, unbound energy, and prosperity. The vivacious and spirited couple may especially love the reddish-orange or saturated yellow hues, while an earthy couple may opt for slightly duskier tones.
This semi-precious gemstone was discovered in Ancient Greece and has been used for centuries as a stone of protection. Some of the best jewelry brands and designers, such as David Yurman, have redefined citrine rings for modern consumers. White gold bands with plays on geometry are lifted by the vibrant yellow or orange gem. 
Morganite engagement rings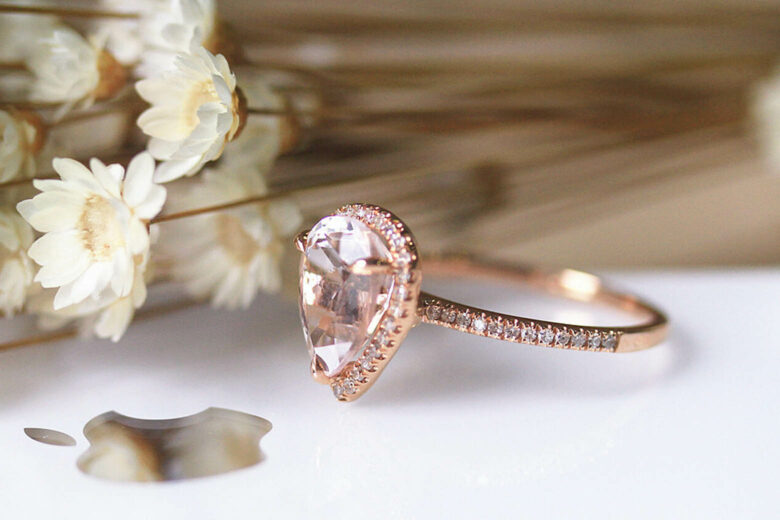 For those who love a softer, romantic-colored gemstone ring, morganite is a compelling option. Morganite engagement rings symbolize promise, compassion, and the heart. Followers of Feng Shui will recognize a morganite engagement ring's association with the Heart Chakra.
First discovered in Madagascar in 1911, morganite gems and gemstone jewelry have been displayed in museums around the world. Peach and rose hues are the perfect options for a unique engagement ring. Rose gold and white gold bands bring out cool tones. Emerald, pear, and round shapes all enhance the gem's beauty.
Opal engagement rings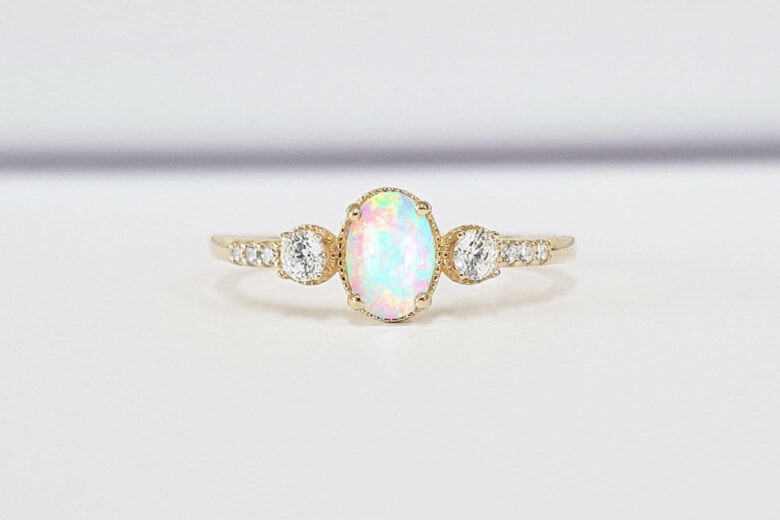 Of all the non-traditional engagement rings optional, opal is perhaps the most unique. White opals have a creamy base and flash a rainbow of colors under sunlight. Opals of the highest quality exude warmth, creativity, and innovation.
While an opal engagement ring symbolizes hope, it also is a sign of creativity. Someone artistically inclined will love the array of colors, especially with an oval cut. Avid history buffs also take note of opal's storied history, which dates back to 4,000 BC.
Tourmaline engagement rings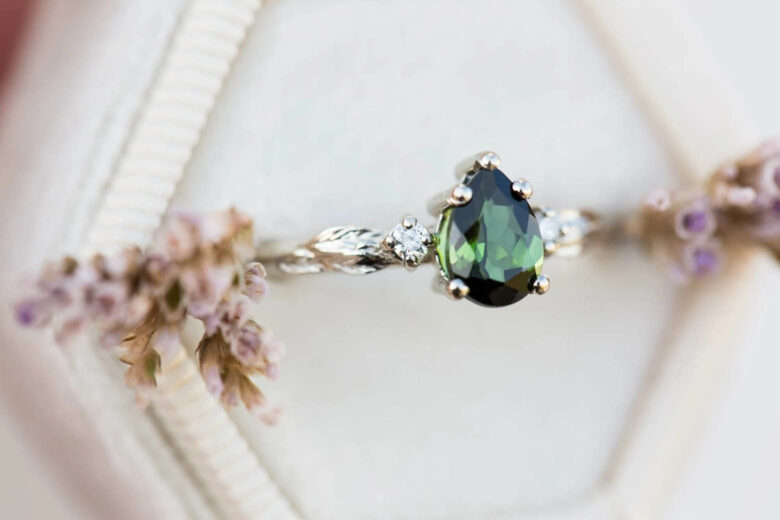 Tourmaline engagement rings are colorful, bright, and spirited. From vivid sky blue to passionate pink and sea green, creative and expressive couples will find much to love about this unique gemstone. Celebrities like Selena Gomez, Christina Aguilera, and Ariel Winter have all sported pink tourmaline rings.
For others, a tourmaline engagement ring promises healing, compassion, and a stable relationship. Transparent and brilliant tourmaline rings are most valuable in green-blue and pink hues, while watermelon tourmaline is for the couple who wants a cool, one-of-a-kind ring.
Quartz engagement rings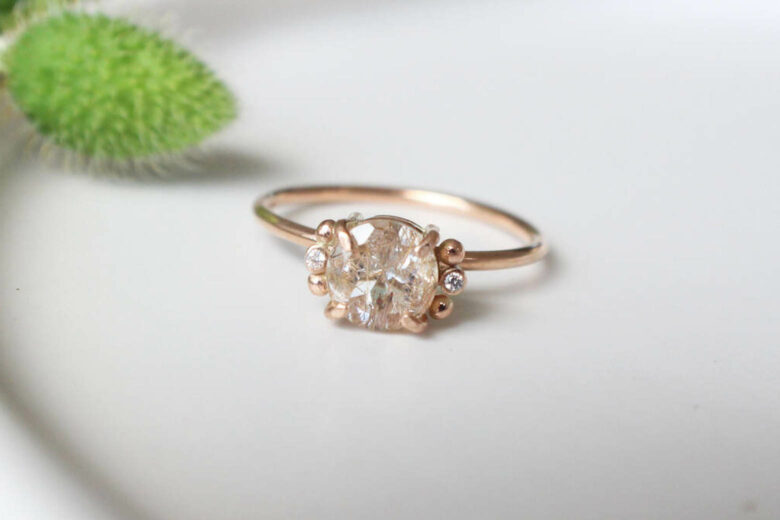 While quartz comes in many types and colors, rose quartz is the best choice for a unique gemstone engagement ring. Hopeless romantics and those who practice Feng Shui will find special meaning in a rose quartz engagement ring.
Rose quartz symbolizes unconditional love. Rose quartz jewelry has been worn as far back as the Ancient Assyrians in 500 to 800 BC and has since been a symbol of timeless, undying passion. Blush to deep rose, a rose quartz engagement ring is even dreamier on a rose gold band.
Amethyst engagement rings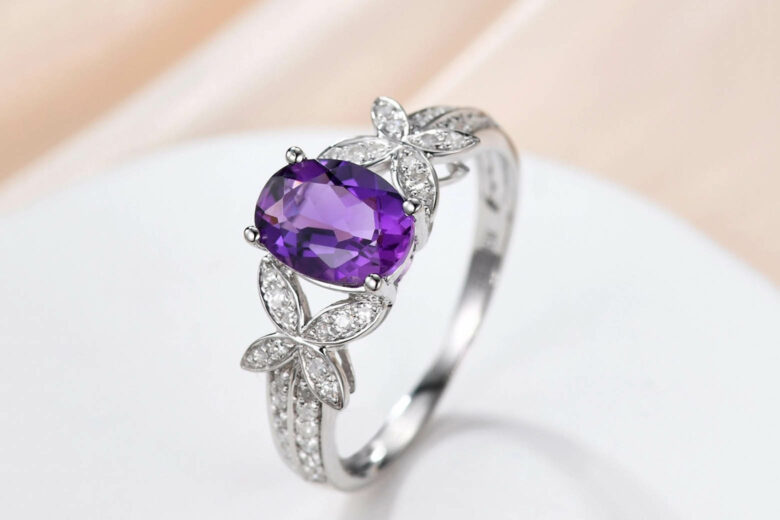 The birthstone of February is also a stunning and meaningful option for a colored engagement ring. Amethyst engagement rings exude grace, trust, and understanding. Ideal for someone who embraces tranquility and truth, this purple gemstone was used by Leonardo da Vinci to inspire and clear the mind.
Lilac and lavender hues make for an expressive engagement ring. The deepest purple—Siberian purple—is the most valuable. This stunning engagement ring is at its most expressive with a cool white gold or platinum band.
Moonstone engagement rings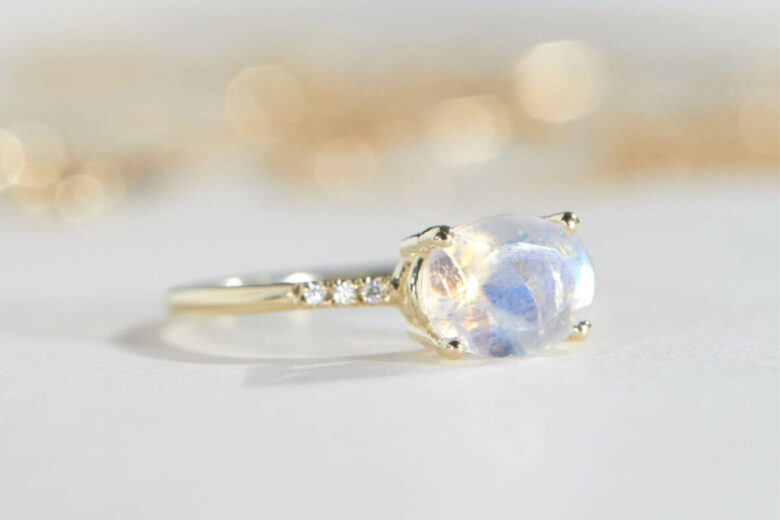 In Eastern cultures, moonstones are lighted gemstones that bring good luck. Those with birth dates that fall with the moon during its malefic stage especially benefit from this mystical gemstone. But a moonstone engagement ring can be for anyone who loves a connection to celestial, spiritual, and inner clarity.
Ranging from transparent to translucent, the best moonstone for a gemstone engagement ring is a vivid blue, with a colorless undertone. The swirl of colors provides a bohemian flair for a gem that was worn in Ancient Rome and India. As moonstone rings flourished most during the late 1800s and early 1900s, an Art Nouveau setting is fitting.
Tanzanite engagement rings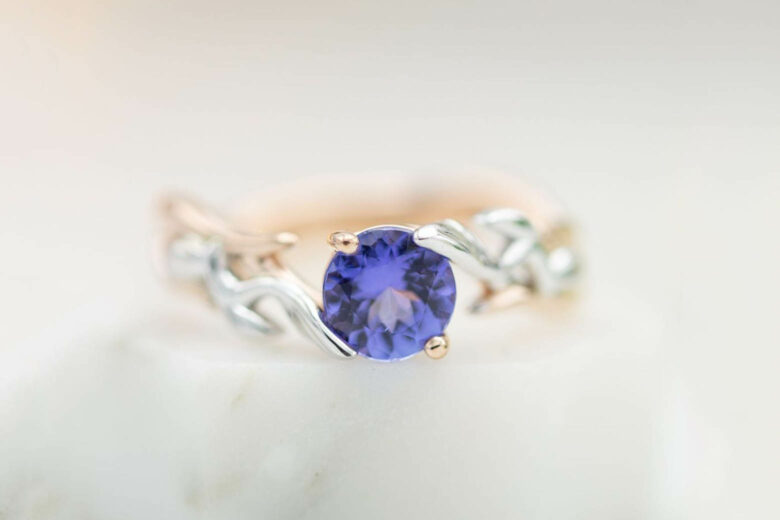 While some of the most expensive engagement rings feature diamonds, natural tanzanite is a thousand times rarer. Luckily, with both lab-grown and natural options, a tanzanite engagement ring is more affordable than a sapphire engagement ring.
From dreamy soft blue to deep blue, a tanzanite engagement ring symbolizes purity, intuition, and heart. It's perfect for someone who values truth and empathy in a relationship, as well as those who feel connected to fire energy. Some of the most popular and best jewelry brands feature tanzanite on rings flanked with diamonds on a modern band. 
Frequently asked questions about colored engagement rings
Is it weird to have a colored engagement ring?
Colorful gems are not weird, but a great way to have a unique engagement ring. Engagement rings without diamonds are gaining popularity for their unique symbolism and beauty. From purple engagement rings to green engagement rings, a non-traditional style can be just as beautiful and meaningful as a diamond ring.
What color band is best for an engagement ring?
Silver and yellow are the two most popular band colors for an engagement ring. However, rose gold is a beautiful color for a romantic engagement ring. Those with cool skin tones tend to look best with silver and silver-white bands, while those with warmer skin tones look spectacular with yellow bands.
What ring color is the best?
The most popular color for an engagement ring is a nearly colorless or colorless diamond. On the GIA grading scale, the letters G, H, I, and J all indicate a colorless gemstone. However, it's different for non-diamond engagement rings. The more colorful—or saturated—the gem, the more desirable.
What color are the proposal rings?
Engagement rings can be in many colors, depending on style and personal preference. White gold, yellow gold, and rose gold are the most popular bands. Gemstone proposal rings include not only diamonds but also colorful gemstones, such as amethyst and topaz engagement rings. Ultimately, the color of a proposal ring should reflect the personality of the couple.