Two of the biggest critiques that the luxury watch industry faces is that the watches are neither affordable nor updated for the modern world. That's why we consider LIV Swiss Watches to be one of the best men's watches brands.
Handcrafted in Switzerland, the line of watches sets itself apart from its competitors with premium leather and stainless steel, combined with updated interfaces for its automatic watches. Nowhere is that more apparent than with its luxury pilot watches.
The value of the line is how it meets the demand of its customers. Rather than simply focusing on surface-level design, every watch is built to perform. Competitive pricing is paired with practical features, like water resistance and power reserves. That's seen in their classic but affordable dive watches.
Perhaps LIV Swiss Watches' ability to please customers with innovation and great prices stems from its humble beginnings. What began as a crowdfunding campaign is now one of the most notable brands we've reviewed.
At the same time, there are some places where LIV Swiss Watches can further improve its reputation as one of the best luxury watch brands in the world.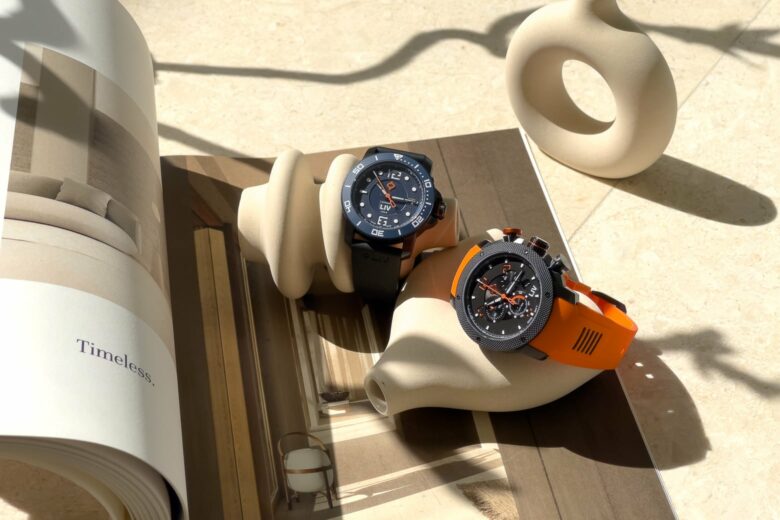 LIV Swiss Watches review: Our verdict
Our verdict: Simply put, we recommend LIV Swiss Watches for their thoughtfully designed interfaces. The sophisticated features and premium materials are what you'd see in some of the most expensive luxury brands. At the same time, they're not quite the top performers for athletic watches.
The pros:
Premium materials
Competitive price range
Water resistance
Heavy-duty construction
Handcrafted in Switzerland
The cons:
Some clunky interfaces
Limited availability
Only automatic or quartz
Shipping delays
The alternatives:
Vincero also offers a great value for incredible watch features. Sundials and plenty of colors and styles make for attractive and versatile watches. Check our in-depth Vincero watches review to learn more about the brand.
Nordgreen watches are designed to be slender and versatile, offering functionality at a great price. Interchangeable straps and timeless style add to their appeal as one of the best value luxury dress watches. Check our in-depth Nordgreen watches review to learn more about the brand.
Citizen produces some of the best dive watches at a reasonable price. Though other brands have divers, it's hard to beat the iso certification, eco-friendly materials, and battery-free design.
LIV's most popular Swiss watches
GX1 Chronograph Watches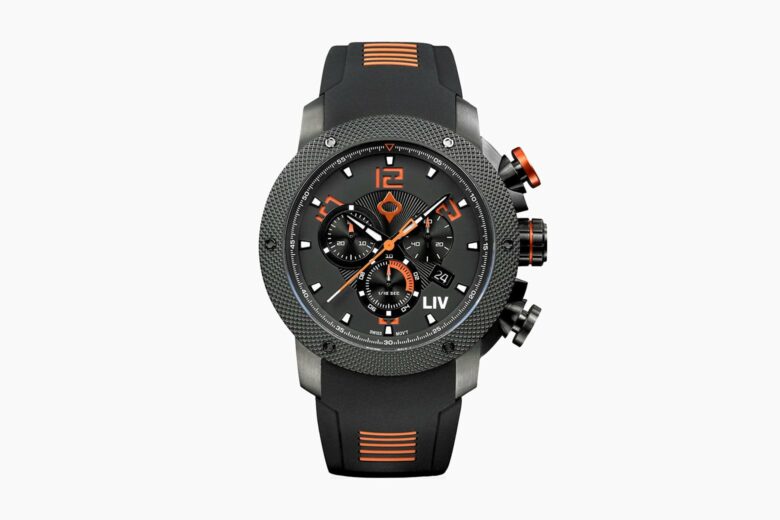 This collection was the very first for LIV, and rightfully set the standards for premium materials, with features designed for their customers. Highly precise movements are propelled with 1/10 of a second chronograph.
A textured sundial and stenciled numbers add touches of luxury without a bulky price. That's not even to mention the luminescence, concave rings, and expertly crafted design. It's easy to see why this collection remains a timeless option.
It's not all about good looks, though. The dial's multiple layers are highly responsive and protected with an IP coating for daily wear. The watches are scratch-resistant and water-resistant for up to 200 meters. They also feature an anti-reflective interior for the brightest days. While not as innovative as other designs, the GX1 Chronograph series of LIV watches is a classic for a reason.
| | |
| --- | --- |
| Case materials: Stainless steel | Stainless steel |
| Strap materials: | Stainless steel, Silicone, or Leather |
| Colors: | Cool Gray, Signature Orange, Rose Gold + More |
| Price: | $490 |
GX Diver Watches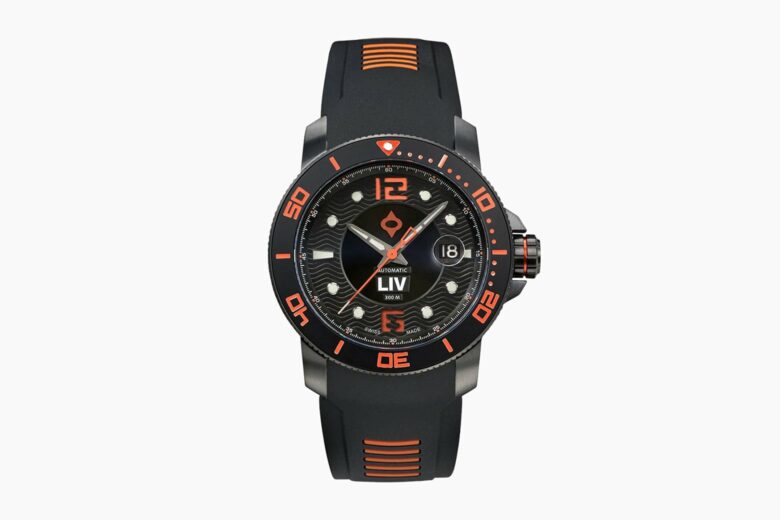 The diver's watch is a classy line of athletic watches meant to last. With an impressive 300 meters of water resistance, we like these watches for athletic pursuits. The tightly screwed case is not the most exceptional part of the design, nor is the immediate aesthetic appeal.
Rather, the GX Diver watches shine with the strong sapphire crystal, constructed to withstand high water pressure. That's complemented with a brushed, three-layer dial. Colors are strategically placed for performance from day to evening. What's remarkable about this is that the design is easy to use whether you surfing or taking a night walk.
Outside of the water, these watches are meant to withstand just about anything. The ceramic bezel is a study choice. It's also modern and features a cleaner design than some other LIV watches.
Interestingly, these watches range from dressy to more sporty. That makes this collection a bit more versatile, with some designs striking a nice balance between the two.
| | |
| --- | --- |
| Case materials: Stainless steel | Stainless steel |
| Strap materials: | Stainless steel, Silicone, Rubber, Canvas, or Leather |
| Colors: | Crater Gray, Black Cobalt, Gamma Green + More |
| Price: | $750 |
P-51 Pilot Automatic Watches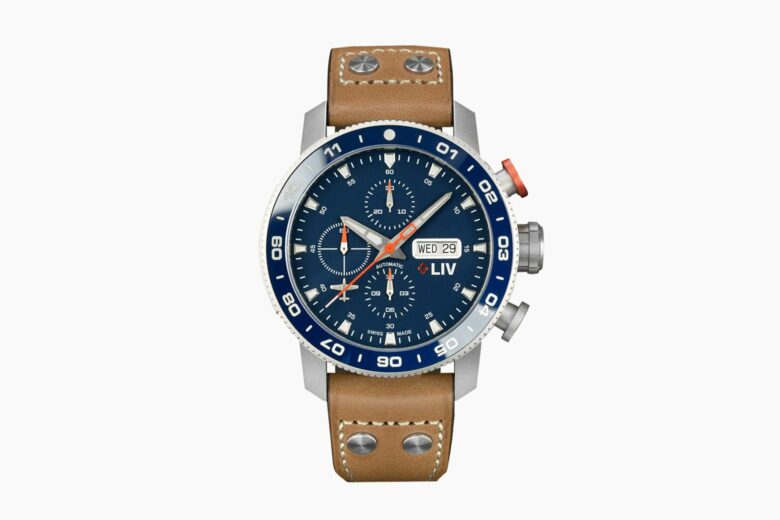 The P-51 Pilot Automatic Watches collection is a limited edition and easily one of the most popular from LIV.
The premium ceramic bezel is the star of these LIV watches. While they don't immediately stand out with their design, it's their durability that makes these pilot watches a great value. These titanium watches are nearly twice as strong as steel and twice as light.
While features don't quite reach the level of the best tactical watches, there's a lot that's noteworthy. Direct contact won't crack the interface. Saltwater won't mar the watch body. Careful molding ensures a sturdy but comfortable fit, from rest to active days. 
The classic look may not appeal to everyone, but it is timeless. You can still see its roots from its original 1973 debut, now equipped with a precise and automatic movement for accuracy. Meanwhile, dial tracking makes this watch handy from night to day.
| | |
| --- | --- |
| Case materials: Stainless steel | Titanium |
| Strap materials: | Titanium, Rubber, or Leather |
| Colors: | Neon Yellow, Black/ Orange, Black/Gray + More |
| Price: | $1,470 |
GX1-A Automatic Watches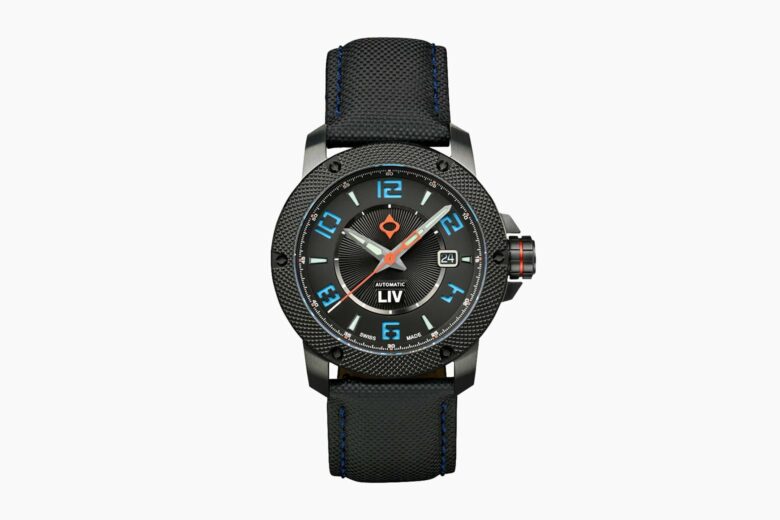 The GX1-A was the second LIV watch, and the collection continues to enjoy a popular following. These automatic watches feature a simpler, cleaner aesthetic. But there's more than meets the eye.
Built to last, the automatic watches are constructed with 316L stainless steel. The sturdy frame is a bit less bulky than other models and intended for casual use. The sapphire crystal is vibrant and coated to be anti-reflective.
Tiny details are what make this collection long-lived. Those details include a classic automatic rotor with precision within 5 seconds. The multiple layers on the dial offer an attractive, dimensional interface.
You can see several notes carried over from the GX1, such as the concave ring. The stenciled numbers and striking colors are also reminiscent of the first generation of LIV watches.
| | |
| --- | --- |
| Case materials: Stainless steel | Stainless steel |
| Strap materials: | Stainless steel, Canvas, or Leather |
| Colors: | Black/Orange, White, Black/Blue + More |
| Price: | $590 |
Rebel-AR Automatic Watches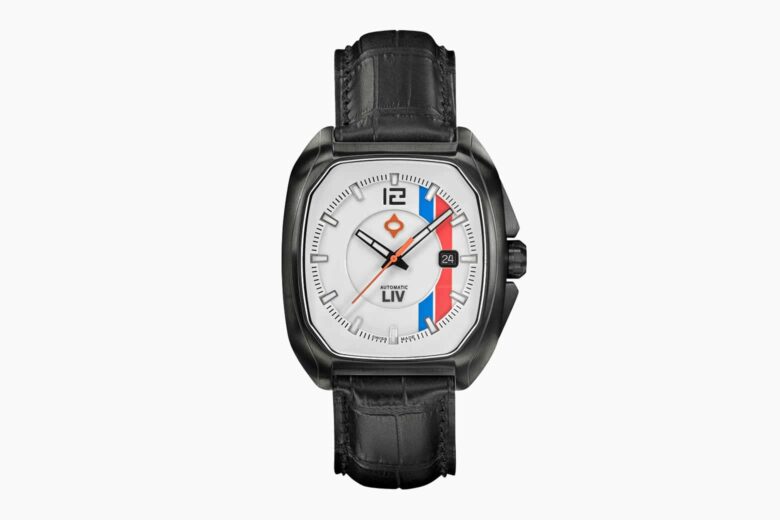 The Rebel-AR collection is where LIV branches out a bit from its classic designs. Yet there are still touches of other LIV models in these innovative, modern watches.
Inspired by racing, these watches are distinguished by a rectangular form that is slightly curved. Not only is this stylish, but it also fits more comfortably for an active day. The sandwich dial is also slightly curved.
Watch movement is driven by 26 Jewels, with a remarkable power reserve of 40 hours. Like many LIV watches, Rebel-AR watches are precise within 5 seconds every day. A dial of many layers is striking with luminescent letters. The design is clean with classic touches, designed to be used from dawn to dusk.
Little details, like racing stripes and a slightly curved body, make these watches stand out. They may not have all the bells and whistles of more expensive models, but they are undoubtedly a great design for LIV's sensible portfolio.
| | |
| --- | --- |
| Case materials: Stainless steel | Stainless steel |
| Strap materials: | Stainless steel or Leather |
| Colors: | White, Black, Rose Gold + More |
| Price: | $690 |
Where to buy LIV Swiss Watches
The best place to buy LIV Swiss watches is from their official website. Watches come with a complimentary 5-year warranty. Free shipping is offered worldwide. International shipping may be subject to relevant dues and fees. Customers also enjoy a 90-day window for free returns and exchanges without any restocking fees.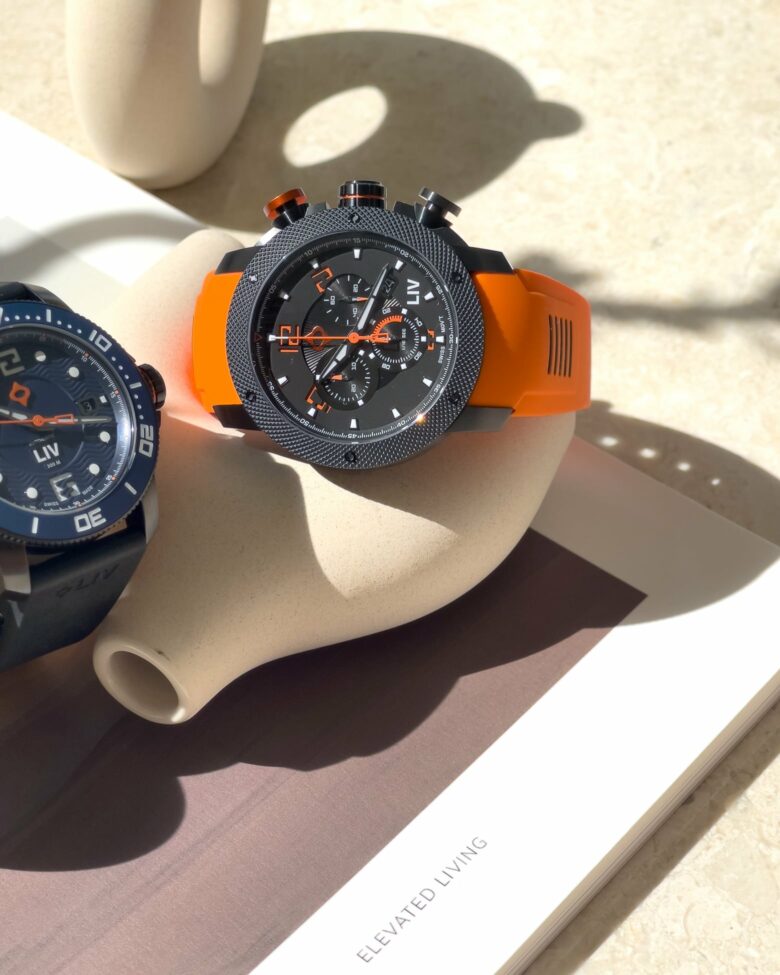 Frequently asked questions about LIV Swiss Watches
Are LIV Swiss Watches any good?
If you're looking for affordable and practical luxury watches, LIV is a great brand. LIV focuses on premium quality materials without the bells and whistles that add a steep price tag. It's a solid watch brand to shop for pilot, casual, and diver watches. Read our in-depth LIV Swiss Watches review to learn more about the brand.
Where are LIV Swiss Watches made?
LIV started in Switzerland and continues to make all of its watches in Switzerland. LIV also has headquarters in the United States, but none of their watches are US-made.
Are LIV Watches made in China?
While many luxury watches are outsourced in China, that isn't the case for LIV. Just as LIV started in Switzerland, it continues to produce watches in Switzerland. This is integral to Liv's mission of selling only Swiss watches. 
What movement does LIV Swiss Watches use?
LIV is rather traditional in the sense that the brand offers just two movement options for its luxury watches—Quartz and automatic watches. Before deciding on what movement type is right for you, consulting a watch buying guide may help.