Think of your dream property and then think a little harder and you'll begin to get an idea of what the most expensive homes in the world look like.
Because what happens when you bring together an architect limited only by gravity and an owner with a bottomless wallet? You get a luxury house filled with bespoke features tailored exactly to your personality and taste.
And the sky's the limit: that could mean an outdoor theatre overlooking the Mediterranean sea, an entirely circular building, or whole new levels of exciting tech.
These million dollar homes knew no limits when it came to furnishing or decorating. "Mega mansions" or "a million dollar house" doesn't really cover it: the world's biggest house comes with 240 bedrooms and 535 other rooms.
Some of the other most expensive homes ever sold are vertical palaces designed to withstand earthquakes or sprawling estates with breathtaking views. The homes of the rich know no boundaries.
The 13 most expensive houses in the world
Psssssst, you don't have to live in the most expensive house in the world to upgrade your home to look and feel like million bucks. Check our round-up of the best online furniture stores to find the best places to shop for beautiful furniture online.
1. Buckingham Palace, United Kingdom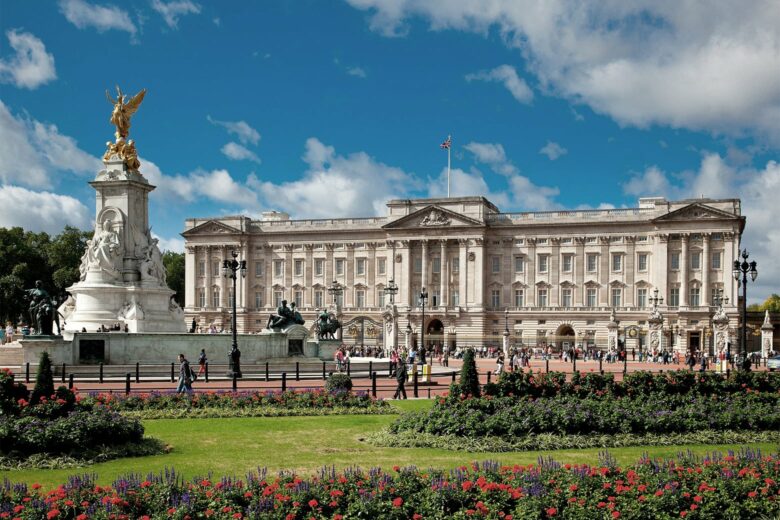 Buckingham Palace might not be put up for sale anytime soon, but if it were, it would be worth around $4.9 billion dollars, making it the most expensive house in the world. With 240 bedrooms—188 staff rooms and 52 royal and guest bedrooms—as well as a swimming pool and doctor's surgery, it's a place called home by the British Royal Family and is also open to the public for guided tours.
In total, this rich house—if you can call this Crown property a mere house—contains 775 rooms, including 19 staterooms, 92 offices, and 78 bathrooms. It's also got a huge team of staff as well as beautiful gardens. Rumour has it there are a few other secret rooms dotted throughout this huge luxury mansion. Spread over around 77,000 square meters, Buckingham Palace is also one of the biggest houses in the world.
| | |
| --- | --- |
| Estimated value: | $4.9 billion |
| Location: | London, UK |
| Owner: | King Charles III, in right of the British Crown |
2. Antilia, India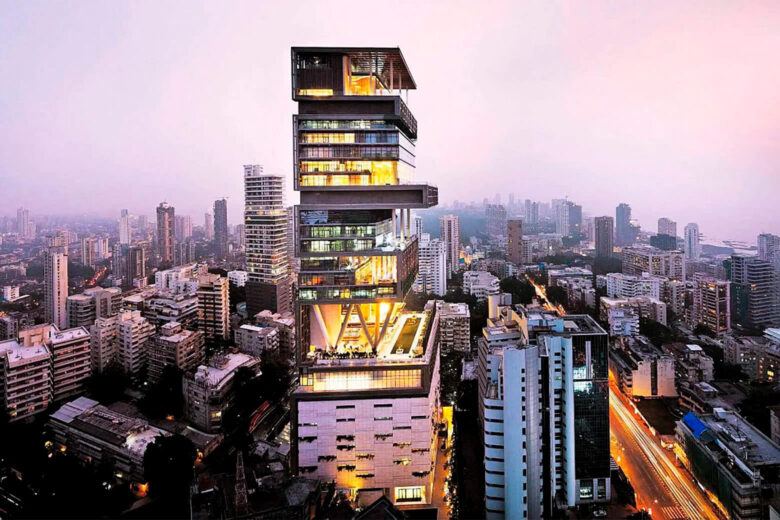 The world's most expensive private residence in the world, Antilia is owned by Mukesh Ambani, the richest person in India, and is named after a mythical island in the Atlantic. This 400,000-square-foot building sits in the most prestigious postcode of India and reaches 27 floors, with each double-height ceiling counting as two floors. But, despite its huge height, it's designed to withstand huge earthquakes.
This beautiful Mumbai residence was designed around traditional, natural elements, but also has an entire six floors dedicated to parking to accommodate the wealthy Indian family's large fleet of expensive cars. It also features a huge temple, a number of luxurious guest suites, three helipads, a health spa with indoor pools, a ballroom and yoga studio, an ice-cream parlor, and a private movie theatre for all to enjoy. It even has a snow room that spits out snowflakes if India's high temperatures get a little too much.
| | |
| --- | --- |
| Estimated value: | $2 billion |
| Location: | Mumbai, India |
| Owner: | Mukesh Ambani |
3. Villa Leopolda, France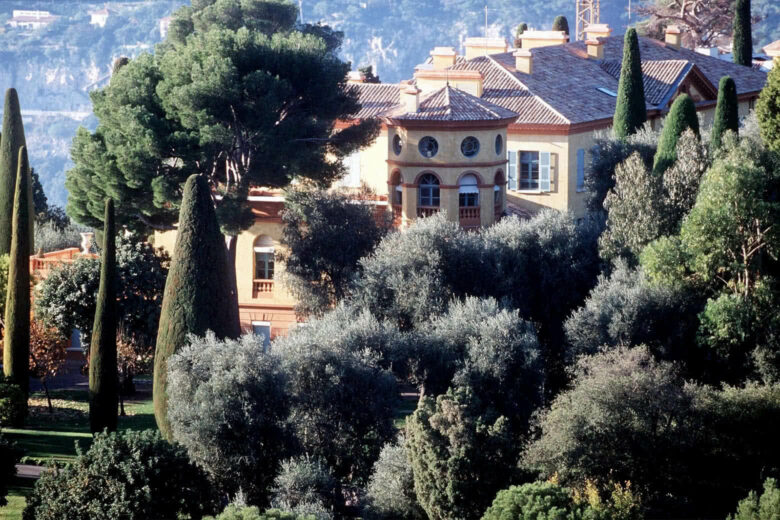 The most expensive private residence in Europe, Villa Leopolda sits between two of the most prestigious parts of the world: Monaco and Nice. Sumptuous and stylish, it's a luxury property in the French Riviera with a regal past and first belonged to King Leopold II of Belgium (hence the name). Since then, it's passed through the hands of many elite owners and has also been used as a film set, for Alfred Hitchcock's "La Main Au Collet" (To Catch a Thief).
When Lebanese-Brazilian banker Edward Safra, its previous owner, passed away in 1999, he left the villa to his wife, Lily Safra (nicknamed 'The Gilded Lily').
The lavish house's huge swimming pool and excessive gardens reportedly require the daily work of more than 50 gardeners. Across the entire luxury property, there are 80,000 square feet of space.
| | |
| --- | --- |
| Estimated value: | $750 million |
| Location: | French Riviera, France |
| Owner: | Lily Safra's descendants (The socialite philanthropist died in July 2022) |
4. Villa Les Cèdres, France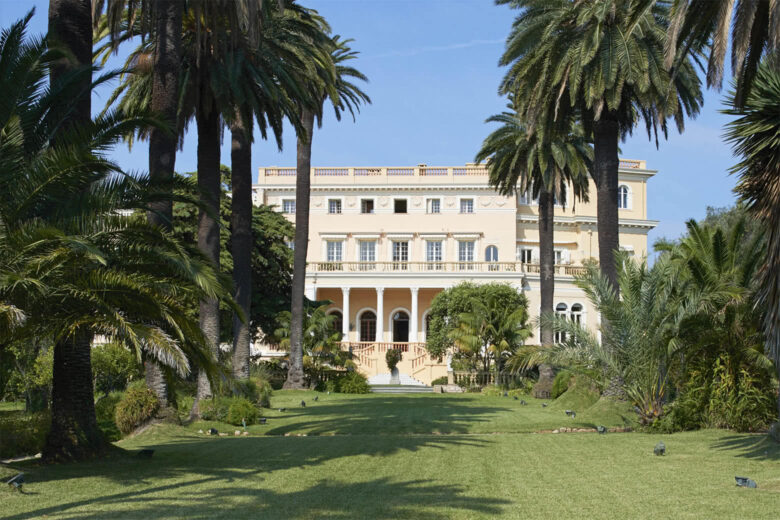 Built roughly around 1830, the 18,000-square-foot Villa Les Cèdres (named after the many surrounding Cedar trees) is more of a luxury palace than it is a simple home. Set across 35 acres of land in Saint-Jean-Cap-Ferrat in the South of France, this historic luxury mansion is fit for a king—and was once owned by one, King Leopold II of Belgium.
The century-old luxury mansion was acquired in 2016 by Italy's Campari Group (who owned the property through its acquisition of the liqueur Grand Marnier) and sold to Ukrainian billionaire and businessman Rinat Akhmetov in 2019.
As well as endless bedrooms and communal spaces, this European luxury mansion has an Olympic size swimming pool, a stunning ballroom, and even a stable with room for up to 30 horses. Outside, you'll find 15,000 plants and 20 greenhouses with tropical flowers from all over the world. It overlooks the Mediterranean Sea and has multiple balconies swathed with palm trees.
| | |
| --- | --- |
| Estimated value: | $450 million |
| Location: | Saint-Jean-Cap-Ferrat, France |
| Owner: | Rinat Akhmetov |
5. Les Palais Bulles, France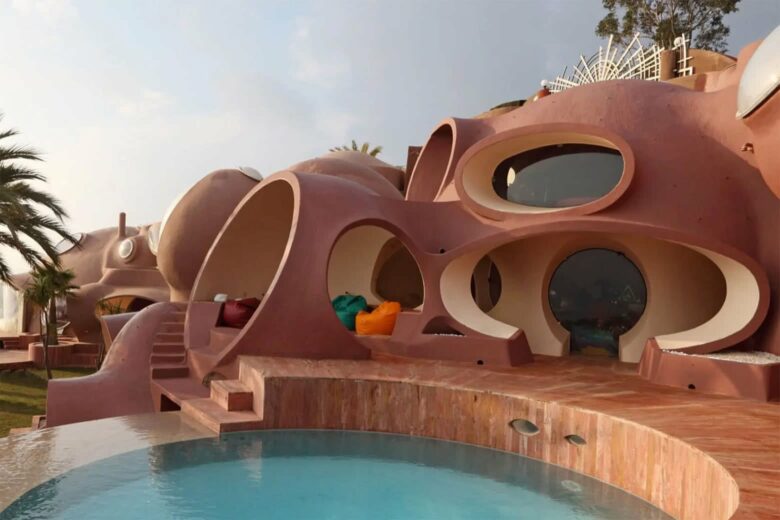 Possibly the most extravagant home on the French Riviera, the Palais Bulles or, Bubble Palace is a little different from your ordinary million-dollar house. As its name suggests, this luxury property in Théoule-Sur-Mer near Cannes is shaped like a huge, terracotta-colored bubble. A bird's eye view at the Palais Bulles reveals a collection of circular buildings. And the circle theme continues inside.
Take a walk through The Bubble Palace, and you'll spot cylindrical beds, swimming pools and artwork. The luxury villa was designed by Hungarian architect Antti Lovag and features ten suites decorated by different contemporary artists. As well as the series of round rooms, this luxury mansion is also home to a sprawling, open-air 500-seat amphitheater on the hillside grounds, with views overlooking the Mediterranean sea.
The Bubble Palace was last owned by the late French fashion designer Pierre Cardin who acquired the historic mansion in 1992 as a luxury holiday home and has been the backdrop for many a fashion and celebrity event. And since Cardin's death in 2020, the entire estate is available to rent, but not (yet) available to the public.
| | |
| --- | --- |
| Estimated value: | $420 million |
| Location: | Cannes, France |
| Owner: | Société de Gestion Pierre Cardin |
6. The Odeon Tower Penthouse, Monaco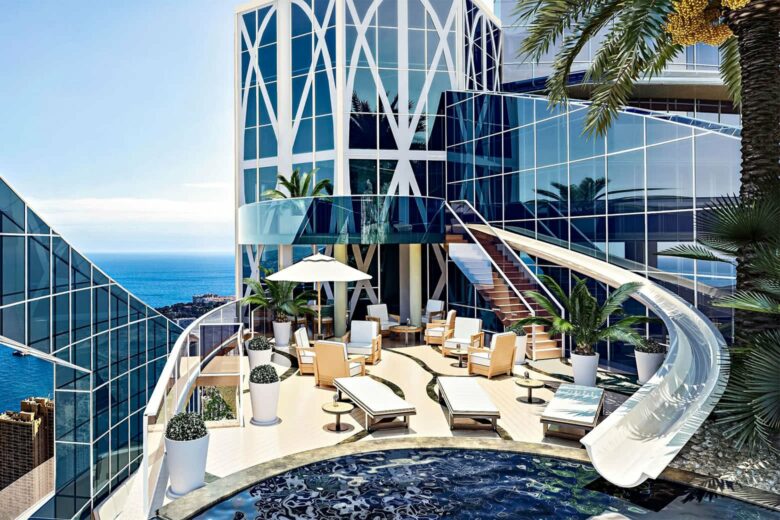 The Odeon Tower Penthouse might not feature a garden but it does offer spectacular views across Monaco. Known as the world's most expensive flat, it sits at the top of a 560ft skyscraper. Overlooking the clear blue waters of the Mediterranean Sea, The Odeon Tower Penthouse has its own 360-degree infinity pool, complete with a private water slide for those who fancy a salt-free swim.
The luxury penthouse includes 38,000 square feet of space spread across five levels, with five kitchens spread throughout each floor. It's got a dance floor, a luxurious bathroom, and even a few staff bedrooms. A parking space for the property is thought to cost around $330,000.
| | |
| --- | --- |
| Estimated value: | $330 million |
| Location: | Monaco |
| Owner: | Unknown |
7. Four Fairfield Pond, United States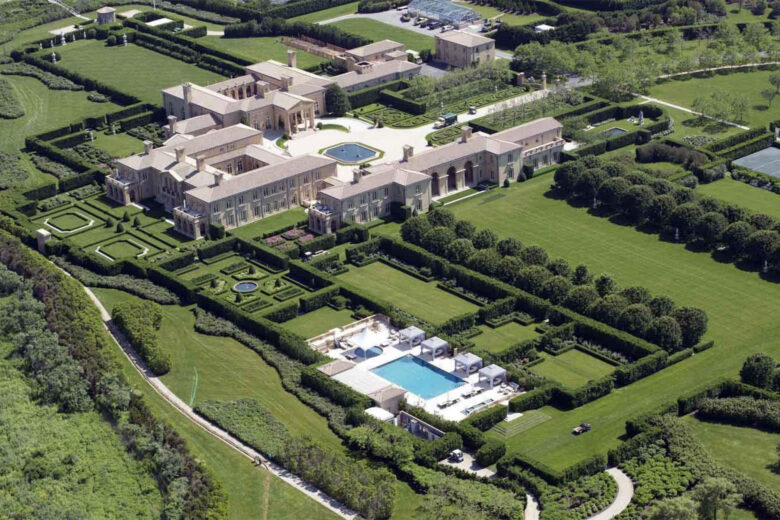 The Hamptons are renowned for being expensive, but American Billionaire businessman Ira Rennert's marvelous Italian Renaissance–style home, Four Fairfield Pond (named after the adjoining body of water on the luxury property), takes it to the next level. One of the most expensive houses in the United States, this is a luxury mansion designed for anyone who gets bored easily, thanks to its sweeping grounds and an endless array of facilities.
As well as the 18 bathrooms and 21 bedrooms, a stay here includes access to three swimming pools, a private basketball court, a two-lane bowling alley, and a 164-seat theater. Known as one of the largest homes in the United States, the 63-acre beachfront property also features 12 chimneys, a private cinema, a 91-foot-long dining room, and a billiards room, two tennis and squash courts, and its own power plant.
The Four Fairfield Pond is also home to a huge garage that can park up to 100 cars, perfect for a collection of the most expensive cars in the world.
| | |
| --- | --- |
| Estimated value: | $250 million |
| Location: | New York, United States |
| Owner: | Ira Rennert |
8. 18-19 Kensington Gardens, United Kingdom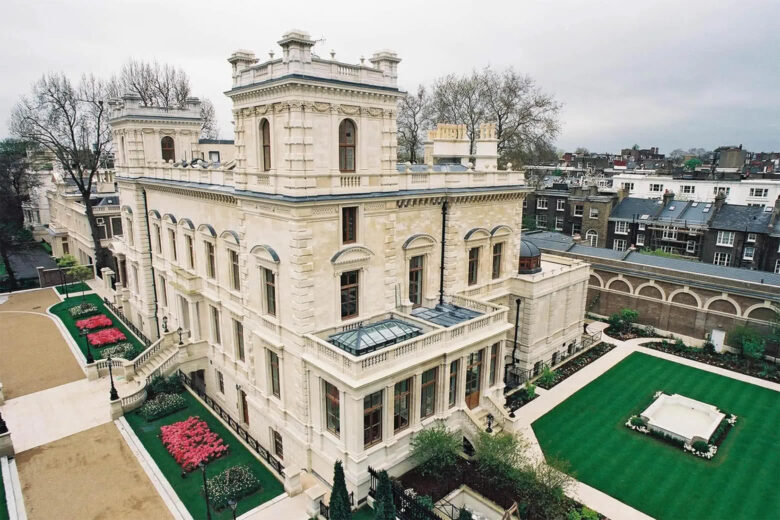 One of the most elite streets in the UK, the whole of Kensington Gardens is known for being full of millionaire properties, but 18-19 Kensington Gardens takes things a little further. Known as Nour Palace, this neo-Georgian mansion was bought in the 1990s for five million dollars.
Years of restoration—and a $90 million investment—turned it from a derelict, half-put-together house into a millionaire's dream, with a value that's grown exponentially. Stunning rooms come complete with traditional charm, with manicured gardens around the entire property to be enjoyed on warm spring days. A lot of the luxury property owned by Indian steel magnate Lakshmi Mittal was renovated using the same marble as that used to build the Taj Mahal (hence the mansion's nickname Taj Mittal). There's a hairdressing salon, an indoor swimming pool, a spa, steam showers, and saunas as well as parking for 20 cars.
| | |
| --- | --- |
| Estimated value: | $222 million |
| Location: | London, England |
| Owner: | Lakshmi Mittal |
9. Beyoncé & Jay Z's Malibu Mansion, United States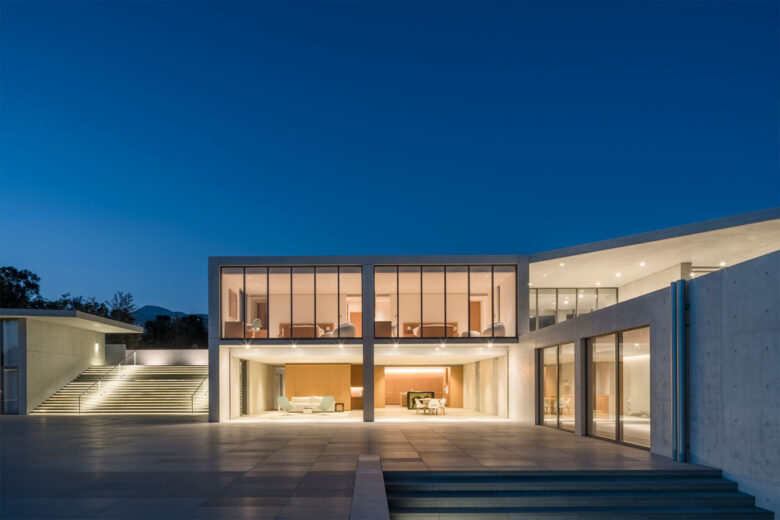 In 2023, power couple Jay-Z and Beyoncé procured California's most expensive house—an architectural minimalist marvel, sparing no expense. Looking onto Malibu's coastline, the behemoth property sprawls over 30,000 square feet and cost the music moguls $200 million (a "bargain" considering the house was initially listed at $295 million). 
But it isn't just the real estate's prime location (high above Paradise Cove, with unobstructed ocean and coastline views) and extraordinary size that is responsible for such a price tag; it's also the home's world-class architectural pedigree. Designed by award-winning Japanese architect Tadao Ando, the concrete-clad compound features enormous hallways, floor-to-ceiling glass walls, and manicured lawns.
| | |
| --- | --- |
| Estimated value: | $200 million |
| Location: | Malibu, United States |
| Owners: | Beyoncé & Jay Z |
10. Ellison Estate, United States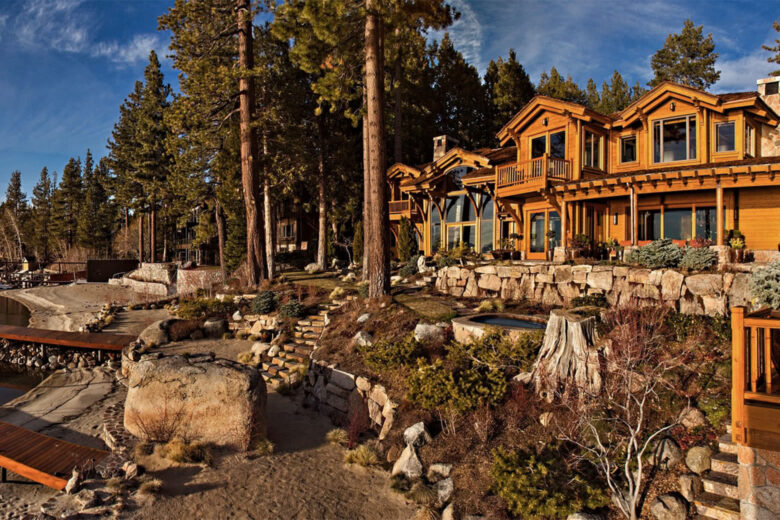 Billionaire Larry Ellison doesn't just own one property, but his Japanese-style Ellison Estate might just be the most impressive. Located in Woodside, California, this incredible waterfront property is one that's definitely worthy of its never-ending attention. It's actually a collection of houses inside one giant property, alongside a man-made lake, a tea house, and a bathhouse.
It's designed to settle into its surroundings, with a lodge-style design throughout and all of the comfy, cozy velvet sofas and fireplaces you could ever need. Set inside a gated community, it's arguably the world's coolest lake house and sets the scene for a relaxing holiday.
| | |
| --- | --- |
| Estimated value: | $200 million |
| Location: | California, United States |
| Owner: | Larry Ellison |
11. Palazzo di Amore, United States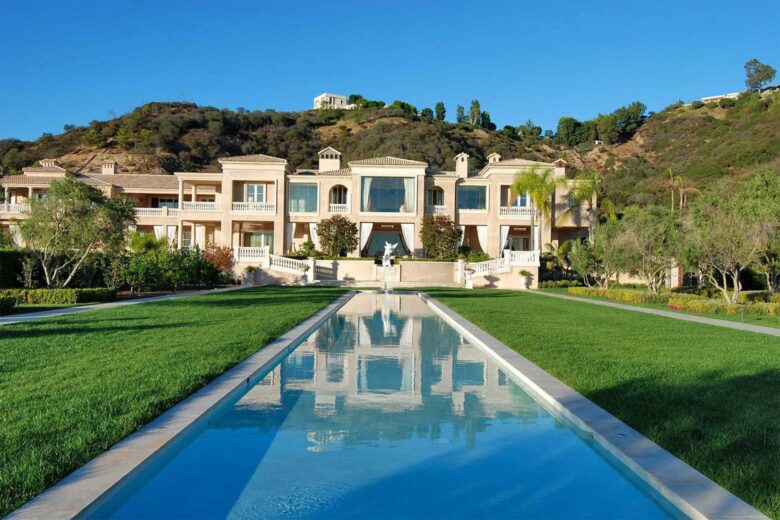 Beverly Hills-based Palazzo di Amore looks just as expensive as it is. Set in a prestigious neighborhood with spectacular views of Los Angeles and the surrounding canyons, this Mediterranean-style estate was initially built in 2014 and was regarded as the most expensive residential complex in the United States at the time.
Then, it was renovated both inside and out by its owner, Jeff Greene, who more than doubled the value of the property once he'd spent a few years changing it up.
12 bedrooms and 25 bathrooms, and a Turkish spa are just the start here; the luxury mansion also boasts a 15,000-square foot entertainment center, a bowling alley, a 50-seat movie theater, a disco, and even its own hillside vineyard.
| | |
| --- | --- |
| Estimated value: | $195 million |
| Location: | California, United States |
| Owner: | Jeff Greene |
12. Gemini, United States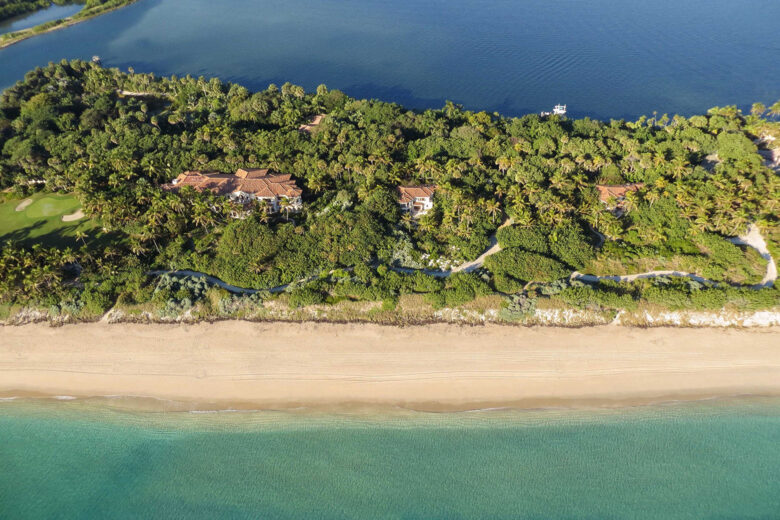 This is the most expensive house sold, to date, in Florida. A company controlled by software billionaire and Oracle founder Larry Ellison bought the ocean-to-lake estate at 2000 S. Ocean Blvd. in Manalapan from a trust controlled by Netscape co-founder Jim Clark.
Jim Clark initially bought the estate and parts of nearby Bird Island only two years earlier for a combined price of $94.37 million. Adding an extra $100 million in only two years makes it a handsome investment.
Gemini has access to both the beach and the ocean, thanks to its unique location. The 15.65-acre property is divided by South Ocean Boulevard and has 1,200 feet of beach along the Atlantic and 1,300 feet of frontage on the Lake Worth Lagoon. There are multiple houses on the estate, offering a total of nearly 85,000 square feet of living space, inside and out, with 33 bedrooms, 34 bathrooms and 13 powder rooms.
| | |
| --- | --- |
| Estimated value: | $173 million |
| Location: | Florida, United States |
| Owner: | Larry Ellison |
13. Seven The Pinnacle, United States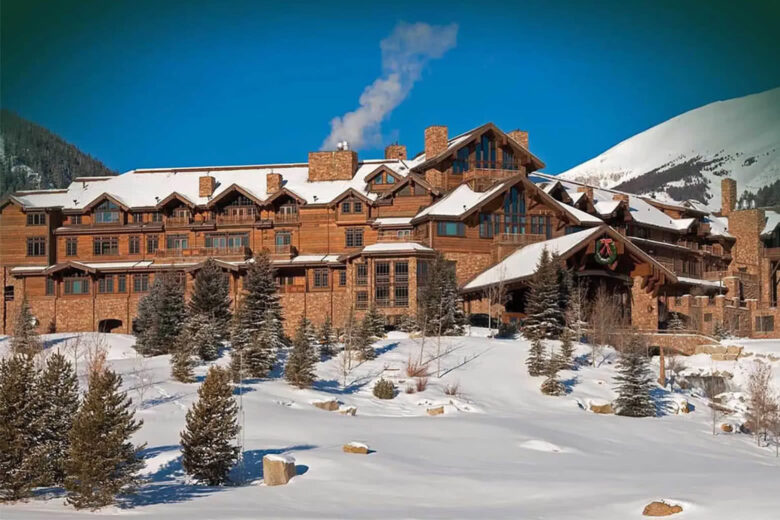 This beautiful property sits on the slopes of Montana, a Christmas-card-ready luxury house that's calling out for cozy evenings sat around a fire while it snows outside. The largest property with a private golf and ski community in the world, you'll find Seven The Pinnacle at Yellowstone Club, surrounded by tall trees.
Inside is even more impressive than its exteriors, with 123 rooms in total. Those include 10 bedrooms, a large and well-equipped spa with a massage area, a gym, both an outdoor and indoor pool, and fireplaces dotted throughout. It covers an area of 57,000 square feet in total.
| | |
| --- | --- |
| Estimated value: | $155 million |
| Location: | Montana, United States |
| Owner: | Tim Blixseth |
14. The One, United States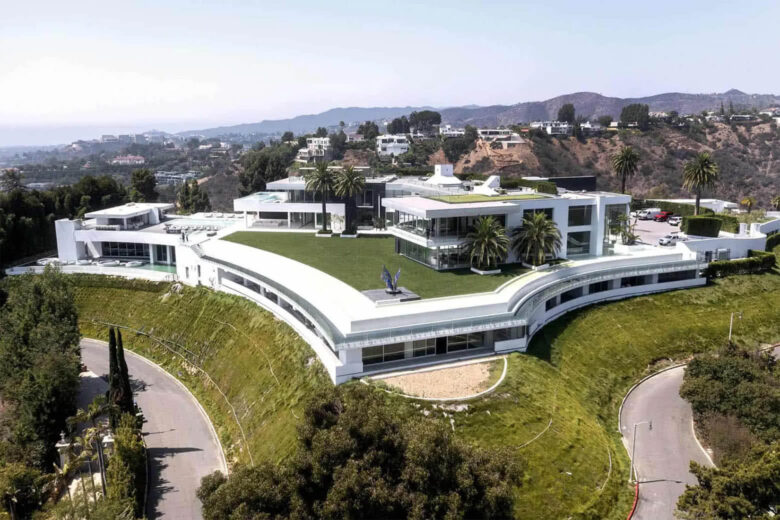 Few modern luxury homes have the same storied past or as ambitious an asking price (originally marketed for US$500 million) as film-producer-turned-developer Nile Niami's The One. The Los Angeles mega mansion was once considered not only to be the most expensive house in California but also the most expensive house in the US. But it was also The One riddled with debt and legal issues.
The One was listed for $295 million in auction in January 2022—making it the most expensive home for sale in the US at the time—but was finally sold for US$141 million in March 2022 to Richard Saghian, CEO of fast fashion company Fashion Nova. Despite its flaws, this is a beautiful luxury property with gorgeous views in a breathtaking setting. Sitting on nearly four acres of land in the exclusive neighborhood of Bel Air, the 105,000 sq ft luxury mansion is said to be America's largest private residence.
The One is home to 21 bedrooms, 42 bathrooms, and multiple kitchens, as well as all of the other essentials—like a nightclub, a bowling alley with four lanes, a 10,000-bottle wine cellar, a salon and wellness spa, a juice bar, a home gym, a 50-seat theatre, and a running track. It has not just an infinity swimming pool, but also six other water features, like a jacuzzi and a moat that surrounds the luxury house.
| | |
| --- | --- |
| Estimated value: | $141 million |
| Location: | California, United States |
| Owner: | Richard Saghian |
15. Xanadu 2.0, United States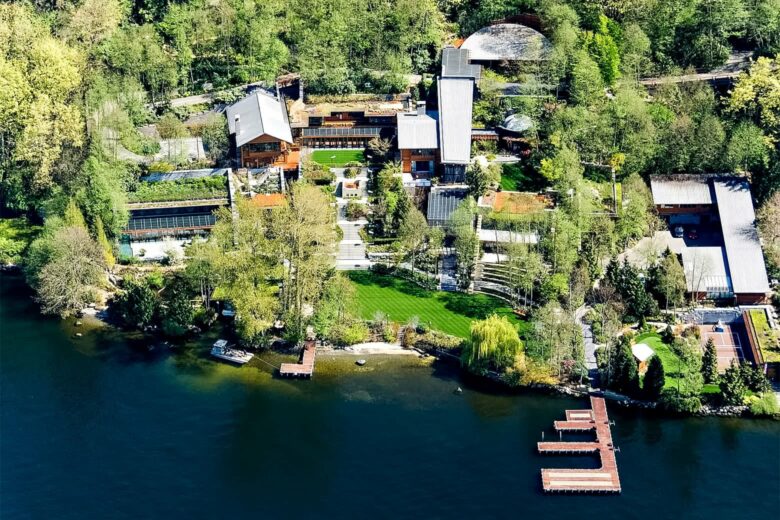 Bill and Melinda Gates' impressive luxury mansion overlooks Lake Washington in Medina, Washington, and took seven years to build from scratch. Previously known as the richest man in the world, Bill Gates went above and beyond when it came to designing his waterfront villa. The estate covers 66,000 square feet and features 500 Douglas fir trees.
It's filled with state-of-the-art technology, like tiny pins attached to each guest's lapel so they can control lighting, music, and temperature. It's got an artificial stream filled with real salmon and trout, as well as six kitchens, seven bedrooms, a trampoline room, a library, and a computer-controlled maple tree, for when the 50 gardeners don't get time to look after it themselves.
| | |
| --- | --- |
| Estimated value: | $130 million |
| Location: | Washington, United States |
| Owner: | Bill Gates |
Frequently asked questions about the most expensive homes