When light enters Tanzanite, you will be in awe of the beauty. Refracting throughout the stone in every direction, Tanzanite is part magical, part mystical. The glimmer mixed with the deep blue hue is truly breathtaking.
There is such depth when it comes to Tanzanite. Beyond the deep and rich colors, stunning cuts, and unique shape, it also has deep healing and metaphysical properties. It's said to help cleanse any bad karma and negative thought patterns or behaviors. Promoting reconnection within for all those that possess it.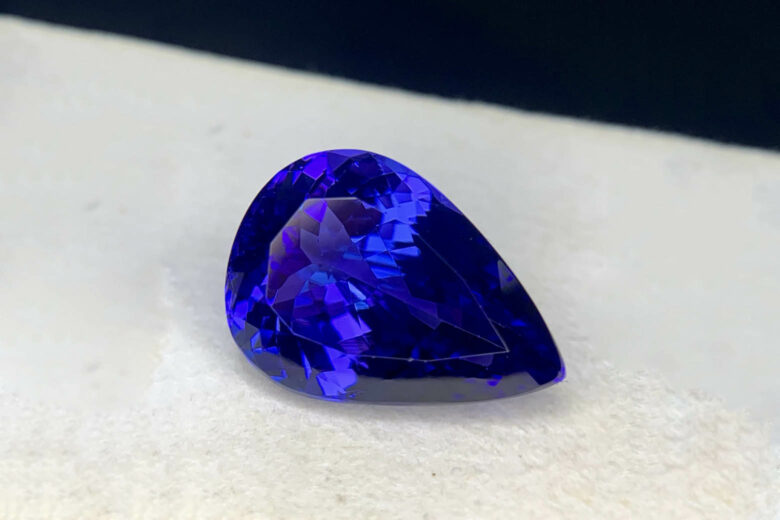 | | |
| --- | --- |
| Tanzanite Color | Brown, blue, and violet |
| Birthstone Month | December |
| Hardness Scale | Between 6-7 on Mohs Scale |
| Mineral Class | Zoisite |
| Symbolism | Intuition, Alignment |
What is Tanzanite
Tanzanite is the more commonly known name of the 'Blue-Violet Zoisite' stone. It's the only blue-violet member of the zoisite mineral family.
Despite being one of the rarest gems on Earth, with an extremely limited supply, Tanzanite is still only considered 'semi-precious'. Often, Tanzanite is considered the most beautiful of all blue gemstones. 
Tanzanite is one of the most expensive metaphysical healing crystals. Energy healers are said to use Tanzanite to activate psychic abilities and help connect you with higher consciousness. Improving discipline and assisting in achieving goals.
Tanzanite's price varies greatly. Until recently, there wasn't a standardized way to grade the gem. An agreed-upon system was developed, sorting by the dominant color (either violet or blue) and then grading depending on the piece's cut, clarity, and carat. Prices vary between $100 and $1,500 per carat.
The power of the Tanzanite is still being discovered and harnessed. The true potential for this modern crystal is still unknown.
What does Tanzanite look like
Tanzanite is a stone whose beauty you can easily get lost in.
When small amounts of the metals titanium and vanadium are found in zoisite, it transforms the brown-hued stone into blue and violet. Depending on the quantities and ratios of the metals found in the gem's structure, the colors will range between them.
As Tanzanite is rarer in higher carat amounts, you'll find it on smaller jewelry pieces such as a pendant or ring. Sometimes it is used as a lower-priced alternative to blue sapphire. When it strikes the jewelry, the sun's rays illuminate it for all to see.
The natural color of the Tanzanite gem is brown, but when you look into the stone, you'll be able to see blue, purple, and brown. The hue and degree of each color will depend on how much it's heated.
Tanzanite can be heated naturally or by machines. Heating causes a valence exchange, removing the brown hue, which brings out the natural blue and violet hues, intensifying them greatly.
Once cut, the light will bring out the vibrant colors by refracting in many directions. Revealing the signature deep blue sparkle of the Tanzanite.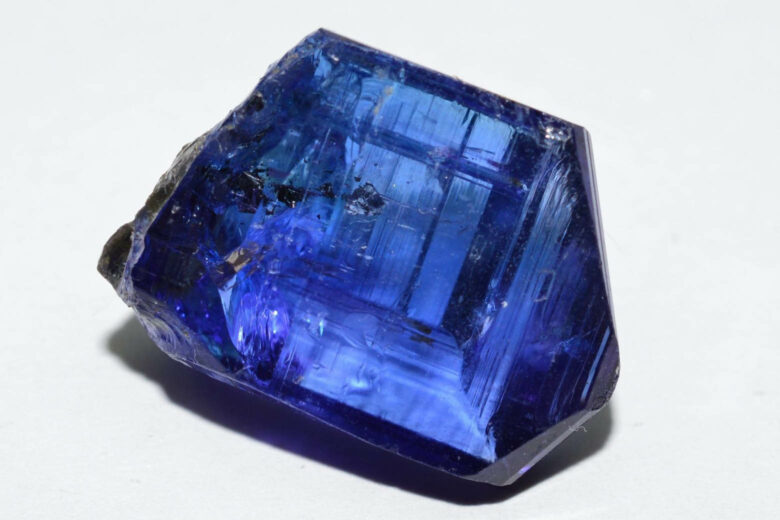 History of the Tanzanite stone
Legend says the legendary Massai warriors were herding their animals when they saw Tanzanites on the ground's surface. After finding the gemstone, they notified local prospectors, who would later apply to extract Tanzanite from the claim.
Tanzanite wasn't identified as a new gem until the late 1960s, making it an incredibly modern gemstone. Once identified and the beauty shown to the world, mining began quickly.
Tiffany & Co. branded the blue-violet zoisite stone as 'Tanzanite'. They felt that the stone's last name, 'Blue-Violet Zoisite,' had a bad image and could do with a new name that encapsulated the only region in which it's found—Tanzania. After the discovery, Tiffany held the majority distribution rights and marketed it worldwide, mounting it in stunning one-off jewelry pieces.
Meaning of the Tanzanite stone
Like many other beautiful gemstones, Tanzanite has many metaphysical meanings and healing properties, particularly intuition. It's said to help feel, nourish and bring out deep feelings. After bringing them up, you'll be able to return to your intuitive self, releasing any negativity and cleansing your heart.
Tanzanite not only encompasses all of the meanings of zoisites but also contains some unique meanings. The ability to feel your intuitive thoughts and those of others allows you to sync up and feel in step with the ones you love.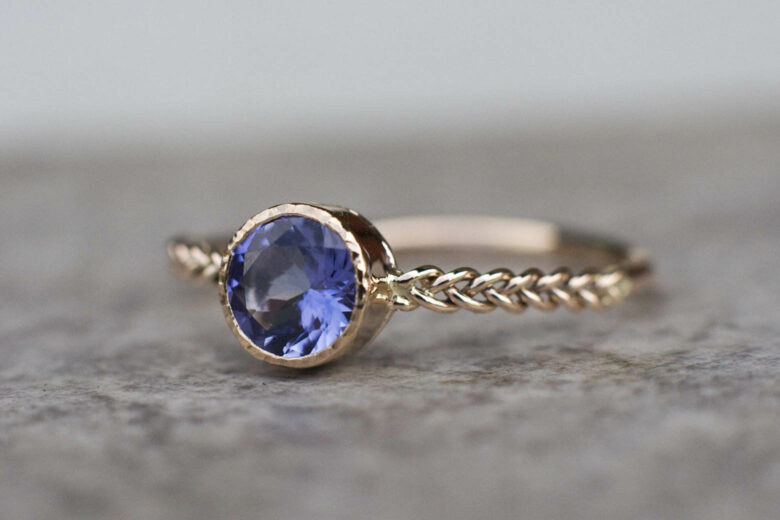 Where does Tanzanite come from?
Tanzanite is found in a very small park in Northern Tanzania, and the size is roughly 4.3 miles long and 2 miles wide. Being found in such a small area in one country makes the mining highly regulated and controlled.
Over 500 million years ago, two tectonic plates collided and formed Tanzanite under enormous pressure. Today, the two tectonic plates are Mount Kilimanjaro, the 5858m tall mountain. These formation conditions are so rare that Tanzanite is considered one thousand times more scarce than diamonds.
Today, the area is sealed off to closely monitor the gems' extraction. Initially, Tanzanite could be found on the ground surface. However, after extensive prospecting, miners were forced to tunnel underground to continue discoveries. Today mines are required to be over 1000m to find new deposits.
With limited prospecting area and the rapid pace of mining, it's estimated that discoveries will run out within the next 30 years.
Which zodiac sign is Tanzanite for
The birthstone for December and Sagittarius is Tanzanite. Sagittarius are known to be lovers acting with loyalty and honesty. When bearing a piece of Tanzanite jewelry, it's said to enable the breaking of old habits, allowing the Sagittarius to move forward.
Which family is Tanzanite from
Tanzanite is a mineral from the zoisite family. Zoisite is a classification of gemstones that haven't been around that long, just over a couple of hundred years. Zoisite can appear in many colors, including yellow, red, pink, and gray, to name a few. All blue zoisites are considered to be Tanzanite.
Birthstones chart
Find your birthstone by month
---
Frequently asked questions about tanzanites
Is Tanzanite an expensive stone?
Yes, Tanzanite is an expensive stone. The typical cost of a tanzanite gemstone is between $100 and $1,500 per carat. Depending on the dominant color, cut, clarity, and carat, prices will vary. A 'semi-precious' gemstone that is beautiful to look at, Tanzanite is limited in supply which contributes to its value.
What is Tanzanite worth?
Tanzanite is worth between $100 and $1,500 per carat. Due to the scarcity, many experts say it's undervalued. Some people suggest that current market prices could be a significant discount from the true value.
What is so special about Tanzanite?
Tanzanite is extremely rare, only found in one location—Tanzania. The gemstones often display the vibrant 'trichroism' effect. You can see brown, blue, and violet hues all within the stone, which is a unique trait for gemstones.
Is Tanzanite a real diamond?
No, Tanzanite and diamonds are different gemstones. They have different chemical structures and are very different to look at.