Luscious pomegranate seeds or smoldering fire coals are just some of the ways to put into words the intense red hues of the famous almandine garnet. The semi-precious garnet has been adorned by nobility, treasured by collectors, and admired by all who know how to spot a true gem.
This stunning gemstone comes in almost every hue imaginable, so if you're not sure about rocking the classic red garnet, there are many more to choose from. The garnet compliments every skin tone and is a wonder why it is one of the more underrated gemstones. If you need to add some sparkle to your collection our guide is here to give you a little inspiration.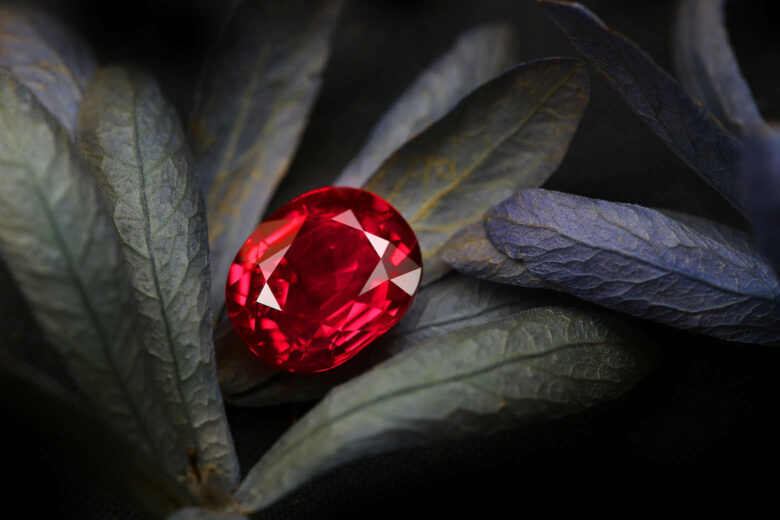 | | |
| --- | --- |
| Garnet Colors | Red, Orange, Green, and more |
| Birthstone Month | January |
| Hardness Scale | 6.5 – 7.5 on Mohs scale |
| Mineral Class | Silicate |
| Symbolism | Love |
What is Garnet?
The name Garnet is derived from the Latin word "granatus" meaning seedlike. The name was given to the red garnet gemstones because they look like vibrant red pomegranate seeds. Although the garnet comes in various colors, red is the most popular.
Garnet is the name used to describe a large group of silicate, rock-forming minerals. Each category of garnet stones, called species, has similar physical properties and is similar in crystal form. However, they do differ in their chemical composition.
The semi-precious garnet gemstone rates between 6.5 and 7.5 on the Mohs scale of hardness. This makes the garnet a durable stone that is scratch resistant and hard enough to be used on jewelry for daily use.
What does the Garnet stone look like?
Garnets are commonly found as gemstones with reddish hues. However, these gemstones come in many other colors including orange, yellow, green, purple, brown, black, pink, and colorless. The rarest garnet is the blue variety — for many years, garnets were said to come in every color except blue. This was proven to be false in the 1990s when the first blue-green garnet was discovered in Madagascar.
Garnets are opaque or transparent-to-translucent gemstones. They can be identified by holding them to the light, at which point you will see yellow and green bands. Garnets are often mistaken for rubies. However, the garnet is a denser red with hints of orange and other earthy tones. Ruby gemstones, on the other hand, are harder and a more vibrant red with hues of purple and blue.
Large, clear garnets are not easy to come by. The larger ones are usually flawed or of poor color. One of the most valuable garnets is the demantoid variety, an exquisite flawless green garnet. Finding a demantoid over 5 carats is even rarer than finding an emerald of the same size.
The value of the garnet
Several factors determine the value of garnet gemstones. Keep the 4 C's (carat, color, clarity, and cut) in mind when picking out a gem. This global standard of grading gemstones influences the price you will pay for your stone.
Garnets are common in smaller carats, usually 1-carat or less. Garnets over 3 carats are uncommon, and over 10 carats are extremely rare. The more vibrant and closer to their spectral color the garnet is, the more expensive the stone. Garnets are not usually treated to change their color.
A few famous garnet gemstones worth mentioning are:
Jacqueline Kennedy Onassis's famous brooch made of a cabochon of Garnet flowers from the 19th century was sold for $145,000 at auction in 1996.
The famed 11.24-carat demantoid garnet discovered in the 1990s is kept at The Smithsonian. This gemstone is thought to be worth in the region of $37,100.
The antique pyrope hair comb embellished with pyrope garnets from Bohemia in the Czech Republic is another famous piece housed at The Smithsonian. It was donated to the museum in 1937.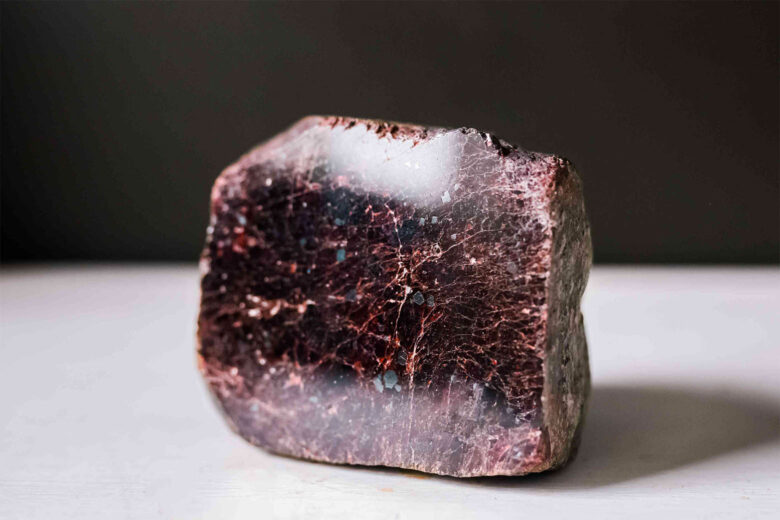 Check our articles on the most expensive engagement rings, the most valuable gemstones, and the most expensive diamonds to learn more.
History and mythology of the Garnet stone
Garnets were historically used in jewelry under the name of carbuncles or red gemstones. Remnants of garnets dating back to the Bronze Age have been found, showing how durable the gem is. Archeologists have discovered even older artifacts from Egyptian tombs.
Legend has it that Noah used the garnet to illuminate the ark and sea, allowing the ship to navigate the waters at night safely. Garnet was used by the Greeks to guard children against drowning and offer protection from poisons. During the middle ages, garnets, especially the red hues, were favored by clergy and nobility.
Garnet's meaning and symbolism
Alternative healers have used the garnet for many years to purify and re-energize the chakras. It is known as a symbol of love and friendship.
The garnet gemstone has been worn or carried around to attract positivity, harmony, and serenity.
Where does Garnet come from
The garnet has been found abundantly throughout the world. Different types of garnets are found in different locations. Some of the countries that mine garnets are India, Brazil, Madagascar, the USA, Kenya, Sri Lanka, and many others.
The Garnet as a birthstone
Garnet is traditionally known as the birthstone for those born in January. It is also considered to be one of the birthstones for the zodiac signs Capricorn and Aquarius.
The gorgeous garnet can also be given as a gift of love to commemorate a 2nd wedding anniversary. 
Birthstones chart
Find your birthstone by month
---
The Garnet gemstone family
Garnet is the group name given to the family of silicate minerals almandine, pyrope, spessartine, grossular, andradite, and uvarovite, to name a few. These gems all have a similar structure and range in color, from reddish earthy hues to green and black. Some of these variants have been known to mix during crystallization to form a mixed garnet.
The main difference between these different varieties of garnet is the color, density, and refractive index.
Almandine – red to red-brown
Pyrope – red with a pink/purple hue
Spessartine – orange-red
Grossular – pink, yellow, green, brown
Andradite – greenish-yellow, brown
Uvarovite – emerald-green, green-black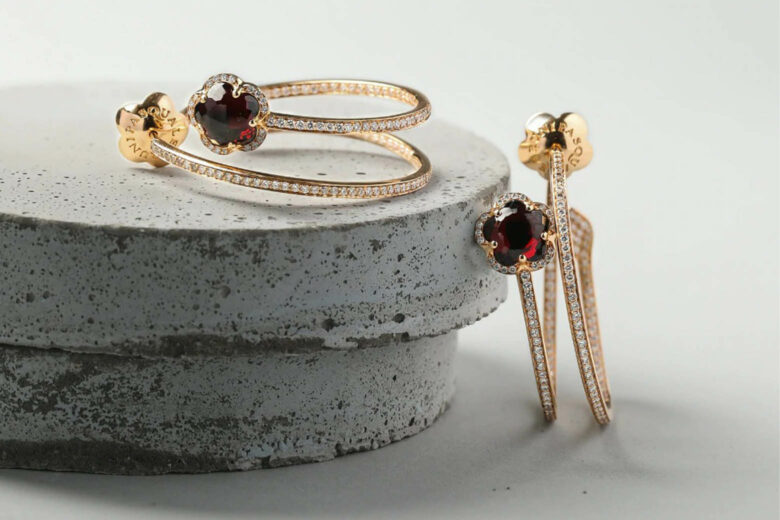 Garnet stone uses
Garnets have been used in jewelry, ornaments, and carvings since ancient times. Garnet gemstones' hardness, durability, and scratch resistance make them ideal for jewelry use. The wide variety of garnets ranges from modestly priced stones to high-end splurge-worthy gems. This makes garnet a versatile gem with vibrant colors that are stunning stones to add to any piece of jewelry.
The garnet can complement everything from rings to brooches and tiaras to necklaces. The longevity of these gems makes them ideal collectible pieces to pass down as family heirlooms. The garnet sits beautifully in yellow gold and pairs exquisitely with pearls and diamonds.
Garnets have also been used for industrial purposes, including producing sandpaper, waterjet cutting, water filtration granules, and abrasive blasting and powders.
Frequently asked questions about the Garnet stone
What does garnet mean spiritually?
Some of the spiritual properties that the garnet embodies are transformation, strength, and creativity. It is known to restore peace and happiness in the wearer's life.
Is garnet expensive?
Different types of garnets are priced differently. You can get modestly priced garnets that are abundantly available or expensive garnets that are extremely rare. The Demantoid garnet is one of the most valuable varieties of gemstones priced at the top of the range.
What is garnet known for?
Garnet is known for being one of the oldest gemstones, dating back to 3100 BC. It is also known for its durability and symbolism of love.
Is garnet a precious stone?
No, garnet is not a precious stone. It is, however, considered to be a semi-precious gemstone.