The thought of onyx usually brings to mind images of black gemstones. Although black is the most popular color of onyx, there are many more varieties out there. Onyx is a versatile gemstone that can be used to spark many positive energies by wearing them or simply keeping them in your surroundings. Ancient cultures knew this gemstone well and used onyx in everything from amulets to carvings and jewelry.
Many skilled gem carvers revel in the layers and depths of onyx stones that allow them to create unique creations adored throughout the world. Onyx is an affordable gemstone with unfading meaning and importance. A timeless addition to every gem connoisseur's collection.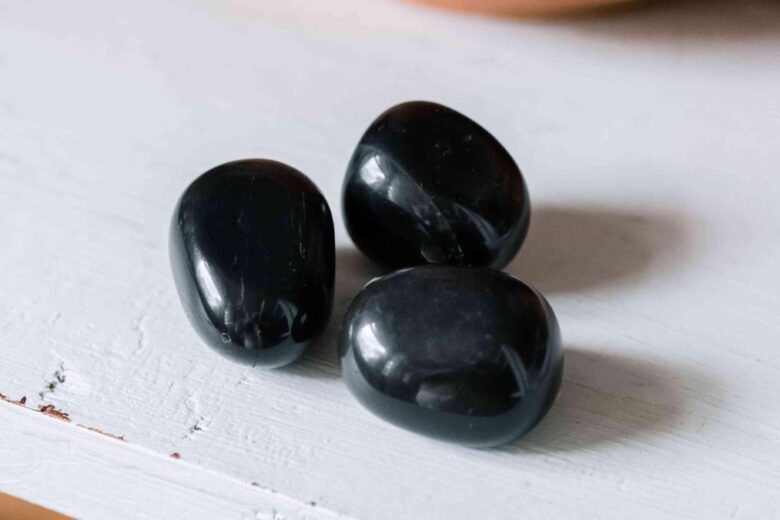 | | |
| --- | --- |
| Onyx Colors | Black, gray, white, and more |
| Zodiac Sign | Leo |
| Hardness Scale | 6.5 – 7 on Mohs Scale |
| Mineral Class | Chalcedony |
| Symbolism | Grounding, balancing, protection |
What is Onyx
Onyx is a variety of the silicate mineral chalcedony. It is mainly made up of calcite and is formed naturally in caves as stalactites and stalagmites. These mineral formations contain parallel bands of various colors. Onyx and agate are two similar banded varieties of Chalcedony gemstones. The main difference between them is that agate has curved bands rather than parallel.
The name onyx is derived from the Greek word "onux" meaning fingernail or claw. The shape and brightness shown by the bands when the stone is cut open resemble that of fingernails. Although Greek legend has a different story to tell. It is said that one day, the god of love, Cupid, cut off the fingernails of goddess Venus, his mother, with one of his arrows. Her divine fingernails fell from Mount Olympus into the sacred Indus river, transforming into onyx.
What does Onyx look like
Onyx is an opaque gemstone that comes in a wide range of colors. It has a waxy luster and is recognized by its parallel colored bands. Onyx is most commonly known as a black gemstone, however, these stones also occur in green, orange, red, brown, pink, and a clear variety with white banding. 
Natural solid black onyx is rare therefore most black onyx found commercially are usually other forms of Chalcedony that have been dyed black. Usually, gray onyx or agate are treated to achieve the desired black hue you see on the market today. The staining and heat treatment of onyx has been around since the time of the ancient Egyptians.
Certain varieties of onyx have a single color without any banding, black onyx is the most popular of these varieties. Other varieties come in different base colors along with different colored bands. These bands can occur in almost every color.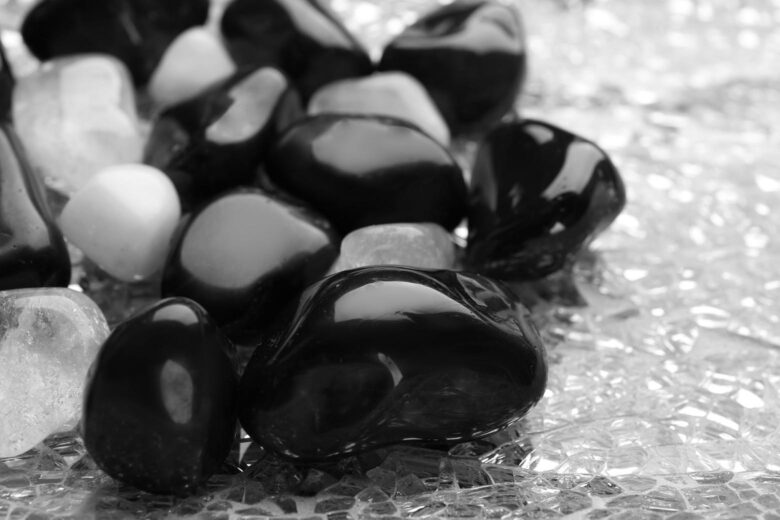 The different types and colors of Onyx
Onyx most commonly exhibit two basic layers – a black base and a white upper layer. Other varieties of onyx contain parallel bands of different colors between the two basic layers. Onyx is classified into different types based on its coloring.
Black Onyx
A solid, pure black-colored onyx without any bands or layers is known as black onyx. This type of onyx is rarely found in nature yet it is one of the most commonly known types of onyx. That's because of the large amount of treated gray onyx and chalcedony in the market which are sold as black onyx.
Arabic Onyx
This is the most common naturally occurring type of onyx with a black base and upper white layer. Gemologists sometimes refer to this variety as "true onyx".
Sardonyx
When sard and onyx are combined in alternating layers it forms sardonyx. Sometimes known as sardian onyx or red onyx, this type of onyx has a brown base and bands in shades of red or yellow. Sardonyx is a relatively common and modestly priced variety of onyx.
Niccolo Onyx
This type of onyx has a black base with a very thin upper white layer. This almost translucent upper layer of bands appears light blue or light gray against the black base.
Carnelian Onyx
Carnelian or cornelian onyx has a deep red to orange-red base with white or light red bands. This is a beautiful striped form of onyx.
Chalcedonyx or Banded Onyx
This typed of onyx refers to chalcedony with bands of onyx. These stones can appear with bands of cream, black, gray, or brown.
The value of Onyx
Black onyx is the most popular variety of onyx and has led to an influx of manipulated versions of the stone. Sometimes impure varieties of chalcedony are dyed black and sold as black onyx. Therefore, you will find the price of onyx to be relatively low since the market is flooded with lower-quality stones. Untreated stones on the other hand have a higher value than the treated types.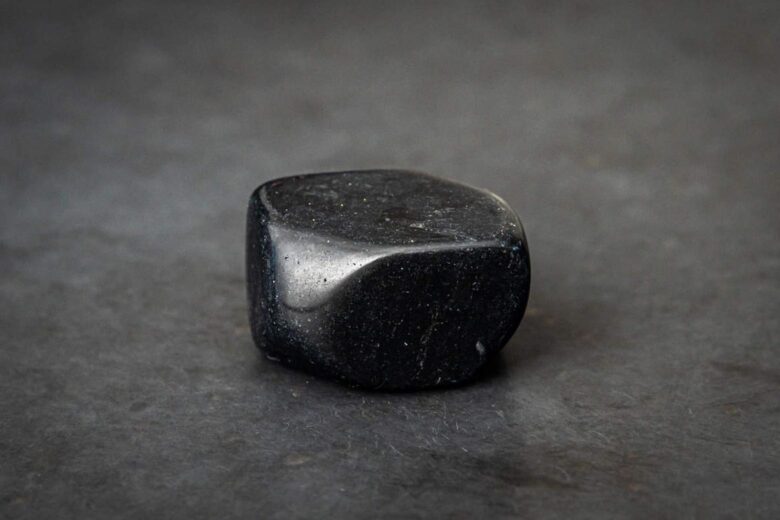 History and mythology of Onyx
Onyx have been used for thousands of years across many different cultures. The Ancient Egyptians used onyx in their pottery while the Ancient Greeks and Romans carved amulets and jewelry out of onyx.
There are also several references to onyx in the Bible. It is said to have been the eleventh stone in the breastplate of the High Priest. Onyx was one of the precious materials gathered by Solomon for his new temple.
Onyx's meaning and symbolism
Onyx is a grounding stone that helps provide stability and protection to its user. It is also known to drive motivation and forward movement in life. Onyx is there to energize you towards pursuing your dreams. Alternative healing practices use onyx to activate different chakra points including the root, third eye, and solar plexus chakras. Doing so may bring stability and focus. As one of the important stones of the mind, onyx helps to bring balance to your emotions, lower anxiety, and increase self-control.
Onyx is an all-round powerful stone to have close by. It is said that those who carry onyx on them will be shielded from any negative energies sent their way. Onyx has been used in feng shui to offer the same benefits of protection to your home and work environment.
Where does Onyx come from
Onyx is mined throughout the world with some colors being specific to certain locations. India, Brazil, Madagascar, and Russia are a few of the countries where onyx can be found. Other countries include parts of the US, Mexico, Australia, and South Africa.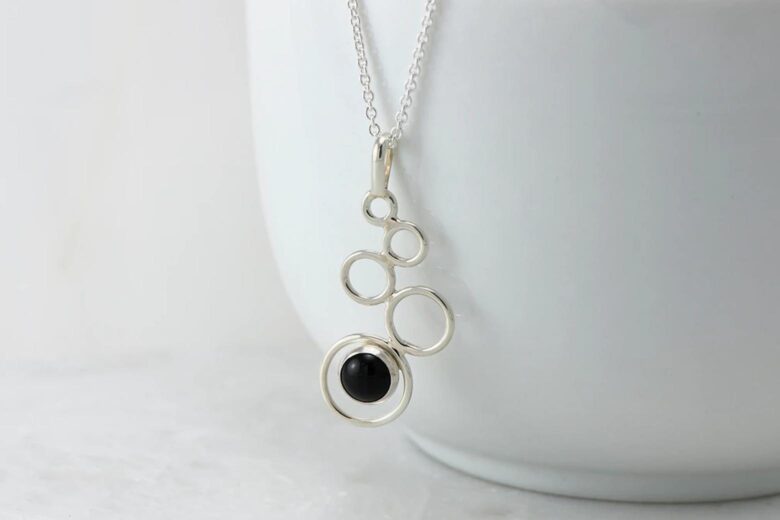 Onyx and Zodiac signs
Onyx is linked to Leo and serves as one of the birthstones that benefit those born under this zodiac sign. The bold nature of Leo can sometimes get them out of sync. Onyx can help balance insecurities faced by Leo and keep them grounded.
Onyx gemstone family
Onyx is a microcrystalline quartz belonging to the Chalcedony family of gemstones. Some of the other gemstones in this family include tiger's eye, jasper, aventurine, bloodstone, chrysoprase, agate, and carnelian. Some experts consider onyx to be a type of agate while others classify them as separate stones.
Birthstones chart
Find your birthstone by month
---
Onyx gemstone uses
Onyx has been used in jewelry throughout history and continues to be used in this way today. Aside from the cabochons and beads, onyx can be faceted into anything from round, pear, square, and more shapes to show off its shimmering surface.
Onyx has been used beautifully in home decor items and bathroom accessories including sinks, for many years. This durable stone can also be used for countertops and vanities.
Onyx has also been used as the gemstone for couples celebrating their 7th wedding anniversary.
Frequently asked questions about Onyx gemstones
What is onyx stone good for?
Onyx stones are good for strengthening the mind of the user. It can motivate and bring focus to those who need to push forward to achieve their goals in life.
What does the onyx stone symbolize?
Onyx symbolizes protection, stability, and grounding. It is a powerful stone to increase willpower and focus.
Is onyx an expensive stone?
Onyx is not an expensive stone. The different colored stones fetch different prices but they are all modestly priced. Since black onyx is the most popular type and most of these are treated chalcedony, they are priced much lower than a natural black onyx.
Who can wear onyx stone?
Aside from Leo's, anyone who could do with a boost of mindfulness will benefit from the grounding and protective nature of onyx.