Mystical charm, a celestial connection, and light within make the moonstone one of the most unique birthstones. Its value lies not as much in its price and more so in its meaning, lore, and benefits.
Moonstones have been revered in cultures for centuries. Like its namesake, this charming gem has unparalleled properties—even within its mineral class.
But people aren't wearing moonstone pendant necklaces or placing crystals merely for aesthetics. Moonstone, the third birthstone for June, is heralded by many for its healing properties and powerful, other-worldly connections.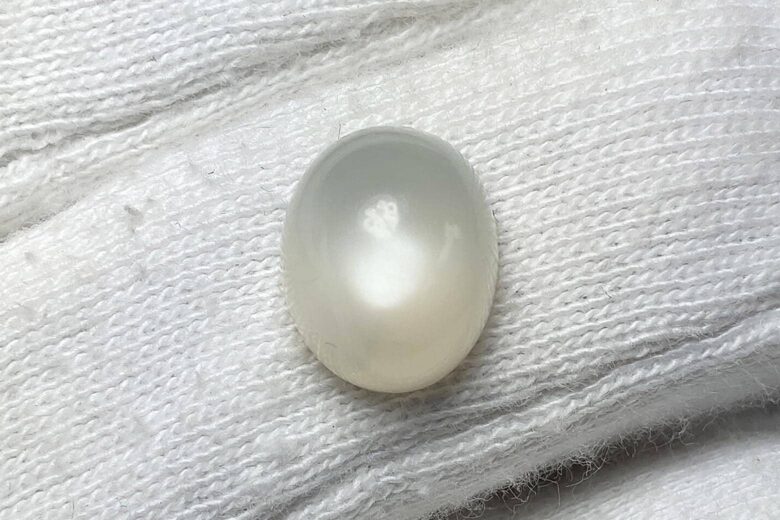 Moonstone Color
Rainbow, White, Colorless
(Less Common: Brown, Green, Gray, Orange, Prink, Reddish, Yellow)

Birthstone Month
June
Hardness Scale
6 to 6.5 on Mohs Scale
Mineral Class
Feldspar Group (Orthoclase, Oligocase)
Symbolism
Clarity, Femininity, Connectivity, Fertility, Change, Balance
What is Moonstone?
Moonstone comes from the Feldspar family—which is one of the most abundant families of minerals on earth. More precisely, moonstone is a form of sodium potassium aluminum silicate and is formed as magma cools.
Moonstone's unique property is how it reflects light. While some say that moonstone glows, the effect is called adularescence. This provides a unique shine or gleam that few other gemstones have. 
Moonstone has a Mohs hardness rating of 6 to 6.5 and has excellent cleavage. The problem: stones with easy cleavage are brittle. Moonstone can be chipped and scratched, so it must be stored and worn with care.
Prices for moonstones average as little as $10 per carat up to $1,000 for a clear, rare moonstone.
What does Moonstone look like?
There are three main "types" of moonstone: opaque, translucent, and transparent. Translucent being the most popular because of its greater gleam.
The value of a moonstone depends on its color, clarity, and how rare it is. The most common cut for moonstone is a cabochon, which enhances its unique clarity.
Moonstone colors are unique and expressive. There are two main colors: the main body color and the color of the adularescence. Adularescence is usually expressed as a flickering blue, white, or silver hue from within the stone. However, moonstone only refracts light up to 15 degrees.
Moonstone colors
| Moonstone Color | Description |
| --- | --- |
| Rainbow Moonstone | Milky, opaque stone that flashes rainbow scintillation. The body may be gray, black. |
| White Moonstone | White ivory, and opaque to translucent. |
| Clear/ Colorless Moonstone | The most popular moonstone is transparent. Clarity (level of surface-level blemishes) is especially important. |
| Other Colors | Brown, Green, Gray, Orange, Prink, Reddish, and Yellow. These are less commonly sold. |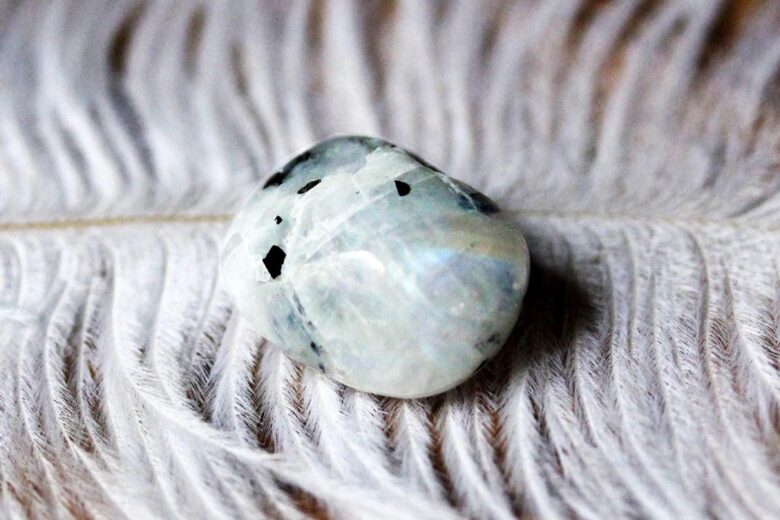 History of Moonstone
The history of moonstone is nearly as dazzling and storied as its unique color and properties. If anything, the history of moonstone adds to its value. While moonstones appeared as far back as Ancient Roman mythology, they were not officially identified until 1918. Moonstones were discovered during a climb on Mount Kilimanjaro.
Since then, many have been fascinated by moonstone's unique properties—just as Eastern cultures, Ancient Rome, and countless other cultures in the past. Moonstone was prominently featured during the Art Nouveau era, especially for unique designer jewelry. It flourished again at the end of the 19th century and during the 1960s and 1990s. 
Today, moonstone is associated with Eastern tradition, Hinduism, and new age spirituality. Its unique beauty and healing properties remain revered by many.
Meaning of Moonstone
Moonstone is rich in symbolism. In lore from Eastern cultures, it's known as an enlightened stone. In Hindu mythology, moonstones are said to be made on moonbeams and reflect the power of the night sky. The most common meaning of moonstone is femininity, connection to oneself, and a mirror of the moon's cycles. 
Others believe in the moonstone's many benefits. It's used for clarity and ushering tranquility into a home. In Feng Shui, the moonstone protects against stress, brings stability, and heals. It's been called a stone for new beginnings.
Where does Moonstone come from?
Moonstone mostly comes from Sri Lanka and Southern India. However, it's also sourced from parts of Brazil, Australia, Myanmar, Madagascar, and regions within the United States.
Moonstone is formed through an intricate process that is responsible for its unique properties. Moonstone forms as magma cool. Layers of orthoclase and albite adhere in an alternating pattern. A lattice is formed as magma glowers and slowly cools. It's a delicate process, and at this point, crystals are formed or the lattice is broken.
Magma must not cool too quickly or too slowly. Too quickly, and the crystals don't have time to form. If the process is slow, the crystal structure of the moonstone may be tenuous. This intricate process is why the high-quality moonstone is rare.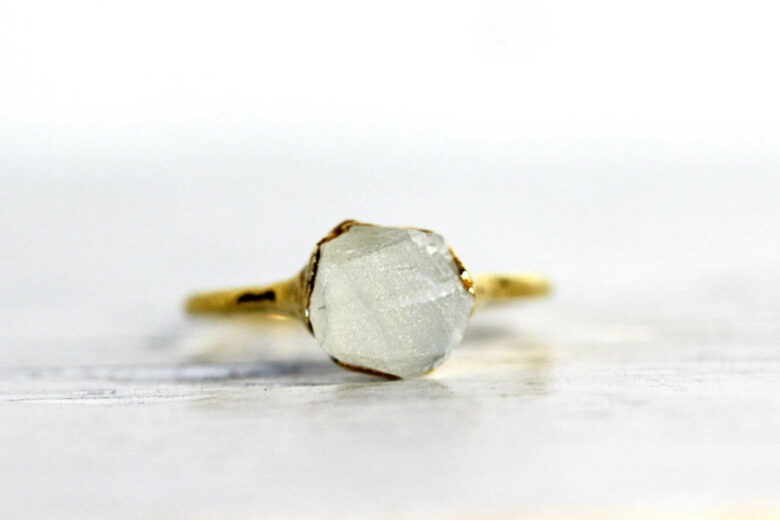 What Zodiac sign is Moonstone associated with?
Moonstone is the most unique birthstone for June. While pearls are elegant and Alexandrite is striking, moonstone has ethereal properties. Those off-beat qualities are an excellent match for its associated zodiac sign.
Gemini, the zodiac sign for moonstone, is known for its dual nature. Geminis, like moonstones, are multidimensional. At once outgoing and warm, both a Gemini and moonstone interact with their environment in unexpected ways.
The glowing properties of moonstone reflect how Geminis like being in the spotlight. At the same time, just like moonstones, there may be moments of quiet and a shift in appearance.
Which family is Moonstone from?
Moonstone is from the Feldspar group and within Orthoclase and Oligocase mineral classes. The Feldspar family is an incredibly common group of minerals. An estimated 60 percent of the Earth's crust is comprised of minerals from this group.
Moonstone and members of this group usually consist of calcium, potassium, sodium, or barium. Feldspar minerals are formed with magma cools over igneous rocks, but they can also be found within metaphoric rocks.
Birthstones chart
Find your birthstone by month
---
Frequently asked questions about moonstones
What is a moonstone good for?
Moonstone is thought to have metaphysical benefits. Moonstone gems and crystals are used for promoting emotional balance. More specifically, moonstone is believed to reduce stress levels and promote calm. Others wear moonstones or place them within a home to promote success and fortune for both careers and love.
What is the spiritual meaning of the moonstone?
Moonstone has a strong spiritual connection to feminity and moon cycles. This association provides clarity and a deeper connection with oneself. Moonstone also aligns with spiritual well-being, inner growth, and self-awareness. For many, moonstone holds important meaning amidst busy and demanding schedules. In ancient myths, moonstone is thought to have been made by moonlight.
Is moonstone a lucky stone?
Moonstone is thought to bring both luck and fortune to those who wear it or surround themselves with it. This enchanting gemstone is a "lighted gem" within Eastern traditions. Lighted gems are gems that disperse white light on their surface. Some believe lighted gems contain spirits of protection and fortune. Moonstone is perhaps the most revered in India, where it is seen as a sacred stone.
Is moonstone a real gem?
Though moonstone has a mystical quality, it's a genuine gemstone. Moonstone is formed by layers of orthoclase and albite and can be found in countless colors. However, there are a plethora of synthetic moonstones being sold for cheap prices. You can tell a moonstone is real by examining how it interacts with light. Genuine moonstone is incapable of refracting light at angles above 15 degrees.