From the most valuable South Sea pearls to affordable freshwater pearls, there's no denying the timeless beauty of June's birthstone. But how much do you know about the value of pearls and their enduring meaning?
Tiffany and Company, Mikimoto, and The Pearl Source are the leading jewelry designers and brands for gorgeous, authentic pearls. Meanwhile, affordable pearl necklaces and earrings are sold by everyone from jewelry stores to individual Etsy sellers.
It's hard to see a Red Carpet show, formal event, or fashion show without pearls. Baroque pearl earrings, pearl chokers, and statement pearl beads are just a few jewelry trends. Pearls are even making waves amongst men, with celebs like Harry Styles sporting single pearl earrings.
Learn about the colors, properties, value, and benefits of different pearl types so you can wear this timeless gem.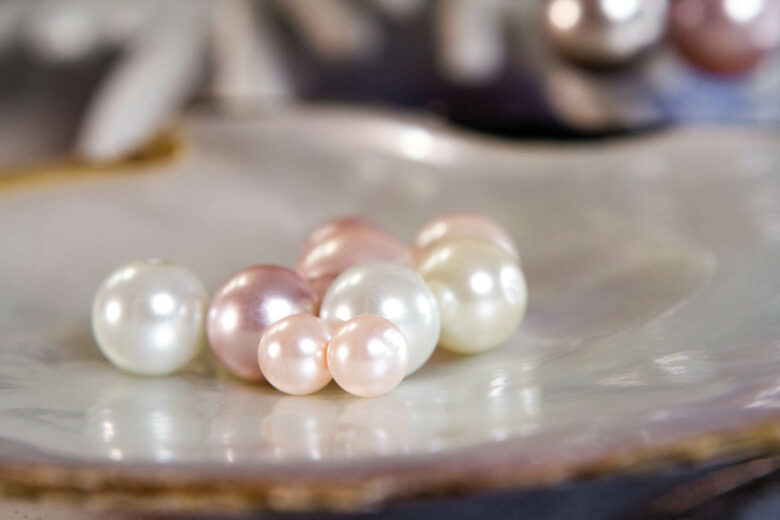 | | |
| --- | --- |
| Pearl Colors | White, Ivory, Gray, Lavender, Pink, Green, Chocolate, Gold/ Champagne, Blue, Black |
| Birthstone Month | June |
| Hardness Scale | 2.5l on Mohs Scale |
| Mineral Class | Calcium Carbonate |
| Symbolism | Beauty, Purity, Innocence, Wisdom, New Beginning |
What is a pearl?
A pearl is a gem, though it's not technically a gemstone. Pearls are formed within the soft tissue of an oyster, clam, mussel, or other mollusks. At their best quality, pearls are gorgeous.
But they're also quite fragile. Pearls are rated at just a 2.5 out of 10 on the Mohs hardness scale. This means that they are easily damaged or scratched, even with careful wear. They can also chip, so they must be stored with care.
There are many types of pearls. Natural pearls are formed without human intervention and are more valuable than cultured pearls. The 4 main types of pearls are South Sea pearls, Akoya pearls, freshwater pearls, and Tahitian pearls. South Sea pearls are the most valuable, while freshwater pearls are the most common.
Pearls are bought as sole gems, necklaces, earrings, bracelets, and other fine jewelry. Imitation and glass pearls are common for cheap costume jewelry. A low price usually indicates either faux pearls or poor-quality pearls.
What does a pearl look like?
Pearls come in a wide range of colors depending on their type. South Sea pearls are usually white, gold, or silver and are notable for a generous nacre (inner lining). Tahitian pearl colors include black, gray, blue, purple, and chocolate brown. Both Akoya and freshwater pearls are most commonly shades of white, ivory, and gray.
While many think pearls are perfectly rounded, genuine pearls are not. Pearls come in mostly round shapes, as well as button, oval, baroque (teardrop), and oblong shapes. One of the main properties of real pearls is a slightly gritty texture. High-quality pearls (AAA to AAAA) have only minor surface imperfections, with visible luster.
Pearls are graded by professionals based on shape, color, luster, and surface clarity. Luster measures the rate of reflection and is impacted by surface imperfections. While baroque pearls are quite popular, usually the most valuable pearls are the most rounded.
While different types of pearls are graded slightly differently, all are given a letter grade to indicate pearl value and quality, as shown in the table below. These grading standards are for freshwater pearls. Akoya pearls generally are rated up to AAA.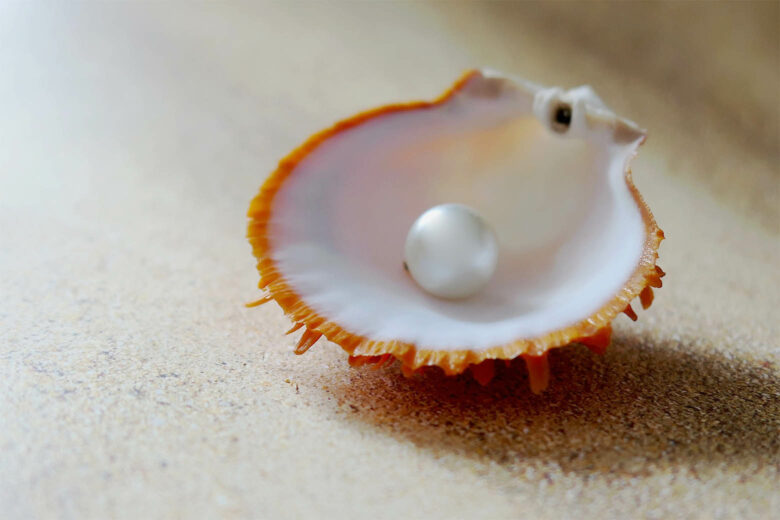 Pearl Grading Chart
| Letter Grade | Pearl Description |
| --- | --- |
| AAAA (1 to 2 percent of freshwater pearls) | 95 percent free of imperfections, round shape, notable luster |
| AAA (4 to 10 percent of freshwater pearls) | 90 percent free of imperfections, mostly rounded shape, present luster |
| AA (20 to 25 percent of freshwater pearls) | 80 percent free of imperfections, oval or oblong, pleasant luster |
| A (50 percent of freshwater pearls) | 70 percent free of imperfections, poor luster, odd shapes |
History of the pearl
The value of pearls has a long history. Chinese royals wore pearls as far back as 2300 BC. They were also widely worn in Ancient Rome, but only amongst the nobility. Julius Caesar passed legislation to prevent common people from wearing pearls.
The 15th and 16th centuries were known as the Pearl Age in Central and South America. By the 19th century, Western Europe's demand for pearls surged. New technologies, including the introduction of cultured pearls, made this gem widely worn by the 20th century.
Meaning of pearls
It's no surprise that pearls are symbolic. White and ivory pearls are associated with innocence, purity, and beauty. Pearls of all colors are associated with wisdom and knowledge. Some colors have special meanings. For example, blue pearls symbolize tranquility, trust, and bravery. Meanwhile, pink and purple pearls symbolize love, romance, creativity, and passion.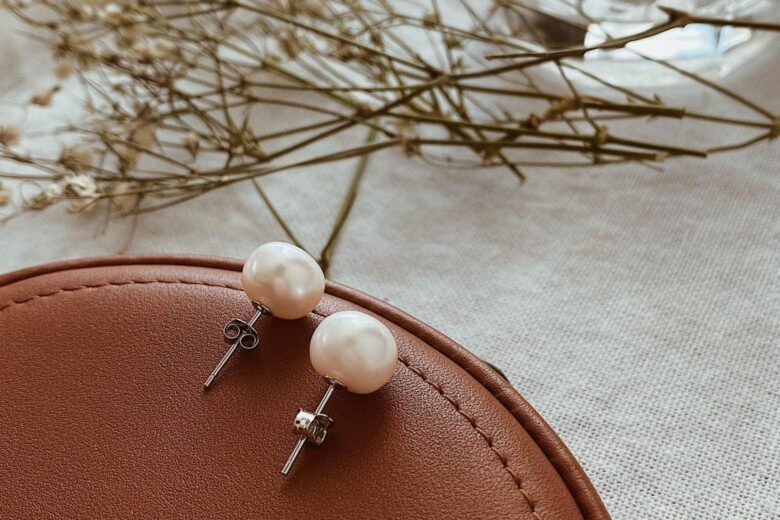 Where do pearls come from?
While all pearls—both cultured and natural—are formed in the tissue of mollusks, they are found around the world. The majority of pearls come from freshwater sources. That includes ponds, lakes, and rivers. That's why the price of freshwater pearls ($30 to $5,000 on average) is far lower than saltwater pearls. China is the leading supplier of freshwater pearls.
South Sea pearls, which fetch a price as high as $1,000 to $100,000, come from the Philippines, Indonesia, and Australia. Tahitian pearls are sourced from French Polynesia. Popular Akoya pearls come from Japan and China.
What zodiac sign is associated with pearls?
Virgos are associated with pearls. The Virgo zodiac sign is known for its practical, detailed, and perfectionistic tendencies. This fits the beauty and ambiance of a pearl gem well. The style for the Virgo sign is practical but sophisticated. A pearl necklace or simple pair of pearl earrings would both be seen as elegant and practical.
At the same time, other zodiac signs can enjoy the benefits of a pearl. Those with Aries, Cancer, Scorpio, and Pisces sun signs are suited to wear pearls. Leos, Libras, and Saggitrauts all benefit from wearing pearls for formal occasions.
Which family are pearls from?
There are 16 gemstone families. Gemstone families are determined by the chemical composition of these stones. Pearls are not a member of any of these families, because they are not technically a gemstone, but a gem.
Pearls are grouped into one of two families but based upon the mollusk they come from. The Margaritiferidae and Uniondale families of mollusks supply most freshwater pearls. The Pteriidae family of mollusks, meanwhile, produce most saltwater pearls.
Birthstones chart
Find your birthstone by month
---
Frequently asked questions about pearls
What are the benefits of wearing pearl gemstones?
Pearls are worn for their Feng Shui properties. The main benefits associated with a pearl gemstone include bestowing tranquility, concentration, and confidence. Pearls are a grounding gem, which means that they balance out anxious energy. Simply put, pearls are a source of comfort for those who wear them.
What gemstone is a pearl?
Pearls are a gem, but not technically a gemstone. They're in the calcium carbonate mineral class and considered precious for their market value. Pearls aren't a stone because they come from oysters and freshwater mussels. The worth of a pearl depends on its properties, such as color, luster, and rarity.
Is pearl a real gemstone?
Pearls are a genuine gem, though not a gemstone. Pearls come from marine oysters and freshwater mussels. There are also synthetic pearls on the market, so it's important to know the difference between a real vs a fake pearl.
Who should not wear pearl gemstones?
Some believe that it's unlucky to wear pearls for a wedding. Those interested in astrology believe that someone who is a Taurus Ascendant shouldn't wear a pearl gemstone. Stylistically, pearls can be worn for casual, formal, and professional settings. Virgos are the zodiac sign that benefits most from wearing pearls.