The opaque ocean blue hue and stunning dark, jagged lines running through the stone make Turquoise an elegant and opulent gemstone.
One of the oldest healing stones known to man, its properties are said to help purify and cleanse; removing any negative emotions. Smooth to touch and calming to hold, the beauty is unmistakable.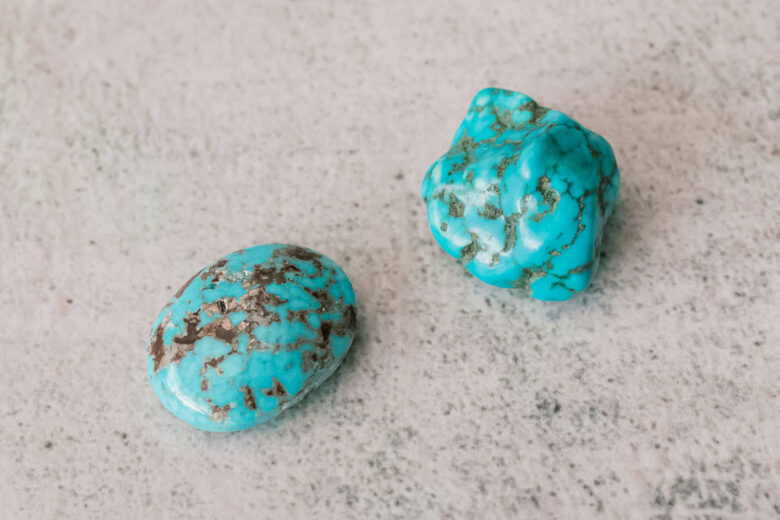 | | |
| --- | --- |
| Turquoise Color | Blue or green |
| Birthstone Month | December |
| Hardness Scale | Between 5-6 on the Mohs Scale |
| Mineral Class | Phosphate |
| Symbolism | Wisdom and tranquility |
What is Turquoise
Turquoise is made of mostly copper and aluminum, forming in aluminum-bearing rocks that contain copper. Turquoise is part of the phosphate family and is classified as a 'semi-precious' gemstone.
An essential gemstone for wealthy collectors for thousands of years, turquoise gemstones appeared not only on unique jewelry pieces but also on mosaics, household ornaments, and decorations. Today too, pendants and rings with this deep wonder are extremely popular.
Known as a purification stone, Turquoise will cleanse the body and remove all negative energy. Replacing all negativity with strength and energy, it's a symbol of protection and relaxation.
The price of Turquoise can vary between $1 and $1,000 per carat. For this semi-precious gemstone, grading is often tricky as the most significant factors influencing the price are the saturation (color) and whether it is reconstituted or one natural piece. Even large-sized gems might still only command a relatively low price. The TQI (Turquoise Quality Index) determines the prices.
What does Turquoise look like
You'll be purchasing a true one-of-a-kind piece with different hues and patterns: Each turquoise stone is unique, with a slightly different appearance. The Limonite (dark matrix) in the stone creates slight dark marks, visible when you look closely.
Due to its hard and brittle properties, Turquoise has rounded edges when cut for jewelry. Typical shapes are beads, ovals, and pears. Pendants and necklaces frequently have multiple pieces of Turquoise mounted to make stand-out pieces.
Turquoise comes in 2 primary forms, reconstituted and natural. Very small amounts of mined Turquoise are hard enough to form jewelry (under 5%). Reconstituted Turquoise makes shapes easy to mold and replicable for jewelry collections.
Turquoise comes in various colors, such as pale blue, light blue, ocean blue, and green. Green Turquoise can be found naturally or caused by wearing your jewelry for long periods. The gem is porous, meaning that it 'soaks' up moisture. Skin lotions and skin oils react to change the color.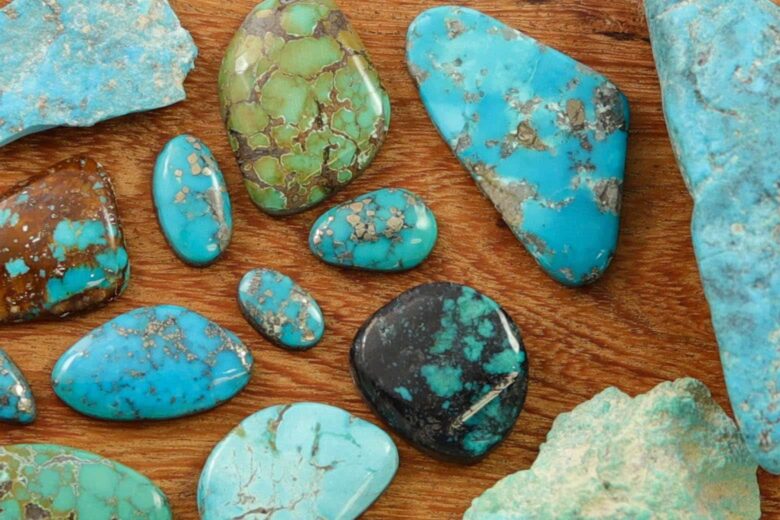 History of the Turquoise stone
For thousands of years, many cultures have been amazed by the Turquoise gemstone, valued for its dazzling beauty and healing properties and appreciated by Romans, Aztecs, and Ancient Egyptians.
Ancient Egyptians would bury their dead with pieces of Turquoise to help them in the afterlife. The most famous example of Ancient Egyptian Turquoise usage is the Pharaoh Tutankhamun's burial mask.
Meaning of the Turquoise stone
Its name originated over 400 years ago from the Old French word for 'Turkey'. Turkey was once the main gateway for Europeans to trade and purchase the gemstone.
As one of the oldest healing stones used by man, it has a deep meaning of wisdom and tranquility.
Turquoise is most strongly associated with the throat chakra and used in energy healing treatments.
Where does Turquoise come from
Discovered so long ago and easy to access, most known supplies of Turquoise have been mined. Many of the remaining deposits around the Mediterranean are mined by only small-scale operations in hard-to-access locations.
Turquoise is commercially mined in the United States. Most of the world's current mining and exploration occurs there. Mines are found in the South West region, California, Colorado, Arizona, New Mexico, and Nevada.
When mined, Turquoise is a very chalky material crumbling quickly. To create the beautiful jewelry and gemstones we know, almost all Turquoise must undergo stabilization treatments. Taking the broken down chalk and using heat and resin to bond it together, creating one piece of gemstone.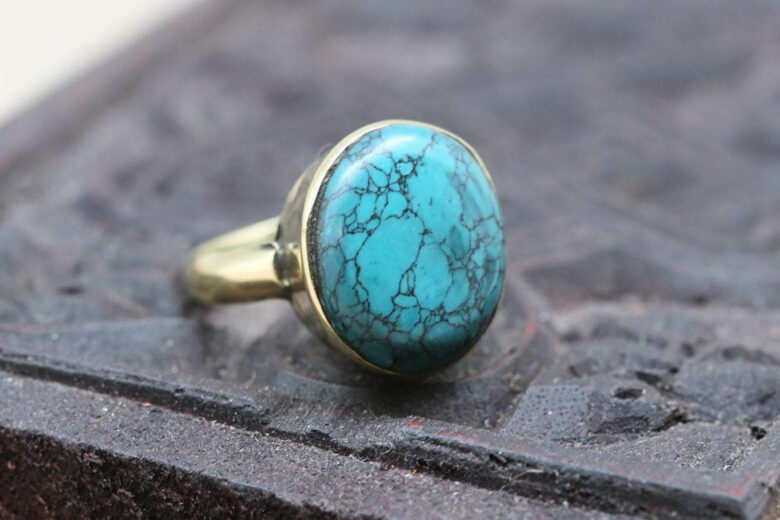 Turquoise and Zodiac signs
The astrological sign for Turquoise is Sagittarius. Both the birthstone and alternative birthstone for the Sagittarius are blue. Blue is known to be calming and soothing, perfectly complementing the nature of a Sagittarius.
Sagittarius are known as the 'ultimate empiricist,' an open and outgoing personality type that loves to learn by doing. Utilizing Turquoise will encourage and aid in picking up the Sagittarius when they're feeling down or negative after a setback—replacing the negative thoughts with empowering, calming, and positive beliefs.
Which family is Turquoise from
Turquoise is a member of the phosphate family, as chemically made of copper aluminum phosphate. When water containing copper and aluminum drips into the vein over time, it can clump together, forming the Turquoise gemstone.
Birthstones chart
Find your birthstone by month
---
Frequently asked questions about Turquoise
What does Turquoise mean spiritually?
Turquoise cleanses negativity and replaces it with positive thoughts, and enhances power. It is said to open your communication and help you connect with the people you love the most. Being blue has strong associations of calming and grounding those who wear it.
What are the healing properties of Turquoise?
Opening the throat chakra, Turquoise is believed to heal issues associated with throat and breath. Opening the throat chakra is believed to improve your communication and friendships. It's cooling and calming, which reportedly helps reduce inflammation and anxiety.
Is Turquoise a lucky stone?
Yes, Turquoise is known to bring good fortune and luck. It is said to protect from negativity in your thoughts and life.
Is Turquoise worth anything?
Turquoise typically retails between $1-$10 per carat, with highs of $3,000 per carat. The price is dependent on the type (natural vs. reconstituted), color, and carat (size). Naturally formed Turquoise is far more valuable than reconstituted due to the rareness.