Tree-decorating, carol-practicing, present-wrapping, Christmas-dinner-shopping. It's easy to forget about stocking stuffers when it comes to your Christmas to-do list. If you've already exhausted your supplies of inspiration when it comes to gifts for him and her, don't fret. We've got you covered with our ultimate list of the best stocking stuffer ideas.
Teens, tweens, toddlers, or adults—there are stocking fillers for everyone on your list. And we've even ordered them into price categories, so you can easily find the gift that fits your budget:
From luxury gifts that prove that precious things really do come in small packages to practical present ideas, as well as treats for kids and kids-at-heart, here are our favorite stocking stuffers for this holiday season.
P.S. Don't have any actual stocking yet? Start by treating your family to this beautifully traditional stocking set in classically festive red and white. Check our selection of the best artificial Christmas trees to complete the look.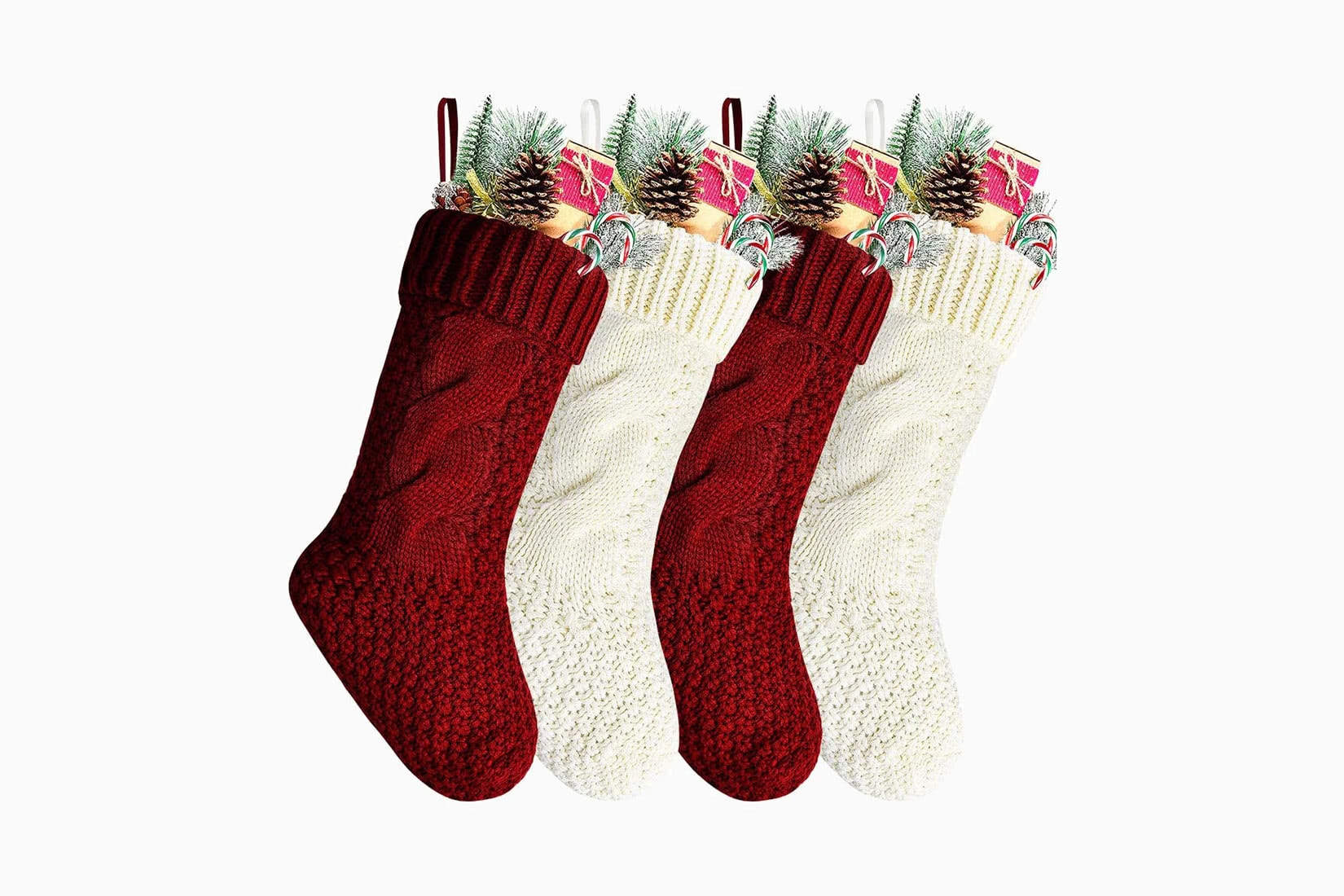 Ready for more? Behold the 61 best stocking stuffers of the year.
The best stocking stuffers under $10
CAILLU Cord Organiser
Make a real difference to your favorite techie's day-to-day living with this cord organizer. No more messy cables. These stylish CAILLU cable management solutions are designed to keep cables tangle-free.
Best for: A super useful storage solution that no one could say no to.
Kiseer Portable Soap
Anyone who's a bit of a cleanliness freak will appreciate these paper soap sheets from KISEER. They're like sheets of thin paper that you add water to, producing foam for you to wash your hands with. The paper is made from natural and biodegradable material and the paper soap box is the perfect size for travel, camping, and walking. Ideal for trail hikers wanting to stay on top of hygiene in the wilderness.
Best for: Maintaining the highest hygiene standards even on the go.
Amerigo Whiskey Stones
If you know someone who's a fan of the so-called water of life, then these whiskey stones are a godsend. They keep the whiskey chilled without diluting it like ice would which means the last sip of the world's finest whiskies tastes just as spectacular as the first. These premium whiskey stones also come in a hand-crafted wooden box with a velvet carrying pouch. If there are better stocking stuffers for adults out there, we've yet to find them.
Best for: Anyone who's happiest with a glass of the good stuff in hand.
Vahdam Tea Infuser
Create a more refined brew with this square tea infuser from Vadham which allows the tea leaves to unfurl and release all their complex flavors into the cup. Made of stainless steel, it's easy to clean and maintain. Consider teaming with a tea selection from one of the best tea brands.
Best for: The best-tasting cuppa of your life.
Zoola Ring Holder
One of the best stocking stuffer ideas for jewelry obsessive? This chrome bunny-shaped ring holder—because the best jewelry is too special to stash away in a jewelry box somewhere. Keep this ring holder out on your dressing table so everyone can see your finery. And if you're looking for a ring to go on the holder, check out our guide to the best designer jewelry brands.
Best for: The perfect present for any bling buff.
Vantic Reusable Straws
Help your family, friends, or partner help the planet with one of these Vantic reusable straws—one of the best cheap stocking stuffers. They're telescopic and come in an aluminum alloy case to keep them clean when traveling around. The stainless steel is scratch, rust, and crush-resistant, meaning you can use the straw again and again.
Best for: Any eco-warrior wanting to do their bit for planet Earth.
Melissa & Doug Mini Notes
Encourage your kids to practice their writing skills with these scratch notes from Melissa & Doug—definitely one of the most unique stocking stuffers. Kids can etch words, doodles, and pictures into the matte coating, revealing dazzling rainbow colors beneath. These cheap stocking stuffers are the perfect way to keep little ones occupied during the festivities—and give you some much-needed rest.
Best for: Making writing fun with the coolest post-it notes around.
Cyper Top Pencils Set
These Cyper Top pencils include 80 different and wonderfully bright colors. They're the perfect gift to encourage creativity—or at least to be used as part of a game of Pictionary. Gift them to the budding artist in your family—or someone who's not artistic at all. It doesn't matter. Colouring is always fun, even if it's just doodles.
Best for: Unleashing the inner artist.
EcoTools Makeup Brush
If you know a total cosmetics nerd, then one of the best Christmas stocking ideas has to be this Makeup Brush by EcoTools. Made from natural and recycled materials, it's also PETA certified. This brush by EcoTools is also super effective, with full and soft bristles suited to applying both powder and bronzer on the go. Plus, at less than $10, it's not only one of the best stocking stuffers for women but also one of the best cheap stocking stuffers out there.
Best for: Eco-conscious cosmetic lovers looking to minimize their footprint.
The Original Slinky
Everyone's had a slinky at some point in their lives and everyone loves them. Watching them slink down the stairs is one of the simplest and most effective forms of kid's entertainment we can think of—and a great alternative to the iPad. Go old-school and encourage Santa to get your kid a budget-friendly and perfectly stocking-sized slinky.
Best for: A retro kid's classic that's impossible not to love.
The Big Book of Silly Jokes
Jokes, riddles, tongue twisters, and other silliness—this book has it all and has to be one of the best stocking stuffer ideas for kids. After Christmas is over, keep it in the car for long journeys. This joke book is the ideal way to stop kids from getting bored. We can't promise every joke in it is a good joke but even bad jokes can be funny—right?
Best for: Enjoying belly laughs worthy of Santa himself.
Rub-a-Way Bar
Everyone knows how hard it is to get the lingering odour of onions, fish, or garlic off your fingers. And so anyone would appreciate this Rub-A-Way Bar, designed to remove any and all odors from your hands. This stainless steel odor absorber can be used just like a real bar of soap. Its molecules bind with the odorous molecules on your hands to remove them.
Best for: Showing that the best presents are sometimes just wonderfully practical.
Lavley Socks
Ensure a big smile on Christmas morning with these novelty socks from Lavley. They come with different designs based on popular snacks so you're bound to find a pair that speaks to your teen. They're also one of the best stocking stuffer ideas for tweens. And if your partner is still a teenager at heart, these socks could do for him too.
Looking for something a little bit more classy? Check our style guide to the best socks for men.
Best for: A goofy gift that will put a grin on anybody's face.
The best stocking stuffers under $50
Bombas Gripper Slipper
Slip into the buzz of Christmas festivities—without actually slipping—with these gripper slipper socks by Bombas. With Bee Better as a mantra, we love that for every pair bought this brand donates a pair to homeless shelters.
Plus, the high-quality grippers render these snug slippers appropriate for the entire family. And with a range of fun prints and neutral hues, they're bound to make Christmas morning that much more bee-autiful (sorry we had to.)
Best for: Slipping into the season's giving spirit.
Anine Bing Saffron Key Ring
With a global move away from fast fashion and excessive consumerism, stuffing a stocking is no longer about using up space with things that get chucked out a month later. Instead, we're looking for affordable sentiments that are also timelessly practical such as this saffron key ring by Anine Bing. Made to last, you're practically gifting that special someone the ability to locate their keys for decades to come.
Best for: The lady whose keys are always left aimlessly on someone's kitchen counter.
Aesop Hand Balm
Give your hands some much-deserved TLC with this gorgeous hand balm from Aesop. Aptly named resurrection, the balm is here to revive and restore your hands and cuticles to their former glory with a rich blend of botanicals and skin-softening emollients, leaving your palms nourished, smooth, and not at all greasy.
Best for: Reviving and rejuvenating worn-out weary hands.
Vadham Chai Tea Reserve
Spoil the avid tea drinker in your family with this lovely tea set, curated by none other than Oprah Winfrey herself, and including three of her favorite chai teas. There's something indisputably festive about the spicy cinnamon scent of Chai, making this tea gift box one of the best stocking stuffers. Not only do the teas taste delicious (high-fired Maharani Oolong, anyone?) but the packaging is beautiful too.
Best for: The ultimate tea treat as selected by the world's most popular talk-show host.
Anker Portable Charger
A dead battery has become basically a question of life or death. We're not kidding. Imagine finding yourself lost without Google Maps or waiting for a friend with no way of contacting them. The happy recipient of this portable charger by Anker will never have to experience such a nightmare. The charger delivers high-speed charging and yet is only the size of a lipstick. One of the best stocking stuffer ideas for teens.
Best for: A practical gadget that will make anyone's life easier.
Cocktail Sampler Pack
'Tis the season to be jolly. And no better way to get into the festive spirit than with this cocktail sampler pack. The pack contains a Boulevardier cocktail, a Manhattan, and a Negroni. If you're looking for great adult stocking stuffers, your search stops here with this sampler pack of superb craft cocktails. Time for some serious merrymaking.
Best for: The perfect boozy gift to bestow on any jolly drinker.
Vaultskin Wallet
Giving someone money for Christmas is a bit boring but giving someone a stylish means of storing their money? A fantastic idea!
Check out this deluxe wallet from Vaultskin. Not only is this wallet the height of elegance with its top grain Italian leather but it's also got RFID-blocking technology to protect your information from thieves and has been expertly engineered to be ultra-slim, perfect for sliding into a back pocket.
For more minimalist men's wallets, check out our guide here.
Best for: Splashing the cash in the most stylish way possible.
Cuyana Coin Pouch
Avoid coins scratching your phone screen in your bag or pocket and keep your change tidy and together with a coin purse like this luxury leather pouch from Cuyana. Even if you don't use it for coins, this pouch is perfect for transporting earbuds. It's available in several colors and features Cuyana's signature gold detailing. A great stocking stuffer for her.
Best for: Proving that there's truth in the old saying: a penny saved is a penny earned.
Oliver Cabell Shoe Care
Do you know someone who's always turning up with scruffy shoes? This Oliver Cabell Essential Kit includes a bottle of premium shoe cleaner (enough to clean up to 175 pairs of sneakers) and a shoe cleaner brush. Make sure the people in your life look as polished and put-together as you by giving them this highly practical shoe care kit—one of the most useful stocking stuffer ideas.
Check our in-depth review of Oliver Cabell's sneakers and our profile on Oliver Cabell's brand.
Best for: An ultra-practical gift that will win you major brownie points.
L'Atelier du Vin Corkscrew
You can never have too many corkscrews. They're always disappearing. So if you're looking for adult stocking stuffers, you can't go wrong giving someone this stylish black corkscrew from L'Atelier du Vin. Make sure their home-bar is properly equipped with this professionally designed corkscrew, made from matte Teflon—ultra-durable and long-lasting. Plus there's a bottle opener on top to keep beer-drinkers happy too.
Best for: The essential gift for your favorite drinking buddy.
SUPCASE iPhone 12 Case
Searching for stocking stuffer ideas that will almost certainly come in useful? Check out this iPhone 12 black case. It's the ultimate protection solution for iPhone users with its scratch-resistant metal bumpers and elevated bezels to ensure screens and lens don't come into contact with rough surfaces. For more inspiration, check out our guide to the best iPhone cases of the year.
Best for: Next-level protection for everyone's most valuable possession.
Aesop Hand Wash
Make handwashing a pleasure with this deliciously fragrant hand wash from Aesop. The unique formula contains oils of orange, rosemary, and lavender in a perfectly balanced citrus, woody, and herbaceous aroma. This Aesop's hand wash is also designed to be gentle on your skin, leaving it feeling cleansed but also revived and refreshed.
Best for: Getting strangely excited about the prospect of washing your hands.
JOCO Coffee Mug
If you know someone harboring a caffeine addiction, treat them to this stylish and sustainable coffee mug from JOCO. They can sip away on their favorite hot beverage without any guilt thanks to its 100% plastic-free design. The mug features a thermal silicone sleeve for grip and temperature regulation while the design has also been optimized for an anti-splash drinking experience.
For more great travel mugs, check out our guide here.
Best for: A sustainable caffeine fix for anyone in need of an energy boost.
RMS Mini Lipsticks
These RMS mini lipsticks are the ideal stocking stuffer gift for any beauty product devotee. Five different shades made with the brand's award-winning formula and blended with its signature beauty oil for a soft satin finish. Team with a great eyeshadow palette and you'll be incredibly popular. Definitely one of the best stocking stuffer ideas for girls.
Best for: A sensational cosmetics selection for anyone who's mad about makeup.
Le Labo Perfume Discovery Set
Choosing a scent is a very personal thing but you can help them on their perfume explorations with this Discovery set from Le Labo. With five of the brand's most popular perfumes—including the delicate Rose 31 and the fiery Bergamote 22—this perfume set can aid them on their journey to discovering their new signature scent.
Best for: Treating someone to a total sensory adventure.
SLIP Hair Scrunchies
Scrunchies immediately add a bit of oomph to hair-dos—plus they go easy on our locks. These SLIP hair scrunchies are the most gorgeous ones we've come across, made from the brand's signature Slipsilk fabric, allowing you to avoid hair creases and end-of-day breakage. There's three: black for work, leopard-print for the cocktail bar, and gold for festive celebrations. 100% one of the best stocking stuffers for women.
Best for: Anyone with enviable hair who needs something to show it off.
Rahua Haircare Kit
Rahua makes some of the best hair care products out there and this Jet Setter kit is ideal for regular travelers who don't want their tresses to suffer when they hit the road. Featuring a selection of the brand's most popular hair essentials (two shampoos, two conditioners, all designed for strong hair, healthy scalps, and plenty of body and bounce), this haircare kit is the luxury everyone's locks deserve.
Best for: Bestowing the gift of the most beautiful locks.
L'Occitane Hand Cream
The best way to thank hands for all their hard work? These L'Occitane hand creams. This three-pack of L'Occitane's best hand creams is not only fast-absorbing, quickly delivering softness and a delicate fragrance to your hands, but also comes in a limited edition box.
Best for: Luxury skincare to give someone an (ahem) helping hand.
Reusable Food Wrap
Another dream gift for the eco-conscious person in your life, these bee's wax wraps mean no more cling film ever again. Encourage environmentally friendly habits by gifting these reusable food wraps. Made from organic cotton infused with beeswax, jojoba oil, and tree resin, they offer totally plastic-free food storage. Because going green at Christmas doesn't just mean getting a Christmas tree.
Best for: Keeping food fresh without the environmental footprint.
Monkey Business Bottle Stopper
Make drinking even more enjoyable with these quirky bottle stoppers from Monkey Business, designed to look like cozy beanies. These bottle stoppers will make sure your Champagne keeps its fizz and looks utterly delightful in the process. Definitely one of the most unique stocking stuffers.
Best for: A festive addition to anyone's Christmas alcohol selection.
The Original Makeup Eraser
Using just this vegan towel and some warm water, you can remove all your makeup, from mascara to lipstick to foundation. It's reusable, so great for the environment, and is also machine washable. The makeup eraser is also recommended for sensitive skin.
Best for: Waking up fresh-faced after even the most raucous Christmas festivities.
Plantable Colour Pencils
Give your kids the gift of wonder this Christmas with these plantable color pencils.
These Sprout plantable pencils not only allow kids to enjoy coloring but each pencil contains a small seed capsule in the tip so when the pencil is too short to use anymore, you can plant it and watch it grow.
Best for: A nature and art-inspired stocking stuffer for kids.
Haeckels Bar Soap
Even if you consider yourself a liquid soap convert, it's worth checking out this bar soap from Haeckels. We're confident it will win you back over to hard soap with its compelling infusion of botanicals including coriander seeds and peppercorns to really scrub away dirt and grime. Seaweed, aloe vera, and tea tree not only hydrate and repair your skin but smell fabulous. Another bonus? This Haeckels bar soap is vegan.
Best for: Soap your hands will thank you for.
Frank Body Scrub
Did you know our skin craves caffeine just as much as we do? This body scrub by Frank Body is here to prove it. It contains Robusta coffee grinds to stimulate blood flow and promote the production of collagen. Almond oil, rich in antioxidants, ensures optimum hydration. Vitamin E encourages healing and fades scars. And sea salt is both antibacterial and brings more exfoliation power.
Best for: Skin so perky it's like shedding five years.
Le Labo Shower Gel
Know someone who struggles to get up in the mornings? This is one of the best stocking stuffer gifts for them. This Le Labo body wash smells so wonderfully crisp and clean that it will give them a much-needed energy boost. With a combination of citrus-heavy verbena and gloriously herbaceous basil, plus sesame and sunflower oil and rosemary, this shower gel is ultra-nourishing and toning.
Best for: A little treat to make getting from bed to the shower that bit easier.
111SKIN Eye Masks
Looking for stocking stuffers for your wife? The eyes are the windows to the soul and whatnot so help a certain someone to keep theirs looking fresh and full of life with this selection of eye masks from 111SKIN. Each one has been expertly formulated to address fine lines, wrinkles, and puffiness using pioneering technology and a powerful combo of clinically-proven ingredients. The mask selection comes with a leather pouch for a lovely extra touch.
Best for: Waking up bright-eyed and ready to take on the day.
Sky Organics Bath Bombs
Bring fizz and fun to bathtime with these organic bath bombs for kids. The set features six different bath bombs, each in different kid-appropriate flavors such as bubblegum, gummy bear, and grape soda.
Best for: Transforming bath time into a wow-worthy sensory wonderland.
Honeysticks Crayons
Ensure your kid is a top contender for the most creative toddler with these sustainable beeswax crayons from Honeysticks. Handmade in New Zealand from 100% pure beeswax, they are totally safe for children of all ages with no paraffin wax or cheap fillers. Plus, the stumpy shape of these Honeysticks crayons makes them super easy for little hands to hold and stops them breaking easily. One of the best stocking stuffer ideas for toddlers.
Best for: Turning your toddler into a pint-sized Picasso.
BeautyBlender Pro
Know someone who fancies themselves a bit of a makeup artist? Check out this award-winning BeautyBlender. When the sponge gets wet, it grows to around twice the size, absorbing just the smallest amount of product to ensure a smooth blend and super professional finish. Master the art of contouring, highlighting, and concealing with this BeautyBlender sponge. It has to be one of the best stocking stuffer ideas for women.
Best for: Gifting the power of professional-grade make-up.
Lagunamoon Essential Oils
Introduce a lucky someone to the magic of essential oils with this set of ten pure aromatherapy oils. One of the best Amazon stocking stuffers, the set includes tea tree, lavender, peppermint, eucalyptus, sandalwood, lemongrass, orange, chamomile, jasmine, and vetiver. In other words, all the best ones. And the essential oils also come with a travel bag for easy transportation.
Best for: Taking someone on an aromatherapy adventure.
BAGGU Reusable Shopping Bag
Go green with this reusable shopping bag from BAGGU. Not only does it reduce waste but it looks cool too, with a range of prints to choose from including a sophisticated leopard print and a preppy sailor stripe. It's very lightweight but can hold over 20 kilograms. And when not in use, the reusable shopping bag folds into a 15 x 15 cm square for easy storage. One of the most useful stocking fillers out there.
Best for: A stylish and super-useful gift for any certified shopaholic.
Laundress Fabric Spray
Experience the freshness of just-done laundry with this fabric spray from Laundress. The nontoxic formula has antibacterial properties which remove odor while adding a lovely fresh scent. Use it on clothing, bed sheets, car interiors, shoes, and luggage. With this fabric spray's delightful blend of citrus, herbal, and floral notes, your clothes may well smell better than you.
Best for: Saving someone from doing laundry with a fabric spray that does the job for them.
American Crew Hair Wax
Finding the right men's hair styling product isn't always easy but we think you can't go wrong with this American Crew hair wax. It's one of the best-rated hair waxes out there, adding volume, texture, and fullness. Beeswax retains moisture while the hold is strong yet pliable with a matt finish—understated but effective. Choose this men's hair wax for any short-haired image-conscious male in your life. One of the best stocking stuffer ideas for boys.
Best for: Impeccable grooming from these masters of men's haircare.
Lisen Cell Phone Stand
This sleek cell phone stand is one of the best Christmas stocking stuffer gifts for anyone with a phone. In other words, everyone. It also has to be one of the best stocking stuffer ideas for teens in particular. With an anti-slip base and an ergonomic design that can be adjusted for the optimum viewing angle plus a hole for charging, the stand takes video calls or movie streaming to the next level.
Best for: Amping up the style and comfort of FaceTime and Zoom calls.
The best stocking stuffers when money is no object
Kaai Cardholder
Proving that the best gifts can be pulled out of a stocking, this leather cardholder is on every trendy woman's Christmas list. With slips for five cards, the small accessory fits into an evening clutch and reorganizes your everyday tote. Plus, we adore the croco leather effect for a touch of glam. A range of distinctive hues matches an array of unique family personalities, hitting the elusive sweet spot between versatile and sentimental.
Best for: Effectively sentimental, efficiently versatile.
LARQ Water Bottle
It might be a bit of squeeze to get a water bottle into a stocking—so why not simply by a bigger stocking? It's worth it for this super cool water bottle from LARQ. It's the world's first self-cleaning water bottle and water purification system. Yes, you heard! This LARQ bottle uses UV-C LED light to eliminate 99.9999% of bio-contaminants from water in just 60 seconds.
Best for: High-powered hydration to get through those holiday hangovers.
Premium Leather Airpod Case
Airpods are synonymous with high-end audio experiences. Transport yours in the comfort and style they deserve with Cuyana's leather AirPods case. Made from high-quality Italian leather, it features a detachable strap that you can attach to your bag handle to keep your earbuds close-at-hand. The pouch fits both the first generation AirPods and the new AirPods Pro and is a great stocking stuffer for her.
Best for: Ultra-trendy transportation for everyone's favorite earbuds.
Eberjey Sherpa Slipper
Ok, so hosting the entire family for Christmas lunch isn't quite the holiday it's cut out to be. Unless you're prancing around in these white sherpa slippers and a matching robe. And then it's difficult not to feel like you're at the spa—yes, even with your mother-in-law arriving in an hour.
A thoughtful stocking stuffer for the woman who takes care of all the turkey stuffing, these sumptuous slippers acknowledge all she does. And implore her to put her feet up and enjoy the day.
Best for: The woman who does it all.
S'well Eats
This thoughtfully designer meal prep accomplice by S'well pulls double duty as container and bowl. Marked with convenient measurements, it makes portion control that much easier (new year wellness regime we see you.)
Leak-free and dishwasher safe, the person who pulls this S'Well container out of their stocking will thank you every time they open up a beautifully-packaged bowl of healthy leftovers at the office—without any accidents or clean-ups on the way.
Best for: Hardworking professionals—with new year wellness resolutions.
Naked Cashmere Ava Snood
Stuffing a stocking with Naked Cashmere is always a spoil. But this Ava snood is also surprisingly affordable and endlessly practical. Crafted from 100% pure cashmere, the impossible soft fabric is the sartorial equivalent of a soul-stirring neck rub.
Multitasking as a hood and scarf, this Naked Cashmere snood is a genius stocking stuffer for anyone embracing the White Christmas spirit.
Best for: Pairing with hot cocoa and roaring fires.
Aesop Skincare Travel Kit
Looking for a gift for the travel addict or adventurer in your family? Check out this skincare kit from Aesop—a selection of the brand's absolute classics, designed to keep skin looking fresh and vibrant even after a night in transit. Containing seven travel-sized essentials—including mouthwash and toothpaste to keep your oral hygiene in check—this Departure selection by Aesop has thought of everything.
Best for: Save skin from the ravages of red-eye flights.
DIPTYQUE Mini Candles
Candles are pretty much the gift that keeps on giving. They last for ages and each time the happy recipient lights them up, they'll think of you. This mini candle set from the masters of aromatics at DIPTYQUE includes three unique candles. Fill their home with the sweet scent of roses and blackcurrant leaves with the Baies candle or the warm aroma of fig wood with Figuier.
Best for: Gifting a lucky someone some aromatherapy goodness.
Aesop Shaving Set
Treat the man in your life to this luxury shaving skincare kit from Aesop. The next best thing after a fancy cologne, the kit contains a shaving serum and a post-shave lotion, collaborating to keep you looking and smelling oh-so-cool. There are few skincare brands as trustworthy as Aesop and this shaving care kit features the most sophisticated of formulas to give you perfectly calm and hydrated skin.
Best for: A high-performing shaving care duo to secure that below-the-mistletoe kiss.
Angela Caglia Face Roller
Discover the delights of face rolling with this Angela Caglia roller. Face-rolling is an ancient technique that can help make our faces look less puffy, boost circulation and define contours. Who wouldn't want that for their face? Made from ancient Rose Quartz, this facial roller drains fluid and improves elasticity.
Best for: Helping faces recover from all the festive indulgence.
Byredo Perfumed Oil Roll
Treat someone to the delight of a mood-boosting fragrance with this perfumed oil from Byredo. It includes fresh notes of bergamot, lemon, and neroli, the sweet scent of violet and jasmine, plus earthy black amber and musk. In its tiny little vial, this perfumed oil is ideal for slipping into a purse or tote, ready to roll on whenever they fancy.
Best for: A little spritz of something spectacular.
Oliver Cabell Bracelet
Men don't often receive jewelry, and that hardly seems fair. Right this wrong by gifting him this elegant leather and gold bracelet from Oliver Cabell. The Gordon bracelet is made from genuine Italian leather and features a 14k Gold loop button closure. It's understated but refined and the ideal luxury accessory for any fashion-savvy male. One of the best stocking stuffer ideas for men.
Best for: A sophisticated accessory for the special man in your life.
Wilding Empress Collection
Wilding's Empress Collection is a selection of luxury facial cleaning products inspired by Ancient Chinese practices. The collection includes a tonic and oil for hydrating, smoothing, and brightening effects, as well as the brand's patented Empress Stone which is designed to sculpt facial contours. The only danger of this facial cleaning collection? The lucky recipient is going to end up looking younger than you.
Best for: Giving someone the gift of glowing skin.
SLIP Sleeping Mask
We could all do with getting a bit more sleep—especially during the festive season. Treat someone to the sweetest slumber possible with these luxury eye masks from SLIP. They protect your skin, block out light, and are available for both women and men, making them some of the best stocking stuffers for adults. Best teamed with high-quality men's bathrobes or women's robes or a great pair of pajamas.
Best for: Redefining the meaning of beauty sleep.
Frequently asked questions about stocking stuffers