Feel like you have more bad hair days than good ones? Struggling to replicate the work of your barber or hairdresser from home? Trust us, it is possible. With the best hair styling products, you can achieve salon-level locks from your own bathroom—no hairdressing diploma necessary.
The best men's hair styling products give you the tools you need to cultivate the perfect crop or coiffure yourself. Expertly engineered with the most innovative ingredients, they guarantee optimum hold, texture, and shine, managing your mane and fine-tuning your tresses.
All about those short, smart, and sleek hair cuts? Rocking a mid-length max impact style? Refuse to leave the house without a top-quality blow-dry? Or perhaps you're proudly showing off some long layers? Whatever your hair preferences happen to be, these are the best men's hair styling products out there to elevate your locks to the next level.
Discover the best hair cream to sculpt and style, the best hair mousse to minimize frizz, and the best hair wax to maximize definition. We cover all the best products for whatever men's hairstyle you're currently showcasing.
The 19 best hair styling products for men
Check our special men's hair styling product buyers' guide after the list to see exactly what you should pay attention to before purchasing hair styling products.
Oribe: Overall best men's hair styling product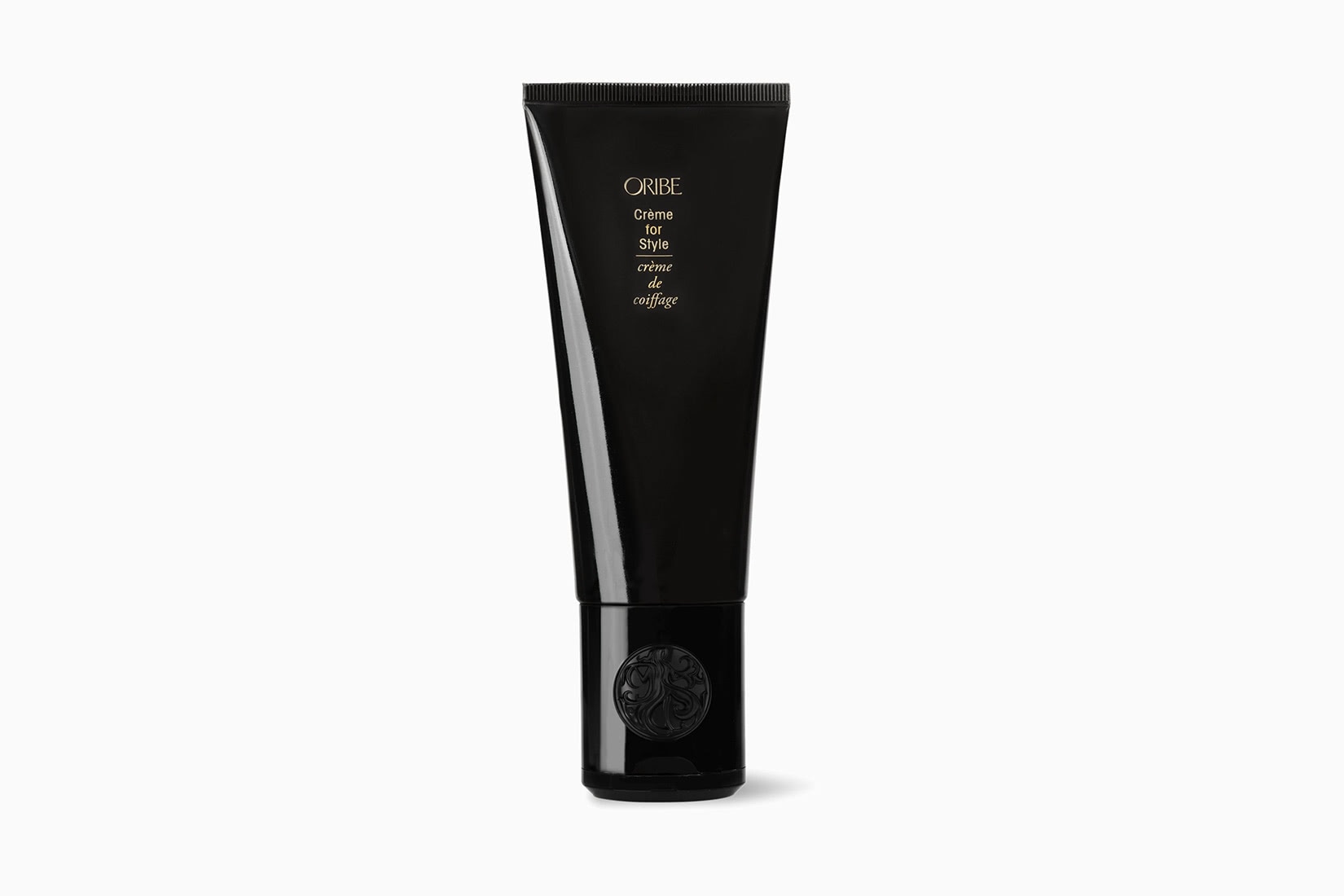 There's a reason why hairdressers and stylists consider Oribe's Crème For Style a staple when it comes to men's grooming. A versatile product just as well suited to men with long flows as men with short crops, this product allows you to leave the house and arrive at the office without a hair out of place.
Adding hydration and moisture, eliminating frizz and static, and smoothing everything down without adding any extra weight or leaving your hair sticky, this hair cream gives you everything you need to look polished and ready for business without appearing too try-hard.
Plus, the formula's been blended with geranium, lavender, chamomile, and green tea, so you're going to smell great too—ideal if you're still to get your hands on one of the best men's colognes.
Whether you're blessed with corkscrew curls or silky straight hair, Oribe's Crème For Style is a minor miracle. Welcome to the best barnet you've ever had.
Best for: frizz-minimizing and artful styling with just enough hold and shine.
Oribe Luxury: Best high-end hair styling product for men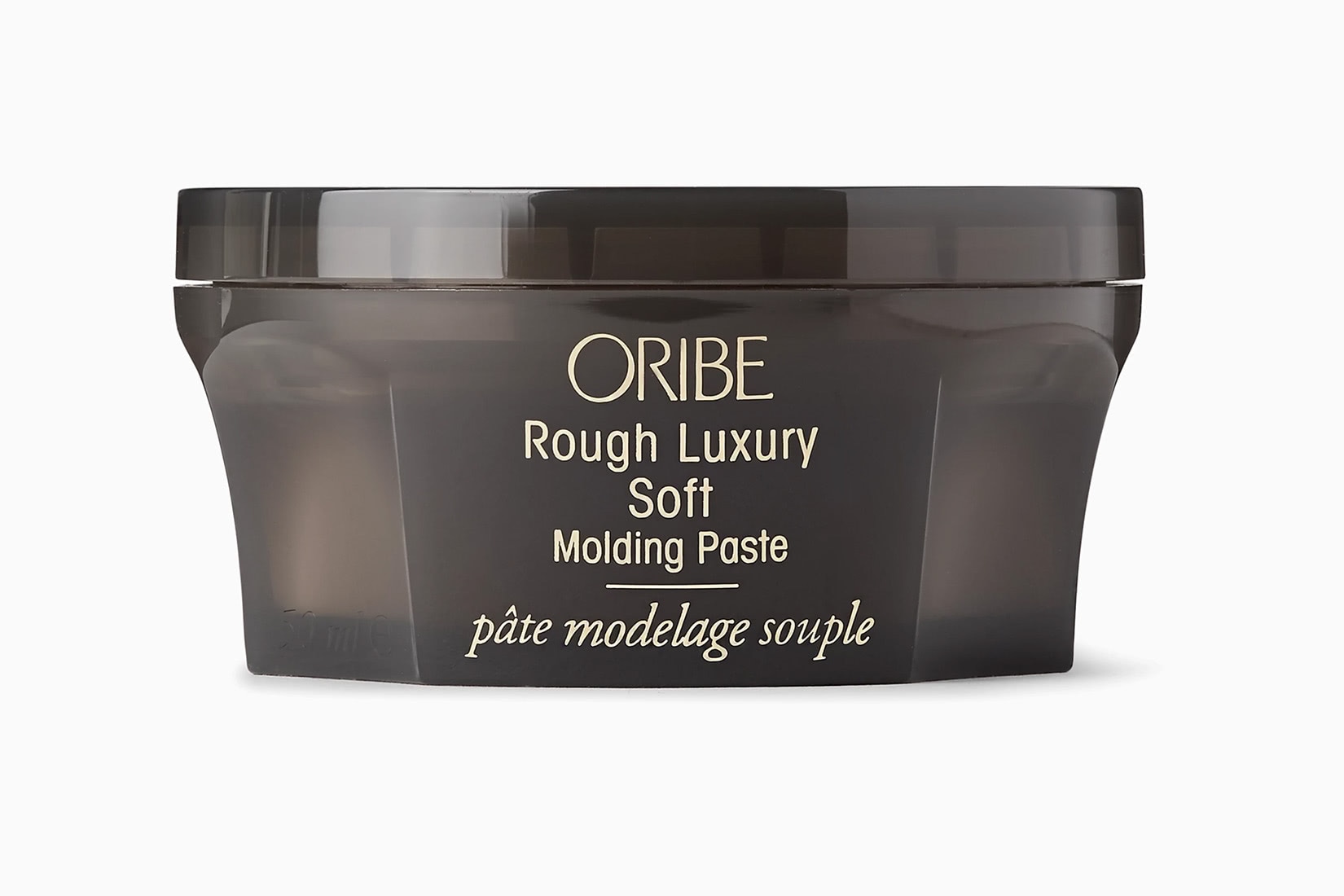 For grip without grease, Oribe's Rough Luxury Hair Paste is a luxurious everyday essential, creating firm flexibility that can be re-molded throughout the day. Offering professional-grade hair with no appointment necessary, this hair paste from high-end brand Oribe is a must-have in any well-groomed man's toiletry bag. 
Add definition, texture, and a soft shine to your hair with this styling product that offers control but not restriction. High-functioning and versatile, it can be applied to either dry or damp hair. Simply rub the paste between your palms and start styling.
Super pliable, and also offering UV protection, the paste works on all styles and lengths of hair. Amino acids add moisture, enhancing the overall hair quality.
For an easy-to-use and effortlessly stylish look, Oribe's Rough Luxury Soft Molding Paste should be high on your to-buy list.
Best for: hair that belongs on the cover of a high-end magazine.
TIGI Bed Head Matte Wax: Best value men's hair styling product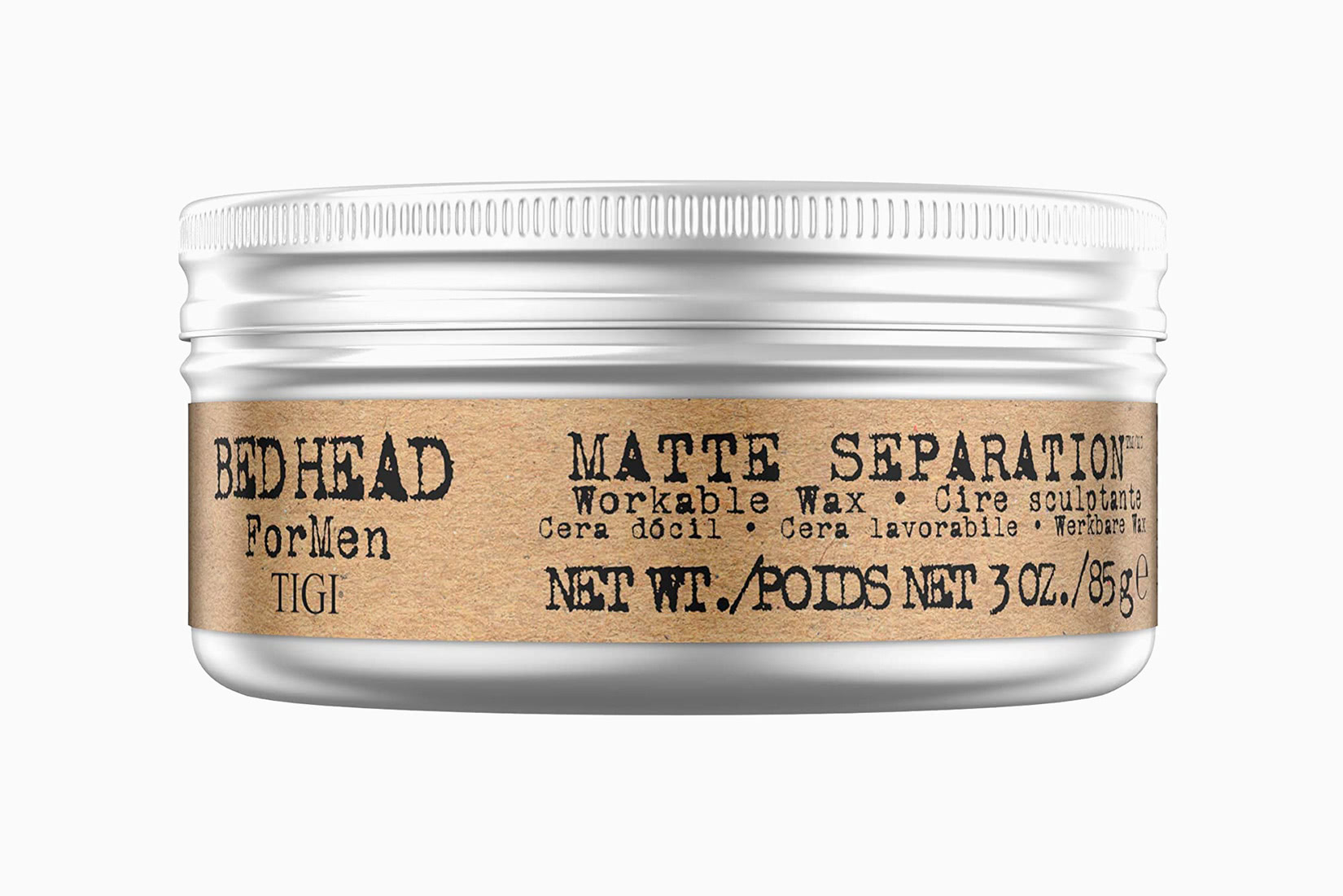 For salon-quality grooming without blowing all your paycheck, check out TIGI Bed Head Workable Wax. For guys with shorter or medium men's hairstyles, seeking strong hold but minimal shine, it offers a fab finishing touch.
This affordable men's hair styling product is ideal for calming unruly hair, containing styling polymers that add maximum texture and definition as well as a humidity-resistant precision hold. Beeswax brings a flake-free fullness to hair fibers while the matte finish keeps it looking natural, avoiding any ostentatious shine. 
Apply to dry hair for speedy bed-to-office styling or to damp tresses for more of a wet look. The hold lasts all day, withstanding even a workout session or two, but will wash away easily in the shower with shampoo.
TIGI Bed Head Separation Wax will have your hair looking just as good first thing in the morning as it does when you stumble back from a spontaneous night out. We're adding it to our shopping cart now.
Best for: keeping lively hair in check without it looking like you even tried.
Sachajuan: Best men's hair paste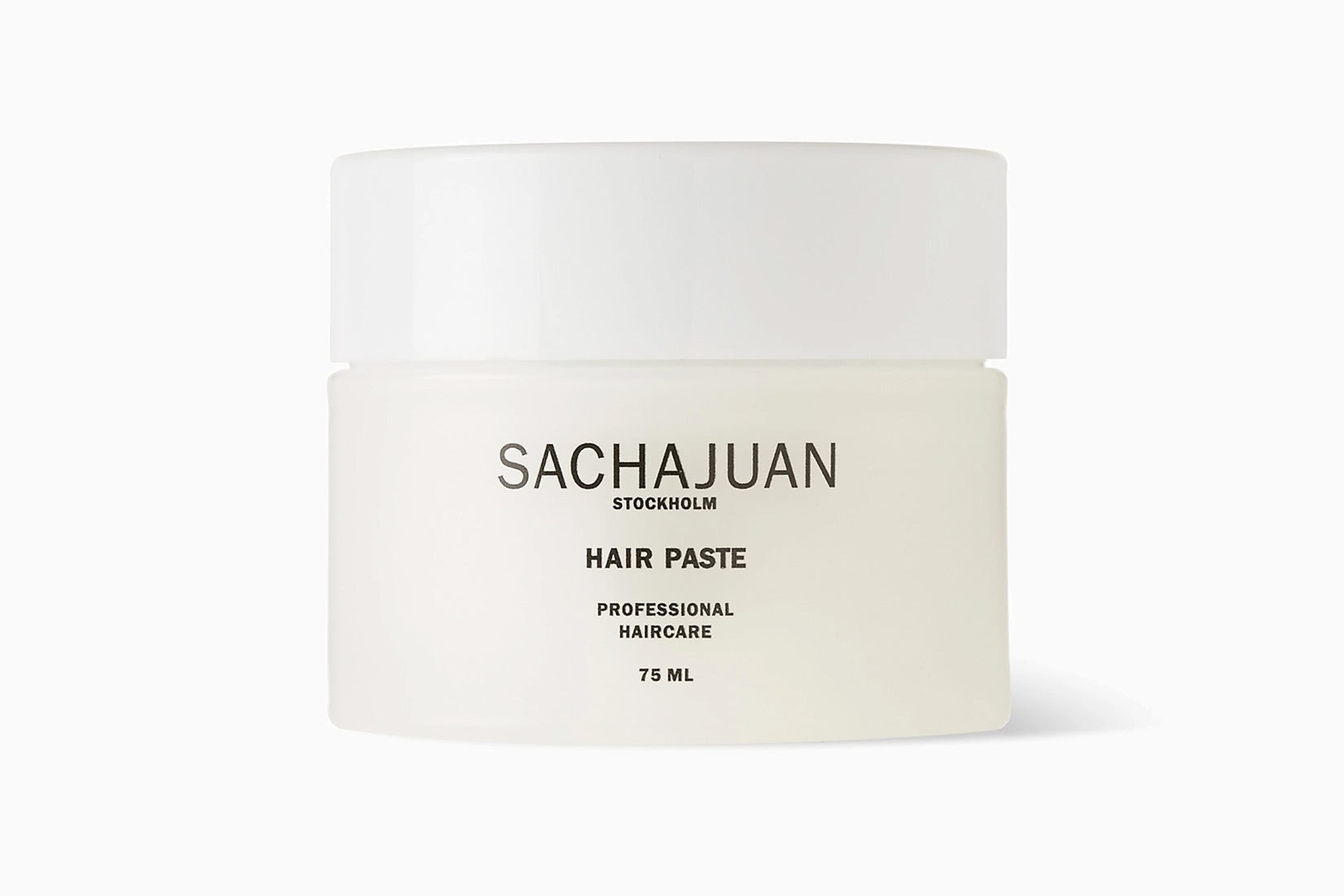 If you're seeking a medium hold and gentle shine, then hair paste should be your number one hair styling product. Sachajuan is hands-down the best hair paste for men out there.
Want that straight-from-bed wash-and-go vibe but your hair won't comply? This hair paste creates that easygoing bedhead look with minimum effort and financial outlay from you. Adding texture to your hair, enabling you to gently tease it into shape, the paste is lightweight and pliable. It offers a strong-hold compared to a hair gel but still looks natural.
The low-key sheen is definitely detectable but not excessive—and you can always add it to dry hair for a matte finish. Algae-based extracts strengthen and hydrate your hair each time you use it.
Opt for Sachajuan's hair paste for hair that all men want to have and all women want to touch.
Best for: award-winning hair paste for expertly tousled hair.
Oribe Gel Serum: Best hair gel for men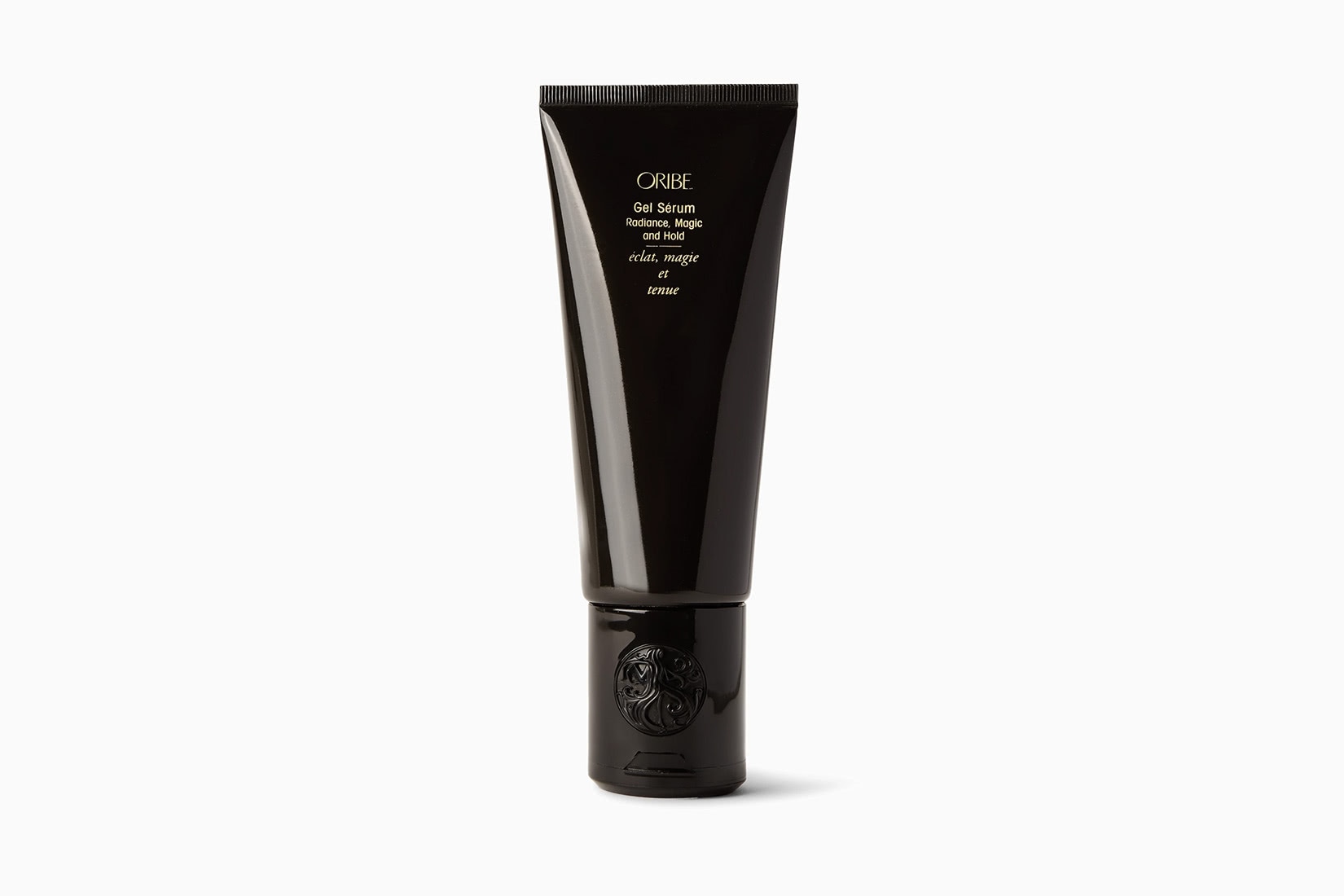 Hair gel gets a bad rep, being mostly the remit of teenage boys sporting stiff-as-a-rock quiffs. But Oribe knows pretty much all there is to know about hair styling for guys, and the brand's gel serum—the best hair gel for men out there—is here to expel your fears.
Oribe claims this gel will bring radiance, magic, and hold to your hair, and you know what? They're not wrong.
Offering an impressive and ultra-modern reinvention of hair gel as we've known it, this product contains otherworldly-sounding Gold Pearl—reflective gold flecks that create a distinctly lustrous sheen. Meanwhile, corn, wheat, and soy microproteins repair, revive, and strengthen tired hair.
While the hold is firm and unfailing, it's not so rigid that it looks unnatural. Plus, with its innovative formula, this gel also serves as a hair moisturizer for men, regenerating and styling hair simultaneously. 
Oribe's Gel Serum works hard—so you don't have to.
Best for: substantial shine and a flexible hold.
Hanz de Fuko: Best men's hair wax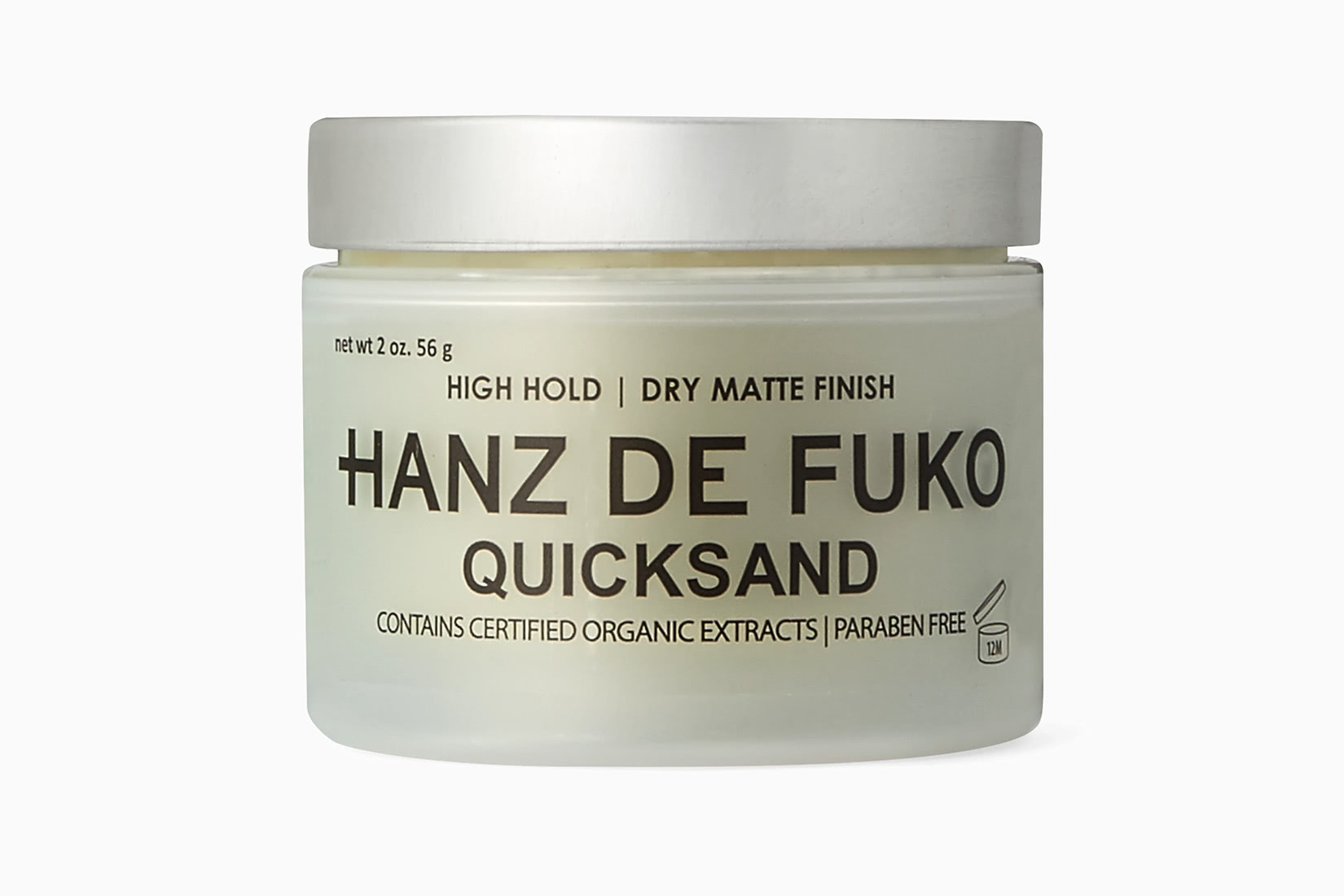 For cutting-edge hair styling, look no further than Hanz de Fuko's Quicksand wax and dry shampoo combo. It's designed for all hair types, thick to thin, and can be used to create a naturally messy or a clean-lined and sophisticated style.
The best hair wax for men out there, Hanz de Fuko's Quicksand offers both volume and texture while the dry shampoo absorbs any excess oil, minimizing added weight. Jojoba seed oil opens pores, castor seed oil nourishes your scalp, while mallow flower, lemon peel, and other extracts provide conditioning.
The finished look has something of the post-beach vibe about it—gently textured and ultra-matte. Plus, all the ingredients are natural and organic for long-term nourishment so you can curate the most stylish of men's hairstyles without compromising on overall hair health.
This Hanz de Fuko hair wax adds body and brings structure, all while maintaining that highly covetable couldn't-care-less men's hairstyle—perfect for teaming with ripped jeans.
Best: high-performing wax for no-nonsense hold and plenty of volume.
Sebastian: Best hair styling mousse for men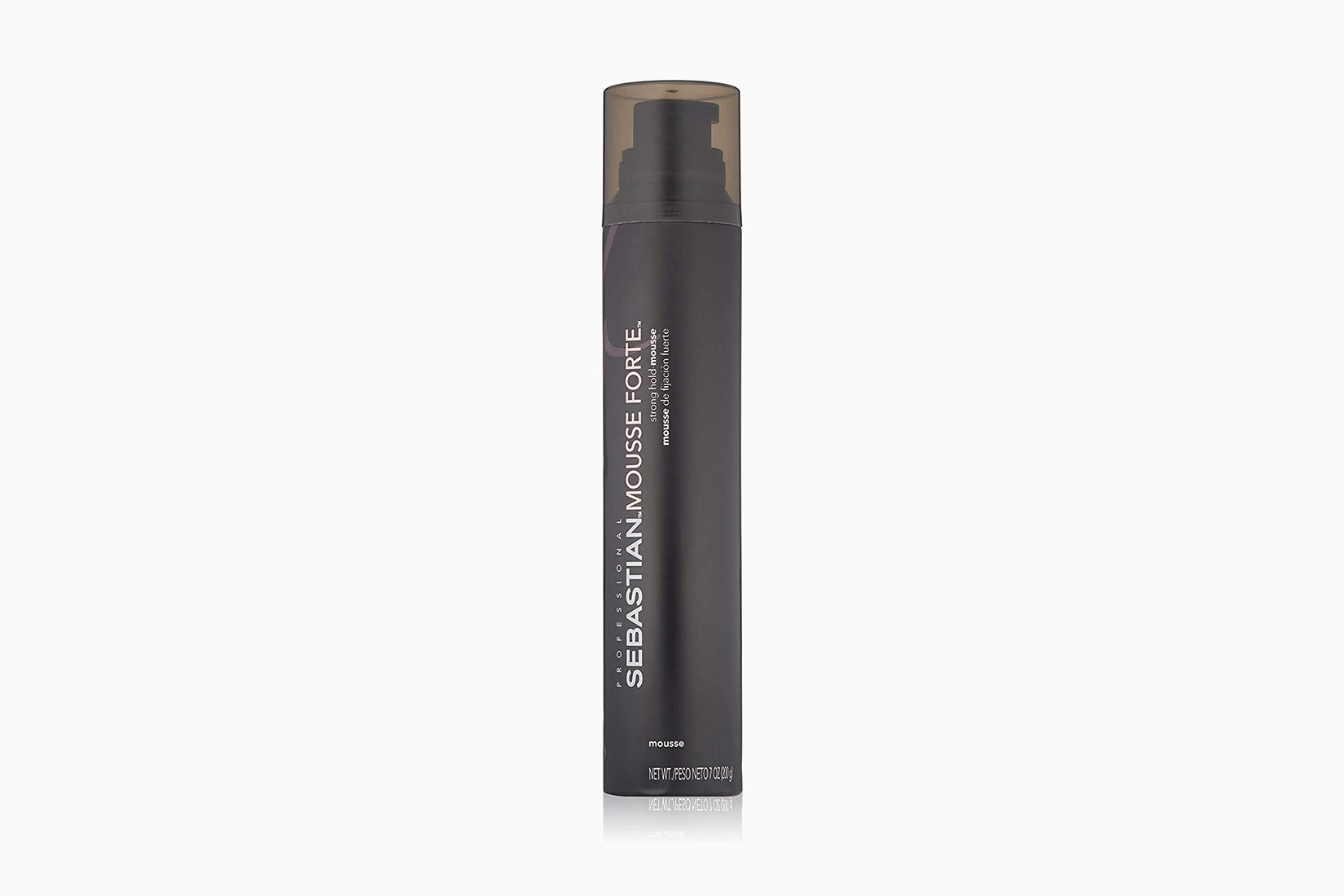 If your number one hair goal is to minimize the dreaded frizz, then Sebastian Mousse Forte is all set to become your new best friend. It's ideal for defining and controlling waves and curls, but those of you with flat or fine hair and looking for extra volume will also appreciate it. 
This highly nourishing mousse offers a no-messing-around hold while also providing UV and heat protection. Bringing control to your hair without crushing its natural soul and movement, it leaves your strands soft to the touch. None of that unpleasant crunch of less high-quality hair mousses.
This Sebastian Mousse Forte is a gift from the heavens for men looking to recreate the salon-look from their own homes. And it's also one of the best affordable hair styling products on our list.
Best for: balancing tidiness with texture.
Malin + Goetz: Best styling cream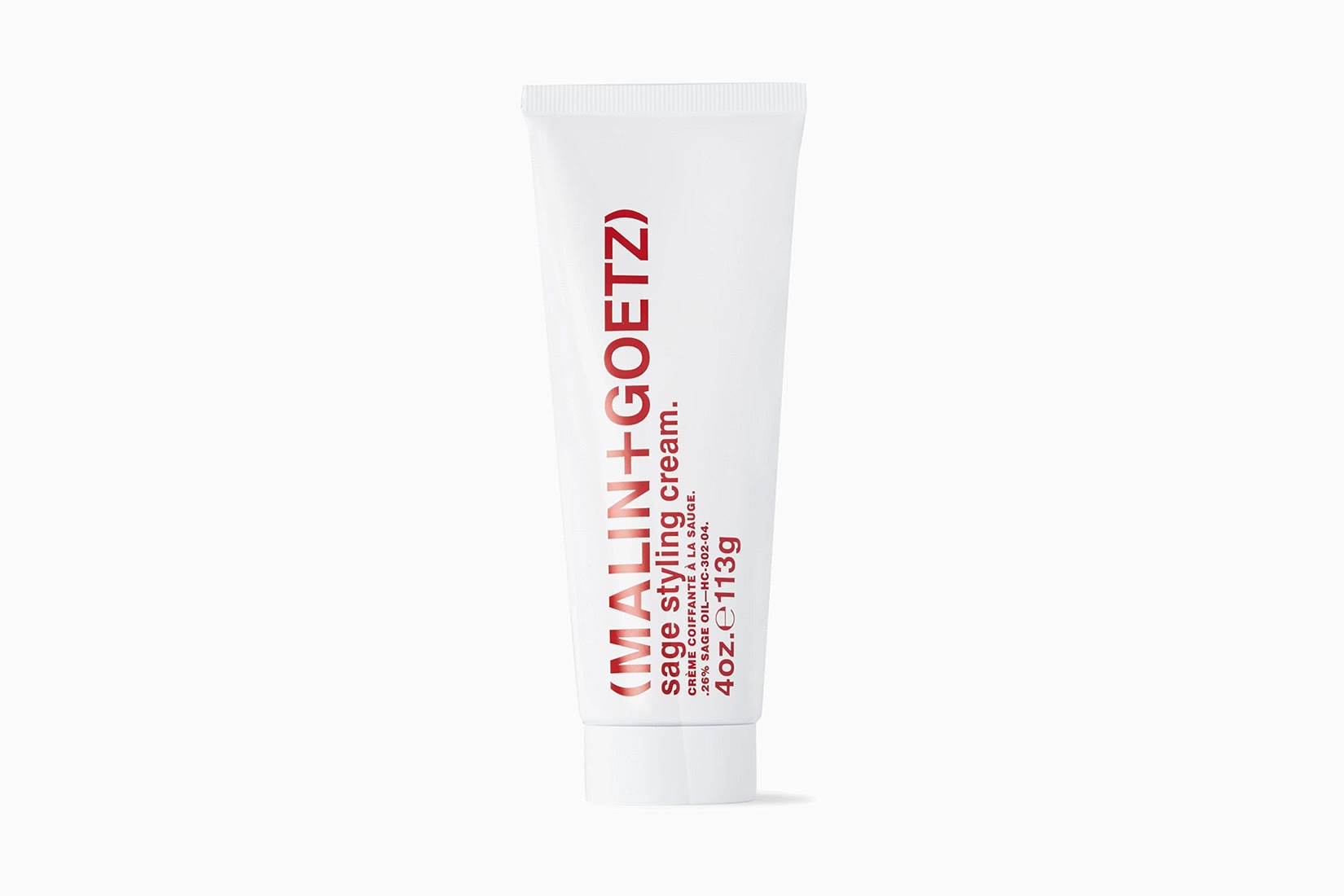 On the hunt for an effective and dependable hair cream for men? Thank goodness, then, for Malin + Goetz's Sage Cream—the best men's hair styling cream we've come across.
Hair creams are great at creating gentle control and a subtle sheen but they can often leave hair feeling sticky. Not so with this particular product, which is totally residue-free while still offering a firm hold. Use it to gently sculpt and style, subduing any escapees and strays, and finalizing your office—or date-night—look.  
It's also infused with sage and camomile to soothe and calm your scalp, while sweet almond, panthenol, and shea butter bring the necessary moisture to dried-out strands in need of some love and care.
Bring bounce back to your hair while adding definition—plus just enough shine to stand out—with Malin+Goetz Sage Styling Cream.
Best for: low-key hold, subtle shine, and frizz-free styling.
Baxter of California: Best pomade for men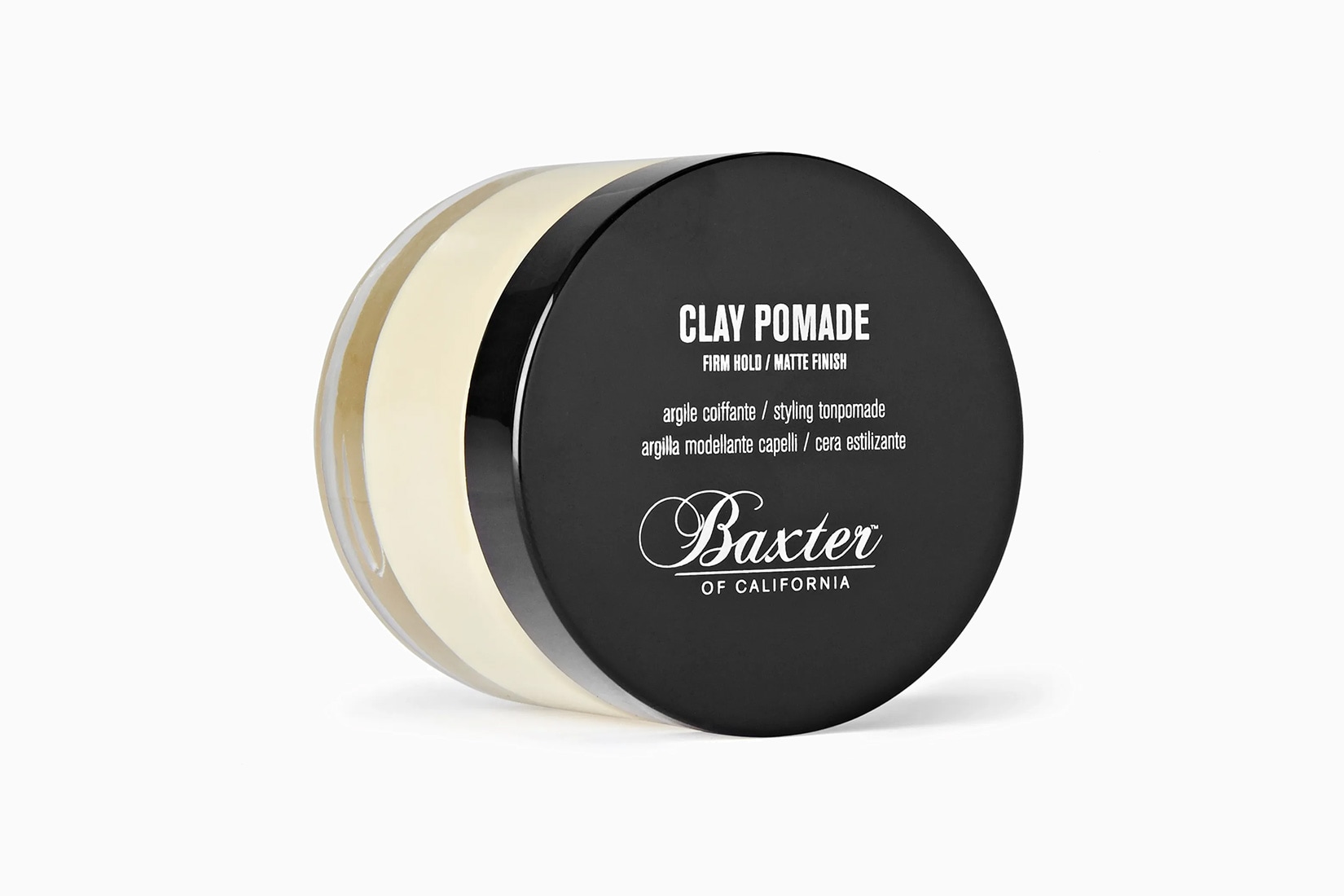 For the perfect put-together dress-to-impress style, check out Baxter of California's Clay Pomade. It's one of the brand's best-selling products, and we're not surprised.
The product sets out to tame out-of-control hair—and it does just that. Offering a safely secured and long-lasting hold, the natural clay and beeswax provide texture while the totally matte finish means you won't look like you're straight from the set of Grease – The Musical (even when teamed with a leather jacket).
Rub a small dollop into the palm of your hands before applying to wet or dry hair and play around with different styles, twisting and shaping as necessary. Scented with sage and citrus, it will also leave you smelling great.
Whether you've got straight, thick, or wavy hair, Baxter of California's Clay Pomade will help you reach the pinnacle of hair perfection and is the only pomade you need.
Best for: texture without shine and a cool and understated style.
Aesop Shine: Best hair oil for men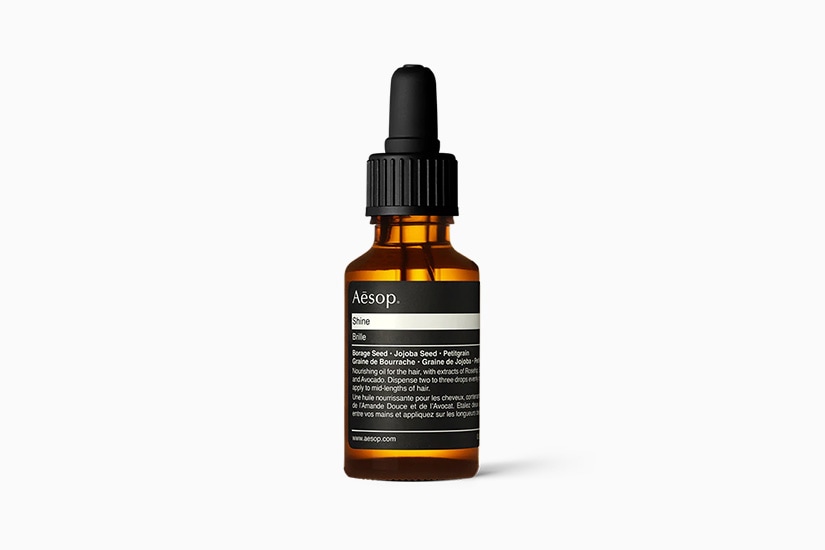 There's no point investing in the best hair styling products if your hair itself is tired and damaged. Which is why you need a hair oil for men—like Aesop's Shine Hair & Beard Oil.
The oil has been specially designed to help heal coarse, thick, and wavy hair. It's been formulated to combat dryness and frizz with borage and jojoba seeds and is rich in fatty acids that help seal in moisture, elevating the smoothness and luster of your hair. Meanwhile, the petitgrain not only smells wonderfully citrusy but also conditions and strengthens each individual strand. 
You only need the smallest amount of oil to see an effect. Spread it through dry or damp hair, making sure to rub it into the tips in particular.
And after you've finished, definitely try Aesop's Shine oil on your beard too. It's not just the hair on our head that needs looking after.
Best for: a well-maintained mop and a well-nourished beard.
Head & Shoulders: Best hair putty for men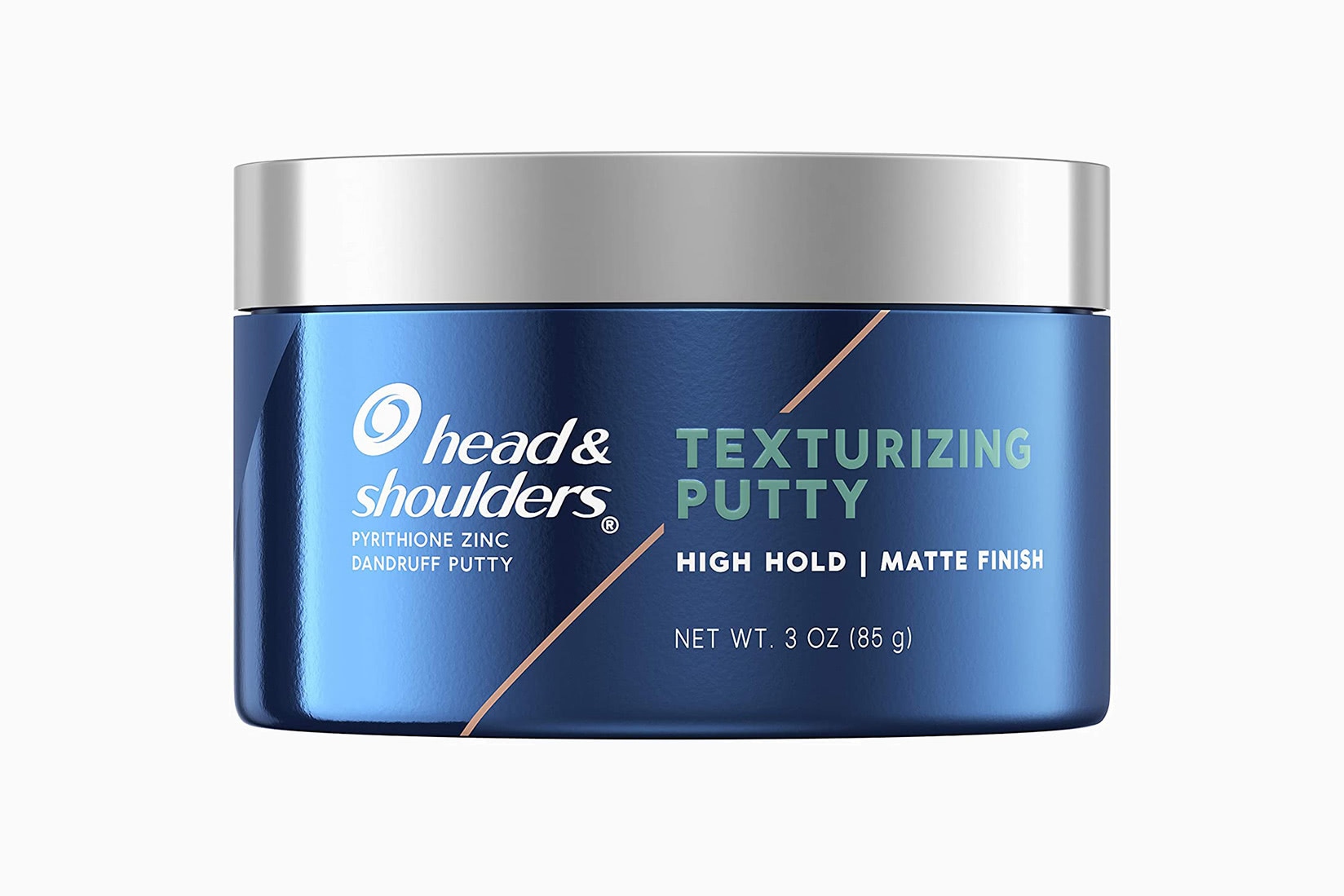 For a gently mussed I-woke-up-like this kind of mane, get your hands on this texturizing putty by Head & Shoulders. Designed for short to medium-length hair, it adds both texture and control to your hair while keeping it low-key and natural-looking. 
Head & Shoulders are known for their products designed to relieve dandruff, and this putty has the addition of zinc pyrithione as an active ingredient, keeping all sensitive scalps happy. Carefully formulated to ensure it doesn't leave any residue, it minimizes scalp irritation while also offering seriously strong performance. 
The power of this Head & Shoulders hair putty is that it flies under the radar. Thanks to the matte finish, it will look like you haven't got any product in your hair, and—because of the lack of grease—it will feel that way too.
Best for: perfecting that knowingly messy style.
Oribe Flash: Best hairspray for men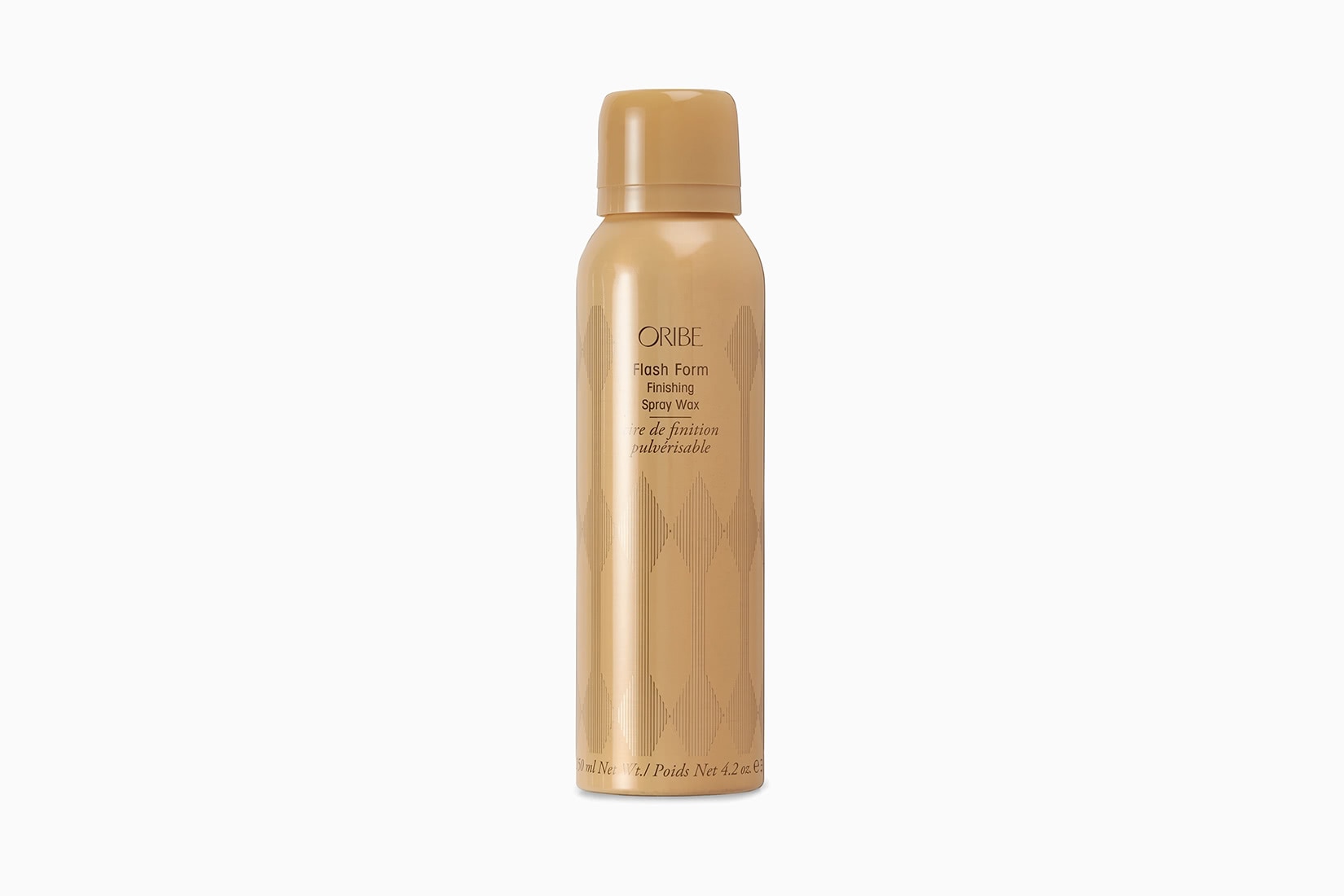 After finalizing your 'do', do you really want it to be blown flat by a gust of wind? You need Oribe's Flash Form Spray Wax—one of the best hair products for men out there. 
It's a wax—but in the form of a spray. Ideal for men with longer styles where distributing wax evenly through their mane is next to impossible, this product allows you to create style and separation with ease—and without any nasty gunk or residue.
A sign of a good hairspray is that its effects are basically invisible, and this one delivers long-lasting control and gentle shine without it looking like you made any effort at all. 
Plus it contains glycerin, panthenol, and amber extract to protect your hair from breakage, while soy proteins add elasticity and plant-derived amino acids provide moisture. 
A word of warning? There's every chance your significant other will try and get her hands on this Oribe hairspray too.
Best for: all-day hold that feels weightless and looks effortless.
Blind Barber: Best men's dry shampoo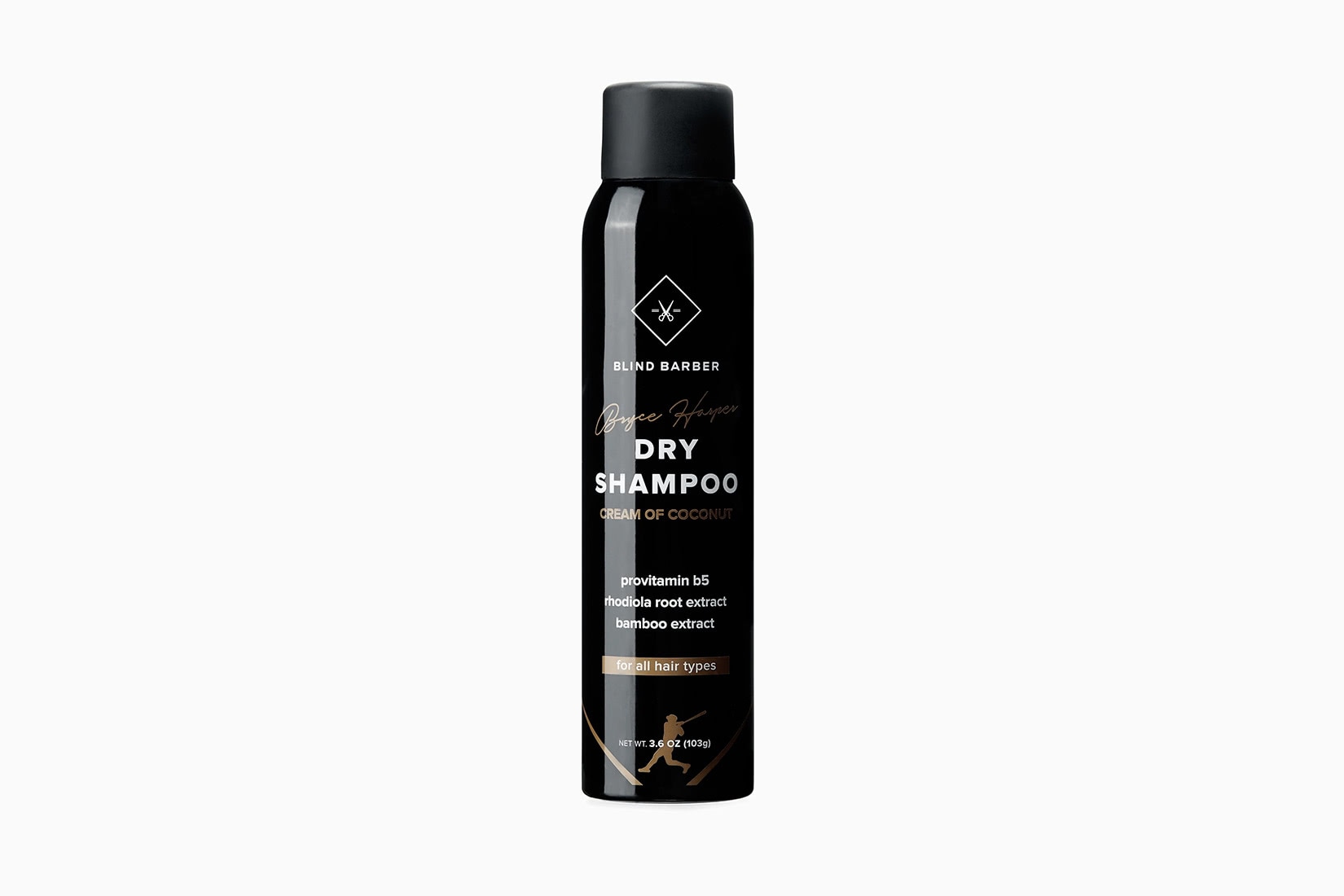 With experts saying that washing your hair too often isn't good for it, it's time to add a good quality dry shampoo to your grooming routine asap. Check out Blind Barber's Bryce Harper Dry Shampoo.
Bryce Harper is a Major League baseball player with a seriously good mane—so he knows his stuff when it comes to maintaining a great head of hair. Partnering with Blind Barber, he's launched this dry shampoo to give your hair a welcome break from washing, reviving your locks without you having to go anywhere near a shower. Thanks, Bryce.
Formulated with bamboo extract and Rhodiola root for mega moisturizing power while minimizing the build-up of oils, this dry shampoo neatly eliminates the threat of grease and other unsightly residues. It also protects both hair and scalp against UV rays. 
The cream of coconut scent is the final bonus offered by this expertly engineered Blind Barber dry shampoo, which definitely deserves a place in your bathroom cabinet.
Best for: days when you need to skip the shampoo.
Larry King: Best men's clay styler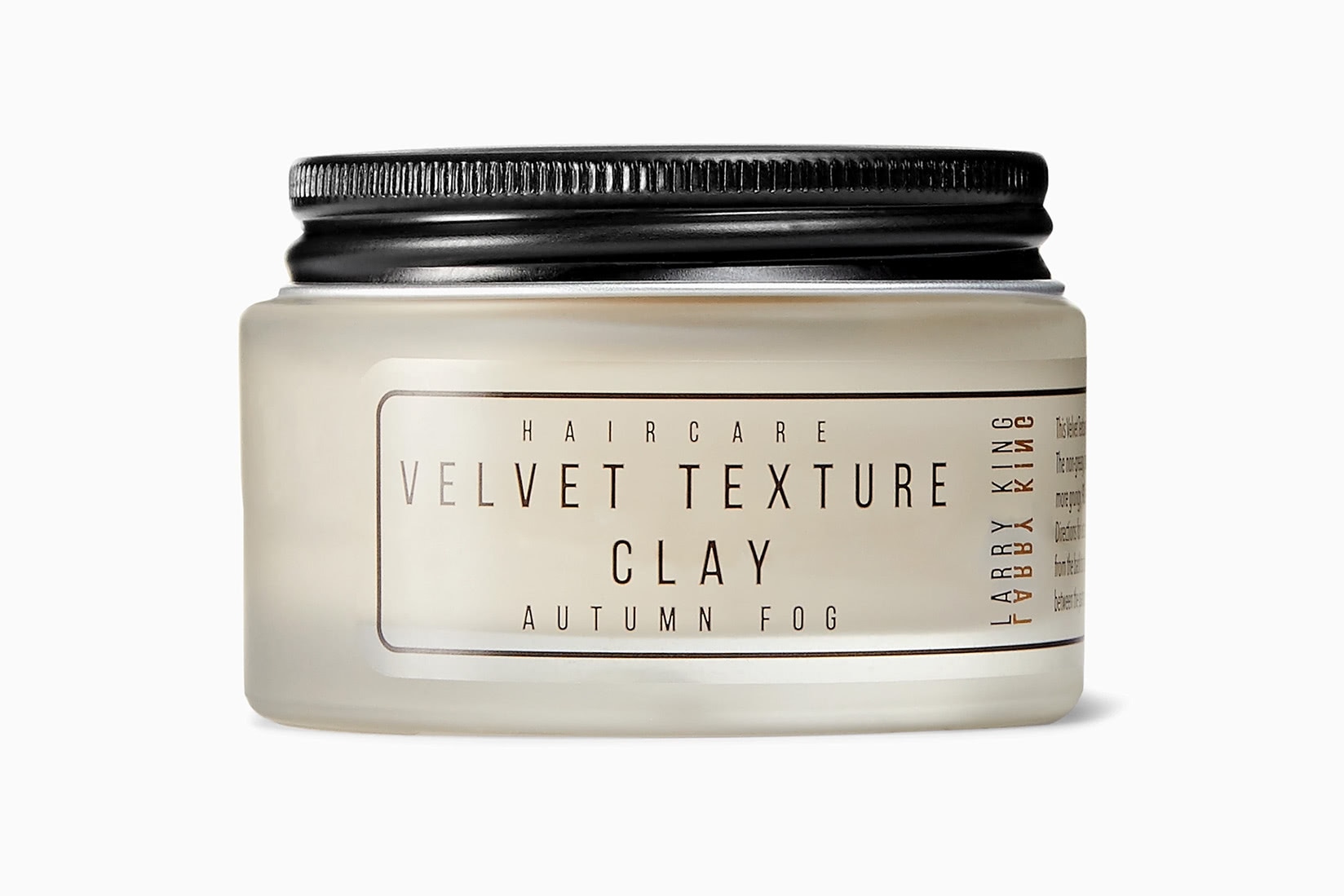 Celebrity hairstylist Larry King is a man you can depend on when it comes to high-functioning hair styling products. He knows a thing or two about how to style men's hair so no wonder this Velvet Texture Clay is one of the best clay stylers out there.
Carefully crafted to give you luxury-level locks, this clay styler brings texture and volume while also being featherlight and non-sticky—keeping everything easy, breezy, and natural.
Larry King suggests you pretend that you're running your hands over velvet, pushing the pile in different directions. It's a nifty trick that really works.
For lightweight and grease-free styling, Larry King's Velvet Texture Clay helps you tame that mass of hair while keeping it full of body. The matte finish is perfect for guys seeking more of a gritty and grungy vibe.
Best for: bringing some edgy dynamism to your 'do'.
Triumph & Disaster: Best hair fiber for men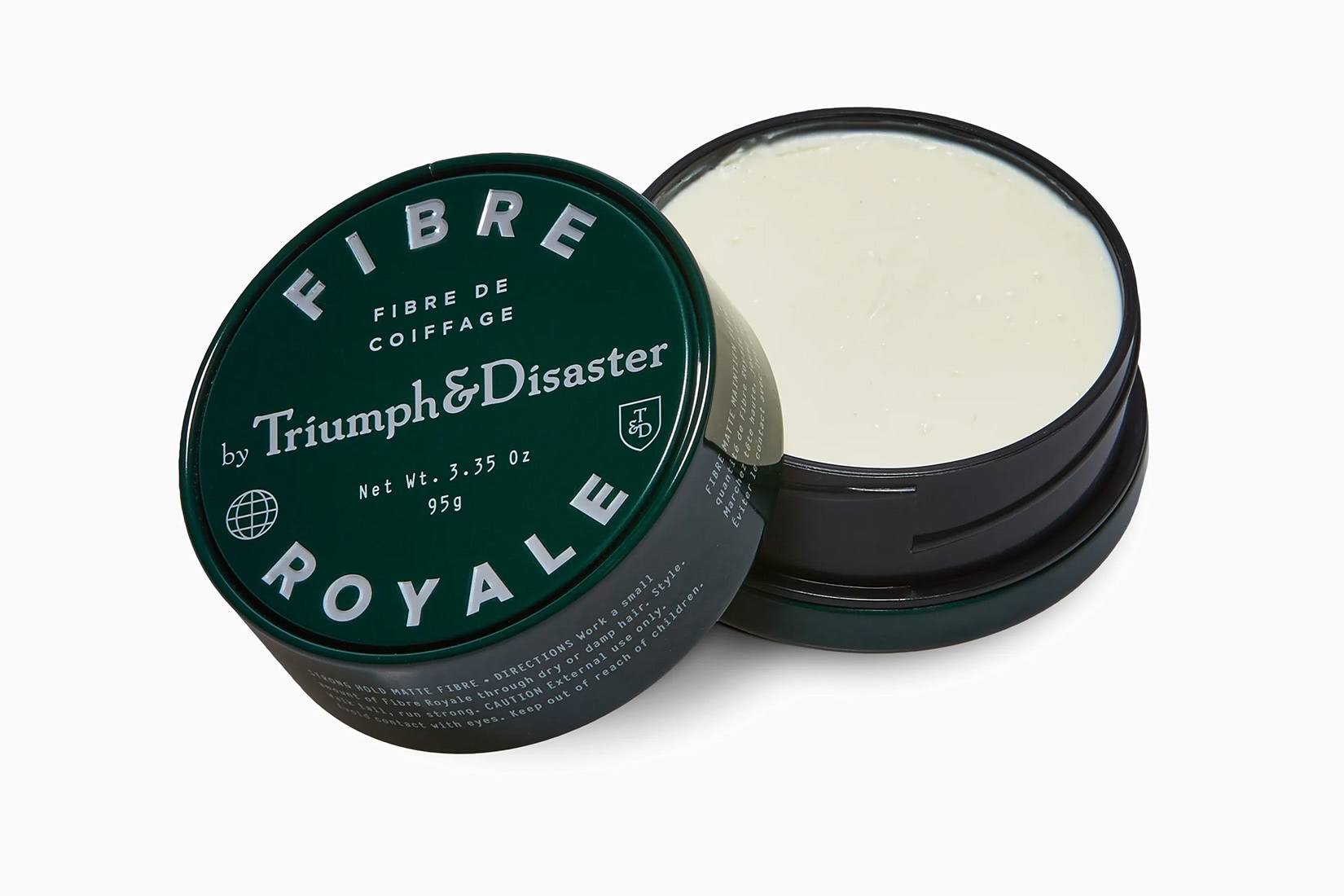 The packaging of this hair fiber by Triumph & Disaster looks like something from the 1950s and we're totally digging it. And, like all Triumph & Disaster products, it uses only natural ingredients, scientifically engineered to deliver superior styling to men who care about their hair. 
Bringing a strong hold to long thick hair without dulling its natural shine, this product is super effective and doesn't add any unnecessary volume. 
The texturizing effect comes courtesy of the beeswax. Argan oil adds moisture and hydration, keeping your follicles supple and glossy. And the kawakawa provides a scalp-soothing treatment. The overall effect look is natural and unaffected, great for achieving that nonchalant #nofilter aesthetic. 
Triumph & Disaster Fibre Royale is also blended with the brand's signature Santa Monica scent, a fragrance that immediately makes us feel more chilled out. Plus, it's small enough to slip into a travel backpack or duffel bag when we're on the road.
Best for: a controlled hold for men with long and thick hair.
Blind Barber: Best salt spray for men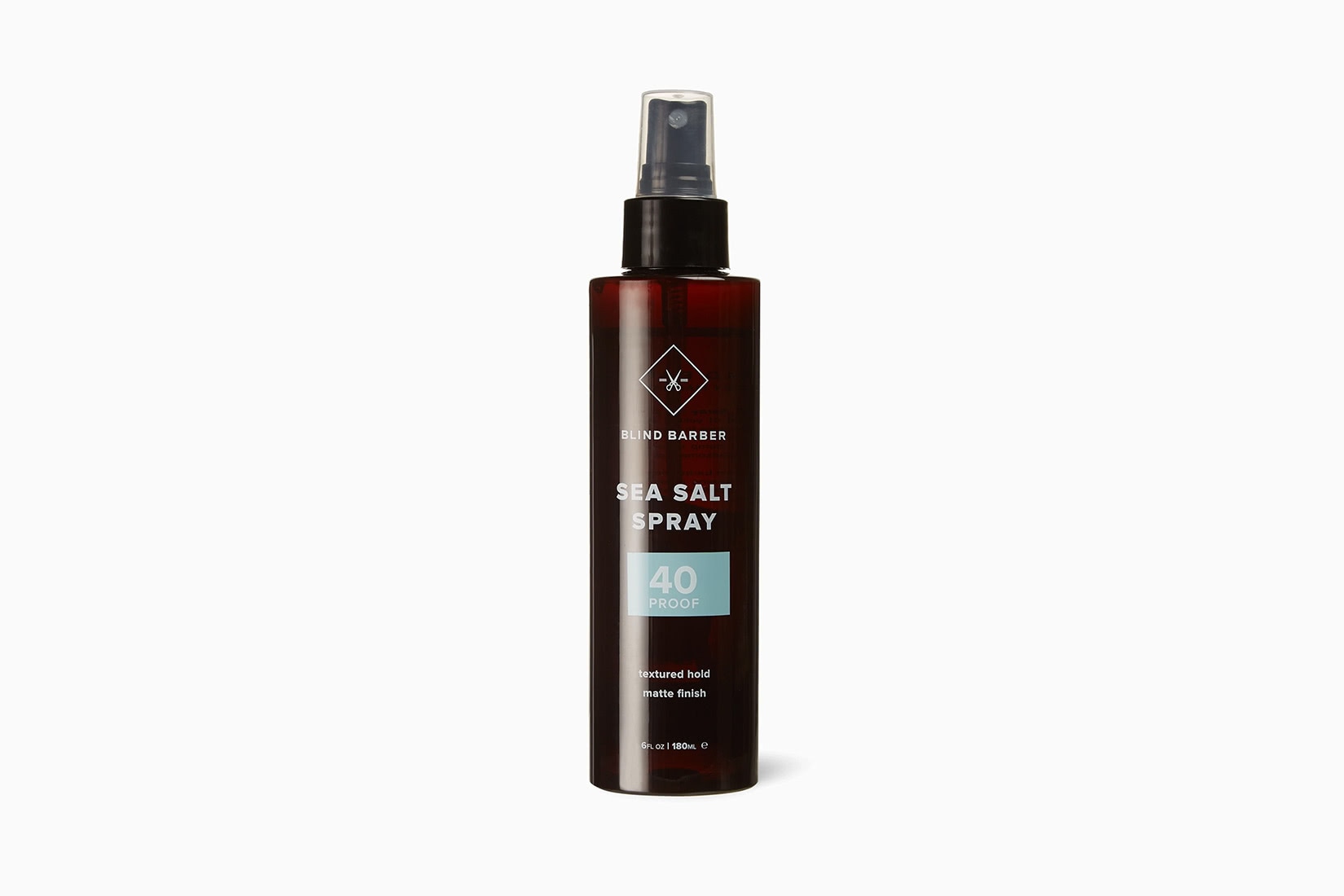 You know how good you look when you're on holiday? With that sun-kissed just-out-the-sea hair? Well, you can recreate that windswept straight-from-the-beach look with this Blind Barber Sea Salt Spray.
This sea salt spray is designed to give your hair a hefty dose of volume and texture, resurrecting it from the world of flat and lank and providing the oomph it's been calling for.
A protein-rich formula and a sea-salt and hops infusion work together to create that straight-from-the-surf look that we all crave and covet. The finish is matte, keeping it all nice and casual. And we'd never say no to a tonka bean fragrance.
Blind Barber's salt spray allows you to maintain that holiday hair long after your plane touches down.
Best for: volume, texture, and that carefree beach-bum style.
OSiS+: Best men's texturizing powder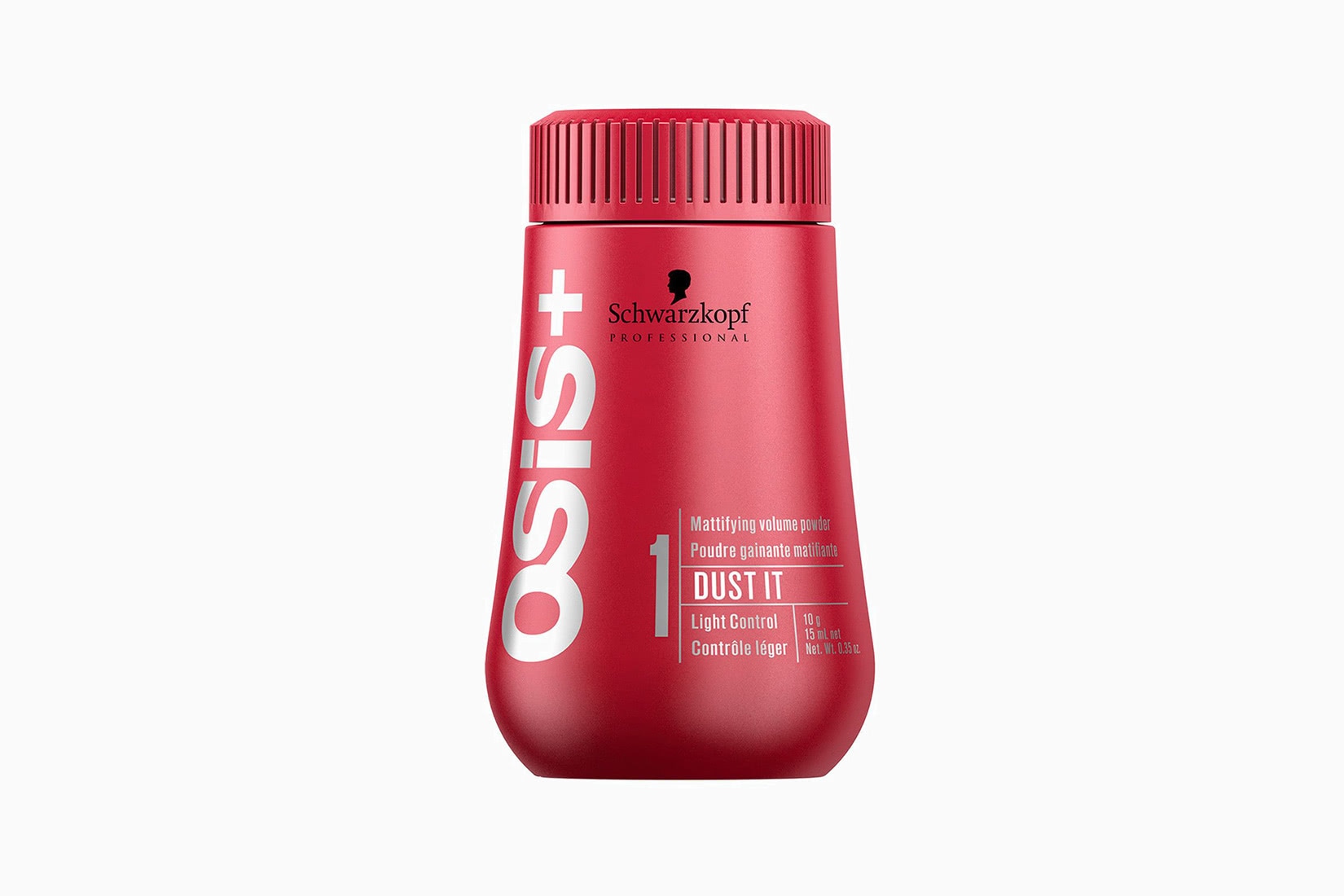 If you haven't already explored the world of texturizing hair powders, there's no time like the present. Grab a bottle of this OSiS+ Dust It Mattifying Powder and discover its potential to elevate your hair to levels you could never have predicted. 
Powders are designed to amp up body and texture, and this OSiS+ one does so with mega success. It offers a 24-hour hold, gets everything pointing in the right direction, and adds plenty of texture too.
The powder also absorbs any excess oils at the root of your hair, reducing grease and creating a cool and casual matte finish, perfect for that desirable 'second-day' hairstyle.
For cultivating messy yet manageable hair, OSiS+ Mattifying Powder definitely merits a place in your bath-bag.
Best for: adding volume and energy to fine or thinning hair.
American Crew: Best hair lotion for men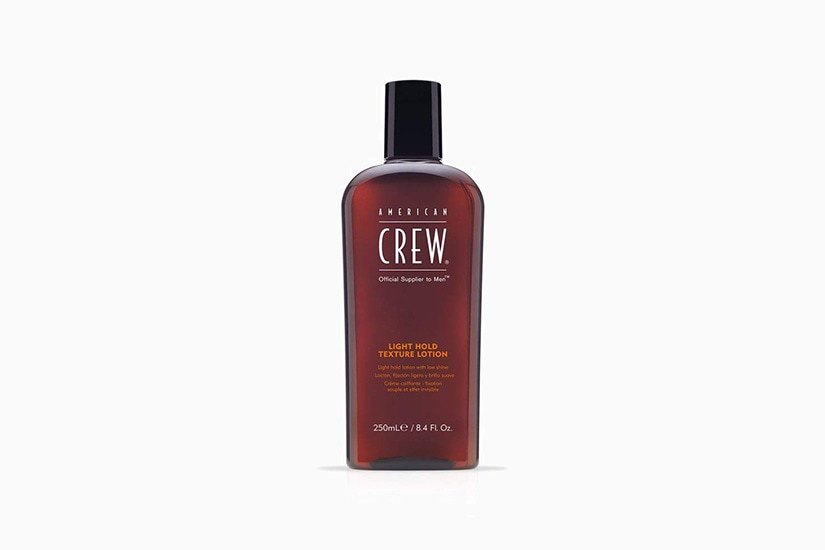 Dreaming of a cascade of thick and luscious hair? You're not alone. Luckily American Crew has created this texture lotion, designed to make your hair fuller and easier to handle.
With a light hold, it provides just enough control to keep everything smart and in order while remaining natural-looking. Enough definition to garner some compliments—and you can still pretend your hair is just inherently amazing.
The lotion contains natural extracts like ginseng that create thickness and buoyancy. And, as a water-based product, it's easy to distribute evenly through hair of all lengths. The wheat starch creates gloss and polish while the lanolin oil locks in moisture, returning zest and life to your hair.
Apply this American Crew Texture Lotion to dry or towel-dried hair and suddenly everyone will want to know your grooming secrets.
Best for: just enough styling to keep it stylish.
Aesop: Best men's hair balm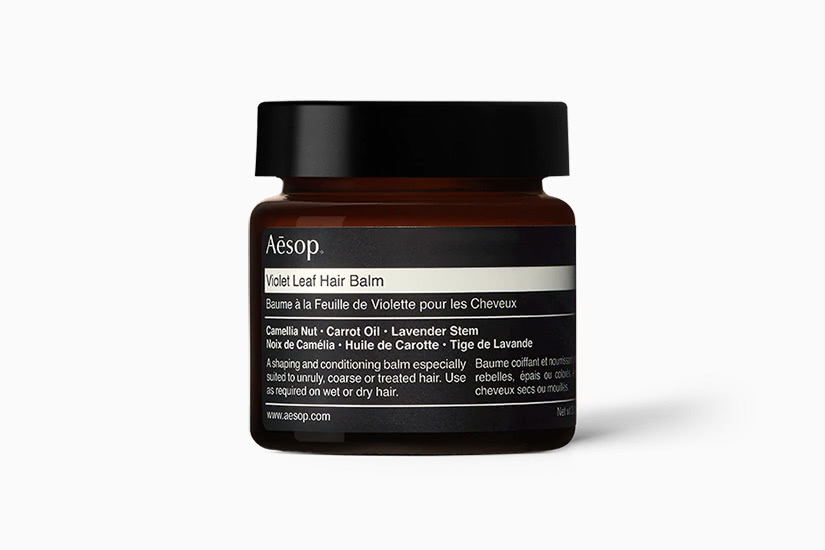 For a complement-worthy coiffure that's full of health and vigor, Aesop's Violet Leaf balm is your saving grace. As we get older, our hair tends to become coarser and harder to manage. This leave-in formula has been designed to condition and soften our locks, leaving them looking youthful and energized. 
It's not just a men's hair care product either. You can also use this hair balm to train and tame pesky flyaways and shape your hair into your chosen style. Apply to damp ends to mold as desired or on dry hair to smooth and control errant strands.
The balm offers a firm but gentle hold while the natural botanical ingredients don't leave any sticky residues. The warm and earthy aroma is another cheeky perk.
Aesop's line of plant-based hair care products has gained cult-status. After trying this Violet Leaf hair balm, you'll be signing up to join the tribe.
Best for: nourishment and control for hair that refuses to do as it's told.
Men's hair product guide: choosing a men's hair styling product
Choosing a guy's hair styling product can be a bit of a headache. There are so many technical words, so much hairdresser lingo. Here's the lowdown on different styling products and what their best for.
Hair styling product types
Hair paste is a really versatile product, offering body and texture, a medium hold, and a light shine. Adding just a small amount can really amplify volume and it's great for all hair styles and types.
Clay styler is another essential for basically all men's hairstyles. It offers hold throughout the day and adds more thickness and texture than hair paste. It gives a low-level shine when applied to dry hair and a higher hold and stronger shine when applied to damp or towel-dried hair. 
Next, there's hair putty. Apply to towel-dried hair, and hair putty will add a strong hold and texture but a lower shine than clay. It's best for shorter hairstyles and is sometimes also called mud. 
For men with longer hair, styling cream is ideal, offering a light floaty hold and subtle shine. It keeps everything under control, reduces frizz, and looks natural all at the same time. Great for men with thin or fine hair.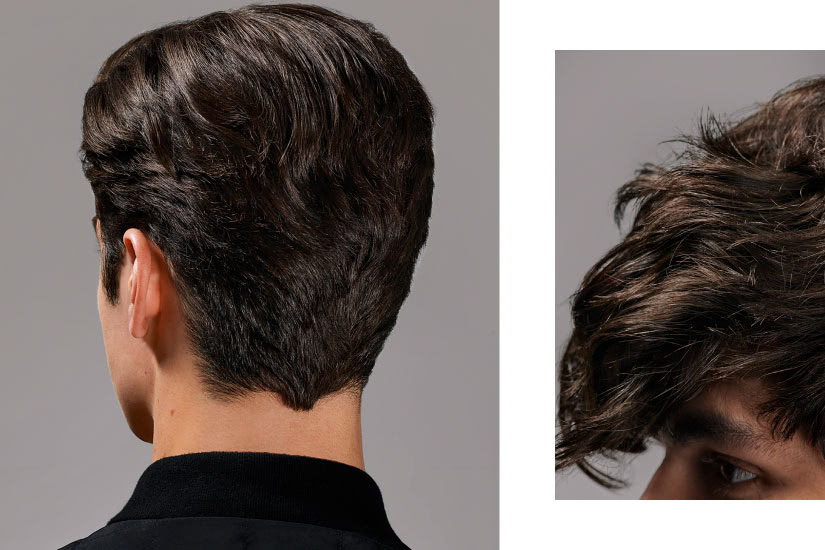 Hair fibre gives wearers a high hold but no shine, making it ideal for those looking for a more casual vibe. It's best for short to medium-length hair. 
Hair wax also offers a high hold with very minimal shine, and is the go-to choice for men with short hair. Apply it directly to your roots for lots of control.
In the pomade vs. wax battle, pomade offers a medium hold and a lot more shine, making it great for formal and black-tie occasions. You can also restyle through the day.
With pomades, use the smallest amount to avoid a greasy look. Water-based rather than oil-based pomades are easier to wash out.
In the pomade vs. gel debate, hair gel offers an even stronger hold and greater shine. Pomade has the advantage of not drying out and going stiff and hard like gel while hair gel offers a kind of wet-look finish. Gel is also best applied to damp hair, while pomade can be applied to dry hair. Hair gel is best on occasions where you really want your hair to stand out.
Hair putty offers a strong hold with a matte finish, and also adds hydration, making it a great option for dry hair. It also looks more natural than hair gel and hair wax.
Texturising powder can be used to create fuller hair with more volume without adding extra weight. It can dry strands out though, as well as reducing shine.
Hair mousse is less popular than it used to be but if you want heaps of volume and to keep everything tightly under control, it's a good option.
Hair spray offers a final touch once you've got your 'do' looking its best. It's your ally on humid or windy days.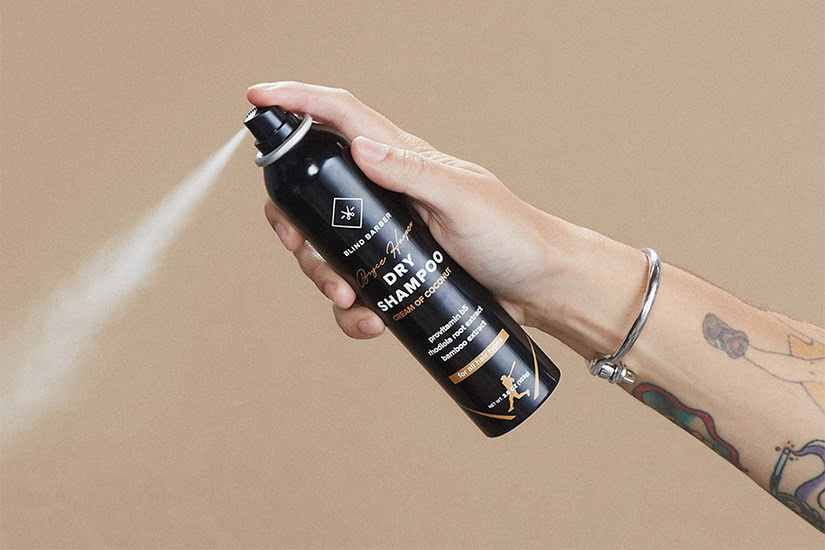 Dry shampoo is a saving grace when you don't have time to wash your hair. It absorbs grease and oils, and creates volume if your hair is a bit limp, while maintaining a matte finish. Experts say washing your hair too often can strip away natural oils, so dry shampoo is a good alternative. 
Hair oil is more of a men's hair care product than a hair styling product, boosting shine, polish, nourishment and hydration, especially for the tips of long hair. 
Hair lotion can be used to set hair in a particular style, while hair balm is a two-in-one trick, conditioning and regenerating hair while also taming and molding. 
Salt spray is a must-have for any man seeking effortless volume and works especially well for men with curly hair. The salt absorbs any oil and grease that weighs your hair down, creating definition. 
Frequently asked questions about hair styling products for men