You're in an important business meeting. The call you've all been waiting for comes in, so you whip out your iPhone and… its case is bright yellow with a smiley face sticking its tongue out at everyone. Good luck trying to get your "serious business" vibe back.
Luxury phone cases have become a fashionable accessory that gives off as strong an impression as your outfit or choice of car. Your case may even be more of a statement than the phone itself. On one hand, you can use designer phone cases to reinforce the look you're going for. In our scenario above, a designer iPhone 13 pro case that has a strict aesthetic to it can help reinforce the notion that you're all about business. On the other hand, a brightly colored designer iPhone 13 case with a fun or quirky graphic can be used to give your personality an unexpected twist—I'm here to do business, but I'm also easygoing, and you'll enjoy working with me.
So today, we're going to give you a wide variety of designer phone cases to choose from. What will it be? Cool phone cases? Colorful phone cases? How about trendy phone cases, or maybe even cute phone cases? What do you want your iPhone 12 or 13 to say about you?
The 36 best designer iPhone cases
Harber London Slim Pull Sleeve Case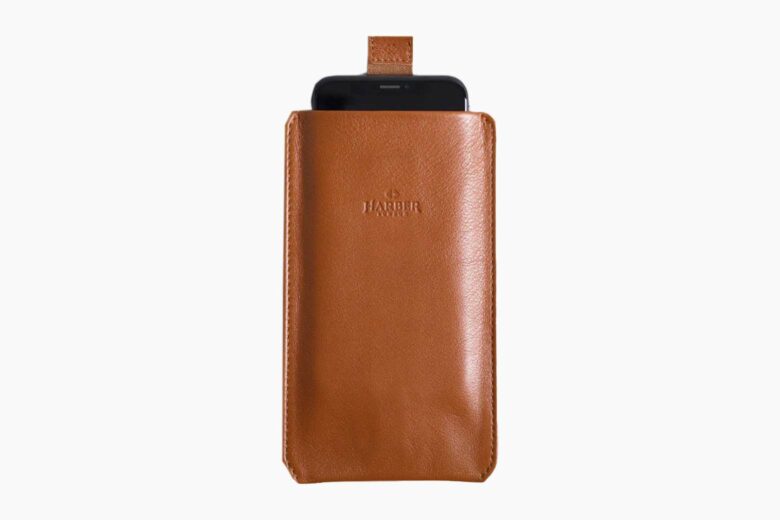 Sometimes you just want a little something that will keep your iPhone from getting scratched up in your pockets. And it certainly wouldn't hurt any if it looked stylish on top of being protective. Harber London's Slim Pull case fits the bill, offering a minimalist but classy design along with its slim space-saving profile.
Best for: Making the most out of your pocket space.
| | |
| --- | --- |
| Colors: | Tan, Black, Navy + More |
| Material: | Full Grain Leather |
Rimowa Aluminum Case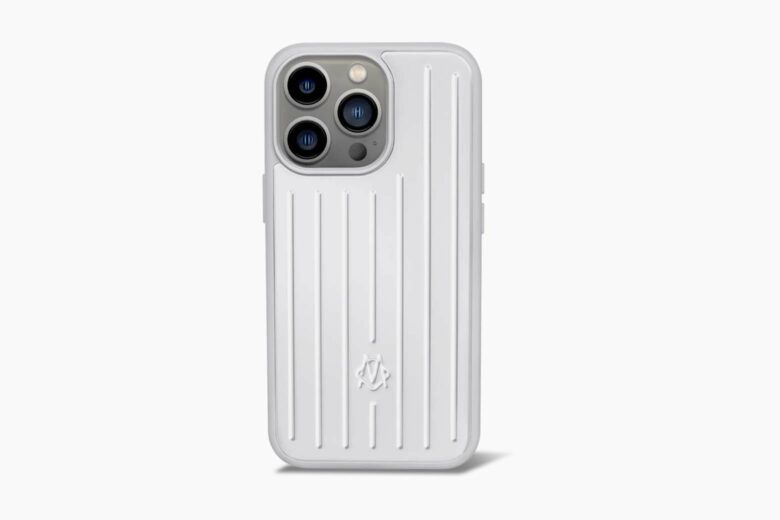 Rimowa is well known as a brand that prioritizes tasteful toughness. The brand has been pioneering sleek and protective aluminum suitcases since 1937, and they've carried that protective aesthetic over into a whole catalog of stalwart and classy products. Case in point (and a luxury phone case that's on point), Rimowa's iPhone 13 Pro Case features clean-looking grooved aluminum. Go one better and match your case with a similarly shiny bracelet, dress watch, or aviator sunglasses if you really want to look like you have yourself together.
Best for: Brightening up every situation you encounter.
| | |
| --- | --- |
| Colors: | Metallic |
| Material: | Aluminum |
Bottega Veneta Intrecciato Rubber iPhone 13 Pro Case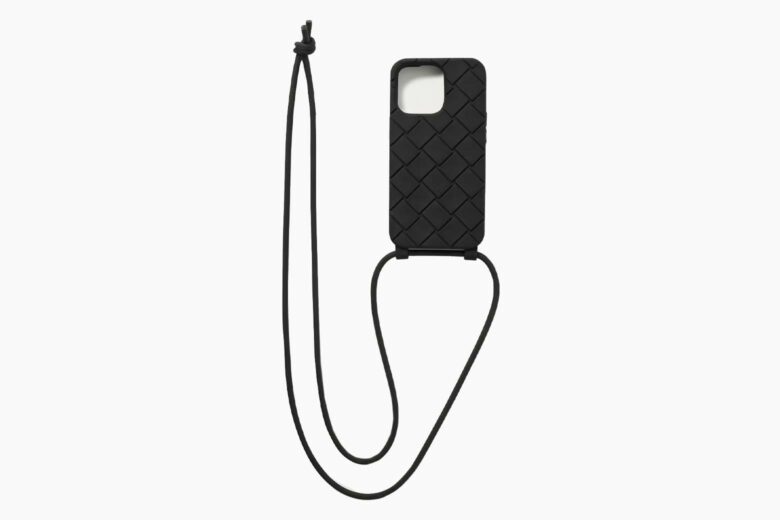 Here's an easy way to really up your phone case's style points. Bottega Veneta's Intrecciato case features the brand's signature intrecciato weave in the protective rubber, adding a designer-level touch to a strong protective shell. And if you need even more security, the attached lanyard will keep your phone solidly in hand.
Best for: Making security look sexy.
| | |
| --- | --- |
| Colors: | Black, Green |
| Material: | Rubber |
Nomad Modern Leather Folio iPhone 13 Series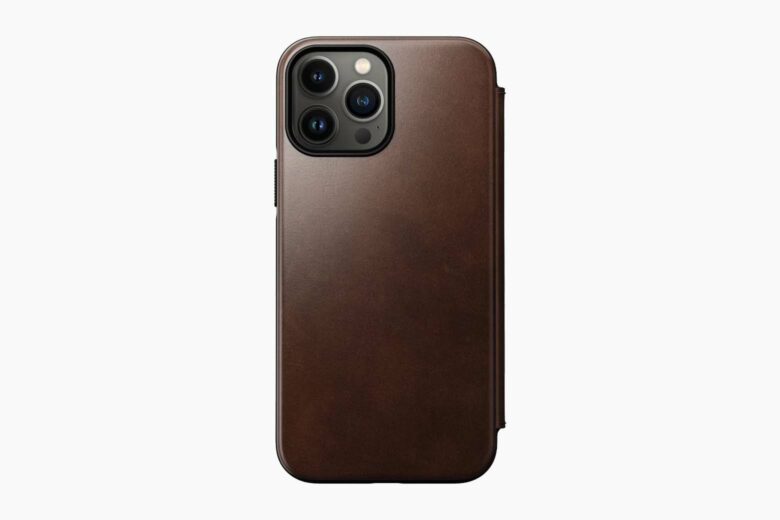 An easy way to make sure your designer iPhone 12 pro max case, or iPhone 13 case, is going to match with multiple outfits is to go for a strong, neutral monotone. If you want to automatically up the level of style of that monotone case, make it leather, especially leather that looks even better after it ages. Those qualities exactly describe the handsome Nomad Modern Leather Folio, which is made from the brand's signature Horween leather that develops an attractive patina after it gets worked in.
Best for: Growing better and better with age.
| | |
| --- | --- |
| Colors: | Rustic Brown, Black |
| Material: | Leather |
Gucci Ophidia Case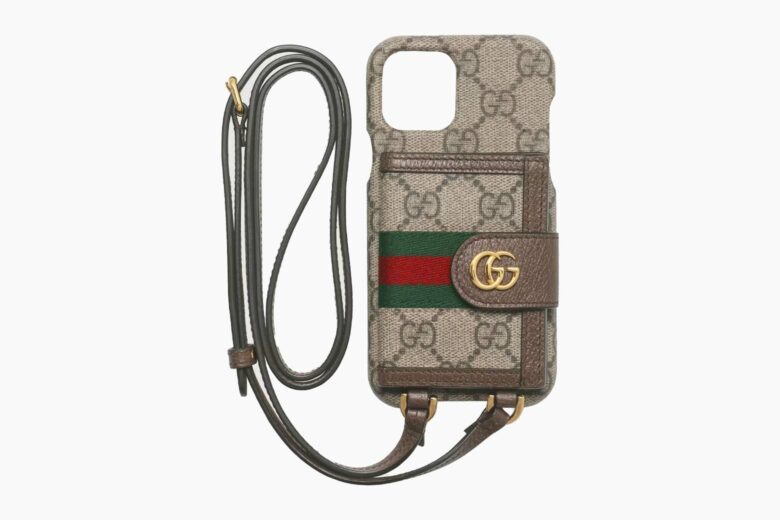 If you're going with Gucci, then you know you're grabbing yourself something distinct. Gucci's Ophidia designer case for iPhone 12 and iPhone 12 Pro is a real attention-grabber with its vintage canvas look. You had better prepare yourself to turn some heads every time you take a call.
Best for: Answering your phone with your pinky up.
| | |
| --- | --- |
| Colors: | Beige |
| Material: | Canvas |
Swarovski High Smartphone Case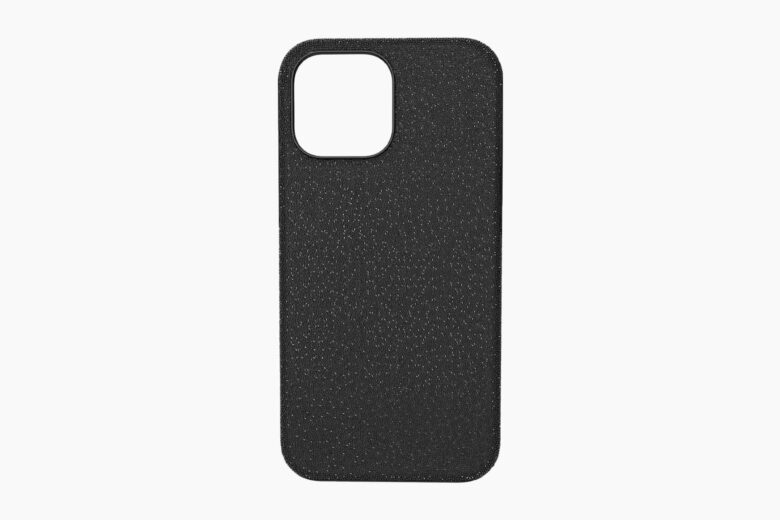 Oh, shiny! Diamonds are forever, and so is Swarovski's durable and dazzling line of beautiful glittering jewelry. That enchanting tradition is carried through to Swarovski's High smartphone case, with their crystalized approach to the covering. Starting with a base monotone color, Swarovski sprinkles in exactly the right amount of crystal without tipping over into ostentation. This designer phone case is an easy way to add some bling without being blinding.
Best for: Twinkle twinkle little star, isn't it nice when you get four bars?
| | |
| --- | --- |
| Colors: | Black, Blue, Pink |
| Material: | TPU |
Apple Pro Silicone Case with MagSafe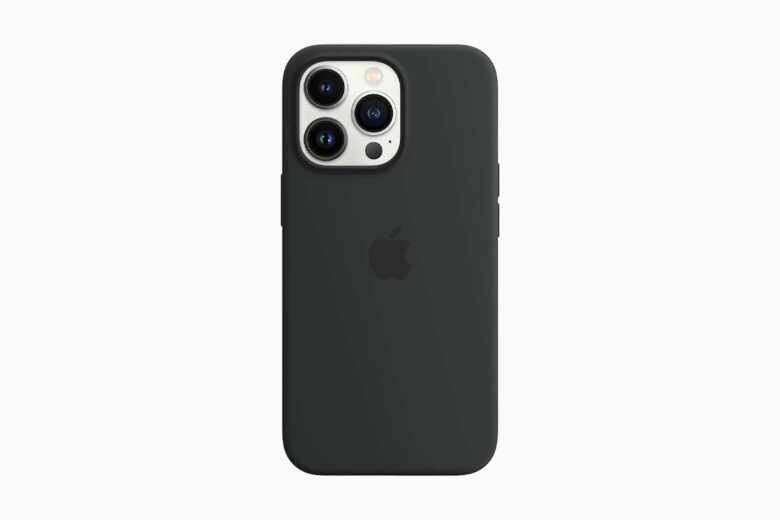 Since we're talking about iPhones, why not go straight to the source? Brought to you by the Apple store, Apple's Pro Silicone case features the MagSafe system, which is a charger that locks right onto the case. The case also has built-in magnets that match up perfectly with the iPhone 13 Pro, keeping the case snug and secure.
Best for: Making magnets work for you.
| | |
| --- | --- |
| Colors: | Midnight, Chalk Pink, Marigold + More |
| Material: | Silicone |
Prada Re-Nylon Smartphone Case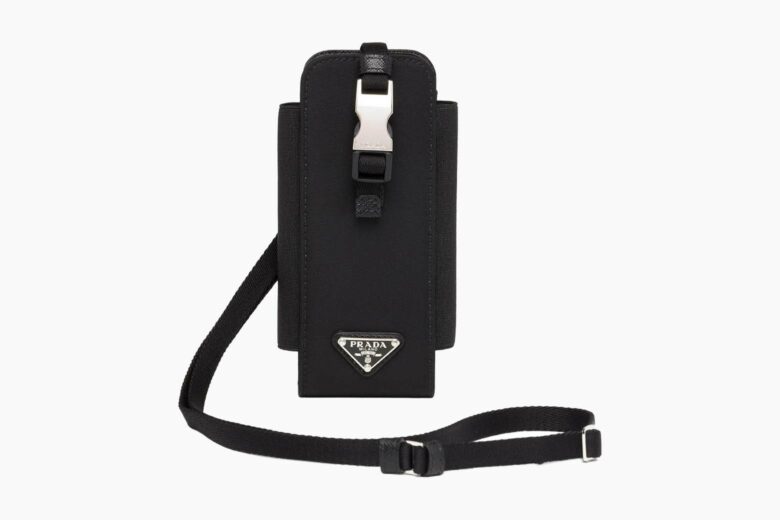 Prada's re-nylon smartphone case has a look all its own. It somewhat resembles a vintage camera case, but is streamlined to fit in with your modern-day wardrobe. Not only is it a top tier designer cell case, but Prada does us all proud by using at least 50% recycled nylon in this case's creation.
Best for: Looking pretty as a peacock while protecting the planet.
| | |
| --- | --- |
| Colors: | Black |
| Material: | Recycled Nylon |
Bellroy Phone Case 3 Card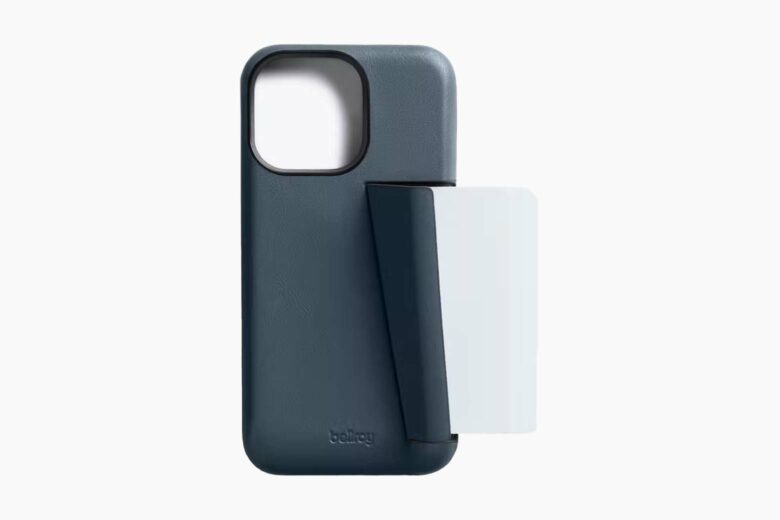 Designer Bellroy seems determined to cut down on overstuffed purses and pockets. Bellroy's 3-card phone case is what you think—an iPhone case that has space for three identity or credit cards. It even has a dedicated SIM card pocket, in case you need to switch cards while you're on the move.
Best for: Mastering the art of being a minimalist multitasker.
| | |
| --- | --- |
| Colors: | Basalt, Citrus, Cobalt + More |
| Material: | Leather, Polymers |
Dagne Dover Mara Phone Sling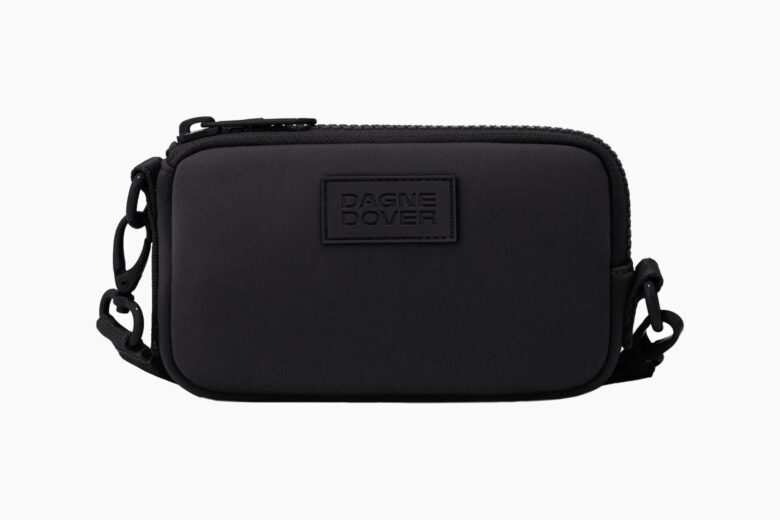 The Mara phone sling is one of those Dagne Dover's functional accessories that is going to work with just about everything. Will it work with business wear? Absolutely. How about athletic outfits? You bet. Will it take the rough handling of a music festival? It sure will. All that versatility, and it's 100% vegan to boot. Nice.
Check our in-depth review of Dagne Dover's bags and our profile on Dagne Dover's brand.
Best for: Working well in all walks of life.
| | |
| --- | --- |
| Colors: | Onyx, Heather Grey, Dark Moss + More |
| Material: | Neoprene |
Supcase Unicorn Beetle Clear Case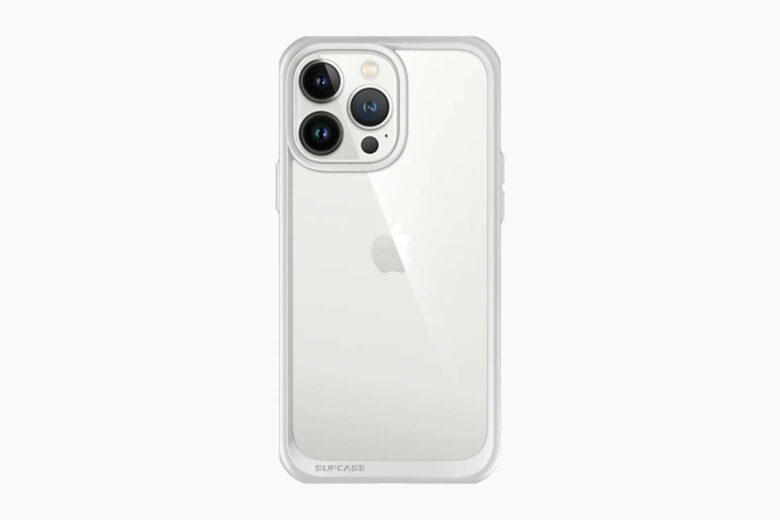 If you're the type to give your iPhone a tough time, you should definitely consider giving Supcase's Unicorn Beetle cases a look. Supcase is known for building electronics cases that can take a thumping; the Beetle case was certified by MET Labs for 15 ft drops. Wireless-charging compatible, this phone case delivers a lot and manages to look pretty neat at the same time.
Best for: Protecting your precious iPhone from yourself.
| | |
| --- | --- |
| Colors: | Gray, Blue, Mint Green + More |
| Material: | Polycarbonate |
Maison Margiela Leather iPhone Case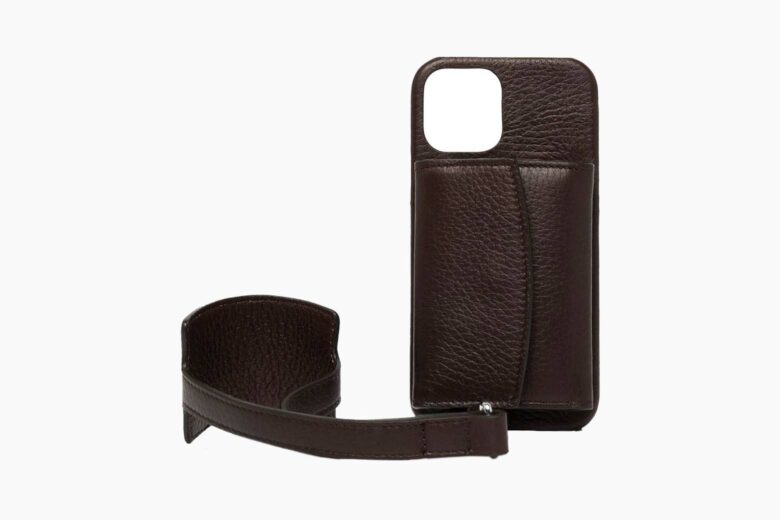 Designer iPhone cases were always ripe for a crossover into the handbag world, and Maison Margiela is leading the way with this detachable-strap leather case. It features a front flap pocket where you can secure multiple cards, and that wrist strap is going to keep it attached to your person.
Best for: Blurring the lines between cases and classy clutch bags.
| | |
| --- | --- |
| Colors: | Brown |
| Material: | Leather |
Vaultskin Victoria Case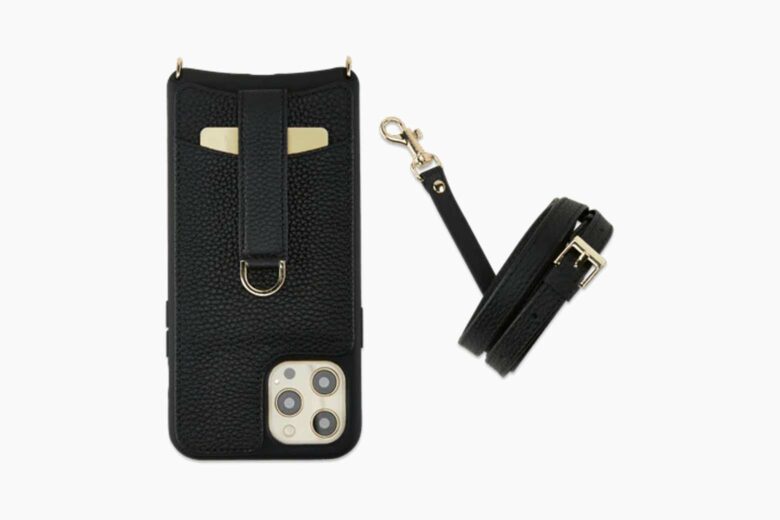 The cross-body Victoria Case by Vaultskin is incredibly classy, with its gold accent pieces and chain set off against the top-grain Italian leather body. The styling speaks of rides in Rolls Royces and nights at special-invite openings at museums, while the pocket space for up to nine cards or cash means this case does a lot more than just look pretty.
Best for: Classing up the scene just by being there.
| | |
| --- | --- |
| Colors: | Black, Red, Brown + More |
| Material: | Leather |
Celine Vertical Phone Pouch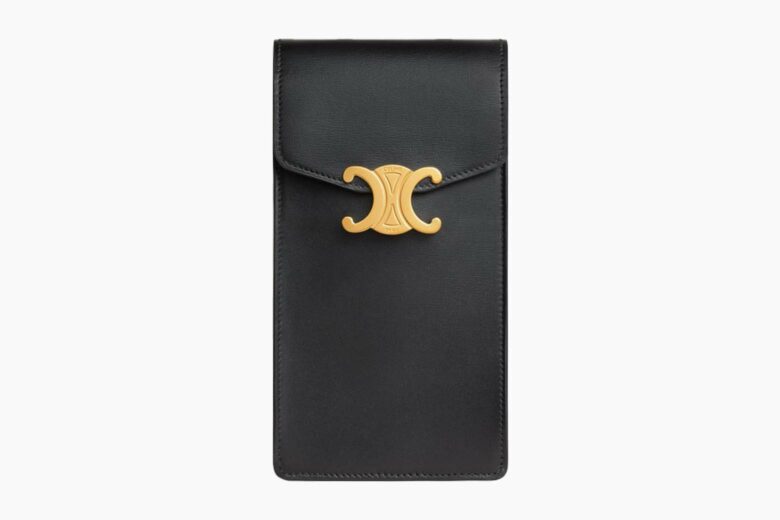 Almost quiver-like in its profile, Celine's Vertical Phone Pouch makes for an elegant shoulder or crossbody accessory. This pouch is a looker for sure, but beware, the super soft shiny calfskin material is so smooth you may find that you have a hard time keeping your hands off of it.
Best for: Elegance at a glance.
| | |
| --- | --- |
| Colors: | Black |
| Material: | Calfskin |
M.Gemi The Anna Mini Crossbody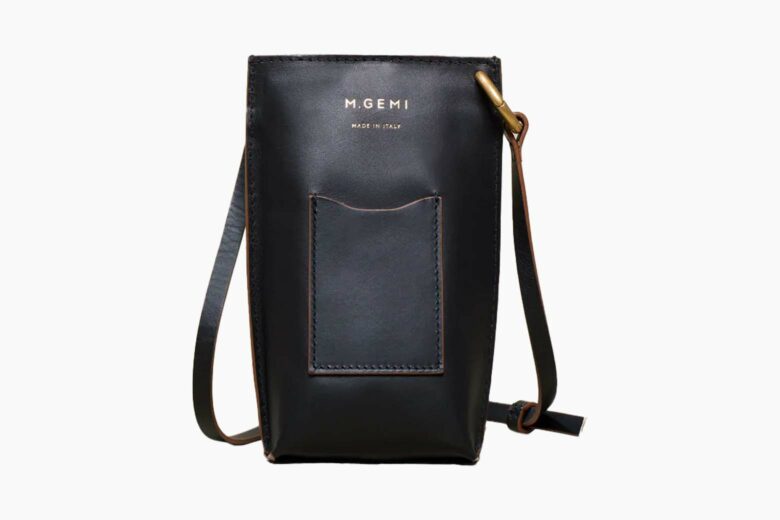 If you've been reading Luxe Digital for a while, you know we're big fans of M.Gemi's Italian craftsmanship. And now the brand is really looking to blur the lines between phone pouches and outright small handbags with The Anna Mini Crossbody. The Anna looks very much like a vertical mini bag with an adjustable strap, and offers a credit card slot on the front plus space for other small essentials like your keys.
Learn more about the story behind M.GEMI.
Best for: Running errands with a regal look.
| | |
| --- | --- |
| Colors: | Black, Tan, Navy Blue |
| Material: | Leather |
Off-White Diag-print Case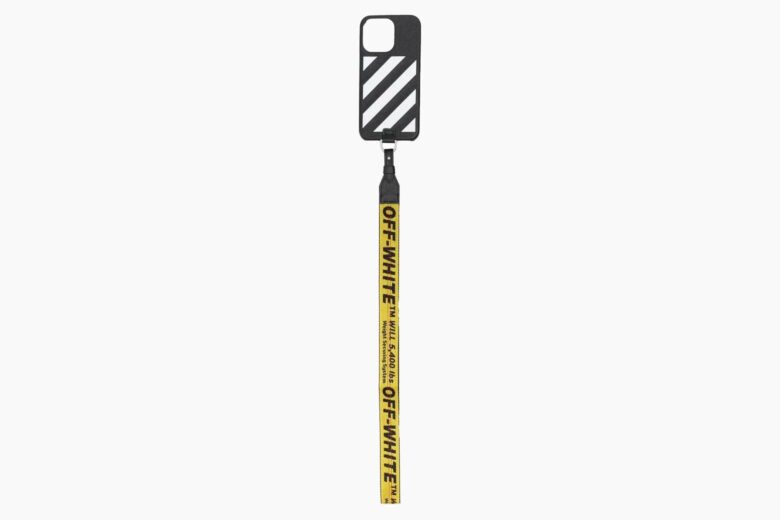 Off-White is not shy when it comes to colors and designs. Case in point: Off-White's Diag-print iPhone 13 case. The yellow detachable strap has an industrial feel to it, while the case itself sports a diagonal black and white zebra print. If you want your iPhone case to catch some eyes, this case is a contender.
Best for: Being a beacon in phone case fashions.
| | |
| --- | --- |
| Colors: | Black & White |
| Material: | Polycarbonate |
Otterbox Popsockets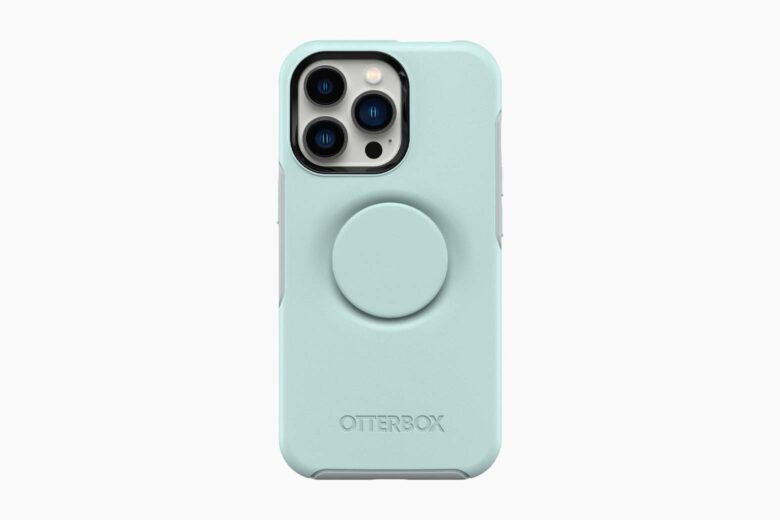 Otterbox's Otter + pop symmetry series of iPhone cases are a whole lot of functional fun. The design is modular—if you want to swap out the handle for another color, it's a simple matter to pop out the old and pop in the new. And if you want to stick your phone in your pocket, the handle collapses into a slim profile.
Best for: You otter be having more fun with your phone case.
| | |
| --- | --- |
| Colors: | Tranquil Waters, Say Trip Graphic, Daisy Graphic + More |
| Material: | Polycarbonate |
Balenciaga Essential Case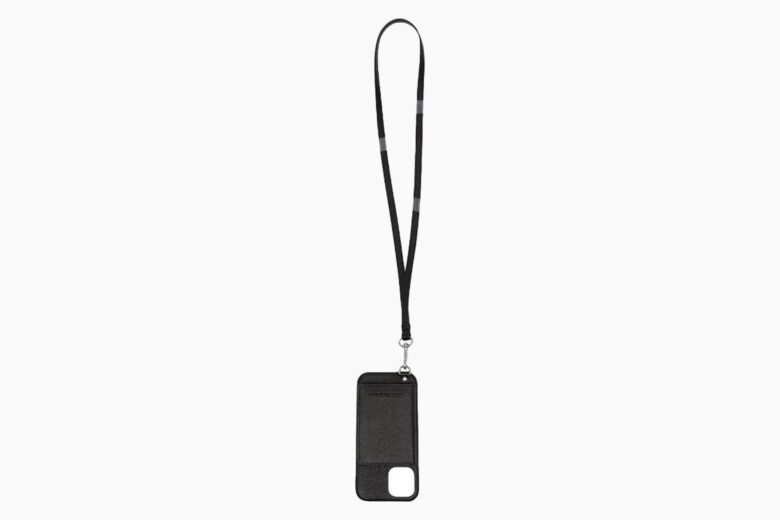 At first glance, Balenciaga's essential iPhone case seems to be built around the Keep It Simple Stupid approach. And yet, upon closer inspection, the snap fastening, embossed logo, card slots, and detachable neck strap all work together to make for a case that is quietly and tastefully elegant.
Best for: Inviting admirers in for a closer look.
| | |
| --- | --- |
| Colors: | Black |
| Material: | Leather |
Spigen Ultra Hybrid Case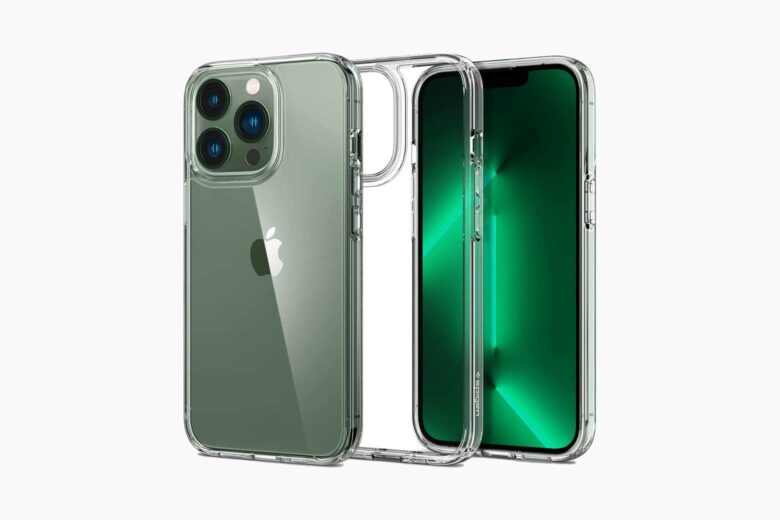 If your phone is fancy enough on its own, and you want protection that won't cover up its good looks, try out Spigen's Ultra Hybrid crystal case. Because this case works like a second skin, it keeps your phone slim and pocket-space friendly, while protecting your phone from scratches and fingerprints.
Best for: Enhancing, not hiding, your iPhone.
| | |
| --- | --- |
| Colors: | Crystal Clear, Frost Black, Red Crystal + More |
| Material: | Polycarbonate |
Tom Ford Leather Case With Chain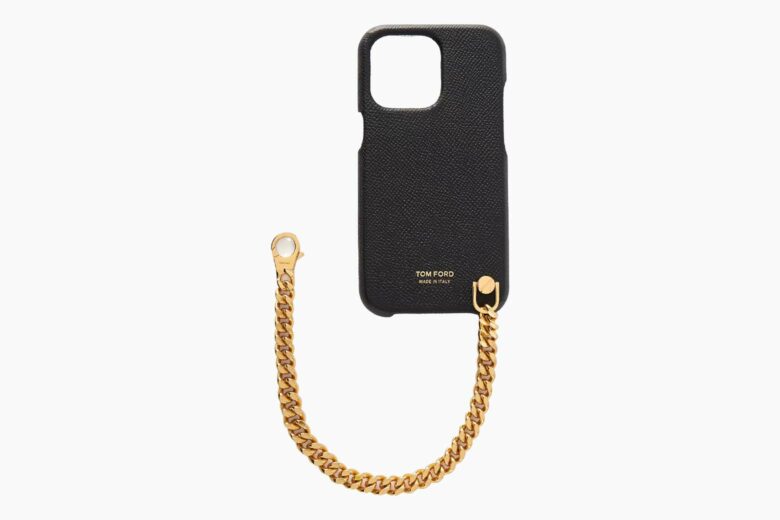 If you're looking for simple class, a black and gold combination is usually a good place to start. Tom Ford's Logo-Print full-grain calf leather iPhone Pro case is a prime example. The case's simple black exterior sets off the gold chain, with the case protecting your phone and the chain making it easy to attach your iPhone to your belt-loop or a bag strap.
Best for: Making understated into a statement.
| | |
| --- | --- |
| Colors: | Black |
| Material: | Leather |
Mulberry Magnetic Wallet Case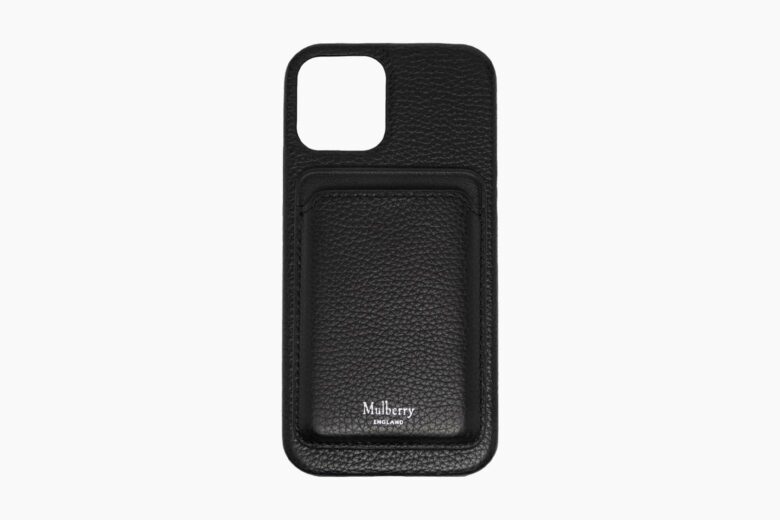 With its protective casing and minimalist wallet, Mulberry's Magnetic Wallet is a practical iPhone case, to be sure. But the heavy grain pebbled leather elevates the case from being purely functional to an attractive accessory that will match nicely with both casual and more formal outfits.
Best for: Using merry magnets to attract the best kinds of attention.
| | |
| --- | --- |
| Colors: | Black |
| Material: | Heavy Grain Leather |
Saint Laurent Croc-effect Pouch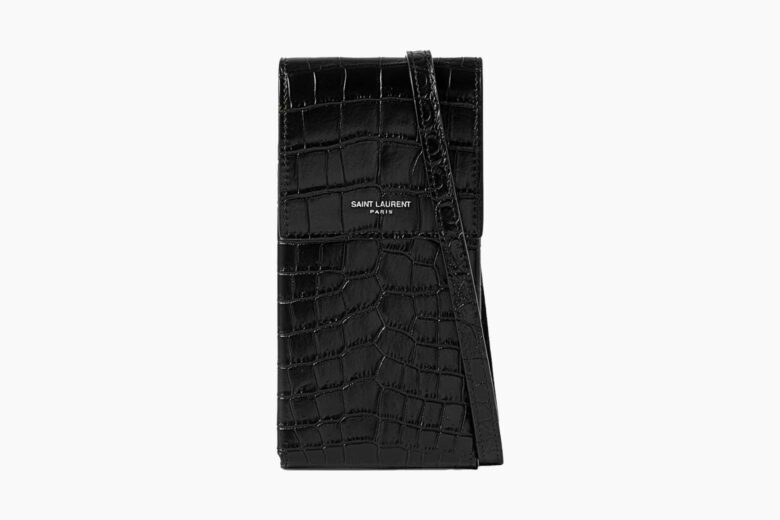 Here's something that's a little more eye-catching than your standard black iPhone case. Saint Laurent's Croc-effect Pouch ups the black-case game by applying a glossy croc-effect to the calf-leather material. That plus the Saint Laurent name printed along the front bump this designer case up to high-fashion heights.
Best for: Pouncing on the next level up of pouch styling.
| | |
| --- | --- |
| Colors: | Black |
| Material: | Calf Leather |
Valentino Garavani Rockstud Case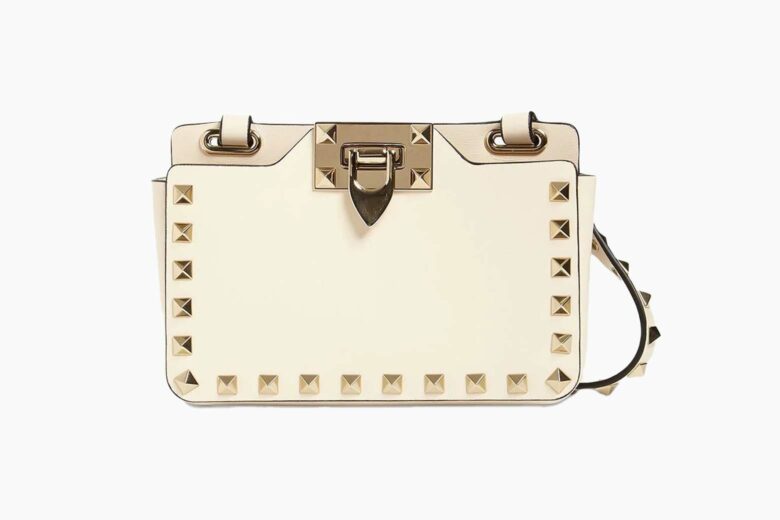 Is it an iPhone case? Is it a small handbag? Honestly, it's up to you to decide. Either way, Valentino Garavani's rockstud phone case looks red-carpet ready with its rockstud embellishment; the fact that it's a fine protective case for your iPhone is almost just an added bonus.
Best for: Adding a little rock n' roll to your classy iPhone case.
| | |
| --- | --- |
| Colors: | Light Ivory |
| Material: | Calf Leather |
Vaultskin Eton Armour Wallet Case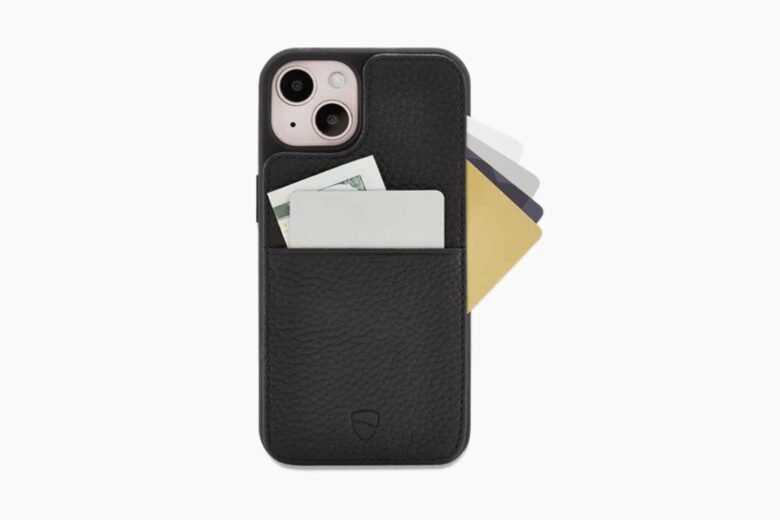 Eton Armour designs their wallet cases with tip top practicality in mind. Their goal is to allow you to have all of your pocket essentials (phone, credit and I.D. cards, cash) within your quick and easy grasp. Yet despite their all-out dedication to pragmatics, the designers still managed to come up with a handsome case.
Best for: Merging practicality with prettiness.
| | |
| --- | --- |
| Colors: | Matt Black, Matt Brown, Cognac |
| Material: | Leather |
Cuyana Slim Wristlet Wallet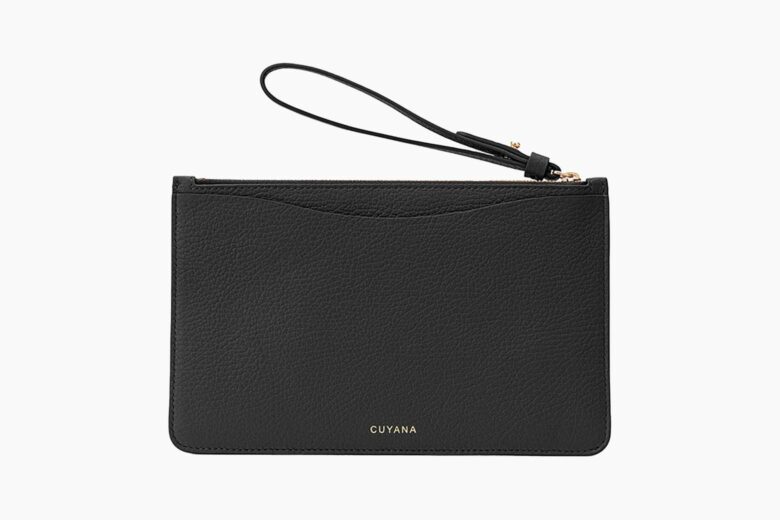 Cuyana's slim wristlet wallet was made in a woman-owned factory in Turkey. That woman's knowledge shows in the manufacturing of this clutch-like iPhone case: it offers a detachable wristlet, offers plenty of protection for your phone, and gives you additional space for your daily essentials.
Best for: Styling and profiling with sustainable sophistication.
| | |
| --- | --- |
| Colors: | Black, Merlot, Caramel + More |
| Material: | Pebbled Leather |
Dolce & Gabbana Logo Plaque Painted Cover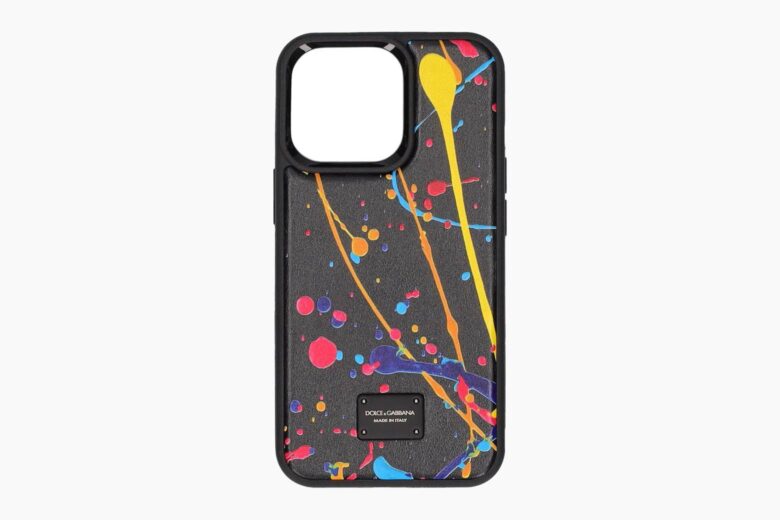 For those of you that like a little bit of fun wildness in your accessories, we recommend Dolce & Gabbana's logo plaque painted cover. The case will, of course, protect your iPhone from scratches and fingerprints, but what we really like is the splashes of color that make this designer case stand out from the crowd.
Best for: Turning iPhone protection into a work of art.
| | |
| --- | --- |
| Colors: | Black/Multi, White/Multi |
| Material: | Calf |
Urban Sophistication The Utiliti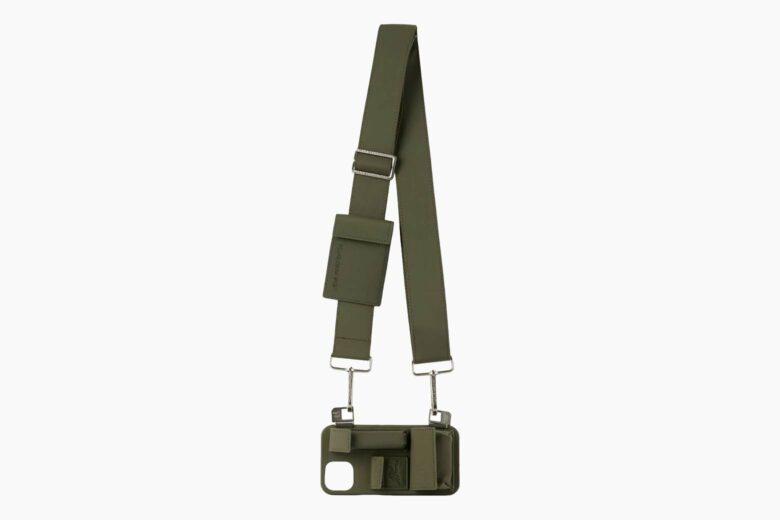 Craving some more pocket space? Ready yourself for one of the world's most perfect EDCs. Urban Sophistication's The Utiliti takes both its look and functional layout from traditional camera carrying cases. The Utility has plenty of small pockets on the front of the iPhone case, and the whole of it is manufactured with nylon, ensuring its durability.
Best for: Going on an adventure with alluring utility.
| | |
| --- | --- |
| Colors: | Sage Green |
| Material: | Nylon |
Jil Sander Brown Tangle Case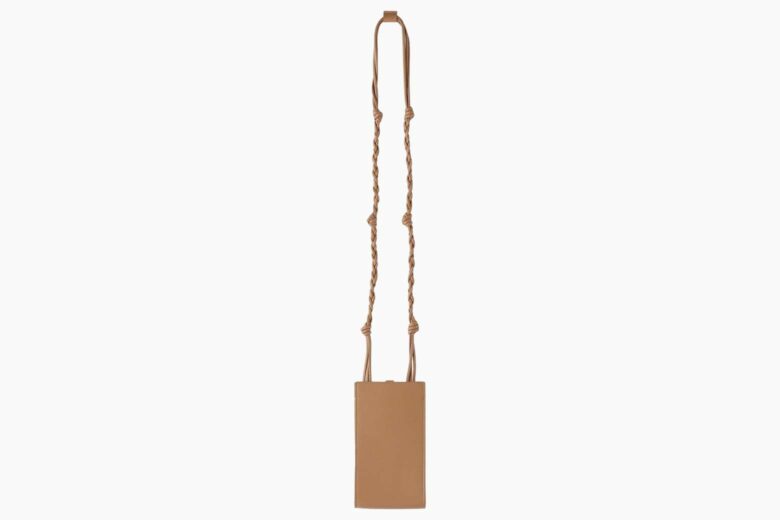 Jil Sander goes the extra mile with the design of the brown tangle case. Quite a few designers will put a ton of effort into the case itself, and then just add a strap as an afterthought. That's not the case here. The strap is hand-knotted, giving you an artistic feature that other cases lack.
Best for: Digging designers that go deeper.
| | |
| --- | --- |
| Colors: | Honest Brown |
| Material: | Calfskin |
Native Union MagSafe Case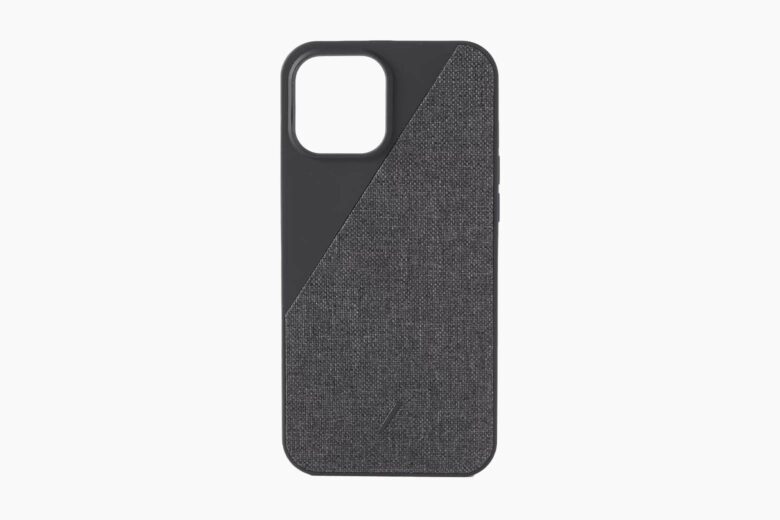 Where so many case designers zig into all-leather or rubber construction, Native Union zagged into a clever combination of rubber and canvas on their Clic case. And aside from its simple but notable good looks, this case also offers MagSafe compatibility.
Best for: Setting trends instead of following them.
| | |
| --- | --- |
| Colors: | Slate |
| Material: | Canvas, Rubber |
Harber London Magnetic Envelope Sleeve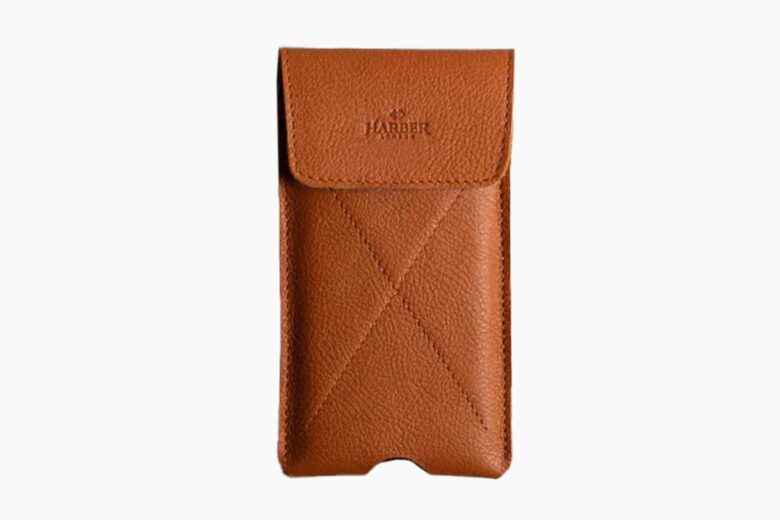 Premium full grain leather and a 100% wool felt interior combine to create this dapper magnetic envelope sleeve from Harber London. The slim profile of the case keeps it pocket-friendly, and the magnetic closure will keep your phone from taking unexpected spills.
Best for: Putting rugged good looks in the palm of your hand (or your pocket).
| | |
| --- | --- |
| Colors: | Tan, Black |
| Material: | Full Grain Leather |
iBlason Ares Case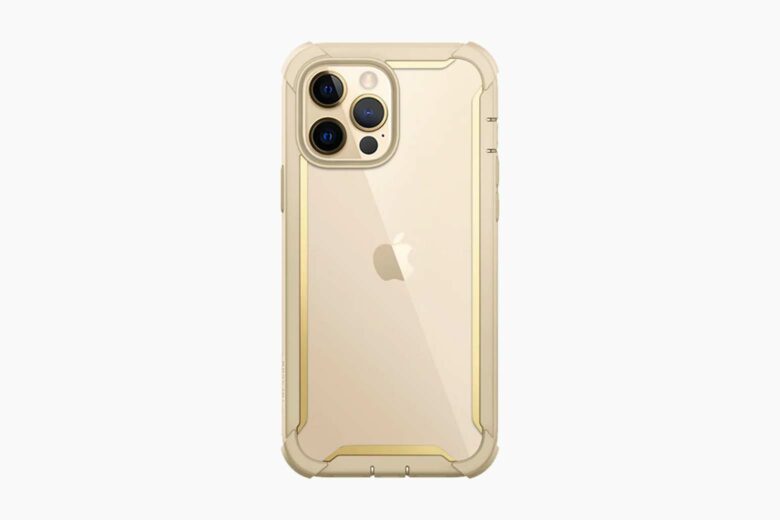 Looking for excellent protection in a cell cover without covering up your iPhone's native look? iBlason is on the case… the Ares case, to be exact. The Ares can take drops of up to twenty feet, and features impact-resistant bumpers around the edges. The gold-tinted clear case just looks cool too.
Best for: Putting your sweet baby iPhone under some serious gold-tinted protection.
| | |
| --- | --- |
| Colors: | Gold, Green, Black + More |
| Material: | TPU |
Urban Sophistication The Puffer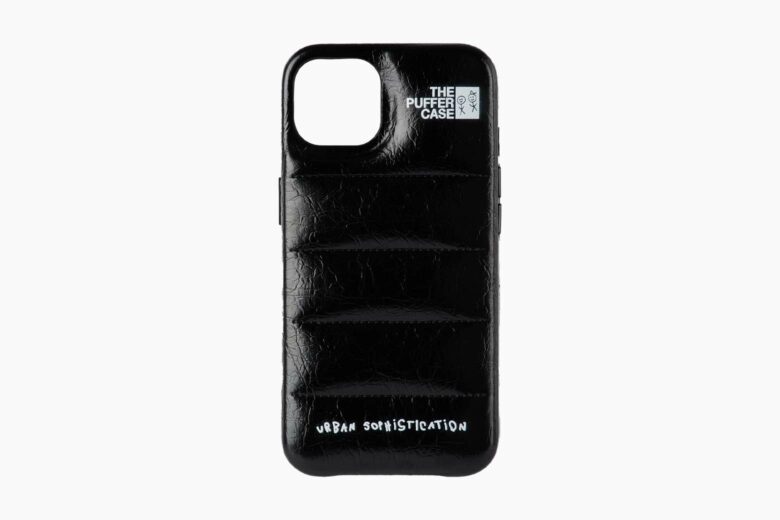 Urban Sophistication's The Puffer is a playful take on phone cases. The cover sports a puffy quilted look like a winter jacket (albeit a winter jacket made out of swank faux leather) and youth-oriented fonts and imagery. But don't let all the kidding around fool you, this case is serious about protecting your phone's back.
Best for: Puffing up your playfulness.
| | |
| --- | --- |
| Colors: | Noir |
| Material: | Faux Leather |
Kate Spade New York Defensive Hardshell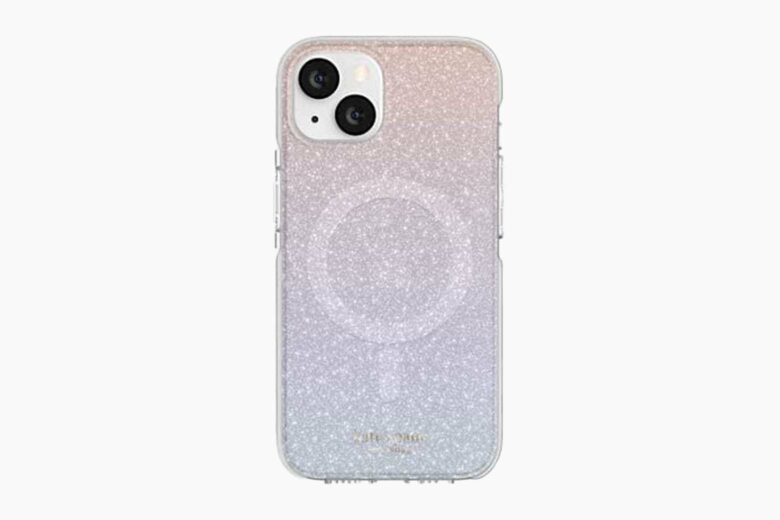 Kate Spade stands for what the brand calls "optimistic femininity", building on the idea that polished ease looks chic. That credo is on display with this New York defensive hardshell case, which boosts your iPhone's chic-factor with little effort on your part.
Best for: Making elegant look oh so easy.
| | |
| --- | --- |
| Colors: | Ombre Glitter |
| Material: | Plastic |
Casetify Impact Case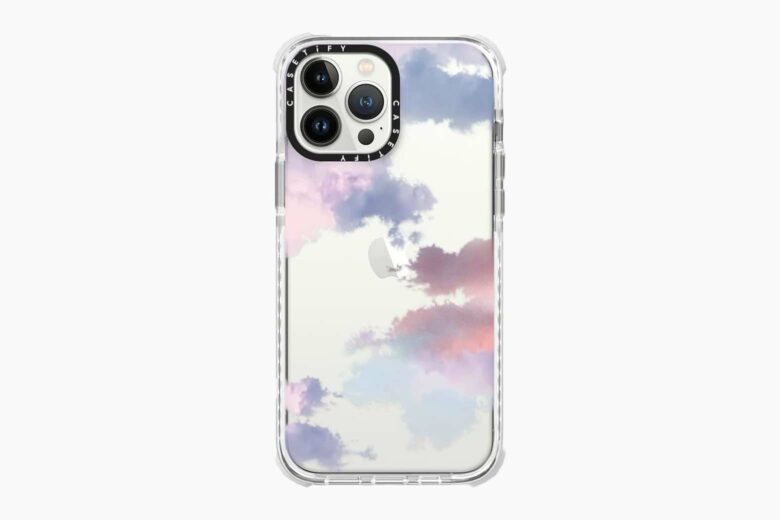 Castify's impact case certainly looks very pretty, but under all that panache is innovative shock-resistant material that can handle drops of up to six feet and six inches. That's quite the combination of good looks and tough guts.
Best for: Making sure your pretty iPhone case isn't just for show.
| | |
| --- | --- |
| Colors: | Clouds, Mermaid Water, Polka Daub Hearts + More |
| Material: | Qìtech 2.0 |
Rosantica Hello Case With Imitation Pearls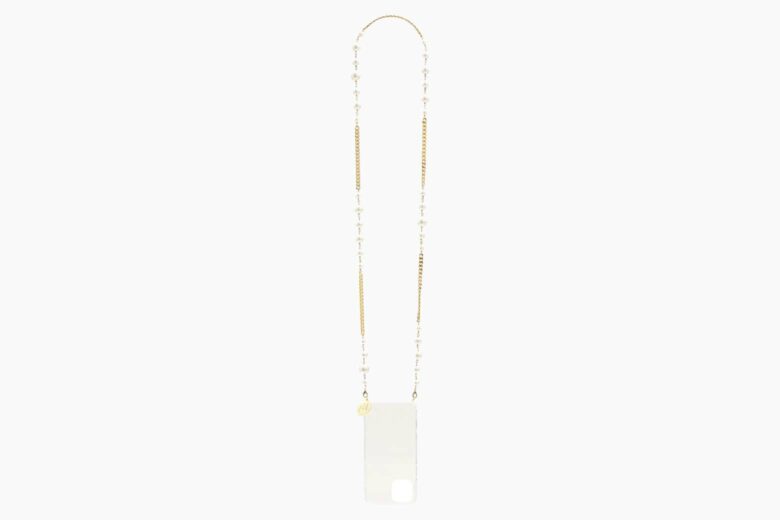 Rosantica has made a real effort to blur the lines between iPhone cases and all-out jewelry. The Hello case's brass and faux pearl chain is a fully detachable shoulder strap, but why would you want to take it off when it's delivering all that classic sophistication?
Best for: Stepping beyond common phone cases into elegant sophistication.
| | |
| --- | --- |
| Colors: | Gold |
| Material: | Brass |
Pela Eco-friendly Case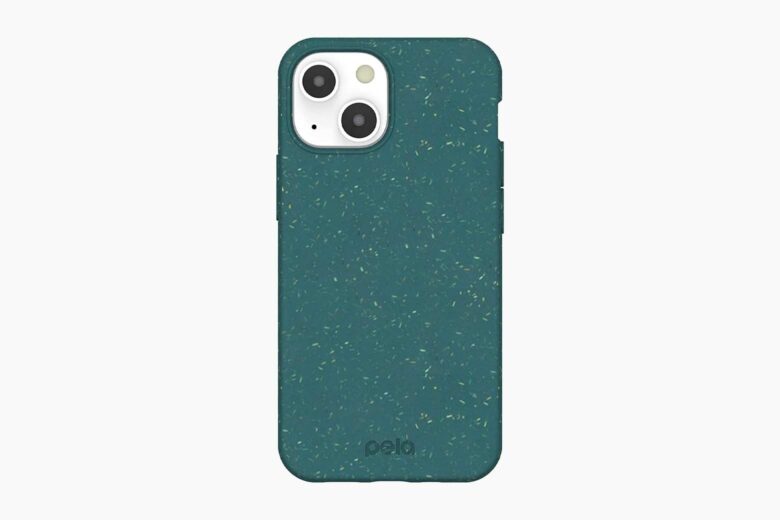 Hey planet-lovers, we've found the phone case for you. Pela's eco-friendly case is made from sustainable and environmentally-friendly flax plants. As if that wasn't cool enough, Pela will actually take back your old used Pela cases and reuse them in the production of new Pela products, or turn it into compost. Thanks, Pela!
Best for: Protecting the planet one phone call at a time.
| | |
| --- | --- |
| Colors: | Green Classic, Black Clear, Lavender Classic + More |
| Material: | Flax Plants |
Buyer's guide for iPhone cases
Protection
If you're clumsy, or if you work in locations that tend to be unfriendly to electronics, consider looking into cases that have gone through certified drop testing. Supcase's Unicorn Beetle hard polycarbonate case is certified for 15 ft drops, while the iBlason Ares case is certified for 20-foot drops.
Bumpers (a raised lip) can take some of the impact of a drop, and they raise your phone up off of surfaces when you put your iPhone down. They're handy for putting a little distance between a table top and your phone's camera lenses.
Recharging
Some iPhone cases come with the ability to utilize Apple's MagSafe recharging system. Magnets snap a disc onto the back of your iPhone 12, 12 Pro, 13, or 13 Pro. Some cases, like Apple's own 13 Pro Silicone Case, can stay on your phone while you're charging.
Carrying
Some cases are too big to slip into your pocket. In that case, look for cases that offer you a lanyard or strap that will allow you to carry the case (and thus your phone) over your shoulder, crossbody, or attached to your wrist, belt loop, or backpack strap.
Types of cases
Shell cases, or snap cases, are like a second durable skin that clamps to your phone. They can be done up with designs, or can be clear so that your iPhone's native case can be seen. The iBlason Ares case is a hard case that is intended to be mainly practical. Bottega Veneta's Intrecciato is another form-fitting shell case, but it is more fashion-oriented. Make sure there are cutouts to allow you easy access to ports and side-mounted buttons.
Sleeves or wallets are a case you slide your phone in and out of. The sleeve or wallet is in turn, slid into your pocket or a bag. This category of cases often has slots for credit or identification cards and cash. Harber London's Slim case is an example of this style.
The biggest versions of iPhone cases are essentially small clutch bags or portfolios. Like the sleeves mentioned above, they will quite often have slots for cards, cash, and other daily essentials, but feature a strap or lanyard which allows the case to be carried on your wrist, crossbody, or over your shoulder like a handbag. Take a look at Prada's Re-nylon smartphone case or Dagne Dover's Mara phone sling, for examples.
Frequently asked questions about designer iPhone cases
Does Chanel make a phone case?
Chanel does indeed make phone cases. You can find their selection on their website. For alternatives, browse our list of the 36 best designer iPhone covers.