We love tea. There are few things more comforting than wrapping your hands around the warmth of a steaming cup of the best teas in the world, ready to put bone-china to your lips. In fact, the entire ritual is a blessing, from boiling the water to waiting patiently while your fragrant tea leaves or tea bags infuse. Then there's the aromatic steam rising, lush scents filling your olfactories—and finally, the delicious flavors as they awaken your tastebuds.
Yes, what began in 3rd Century China has conquered the world, one sip at a time. At any given moment, people across Earth will be sitting down to a 5-minute tea break, sharing gossip with friends, or simply taking a moment to relax while they sip. From India's spicy chai to China's rejuvenating Oolong tea to Britain's hearty, fresh English Breakfast, people from all walks of life share a passion for this beloved brew in its many forms.
So, join us in exploring the world's top tea brands whose raison d'être is to bring you the finest teas. We've curated the ultimate guide including everything from organic and luxe to budget-friendly, to the best loose-leaf tea brands through to complex herbal teas, and everything in between. Put the kettle on, will you?
The 15 best tea brands in the world
Take a look at our luxury tea buyers' guide after the list to see exactly what you should pay attention to before purchasing a premium team. We also wrote a few short descriptions of the key terms you need to know when shopping for tea.
Vahdam: Overall best tea brand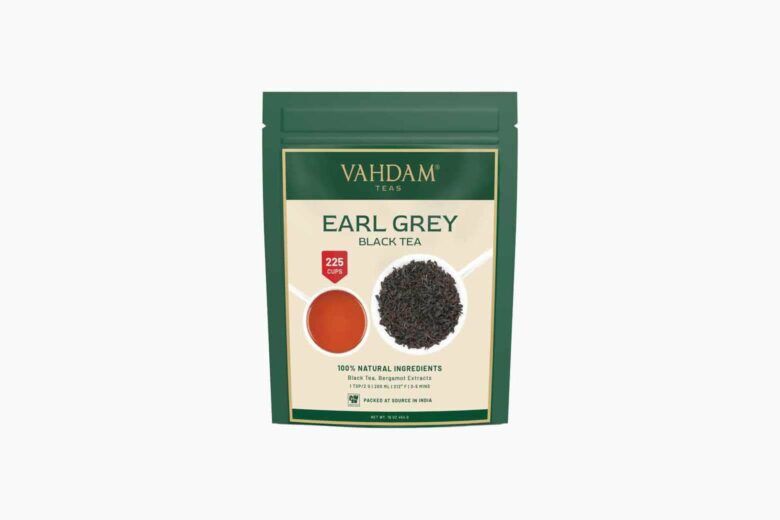 Ok, let's spill the tea: A celebrity favorite—think Oprah Winfrey, Mariah Carey, and Ellen DeGeneres—Vahdam is one of the buzziest tea brands of the moment with a growing number of tea beginners and connoisseurs alike enjoying its exotic Indian teas, Luxe Digital included.
We have been drinking Vahdam teas for over a year now, and will only tell you this: Vahdam is the next best thing to booking a first-class flight to the Indian countryside for a traditional cup of the finest tea in the world. Vahdam sources their teas directly from tea growers in India and cuts the middlemen to sell exclusively online. This ensures that you get the best prices and the freshest, high-quality teas.
Even cooler: The brand also cares for its producers, with 1% of its revenue going towards the education of its tea-growers children.
We warmly recommend Vahdam for yourself, of course, but also as a beautiful gift for the tea-lovers in your life. The brand makes exquisite gift boxes with an array of delicious gourmet teas that are sure to be, well, your cup of tea. Get it while it's hot.
Our favorite tea: Vahdam Earl Grey Citrus Black Tea
Vahdam's Earl Grey Citrus Black Tea is a blend of the finest Indian black teas and premium Bergamot oil. With a refreshing citrus aftertaste, this tea is a delicious morning wake-up call and afternoon pick-you-up. Perfect for an iced brew pot too.
Trying a blend you're familiar with is the best way to compare high-end tea brands. If you like their classic tea blends, you can then venture into a world of new tea flavors such as the Organic Turmeric Wellness Detox set, known for its anti-aging and immunity-boosting properties.
| | |
| --- | --- |
| Best for: | A-listers' cup of tea—The perfect balance of hearty and fresh. |
| Price: | $$ |
Tielka: Best organic tea brand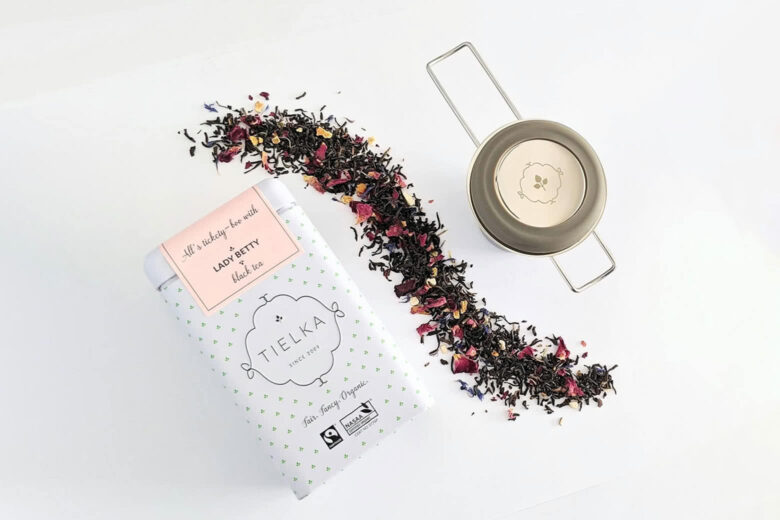 One sip of Tielka's beautiful organic tea collection will whisk you away to sun-soaked Australia.
Founded in 2009, Australia's most awarded organic tea brand has gone from strength to strength, with its passion for glorious tea transmitting into each steaming cup. They're card-carrying champions of all things sustainable and ethical, with their fine ingredients sourced both from expert growers in their homeland and the rest of the globe at harvest.
You'll find Tasmanian pepper berries, Victorian-grown lavender, and fragrant Italian bergamot oil in Tielka's delectable infusions. Each blend is meticulously crafted with thoughtful flavor combinations, offering exquisite, complex notes for the sophisticated sipper and newbie tea-lover alike. Herbal, Green, Black, White, Oolong… Tielka's collection is a kaleidoscope of refined tastes. We advise brewing up these organic teas in Tielka's tea infuser, made with super-fine mesh to prevent any pesky particles from passing into your tea.
Certified organic and fair trade, Tielka doesn't put a (probably bare) foot wrong. Even their teabags are crafted from plant-based fabric—truly, this brand embodies all-around goodness to a T(ea)… If that's not an invitation to indulge more in fine teas, we're not sure what is.
Our favorite tea: Tielka Lady Betty Black Tea
We adore Tielka's best-kept secret (shh, don't tell): The Lady Betty blend is Tielka's take on the classic Earl Grey. However, it's a touch more elegant. Which, of course, explains why it's known as French Earl Grey. This lively blend begins with the brand's award-winning black tea from the Yunnan province in China, with its sweet orange and delicate cornflower petals serving up a full-bodied, refined flavor. Then, blended with fragrant Italian bergamot and rose oils, the delectable black tea becomes the sophisticated Lady Betty Black Tea Loose Leaf Blend.
| | |
| --- | --- |
| Best for: | Bringing a touch of eco-chic to your tea break. |
| Price: | $$ |
Atlas Tea Club: Best subscription tea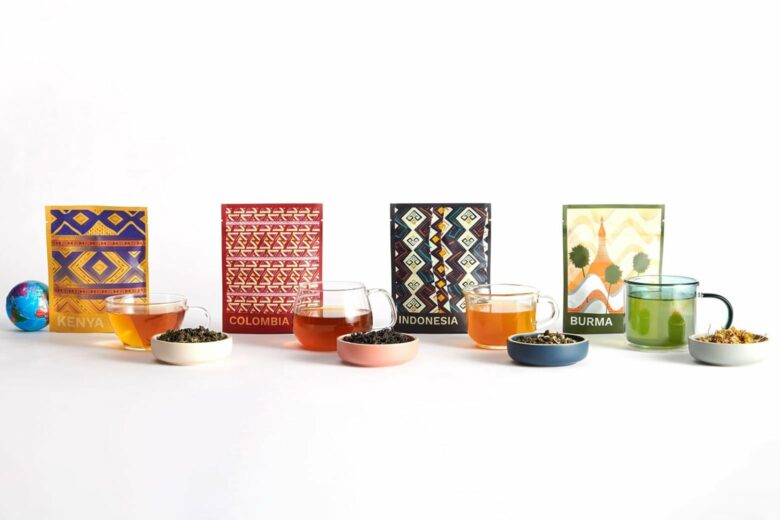 So, you've already sorted your monthly coffee subscription and alcohol subscription but what about tea? Enter: Atlas Tea Club—bringing unique, single-origin loose-leaf blends to your home.
Take a tantalizing trip around the most bountiful tea regions of the globe, from the rolling tea plantations of Sri Lanka to snow-peaked Nepal to sun-soaked Kenya. Focusing their sights on ethical trading, Atlas Tea Club goes above and beyond to ensure everybody along the supply line gets a good deal—and, thanks to their commitment to sustainable farming, that extends to Mother Nature herself.
With a passionate team sampling hundreds of teas every month, every brew has passed a stringent testing process. Yep, no corners, and only the finest tea leaves, are cut over at Atlas Tea Club, and it shows. For those with busy lives (who happen to benefit most from a calming cuppa), Atlas Tea Club takes the hassle out of tea shopping; simply set your flavor preferences and wait for the postman. Not to mention, you'll have more time to savor your brew with the attention it deserves.
P.S. we have an in-depth Atlas Coffee Club review where we go hands-on with the brand's services. Take a look to see exactly how it works.
| | |
| --- | --- |
| Best for: | A delicious dose of exotism delivered to your door, monthly. |
| Price: | $$ |
TWG: Best luxury tea brand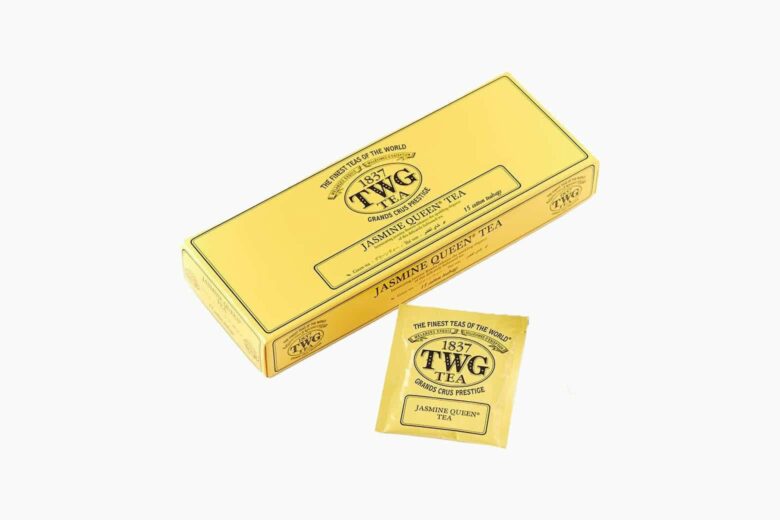 Taha Bouqdib, president and CEO of TWG Tea could easily be described as the world's biggest tea lover. And that, friends, is exactly the kind of reputation you want from your tea supplier. A true tea connoisseur, Bouqdib has traveled far and wide to source and sample the most delectable teas in the world.
Eventually settling in Singapore (which is where the team at Luxe Digital first discovered and sampled the brand), but having accumulated an impressive knowledge through studying tea ceremonies in countries as contrasting as France and Morocco for upward of 15 years, Bouqdib is arguably the ultimate authority on all things tea.
Tea is his passion, and TWG Tea is the manifestation of that passion.
Accentuating the absolute splendor of TWG Tea, they even use hand-sewn, 100% cotton teabags. Aside from being totally luxe, this actually serves to create the perfect environment for the whole leaf tea to move and expand, ensuring the perfect infusion. The premium quality, care, and love steeped in each TWG Tea blend more than justify the splurge. Because, well, if tea could earn a Michelin star…
Our favorite tea: TWG Silver Moon
Sure to invigorate your tastebuds upon the first sip, Silver Moon by TWG Tea is both delicate and opulent in equal measure. An exquisite blend of green teas sourced from skilfully selected tea gardens, this luxury tea is perfect to complement those special moments. Although, enjoying Silver Moon tea is something of a special moment itself!
The slight bitterness endemic of green tea is offset by a subtle berry and vanilla bouquet, giving Silver Moon its intricate flavor profile.
| | |
| --- | --- |
| Best for: | That indulgent moment you've been dreaming of. |
| Price: | $$$ |
Twining's: Best value tea brand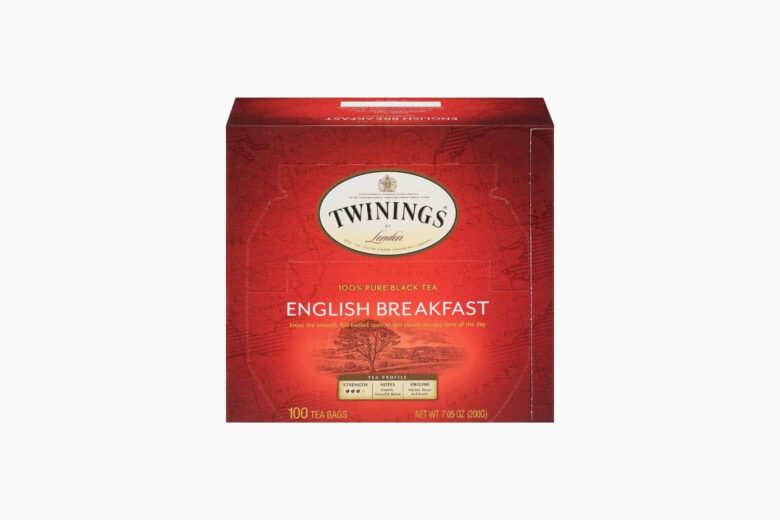 Firmly rooted in England's prolific tea-sipping culture, Twining's has enjoyed a sterling reputation since 1706, when founder Thomas Twining began peddling his wares from a humble storefront in Strand, London.
Twinings has withstood the test of time, enjoying a ubiquitous presence in pantries across England and beyond. Why? Um, because their teas—from the inviting, sensuous herbal tea blends to the strong English breakfast teas—are exceptional, in both taste and value. By hand-selecting fine tea leaves from reputable growers from around the world, Twining's pays respect to the ritual of tea, and you needn't spend a small fortune to enjoy it. Well, with 300 years of experience, you'd expect them to be pretty good. And they are.
Our favorite tea: Twining's English Breakfast
Twining's English Breakfast Tea boasts leaves from five tea-growing regions including Malawi, Kenya, and Assam, crafting the perfect balance and a flavorful palate. We adore the versatility of this tea blend; serve it just as you like—with a splash of milk and a spoonful of sugar, or let the inherent flavors shine by sipping it pure and black. However you take your tea, you're guaranteed a taste sensation with every Twining's infusion.
| | |
| --- | --- |
| Best for: | A cheap and cheerful way to begin the day. |
| Price: | $ |
Tea Forté: Best tea bags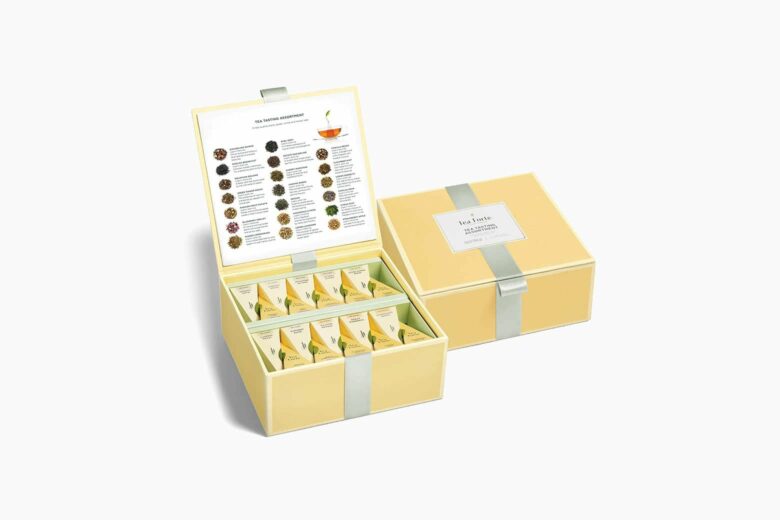 While we all love a loose-leaf tea, sometimes a quick-and-easy teabag brew is just what we're craving.
An indulgence for the eyes as well as the taste buds, Tea Forté strives to stand out from the crowd with its elegantly handcrafted pyramid infusers encasing the award-winning flavor bonanza inside.
Working directly with growers, Tea Forté is dedicated to creating the most exquisite flavor combinations, which meld together to create both quirky and classic tea blends. Oozing layered notes, Tea Forte's teas reveal themselves like luxury perfumes—escorting you down the scenic route through aroma and flavor.
They're proud to provide fine teas to over 35 countries, reflecting the permeating appeal of their craft. Okay, Coca-Cola is available in 200, but 35 is still an impressive figure! Just give them time… Tea Forté is to tea what Ladurée is to macarons; a divine product enveloped in equally divine packaging.
Our favorite tea: Tea Forte Tea Tasting Assortment
What's better than a nice cup of tea? A sample set of only the best teas, of course. Variety is the spice of life, and Tea Forte satiates our lust for new flavors with flying colors. This Tea Tasting Assortment is after our hearts, full to the brim with 40 distinctive tea varieties, sure to pacify even the fussiest of palates. Discover classic favorites like Earl Grey, English Breakfast, and Jasmine Green, as well as unique blends such as Blueberry Merlot, Cherry Marzipan, and Lemon Sorbetti, which evoke more than a little curiosity. Distinguished wrapping and a gorgeous selection of gourmet teas have led us to confidently rate Tea Forté's Tea Tasting Assortment as the best tea sampler.
| | |
| --- | --- |
| Best for: | Reviving your mind, body, and soul. |
| Price: | $$ |
Art of Tea: Best loose leaf tea brand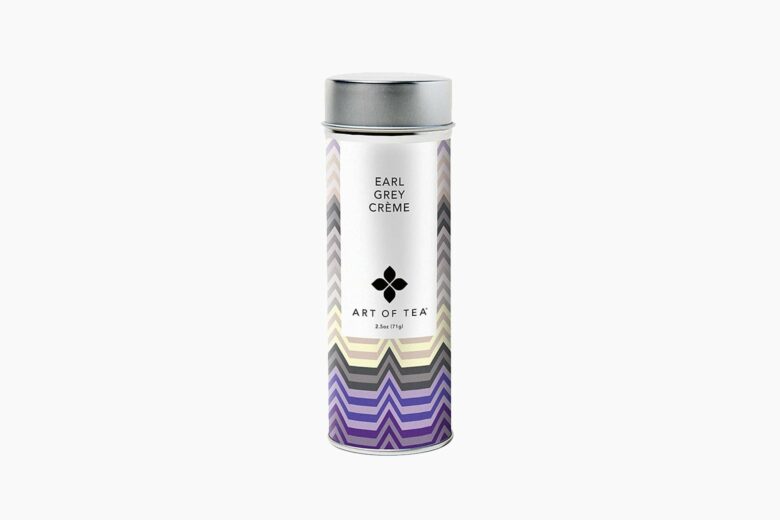 Performing the ritual of brewing loose-leaf tea is a therapy in itself, beginning long before the aromatic liquid reaches your lips. Art of Tea earns the gold for our favorite loose-leaf tea brand, well-deserving of an invite to your next afternoon tea get-together.
Simply gather your most exquisite tea set, add one of Art of Tea's delectable tea blends, and sit back while those exquisite flavors infuse.
Comforting, exquisite, and refined, there are few loose-leaf tea brands who appreciate the fine ritual of tea-brewing quite like Art of Tea—that's a fact.
Our favorite tea: Art of Tea Earl Grey Crème
Start your day with a full-body cup of Earl Grey Crème tea. Hand blended with fragrant oil of bergamot for silky notes of citrus and a touch of French vanilla for a rich and robust finish.
Next time you're spilling tea, you'll have the best Earl Grey to sip.
| | |
| --- | --- |
| Best for: | Adding an elegant touch to your morning rituals. |
| Price: | $$$ |
Harney & Sons Tea: Best black tea brand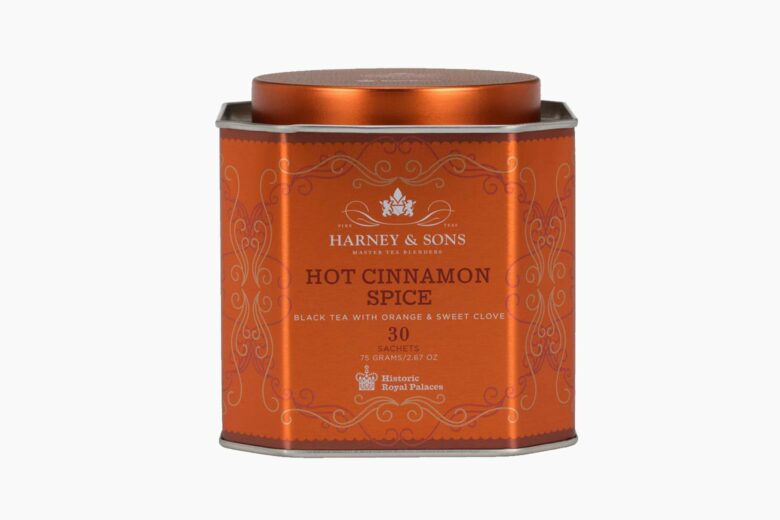 A family business fuelled by a true passion for all things tea, Harney and Sons continues the legacy developed by its founder, John Harney. The eponymous sons of Harney and Sons now work tremendously hard to comb through and discover the world's finest tea plantations. Mike Harney, who goes by the enviable title of Master Tea Buyer and Blender previously held the equally enviable position of hobbyist sommelier (um, aren't we all on most Friday nights?).
As such, this man's taste buds are second-to-none. Expertly crafting both traditional and exotic tea blends is the order of the day, every day at New York-based Harney and Sons.
With over 300 different blends, including several matchas and black teas, even the prissiest of tea drinkers are likely to be appeased with the formidable tea selection.
Fairtrade Certified, Harney & Sons endeavors to shoulder some responsibility for the welfare of the tea-growers. What is more, their decade-long partnership with 1% for the Planet is a commitment to donating 1% of their profits to environmental causes around the globe. Respect.
Our favorite tea: Harney & Sons Hot Cinnamon Spice
The bestseller of the brand is also one of the oldest, developed by John Harney in 1980. The enticingly-named Hot Cinnamon Spice tea is a warming brew that is black tea-based, with orange peel, sweet clove, and three types of cinnamon.
The conjunction of these complimentary flavors results in a sweet, rich flavor palate that is oh-so-comforting.
| | |
| --- | --- |
| Best for: | Sipping to the sound of mindful heart-to-hearts with friends and family. |
| Price: | $$ |
Republic of Tea: Best white tea brand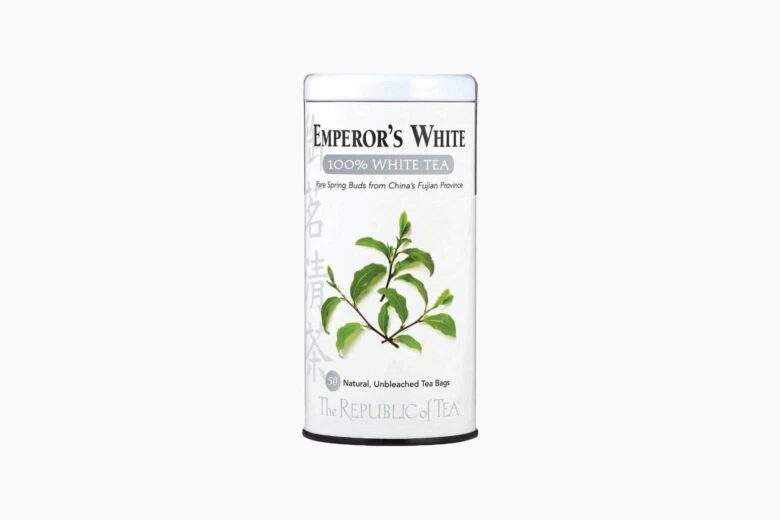 Encouraging a 'sip by sip' culture rather than 'gulp by gulp', is Republic of Tea's mission statement. They endeavor to uphold the gracious ceremony of tea-drinking, gently inspiring the drinker to appreciate the subtleties of their teas harvested from the worthiest tea gardens.
Perhaps the best part of all things Republic of Tea is their decision to behave as a truly independent republic might, and dub their employees 'ministers', their stores 'embassies' and their customers 'citizens'.
'Substandard' is the antithesis of Republic of Tea's national product; their whole leaf teas, unbleached bagged teas, and decaffeinated blends are, in fact, award-winning. So, there.
Being an ever-inclusive and benevolent leadership, Republic of Tea offers over 300 varieties, so there's something for everyone.
Our favorite tea: Republic of Tea White Emperor
Looking for health in a mug? Opt for White Emperor, a zero-calorie, sugar-free white tea that's as pure and angelic as it sounds. Grown exclusively in the Fujian Province mountains in China, Republic of Tea's White Emperor Tea promises unparalleled flavors to a majestic degree. Its harvesting time is as specific as its region: the leaves are picked on only two days of each year in the small window when the tea flowers are on the cusp of opening. Predictably, the unique and time-sensitive method of harvesting means this white tea is one of the rarest in the world. Plus, it's not called White Emperor for nothing: these exact tea leaves were traditionally picked from the emperor's secret garden and served to visiting dignitaries to give them the warmest, most fragrant welcome to China.
| | |
| --- | --- |
| Best for: | Focusing on subtle notes for a calm-inducing sip. |
| Price: | $$ |
Stash Tea Company: Best caffeinated tea brand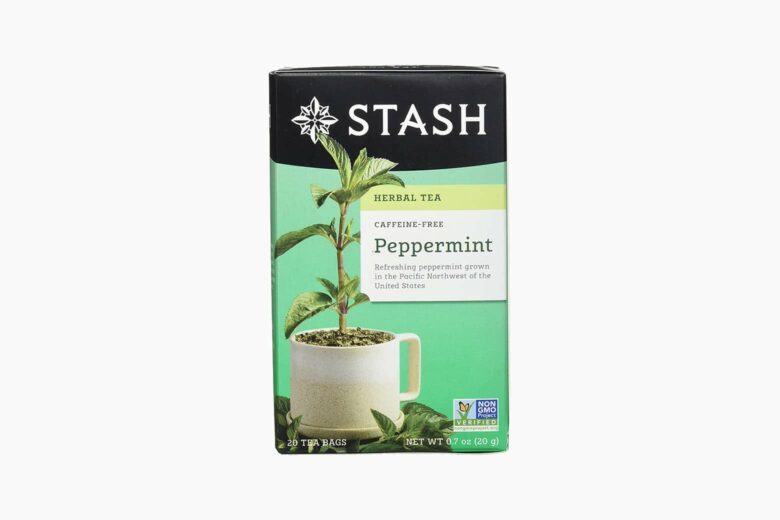 "No, Stash isn't a bag of tea. It's a little bag of crazy." says the brand. And we are all for it.
With over 150 teas to choose from including loose leaf, iced tea, green tea, decaffeinated black tea, chai, herbal teas, and more, you're sure to find your next favorite tea with Stash.
And if you are looking specifically for the best peppermint tea, your search ends here, too. Stash Tea became the first adopters of Pacific Northwest peppermint, one of the world's finest peppermint, making its peppermint herbal tea one of the finest—bright, tingling, light, and yet boldly flavored.
Our favorite tea: Stash Super Irish Breakfast Tea
A far superior start to the day than your triple-shot extra-syrup caramel mochaccino, Stash Super Irish Breakfast Tea is the wake-up call your morning routine is crying out for.
Dubbed the espresso of teas, Stash Super Irish Breakfast Tea is a bold blend of Assam and Ceylon black teas with a higher caffeine content than other black teas. There's no better way to sharpen up those pre-7 am senses than with a zingy cup of this brew—be it plain (the traditional Irish way) or with a touch of milk and sugar.
| | |
| --- | --- |
| Best for: | Kick-starting your morning with a burst of natural energy. |
| Price: | $$ |
Fortnum & Mason: Best English tea brand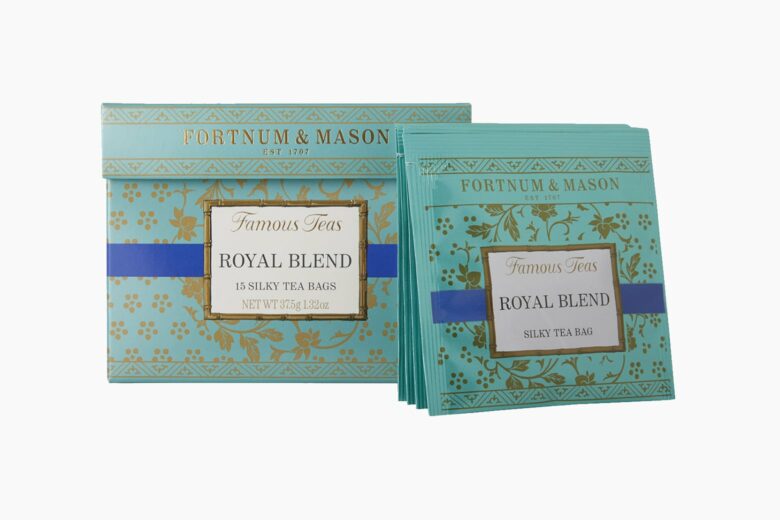 The English love tea more than the Italians love pasta, more than Americans love Taco Bell, more than Swiss love fondue… well, you get it. Go figure.
After tea was introduced to Britain by way of the East India Company (consult your history books), it became hugely fashionable. Obviously, it remains so today. At the forefront of this favorite pastime (drinking tea is not just about the tea, of course!) was Fortnum & Mason.
There's something so 'Ah'-worthy about the vision of the smooth steam which emanates from a cup of Fortnum & Mason's classic English teas. Sipping it from fine bone china is reminiscent of British royalty and efficacious of the inherent tranquillity.
Our favorite tea: Fortnum & Mason Royal Blend
Want to drink tea like a royal? An official English tea favorite, Fortnum & Mason's Royal Blend tea is the perfect way to add a little extra English elegance to your morning routine.
| | |
| --- | --- |
| Best for: | A royal-approved cup of tea. |
| Price: | $ |
Palais des Thes Paris: Best French tea brand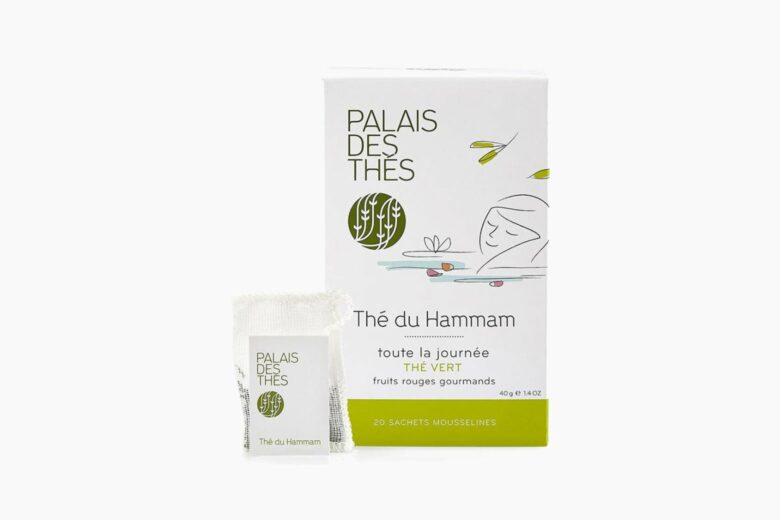 There is tea, then there is tea with a certain je ne sais quoi. Le Palais des Thés—French for "Palace of Teas"—is just that.
A genuinely French tea brand founded in Paris in 1986, Palais des Thes provides tea lovers with a vast and diverse collection of exceptional teas from the top gardens in Asia as well as travel-inspired signature flavored teas designed in Paris.
With enticing names such as Fleur de Geisha, Chai Impérial, and Paris for Her, Palais des Thes will make you put down that beloved café crème. Plus, the exceptional tea bags are presented in beautifully designed packaging or stackable lacquered metal tins for the loose tea version. Ooh la la!
Our favorite tea: Palais des Thes Hammam Tea
Is it just us, or does green tea make you feel super healthy from the inside out while giving us that energizing kick-start? One of the French tea brand's bestselling flavored teas, Palais des Thes' Hammam Tea is inspired by the fragrances used to perfume the hammam (steam bath). A rich, fruity green tea blend, it features a subtle combination of Chinese green tea with roses, green dates, berries, and orange flower water. More than just a hot drink, this tea also makes the perfect addition to a delicious Champagne cocktail. Just pair it with the best bathrobes and comfy slippers for ultimate relaxing vibes.
| | |
| --- | --- |
| Best for: | A flavor palate that's as sophisticated as you. |
| Price: | $$ |
Jade Leaf: Best green tea (matcha) brand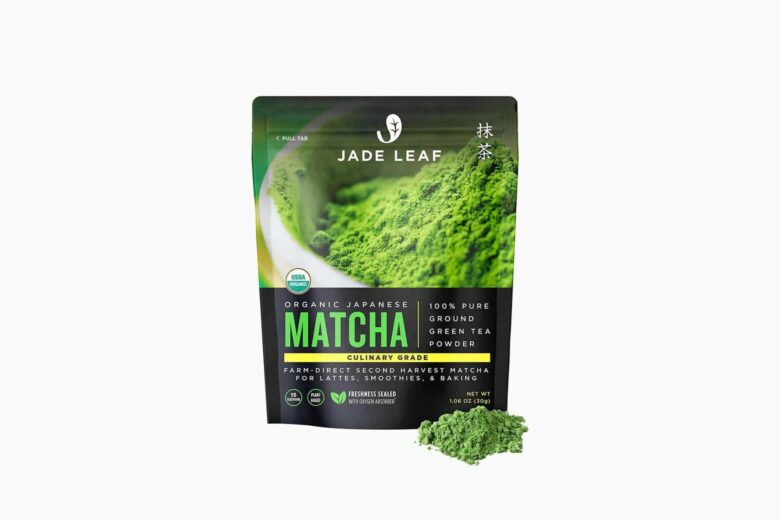 Most people think of sushi and sake when they think of Japan. However, the 'super tea' that is matcha has arrived in the public eye too, having voyaged from the far-off island nation and into Western society.
Japan's highly dignified culture places the utmost importance on ritual. Tea drinking is no exception. Where matcha has become a wildly popular health drink in the West only in recent years, the matcha tea ceremony has been an integral aspect of Japanese society for centuries.
But, you don't have to partake in the traditional tea ceremony to enjoy the health benefits matcha tea provides (although it would bring an entirely new depth to sushi night!).
Enter Jade Leaf Matcha. Founders Mark and Will source their matcha directly from organic farms in Japan, ensuring the most authentic experience possible. Not just any organic farms, either. Jade Leaf Tea's matcha comes from near Kyoto, an area renowned for its matcha plantations. The transformation from raw plant to ready-to-brew matcha powder is proudly 'left to the masters' in the nearby Uji. With Jade Leaf Tea's meticulous approach and commitment to perfection, you may find yourself waving sayōnara to inferior matcha, forever.
'Green' in every sense of the word, Jade Leaf takes the accolade for the best green tea brand.
Our favorite tea: Jade Leaf Ceremonial Matcha
Ceremonial means that it's the 'ceremonial' grade of matcha tea, which is to say it's the highest of quality. Jade Leaf Ceremonial matcha is 100% USDA Certified Organic (and only 1% of Japanese farms are tea-certified, so finding one is like finding a needle in a haystack). Japanese monks have been reaping the benefits of matcha since way before it was cool, enjoying the purported health perks of the insanely concentrated antioxidant levels.
Easy to prepare (just whisk with hot water) and providing a caffeine kick (without the jitteriness of coffee), the intensely complex and flavorsome Jade Leaf Ceremonial matcha might be what's missing from your life! The bittersweet flavor profile is certainly a taste to acquire, and some have said they begin to yearn for the uniquely astringent taste after a few weeks of regular drinking.
| | |
| --- | --- |
| Best for: | Boosting your wellbeing in a single cup. |
| Price: | $$ |
Yogi: Best herbal tea brand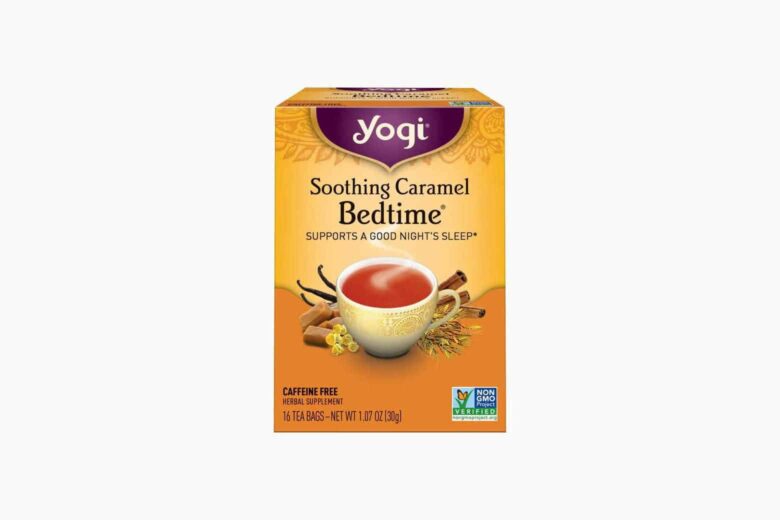 Granted, "wellness" is well and truly the buzzword of this century. But Yogi Tea embodies those coveted ideals with refreshing honesty. Serving up healthy, herbal tea, each brew is like an (incredibly tasty) apothecary's tonic.
Big on mindfulness and positivity, Yogi Tea can be found on the breakfast bars of many, many yoga retreat centers across the globe, not to mention the pantries of those wishing to replicate that desirable serenity in their own homes.
Of course, the ingredients are organic and free of artificial ingredients or additives. Each tea comes with a cute message of Yogic wisdom and a yoga exercise. We don't know about you, but we're rolling out our yoga mats.
Our favorite tea: Yogi Soothing Caramel Bedtime
Drinking Yogi Tea will not transform you into a starry-eyed, yoga pants-wearing earth child. Unless you're into that. Their Soothing Caramel Bedtime blend, however, will transform you into a ready-for-bed, calm, and firmly unwound human. This creamy, sweet tea helps to support a restful night's slumber thanks to powerful ingredients like chamomile and skullcap (friendlier than it sounds). A worthy alternative to a sugar-packed hot chocolate, you'll be off to dreamland in no time. Best enjoyed with luxurious bed sheets and one of the best luxury mattresses.
| | |
| --- | --- |
| Best for: | Wellness in a cup. |
| Price: | $$ |
Taylors of Harrogate: Best British tea brand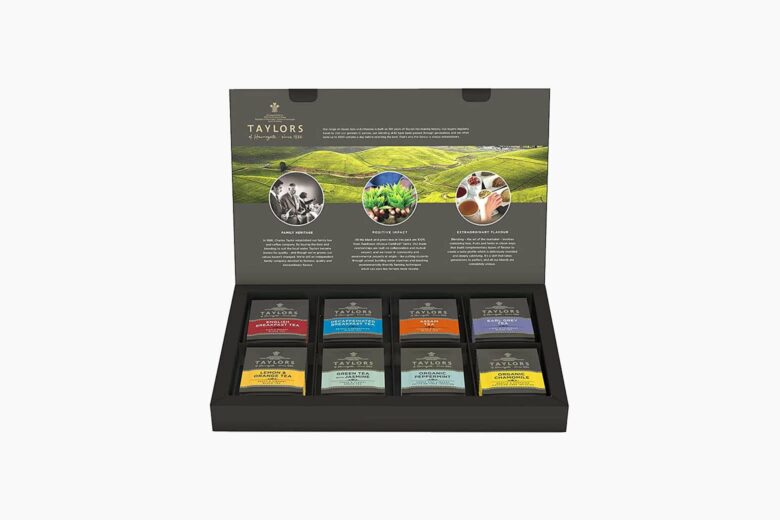 Hailing from the historic spa town of Harrogate, England we're hard-stretched to find a more devoted British tea brand than Taylors of Harrogate, whose commitment to the fine craft of tea-blending transcends into every steaming cup.
Beloved in Britain, served at breakfast, family gatherings, and girlfriend meetups, Taylors of Harrogate's fine British classic teas range from rich black teas to organic and decaffeinated blends, elegant green teas, and refreshing herbal infusions.
You may be wondering 'But I didn't think you could grow tea in England?'. Full marks to you! No, the perpetually rainy British weather is unsurprisingly not known for its tea-friendly climes and rich soils. The fact is: Taylors of Harrogate's tea is sourced from the finest growers around the world, paying fair prices along the way, while remaining impeccably British.
While a quintessentially British tea brand, Taylors of Harrogate has a broader scope, however—the globe. Certified by the Rainforest Alliance and associated with the Forest Stewardship Council, you can't argue that Taylors of Harrogate don't do their bit for the planet, too.
Our favorite tea: Taylors of Harrogate Assorted Specialty Teas
We're head-over-heels with the Assorted Specialty Teas by Taylors of Harrogate. Serving up plentiful blends from which to choose, there's a flavor for every palate (even the fussy ones). Discover fresh Green Tea with Jasmine, citrusy Earl Grey, and zesty Lemon and Orange, to name a few. Oh, and they've not missed the memo on organic teas (so en vogue), either: from Organic Chamomile to Organic Peppermint, you can sip with the eco-chic assurance that your brew is made of only the good stuff, no chemical nasties in sight.
| | |
| --- | --- |
| Best for: | Sharing a steaming pot over some biscuits and a catch-up. |
| Price: | $ |
Bonus: Best iced tea brand – Pure Leaf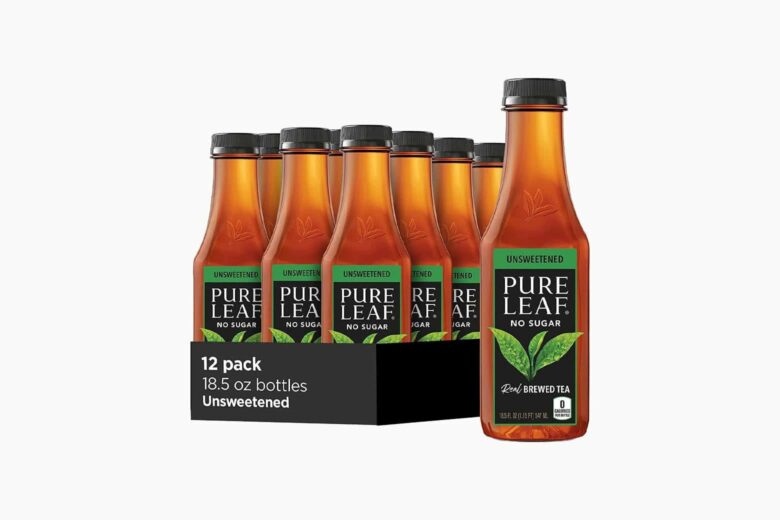 Is there really such thing as a guilt-free indulgence? Um, yes actually—and Pure Leaf are our guys. While there's nothing wrong with enjoying a hot tea on a sultry day, it's far more refreshing to take the temperature down a notch or two. Enter: Pure Leaf Iced Tea.
Far from your convenience-store iced tea, packed with sugar and additives, this iced tea brand is pure by name and by reputation. Brewed from the finest black tea leaves picked in their prime, you'll find no trace of artificial colors or flavorings in this straight-up brew. Oh, and did we mention there are zero calories in each bottle? That's right: zilch, nada. So, whether you're doing the 5:7 or 8:16, you can sip the Pure Leaf Iced Tea to your heart's content.
And, if you're feeling a little wild, you can branch out with the Raspberry, Lemon, or Extra Sweet varieties, too (of course, don't expect the Extra Sweet to be quite as innocent calorie-wise).
Our favorite iced tea: Pure Leaf Unsweetened Black Tea
The name says it all: Pure Leaf is real brewed tea, bottled. No pitcher needed—The best iced teas without any of the difficul-tea (sorry, we had to!). It has rave reviews and is an Amazon bestselling iced tea for a reason!
| | |
| --- | --- |
| Best for: | Piling with ice cubes and sipping in the sun. |
| Price: | $$ |
Luxury tea buying guide: How to select high-quality tea
There are a few things to remember when shopping for your new favorite luxury tea brand:
Consider the kind of tea drinker you are
Black tea
To many of us, there's only one way to enjoy a good cup brew: black tea, with milk. English breakfast tea, Earl Grey, Assam, Ceylon (present-day Sri Lanka) and Darjeeling are all popular types of black tea. Black tea does contain caffeine, but less than the equivalent of a coffee.
Therefore, it's a great drink to kick-start your engines on a floundering afternoon while avoiding the mania that sometimes accompanies too much caffeine!
Of course, it's also the Queen's favorite beverage. So if you're looking to channel your inner majesty, classic English breakfast is the way forward.
White tea
Mythbuster: White tea is not just black tea with milk added. Tea aficionados will have you promptly removed if you make that blunder at a high-tea party.
The most common varieties of white tea are Silver Needle, White Peony, Long Life Eyebrow, and Tribute Eyebrow. We haven't made those last two up, we promise.
White tea is known to be the least processed of all teas. The rawer form of the tea means it retains most of its antioxidants, making white tea super healthy as well as exceedingly delicious. White tea contains on average 15-20mg of caffeine per cup, so it's ultra-safe if you're a little sensitive.
Green tea
Being both the new kid on the scene and as old as time, green tea is a favorite among many tea-sippers. Thought to have metabolic-boosting properties and a fair punch of antioxidants, this potent bitter brew has gained quite the reputation.
Due to its caffeine content of 40-50mg per cup, green tea can be a great substitute for your morning coffee, too.
It's recommended that you don't infuse green tea for longer than two minutes. As green tea fiends will know, it can be a little on the bitter side. Don't be tempted to go overboard with the brewing, or you'll lose that delicate taste!
Herbal teas
Herbal teas are the treasure trove of the tea world. Making fantastic use of herbs, flowers, and essences, there are a-million-and-one flavors of herbal tea out there. Other than green varieties, most herbal teas have zero caffeine, making them super refreshing and safe to drink all day.
Night time teas
Many tea makers offer a nighttime blend of tea, crafted to promote a sound night's sleep.
Calming ingredients such as lavender, chamomile, and valerian supply harmonizing and soothing effects to the drinker. For a healthy, aromatic nightcap, check your chosen nighttime tea includes valerian.
Blended versus unblended teas, what's the difference?
Black tea in bags is often blended, as are many fusions of herbal teas. Neither is decidedly 'better', but it's good to be aware that the process of blending tends to be used to iron out any inconsistencies of the tea-leaf quality.
Therefore, you can usually count on unblended tea to be of the utmost quality and have the most pleasurable tastes. This is more true with loose leaf teas.
Loose leaf tea or tea bags: what's best?
It's often said that loose-leaf is far superior to teabags.
Generally speaking, this is true. Some brands disguise the lower quality of their tea leaves by encasing them in bags and therefore obscuring the tangible quality, the luxury tea brands we've listed go to great lengths to ensure all their tea is top quality.
When it comes to convenience, bagged tea is a winner as there's considerably less preparation required.
However, invest in a good tea infuser, and your problems will be solved! This opens the possibility for indulging the highest quality loose leaf teas, which are often crafted from superior plants.
Terminology
To blend or not to blend: Blended tea is where there are two or more types of tea present, in addition to flowers, herbs, and spices.
On the other hand, unblended tea is where there is only one type of tea present. This can be preferable for a more pure taste.
Single origin: Single origin tea is a tea originating from one specific country or location. In some cases, this can be narrowed down to a square kilometer within a single tea estate!
Liquor: Not to be confused with the strong alcohols we all know and love, the 'liquor' of tea takes place as soon as the infusion process starts; i.e, when the hot water hits the tea leaves. 'Tea sommeliers' may use this term liberally to describe the consistency and hue of the brewed tea.
Our methodology to select and rank the best team brands
To ensure fair reviewing, we're using a combination of in-house tests and online user reviews to identify and rate the best tea brands available on the market today. The conjunction of the two approaches means you can be confident in our findings.
Frequently asked questions about the best teas
What is the highest quality tea in the world?
We firmly rate Vahdam as the highest-quality and best-rated tea brand in the world. Selling online-only, this tea brand passes its production savings onto their customers, providing top-quality tea for reasonable prices. Read our list of the best tea brands in the world for more inspiration.
What is the most luxurious tea brand?
TWG goes above and beyond with its tea blends. Each fine, aromatic blend is served in a hand-sewn, cotton teabag, making TWG as eco-friendly as it gets. Having carefully studied tea ceremonies across the world, founder Taha Bouqdib is a true expert.
Which brand of tea is best?
We can't speak highly enough of Vahdam. With a celebrity fanbase including Oprah, Mariah Carey, and Ellen DeGeneres, Vahdam's organic teas grace the coffee tables of the rich and famous but come in at a surprisingly affordable price. Find the best tea for your lifestyle and budget on our list of the world's best tea brands.
What is the most beneficial tea to drink?
Green tea is thought to be the most beneficial tea for our health. While black, white, matcha, and other blends have their benefits, green tea packs a real punch due to its antioxidant content, minimal processing, and brain-boosting properties.