The best reusable water bottles look good and make you feel good. Especially when you're working from home and want to limit unnecessary waste.
There's nothing quite so luxurious as being able to quench your thirst whenever you please. Not only is it luxe, it's healthy. Being hydrated keeps your body cool and your skin glowing.
Whether you're craving a cold drink or a hot drink, these water bottles will have you covered in a sustainable, eco-chic way. There's no wrong choice, from the gym to the office and beyond.
Here's to a refreshing, glowing, and fully-hydrating accessory for year-round health! We'll definitely drink to that.
The 15 best water bottles
Check our special water bottles buyers' guide after the list to see exactly what you should pay attention to before purchasing a reusable bottle.
S'well: Best overall water bottle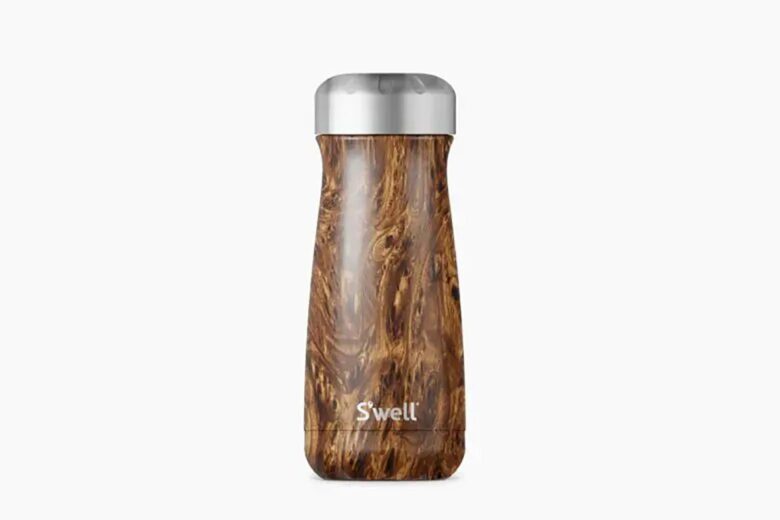 A smooth, design-forward silhouette. The design of your choice, from White Marble to Calacatta Gold to Moonstone. The S'well line of Traveler bottles offers you a chance to have a functional water bottle that doubles as a beautiful accessory.
With S'well's Traveler, you can reap the benefits of more than just its aesthetics. This water bottle will keep your beverage cold for 24 hours, or hot for 48 hours, with no condensation, making this a versatile tool for daily travel.
Best for: Fashion-forward hydration, no matter where you are.
| | |
| --- | --- |
| Dimensions: | 3.30″D x 8.20"H x 3.30″W for the 16 oz bottle |
| Weight: | 0.80lbs for the 16 oz bottle |
| Capacity: | available in 12 oz, 16 oz, and 20 oz |
| Material: | BPA-free stainless steel |
LARQ: Best high-end water bottle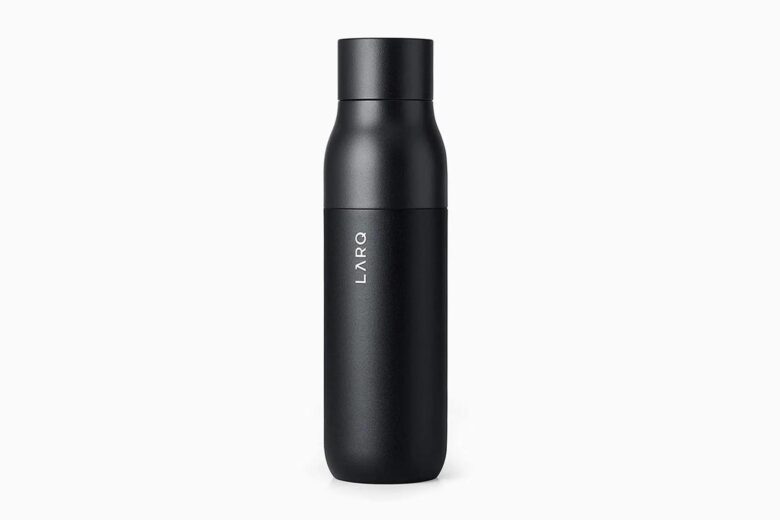 The unassuming minimalistic lines of this high-end water bottle hide the fact that inside is a powerful purifying system. The UV-C LED light inside purifies water and self-cleans the bottle. You won't have to worry about contaminants at any time.
Charge your LARQ bottle only once a month; take it on all your travels with true peace of mind. As it's double-insulated, your drinks will not only be safe. Cool beverages will stay cool. Hot beverages will remain at the precise temperature you prefer for a full day. This stylish accessory was made to upgrade your beverages while you're living your fast-paced life.
We love this self-cleaning bottle so much that we wrote an in-depth LARQ water bottle review if you want to see exactly how the technology works.
Best for: Worry-free hydration, in a superbly sophisticated shape.
| | |
| --- | --- |
| Dimensions: | 24 x 5 cm (9.4 x 2 in) |
| Weight: | 412 gr (0.9 lb) |
| Capacity: | 0.5 l (17 oz) |
| Material: | BPA-free electropolished stainless steel  |
Iron Flask: Best value water bottle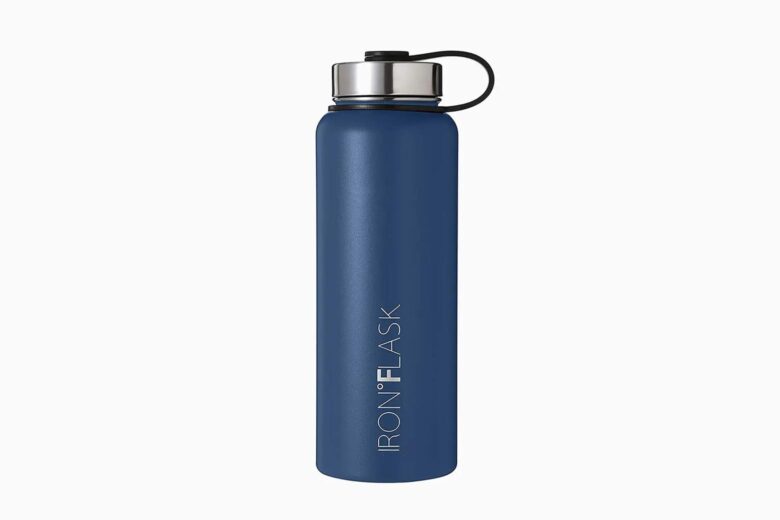 If you're running, hiking, stretching, or working out, the last thing you need is a sweating water bottle! With a crisp, matte exterior shell and layers of insulating metal underneath, the Iron Flask is condensation-free.
The Iron Flask comes in a large range of sizes and arrives with three different lids. You can customize your hydration system to your specific lifestyle. Its layered insulation system and powder shell will always feel cool and comfortable to the touch. Because it comes at a lower price, it'll be comfortable for your budget as well.
Best for: A wide array of customizable options for a catered-to-you feel.
| | |
| --- | --- |
| Dimensions: | 8.14 x 7 x 19 cm (3.14 x 2.7 x 7.4 in) |
| Weight: | 453 gr (1.1 lb) |
| Capacity: | 0.41-1.89 l (14-64oz) |
| Material: | BPA-free stainless steel |
Takeya Originals: Best stainless steel water bottle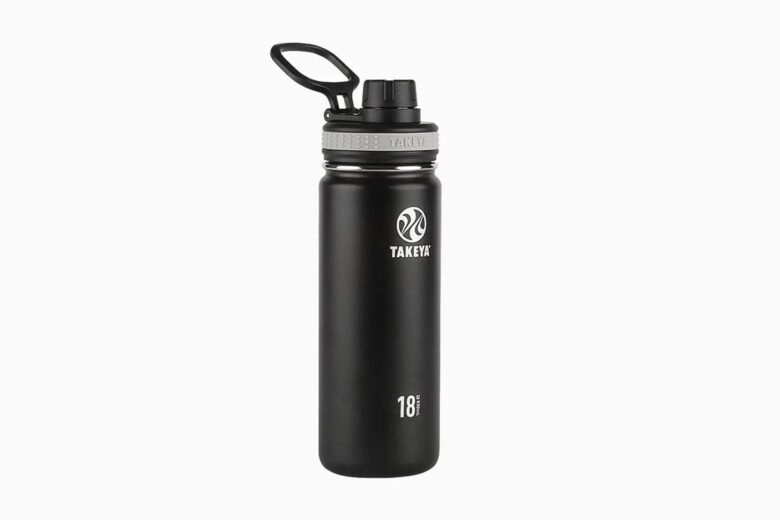 The lids on water bottles can often be hard to place, leaky, easy to break, or easy to lose…rendering even the most perfect water bottle useless. If you've wished you could find the perfect water bottle with the perfect lid, check out the Takeya Originals water bottle.
The mouth of this water bottle is wide, which makes it easy to add ice. The spout is leak-proof, and it features a cap that locks out of the way for uninterrupted drinking access. A handle right next to the lid makes toting this water bottle around a breeze.
The Takeya Originals is a water bottle that's primed for action. Wherever you go, it'll be a useful accessory that will last for years to come.
Best for: Those who need a water bottle with a skilfully-engineered lid.
| | |
| --- | --- |
| Dimensions: | 7.62 x 7.62 x 22.86 cm (3.27 x 3.27 x 9.27 in) |
| Weight: | 283 gr (0.62 lb) |
| Capacity: | 0.51-1.89 l (18-64 oz) |
| Material: | BPA-free stainless steel |
Nalgene Tritan: Best BPA-free water bottle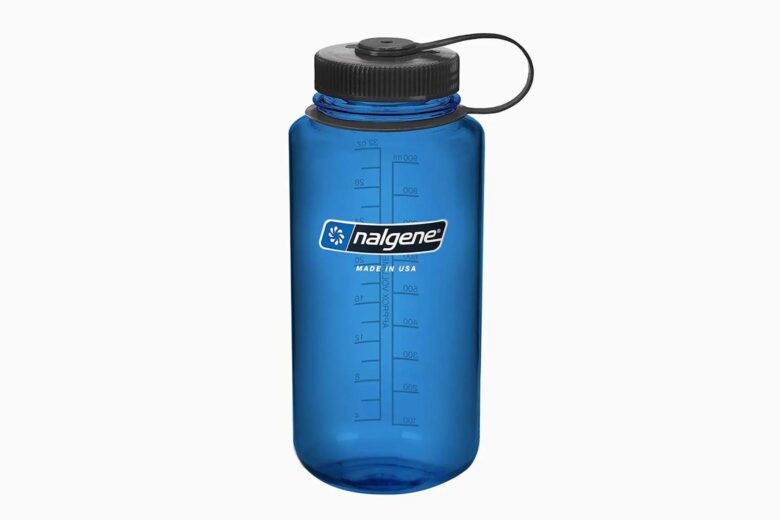 If you're looking for a classic no-frills water bottle, this is likely it. Nalgene's name has become synonymous with easy-to-use, long-lasting BPA-free water bottles. They're ubiquitous on college campuses and among athletes and influencers alike. It's been a best-seller for over 30 years, and it's easy to see why! It features durable, dishwasher-safe construction and a wide lid that accommodates comfortable drinking.
The Nalgene Tritan bottles are here for you–and they're here to stay.
Best for: Hot and cold beverages, wet and dry storage, and leak-free, long-lasting hydration. They're also considered among the most ubiquitous and best large water bottle options out there.
| | |
| --- | --- |
| Dimensions: | 21.5 x 8.9 cm (8.25 x 3.5 in) |
| Weight: | 178g (0.39 lb) |
| Capacity: | 1 l (32 oz) |
| Material: | BPA-free Tritan |
bkr original: Best glass water bottle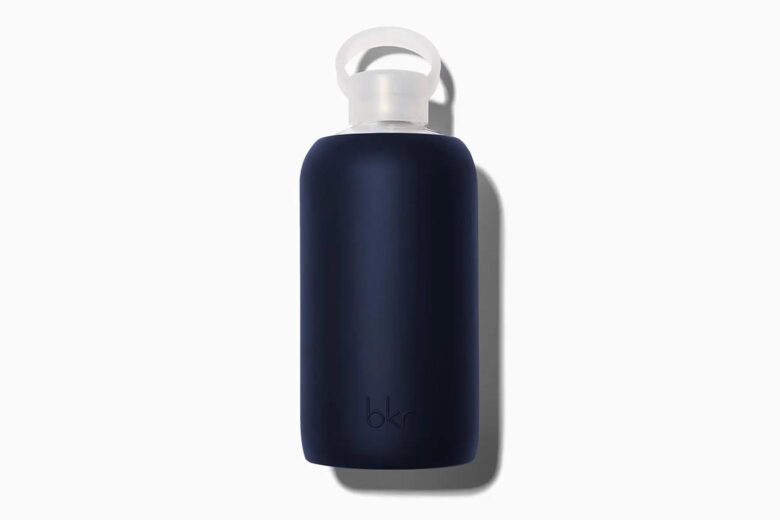 If you're looking for something with a little more heft in your hand than the typical plastic bottle, here's your chance. The bkr glass bottle comes with a sleeve of soft silicone to protect your bottle, a small mouth opening for easy sipping, and an ergonomic cap.
With a teeny size that's perfect for purses and daypacks and larger sizes to support hydration on the go, there's a bkr bottle for every lifestyle.
Available in a range of soothing, chic colors, this glass bottle will be one you love toting around. Almost as much, that is, as you like having cool, safe water whenever you please. As an extra perk, bkr's water bottles are dishwasher-safe, too.
Best for: Those seeking chic, modern hydration support that feels as good as it looks.
| | |
| --- | --- |
| Dimensions: | 17. 78 x 5.08-25.4 x 7.62 cm (7 x 2.5 – 10 x 3.5 in) |
| Weight: | 396 gr (0.87) |
| Capacity: | 0.25-1 l (8-32 oz) |
| Material: | Glass, silicone |
Klean Kanteen: Best insulated water bottle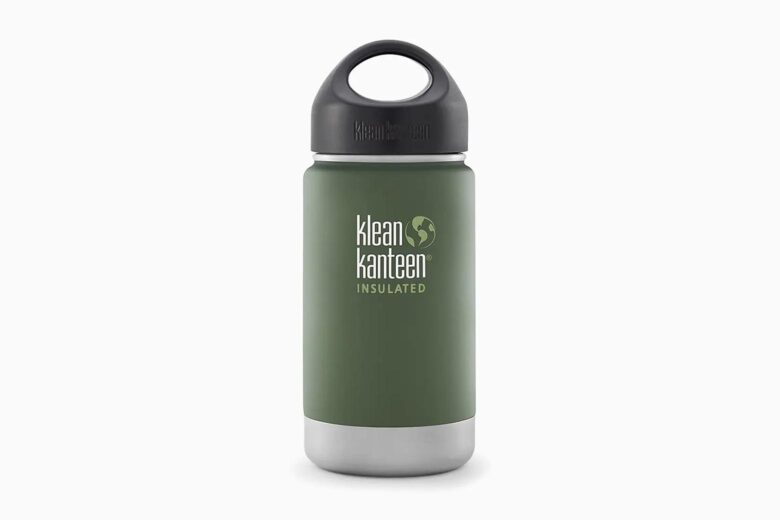 A minimalistic lifestyle demands versatile tools that are great at multitasking. With the Klean Kanteen, you have a water bottle, a thermos, and an insulated food container.
Boasting the ability to tote along only one accessory for your soups, your snacks, and your beverages, the Klean Kanteen is ready for anything. It enables traveling light–and traveling smart.
From the office to the gym, from intense hikes to days at the beach, the Klean Kanteen supports your life by being precisely what you need. Its insulation system ensures your foods and beverages will be just the temperature you require.
Best for: Versatile insulation of food, drink, and more in a handy carrying and serving size.
| | |
| --- | --- |
| Dimensions: | 7.62 x 7.62 x 5.08 cm (3 x 3 x 2 in) |
| Weight: | 350 gr (0.77 lb) |
| Capacity: | 0.35-0.59 l (12-20 oz) |
| Material: | BPA-free stainless steel |
S'well Original: Best water bottle for work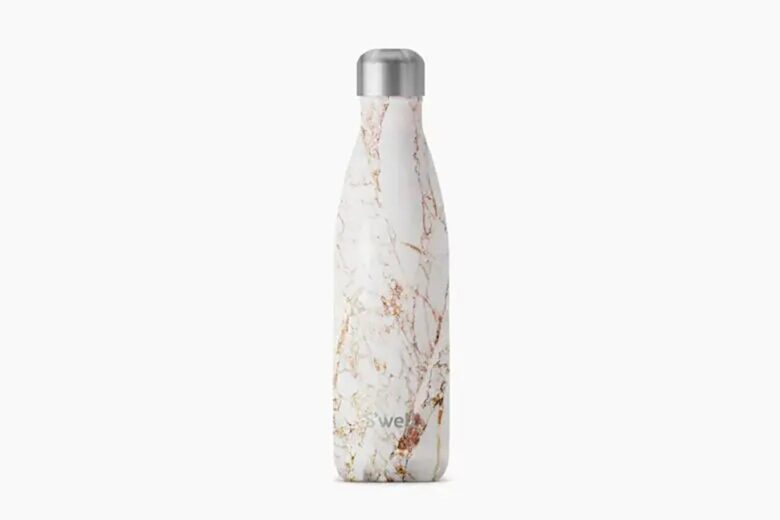 If double-walled insulation is good, what does triple-walled insulation get you? More hours of crisply cool or decadently warm beverages; a little luxury, but one that can make your day. S'well's triple-layered vacuum-insulated bottle will keep beverages cool for 36 hours, and hot for 18 hours. Whether you've just gotten to work or you're pulling a late-night to fuel your success, this water bottle will be working as hard as you do.
A copper-infused layer in the triple insulation helps eliminate condensation. This makes this bottle cool and dry no matter what's inside. From the office to your commute, the S'well Original will be a comfortable, convenient, and colorful accessory.
Best for: Long-lasting insulation for perfect-temperature beverages to support a long day at work.
| | |
| --- | --- |
| Dimensions: | 2.80″D x 10.30″H x 2.80″W for the 17 oz bottle |
| Weight: | 0.69lbs for the 17 oz bottle |
| Capacity: | available in 9 oz, 17 oz, and 25 oz |
| Material: | BPA-free stainless steel |
Embrava: Best water bottle for the gym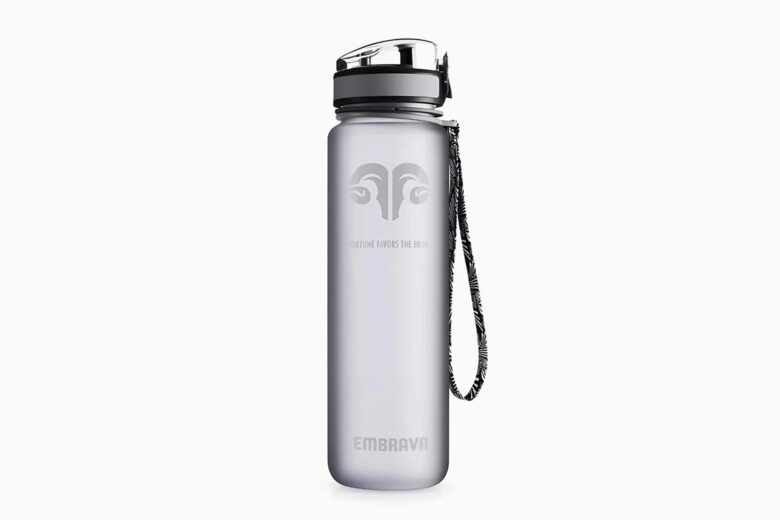 Proper hydration is important for everyone, but for athletes? It's a must. It's essential for athletes to have a water bottle that makes getting the right amount of water easy, fast, and delicious.
Enter: The Embrava Sports Water Bottle. With quick, one-button access, a leak-proof drink spout, and a lightweight design, this bottle is ready for anything.
It's a bottle you can take with you–whether your gym is inside or the great outdoors.
Best for: Easy access, hassle-free hydration in a sleek easy-grip design.
| | |
| --- | --- |
| Dimensions: | 27.94 x 7.62 cm (11.2 x 3.07 in) |
| Weight: | 170 gr (0.37 lb) |
| Capacity: | 1 l (32 oz) |
| Material: | BPA Free Tritan |
MiiR: Best wide-mouth bottle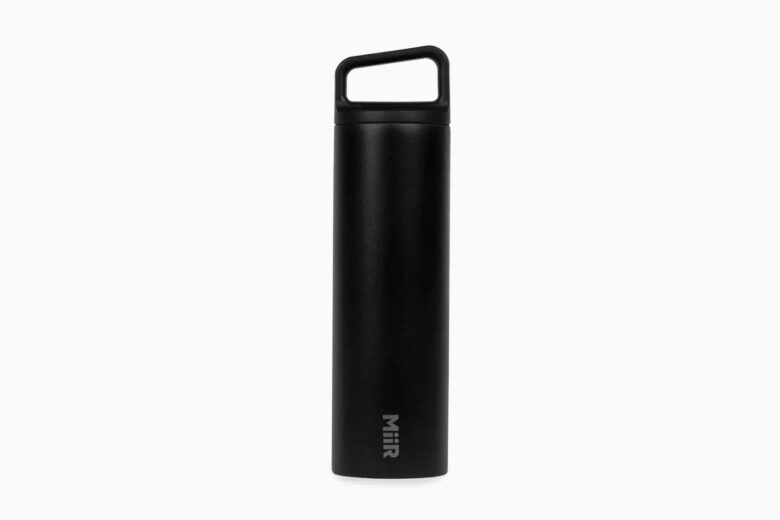 Have you ever struggled to pour ice cubes into a narrow-mouthed water bottle? The MiiR Wide Mouth Bottle offers the access you need with the insulation properties not often seen with other wide-mouth bottles.
The MiiR wide-mouth water bottle has double-wall vacuum insulation and is made of medical-grade stainless steel.
Best for: Those looking for the ability to chill their beverages easily and enjoy them all day long–or those who'd like water bottles like S'well, but with a wider mouth opening.
| | |
| --- | --- |
| Dimensions: | 5.08 x 5.08 x 25.4 cm (2.75 x 2.75 x 10 in) |
| Weight: | 283 gr (0.62 lb) |
| Capacity: | 0.59 l (20 oz) |
| Material: | BPA Free stainless steel |
bkr Spiked: Most trendy water bottle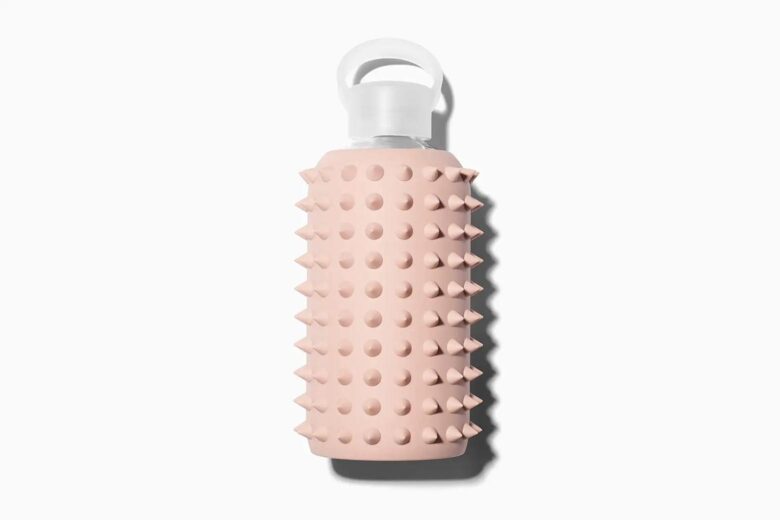 Likely, you already know about just how important water is–for your health, for your happiness, and even for basic beauty support. Drinking enough water can keep your skin radiant and your lips full and unchapped. If you're carrying this bkr water bottle, you know you'll be staying hydrated in style.
With the sleek shape of the bkr Spiked glass bottle (encapsulated in a spiky, sculptural silicone sleeve) you'll be reaching for this water bottle as much for hydration as you do for looks.
Best for: Those who need a water bottle that looks as good as it feels. Other trendy water bottles have nothing on this!
| | |
| --- | --- |
| Dimensions: | 7.62 x 7.62 x 17.78 cm (3.5 x 3.5 x 7.9 in) |
| Weight: | 396 gr (0.87 lb) |
| Capacity: | 0.5 l (16 oz) |
| Material: | Glass, silicone |
Hydro Cell: Best water bottles with straws for car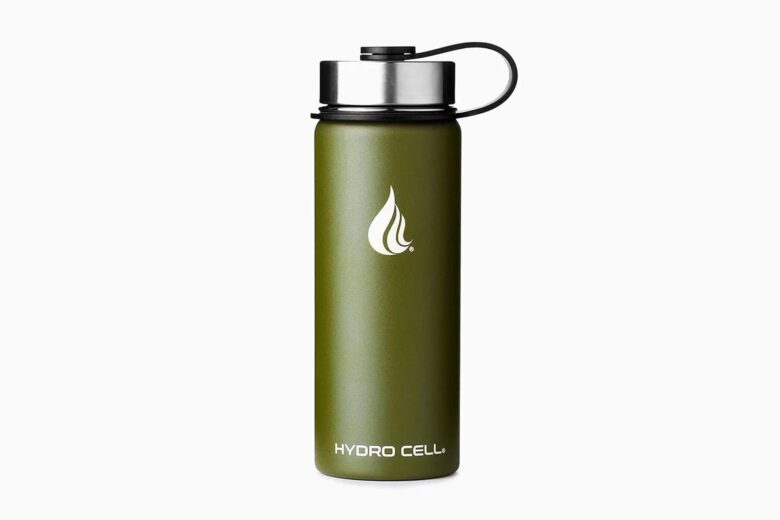 Sometimes, it just feels like having a straw to sip through makes drinking water more fun and convenient. Other times, having a straw makes hydration possible–for example, when you're in the car or on the go.
The Hydro Cell Stainless Steel water bottle comes with two caps: a stainless steel air-tight lid, and a sports cap with a straw. Its double-walled ventilation and powder coating mean that it'll be condensation-free whether you're working inside or you're out on the run. (If you're looking for a similar product to the popular hydro flask water bottle, this one is a good choice.)
Best for: The benefits of stainless-steel insulation, paired with an easy-use, easy-access straw.
| | |
| --- | --- |
| Dimensions: | 23.8 x 7.4 x 5.8 cm (9.05 x 2.75 x 1.96 in) |
| Weight: | 453 g (1 lb) |
| Capacity: | 0.51-1.18 l (18-40oz) |
| Material: | BPA Free stainless steel |
GOFILTR Hydration Kit: Best ph raiser water bottle for filtration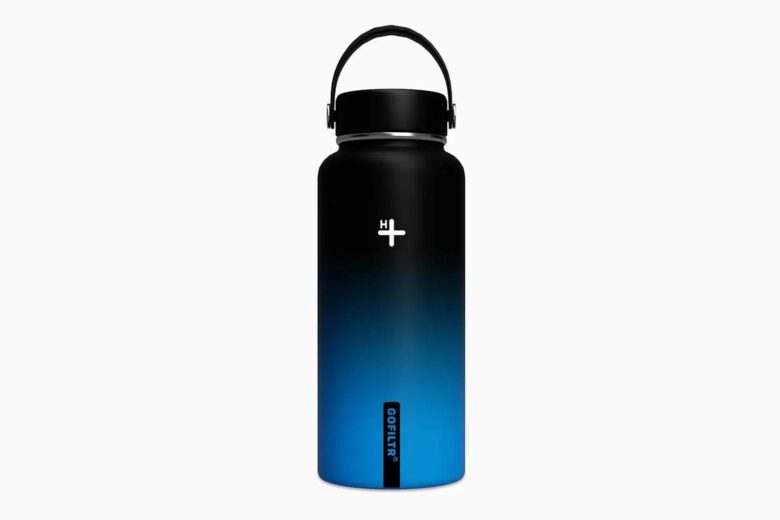 For the increased health benefits and lighter, fresher taste of alkaline and electrolyte-infused water, you typically have to splurge on trendy enhanced water in a one-use bottle. That can add up, and it's not exactly a sustainable habit.
Enter: The GOFILTR Alkaline Water Bottle. It comes with six months' worth of alkaline infusers, and the bottle itself is made of heavy-duty, powder-coated stainless steel. Its wide-mouth design is comfortable for all-day drinking.
Best for: Alkaline, electrolyte-infused water in a portable, convenient package.
| | |
| --- | --- |
| Dimensions: | 30.48 x 15.24 x 10.16 cm (12.5 x 6 x 4.2 in) |
| Weight: | 907 gr (2 lb) |
| Capacity: | 0.35-1.18 l (12-40 oz) |
| Material: | Stainless steel |
CamelBak Podium: Best water bottle for bike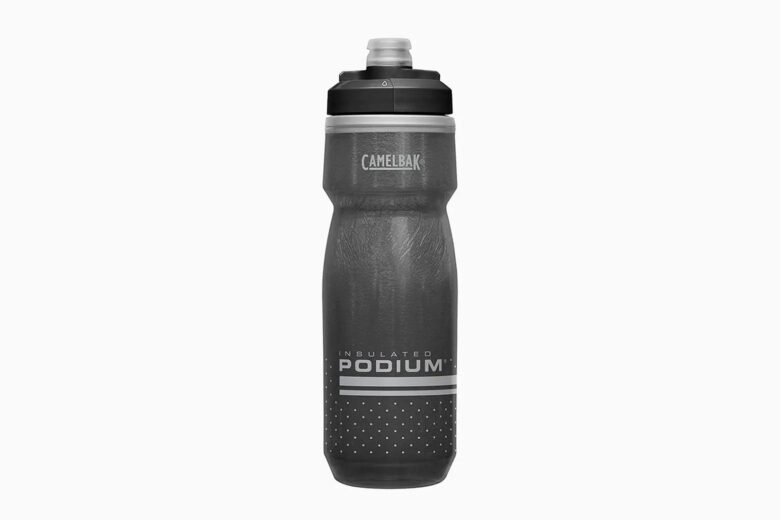 When you're biking, you have extremely streamlined places to carry a water bottle.
CamelBak has produced a water bottle optimized to fit bike mounts. With the design, cleanability, and varied graphic choices for the Podium water bottle, you'll be able to depend upon securely stored hydration for all your biking needs.
Best for: Reliable, self-sealing, and leak-free water to enjoy while biking and otherwise on the go.
| | |
| --- | --- |
| Dimensions: | 5.08 x 5.08 x 22.86 cm (2.9 x 2.9 x 9.4 in) |
| Weight: | 113 gr (0.24 lb) |
| Capacity: | 0.71 l (24 oz) |
| Material: | BPA Free Polypropylene |
Thermos: Best water bottle for carbonated water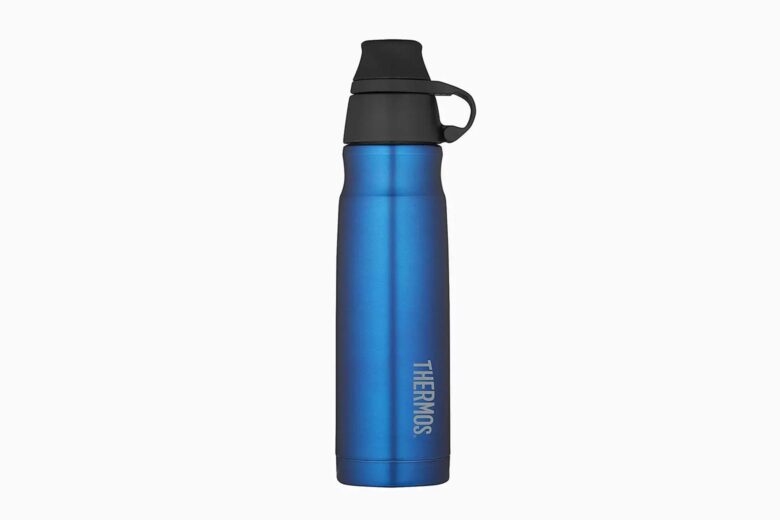 If you're looking for a bottle that can keep your sparkling water chilled and bubbly, this sweat-proof Thermos bottle is a fantastic option.
For up to 14 hours, you can have access to carbonated beverages, no matter where you are. Its slimmer shape helps it fit into most automobile holders, allowing you to bring sparkling water wherever you go.
Best for: Keeping carbonated beverages ice-cold for hours on end. It's a go-to sparkling water bottle.
| | |
| --- | --- |
| Dimensions: | 7.62 x 5.08 x 25.4 cm (3 x 2.5 x 10.2 in) |
| Weight: | 226 gr (0.49 lb) |
| Capacity: | 0.5 l (17 oz) |
| Material: | Stainless steel, Silicone cap |
Buyers Guide: How to select the right water bottle for you
If you're looking for a serious water bottle to help improve your life with hydration, you need the right tool for the task. Selecting features carefully can make the difference between a water bottle that supports your life, and a water bottle that stays on the shelf.
Water bottles are generally made of plastic, stainless steel, or glass.
Plastic water bottles: Plastic has the advantage of being lightweight and almost infinitely durable; you can drop a plastic water bottle without a dent or a crack.
However, some types of plastic can make the water inside taste odd, and you typically don't want to let plastic bottles get very hot. This can make using plastic bottles for outdoor activities a little difficult.
Glass water bottles: Glass is seen by many as the purest option, as there's zero chance of plastic leaching chemicals into your water. Glass is often dishwasher-safe, but other types of bottles–particularly their caps!–won't be. There also won't be any metallic or plastic aftertaste.
Glass can be more expensive because of this, though, and it's definitely not the most durable material for a fast-paced lifestyle.
Stainless steel water bottles: Stainless steel vacuum-insulation bottles can keep drinks warm or cool for a full day. Stainless steel can dent, but many prefer the heft and feel of a steel bottle over plastic. 
Because many stainless steel bottles contain nickel, if you have an allergy to either metal, it's best to look elsewhere!
Differing features that can make a water bottle truly stand out often center on the type of lid included, the machine washability, and just how much insulation your bottle offers you.
Consider how you like to drink. Screw-off caps are very common for water bottles, but many people prefer drinking through straws. Finding a water bottle that comes with a few different cap options can allow you to customize your bottle for your needs–even on a day-to-day basis.
Water bottles: Frequently asked questions
What is the healthiest water bottle?
The healthiest water bottle is the GOFILTR Alkaline Water Bottle Hydration Kit. It allows you to infuse normal tap water with electrolytes and increase the pH for health and taste benefits.
What is the best water to drink?
The best water to drink is the water that you'll drink the most! Proper hydration is key for beauty and health. However, alkaline water does have health benefits which you can reap with the GOFILTR Alkaline Water Bottle Hydration Kit.
What is the most popular water bottle brand?
The most popular water bottle brand is Nalgene, as it's been around for a very long time producing top-tier reliable bottles. S'well bottles are also very trendy at the moment!
What are the best ph raiser water bottles for filtration
The best pH raiser water bottles for filtration are the bottles offered at GOFILTR. Their GOFILTR Alkaline Water Bottle Hydration Kit is a great way to reap the benefits of alkaline water.