Is there anything more blissful than stepping out of the shower and into a soft bathrobe? Anything more luxurious than making the first cup of coffee of the day in nothing but waffle weave? Anything that says 'I'm home' quite like ditching the suit and tie for slippers and a terry cloth robe?
When it comes to the main bathrobe criteria—softness, durability, warmth, and absorbency—there's everything to play for.
Ready to trade in your tatty old robe for a newer, fresher, and fluffier model? We've picked out the best men's robes for every need and preference, from hooded robes to classic flannel robes, as well as those robes you normally only find in five-star hotels and day spas.
The 15 best robes for men
To help you find the bathrobe brand that's best for you, check our style guide to choosing the best robes for men after the list.
Brooklinen: Overall best men's bathrobe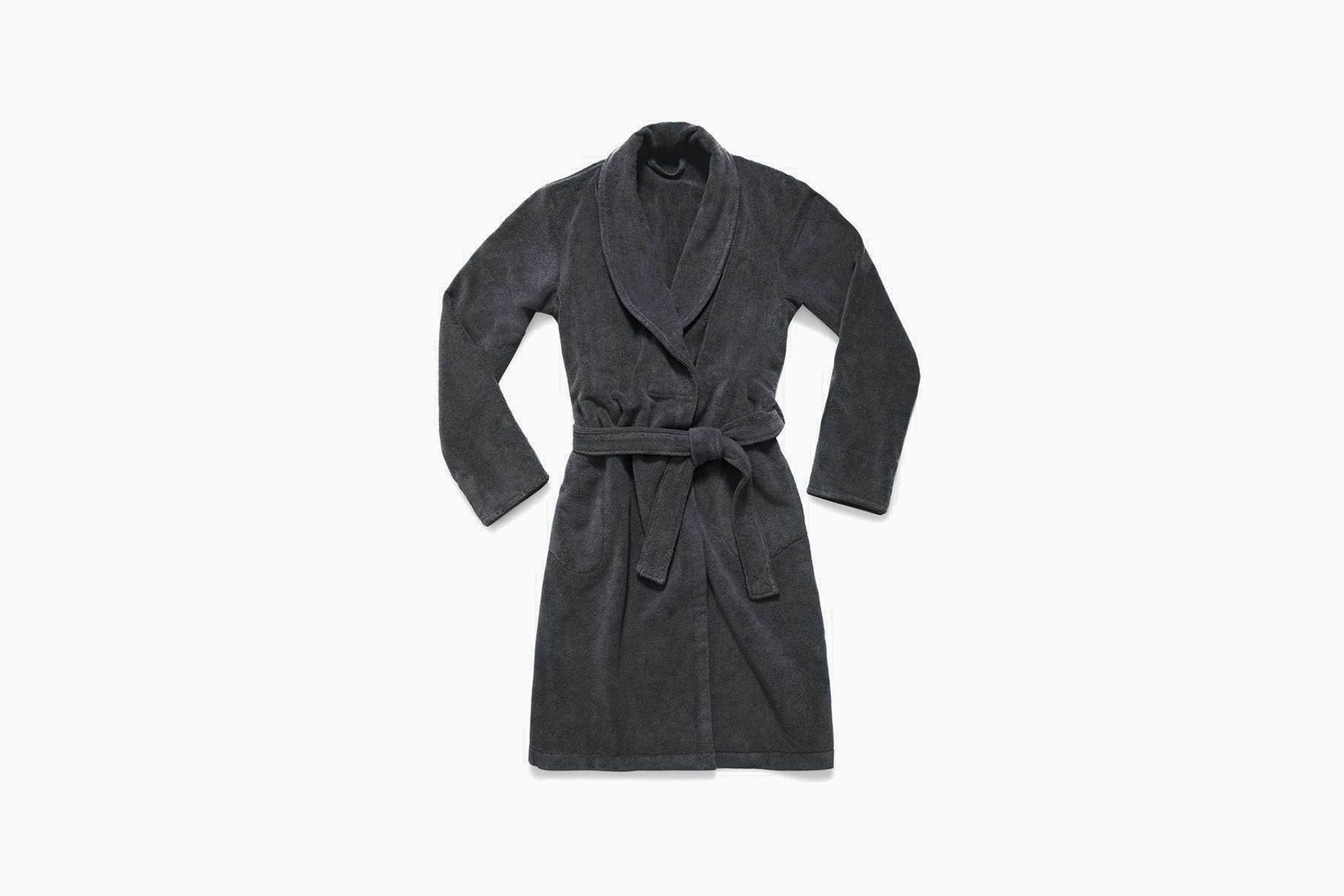 There's plush, and then there's super-plush—as in this seriously soft robe by Brooklinen. If you're finding it hard to get out of bed in the mornings, this robe is here to make your life easier.
Made of a combed, long-staple Turkish cotton, it has a 380 GSM weight—or, in layman's terms, next-level density and absorption potential. Ideal for when you've just stepped out of a steaming shower and want to stay warm. Secure with the sturdy waist tie and elevate your snugness to a place it's never been before.
The robe combines comfort with class, featuring a pipe collar, cuffed edges, and deep pockets that are perfect for carrying around your shampoo and comb, phone—or the TV remote for control over the evening's viewing schedule.
This Brooklinen Super-Plush robe would make a fantastic gift for men. Or why not treat yourself? We're certain you deserve it.
Best for: The justification you need to never leave the house again.
| | |
| --- | --- |
| Material: | Turkish cotton |
| Colors: | White, smoke grey, or graphite grey |
Derek Rose: Best luxury men's bathrobe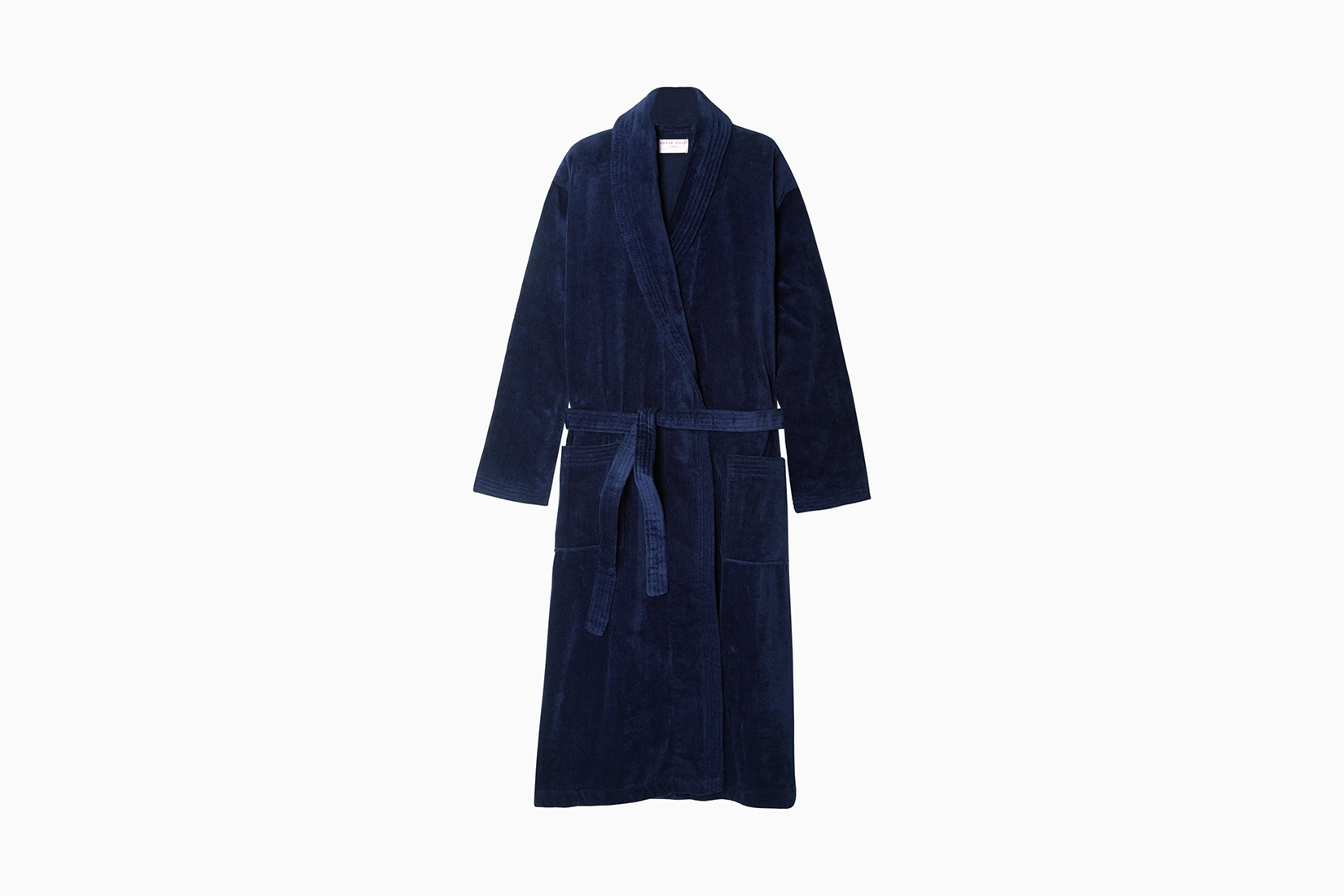 Sumptuous without showing off, this robe by Derek Rose strikes the perfect balance between utilitarian simplicity and overt opulence.
In an understated navy blue, it's low-key enough that you could wear it for a chat with the postman, but the quality of this robe is anything but ordinary. The terry-cotton gives it a substantial weight and also offers optimum absorption, making it perfect for wearing post-shower or bath.
Meanwhile, the shawl collar keeps your neck cozy and snug, the detachable belt keeps everything tucked in for extra insulation, and the front pockets are useful for carrying everything from your water bottle to your watch.
Soften the blow of getting out of bed with this Derek Rose Cotton-Terry Robe. It's not a blanket—but it's the next best thing.
Best for: High-end morning attire to turn lounging into the most luxurious ritual.
| | |
| --- | --- |
| Material: | Cotton-terry |
| Colors: | Navy |
Alpine Swiss: Best value robe for men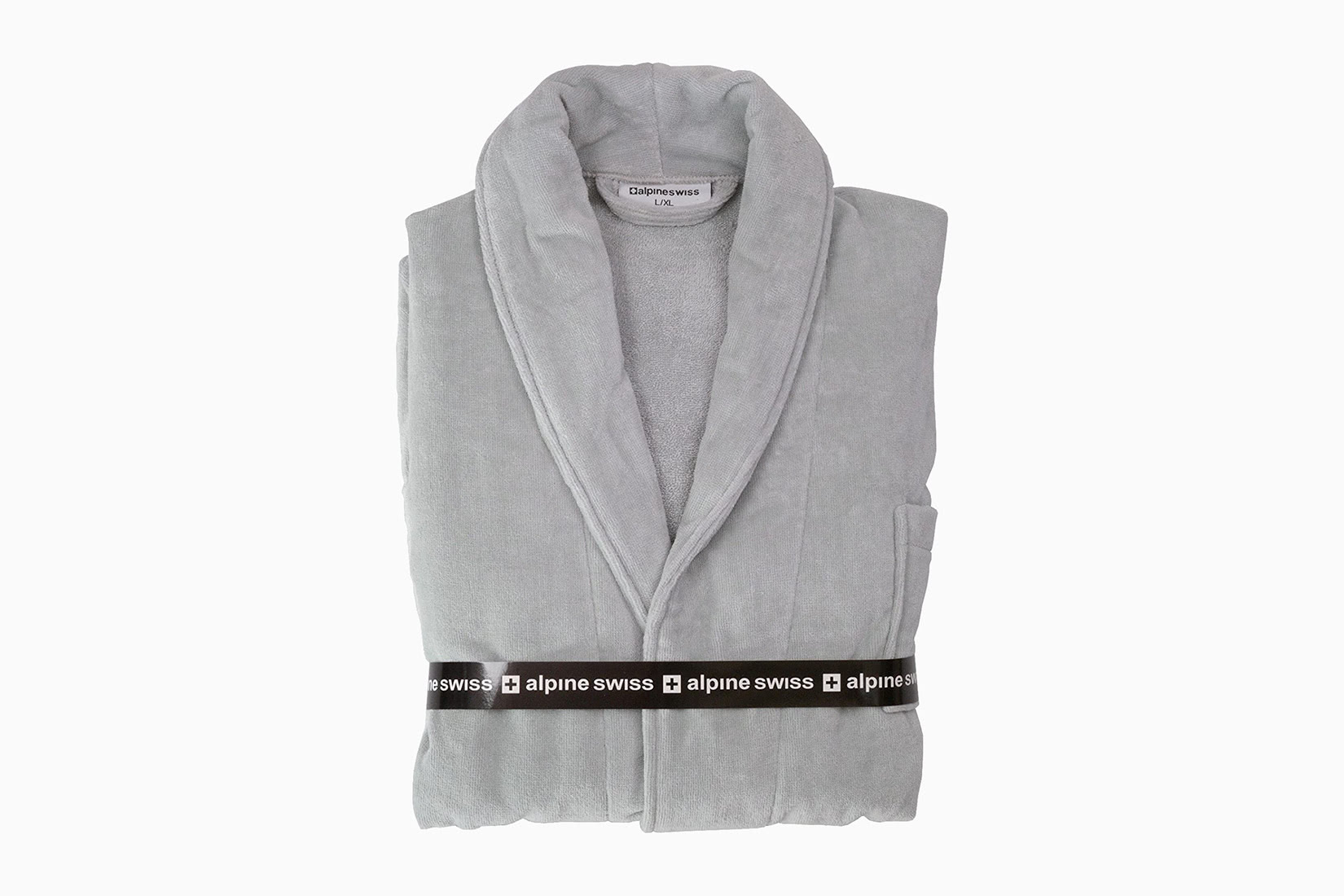 Want to feel like royalty, but your bank balance won't comply? Check out this budget-friendly robe from Alpine Swiss. It offers luxurious levels of comfort without an eye-watering price tag.
The best affordable men's robe on our list, it's made of 100% cotton velour, offering softness, comfort, high absorbency, and durability, while also drying fast so you can wear it once in the morning and again in the evening.
The shawl collar will keep your neck snug while—in addition to the two front pockets you normally find on robes—you've also got a smaller chest pocket, ideal for carrying your phone.
This Alpine Swiss Aiden Robe is also machine-washable, making it the perfect low-cost, low-maintenance addition to your loungewear wardrobe.
Best for: Optimum comfort, minimum financial outlay.
| | |
| --- | --- |
| Material: | Cotton velour |
| Colors: | Black, grey, blue + more |
Parachute Cloud: Best cotton robe for men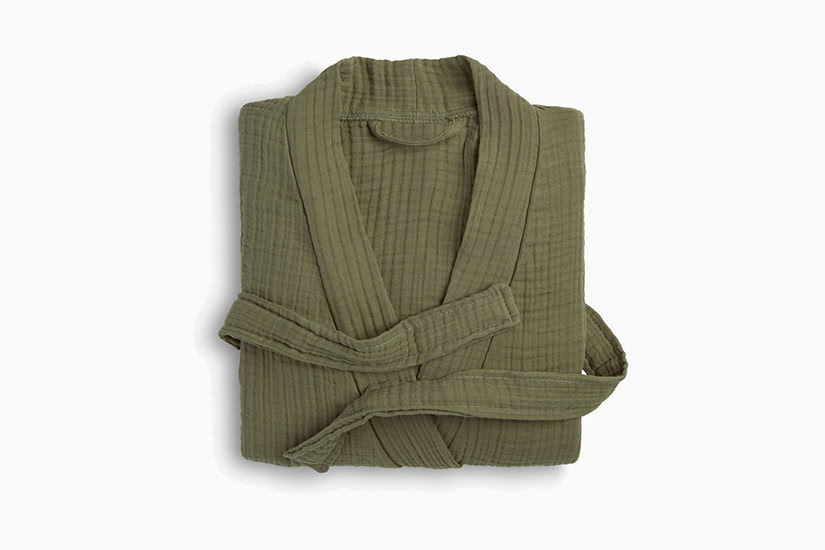 With its lightweight 100% premium Turkish cotton—woven into a 2-ply gauze for ultimate fluffy softness—this plush robe by Parachute fulfills the necessary comfort requirements and offers snooze-appropriate style to keep us snug and cozy around the house.
The side pockets are hidden to maintain the robe's smooth and uncluttered profile, while the slouchy fit and cut create a carefree and relaxed mood, making this dream weekend attire. Why would you ever need to get dressed?
Slip it on after a shower to stay cozy. Or wear it for a romantic breakfast in bed with your loved one. This Parachute Cotton Robe is made for men who love to lounge.
Best for: Gentlemen who take relaxation seriously.
| | |
| --- | --- |
| Material: | Turkish cotton |
| Colors: | White, green, and grey + more |
Parachute Waffle: Best waffle robe for men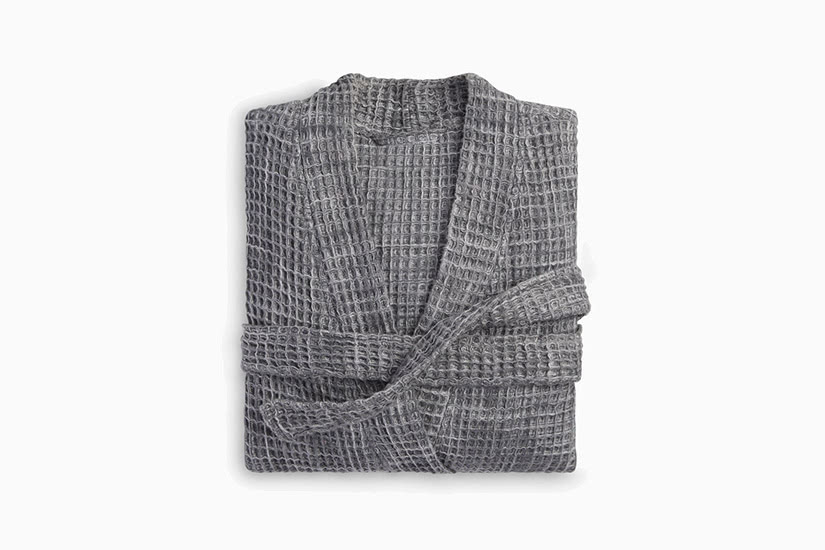 Waffles are our favorite indulgent breakfast food, but a waffle robe like this Parachute Waffle? Not so edible but equally indulgent.
Waffle weave offers an ultra-soft, gently textured, wonderfully lightweight material, perfect for slipping on after a hot bath, shower, or sauna session. In fact, the design was inspired by the world's finest spas.
Slightly shorter than other men's bathrobes, this one conforms nicely to your body shape with the waist tie.
Pretend you're hanging out in a hotel spa or Turkish Hammam with the Parachute Waffle Robe—perhaps investing in a salon-grade blow-dryer to add to the experience. Your partner will most likely try to steal this robe, so why not get her one of her own?
Best for: Feeling properly pampered within the comfort of your own home.
| | |
| --- | --- |
| Material: | Turkish cotton |
| Colors: | White, tan, or grey |
Versace: Best silk robe for men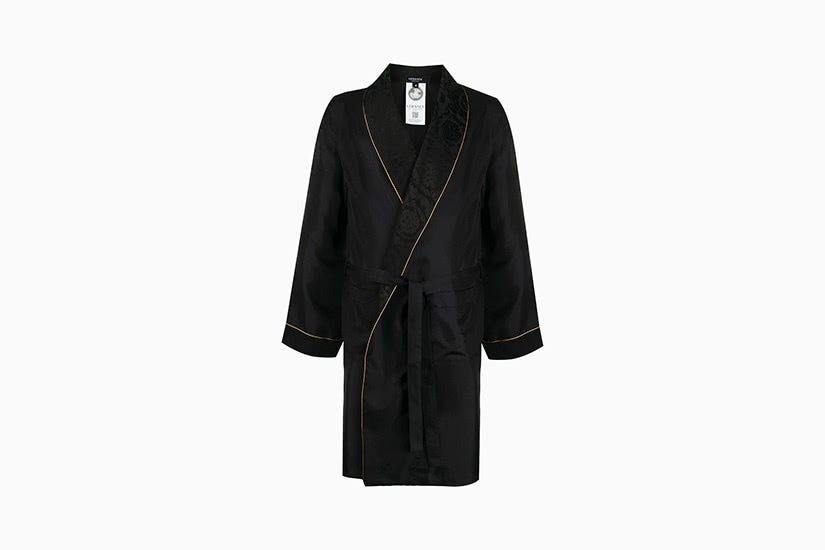 Is there anything more sophisticated than a silk robe? We think not. Embrace your inner playboy with this gorgeous silk robe by Versace. It's the epitome of luxury—and there's every danger you'll never take it off.
With its black silk and gold piping, there's something of the Tony Soprano about this robe. We're not complaining. Channel a bit of mafia don as you go about your morning routine. There's no better way to spice up a Monday.
Wide sleeves and a wrap design make this perfect lounging material, while the jacquard is the height of refined opulence. Shrug it on as soon as you get out of bed—the feeling of silk against your skin is deliciously sensual. Plus, if you start off wearing a robe with this much regal and rakish style, your day will immediately seem more manageable.
Feel like a modern-day king when making your morning coffee with this Versace silk robe.
Best for: Enjoying all the home comforts with added aristocratic glam.
| | |
| --- | --- |
| Material: | Silk |
| Colors: | Black |
Alexander Del Rossa: Best men's flannel robe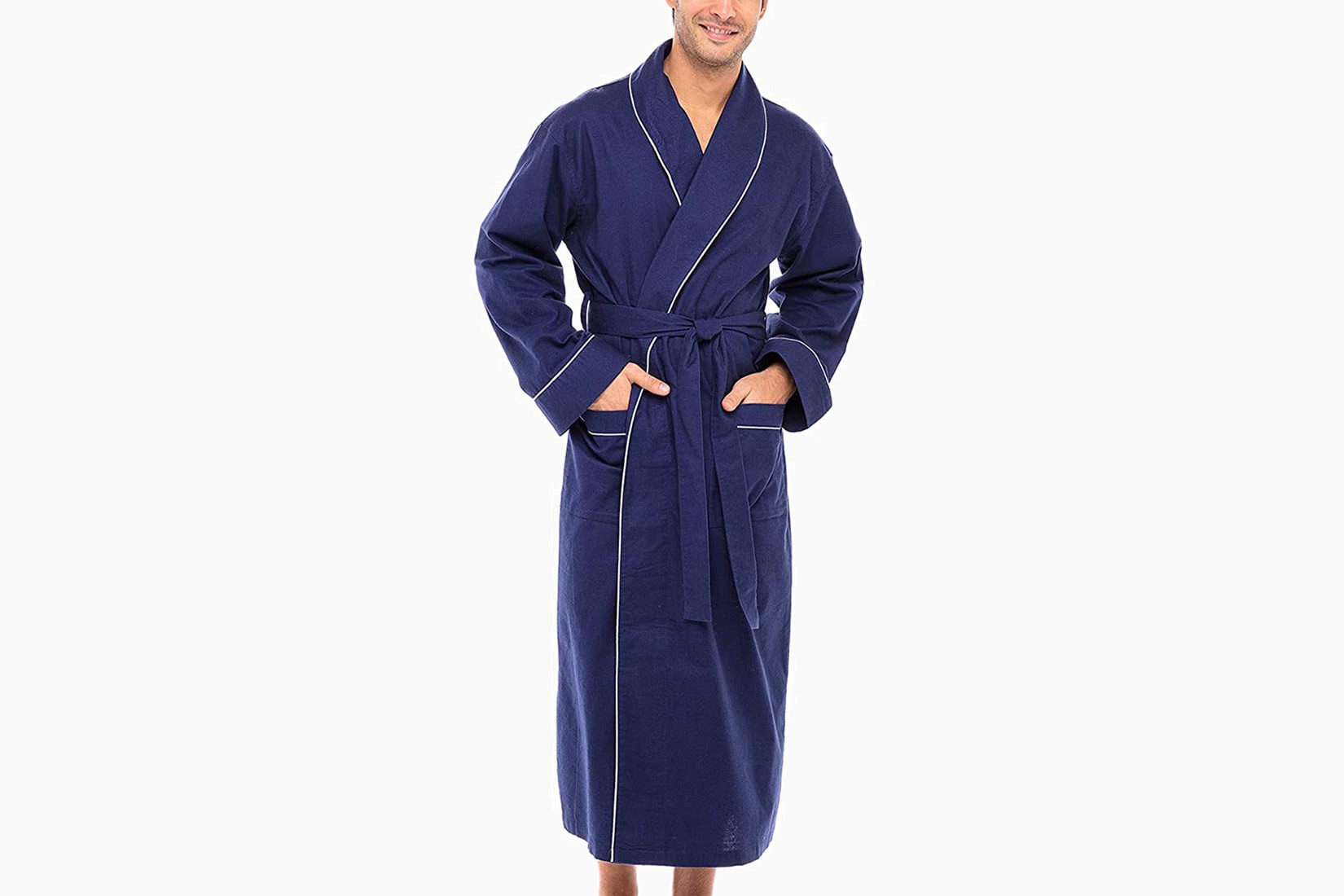 If your priority is warmth and softness, this flannel robe by Alexander Del Rossa should be high on your list.
With its traditional design—shawl collar, waist tie, and large front pockets—this robe has timeless style, making it a long-lasting addition to any loungewear wardrobe. There's also a range of colors and patterns to choose from, including handsome tartan.
Made from a premium cotton flannel, it's soft against your skin, so you can go naked underneath if you so choose. The cotton is 140 GSM—high quality but also lightweight, so you won't get too warm. Plus, this robe is machine washable, so no stressing about any inevitable coffee stains.
However you plan to spend your weekend, this super affordable Alexander Del Rosso robe should feature at some point, whether you slip it on after your morning shower or wear it to snuggle on the sofa and binge a Netflix series.
You could even wear it in the office if you work from home. We won't stop you.
Best for: Ultra-plush lounging and the ultimate movie marathon attire.
| | |
| --- | --- |
| Material: | Cotton flannel |
| Colors: | Black, grey, plaid + more |
NY Threads: Best fleece robe for men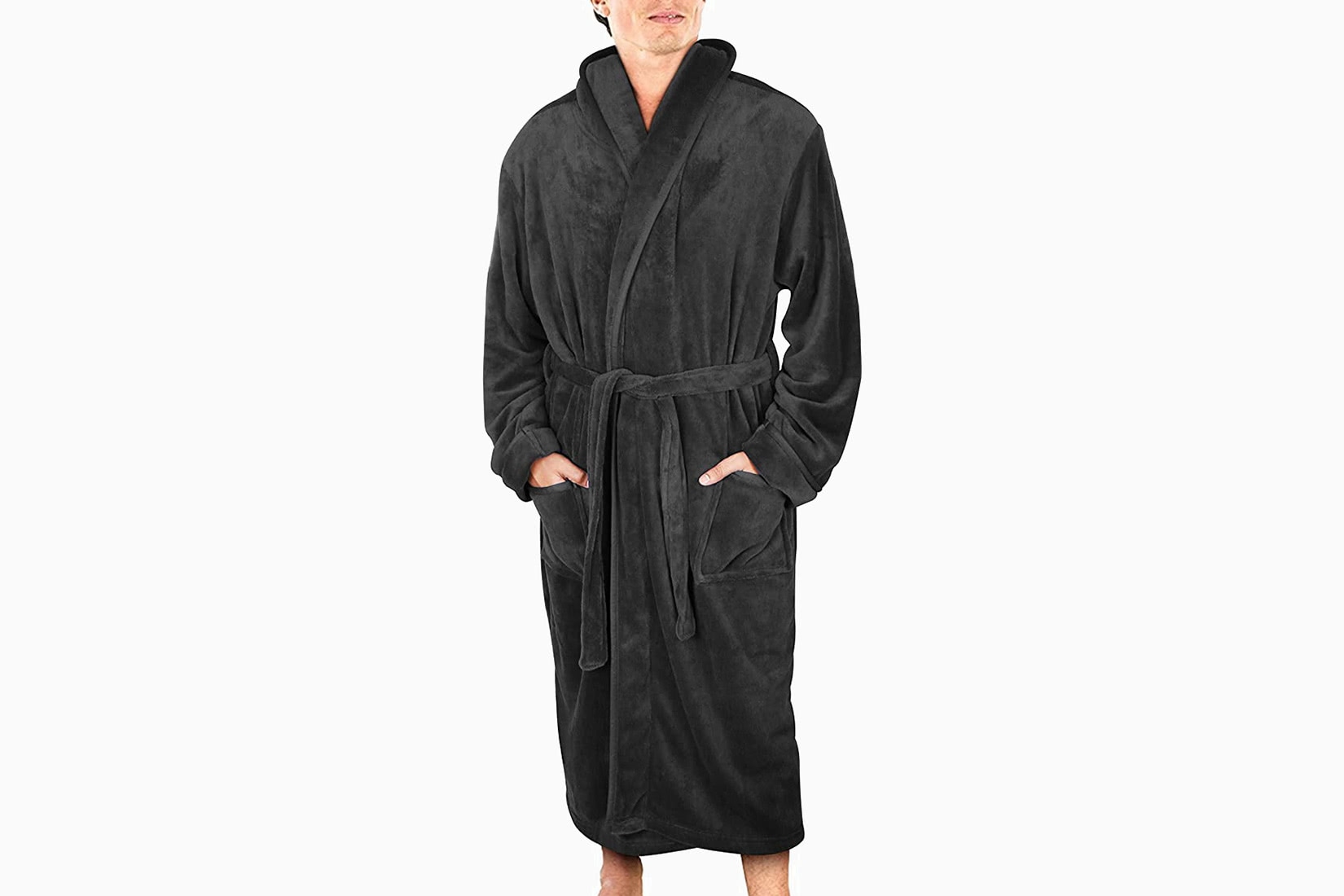 Remember when everyone was talking about hygge, the Nordic concept of coziness? Well, as far as we're concerned, it doesn't get more hygge than this luxurious fleece bathrobe by NY Threads.
Made from super-soft coral fleece for optimum comfort, you haven't experienced fluffiness until you've experienced this wonderfully indulgent fleece robe.
The shawl collar will keep your neck content while two front pockets are useful for carrying around bits and bobs (TV remote, phone, earbuds, whatever). Plus, being made of durable polyester, this men's robe will also survive regular wash cycles at warm temperatures.
Made for Friday night at-home happy hours, Saturday morning breakfasts in bed, and Sunday mornings lounging around, this NY Threads robe is the best fleece robe for men we've come across.
Best for: The next best thing to hiding away in a cozy Nordic cabin.
| | |
| --- | --- |
| Material: | Polyester |
| Colors: | Black, grey, navy + more |
Parachute Classic: Best post-shower bathrobe for men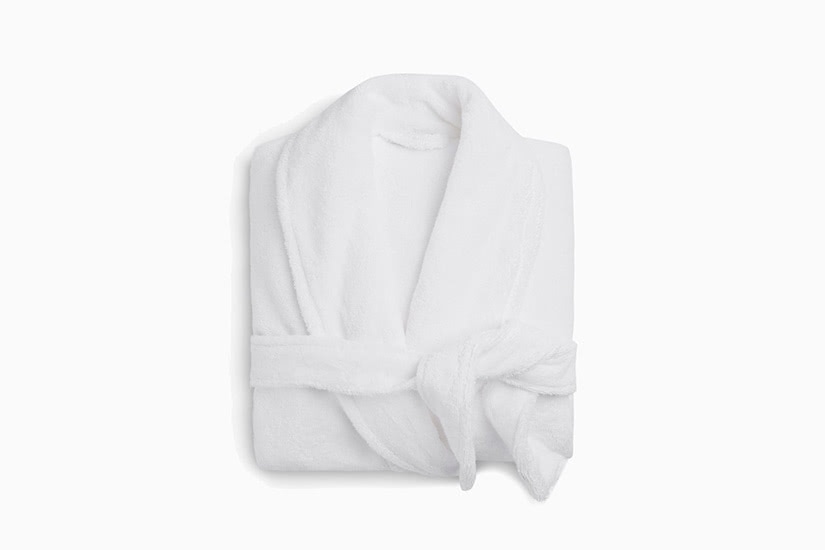 A steaming hot shower is one of the few things that make Monday mornings bearable, and this bathrobe by Parachute offers a means of prolonging the pleasure a little longer.
Not only is this bathrobe the perfect wearable alternative to a towel with its highly absorbent 450 GSM Turkish cotton, but it's also incredibly cozy, ideal for lounging around in before you build up the motivation to put on your suit.
Plus, it's warm but not too warm, making it perfect for year-round use—or following a dip in the hot tub on a summer's night.
One of the best things about hotel stays is the quality of the dressing gowns. Now you can spend every morning pretending you've just checked into a high-end resort with this Parachute Classic Robe.
Best for: The kind of post-shower snugness you normally only find in a hotel.
| | |
| --- | --- |
| Material: | Turkish cotton |
| Colors: | White, grey, and pink + more |
Parachute Speckled Waffle: Best spa robe for men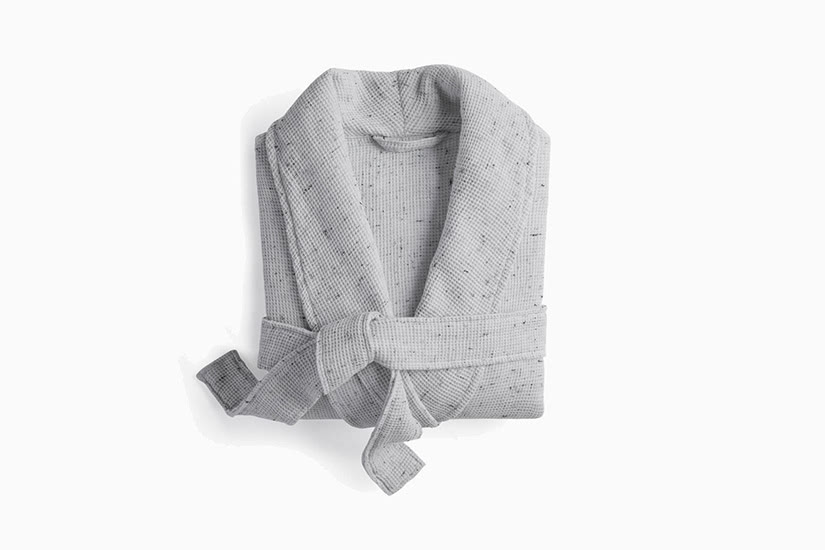 There's no better way to unwind after a hectic week than by checking in to a day spa. Remind yourself what true relaxation feels like with Parachute's Speckled Waffle robe—one of the best spa robes for men we've found.
Spa robes are typically made from waffle-weave cotton, and this particular robe showcases a sophisticated mini waffle weave with speckled patterns. The overall effect evokes both the luxury finish of Italian terrazzo and our favorite knitwear. Stylish and cozy at once.
If you fancy a bit of pampering without all the cost and hassle of actually going to a spa, simply shrug on this spa-inspired Parachute bathrobe. It's understated enough to be an everyday staple but indulgent enough to be a treat to wear.
Plus, it has the advantage of being longer than your standard spa robes for added coverage and warmth.
Best for: Turning your home into a spa-like sanctuary with a robe designed to relax.
| | |
| --- | --- |
| Material: | Turkish cotton |
| Colors: | White or grey |
Reigning Champ: Best men's bathrobe with hood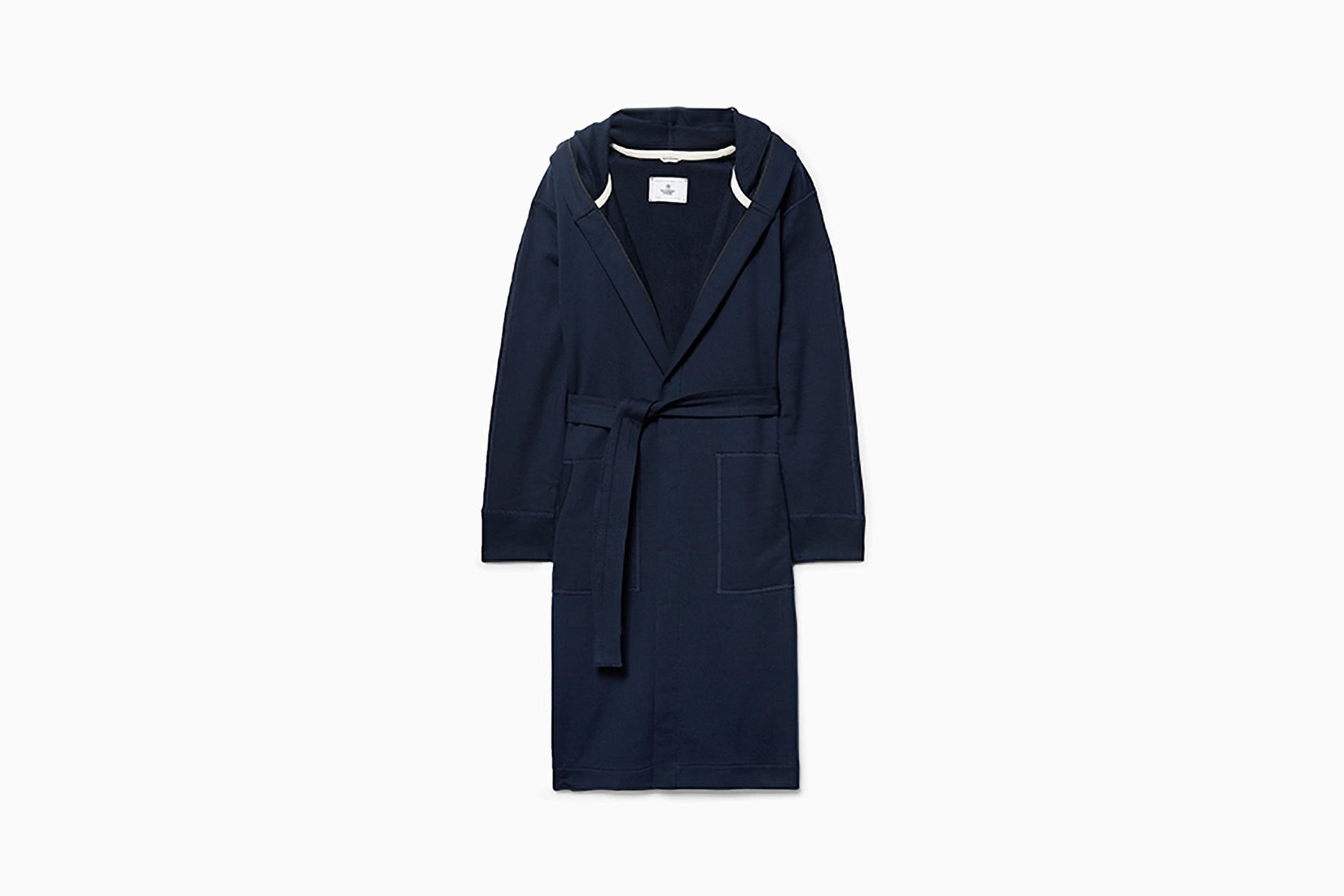 On frosty winter mornings, there's no better way to stay warm than a robe with a hood. This one by Reigning Champ was inspired by the robes boxers wear when entering the ring. Start the day feeling like a professional prizefighter. Who wouldn't want that?
When you've just washed your hair and don't want to get a chill, simply pull up the hood. They say that you lose nearly half your body heat through your head, so this bathrobe will definitely help you stay toasty warm for longer.
Made from cotton-jersey, it's lightweight but absorbent enough to be the perfect post-shower wear. Other winning features include the raglan sleeves and deep pouch pockets—ideal for social media addicts to sneak their phone to bed in the evenings.
For the ultimate warm and fuzzy feeling, get your hands on this Reigning Champ hooded bathrobe. It's like your favorite hoodie—but better.
Best for: Beating winter chills with a boxing-inspired bathrobe.
| | |
| --- | --- |
| Material: | Cotton |
| Colors: | Navy |
Paul Stuart: Best lightweight men's bathrobe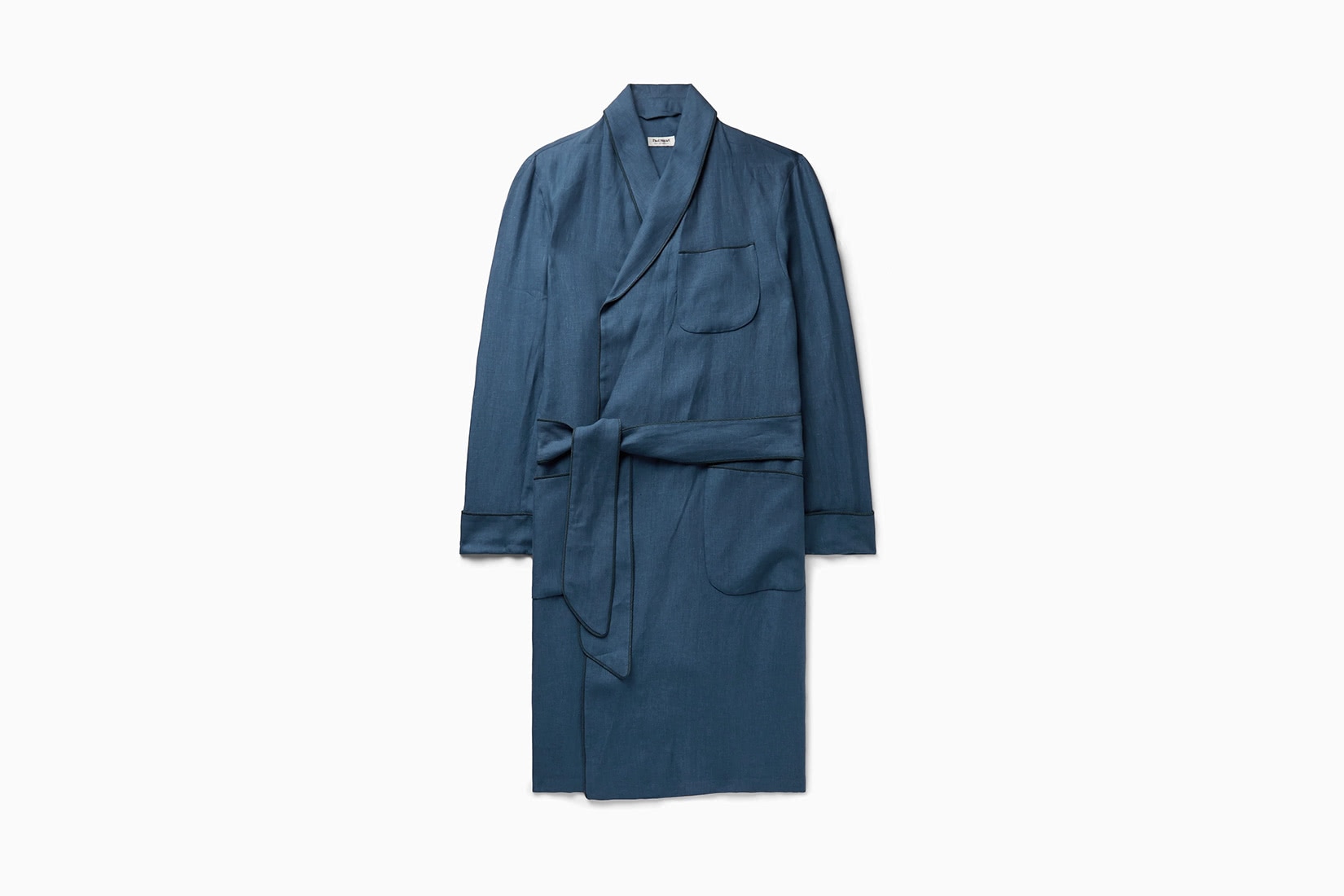 The perfect piece of refined loungewear for the world's most elegant gentlemen, this Paul Stuart bathrobe is ideal for anyone looking for a breathable robe that's perfect for sunny weather.
Who needs to book into a resort when you've got a hotel-grade robe right here in your own home? Turn your weekend into a dreamy staycation with this lightweight men's bathrobe. It's the best men's summer robe we've found, perfect for slipping on after morning laps in the pool.
Great for those of you seeking something less bulky and cumbersome than your standard cotton men's bathrobes, this one's made of 100% linen—featherlight and breathable—so you can wear it over your pajamas without getting all hot and bothered.
Offering distinctly luxurious loungewear for discerning gents, this Paul Stuart bathrobe is best teamed with a luxury sleep mask and hotel-grade sheets.
Best for: A sophisticated and stylish cover-up.
| | |
| --- | --- |
| Material: | Linen |
| Colors: | Blue or white |
Frette: Best hotel-like bathrobe for men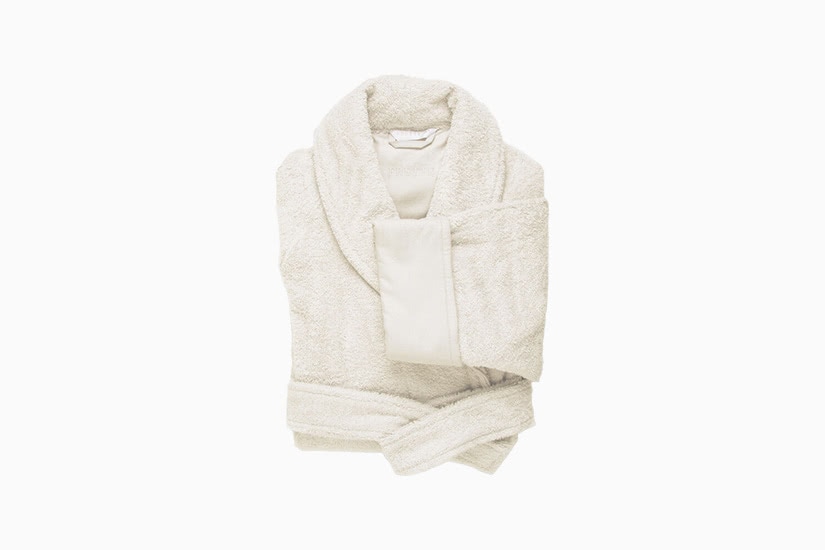 To recreate the experience of staying in a luxury hotel without leaving home, you need this Frette Unito bathrobe.
Made from super soft and absorbent cotton, this plush terry cloth robe comes in white and grey. Secure around your waist with the belt to feel tucked in and toasty, and enjoy the silky feel of the turned-back cotton sateen cuffs.
Frette is a master of luxury linens, and this robe showcases an attention to detail that you don't often find. For example, the seams are all covered with cotton sateen bias detailing to further elevate comfort and durability.
Pretend your home is the Royal Suite at the Ritz with this Frette Unito bathrobe, showcasing the very best of Italian craftsmanship. Best enjoyed with a glass of whiskey in hand.
Best for: Enjoying the five-star experience with a hotel-grade bathrobe every day.
| | |
| --- | --- |
| Material: | Terry cotton |
| Colors: | Blue or white |
Amazon Essentials: Best budget men's bathrobe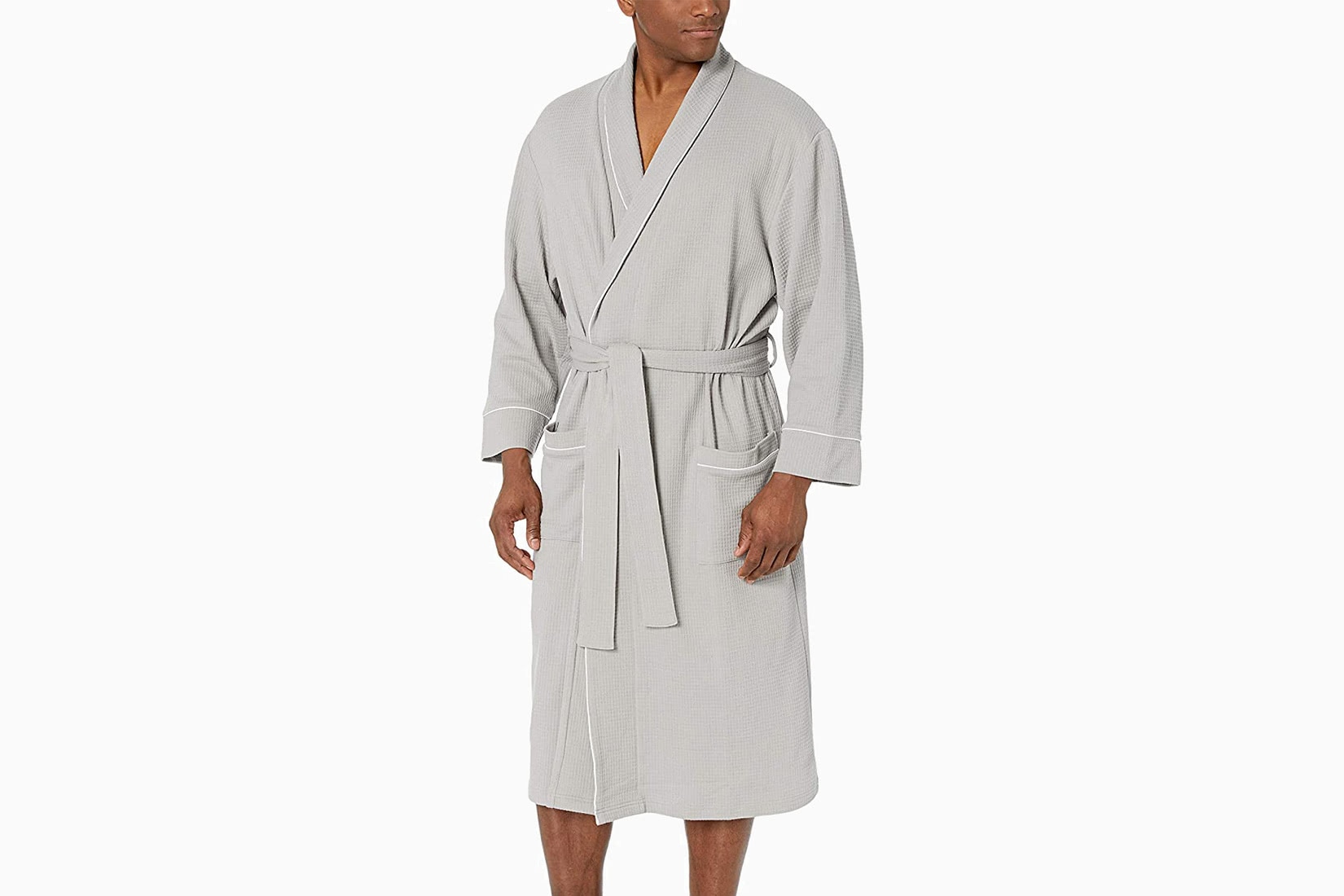 Want to invest in duvet-day attire without being left out of pocket? This Amazon Essentials bathrobe is one of the best affordable men's bathrobes on our list.
Give in to your inner couch potato and commit to a long day of lounging while wearing this kimono bathrobe. It's made from a blend of cotton and polyester: comfortable, absorbent, durable, and low maintenance.
The robe is also lightweight and breathable, so no risk of overheating. Grab your book and a cup of tea or coffee and settle down for some well-deserved rest and relaxation. Face mask not optional.
For the perfect halfway house between pajamas and proper attire, this bargain-friendly bathrobe from Amazon Essentials is the answer.
Best for: Cocoon-like comfort that doesn't cost the earth.
| | |
| --- | --- |
| Material: | Polyester and cotton |
| Colors: | Grey, black, navy + more |
Loro Piana: Most expensive men's bathrobe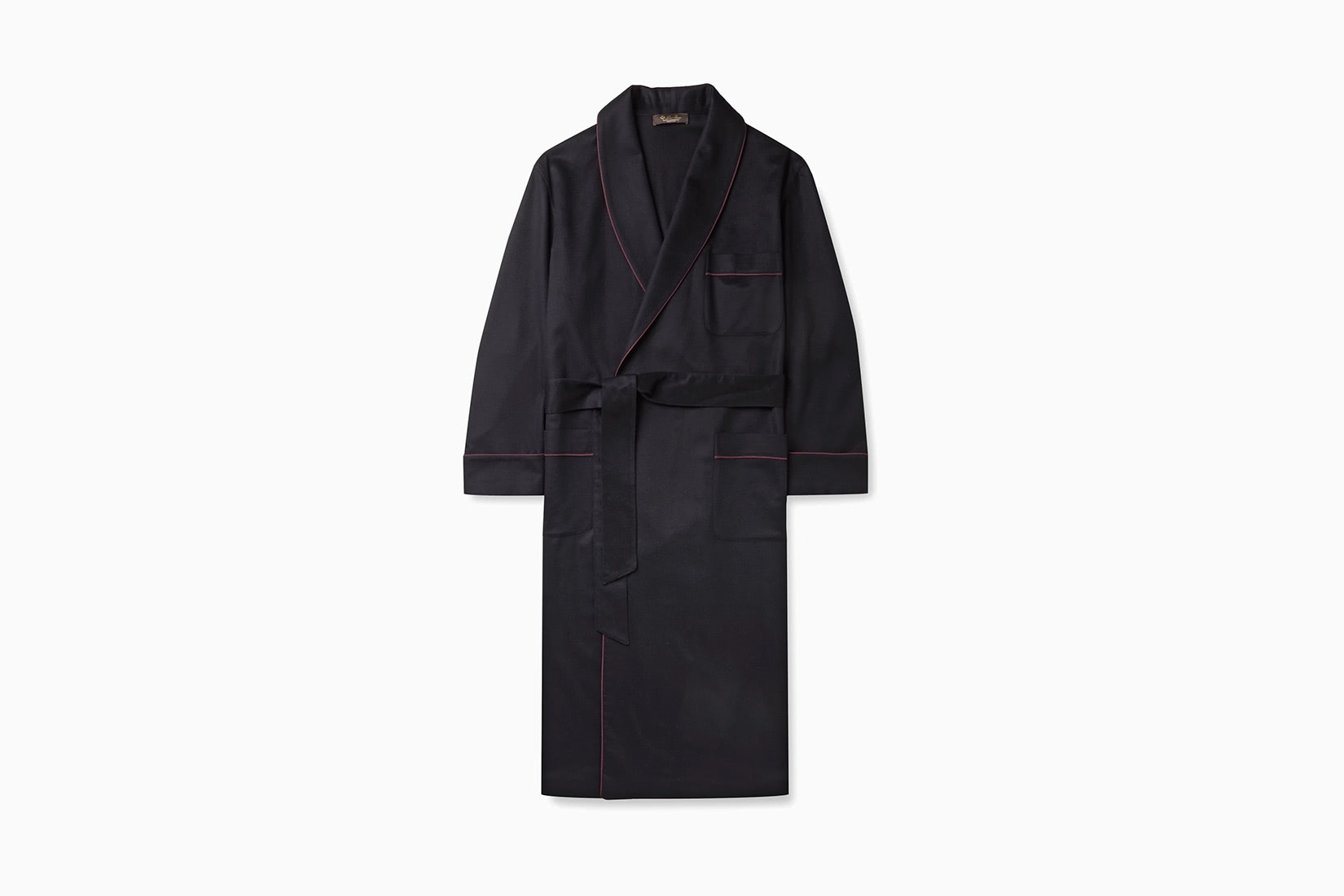 For a robe fit for a sovereign ruler, check out this Loro Piana bathrobe. It's the kind of robe worn by people who've made it in life—and that includes you.
Luxuriate in the knowledge that this is one seriously exclusive piece of loungewear. It's made from baby cashmere sourced from remote regions of Mongolia—a material that's not only incredibly rare but also exceptionally soft, having been combed from the under fleece of baby Hircus goats.
The robe itself was made in Italy and offers a lightweight yet wonderfully warm loungewear garment in a gorgeous midnight blue. Rich claret piping brings the final touch of opulence.
Feel like a lord as you lounge around the house in this divine Loro Piana cashmere bathrobe. Consider it a gift to yourself for succeeding at….well, everything.
Best for: Balancing comfort with true Casanova-style.
| | |
| --- | --- |
| Material: | Cashmere |
| Colors: | Dark blue |
Style guide: how to choose a men's robe
Buying a men's bathrobe comes down to choosing between different materials and weaves before deciding on any other features, such as hoods and collars.
When browsing, it's worth knowing the difference between a dressing gown and a bathrobe. A dressing gown is simply designed to be worn around the house, while a bathrobe has additional absorbent properties so that it can double up as a towel.
Materials
Cotton – most high-quality robes are made of 100% cotton—either Turkish or Egyptian. Cotton can be weaved in different ways to create materials with different properties.
Linen – linen robes are strong, breathable, and more lightweight than cotton, making them a good choice for warmer climates.
Polyester fleece – one of the coziest materials for a bathrobe, polyester fleece is also affordable, lightweight, and machine-washable.
Microfibre – a synthetic material, microfibre is lightweight, breathable, and very absorbent. It's also easy to wash and remove stains.
Cashmere – expensive but luxurious, warm, and long-lasting.
Wool – very warm but can be quite heavy.
Silk or satin – soft, smooth, and breathable. Not very absorbent or warm but an ideal cover-up in hotter climates.
Bamboo – an environmentally-friendly choice, bamboo also has antimicrobial and hypoallergenic properties. It's highly absorbent but not very warm.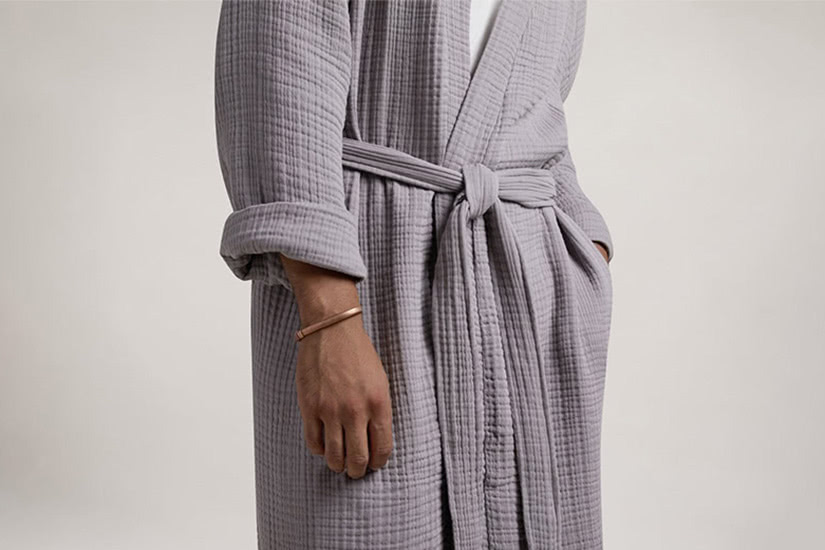 Weave
Terry cloth cotton – thick and absorbent, ideal for use after a shower. Available in a range of weights and thread counts. The higher the thread count, the more absorbent it is.
Waffle weave cotton – with its recognizable diamond or checked pattern, waffle weave is lighter and thinner than terry cotton but still very absorbent. Often found in spas and hotels.
Flannel – softly woven from cotton or wool, flannel is absorbent and insulating but can be prone to shrinking.
Velour – a piled fabric that feels like velvet. Absorbent and soft on the skin. Cotton velour rather than synthetic velour is especially snug and warm.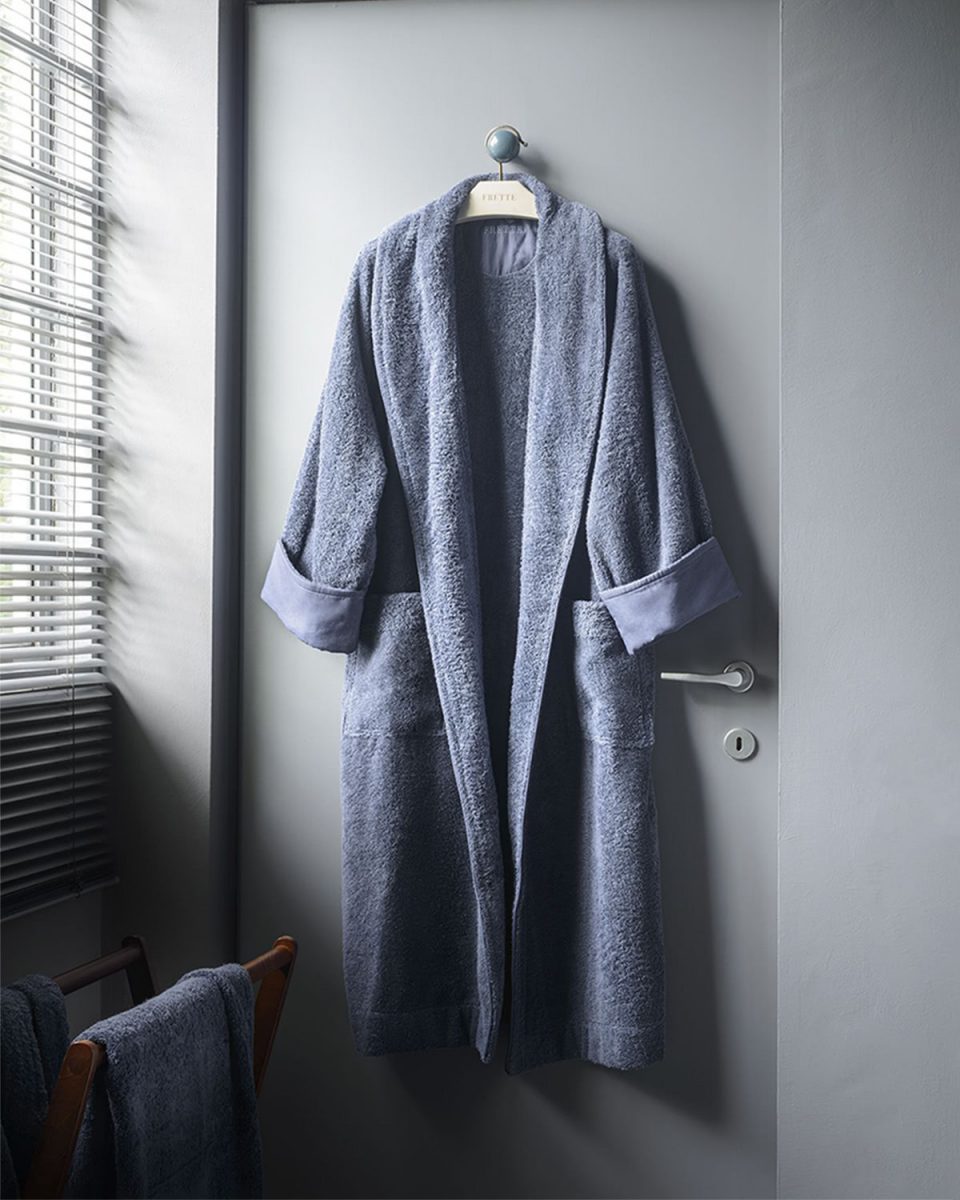 Additional things to consider:
Collar – classic men's robes have a shawl collar for extra coziness while kimono-style men's bathrobes have no collar.
Hood – great for staying warm or drying wet hair.
Sleeves – men's kimono robes have shorter sleeves than classic robes.
Length – the options are full-length or knee-length. The longer the robe, the warmer it will be.
Color – typically, men's bathrobes are either white or cream, but you can also find them in darker shades like black and grey. The advantage of dark colors is that they won't show stains.
Frequently asked questions about men's robes
What is the best material for a bathrobe?
The best material for a bathrobe is cotton with either a terry-cloth or waffle weave. Terry-cloth is a towel-like material, perfect for wearing post-shower as it's absorbent as well as soft and long-lasting. Waffle weave cotton, aka honeycomb weave, is absorbent, fast-drying, and lightweight.
Can men wear robes?
Men can wear robes just as women can. There are plenty of designs out there that are appropriate for guys to wear, whether as something to throw on first thing in the morning, after a shower or bath or after swimming in the pool.
What do you wear under a robe?
You can wear whatever you want under a robe. You might wear it over your pajamas if you've just rolled out of bed. Or put it on after you get out of the shower like a towel. Home from work and feel like getting cozy? Throw your robe over your loungewear.
What kind of robes do hotels use?
Hotel robes are usually made of either high-quality Turkish or Egyptian cotton in a waffle or terry cloth weave. Some are knee-length, others are full-length, and they usually feature a shawl collar to keep your neck warm as well as pockets for extra functionality. Check out our list of the best robes for men for hotel-quality options.