Have you ever dreamed that people around you were walking to the beat of your chosen music? That your typing and stepping and cleaning and moving was all happening against the backdrop of an exquisite audio landscape?
With the latest in listening tech, you can seamlessly merge your life with your music. More than that: speak aloud, and an almost invisible assistant will call you a car or send off a text. All of these near-magical abilities—and more—can be found in tiny earbuds smaller than coins.
With true wireless earbuds, you can tune in to your life in a way that heretofore always required messes of cords. (Cords that had a preternatural affinity for being painfully yanked out at the least opportune moments!)
Now, the best in-ear headphones allow you to shed the bulk and move about your day supported by music but unencumbered by large machinery. Run, jump, go through your life—taking calls, tapping your ears to advance tracks, and more with these tiny true wireless earbuds.
You know what they say: The best things often come in small packages.
In this ranking, we've put together the finest true wireless earbuds on the market today, from one that comes approved by Louis Vuitton to the best practical wireless earbuds for taking and making calls. In our buyer's guide, we also go through the cutting-edge features that these earbuds often display, and discuss which options might be best for you.
The 9 best true wireless earbuds
Check our special wireless earbuds buyers' guide after the list to see exactly what you should pay attention to before purchasing a new pair of earphones. We also share our methodology for finding and reviewing the best earbuds on the market today.
And if you're interested in over-ear headphones instead, check our ranking of the best headphones on the market.
Master & Dynamic MW08: Overall best earbuds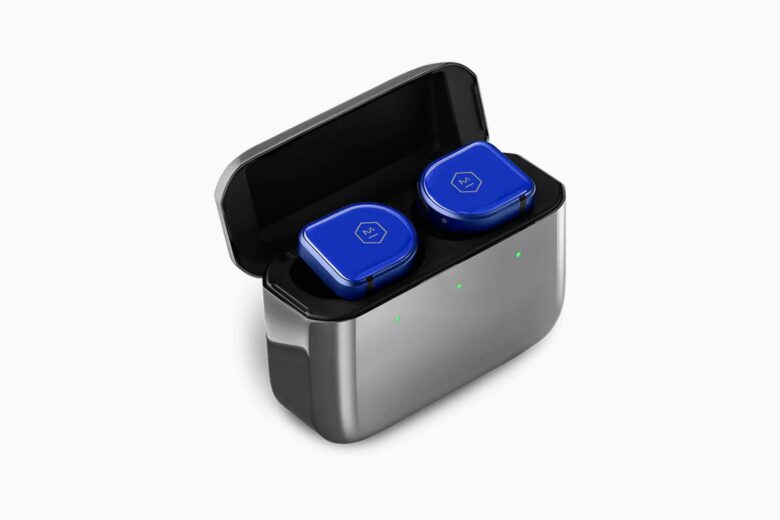 You're in good company with these true wireless earbuds. Louis Vuitton selected a version of these earbuds for their lineup, putting a special finish and releasing them for $1,090. The ultra-durable ceramic finish lets you have no concerns about scratches, while the beryllium drivers deliver warm, rich sound. The stainless steel case not only provides additional protection, but it also includes an additional 30 hours of battery life.
With nine colors to choose from and three sizes of premium silicone wings, anyone can customize these in-ear headphones to bring their individual taste and comfort to the forefront. Throw in the Bluetooth 5.2 technology with active noise cancellation, and you can see why the Master & Dynamic MW08 are our favorite true wireless earbuds of the year.
Our take: Best for those seeking the best noise-canceling true wireless earbuds with extensive customization options, superior comfort, and incredible battery life.
| | |
| --- | --- |
| Noise-cancelling: | Yes |
| Bluetooth: | 5.2 with aptX, AAC, and SBC |
| Weight: | 9.0 g |
| Frequency response: | Unspecified |
| Drivers: | 11mm beryllium |
| Battery life: | 12 hours single charge, 42 hours with case |
| Waterproof: | Yes (IPX5) |
TREBLAB X3 Pro: Best value earbuds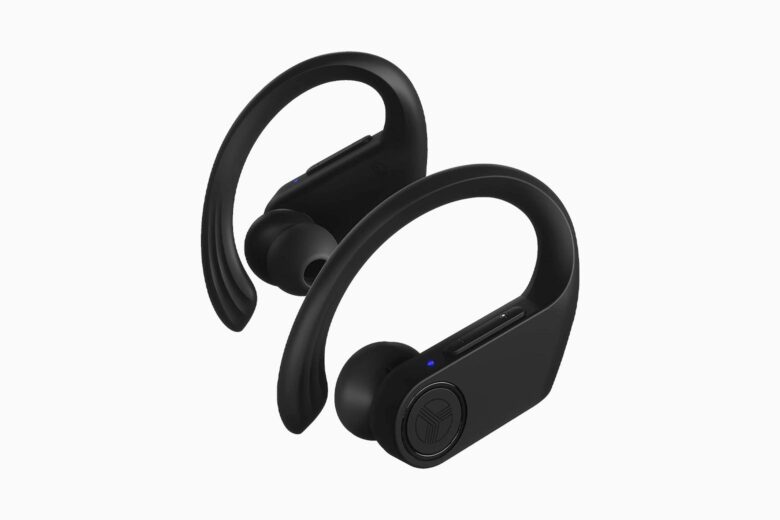 Reaching deep into your wallet usually pays off. But sometimes you can get a suitable alternative at a great value. These true wireless earbuds can keep up with the best, without breaking the bank. Featuring an ergonomic ear hook and three sizes of tips, you can have the confidence to tackle your day in comfort knowing these will stay right where they should.
A remarkable 45 hours of battery life lets you put battery anxiety in the rearview, while the IPX7 waterproof rating means these can handle buckets of sweat or rain. And you don't have to worry about setting your phone down and stepping away, thanks to the integrated Bluetooth 5.0 technology with aptX.
If any problems come up, you can have the comfort in knowing that the manufacturer stands behind the TREBLAB X3 Pro, an important consideration in the value segment.
Our take: Best for keeping your cash where it's at but adding a nice set of true wireless earbuds to your life.
| | |
| --- | --- |
| Noise-cancelling: | No (only passive) |
| Bluetooth: | 5.0 with aptX |
| Weight: | 9.6 g |
| Frequency response: | 20-20,000 Hz |
| Drivers: | 11mm |
| Battery life: | 9 hours single charge, 45 hours with case |
| Waterproof: | Yes (IPX7) |
Sony WF-1000XM4: Best high-end earbuds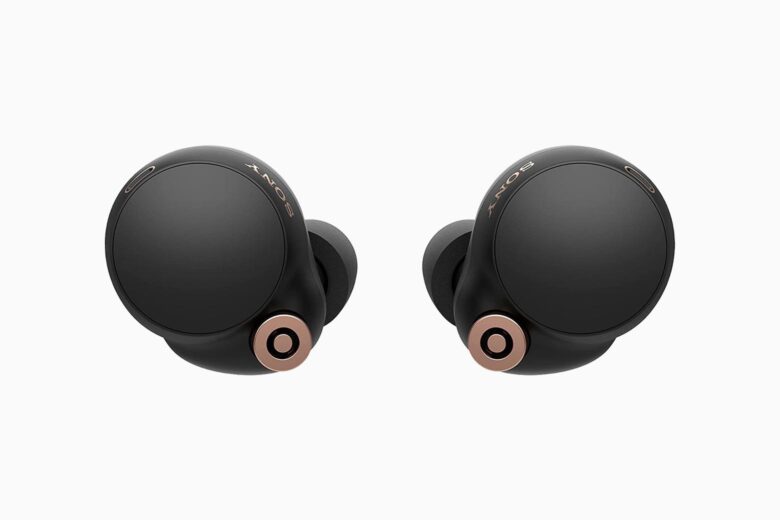 When you want to shut the world off and tune into nothing but your own tunes, there's only one option. The Sony-developed Integrated Processor V1 pairs with two noise-sensing microphones per ear to cancel more noise than ever, giving you unsurpassed performance and idyllic tranquility.
The small but mighty 6 mm driver has been redesigned with increased magnet volume, providing improved low-frequency listening. And the all-new polyurethane foam material integrated into the tips maximizes surface contact to eliminate gaps.
The Sony WF-1000XM4 now supports High-Resolution Audio Wireless, giving you the rich bass critical to the best listening experience. The beamforming microphone and a bone-conduction sensor let your voice come through even if surrounded by a noisy environment.
Our take: Best for listening to incredible audio that is certain to tune out any nearby distraction.
| | |
| --- | --- |
| Noise-cancelling: | Yes |
| Bluetooth: | 5.2 with SBC, AAC, LDAC |
| Weight: | 41 g with case |
| Frequency response: | 20-40,000 Hz |
| Drivers: | 6 mm |
| Battery life: | 8 hours single charge, 24 hours with case |
| Waterproof: | Yes (IPX4) |
Apple AirPods Pro 2: Best earbuds for iPhone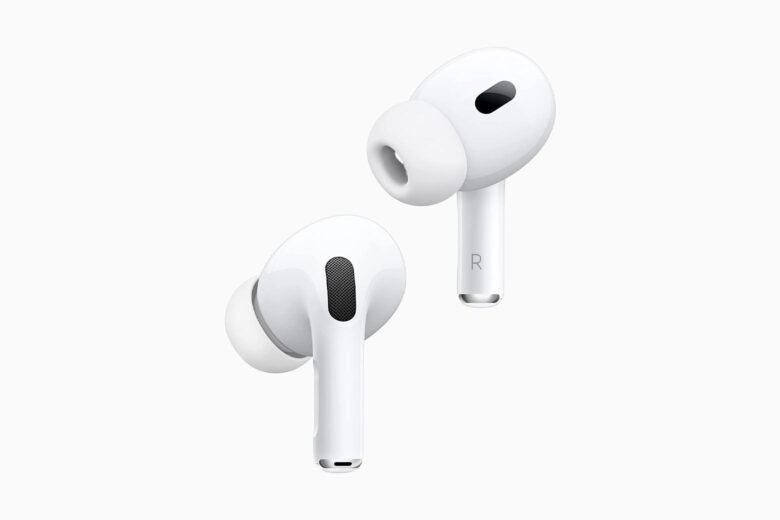 You've likely seen or heard of these ubiquitous white earbuds before! Apple's innovative AirPods made true wireless earbuds the accessory du jour. With their latest Pro 2 model, Apple has dramatically improved the active noise cancellation and added the ability to control the volume directly from the earbuds. The water resistance, adaptive EQ, and an interior pressure valve are all still there for your listening pleasure.
The AirPods Pro 2 also have a slightly larger range of frequencies and a larger sound chamber. This allows for even more clarity for delicate treble notes—and even more precision with the way they deliver loud, soft, high, low, and even different genres of music.
As an accessory, they are modern, sleek-looking, and have the upscale feel of a well-designed Apple product. Including the ability to tap on your ear and control your music, these earbuds feel like something from the future happening now.
Our take: Best for those who always like to have the latest and greatest when it comes to Apple, as well as those looking for a modular, high-performance true wireless earbud.
| | |
| --- | --- |
| Noise-cancelling: | Yes |
| Bluetooth: | 5.3 |
| Weight: | 5.3 g |
| Frequency response: | 20-10,000 Hz |
| Drivers: | Custom high-excursion Apple driver |
| Battery life: | 6 hours single charge, 30 hours with case |
| Waterproof: | Yes (IPX4) |
The original Apple AirPods present a good-working budget alternative with passive noise cancellation but otherwise similar features.
Samsung Galaxy Buds2 Pro: Best earbuds for Android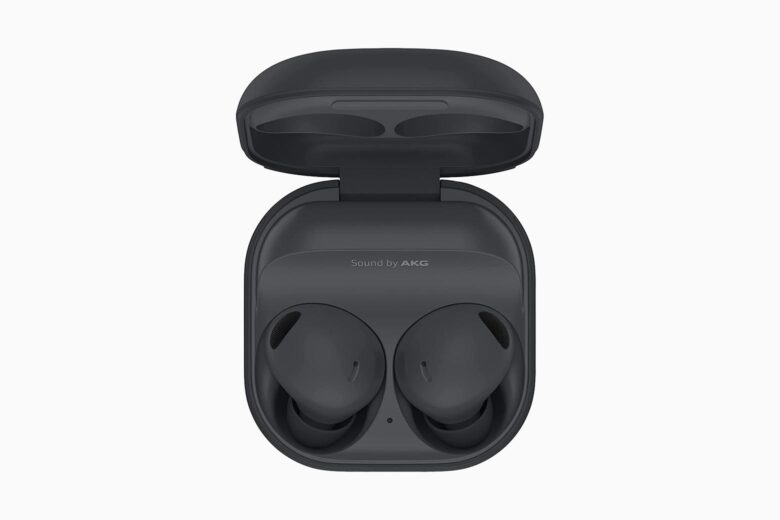 For the Android users out there, we aren't going to leave you without an excellent option! As a top pick for Android-compatible true wireless earbuds, the Samsung Galaxy Buds2 Pro have good features for their accessible price. Passive and active noise cancellation allows you to tune in to your chosen soundscape quite easily. For calls, these Samsung buds have included internal and external microphones so your voice is picked up clearly, no matter where you are.
Even though they're marketed as Android earbuds, these earbuds are able to connect to both iOS and Android devices with dedicated smartphone apps. If you have a wide array of tech devices, these might be a good choice: truly 'one earbud to rule them all'.
With the included carrying and charging case, you can expect 8 hours of playback and 21 hours of charging capability. The Samsung Galaxy Buds2 Pro earbuds have added voice command capabilities along with the tap-to-control feature, meaning you can spend less time on your phone DJ-ing and more time living your life with the soundtrack of your choice.
Our take: Best for a good listening, talking, and sound-canceling experience for use across iOS and Android platforms.
| | |
| --- | --- |
| Noise-cancelling: | Yes |
| Bluetooth: | 5.3 |
| Weight: | 5.5 g |
| Frequency response: | 20-10,000 Hz |
| Drivers: | 10 mm bass and 5.3 mm tweeter |
| Battery life: | 8 hours single charge, 29 hours with case |
| Waterproof: | Yes (IPX7) |
Powerbeats Pro: Best earbuds for the gym and working out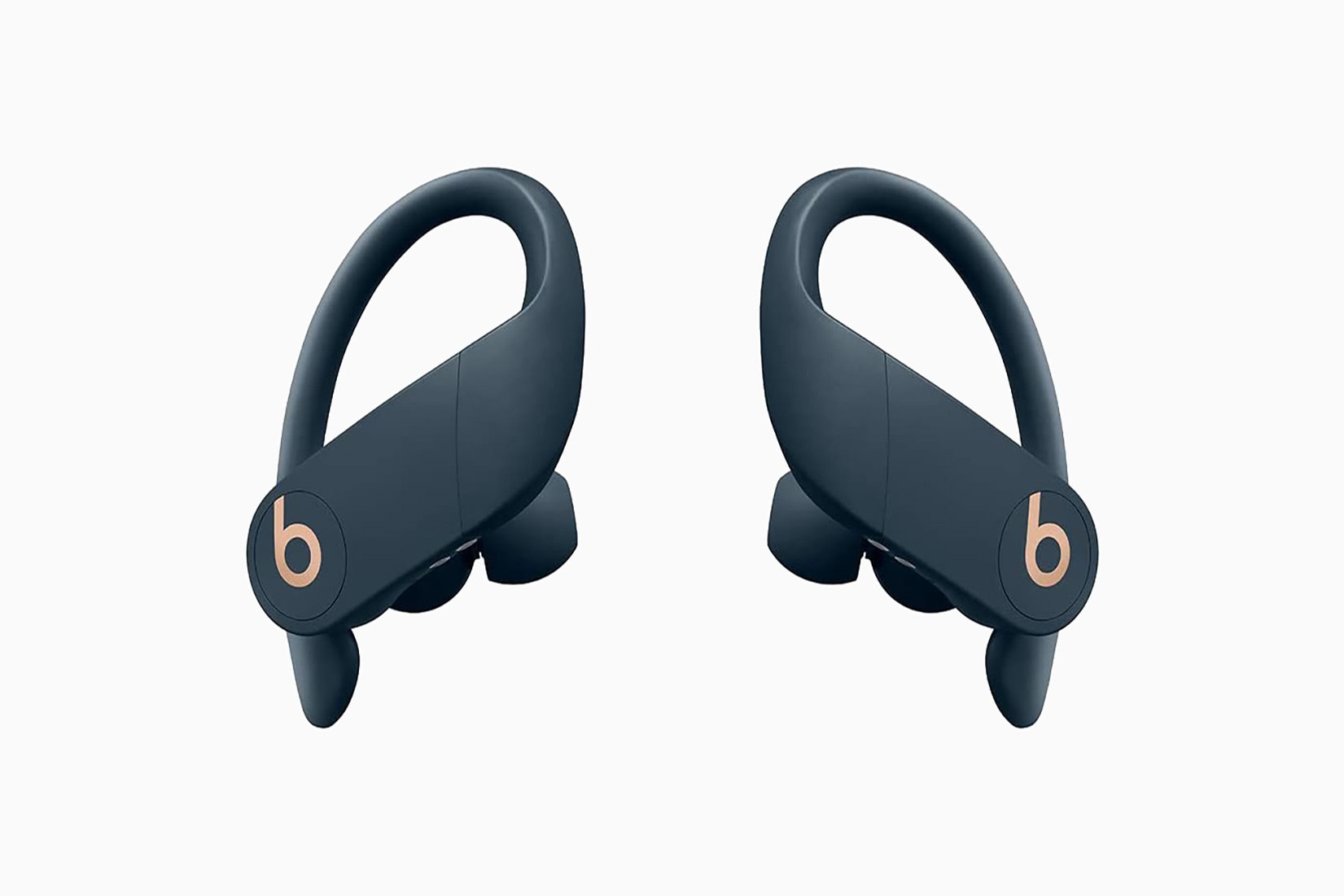 Looking for the suave matte feel and high-intensity focus so often evoked by the Beats headphones? Now, with the Powerbeats Pro, you can have that power packed into a tiny, hard-working earbud.
Equipped with flexible silicone ear hooks to keep the pressure off your ear canal while anchoring these earbuds sturdily in place, the Powerbeats Pro are a great choice for music during motion. As an added pro, these earbuds come in four subtly chic colors: moss, ivory, black, and navy. These true wireless earbuds in true neutrals are a functional accessory for working out, whether at the gym or outside.
However, their hardware allows them to look good and work well, too. Class 1 Bluetooth allows these buds to experience fewer drops in connectivity as well as a longer range—great for when you need hands-free mobility for your activities.
Their materials are specifically made to be water- and sweat-resistant—leaving you one less thing to worry about as you work in your reps. The Powerbeats Pro earbuds allow you to concentrate on the beat of your music, letting your workout simply turn into an active dance.
Our take: A stable, sweat-resistant option for those in need of gym-ready music.
| | |
| --- | --- |
| Noise-cancelling: | No |
| Bluetooth: | 5.0, Class 1 |
| Weight: | 11g |
| Frequency response: | 10hz-N/A |
| Drivers: | 12 mm |
| Battery life: | 9 hours |
| Waterproof: | Yes (IPX4) |
As an alternative with a total of 28 hours of energy, we'd like to present the Jabra Elite 75t.
Jaybird Vista: Best earbuds for running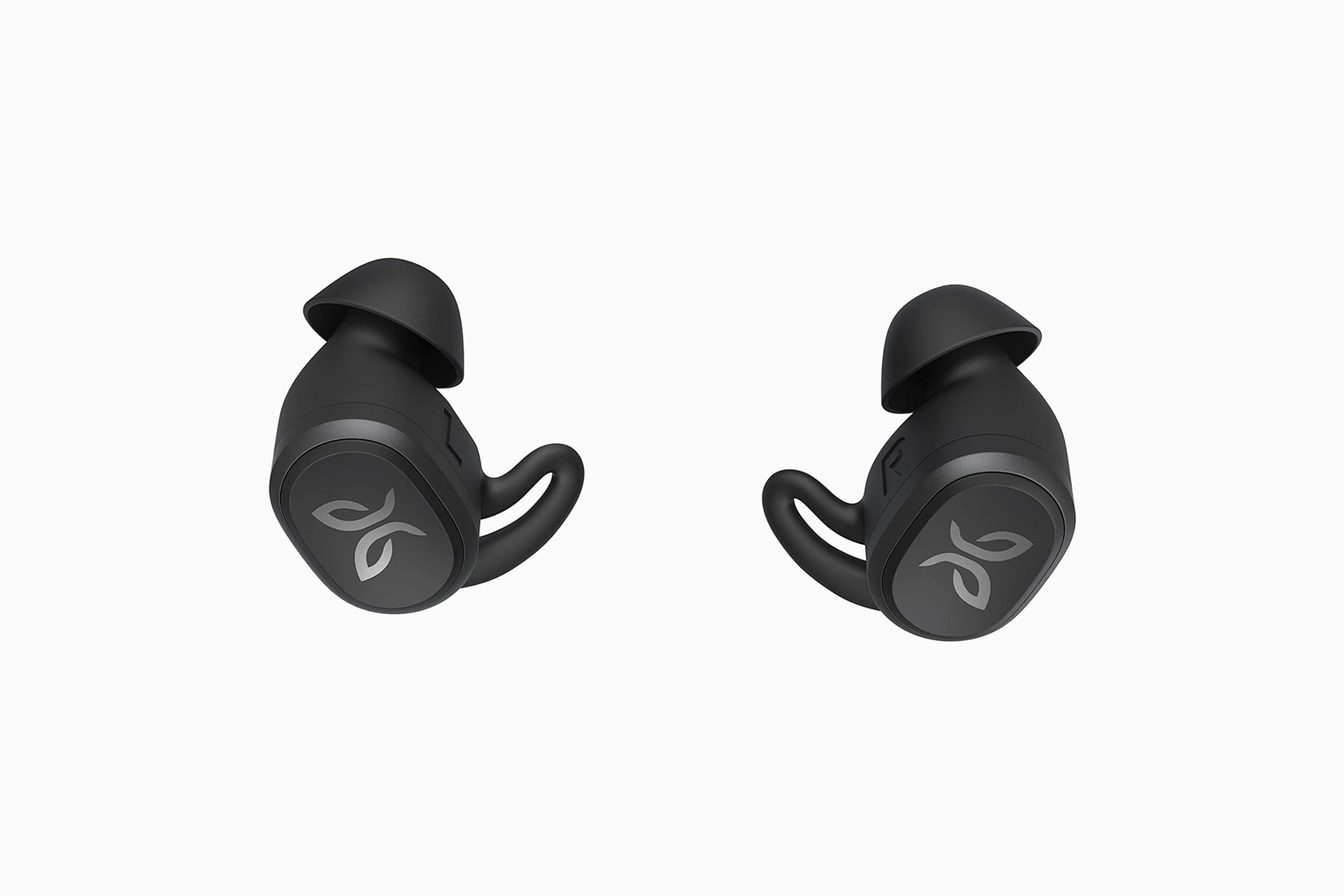 If you're in need of a pair of earbuds that perform well and are so protected that you don't have to worry about them at all, consider the Jaybird Vista. Fully crush-proof, sweat-proof, water-proof, these earbuds are apparently drop-proof as well. The ear-hooks they employ fit snugly over one's ear, making sudden stops to find dropped earbuds during your run a thing of the past.
Jaybird has an iOS and Android app with EQ control, so you can customize your bass and treble levels to your precise preference. When combined with the included charging case, you can count on 16 hours of playback time—long enough for even the longest of marathons!
The Jaybird Vista earbuds are among the smallest and lightest on the market, which means that after a while, you'll forget that you have them on. The music you're listening to will seem to be true background music fuelling your runs.
If you do find that you've misplaced or dropped your earbud on a run, don't worry—the Jaybird App includes a thoughtful 'find my earbud' locator system!
Our take: Those who are looking for a lightweight earbud to deliver high-quality sounds during runs or other fast-paced, motion-heavy workouts.
| | |
| --- | --- |
| Noise-cancelling: | Passive |
| Bluetooth: | 5.0 |
| Weight: | 12g |
| Frequency response: | 20-20000 Hz |
| Drivers: | 6 mm |
| Battery life: | 6 hours |
| Waterproof: | Yes (IPX7) |
Amazon Alexa Buds: Best earbuds assistant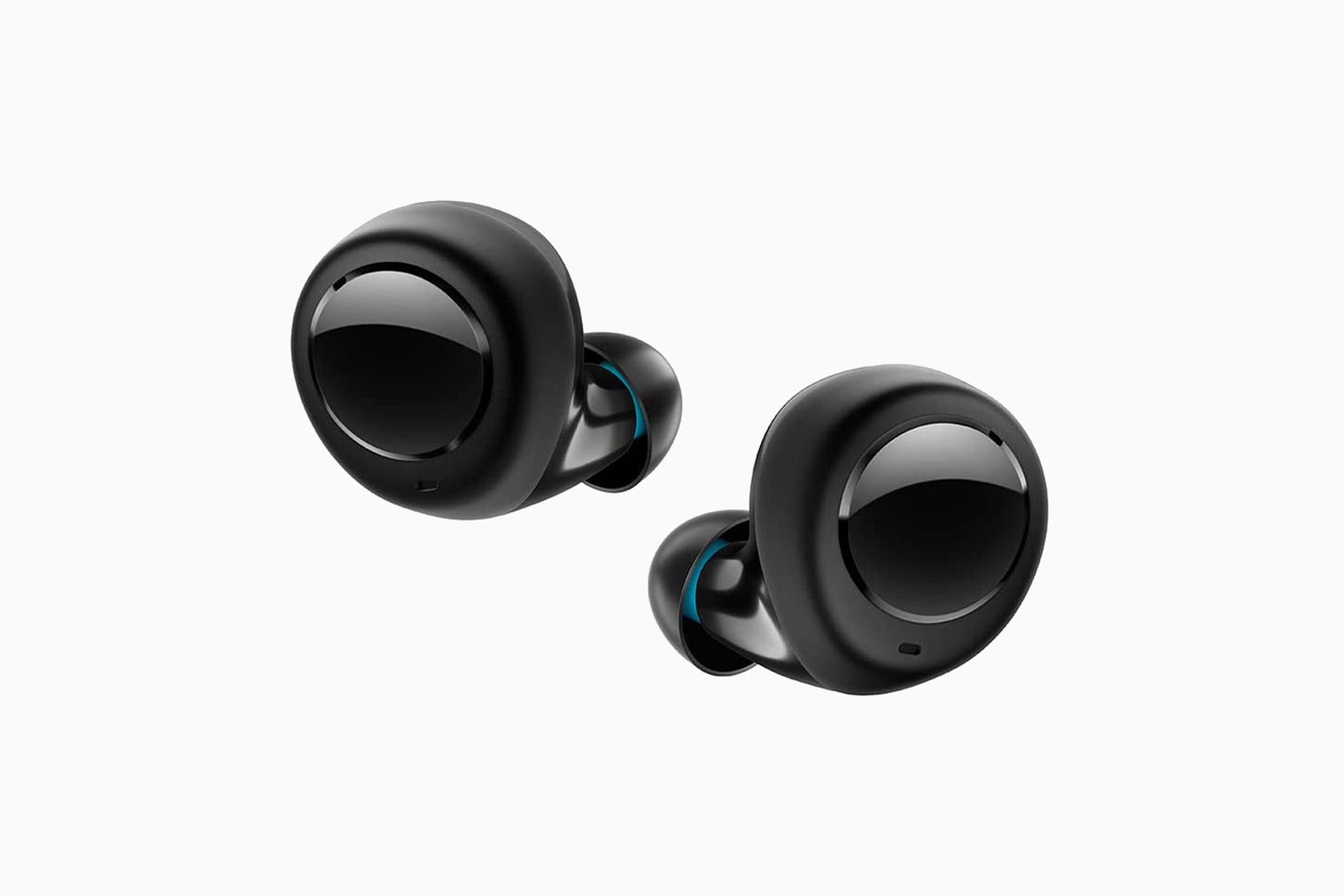 If Amazon's Alexa AI assistant helps you manage your day, you may have been waiting for earbuds that integrate with that platform specifically, instead of Apple or Android. With these Amazon Alexa Buds, you will experience easy connectivity and instant assistance from Alexa at all times. (You're also able to connect to Siri and Google Assistant if you so choose.)
However, these earbuds are able to do more than just connect you to your AI assistant! They're true wireless earbuds that deliver a rich soundscape with passive noise cancellation. With a 15-minute charge, you can get two full hours of listening time, and 20 hours with a full charge and charging case.
With the multitude of smart commands that Alexa is able to perform, these buds can help you navigate your life with ease. From calling a car to performing a guided workout, the Amazon Alexa Buds are there to make your life more efficient and comfortable with simple phrases and tap-to-control guidance.
Our take: Those who have always wanted a full-time assistant to make their lives easier—but are also looking for high-quality sound for music, shows, and more.
| | |
| --- | --- |
| Noise-cancelling: | Yes |
| Bluetooth: | 5.0 |
| Weight: | 7.6 g |
| Frequency response: | 20-2000 Hz |
| Drivers: | Knowles dual balanced armature drivers |
| Battery life: | 5 hours |
| Waterproof: | Yes (IPX4) |
Skullcandy Indy: Best budget earbuds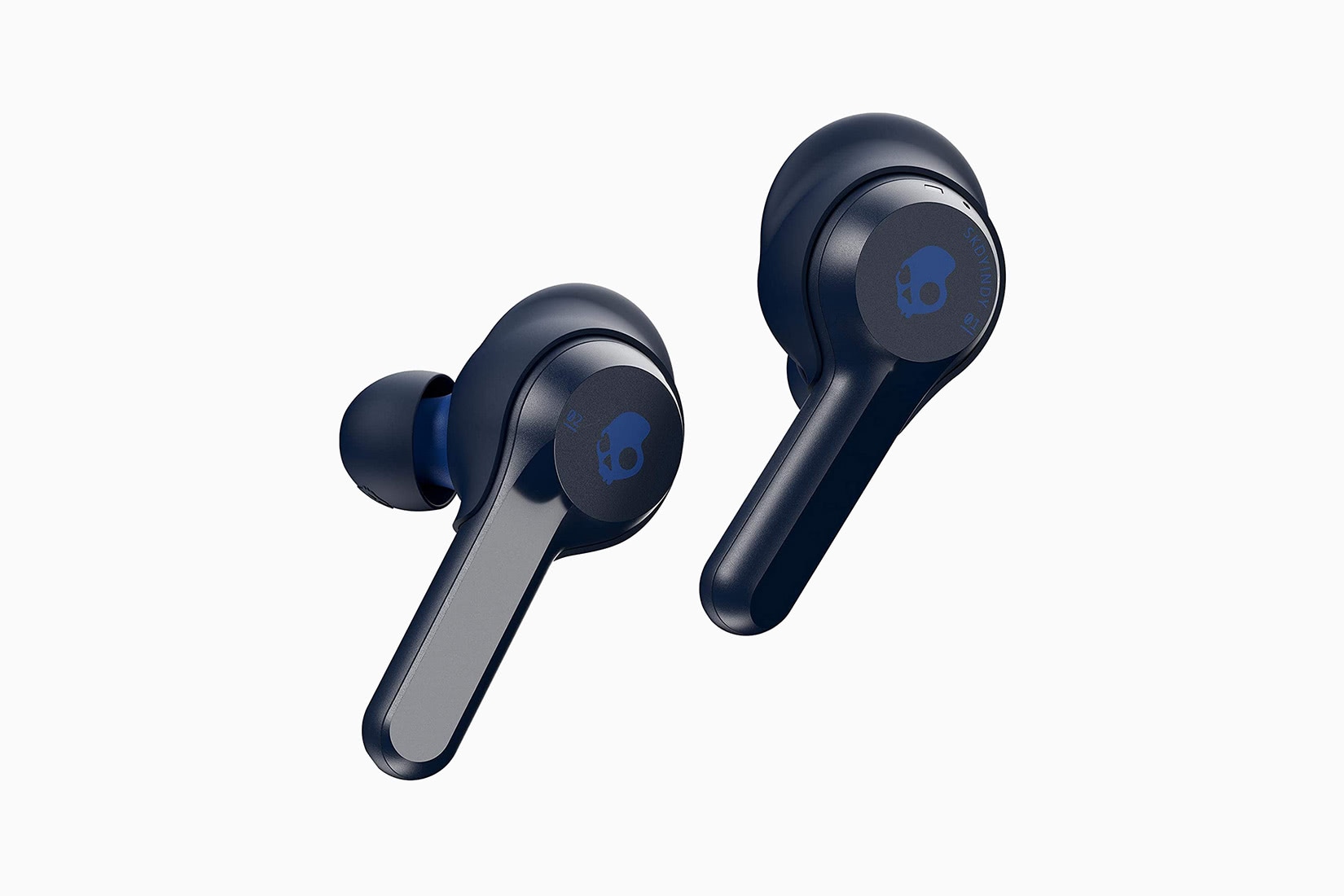 If you're looking for a cheap pair of earphones but with good overall performance, check out the Skullcandy Indy earbud set. With removable wings for stability and a custom feel, these earbuds are able to connect you to your devices easily, quickly, and at a budget-friendly price point. Their tiny shape allows you to feel connected without being weighed down or tethered to any fixed point. This makes workouts without getting your earbuds yanked out of your a breeze.
The Skullcandy Indy earbuds are sweat-resistant, dust-resistant, and (when combined with the charging case) give you 16 hours of cord-free listening. Between the lower price point and the included protective features, these are earbuds that you truly won't have to worry about at all. High-quality sound, easy-maintenance earbuds; that's the dream, right?
Our take: A reliable lower-cost set of earbuds that are resistant to sweat and dust.
| | |
| --- | --- |
| Noise-cancelling: | Yes |
| Bluetooth: | 5.0 |
| Weight: | 76 g |
| Frequency response: | 20-20000 Hz |
| Drivers: | 12 mm |
| Battery life: | Up to 32 hours of total battery life |
| Waterproof: | Yes (IP55) |
As an alternative, we've found that the best earbuds under $50 are the TOZO T10. They're particularly strong with bass support, and they come in five chic colorways.
Buyer's guide: How to choose the best wireless earbuds for you
When you're looking for a good pair of wireless earbuds, you need to start by figuring out what's best for you. Do you live a lifestyle that is constantly on the go? Do you typically find yourself in situations where there's a lot of background noise interfering with your ability to enjoy the soundtrack of your life?
As it turns out, there are wireless earbuds that might be able to help with both of those situations. First things first, though: What do we mean when we talk about 'true wireless' earbuds?
Wireless earbuds refer to Bluetooth-enabled earphones which don't require a physical connection to the device playing your music. However, there are two main types of wireless earbuds: True wireless, and connected.
Connected wireless earbuds have a cable that strings the two separate earpieces together. It's nice to have a cohesive unit, sometimes, and it can help if you're prone to losing small pieces.
True wireless earbuds, on the other hand, aren't connected to anything—even each other. Each set of wireless earbuds comes with two pieces, one for each ear.
Features that you might want to keep an eye out for when selecting earbuds might include active or passive noise cancellation, long battery life, the type of AI assistant system a pair of earbuds might be primed to work with, or Bluetooth range. If you'll be using your earbuds for exercise or in areas where environmental factors may be a concern, select a pair that are dust, water, or sweat-resistant.
Keep an eye out for the quality of the drivers in your earbuds, as well. Drivers are the way earbuds get the sound physically to you by driving the sound waves toward your ear canal. Their quality will have a huge effect on your listening experience. From electrostatic drivers to more innovative planar magnetic ones, each earbud needs a high-quality piece to produce good sound. Taking a look at the machinery (however minute) that makes up your earbuds is a great idea before you click 'add to cart'.
Finally, you may be interested to know that not all earbuds come in utilitarian black or silver colors! Several of our favorite earbuds come in subtle, attractive colorways that make them as much a fashion accessory as an audio listening device.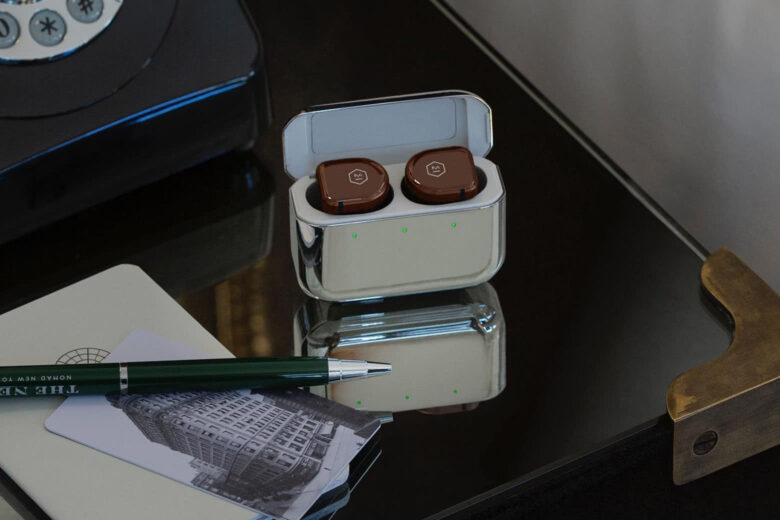 Methodology: How we select, test, and rank the best wireless earbuds on the market
When we started to look for the best earphones and earbuds, we started by selecting the latest and greatest from well-known electronics manufacturers. While surveying these models to learn more about the here and now of electronic audio accessories, we thought about what we would really want in a great set of wireless earbuds: amazing sound, customized comfortability, long-lasting battery, and craftsmanship.
We went back to our list of earbuds and chose only those which we'd want to use personally. An in-depth survey of reviews for each product and the listed specifications helped us compare them and select a particular set of earbuds for each category we wanted to feature. We then narrowed down our list to ten finalists, which we're pleased to present to you in this ranking.
True wireless earbuds and earphones frequently asked questions