Bee Better. Bees are renowned for their ability to swarm together and to work as a team. They are praised for their perfectionist attitude. And they play their parts sacrificially and selflessly for the benefit of the community. So it's no coincidence that the philanthropic brand is called Bombas, named after the Latin word for bee. And it is not (just) poetic alliteration that gave birth to the brand's meaningful slogan, Bee Better. It's a slogan that perfectly captures the brand's never-ending pursuit to keep pushing to improve—to improve their designs and to improve the lives of those around them.  
In 2013, Randy Golderg and David Heath were struck by a statistic that socks were the most requested donation from homeless shelters. They realized that people's old, holey socks wouldn't cut the mustard. So what did they do? They created Bombas, a sock brand that was committed to donating a pair for every purchase. And after appearing on Shark Tank, in 2017, they quickly became one of the show's greatest success stories. Since then they've sold millions of socks and apparel. And in turn, they've donated over 50 million items to warm the feet and souls of people living on the streets.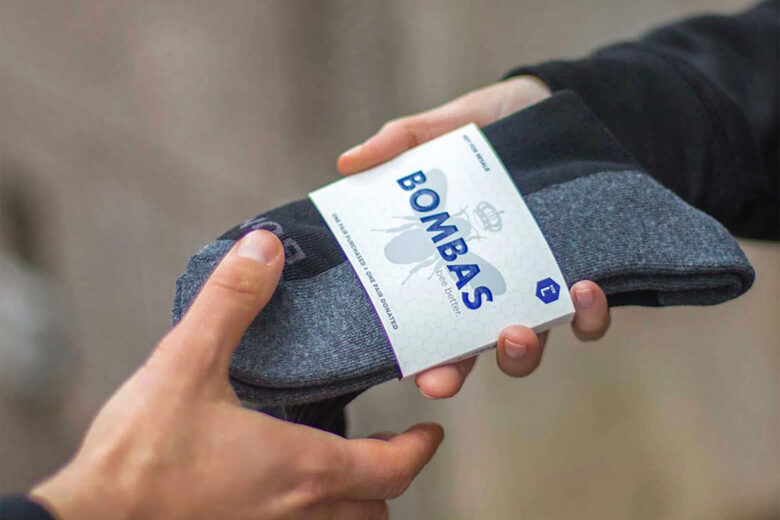 The Bee Better slogan is stitched into every Bombas pair. And the encouraging alliteration extends beyond their philanthropic efforts and into the design of the socks themselves. The cutting-edge brand tore apart traditional socks. They nitpicked at minor details that make a major difference after a long day of wear. And while you may be able to accept blistered heels, and socks crumpled around your ankles, the dangerous duo stood by their Bee Better mantra until they achieved perfection. 
Bombas continues to reinvent our idea of comfort with trailblazing sock technology. And restful relief is at the forefront of their avant-garde designs for women, men, and children. Innovations such as the honeycomb arch, step in to provide support where you need it most. A seamless toe speaks to the impeccable effort to refine every substandard detail. And a cushioned heel tab promises to break in your new Balenciaga's without baring the blisters to show for it. While Bombas slipper socks are your new work-from-home companions. Each pair is made from premium quality materials. And their vast range is not short of different styles, colors, and designs to choose from.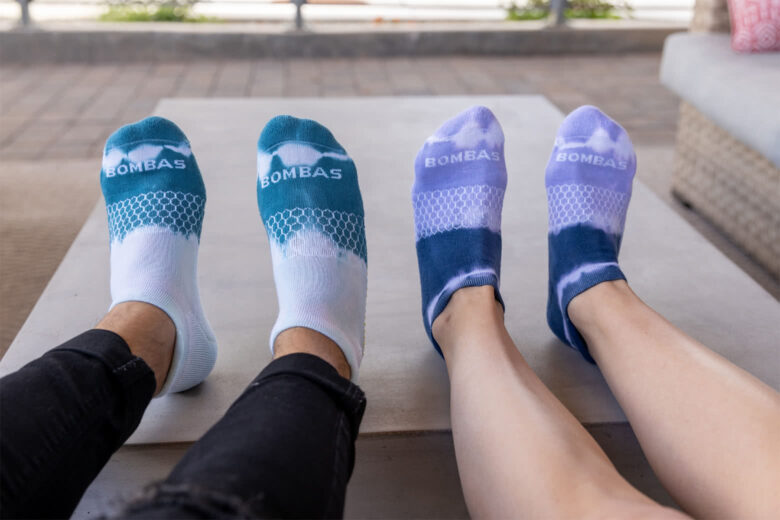 The innovative brand keeps pushing to Bee Better for both their customers and their homeless neighbors. And they continue to encourage us to look for minor details that make a big difference.
Now that's no small…feet (we had to).
Our favorite Bombas socks for women
Bombas No Show Socks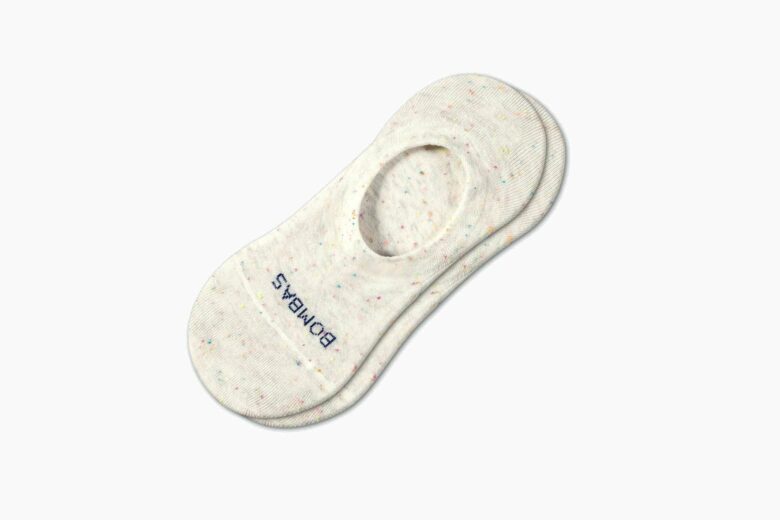 We know how difficult it is to find a good pair of no shows. And this pair blew our socks off. The lightweight material is cool enough for sweltering climates. And the robust design is engineered to never fall down. They cover just enough for optimum comfort but remain concealed beneath your sneakers. And the Bombas secret socks come in subtle neutral palettes (for the odd occasion that they peep out).
Best for: Securing your foot in secret.
Bombas Ankle Socks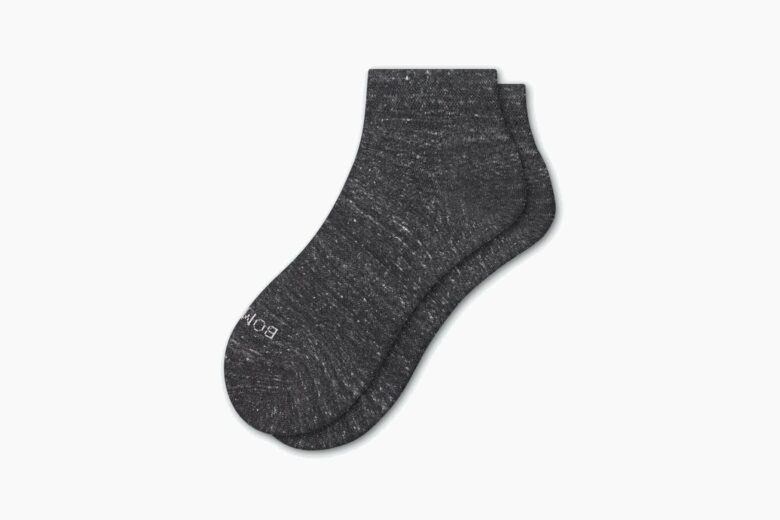 These Bombas socks for women are at the top of our list of most comfortable socks. They're perfect for high-rise sneakers and medium-height booties. Although we doubt you'll mind if the subtle style pops out of the top of your low-cuts. The lightweight fabric is made for warmer climates. And they won't bulk up a snug fitting bootie. Engineered for feet-hugging comfort, you'll want a pair in every color—white, gray and black. 
Best for: Cool comfort.
Bombas Knee High Socks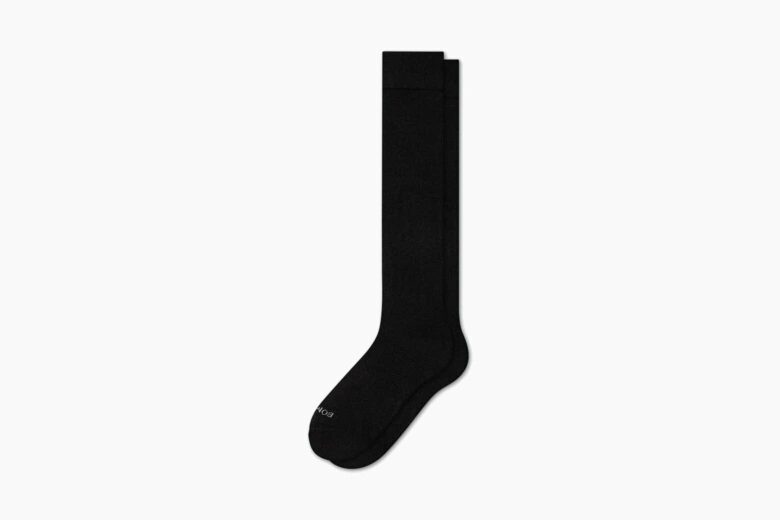 Chic knee high socks to hit the streets of Paris? Yes please! Show them off or keep them hidden under your tallest boots and skinniest jeans. Either way, the light breathable fabric takes the soaring socks to new heights of comfort. And the neutral colorways never get in the way of a capsule wardrobe.
Best for: Stylish knee highs to boot.
Bombas Crew Socks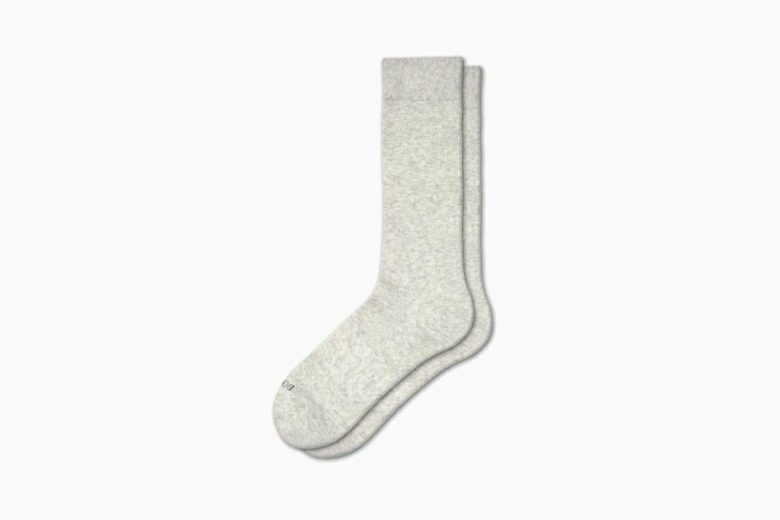 You can tell a lot about a person by their socks. Some of us opt for vibrant prints and others don't look beyond black. This brand has a pair for every mood. And the breathable fabric keeps it cool (in style and temperature). Pair these calf socks with your favorite pair of boyfriend jeans and let your true colors peek out.
Best for: Socks to match your mood.
Bombas Gripper Socks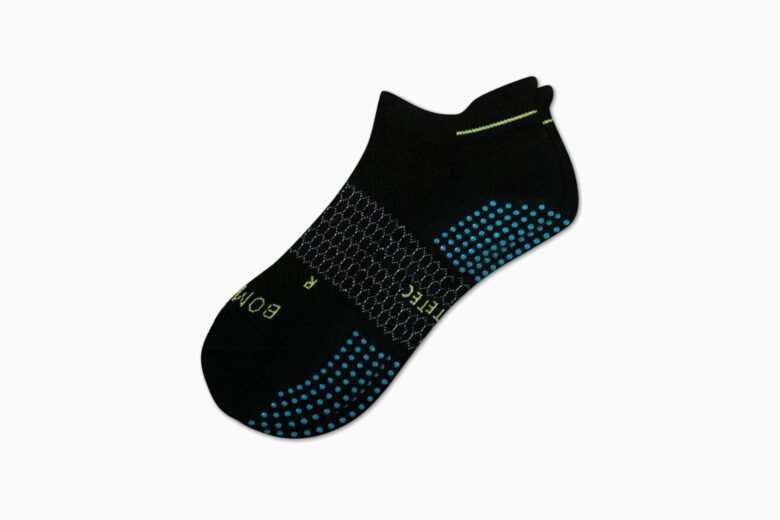 These Bombas gripper socks make us want to run. And we're not runners. The cutting edge brand uses trailblazing technology to invent flawless designs. And innovations such as strategic cushioning, airflow ventilation, and non-skid grips are bound to produce your new PB in almost any sport. 
Best for: Advanced athleticism.
Our favorite Bombas socks for men
Bombas Ankle Socks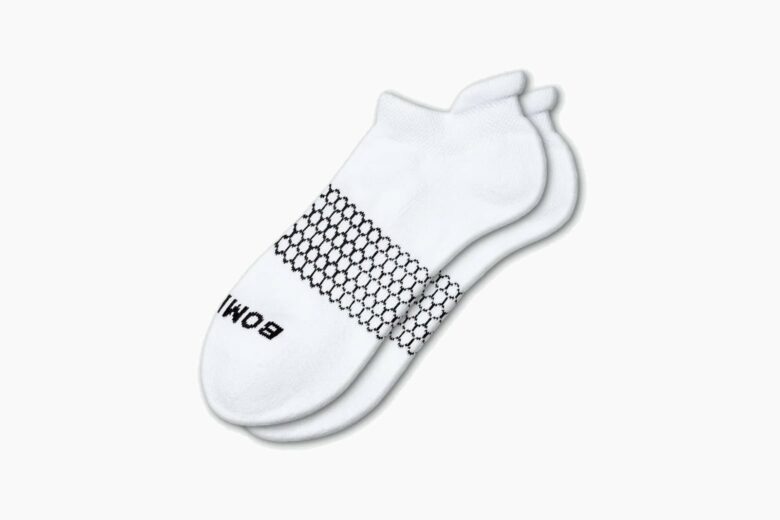 These effortless, everyday socks are the unsung heroes of your sock drawer. The cushioned footbed, honeycomb arch and premium fiber cotton speak to the opulence of the perfectionist brand. And once you've tried on the world's most comfortable socks, you'll never look elsewhere. So you may as well save yourself the trouble, and order a few pairs at once.
Best for: Honey in sock form—sumptuously sweet.
Bombas Calf Socks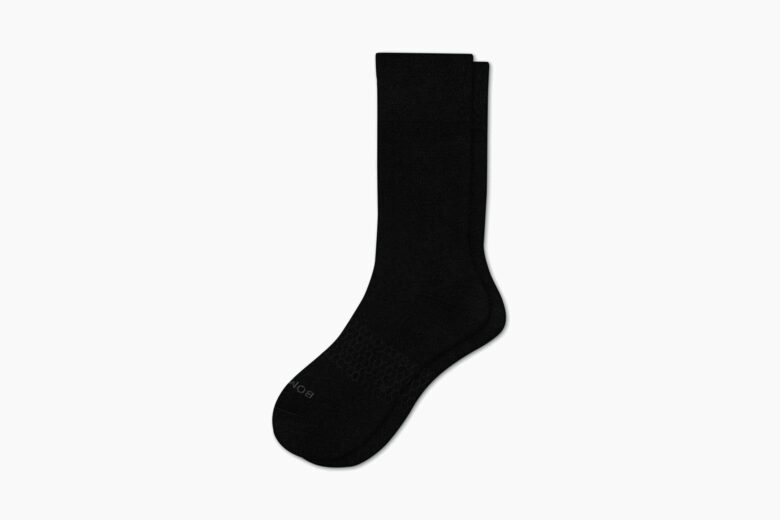 These Bombas socks for men give you the best of both worlds with their relaxed-but-refined style. The calf height knocks a few centimeters off of a typical dress sock to make it more casual. But they maintain the same functional features as the originals. And the brand's latest stay up technology ensures that they are not too tight but will never slip down. So basically, they defy gravity.
Best for: Casual chic styling.
Bombas Compression Socks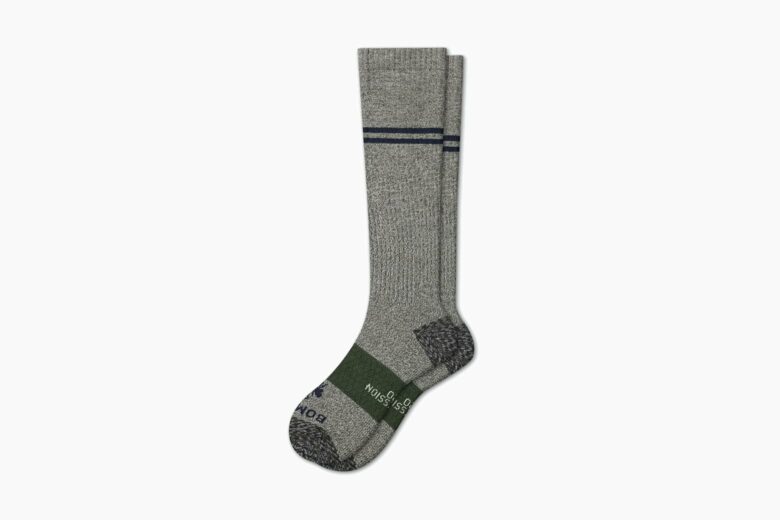 You know the aches and pains synonymous with an active lifestyle? These Bombas compression socks prevent them by allowing blood circulation. The Y-stitched heel molds to your foot. While extra-durable yearn resists the inevitable wear and tear induced by athleticism. And the breathable fabric comes in a wide range of complementary colorways.
Best for: Athleticism without the aches.
Bombas Performance Socks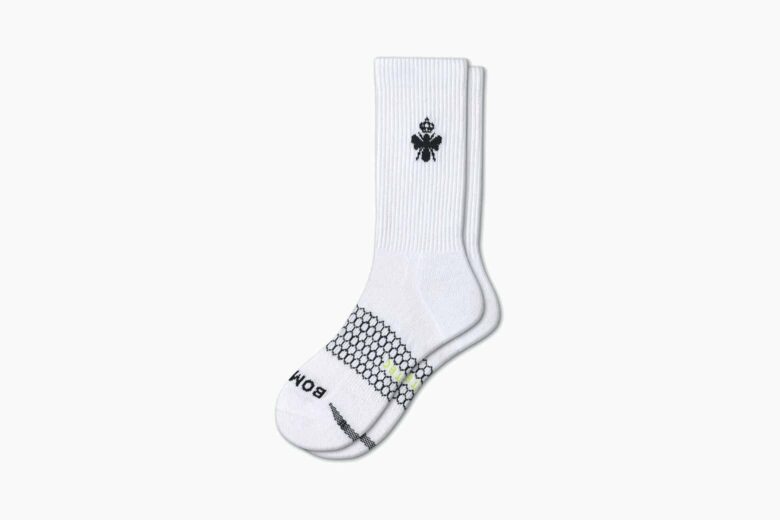 These all-purpose performance socks will take you straight from the golf course to the mountains. They're made to do it all. So that you can too. The Hex-Tech design allows for optimal breathability and moisture-management. While airflow venting prevents sweaty feet. And avant-garde designs and contemporary colorways keep you looking fresh.
Best for: Fashionable functionality for optimal performance.
Bombas No Show Socks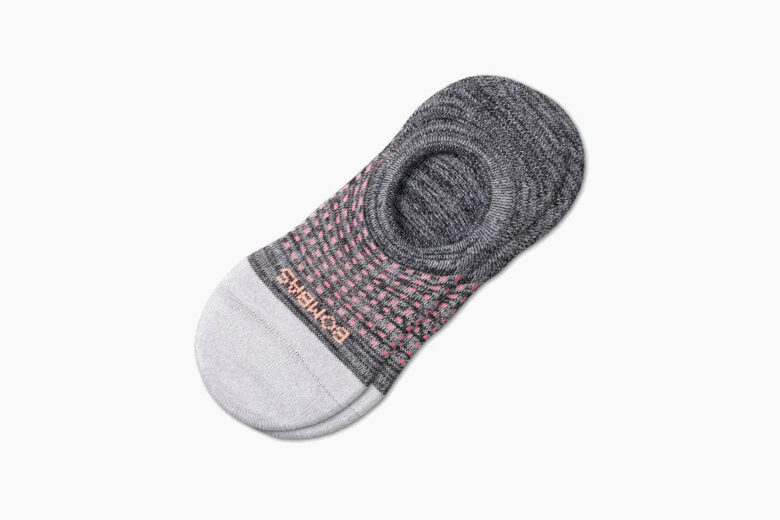 People rarely want to keep their Bombas a secret. But sometimes the occasion calls for it. And if you've been looking for no show socks to accompany your game, you won't find better than these. They're engineered to conform to your foot. And silicone strips promise to prevent any kind of slipping. Performance yarns and breathable perforations take your feet to paradise. While you hit the winning shot.
Best for: The secret ingredient to elevate your game.
Where to buy Bombas socks
The brand's online store provides an effortless shopping experience. And their sock finder quiz will reveal solutions to problems you didn't even know existed. Perhaps you're looking for a pair to secretly secure your feet in Converse. Or your heels are begging for a reprieve from bearing the brunt of hour-long hikes. Either way, the sumptuous socks come in every height. And specific styles speak to distinct activities with unique grippers and compression points. By activities, we're including lounging around. And the Bombas slipper socks are impossible to take off.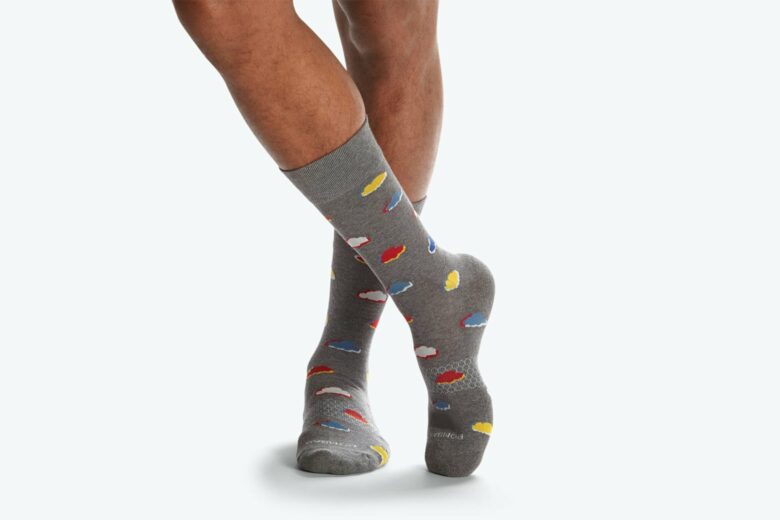 Wrap them up for a loved one as the gift that keeps on giving. Or treat yourself to a foot hug. They'll make your fashion sneakers feel like slippers. And your cowboy boots feel like Uggs. Every Bombas item comes with a 100% Happiness Guarantee. And they promise to replace any item that falls prey to a puppy's new chewing habits, gets lost in the laundry or suffers at the hands of arts and crafts (finger puppets?) So really, once you buy a pair, you've bought Bombas comfort for life.
Why do Bombas socks have a left and a right?
Bombas socks are engineered for effortless comfort. And they've taken into account the tiny details, as mentioned in our Bombas review. They've reinvented the cylindrical shape to mold to fit your feet like a glove. And that means that the left and right sock are shaped differently (as are your shoes). The innovative designs include honeycomb arch cushioning to offer your feet greater support where they need it. But your left arch is on the opposite side to your right arch. And because of this (and other thoughtful details regarding the shape of the sock), every pair comes with a left and right sock.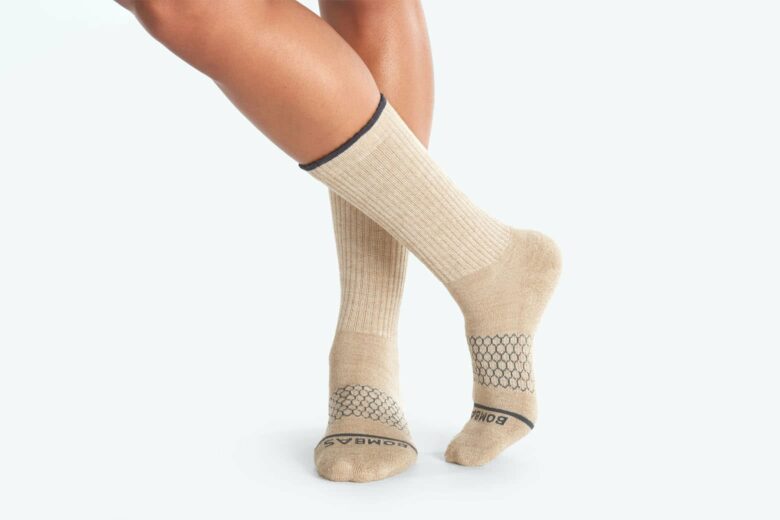 Are Bombas socks worth it?
Luxury always comes at a price. But in this case, the price is generous for what you receive. When you buy a pair of Bombas socks, you are not just replacing generic knock-offs. You are buying into a lifetime of luxuriously soft socks—quite literally with their 100% Happiness Guarantee. And you are providing someone experiencing homelessness the same comfort. Not to mention, their timelessly contemporary designs. So if you're asking us, Bombas socks are worth it every single time. And our full Bombas socks review will give you all the reasons why. 
Frequently asked questions about Bombas socks
Where are Bombas socks made?
Bombas socks are made all around the world, including the US, Taiwan, China and Peru. And the socially responsible brand ensures that all manufacturers meet the highest health, safety and social standards. While they also remain committed to finding manufacturers that only use the latest technologies and premium quality materials. And the thousands of appreciative Bombas reviews are testament to just how well they do it. 
How long do Bombas socks last?
Once you've bought a pair of Bombas socks, they're with you for life. And Bombas reviews are flooded with praise about the quality of these sumptuous socks. But if anything gets in the way of your lifetime companionship, the accommodating brand will replace them free of charge. And we mean anything. Lost luggage, laundry mishaps or dog disasters? They've got you (your feet) covered. Still not convinced? Our full Bombas review will help you make up your mind.