If you're paying even the smallest attention to the world of premium sneakers, you've most probably heard of fast-growing digital-native sneakers brand Oliver Cabell this year. The brand literally took the internet by storm when it launched its sleek and minimalist Low 1 model to compete head-on with luxury brands such as Common Projects.
Oliver Cabell is a shoe brand on a mission to transform your experience with buying high-end sneakers. The brand tells you exactly what goes into making each pair of sneakers and how much it costs down to every little detail.
Mission accomplished.
Oliver Cabell is one of the most popular sneakers brands of the year, topping our ranking of the best sneakers for men.
With their clean and timeless design, Oliver Cabell's sneakers are generating a lot of online buzz. With dozens of Reddit reviews, hundreds of YouTube videos, and countless comments on Instagram, it can be hard to know exactly what to expect from the brand.
At Luxe Digital, we're lucky to know Oliver Cabell's founder, Scott Gabrielson, with whom we've been working closely for the past few years. His sneakers are so popular among our readers that Scott graciously gave us an exclusive Oliver Cabell discount code. Just for you!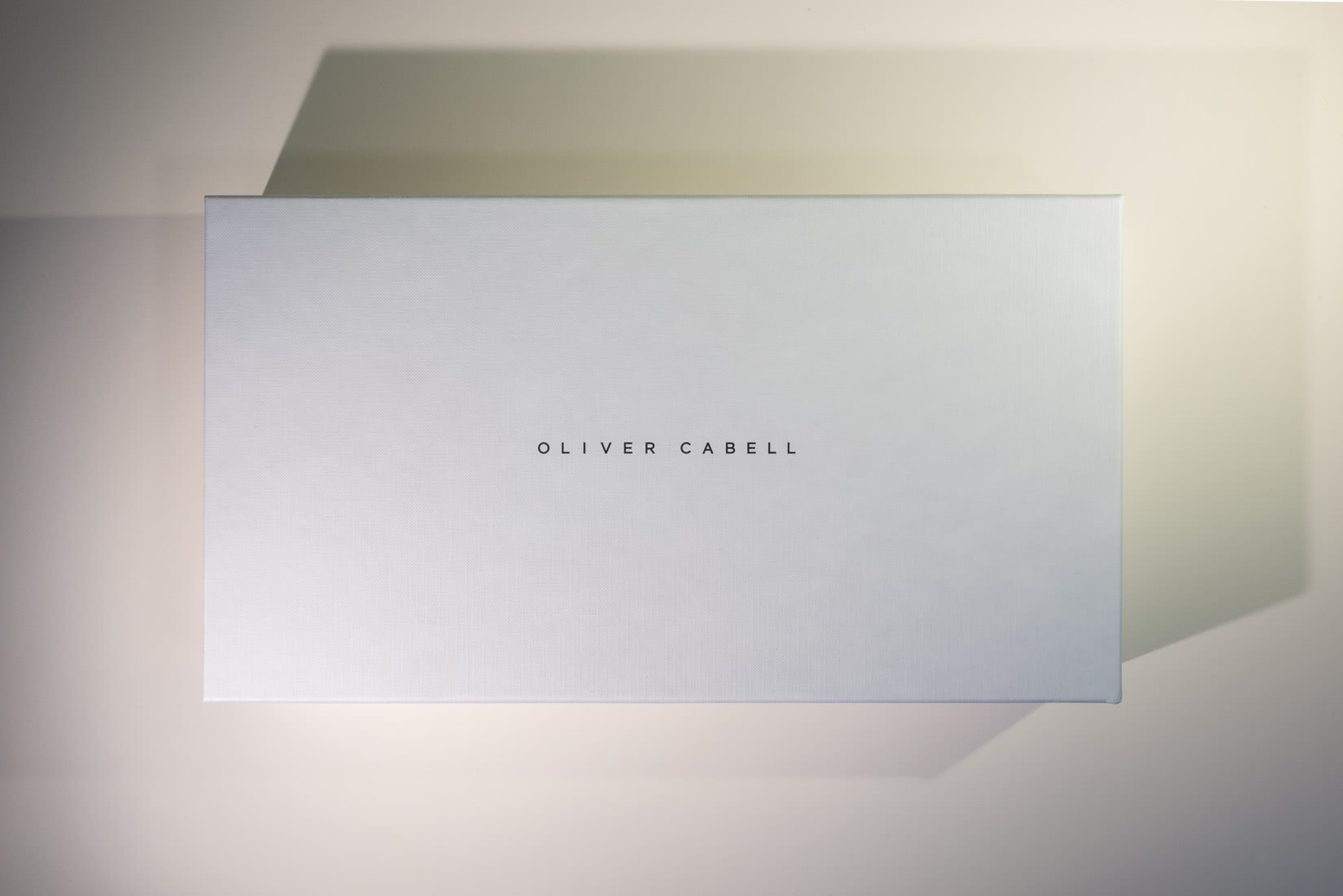 The brand has five different sneaker models on sale at the moment:
The brand also had a pair of Oliver Cabell Erving in the past, but they aren't available anymore. Oliver Cabell also sells boots, loafers, and women's shoes.
In this review, we'll focus on the Oliver Cabell Low 1. We received two models of the Low 1, the gorgeous off-white with a contrasting sole and the ocean Low 1 with navy blue tongue and counter.
Why you can trust Luxe Digital? We are not paid or compensated for our review. To remain impartial, we use objective ranking factors and wore these sneakers for a few months before publishing our review. To support our website, we may receive a commission if you buy something through our links. These commissions come at no extra cost for you. Read our earnings disclaimer to learn more.
Tried & tested: A hands-on review of the Oliver Cabell Low 1
Overall, we really like the Oliver Cabell Low 1. The premium sneakers are made from premium Italian leather with a clean and modern design. The construction quality is excellent, and the price is fair and transparent. The Low 1s are currently the best sneakers for men in our reviews.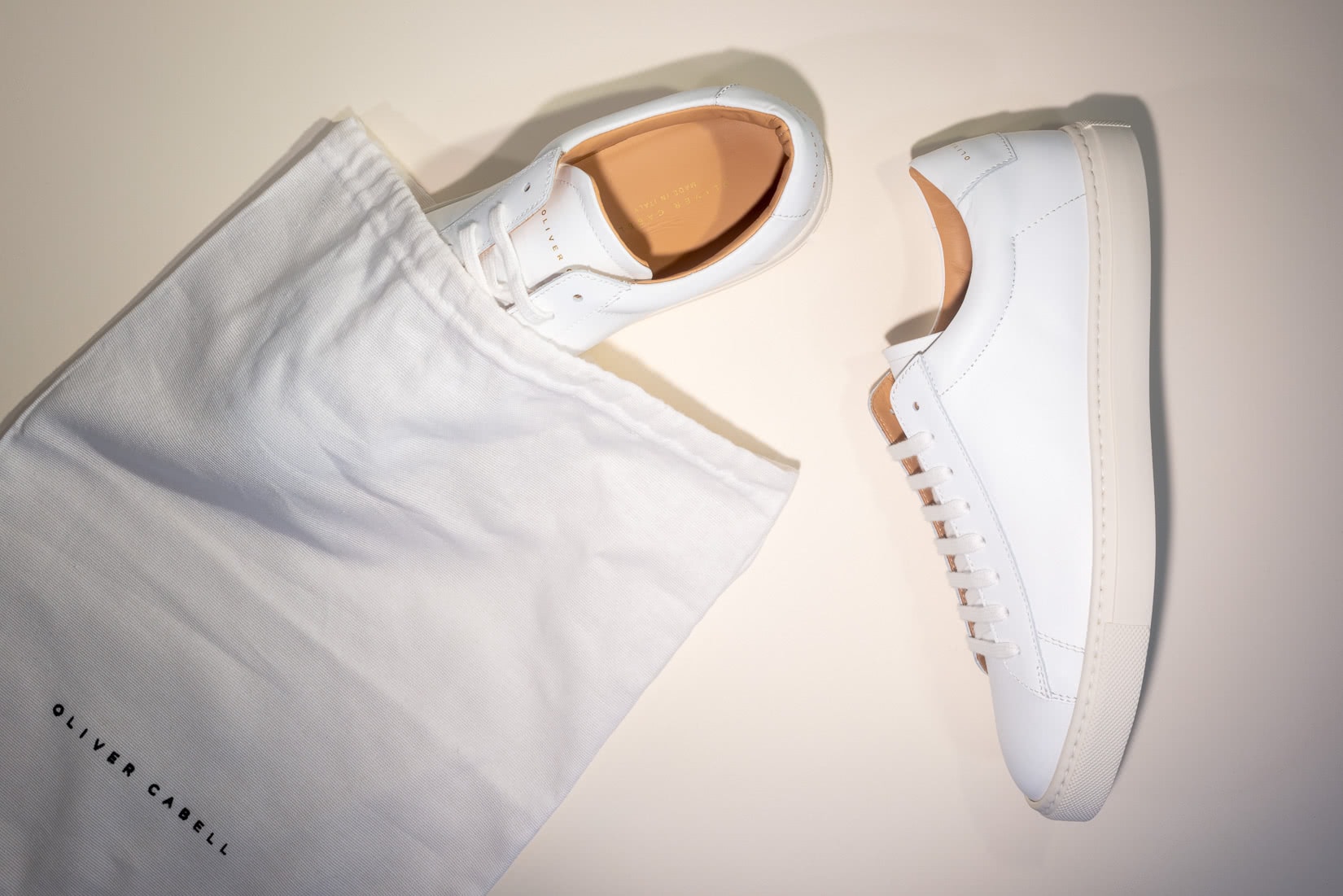 The pros:
High-quality shoe in all aspects: leather, design, build
Fair and transparent price
Timeless design
The cons:
Takes a few wears to get comfortable
Limited availabilities due to the high demand for most models (you might have to be patient)
The alternatives:
Koio is probably Oliver Cabell's closest competitor. We like the Koio Capri that are somewhat similar to the Low 1 for their comfort and premium quality. The Capri are more expensive, however.
The Common Projects Achilles if you want to splurge for the brand that started the luxury designer movement. They are equally well-made and comfortable but sell for $450 to $550.
Check our round-up of the best sneakers for men to see all the other alternatives for luxury designer sneakers.
The two pairs of Low 1 that we tested were essentially the same, just in different colors. We'll focus here on the off-white version of the sneakers, with a white upper and contrasting sole.
Unboxing
Upon unboxing the shoe, you'll immediately notice the build quality. The Oliver Cabell Low 1 are made from premium Italian leather. The contrasting off-white Margom soles are also made in Italy.
The leather is a bit stiff at first, but it will become more supple as you wear the shoes.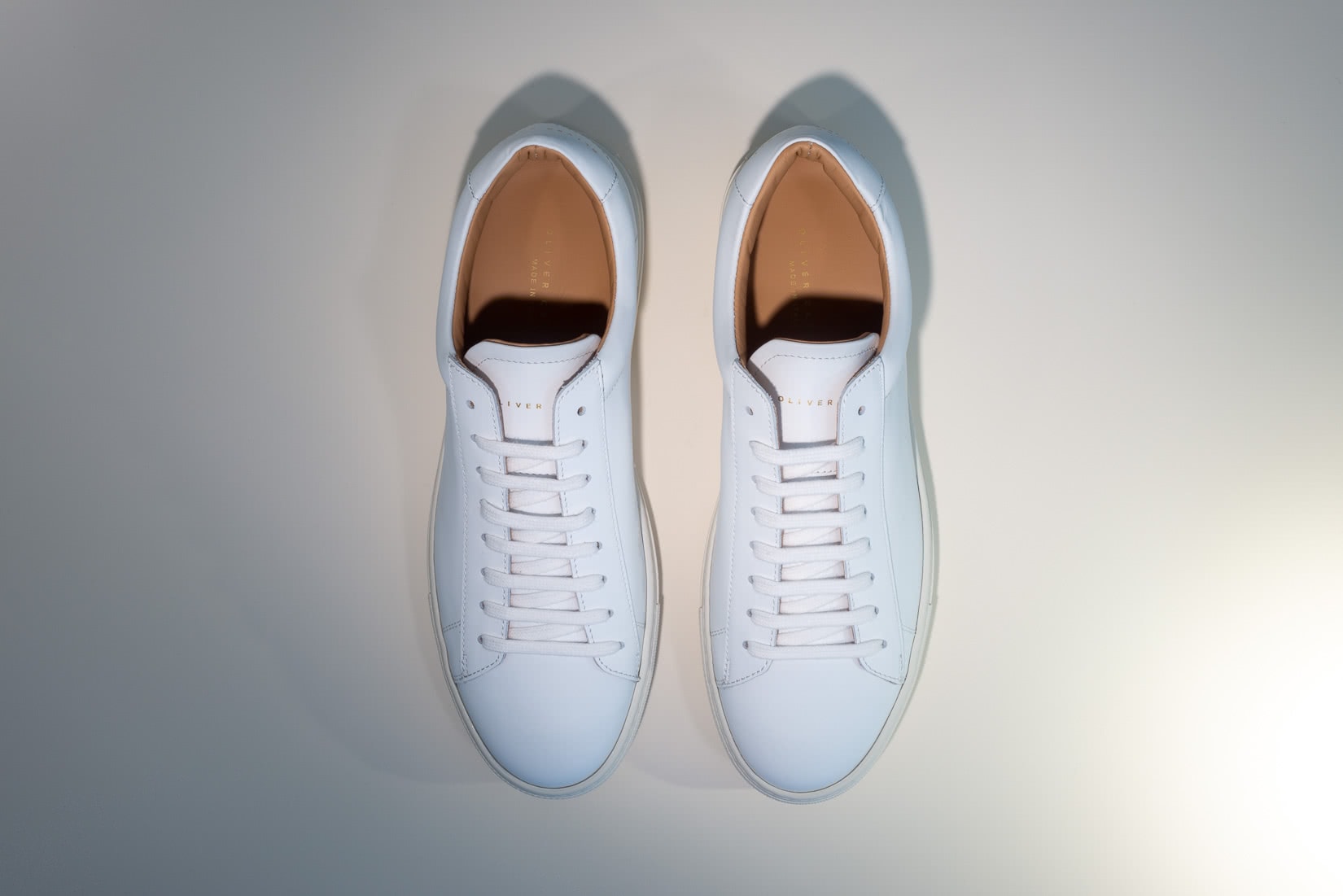 The sneakers came with a branded pouch in the box, so you can protect your Oliver Cabell when storing them away or packing them in your suitcase.
The first impression is thus excellent.
Experience after wearing them for a month
The original stiffness of the leather quickly loosens up after a few wears. The more you wear your Low 1s, the more comfortable they get.
The shoes themselves are very versatile. You can easily dress them down for a clean and casual look, or dress them up for a casual business meeting.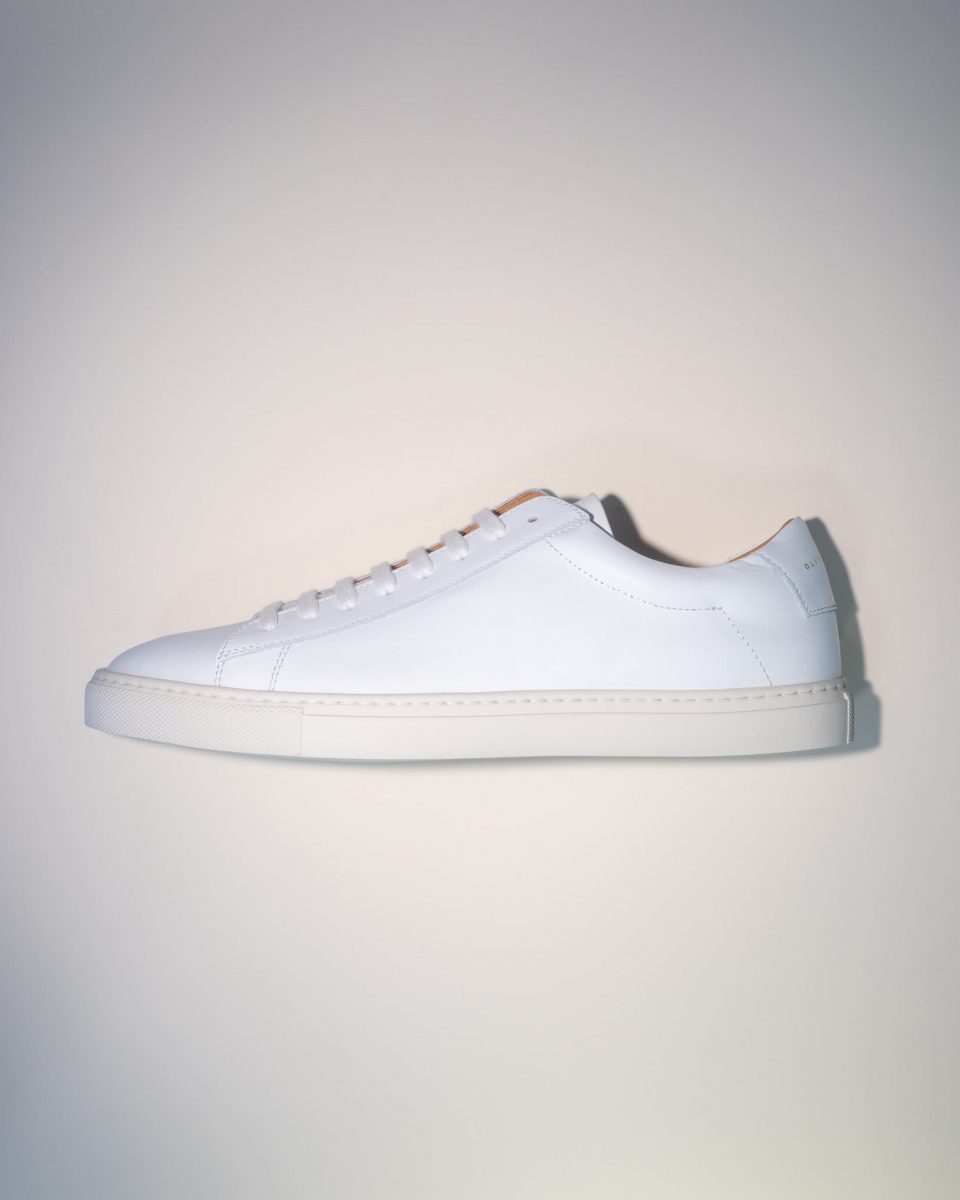 The design is minimalist but not bland. We particularly like the discreet Oliver Cabell logo at the back in gold letters. It's there if people pay attention, but it doesn't attract too much attention.
Sizing tip: you can't get half sizes from Oliver Cabell at this time. If you're in between two sizes, we recommend you pick one size up, as the Low 1 has a rather slim silhouette.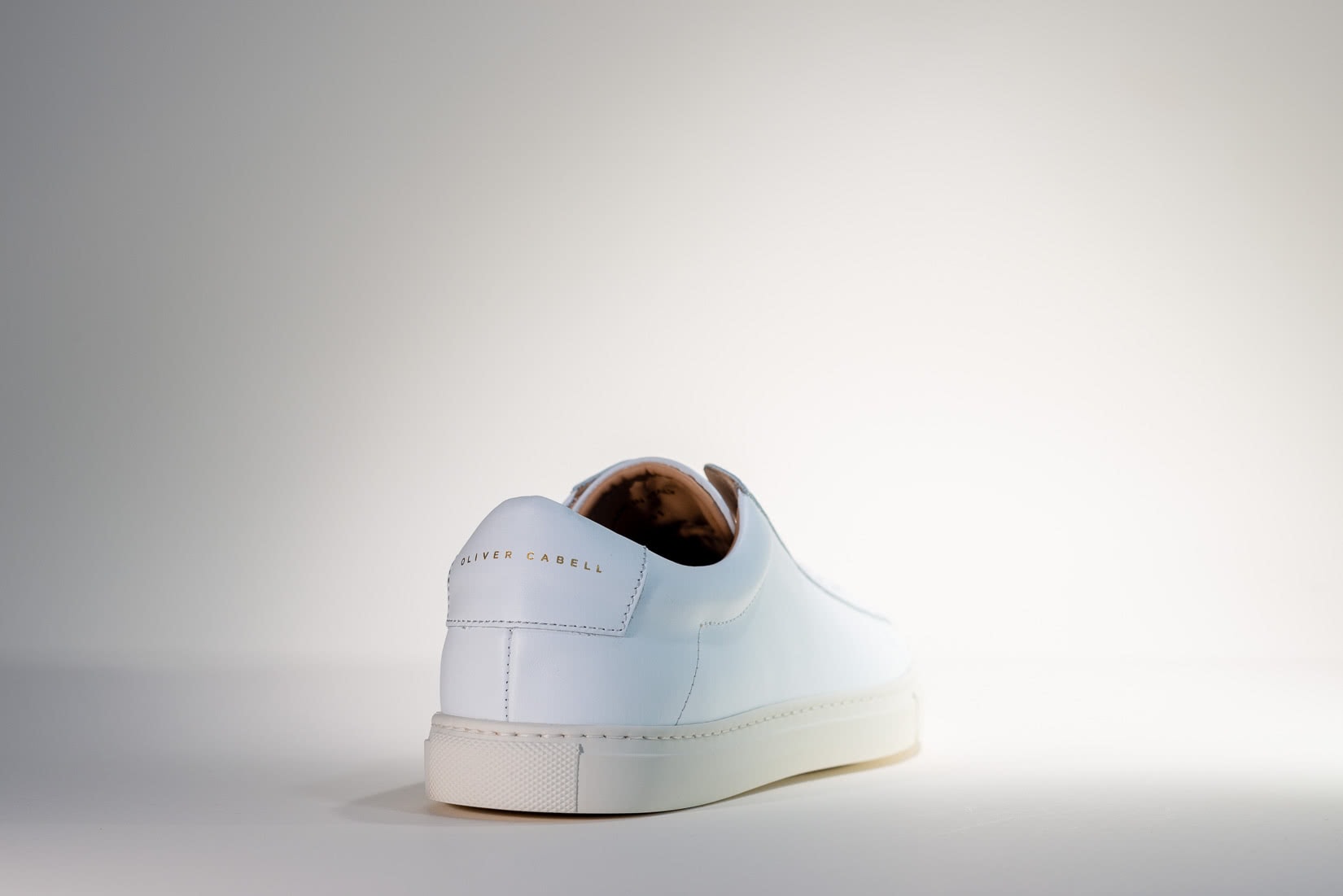 Available colors
The Oliver Cabell Low 1s are available in a range of colors, with new models coming out regularly. The most popular colors tend to sell out rapidly after dropping, so we suggest you check their website to see what's available today.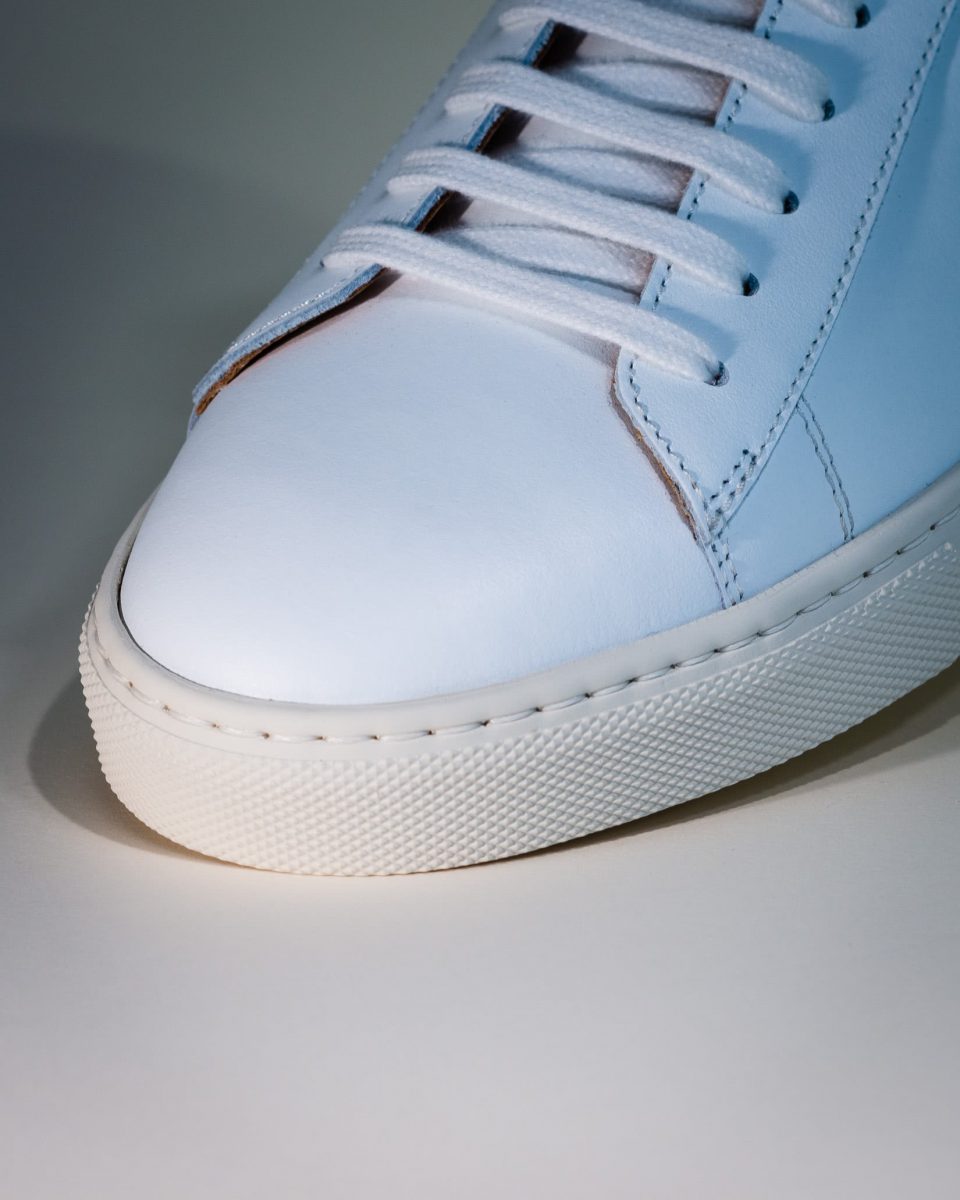 These are the colors available at the time of writing our review:
White
Ocean
White gum
Navy
Birch (green)
Grey matter
Slate
Charcoal
Jet black
Black (with white sole)
Lion (light brown with white sole)
Camel
Nude
Red
Off-white
Slate Nubuck
They also have a few special models:
Belmont (in distressed white leather)
EDKH
Uncrate x Oliver Cabell (in black and white)
Price breakdown
One of the reasons why we like Oliver Cabell so much is their willingness to be completely transparent on the pricing of their shoes. You'll know exactly what each component costs and the margins that the brand makes.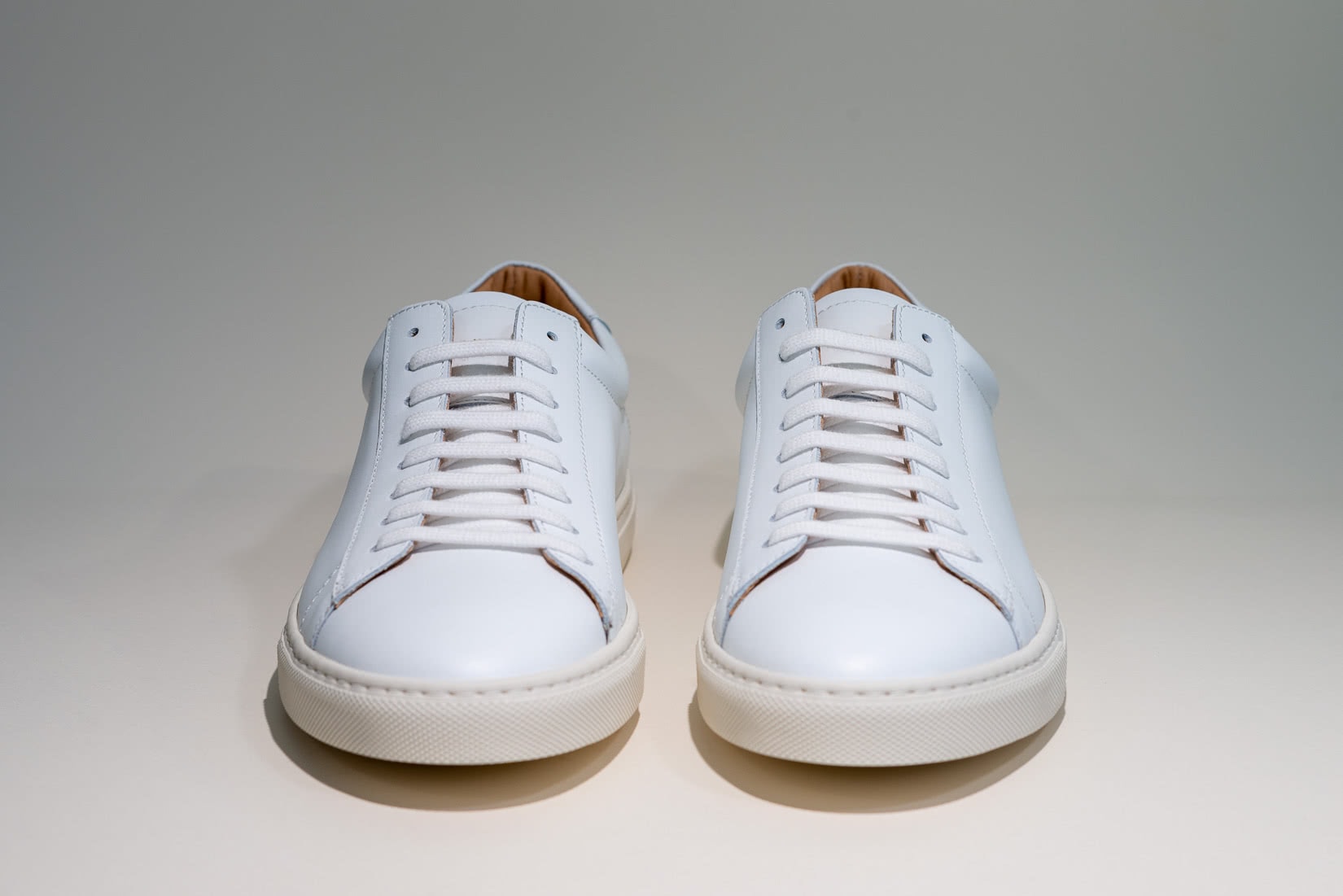 For the pair of off-white Low 1s reviewed here, the price breakdown comes down to:
Cutting, manufacturing, and quality control: $34.88
Leather: $26.04
Transit: $12.43
Shipping: $11.50
Lining: $8.12
Outsoles: $6.60
Duties: $5.36
Packaging: $3.96
In-soles: $3.80
As you can tell, most of the money goes to paying for manufacturing the sneakers and buying high-quality Italian leather.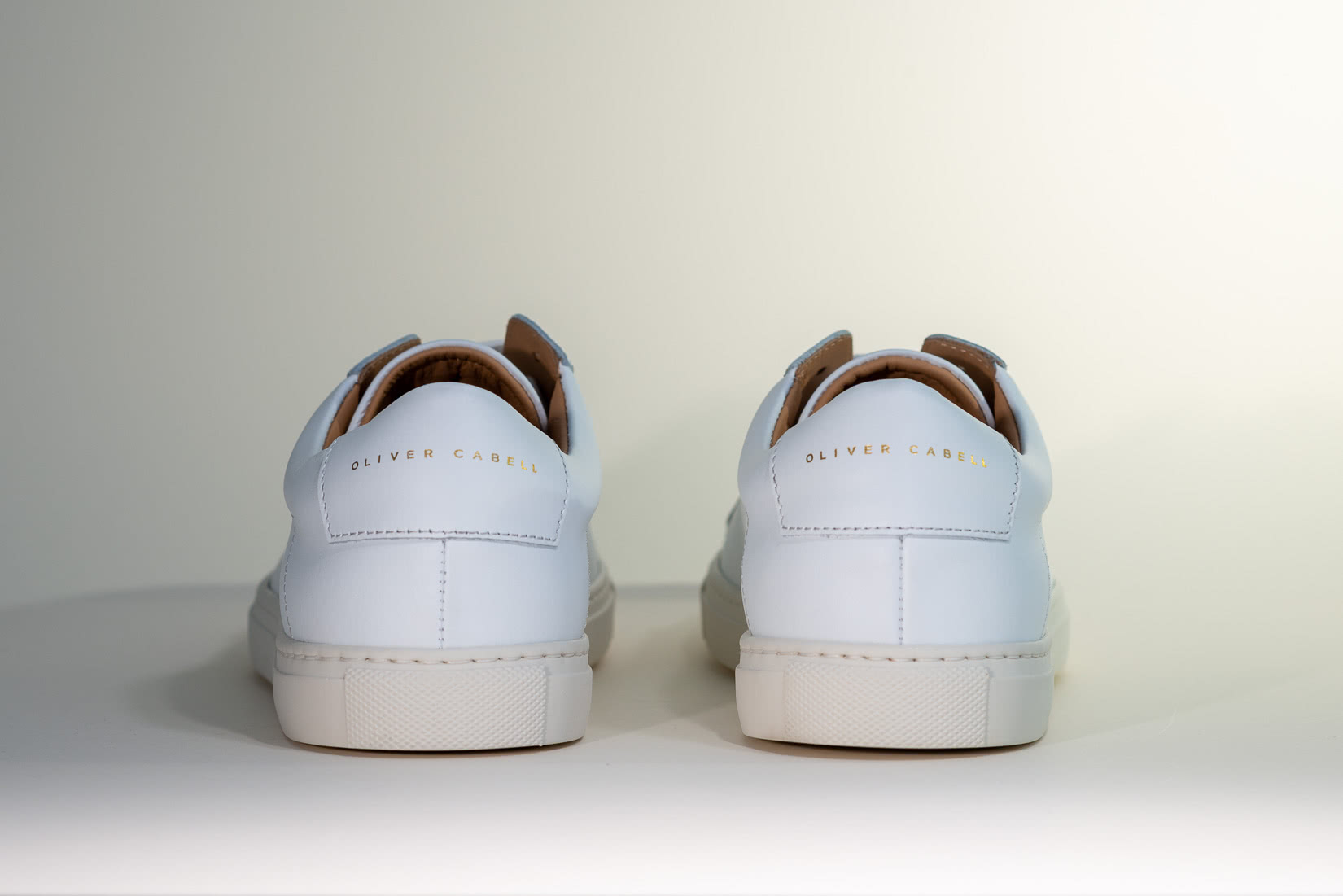 Care and maintenance
If you're the kind of person who likes to wear white sneakers on a daily basis, you know how important care and maintenance are to keep your shoes fresh and clean.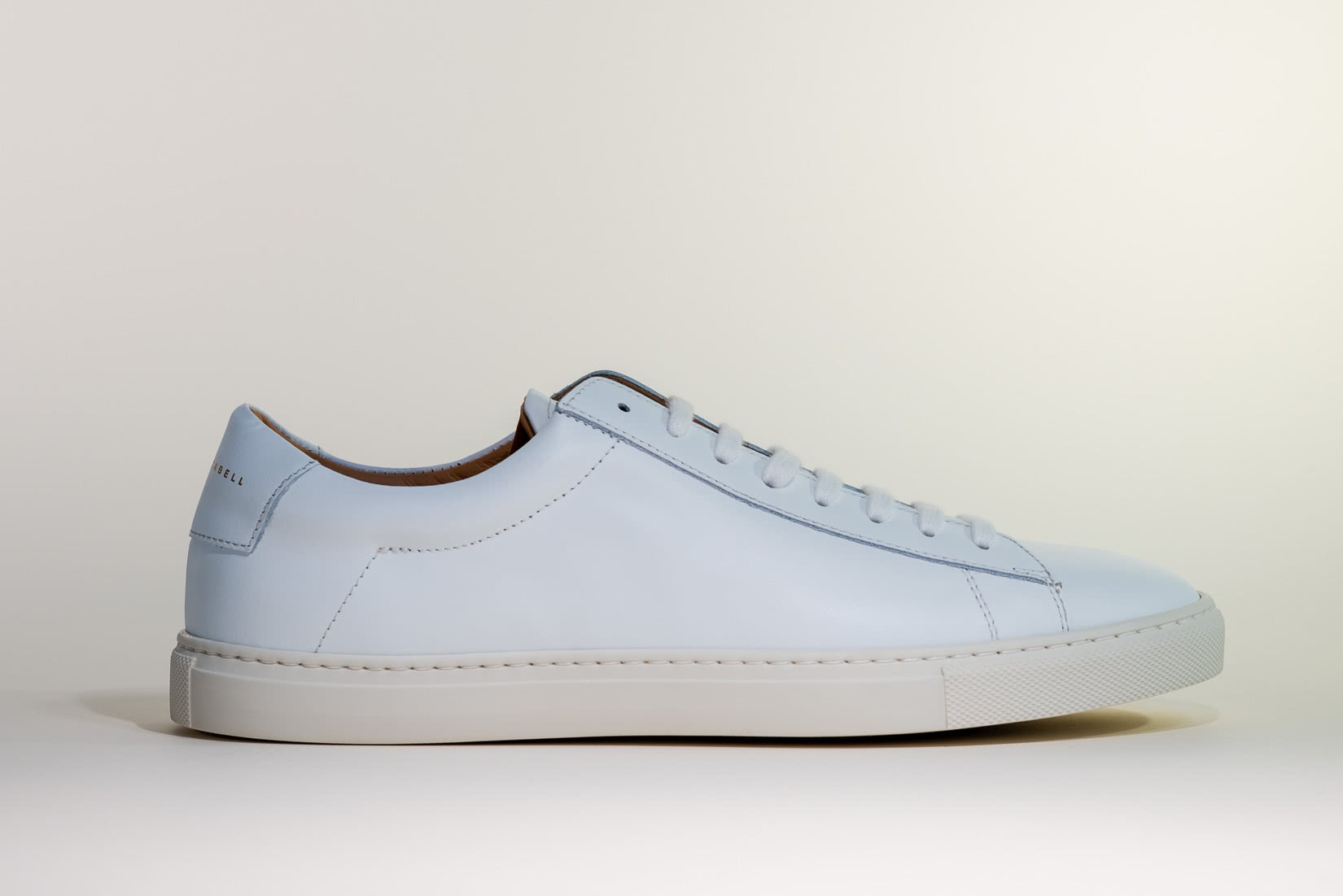 There's nothing really special about caring for the Oliver Cabell Low 1 that you shouldn't already do for other leather sneakers. The brand does, however, offer an excellent shoe whitener if you want to keep your shoes perfectly white. They also have a leather conditioner made from a unique blend of natural waxes to nourish, condition, and protect your shoes.
You can purchase the ultimate shoe cleaning and maintenance kit from Oliver Cabell in a bundle for extra savings. The kit includes two bottles of sneaker cleaner product, a cleaning brush, a leather conditioner, and three wooden shoe trees to make sure that your sneakers stay in shape.
Closing thoughts on Oliver Cabell's sneakers
Let's be honest, we're a little biased. We judge more favorably brands that deliver a premium experience for a fair price. Our entire focus at Luxe Digital is to recommend brands and products that are worth investing in because they deliver a delightful experience, are well-made, sustainable, and will retain their value if you decide to resell them in the future.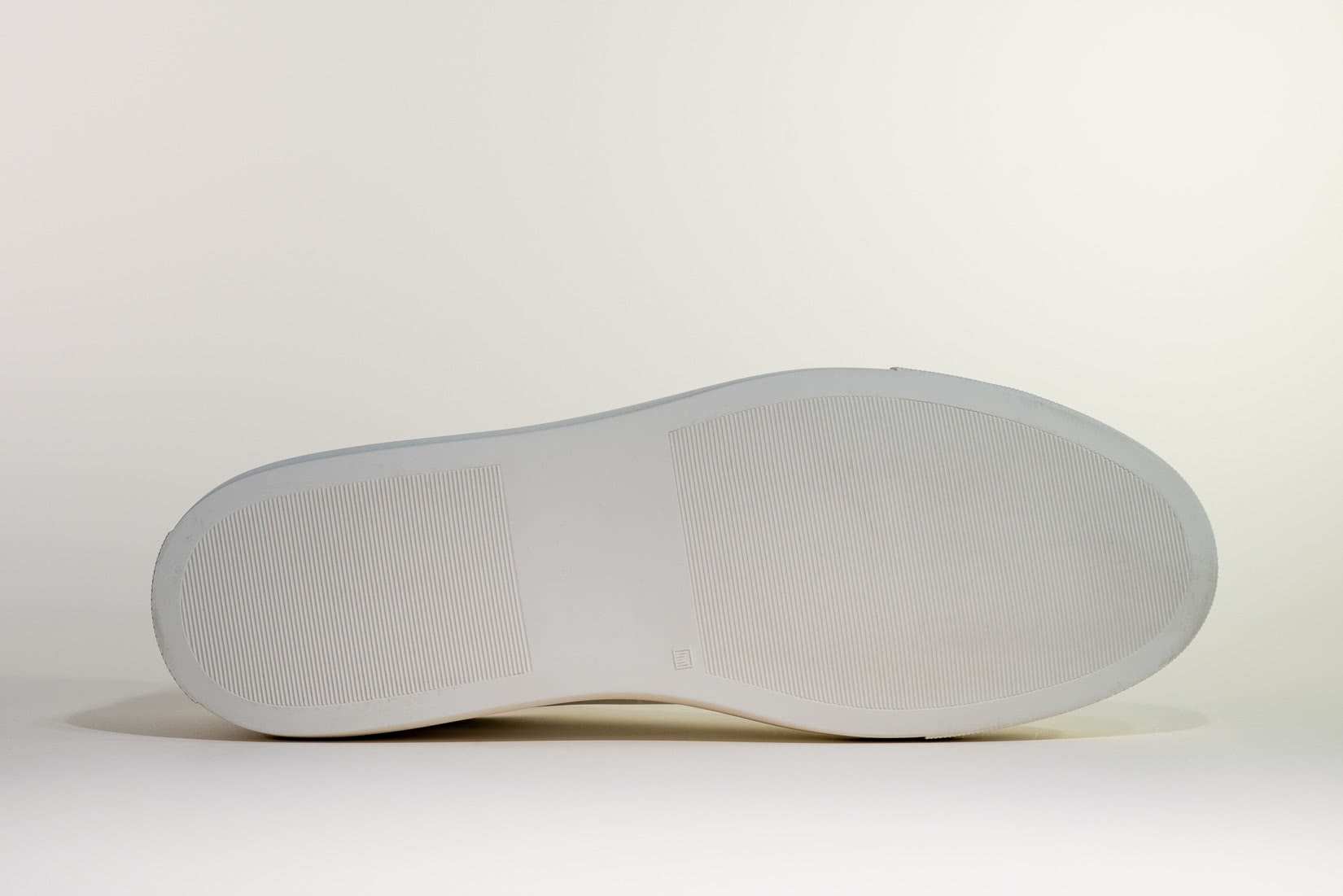 Oliver Cabell checks a lot of these boxes. You'll be hard-pressed to find premium sneakers with high-quality leather and excellent build quality for a lower price online. The brand's values of transparency only help to support that claim.
We think it comes down to the brand's founder, Scott Gabrielson, who came to the world of fashion and designer shoes as an outsider. Scott is, first and foremost, an entrepreneur with a vision to shake up the footwear industry.
Oliver Cabell's commitment to price transparency and fair value is a winning formula for us. Give them a try, and you'll be convinced too. No problem if you aren't, the brand offers a generous try-for-free program. They'll send you the shoe, and you'll only get charged if you decide to keep them.
We have a dedicated post on the story behind Oliver Cabell's brand. Check it out to learn more about them.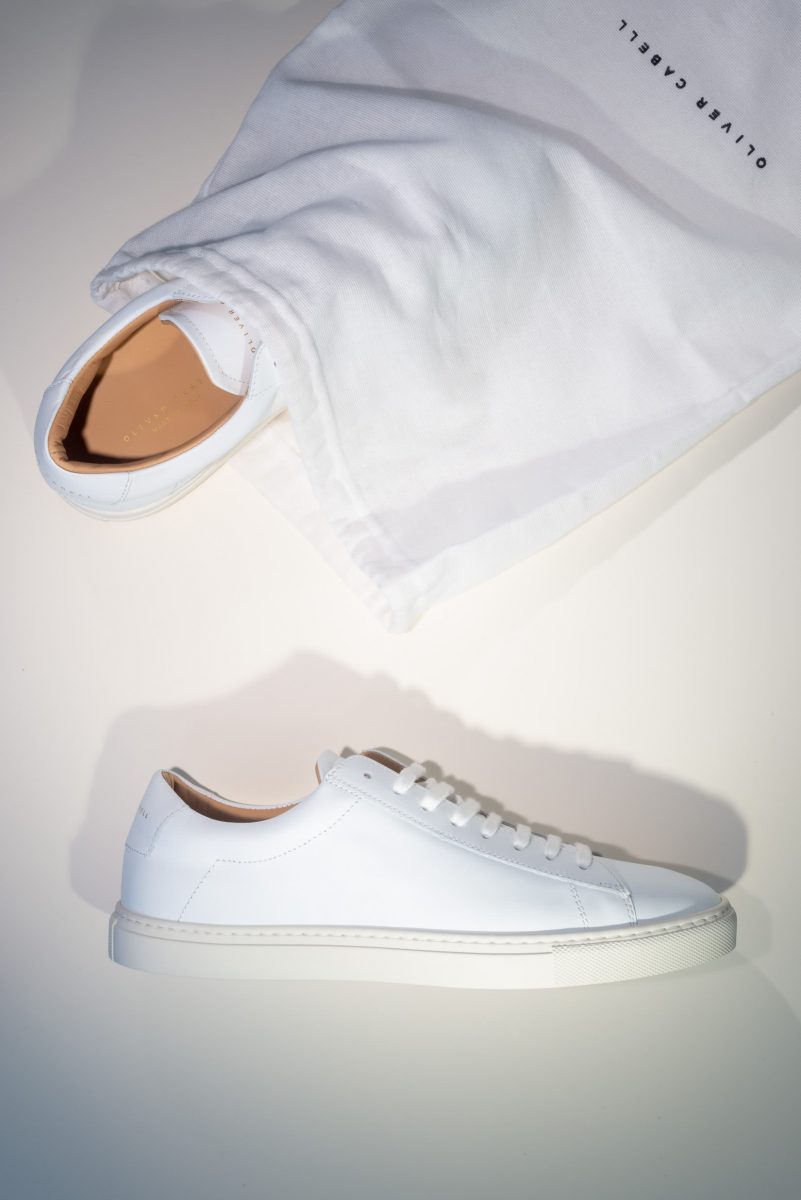 Frequently asked questions about Oliver Cabell
Are Oliver Cabell Low 1 sneakers worth it?
Yes, Oliver Cabell Low 1 sneakers are worth it. They are made from premium Italian leather and come in a range of colors and sizes. The price breakdown is available on the brand's website, so you can see exactly what goes into making the shoe.
Where are Oliver Cabell's shoes made?
Oliver Cabell's sneakers are made in Spain, with ethically sourced Italian leather.
What are Oliver Cabell Low 1 made with?
Oliver Cabell Low 1 sneakers are made with Margom outsoles and ethically sourced Italian leather. All the materials are high-quality and long-lasting.