Watching your carefully packed suitcase be whisked away by seemingly unaccountable conveyor belts is a real cause for anxiety for many.
It's never comfortable being parted with your possessions for a flight. Of course, you can opt for a carry-on travel backpack or suitcase only, but sometimes, you just need more space.
While that's ultimately out of your control, what is within your jurisdiction is your choice of suitcase. It's super important to select durable, reliable, and ergonomic travel luggage, so your things are well and truly looked after in the hold.
Fortunately, luggage brands recognise the need for safety and security.
Our guide to the best luggage brands of the year feature suitcases with both soft and hard shells, good handle comfort, and spacious, organised inner compartments. So you can travel with peace of mind, and of course, style.
The 11 best luggage brands
Check our special luggage buyers' guide after the list to see exactly what you should pay attention to before purchasing a checked-in suitcase.
Away: Best overall luggage brand
If there was ever a suitcase brand which simply exudes minimalist chic, it's Away. Promising to be 'built to last', Away are centred on longevity, while maintaining enviable elegance throughout all of their suitcases.
They understand that, unlike booking your holidays, buying a suitcase should not be an annual activity. Your suitcase should withstand flight after flight, without the need for constant replacements.
A nice perk is, if you choose to purchase a complete set of luggage (a carry-on, medium, and large, for example) the suitcases fit snugly inside each other like an intrepid set of Russian dolls.
Star product: The Large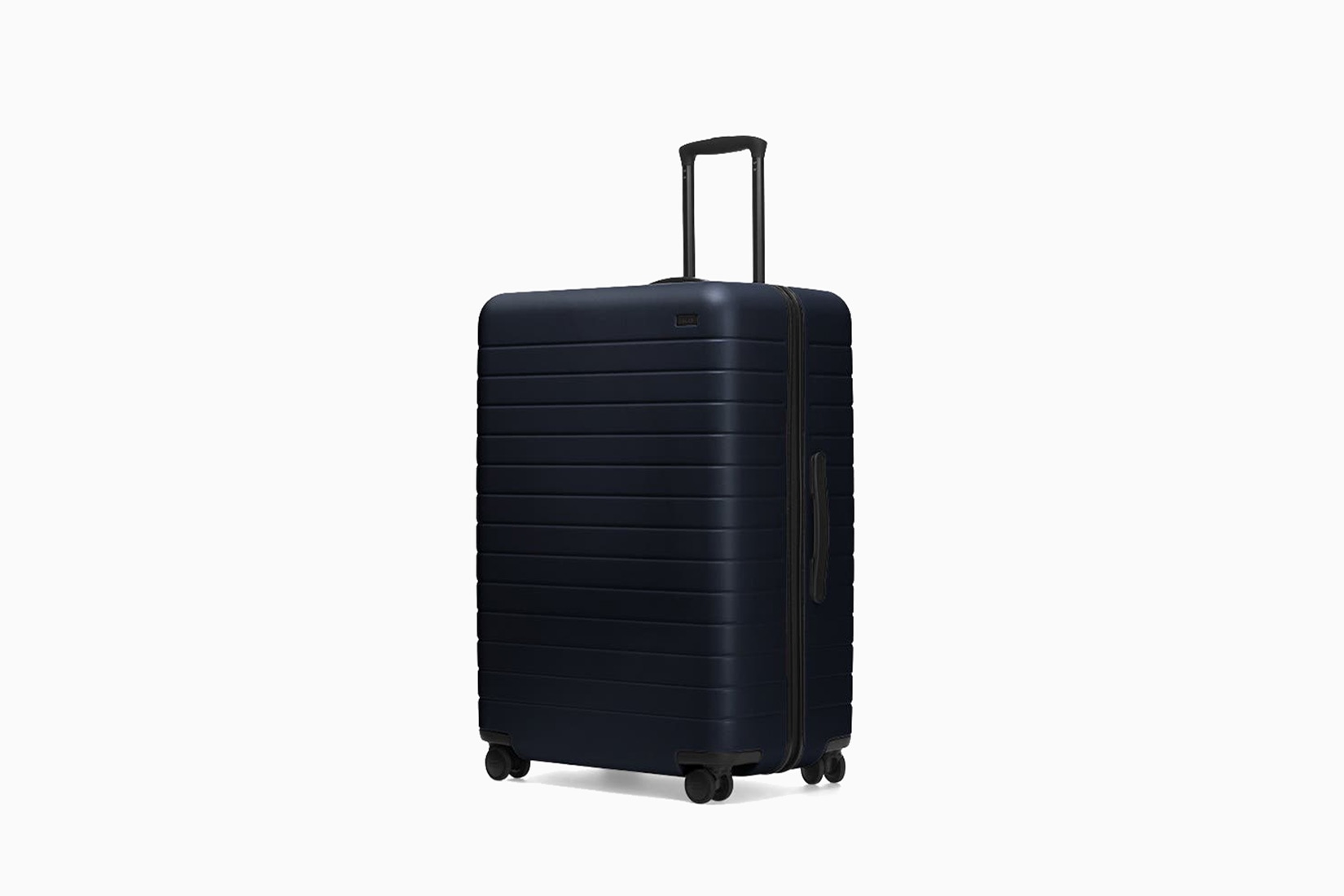 'The Large' is the biggest suitcase on offer at Away. With this check-in bag, you're not going to have to be conservative with your packing. With The Large, you can bring your whole capsule holiday wardrobe, and then some.
Size aside, The Large features a durable hard shell and 360° wheels for total ease of maneuvering. The interior compression system helps to maximise space, while the discreet laundry bag allows you to maintain some order.
On the exterior, the TSA-approved combination locks delivers that all-important security, and the black leather luggage tag provides an element of transient chic.
Best for: those seeking a long-lasting, durable and stylish suitcase
Size: 99.2 litres
Material: Water-resistant polycarbonate hard shell
Colours: a range including Coast, Black, and Asphalt
RIMOWA: Best high-end luggage brand
Whether you're heading to The Plaza, NYC, or the Burj Al Arab, Dubai, you're going to want to look the part. RIMOWA, the world-renown German premium luggage brand, elegantly intertwines luxurious designs with innovative engineering and timeless design.
Founded in 1898, in Cologne, Germany, RIMOWA is part of the LVMH group. The brand is recognised the world over for expertly crafting some of the best hardshell suitcases to cater for the jet-set and frequent flyers in the known. They were the first brand to introduce aluminium trunk back in 1937 and innovated again with polycarbonate luggages in 2000.
Every suitcase from RIMOWA's collection is built to last you a lifetime. They come with the highest safety ratings, to make sure that your belongings are protected, and can easily follow you from the hottest Arabian desert to the coldest Icelandic winter.
Star Product: RIMOWA Original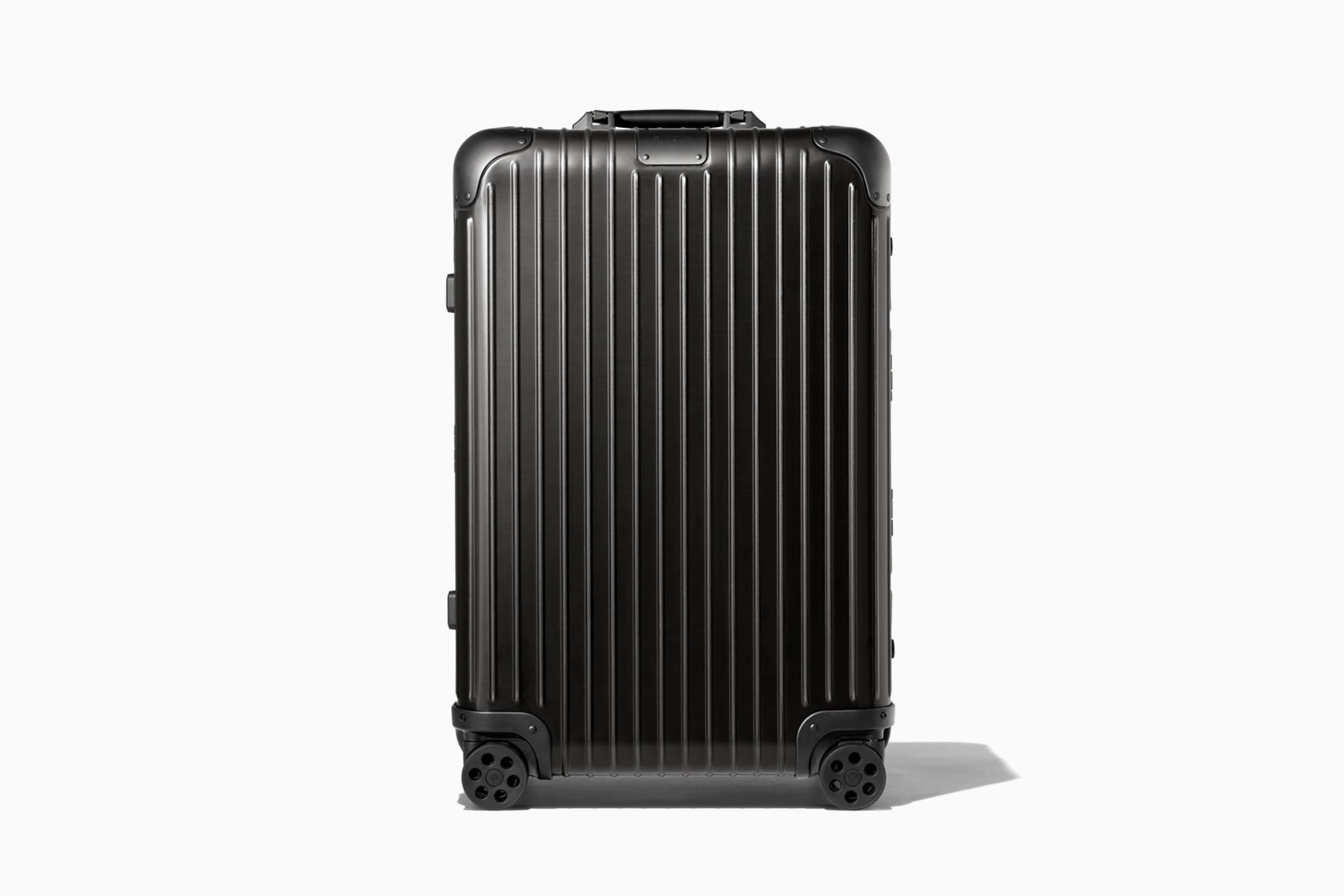 One of the most iconic luggage designs of all time, the RIMOWA Original comes with an unmistakable grooves design that celebrates the golden age of aviation.
Made from high-end anodized aluminium, the RIMOWA Original is available in a large variety of sizes and colours. The suitcase is remarkably robust and surprisingly lightweight, testament to the unparalleled level of craftsmanship and innovation delivered by the luxury luggage brand.
The durable hardshell promises resilience and security, helped not a little by the TSA-friendly combination lock.
Best for: those seeking luxury luggage with innovative, thoughtful technologies
Size: available in several sizes
Material: aluminum
Colours: a wide range including Silver, Black and Gold.
Delsey: Best value luggage brand
With nearly a century of expertise on their side, Delsey crafts beautiful, practical and affordable luggage. Actually, they were the first to offer hard shell suitcases back in 1970.
Overflowing with French chic, their raison d'etre is 'Enabling customers to travel elegantly while reducing their environmental footprint'. What's not to love?
Star product: Helium Aero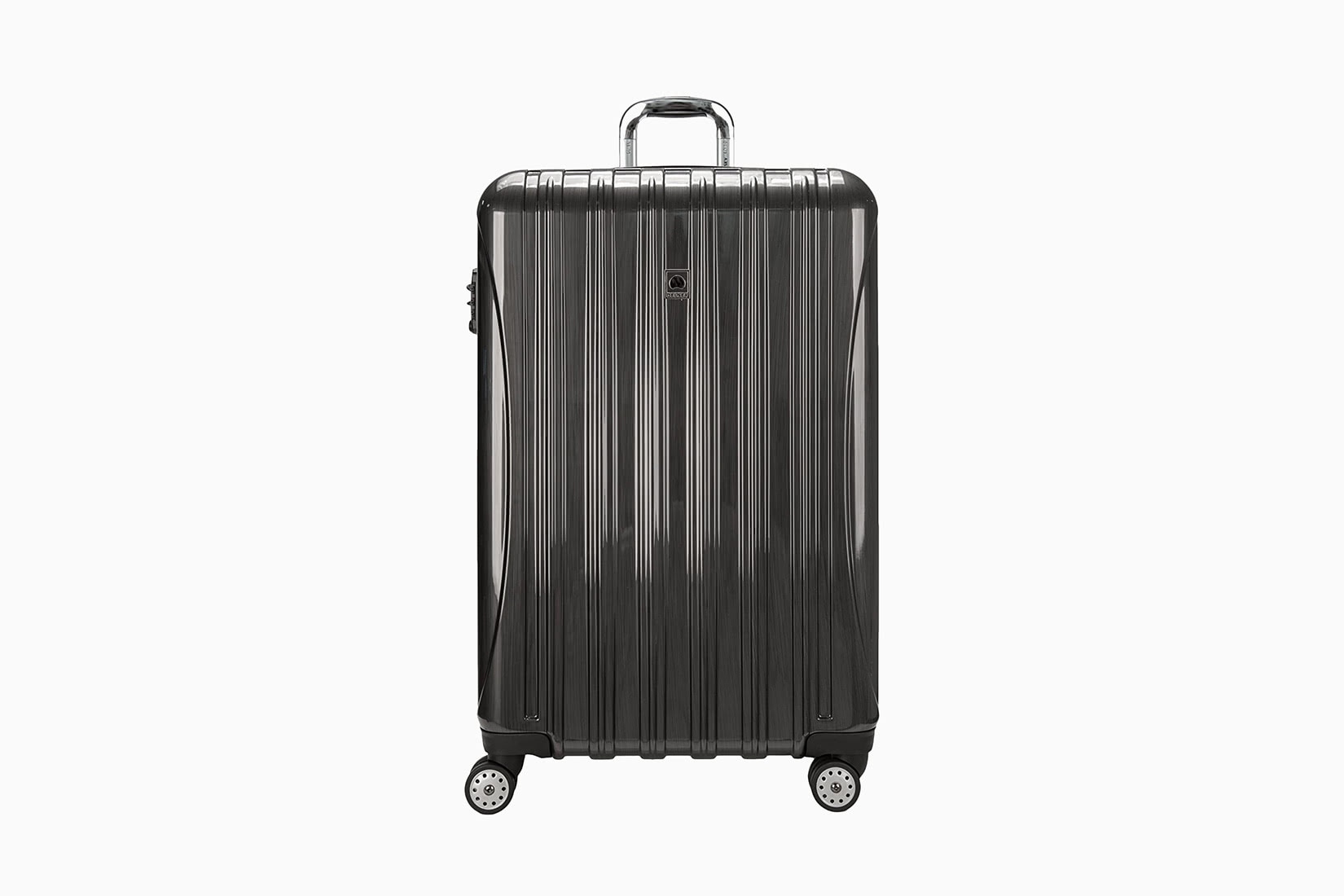 Featuring that ubiquitous polycarbonate hard shell, the Helium Aero embodies the values of Delsey: elegance, durability and comfort.
The deluxe interior supplies two compartments with a lined divider to reduce unwanted movement of your things, all packed in neatly and securely by the TSA three-dial locking system.
The scratch-resistant, twill texture shell means that whatever rumbles and tumbles your bag takes en route, it should materialise at your destination completely free of marks and scratches.
Best for: those seeking a large check-in suitcase with all the features you need for dependability, combined with pure style.
Size: 69 litres
Material: Lightweight, water resistant polycarbonate
Colours: a range including Blue Cobalt, Brushed Charcoal and Platinum
Samsonite: Best lightweight luggage brand
Holding the title of the world's oldest luggage brand, travellers have been trusting the expertise of Samsonite for over one hundred years.
In fact, the company gained inspiration from a brief hiatus in which they were unable, due to the war, to construct their luggage from their traditional materials. New, synthetic materials took precedent, and they've never looked back.
Samsonite has weathered the storms of the Great Depression, and two World Wars, and came out on top. So yes, you can probably trust them to see your possessions safely through an international flight!
Star product: Omni PC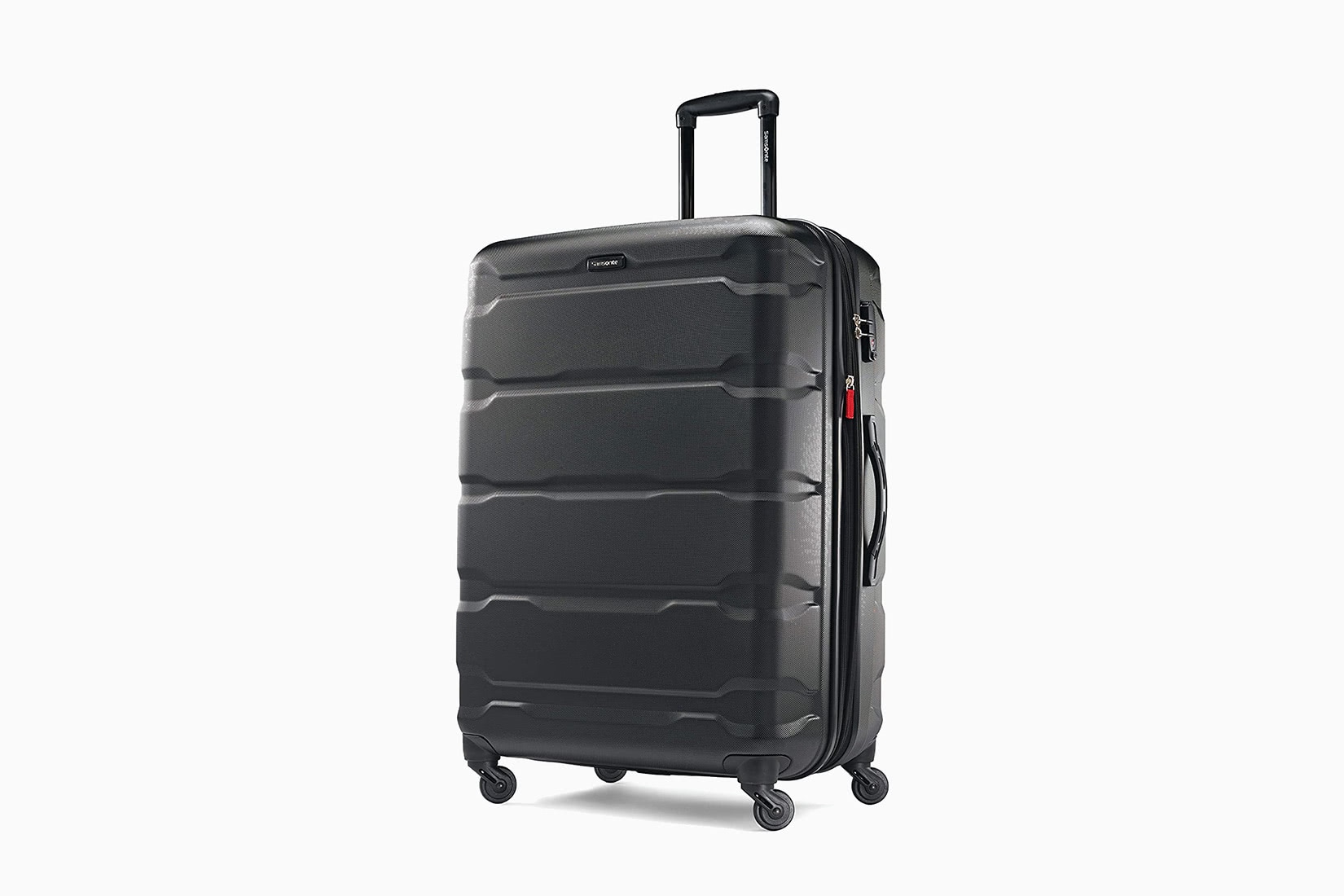 Combining innovative scratch-resistant textures with the lightest possible polycarbonate construction, lightness and ease of transportation is the order of the day with the Samsonite Omni PC.
Of course, what you put inside the suitcase notwithstanding, the Omni PC comes from the Lightweight line of Samsonite, which aims to make travel and transit as amenable as possible.
The 360 wheels promise to ensure you glide effortlessly through the airport, mitigating the clunky manner to which most of us are accustomed for such walks.
With all the inner mod-cons (and TSA locking), plus the highly impact-resistant polycarbonate shell, it sure looks the part, too.
Best for: those in need of a lightweight, yet solid suitcase which is easy and comfortable to transport by hand.
Size: 122 litres
Material: Injection-moulded water resistant polycarbonate Colours: a range including Silver, Black and Teal.
Victorinox: Best luggage brand for business travel
Hailing from a country that has a reputation for artisanal finery—Switzerland—, Victorinox doesn't disappoint.
Sweeping generalisations aside, Victorinox ethos is to offer high-quality luggage with a focus on maneuverability and functionality. Perhaps better known as being the inventors of the original Swiss army knife, they're now established as a powerhouse of travel luggage, too.
Whether in weaponry or travel luggage, Victorinox has secured their reputation in manufacturing extremely high-quality goods, where innovation and iconic design take centre stage.
Star product: Victorinox Spectra 2.0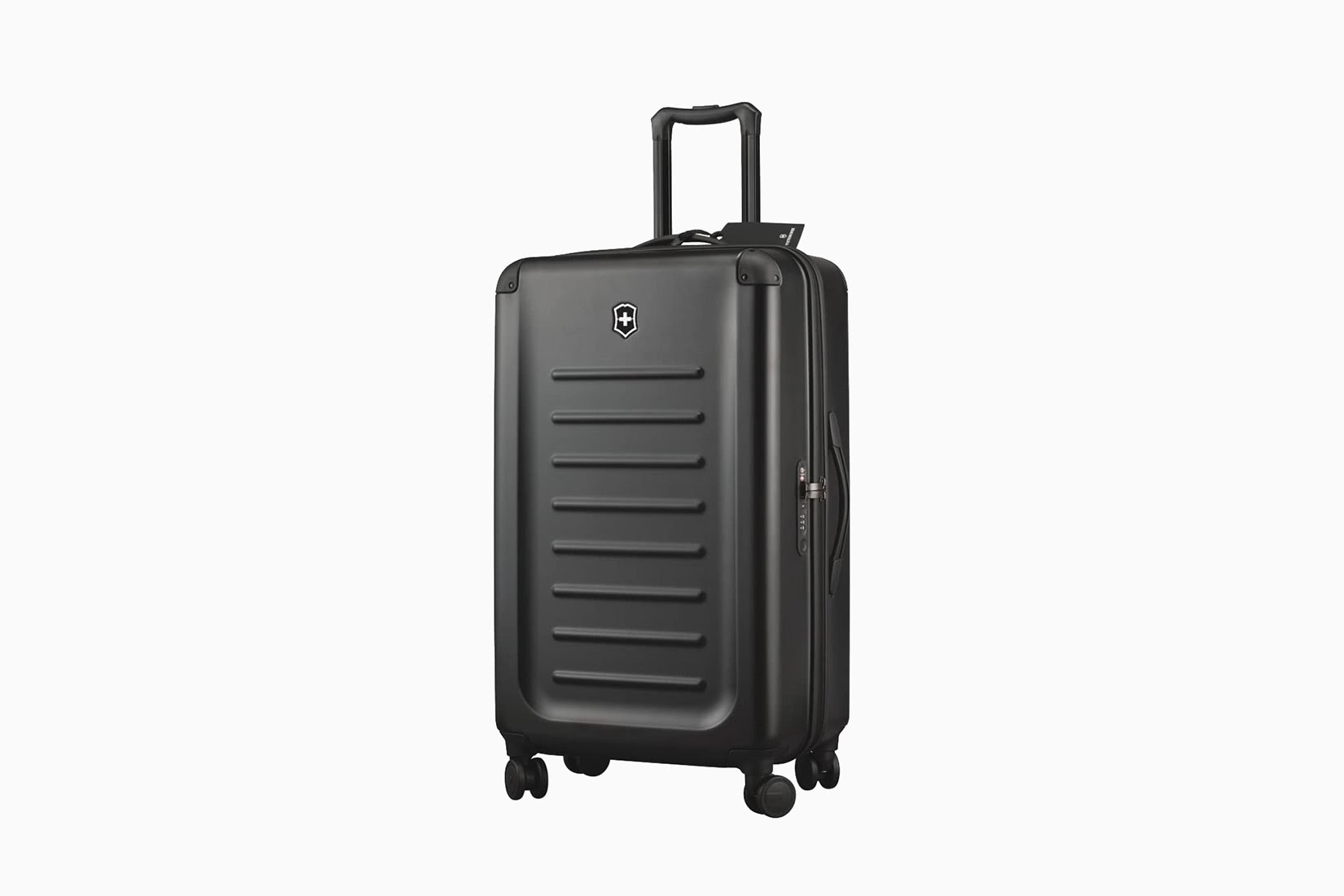 The Spectra 2.0 simply radiates durability and security. It features corner guards and zip bumpers to further the protection of your possessions from impact, in addition to the scratch-resistant polycarbonate hard shell.
The dual-trolley aluminium handle slides easily into three positions, so you can find the most comfortable grip for the airport-traversing tedium.
Furthermore, it's Travel Sentry approved, which, in layman's terms means that the TSA locking system can be opened up by screeners without causing any damage, and deftly relocked after you get the all-clear.
The quick access door makes it convenient for quickly grabbing important things without the risk of awkward spillages.
Best for: those who travel for business, requiring a fast, seamless transit without luggage-related inconveniences.
Size: 73 litres
Material: 100% Bayer water-resistant polycarbonate
Colours: a range including Matte Black, Black and Red
AmazonBasics: Most affordable luggage brand
Amazon Basics offers a huge range of affordable alternatives to well-known brands. Fortunately, for budget conscious travellers, this includes a range of travel luggage too.
Amazon's private brand focuses on user-friendly and robust designs, while being friendly on your wallet, too.
Something of a jack-of-all-trades, you can find affordable items in pretty much every department. So, if you want to preserve your cash for your destination, Amazon Basics could be the way forward.
Star product: Softside Spinner luggage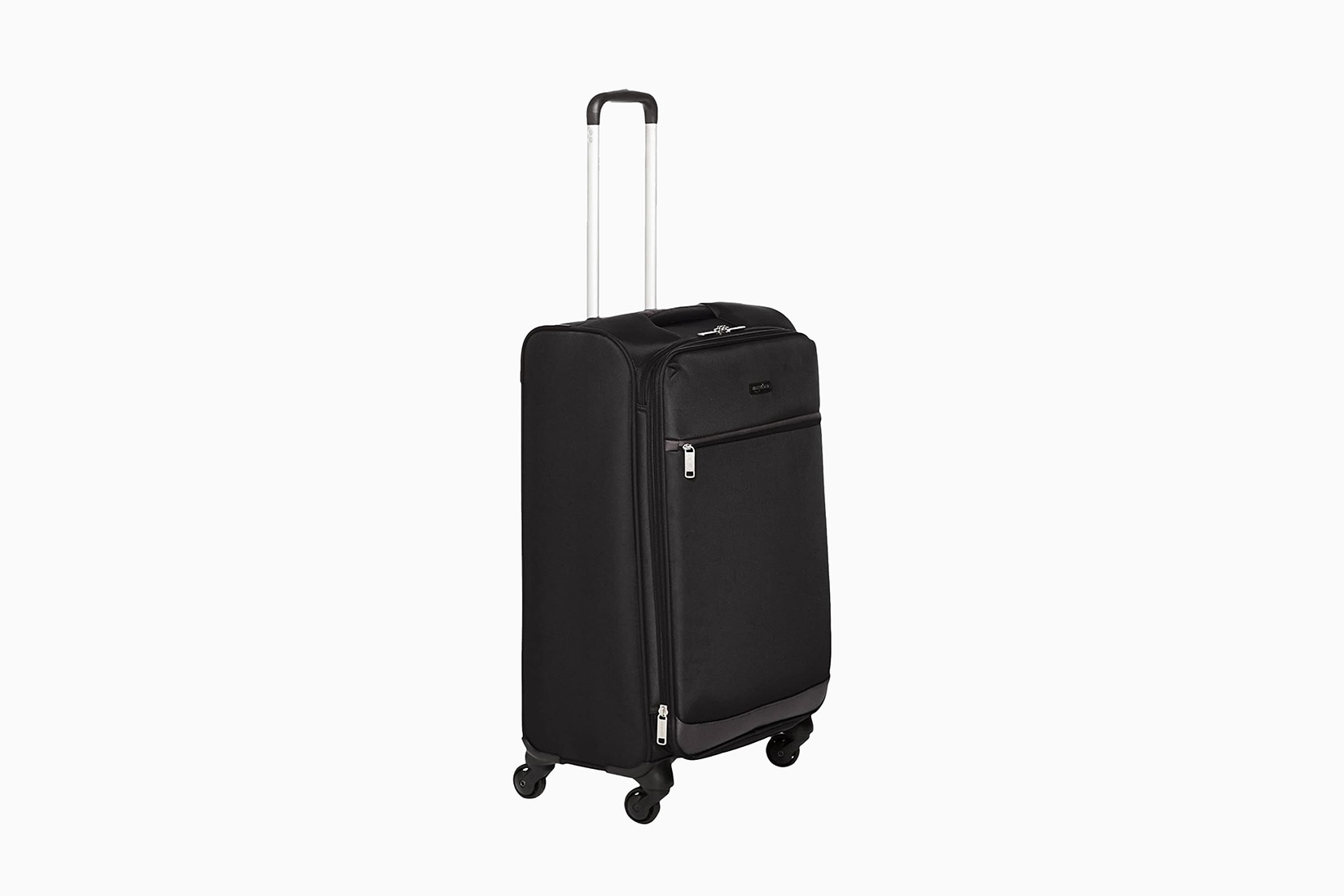 With a formidable size, the Softside Spinner luggage could be perfect for trips on the longer side.
Being soft-shelled, travellers benefit from enhanced flexibility with regard to capacity.
The interior storage pockets allow for extra organisation, keeping your things in place through turbulence or an encounter with a baggage handler who's having a particularly bad day.
Plus, rivalling many other more expensive models, the telescopic handle locks in place for ease of rolling along, while the 360° wheel feature allows for smooth sailing, too.
Best for: those who wish for the benefits of upmarket luggage, but prefer to save their pennies for cocktails in the departure lounge.
Size: 77 litres
Material: 100% polyester (not water resistant)
Colours: Black or Navy Blue
TravelPro: Best softside luggage brand
TravelPro was founded by a man who's rather experienced when it comes to travelling. Having accumulated innumerable air miles as a NorthWest Airlines 747 pilot, he knows a thing or two about what travellers really need from a suitcase.
Best known for inventing the wheeled, carry-on suitcase, the brand has since developed to offer all kinds of high-quality luggage featuring innovative technology. All with the aim of making the travel process easier, and more enjoyable.
Aimed at frequent travellers, TravelPro are favoured by over ninety airline crews around the world. Well, they can't all be wrong.
Star product: Platinum Elite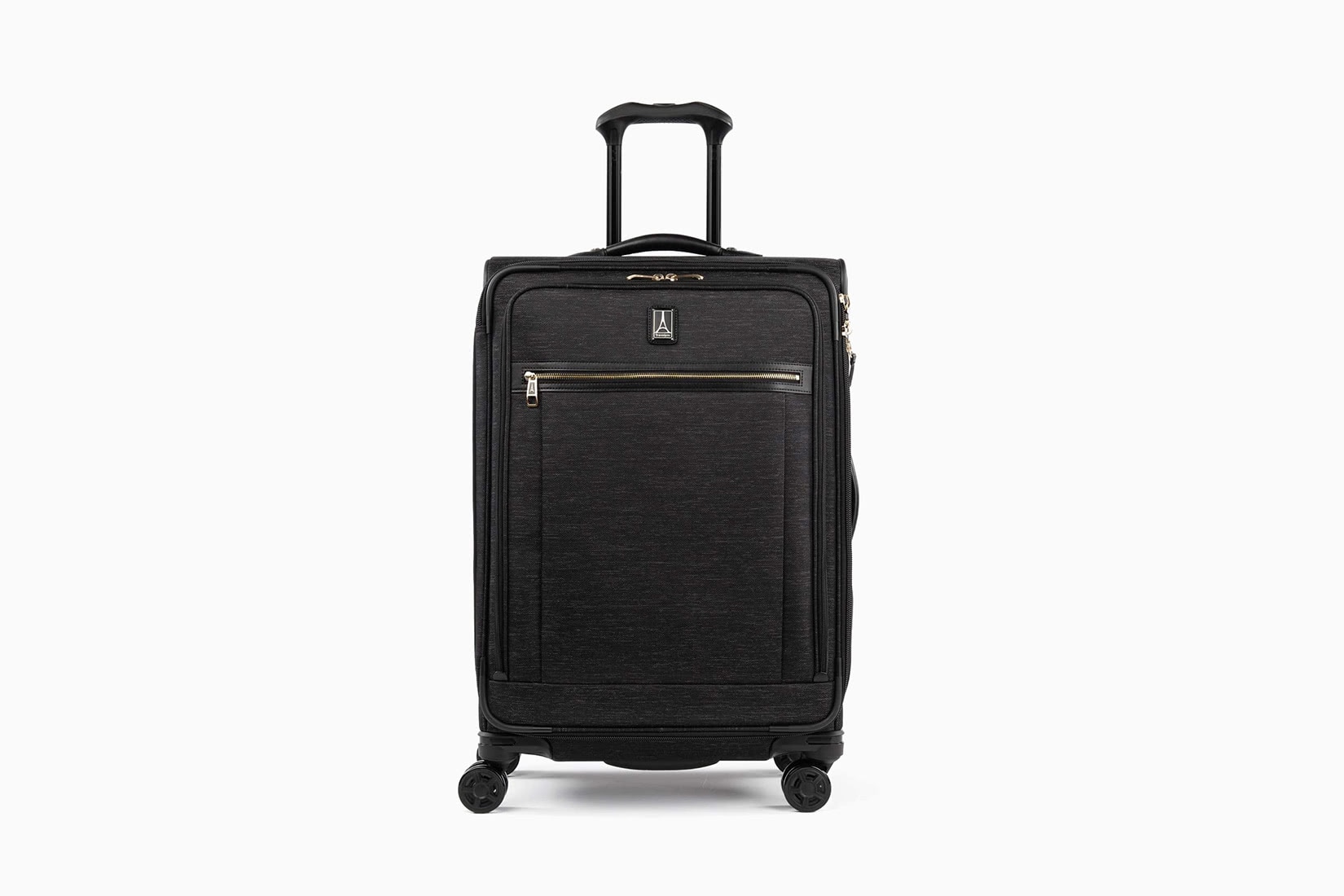 Embodying a premium aesthetic and boasting a myriad of features, the Platinum Elite could be a great choice of softside suitcase.
The premium fabrics, leather accents and chrome zips all exude a feeling of luxury and security, while functionality is certainly not forgotten.
The tip-resistant expansion option offers an extra 5cm in height if you need that little bit of give, and the built-in organiser keeps everything neat and tidy. Plus, smaller pockets provide safe homes for those must-bring items that tend to get jumbled and lost in lesser organised cases.
The self-aligning, 360° wheels promise to keep your suitcase upright and on track.
Best for: those seeking a durable soft-shelled suitcase, jam packed with ergonomic technologies yet still leaving space for your things.
Size: 97 litres
Material: High-density Duraguard coated nylon (not water resistant)
Colours: Shadow Black, Bordeaux and Vintage Grey
American Tourister: Best hardside luggage brand
American Tourister has been the king of hardside suitcases since the 80s (although they do a great range of soft sides, too!). Famously, they even tested the durability of their suitcases by having a gorilla stand on one.
While a gorilla stomping on your suitcase is somewhat of an extreme scenario (unless you're headed to the Congo), it is good to have the quality and toughness of the brands wares reinforced.
Also, they were the first brand to 'flight test' their luggage with real life flight attendants back in the 60s. Albeit in a less theatrical manner.
So, when it comes to solid, hard-shell suitcases, American Tourister have gone ways to prove that they're your guy.
Star product: Moonlight
American Tourister has happily combined fun prints with real, hard-wearing functionality with their Moonlight luggage.
The hard case opens like a book to reveal mesh compartments, with a zipped modesty pocket, all with cross straps to keep everything nice and secure. The TSA locking system adds security, too.
The multi-directional oversized spinning wheels aim to aid you in pulling your luggage along with minimal haphazardness, with the added bonus of solidifying the truly retro vibe of this suitcase.
Best for: those seeking an established hard shell luggage brand which shines with both functionality and style.
Size: 70 litres
Material: 100% water resistant polycarbonate
Colours: a range including Marble, Rose Gold and Anthracite
Coolife: Most stylish luggage brand
Coolife's luggage has been criss-crossing the globe on the arms of countless travellers since 1986. They effectively combine both classical style and innovation, resulting in superior yet affordable hard and soft-shell suitcases.
You know how people trust restaurants with smaller menus, because they tend to do those dishes really well? Coolife follows a similar principle: They manufacture and stock a refined selection of cool, functional luggages in stand-out style, without going over the top with a mountain of choice.
The pop-art colour themes make Coolife luggages eye-catching, while appearing (and being) solid, and durable.
Star product: Coolife 3-piece set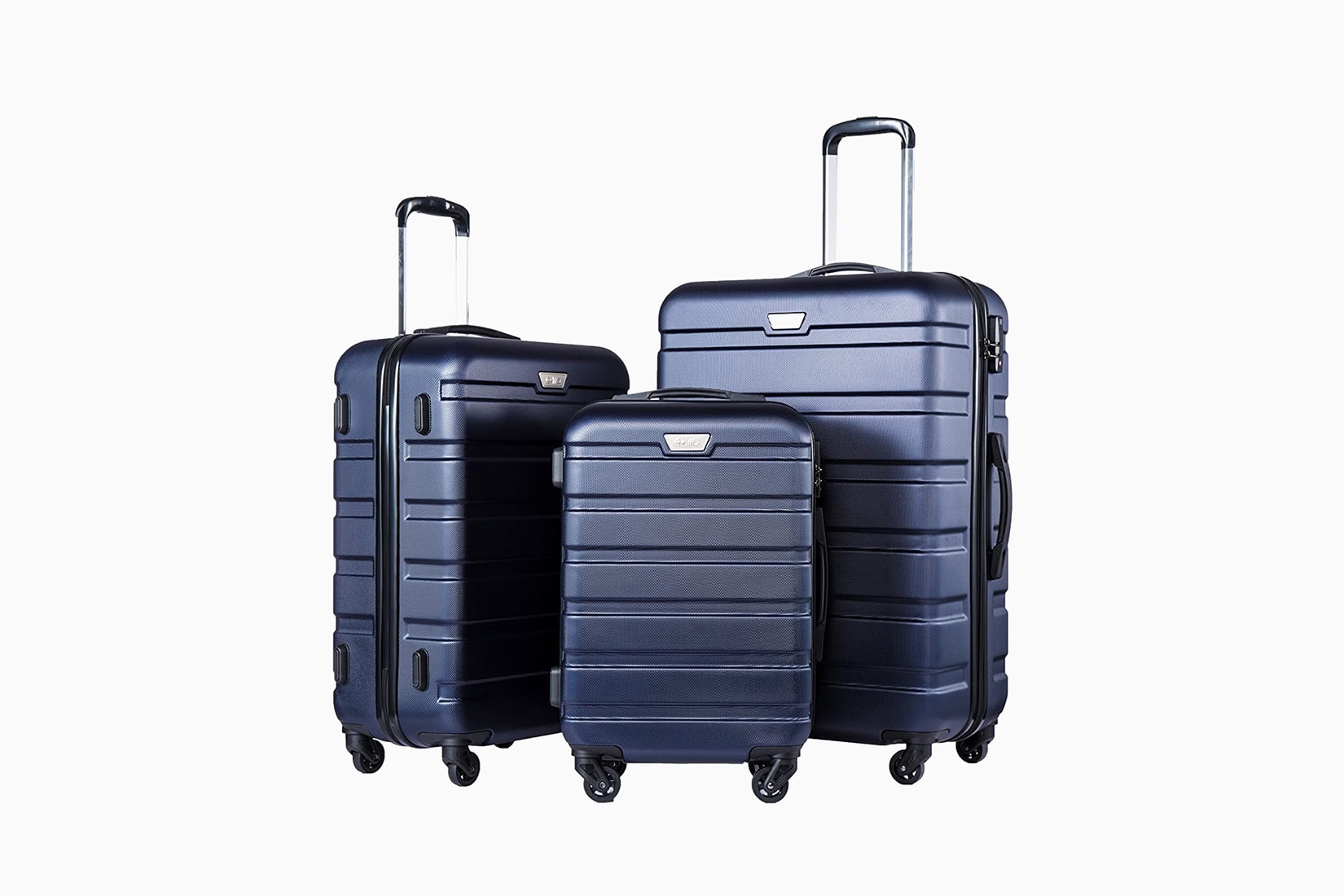 Aside from including every sized bag you could need for short breaks, long weekends or extended holidays, the Coolife 3-piece set wrap functionality inside a trendy, stylish hard case.
Including the must-have lined interior with compression straps to keep all of your belongings nice and neat in transit armoured by a lightweight, 100% ABS shell, the 3-piece set could be perfect for those looking for style without sacrificing usability.
Of course, the ergonomic handle, 360° wheels and TSA-locking all go ways to optimise your comfort during the process of travel.
Best for: those seeking to make a statement with their luggage, without compromising on those all-important features.
Size: 38, 60 and 93 litres respectively
Material: 100% water resistant ABS plastic
Colours: a range  including Black, Blue and Champagne
Osprey: Best wheeled duffel luggage brand
Osprey began on a single sewing machine in sepia-toned California back in 1974. With the aim to design the perfect travel and hiking backpack, they surpassed their goal and then some.
Surprisingly, the person sitting behind that sewing machine was a sixteen year old boy named Mike Pfotenhauer. Now, many years later, every single proposed design goes through him.
A favourite of thru-hikers, Osprey are famed for producing extremely lightweight, durable and functional backpacks, placing the needs of their customers at the absolute forefront of their innovations.
Star product: Osprey 120 duffel bag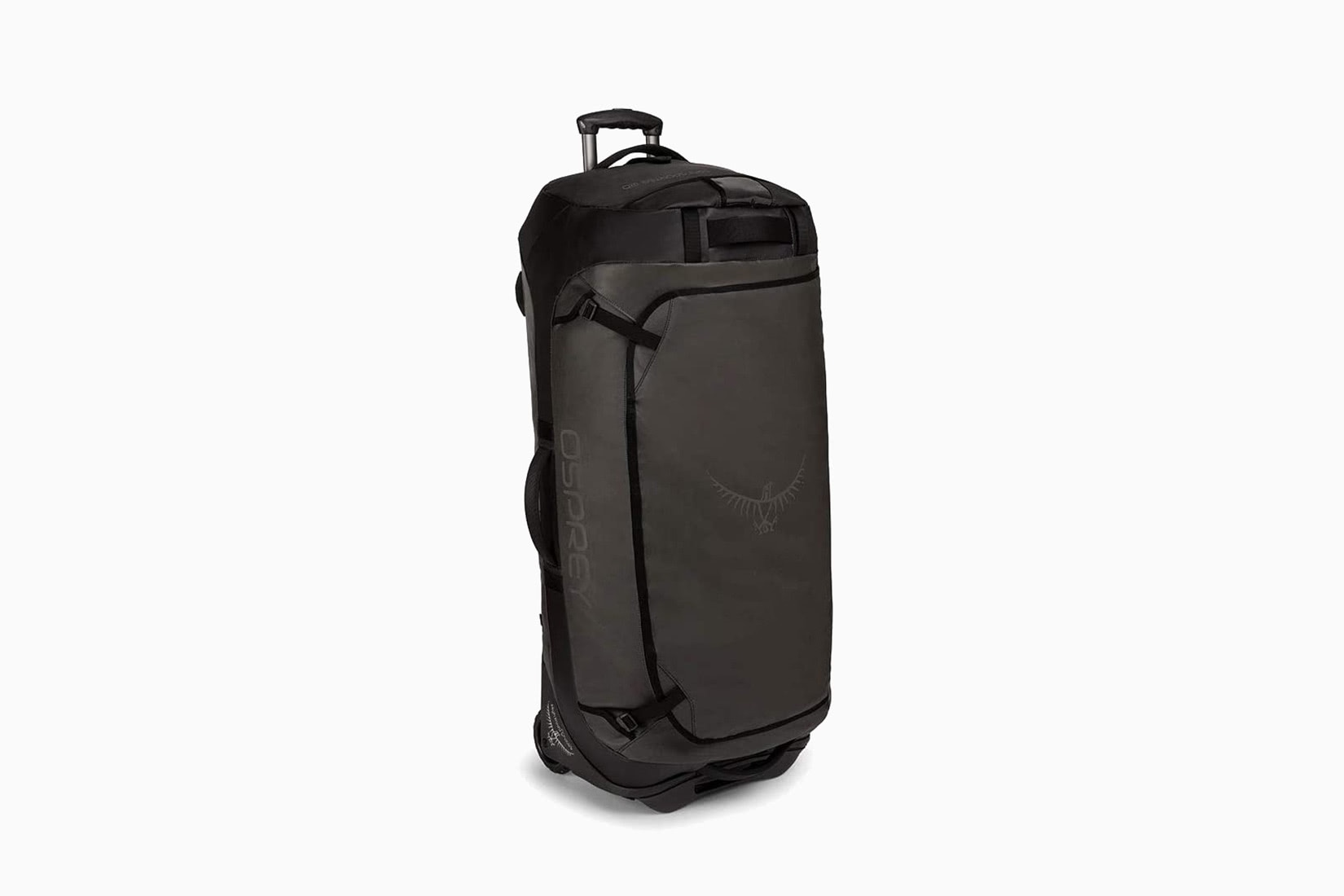 If you prefer the seasoned adventurer. Wanderlust aesthetic over right-angles, the Osprey 120 duffel bag offers a rustic alternative to the uniform, rectangular suitcase.
With side-opening main access, it's super easy to pack. And, despite being technically a duffel bag, it's conveniently on wheels. So, you get the best of both worlds.
The multiple handles provide easy handling, and overlapping rainflap zips help to protect your possessions from any impromptu downpours.
Best for: those looking for luggage with a more casual, outdoorsy aesthetic with a no-nonsense appeal.
Size: 120 litres
Material: 840D nylon TPD double-coated (waterproof)
Colours: Black, Kingfisher Blue or Pointbreak Grey
Fabbrica Pelletterie Milano: Most expensive luggage brand
Italian company Fabbrica Pelletterie Milano is a leather goods brand which was founded in 1946. An articulation of the very finest Italian craftsmanship and design expertise rolled into one, very luxurious luggage line, you're sure to turn more than a few heads in the departure lounge.
Designed by Marc Sadler, Fabbrica Pelletterie Milano luggage was inspired by antique trunks. They're rolled smoothly into the 21st Century with a modern twist: aluminium shelled and reinforced, lightweight and, of course, sleek.
If your wardrobe is lucky enough to house predominantly high-end Italian clothing, it seems only polite to transport them in an equally en mode suitcase, too. Just saying.
Star product: Grey Spinner Aluminium suitcase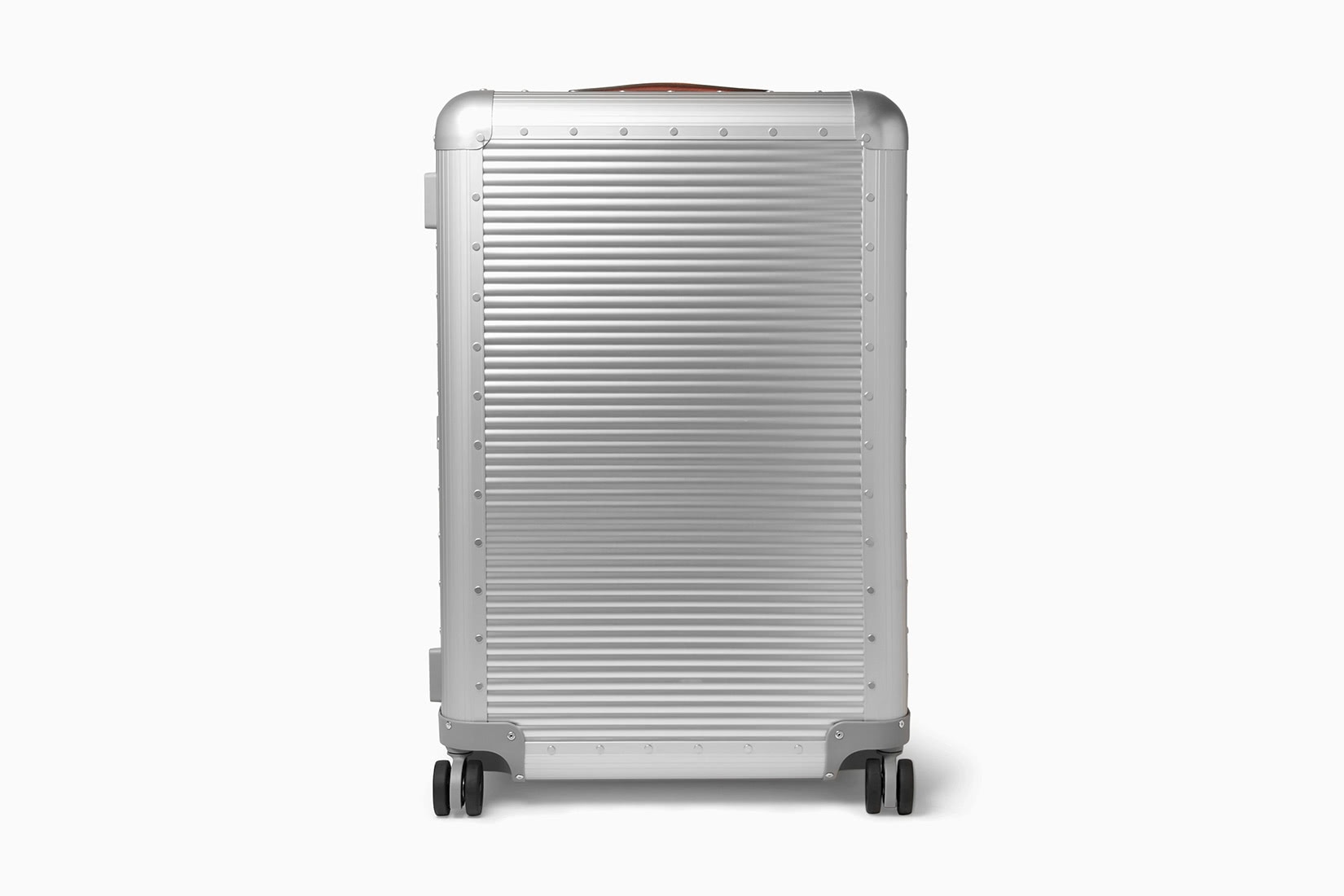 Industrial chic combined with an almost intimidating robustness work hand in hand to give the Grey Spinner Aluminium suitcase its unique appeal.
The strong aluminium is built to absorb shocks and impact, resulting in your possessions remaining safely inside, unperturbed and oblivious.
It features two internal dividers with four leather straps and a zipped pocket in the fully-lined interior. Plus, calf leather trims and retractable luggage tag emit a definite feel of luxe.
Best for: those seeking a luxury luggage brand, with ultra-secure designs and chic, luxe essence.
Size: 90 litres
Material: 50% polyester, 54% aluminium, %5 calf leather Colours: a range including Grey, Black or Silver
Travel luggage buying guide
Sometimes, gazing nonplussed at complicated-sounding specifications of travel luggage can be downright confusing, not to mention frustrating.
We'll break down some of the most important aspects of luggage, to ensure you make the right choice (even if you don't have a chemistry degree).
Materials
Really, when it comes to deciding on materials, it all comes down to Polycarbonate, Aluminium or ABS.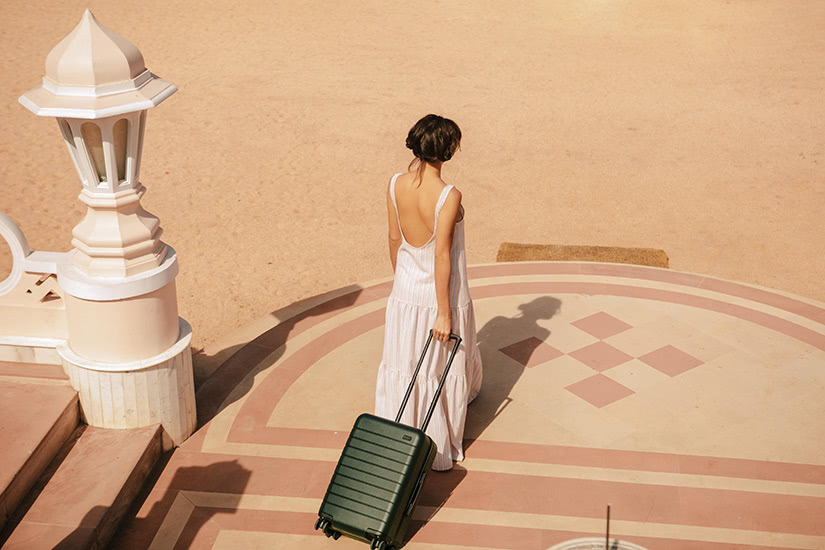 Polycarbonate: Polycarbonate is undoubtedly the most popular choice for hard shell luggage. It's lighter than aluminium, yet still extremely durable.
It's known for its resilience, as it possesses the cool ability (something of a superpower in the luggage world) of changing shape upon impact, and reverting to its original form instantly afterwards. This makes it an excellent choice to mitigate the perils of rough handling.
ABS: ABS is a type of thermoplastic. It's lighter than both polycarbonate and aluminium, but generally speaking, not as durable as either. It's definitely not a bad choice for carry-ons, as the risk of impact is much lower if you can keep a watchful eye for your journey.
Often, it will be combined with polycarbonate and/or aluminium, which definitely elevates its strength and durability.
Aluminium: The most long-standing, and the most expensive, of luggage materials is certainly aluminium. A traditional choice, but less preferred now due to the increased availability of cheaper materials like polycarbonate.
If you're looking for a classic aesthetic and a solid, expensive feel, it could be worth investing in aluminium luggage!
Must-have features
360° wheels: This probably goes without saying, but in order to fluidly transport your suitcase, you're going to need wheels. Every suitcase worth its salt will offer four 360° wheels to optimise the smoothness of pulling it along.
Telescoping handles: Telescoping handles is a fancy term for a handle that pulls out of the top of your luggage, and locks in place. They tend to come with a single control button, which ensures you can maneuver your case with only one hand.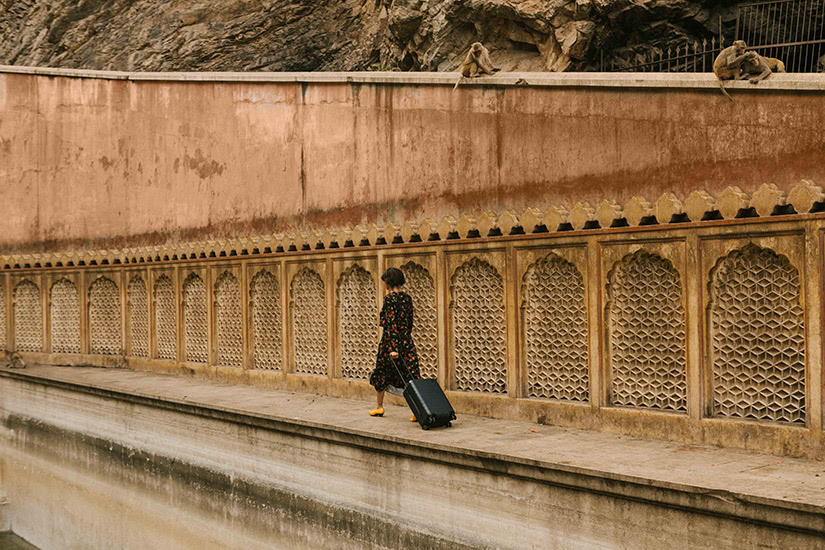 Expandability: Typically found more on soft side luggage (but increasingly on hard side) expandability allows you to stretch the capacity that little bit further. And as every traveller will know, just a few centimetres of height can be absolutely crucial.
Inner compartments: If you don't love opening your luggage after a long journey to the horrific vision of a clothing war zone, we suggest you ensure your new luggage has inner compartments. For the sake of organisation, it's totally worth it.
Often, there'll be a discreet laundry pocket, too.
TSA-locking: You'll see this add-on peppering most luggage descriptions. Simply put, it's a specific locking system which can be opened by both its owner and the TSA agents at US airports.
Of course, airport security is permitted to check the contents of every piece of luggage. TSA-locking is a stress-free, simple way of them doing so.
Frequently asked questions about checked-in luggage
What is the best luggage to buy?
We've rated Away's luggage as the best luggage brand on the market in 2021. They offer long-lasting, durable and stylish suitcases in a variety of sizes, which should last you journey after journey.
Which brand of luggage is the most durable?
American brand Samsonite is world-renowned for manufacturing extremely durable luggage. The Omni is lightweight and crafted from injection-moulded water-resistant polycarbonate. On the upper end of the market, the Grey Spinner Aluminium by Fabbrica Pelletterie Milano is constructed from aluminium, which makes it the most durable on our list.
What is the best size luggage for international travel?
Depending on how long you're going for, it's usually best to opt for a large suitcase or luggage. Most larger sizes offer around a 100-litre capacity, which means you'll have plenty of space for clothes, tech and essentials.
Is hard or soft luggage better?
Hard side luggage is better if you're going to regularly travel with breakable items. Soft sides, although often very good quality, are more prone to ripping and impact damage simply due to the nature of the materials.