Roll in—in style. And by that we don't mean opting for the weekender with the cutest print or colorway. Instead, we're making a (pretty strong) case for the luggage that won't make you look like a hot mess when checking in or catching the bus.
Yep, cute prints and bright colors may look fab coming around the carousel, but there is nothing less stylish than traipsing through a new part of the world with impractical luggage. And there's nothing more stylish than a fresh pair of wheels that sail through the city without a care in the world.
Don't get us wrong, we have nothing against trendy embellishments, we're just suggesting that they're not the priority when it comes to choosing your travel accomplice. Rather, it's things like compartmentalized interiors, 360-degree Japanese wheels, and handy (or rather hand-less) luggage sleeves that make all the difference.
As seasoned travelers, we don't take the details lightly. We notice how a suitcase handles Italy's cobblestone streets. We're cognizant of the ratio of size to weight—and therefore, how much of our precious weight limit the case exhausts. And we know which brands get the job done most efficiently and fashionably.
Enter: our best luggage brands for all types of travel. From tackling mountain tops to metropolitan meandering to entering boardrooms like a boss—these luxury luggage brands will carry you through it all. Not the other way around.
The 13 best luggage brands
Check our special luggage buyers' guide after the list to see exactly what you should pay attention to before purchasing a checked-in suitcase.
Horizn Studios: Best overall luggage brand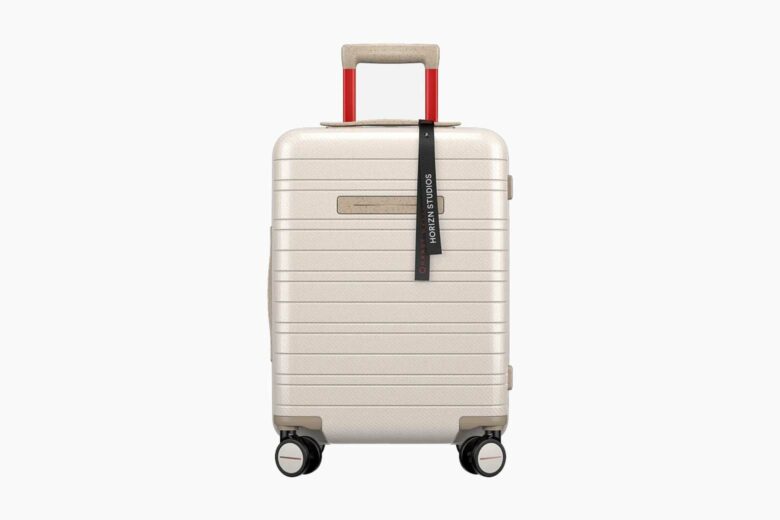 Featuring unrivaled luxury luggage, Horizn Studios has first place in the bag. Born to broaden our horizons, the luxury brand prioritizes quality, sustainability and style. Every case is made from the highest quality materials and pieced together by expert designers and engineers. Every model undergoes meticulous testing to ensure unparalleled durability. And every design pays careful consideration to its impact on the environment.
Revolutionizing travel over and over, Horizn Studios is constantly pushing boundaries. In 2021, the brand released Circle One: a fully plant-based, biodegradable suitcase that is equally impressive when it comes to performance. But if you're extra particular about your luggage, you can always design your own with Horizn ID.
Read our in-depth Horizn Studios review for more details.
Best for: Broadening horizons in a full-circle kind of way.
Star product: Circle One
| | |
| --- | --- |
| Size: | 35.5 liters |
| Materials: | Flax-fibre weave and recycled materials |
| Colors: | Black, White, Yellow + More |
| Price: | $1,095 |
| Warranty: | Lifetime Manufacturer's Guarantee |
| Return policy: | 15 days |
RIMOWA: Best high-end luggage brand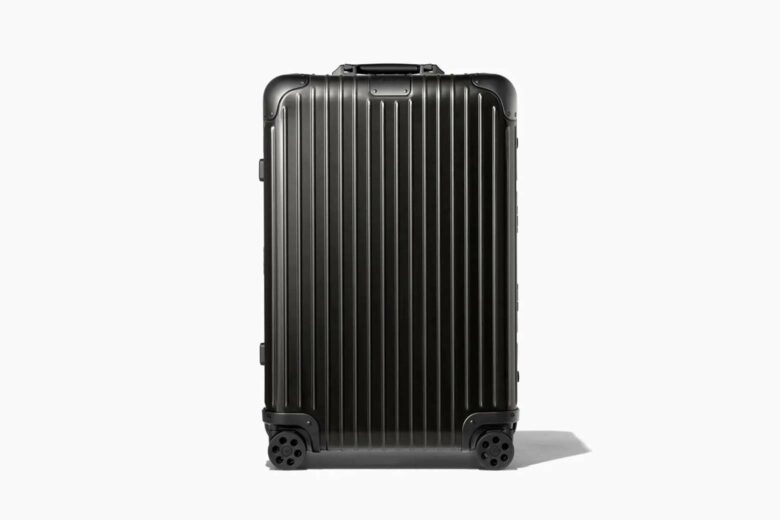 Whether you're heading to Aman, New York, or the Burj Al Arab, Dubai, you're going to want to look the part. RIMOWA, the world-renown German premium luggage brand, elegantly intertwines luxurious designs with innovative engineering and timeless design.
Founded in 1898, in Cologne, Germany, RIMOWA is part of the LVMH group. The luxury brand is recognized the world over for expertly crafting some of the best hardshell suitcases to cater to the jet set and frequent flyers in the known. They were the first brand to introduce aluminum trunks back in 1937 and innovated again with polycarbonate luggage in 2000.
Every suitcase from RIMOWA's collection is built to last you a lifetime. They come with the highest safety ratings to make sure that your belongings are protected and can easily follow you from the hottest Arabian desert to the coldest Icelandic winter.
Best for: A lifetime of luxury travel.
Star product: RIMOWA Original
| | |
| --- | --- |
| Size: | Available in several sizes |
| Materials: | Aluminum |
| Colors: | Silver, Black, Gold + More |
| Price: | $1,600 |
| Warranty: | Lifetime guarantee |
| Return policy: | 30 days |
American Tourister: Best value luggage brand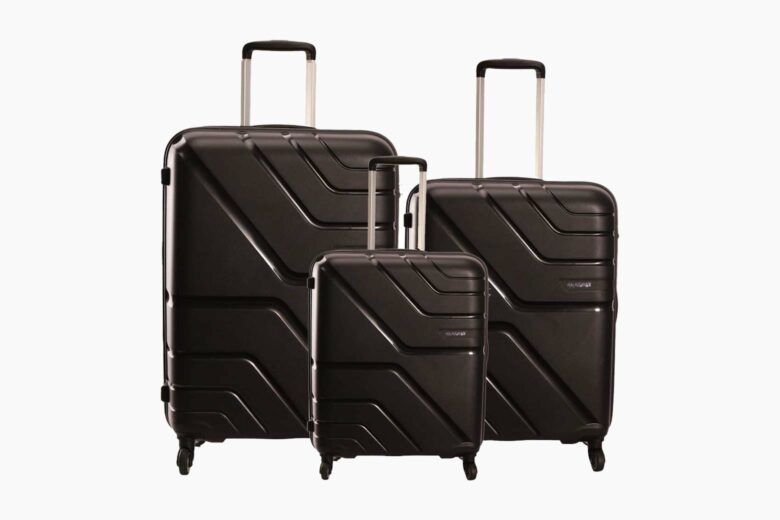 While we expect to pay for luxury luggage, not all luggage brands cost the Earth. American Tourister is case in point. Backed by a 10-year warranty, American Tourister suitcases are exceptionally durable. While the dual spinner wheels are easy to maneuver and provide an effortlessly smooth ride.
Established in 1933, the time-honored brand has an enormous collection of cases for the whole family. But our top pick has to be the American Tourister Luggage Set. Marrying light travel with packing power, the two-piece luggage set features the 21-inch Carry On and the 24-inch Spinner. Both cases feature the brand's protective, hard water-repellent polypropylene shell. While expansion and compression components allow for last-minute souvenir shopping.
Best for: Luxury travel without a luxury price tag.
Star product: American Tourister Luggage Set
| | |
| --- | --- |
| Size: | 45 liters |
| Materials: | Water-resistant polypropylene and polyester |
| Colors: | Black, Blue, Pink + More |
| Price: | $100 – $160 |
| Warranty: | 10 years |
| Return policy: | 30 days |
Samsonite: Best lightweight luggage brand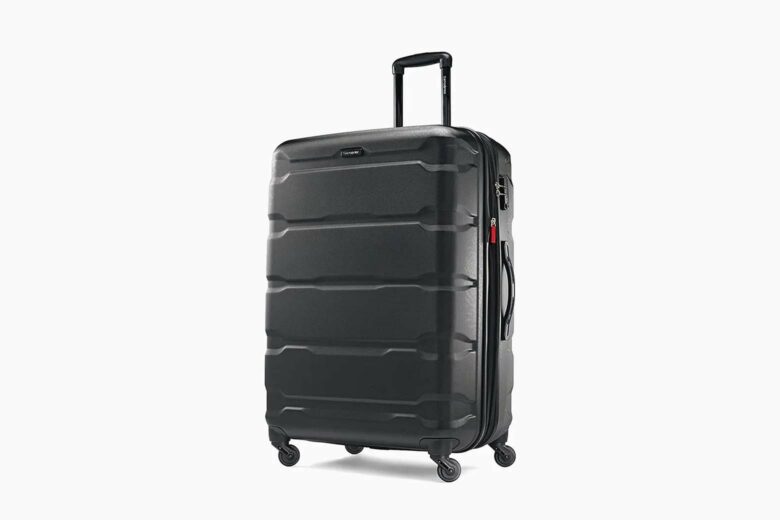 Holding the title of the world's oldest luggage brand, travelers have been trusting the expertise of Samsonite for over one hundred years.
In fact, the company gained inspiration from a brief hiatus in which they were unable, due to the war, to construct their luggage from their traditional materials. New, synthetic materials took precedence, and they've never looked back.
Samsonite has weathered the storms of the Great Depression and two World Wars and came out on top. So yes, you can probably trust them to see your possessions safely through an international flight!
Best for: The OG of reliable luggage.
Star product: Omni PC
| | |
| --- | --- |
| Size: | 122 liters |
| Materials: | Injection-molded water-resistant polycarbonate |
| Colors: | Black, Silver, Teal + More |
| Price: | $259.99 |
| Warranty: | 10-Year Global Warranty |
| Return policy: | 60 days |
Tumi Luggage: Best luggage brand for business travel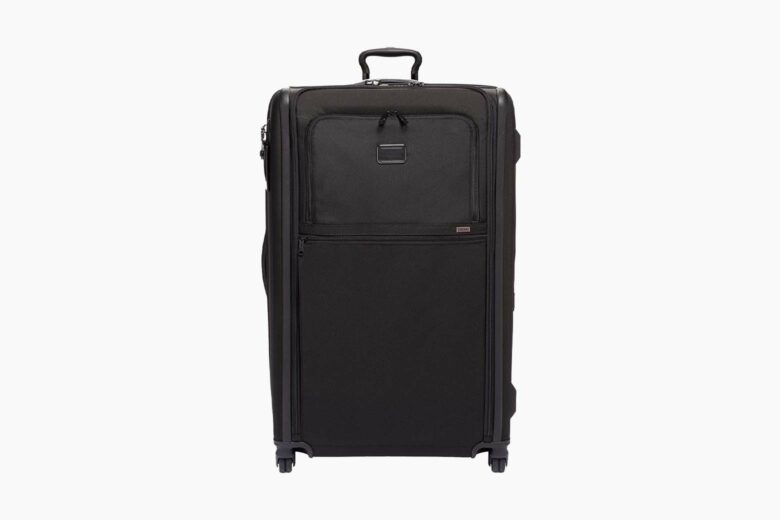 Tumi luggage may feel like a splurge initially, but after a lifetime of breezing through security, you'll likely see it as more of an investment.
As our best brand for business travel luggage, Tumi luggage rolls into any boardroom with an air of effortless organization. Especially the Alpha 3 Continental collection. Compact and compartmentalized, the silhouette is designed to fit into overhead compartments without skimping on work shirts. The built-in USB port allows you to rapidly reply to emails mid-flight without the fear of killing your batteries. And the integrated TSA locks provide fortnight security for all those highly-confidential papers.
Best for: Rolling into boardrooms like a boss.
Star product: Alpha 3 Continental
| | |
| --- | --- |
| Size: | 52 liters |
| Materials: | Ultra-durable FXT ballistic nylon |
| Colors: | Black |
| Price: | $775 – $1,095 |
| Warranty: | 5 years |
| Return policy: | 30 days |
AmazonBasics: Most affordable luggage brand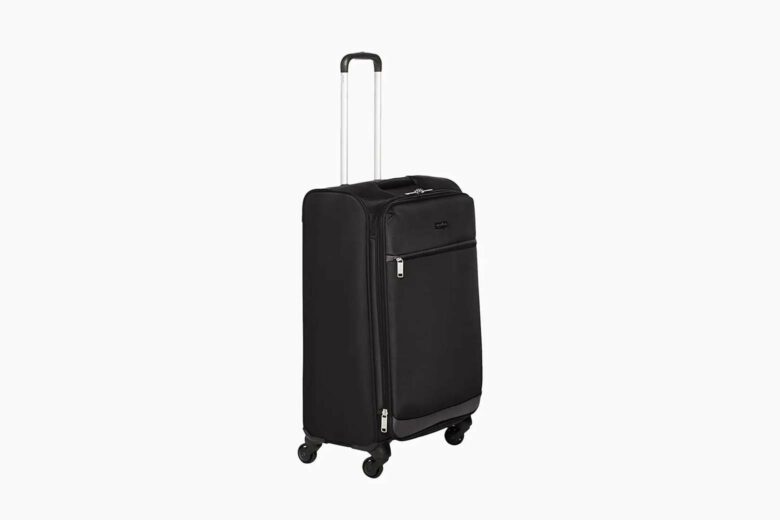 Amazon Basics offers a huge range of affordable alternatives to well-known brands. Fortunately, for budget-conscious travelers, this includes a range of travel luggage too.
Amazon's private brand focuses on user-friendly and robust designs, while being friendly on your wallet, too.
Something of a jack-of-all-trades, you can find affordable items in pretty much every department. So, if you want to preserve your cash for your destination, Amazon Basics could be the way forward.
Best for: Saving money for cocktails in the departure lounge.
Star product: Softside Spinner luggage
| | |
| --- | --- |
| Size: | 77 liters |
| Materials: | 100% polyester (not water resistant) |
| Colors: | Black or Navy Blue |
| Price: | $159.99 |
| Warranty: | 1 year |
| Return policy: | 30 days |
TravelPro: Best softside luggage brand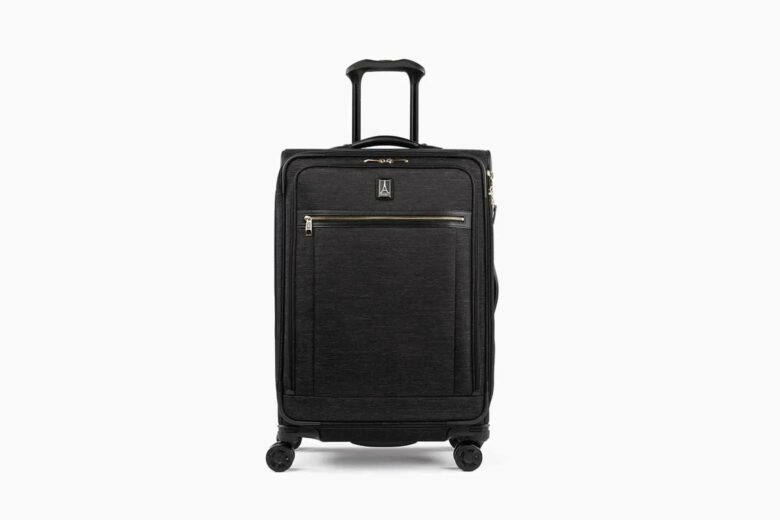 TravelPro was founded by a man who's rather experienced when it comes to traveling. Having accumulated innumerable air miles as a NorthWest Airlines 747 pilot, he knows a thing or two about what travelers really need from a suitcase.
Best known for inventing the wheeled, carry-on suitcase, the TravelPro has since developed to offer all kinds of high-quality luggage featuring innovative technology. All with the aim of making the travel process easier, and more enjoyable.
Aimed at frequent travelers, TravelPro are favored by over ninety airline crews around the world. Well, they can't all be wrong.
Best for: Well-(w)heeled travelers.
Star product: Platinum Elite
| | |
| --- | --- |
| Size: | 97 liters |
| Materials: | High-density Duraguard coated nylon (not water resistant) |
| Colors: | Shadow Black, Bordeaux and Vintage Grey |
| Price: | $430 |
| Warranty: | 10 Year Warranty |
| Return policy: | 14 days |
Beis: Best hardside luggage brand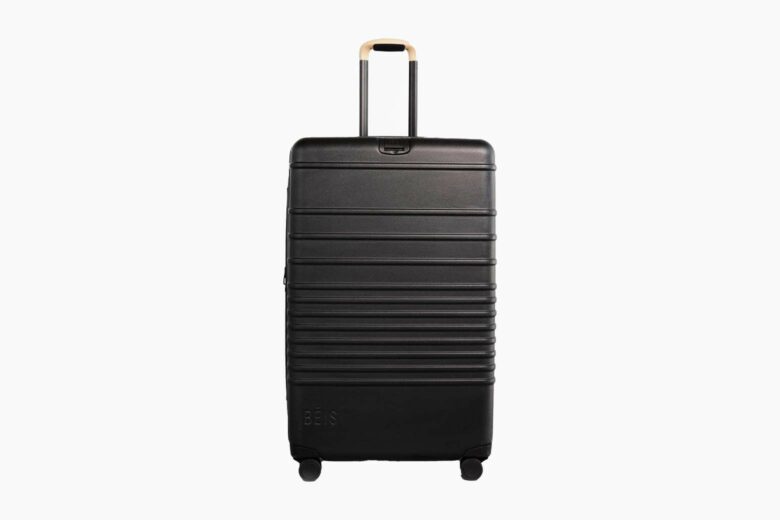 If you're a culprit of packing breakable souvenirs, hard shell luggage is imperative. Protecting your wine bottles and porcelain vases from crash landings, Beis is one of the best suitcase brands when it comes to hardside luggage.
From compact carry-ons to check-in rollers, all Beis bags are ultra-functional and effortlessly fashionable. And while the hard-side keeps your valuables safe, the expandable zippers make room for last-minute shopping sprees. The 360-degree wheels are smooth and stress-free. And a plethora of compression straps and pockets make packing and unpacking a whole lot more fun—trust us, it's actually possible.
Best for: Combatting crash landings.
Star product: Large Check-In Roller
| | |
| --- | --- |
| Size: | 112 liters |
| Materials: | Polycarbonate PVC and polyester nylon |
| Colors: | Black, Beige, Navy + More |
| Price: | $198 – $298 |
| Warranty: | Limited Lifetime Luggage Warranty |
| Return policy: | 45 days |
Away: Best overall luggage brand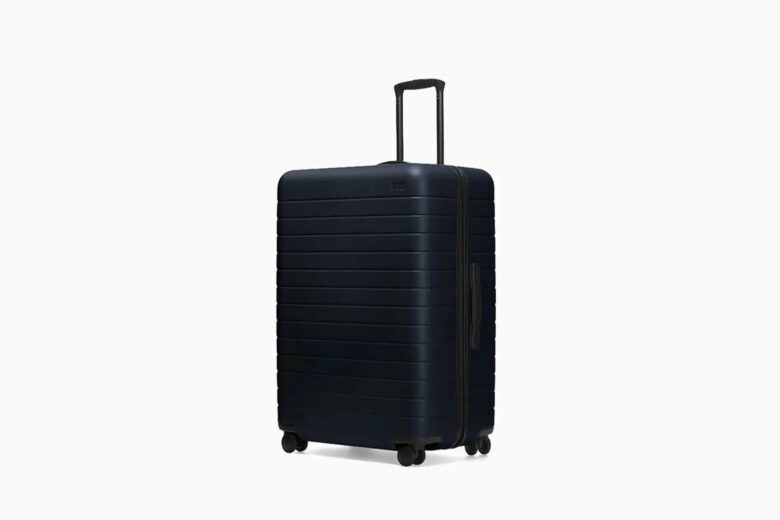 If there was ever a suitcase brand that simply exudes minimalist chic, it's Away. Promising to be 'built to last', Away is centered on longevity while maintaining enviable elegance throughout all of their suitcases.
They understand that unlike booking your holidays, buying a suitcase should not be an annual activity. Your suitcase should withstand flight after flight without the need for constant replacements.
A nice perk is if you choose to purchase a complete set of luggage (a carry-on, medium, and large, for example), the suitcases fit snugly inside each other like an intrepid set of Russian dolls.
Best for: Stylish suitcases.
Star product: The Large
| | |
| --- | --- |
| Size: | 99.2 liters |
| Materials: | Water-resistant polycarbonate hard shell |
| Colors: | A range including Coast, Black, and Asphalt |
| Price: | $375 |
| Warranty: | Lifetime limited warranty |
| Return policy: | 100 days |
Osprey: Best wheeled duffel luggage brand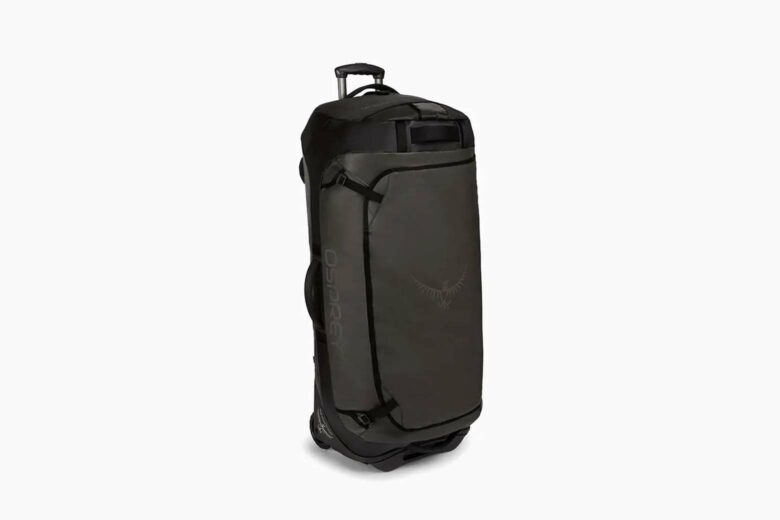 Osprey began on a single sewing machine in sepia-toned California back in 1974. With the aim of designing the perfect travel and hiking backpack, they surpassed their goal and then some.
Surprisingly, the person sitting behind that sewing machine was a sixteen-year-old boy named Mike Pfotenhauer. Now, many years later, every single proposed design goes through him.
A favorite of thru-hikers, Osprey is famed for producing extremely lightweight, durable, and functional backpacks, placing the needs of their customers at the absolute forefront of their innovations.
Best for: Luggage with an outdoorsy aesthetic.
Star product: Osprey 120 duffel bag
| | |
| --- | --- |
| Size: | 120 liters |
| Materials: | 840D nylon TPD double-coated (waterproof) |
| Colors: | Black, Kingfisher Blue or Pointbreak Grey |
| Price: | $360 |
| Warranty: | Lifetime warranty |
| Return policy: | 30 days |
Calpak Luggage: Best luggage brand for small bags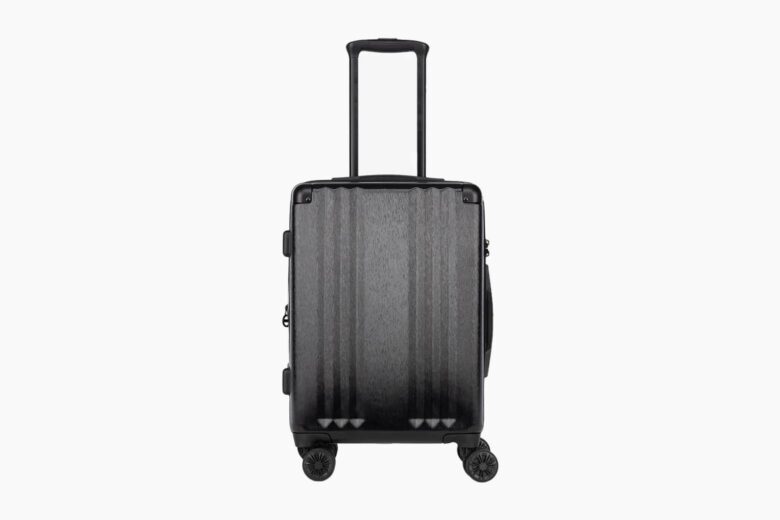 Founded in 1989, Calpak is one of the most well-known and best travel luggage brands. And while all Calpak luggage is high quality and excellent value, we're particularly partial to the label's range of carry-ons.
Calpak carry-ons feature plenty of compartments and pockets to separate your shoes from your chiffons. They are super lightweight and designed to fit into overhead compartments. But if you get carried away with designer boutiques over your travels, the expandable sides always make room for more.
Best for: Compact and convenient.
Star product: Carry-On Luggage
| | |
| --- | --- |
| Size: | 43 liters |
| Materials: | Polycarbonate, ABS and polyester |
| Colors: | Black, Gold, Rose Gold + More |
| Price: | $117 – $385 |
| Warranty: | 2 years |
| Return policy: | 30 days |
Briggs & Riley: Most durable luggage brand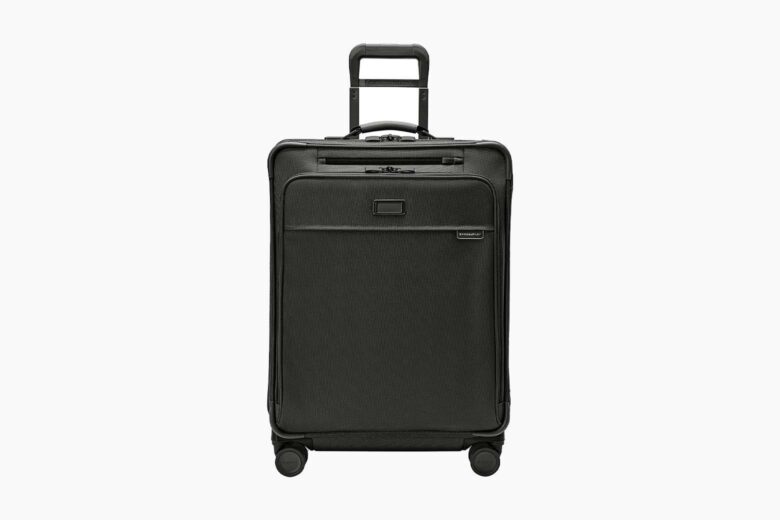 Made from superior materials, Briggs & Riley suitcases can really take a beating. Yep, feel free to shove yours off the roof or whack it with a baseball bat. And if you go too far—which we're yet to experience—the confident brand will repair it free of charge, no questions asked.
Briggs & Riley makes the most durable luggage. But it's also super high-tech. The luxury suitcases feature the world's only one-touch CX expansion. And with the click of a button, the bags expand for increased packing capacity and compress for compact convenience. Imagine actually closing your case without sitting on it first…
Best for: Varying off the beaten track without bearing the bruises to prove it.
Star product: Baseline Medium Expandable
| | |
| --- | --- |
| Size: | 99 liters |
| Materials: | Ballistic Nylon |
| Colors: | Black, Navy and Olive |
| Price: | $700 – $950 |
| Warranty: | Lifetime |
| Return policy: | 30 days |
Louis Vuitton: Most expensive luggage brand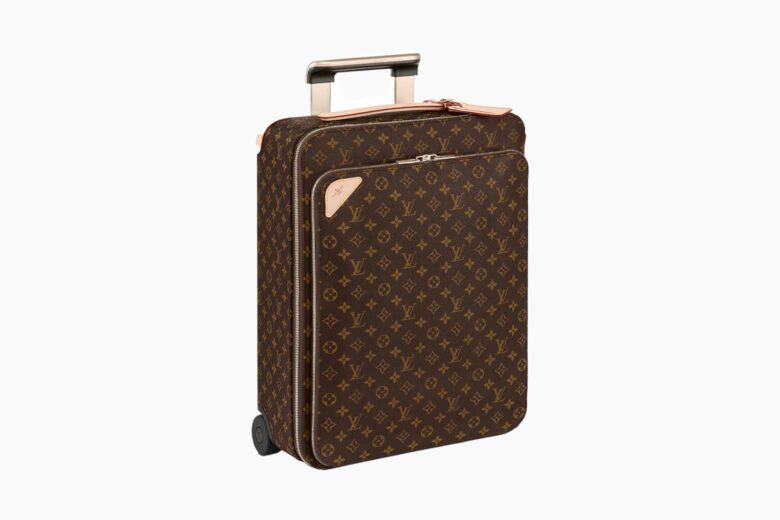 We all know Louis Vuitton as one of the most popular luxury brands. Although we seldom refer to the affluent label as one of the best luggage brands. But as the OG in luxury luggage, we'd be remiss to leave Louis Vuitton bags off our list. And when this Pegase suitcase arrives on your doorstep, you'll be grateful we didn't.
Created in 2004, the Pegase infuses the quality and timelessness of the all-hailed luxury label with the latest in luggage innovation. And as one of our best Louis Vuitton bags of all time, we see this sleek, monogrammed canvas suitcase as your lifelong travel companion. That's worth a slight splurge, right?
Best for: Vintage va va voom.
Star product: Louis Vuitton Pegase
| | |
| --- | --- |
| Size: | 34 liters |
| Materials: | Canvas |
| Colors: | Brown |
| Price: | $2,786 – $3,268 |
| Warranty: | Complimentary repairs |
| Return policy: | 30 days |
Travel luggage buying guide
Sometimes, gazing nonplussed at complicated-sounding specifications of travel luggage can be downright confusing, not to mention frustrating.
We'll break down some of the most important aspects of luggage to ensure you make the right choice (even if you don't have a chemistry degree).
Materials
Really, when it comes to deciding on materials, it all comes down to Polycarbonate, Aluminium or ABS.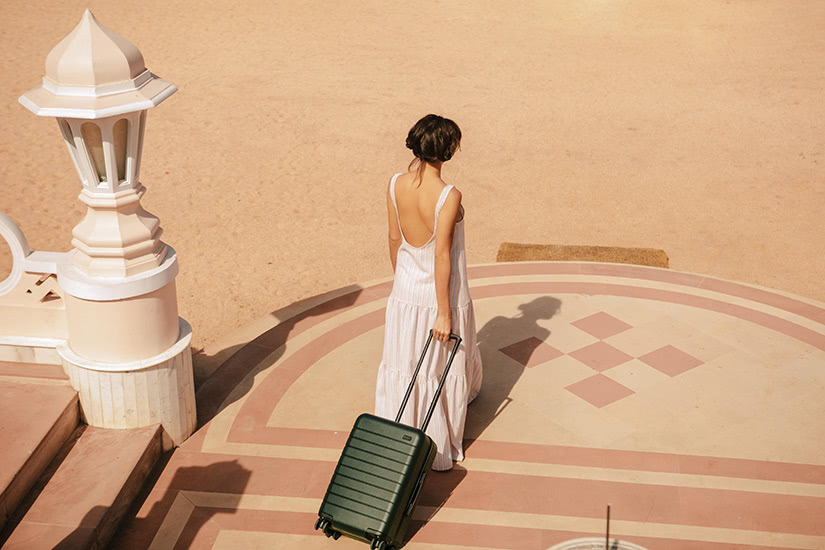 Polycarbonate: Polycarbonate is undoubtedly the most popular choice for hard shell luggage. It's lighter than aluminum, yet still extremely durable.
It's known for its resilience, as it possesses the cool ability (something of a superpower in the luggage world) of changing shape upon impact, and reverting to its original form instantly afterwards. This makes it an excellent choice to mitigate the perils of rough handling.
ABS: ABS is a type of thermoplastic. It's lighter than both polycarbonate and aluminum, but generally speaking, not as durable as either. It's definitely not a bad choice for carry-ons, as the risk of impact is much lower if you can keep a watchful eye for your journey.
Often, it will be combined with polycarbonate and/or aluminum, which definitely elevates its strength and durability.
Aluminum: The most long-standing, and the most expensive, of luggage materials is certainly aluminum. A traditional choice, but less preferred now due to the increased availability of cheaper materials like polycarbonate.
If you're looking for a classic aesthetic and a solid, expensive feel, it could be worth investing in aluminum luggage!
Must-have features
360° wheels: This probably goes without saying, but in order to fluidly transport your suitcase, you're going to need wheels. Every suitcase worth its salt will offer four 360° wheels to optimize the smoothness of pulling it along.
Telescoping handles: Telescoping handles are a fancy term for handles that pull out of the top of your luggage, and lock in place. They tend to come with a single control button, which ensures you can maneuver your case with only one hand.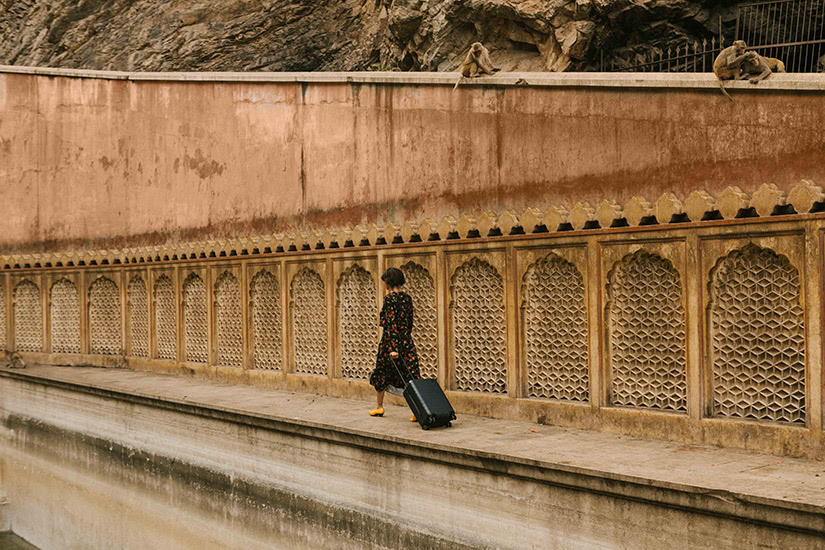 Expandability: Typically found more on soft side luggage (but increasingly on hard side), expandability allows you to stretch the capacity that little bit further. And as every traveler will know, just a few centimeters of height can be absolutely crucial.
Inner compartments: If you don't love opening your luggage after a long journey to the horrific vision of a clothing war zone, we suggest you ensure your new luggage has inner compartments. For the sake of organization, it's totally worth it.
Often, there'll be a discreet laundry pocket, too.
TSA-locking: You'll see this add-on peppering most luggage descriptions. Simply put, it's a specific locking system that can be opened by both its owner and the TSA agents at US airports.
Of course, airport security is permitted to check the contents of every piece of luggage. TSA-locking is a stress-free, simple way of them doing so.
Softside vs hardside luggage
Some of the best luggage brands advocate for soft side luggage, others only manufacture hardside luggage and some have both. So how do you know which is right for you?
High-quality softside suitcases are usually made from ballistic nylon. They are malleable and easy to squeeze into tight crevices—such as the corner of an overpacked car. And the relapsable silhouette takes up very little space when it isn't being used, making it simple to stow away.
Hardside luggage, on the other hand, is usually made from polycarbonate PVC. The hard shell is great for protecting delicate items during travel. However, it is less flexible than soft side luggage. If you can't decide whether to prioritize malleability or preservation, there are also hybrid suitcases that give you the best of both worlds.
Frequently asked questions about checked-in luggage
What is the best luggage to buy?
Luggage brands such as Horizn Studios, Away, and RIMOWA offer long-lasting, durable and stylish suitcases in a variety of sizes and materials, which should last you journey after journey. Check our list of the best luggage brands for our detailed recommendations.
What is the best size luggage for international travel?
Depending on how long you're going for, it's usually best to opt for a large suitcase or luggage. Most larger sizes offer around a 100-liter capacity, which means you'll have plenty of space for clothes, tech, and essentials.
Is hard or soft luggage better?
Hard side luggage is better if you're going to travel regularly with breakable items. Soft sides, although often very good quality, are more prone to ripping and impact damage simply due to the nature of the materials.