We all enjoy luxury footwear and clothing. That's why we're hanging out here at Luxe, after all. But sometimes, that enjoyment is curdled by the knowledge that some luxury goods aren't made with ethics and fair pricing in mind. Enter Oliver Cabell. The brand, most famous for Low 1 sneakers, is redefining ethics in the luxury world with transparent pricing that cuts out the middlemen, sustainable manufacturing, and lifelong durability. All of that whipped up together with minimalist designs that work with a whole slew of looks puts Oliver Cabell not only at the top of luxury brand lists, but also makes them an excellent evergreen buy. If you want luxury that doesn't wallop the planet or your wallet, look no further.
Oliver Cabell at a glance
| | |
| --- | --- |
| Brand: Oliver Cabell | |
| Founded: 2018 | Founder: Scott Gabrielson |
| Origin: England | Industry: Footwear, Fashion, Accessories, Jewelry |
| Collections: Womenswear, Menswear | Website: olivercabell.com |
| Shipping: Worldwide | Headquarters: Minneapolis, United States |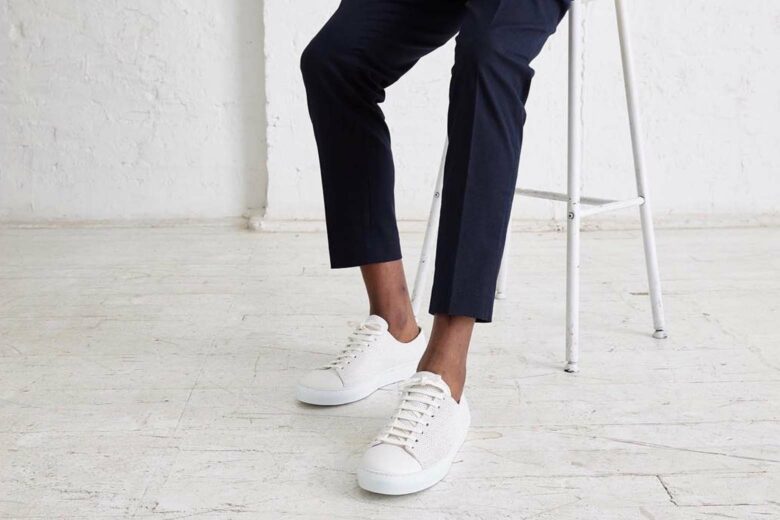 Behind the brand
History of Oliver Cabell
In 2015, a young English gentleman by the name of Scott Gabrielson visited a factory in Asia. It's an understatement to say that he was not impressed. He saw rows of women making $7 per day creating high-end purses that were "made in Italy". He estimated that the purses cost less than $100 to make, and were subsequently marked up to over $1,200. The seed was planted—the desire to create a company that constructed its wares morally and priced them honestly.
Fast forward to 2018, and the birth of Oliver Cabell. The brand was initially focused on creating top-of-the-line accessories, but when Scott was visiting a factory in the Marche region of Italy, he came across a set of sneaker molds. After 22 trials with the molds, the world-famous Low 1s were born, and Oliver Cabell sneakers are now in the conversation for the best sneakers in the world.
The initial run of Low 1 sneakers (a couple of thousand units) sold out within the first couple of months of the brand's launch, and O.C. has been racing to keep up with the demand ever since. The success, and founder Scott Gabrielson's love of footwear, has made shoes the main focus of the company. And that's no wonder! Check our in-depth review of Oliver Cabell's sneakers to see why we love them so much.
Did you know?
"Oliver Cabell" wasn't a real person. Instead, the name is taken from two characters played by the actors Steve McQueen and Oliver Reed. Steve McQueen was a hero of Oliver Cabell's founder Scott Gabrielson, mainly because he represented the constructive rebellion of taking the road less traveled in the characters he chose to portray. Oliver Reed was likewise an actor known for doing his own thing. Oliver Reed acted in the movie "Oliver Twist", while Steve McQueen portrayed Martin Cabell in a crime drama titled "Never Love A Stranger". Take a name from each character and voila! "Oliver Cabell" was born.
The famous Low 1s, which really kicked Oliver Cabell into high gear as a brand, almost didn't happen. Shoes weren't necessarily in Scott Gabrielson's mind when he was forming the company. But as he was touring a factory in Italy, he just happened to come across an old-school shoe mold. He and his associates decided to give the molds a whirl, and the result was the very first pair of Low 1s ever made.
Founder Scott Gabrielson is a big believer in transparency when it comes to his brand. While it sometimes exposes a weakness in his company, he actually sees this exposure as an opportunity to course correct and make Oliver Cabell even stronger.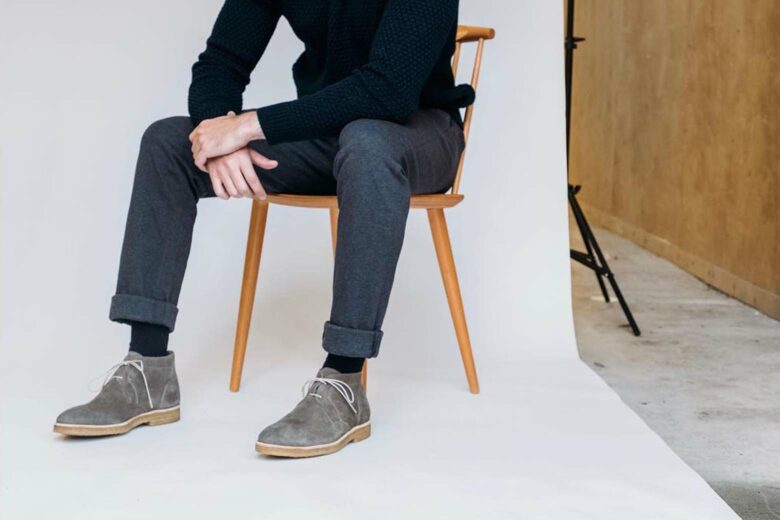 Oliver Cabell product range
Oliver Cabell is of course, best known for its luxury sneakers, but Scott Gabrielson's brainchild actually started out focused on accessories like designer iPhone cases and leather card holders. The brand also branched out into athletic clothing (t-shirts, sweatpants, and hoodies) and jewelry.
Shoe-wise, you can't go wrong with Low 1s as your go-to choice for white sneakers for men or women. The brand also has shoes for specific athletic endeavors, like runners, court shoes, and high-tops.
Oliver Cabell's quality isn't limited to athletic shoes. Aside from women's sneakers, the ladies are offered a nice variety of very comfortable flats, including drivers, mules, and penny loafers, while the gents can select from outstanding boots, boat shoes, sliders, and more.
Materials and craftsmanship
As part of their policy towards transparency, every item in Oliver Cabell's catalog has a thorough breakdown of materials that you can click on so you can see what you are getting. Every step of the manufacturing process is done by hand, and the materials are sustainably sourced out of ethical workshops, tanneries, and factories.
The Low 1s, for example, are hand stitched and lasted in Marche, Italy. The uppers are made of 3oz full grain leather, the footbed and lining are Italian calf-skin, and the outsoles are made of lightweight and durable rubber.
For those amongst us that prefer their shoes have no animal components, Oliver Cabell offers up a line of vegan options. The vegan shoes are also hand stitched and lasted in Italy, with bio-based polyurethane and corn waste making up the upper, natural and recycled rubber for the soles, and bamboo being the only material used in the laces and linings.
A jewelry sample (the women's Cross Necklace) shows us that 100% real 18k gold (which is at least three times more than normal gold plating) is used in the manufacturing.
Where are Oliver Cabell made?
While the head office is in Minneapolis, Minnesota, much of the actual manufacturing takes place in the Marche region of Italy. The tannery the brand uses is located in Vicenza, Italy. Some items, such as the men's Chelsea boots, are hand-stitched in Albacete, Spain.
Brand values
| | |
| --- | --- |
| Vegan options: | Yes |
| Carbon-neutral: | Yes |
| Gives back: | No |
Who is Oliver Cabell best for?
Oliver Cabell's range of shoes and clothing tends towards timeless, simple casual looks, making them excellent for mixing and matching with showier pieces.
Thanks to the brand's commitment to ethical manufacturing, Oliver Cabell's catalog is a refuge for those of us who want luxury-level goods that don't hurt the planet or the workers making them.
Our favorite finds from Oliver Cabell
Low 1 sneakers for men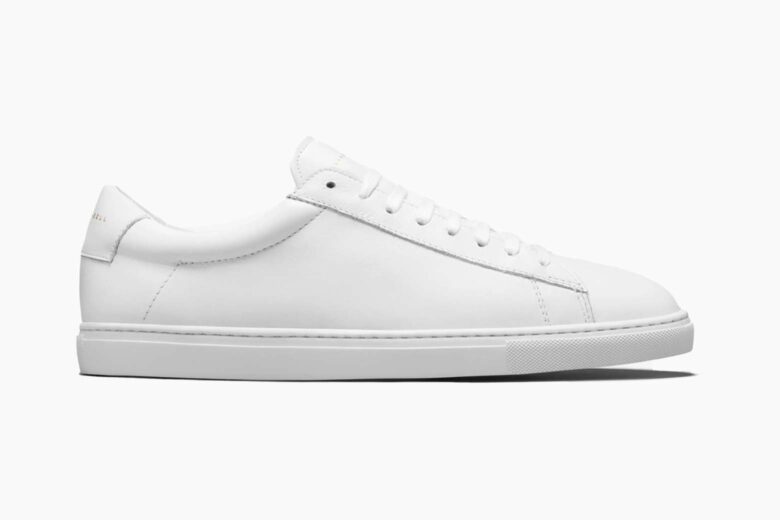 We can't have a conversation about Oliver Cabell without talking about the Low 1s. In fact, we've discussed these minimalist sneakers before in a deep-dive Low 1 review. The sleek design ensures that these shoes won't ever go out of style, which makes them a great investment. Do keep in mind that since the Low 1s are made of leather, they will need some maintenance to keep them looking fit. But it's well worth it to have an evergreen shoe that looks and feels this good.
Chelsea boots for men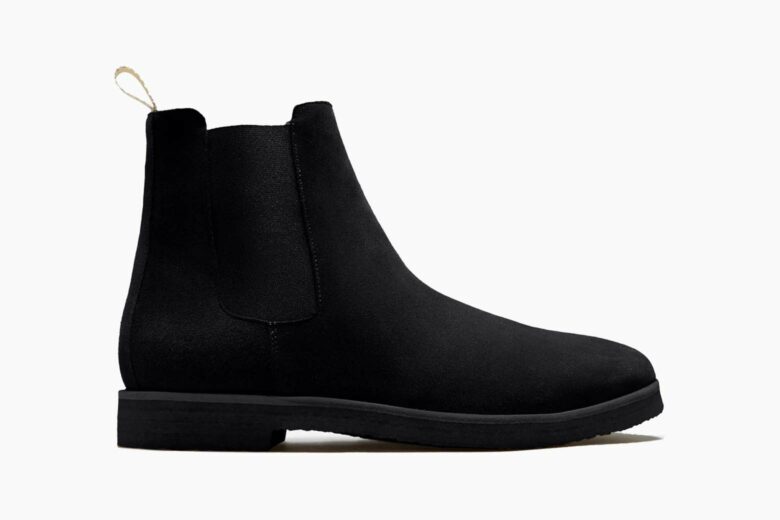 It's easy to see that Oliver Cabell's Chelsea Boots are a stylistic treat that works in both casual and more formal occasions. Being a combination of suede and leather, you'll want to take care to perform regular maintenance on the outside, and to take time to break in the leather inners.
Low 1 Essential sneakers for women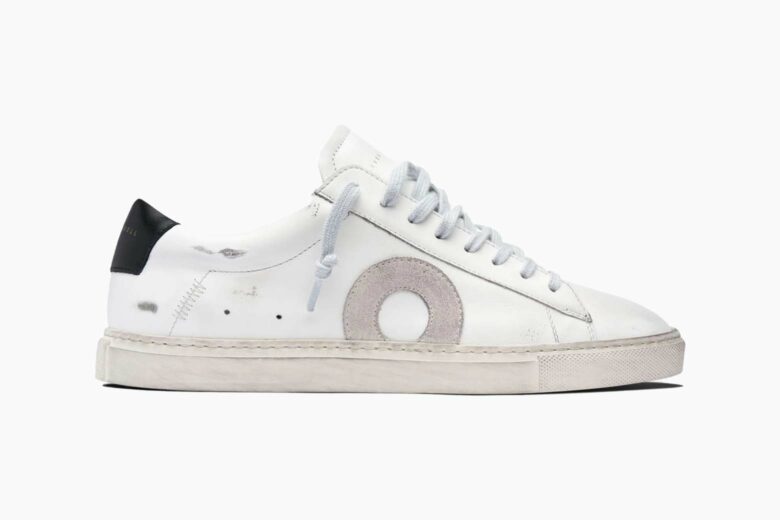 If you're looking for a minimalist white sneaker that will blend nicely with a variety of outfits, you'd be hard-pressed to do much better than the Low 1 Essential. The "Essential" part in the name indicates a pre-distressed look, which is done by hand, making every pair unique. They're pretty easy to break in, with the tongue being the most reluctant part, thanks to the double layers of leather.
Monti drivers for women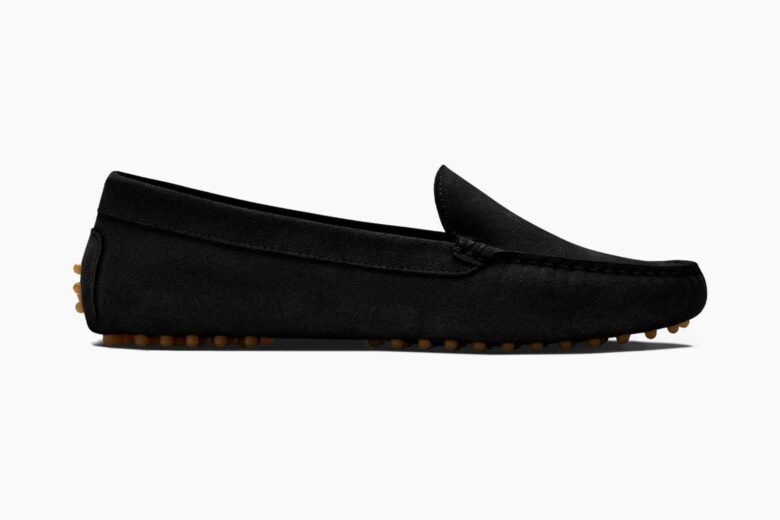 Oliver Cabell's Monti shoes are an easy-breezy slip-on that is comfortable enough to be an everyday pick but has enough style to work in more formal settings. We were a little skeptical of Cabell's website's claim of "no break-in period required", but as it turns out, Montis really are ready to wear as soon as you pop open the box.
Where can I buy Oliver Cabell shoes?
While you can find Oliver Cabell shoes at various retailers, we'd strongly recommend going straight to the source at the brand's website. After all, part of the brand's charm is cutting out the prices of middlemen. Additionally, while at their site, you'll be able to find out plenty of information about their individual items, including materials, recommended care, sizing guides, and transparent pricing breakdowns.
How much are Oliver Cabell's?
Athletic shoes (including the famous Low 1s) start at $199, running up to $289.
For other styles of men's footwear, (drivers, Chelsea boots, loafers, etc.), prices range between $167 and $239. Slides go for $59.
Women's flats (including mules, drivers, and penny loafers) run from $85 through to $239.
Clothing-wise, prices start at $49 for casual t-shirts, and go up to $149 for hoodies and sweatpants.
Men's jewelry starts at $11 for simple bracelets, running up to $169 for chain sets. Women's jewelry launches at $25 for hoop earrings, ranging up to $105 for various sets.
Oliver Cabell shipping
Oliver Cabell ships worldwide. The company offers you free shipping for orders over $70 in the United States, and for worldwide orders that are over $150. Do keep in mind that if you're an international customer, you may be responsible for import duties and taxes on top of the shipping fee.
Oliver Cabell return policy
Oliver Cabell's footwear has a 60-day warranty. The company takes returns for wrong sizes and other concerns. They ask that the items be unworn, not damaged, and in a resellable condition and that you submit a return request within 30 days of receiving your purchase.
International clients are responsible for return costs. You'll be refunded the full amount minus the original shipping cost, which is $35. For U.S. customers, the cost is $15.
Oliver Cabell social media profiles