Ah, Bedtime. Our beds are often our sanctuary. If we're lucky, we get the occasional languorous lazy Sunday morning to simply be in bed. Why not make it as luxuriant as possible, right?
We're out and about all day, constantly alert and navigating the inevitable highs and lows of life. The ultimate retreat at the end of each day is this: falling into soft, high-quality bed sheets and letting your troubles melt away.
Anyone who has sunken into cloud-like, made-to-crisp-perfection luxury hotel sheets knows: there's no better treat than luxury bedding. 
Good news, though: Heavenly hotel sheets are not only for high-end hotels. You deserve to be cozily enveloped in swathes of the softest sheets and the best luxury linens at home, too. With our list of the best bed sheets worthy of 5-star hotels, you'll enjoy that luxe feeling every night. Just don't try ringing for room service, or you might be bitterly disappointed.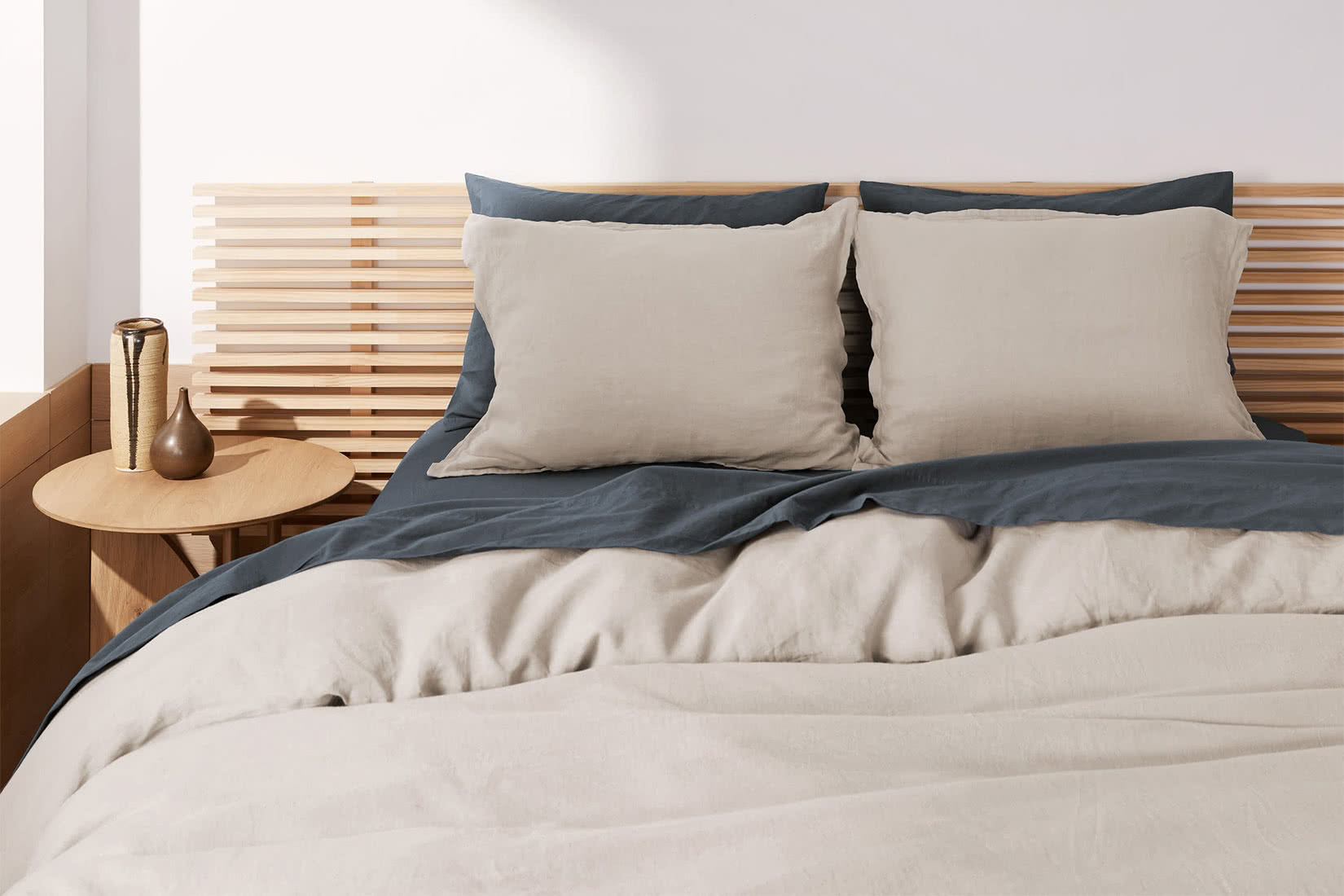 We've dreamed up the ultimate guide to the best luxury sheets and bedding sets, so you'll be yearning for bedtime—from elegantly rumpled linen sheets to luxurious silk sheets, percale sheets, sateen sheets, organic sheets, and everything in between.
Possible side effects include earlier nights and late mornings—with our list of the best bed sheets; you might not ever want to leave…
17 best sheets for the most heavenly sleep of your life
Check our luxury sheets buying guide after the list to see exactly what you should pay attention to when shopping for the best sheets online. The prices below reflect queen-sized sheet sets, but more size options are available. Queen sets typically include a flat sheet, fitted sheet, two pillowcases, and in some cases, a matching duvet cover. Brands also usually offer the option to buy bed sheets separately.
Brooklinen Luxe Sateen Hardcore Bundle: Best bed sheets overall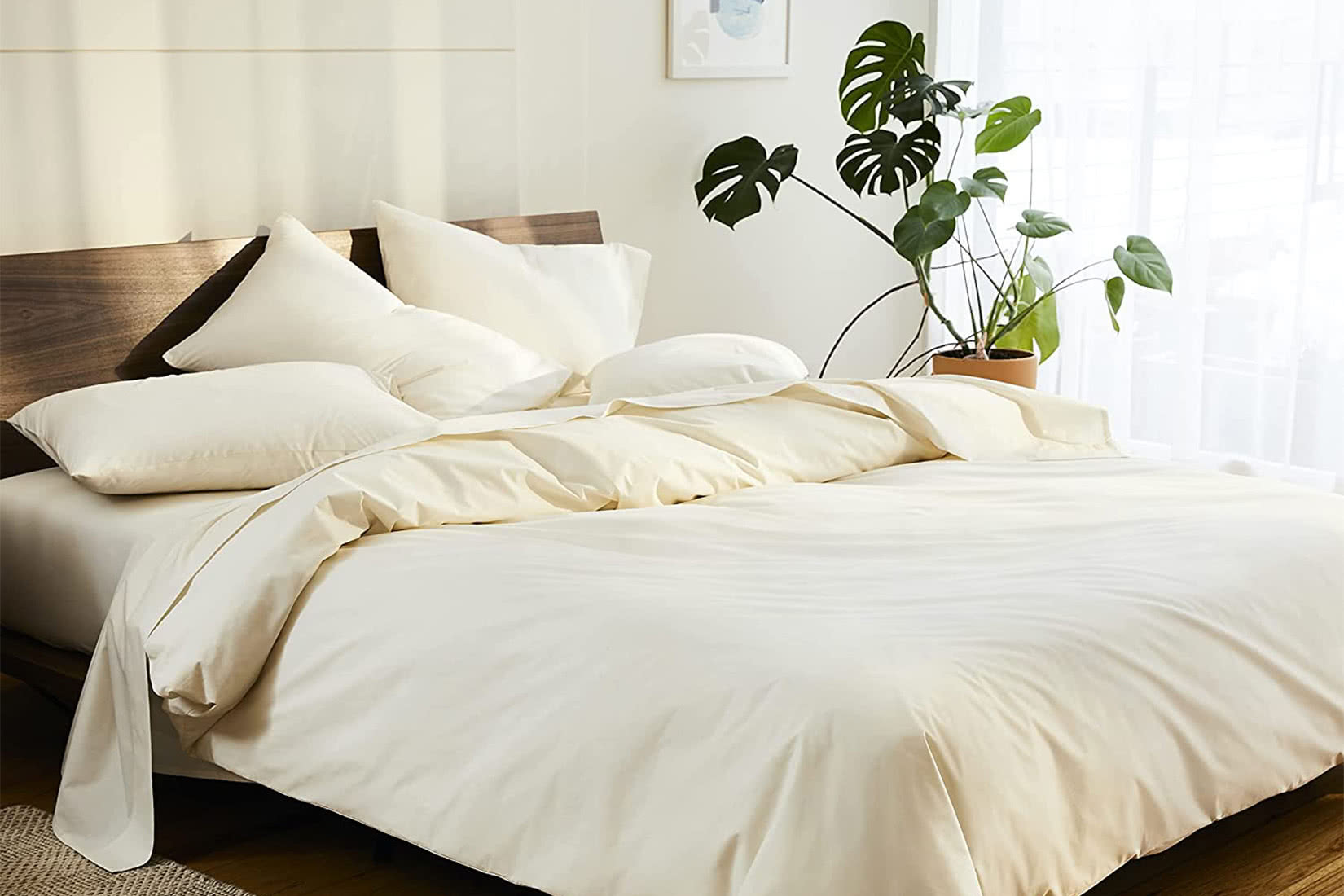 If you are looking for the ultimate bedding upgrade, these ultra-soft sheets from Brooklinen are your dream come true.
The all-time bestselling 480-thread count cotton Luxe Sateen Sheets brings that coveted luxury hotel experience to your home—just like Brooklinen's incredibly comfortable, super-plush bathrobes and towels.
With the bundle consisting of a flat sheet, a fitted sheet, four pillowcases, and a duvet cover, Brooklinen has got you covered. Literally.
As practical as it is popular, the sought-after bed sheets are expertly crafted with 100% long-staple cotton for superior comfort and durability. Oh, and the sheets are also OEKO-TEX certified for chemical safety.
Material: 100% long staple cotton
Thread count: 480
Deep pocket sheets: Yes, mattresses up to 15"
Sizes: Twin, Twin XL, Full, Queen, King, Cali King
Colors: White, Cream, Graphite + More
Mellanni 1800 Collection Microfiber Sheet Set: Best value bed sheets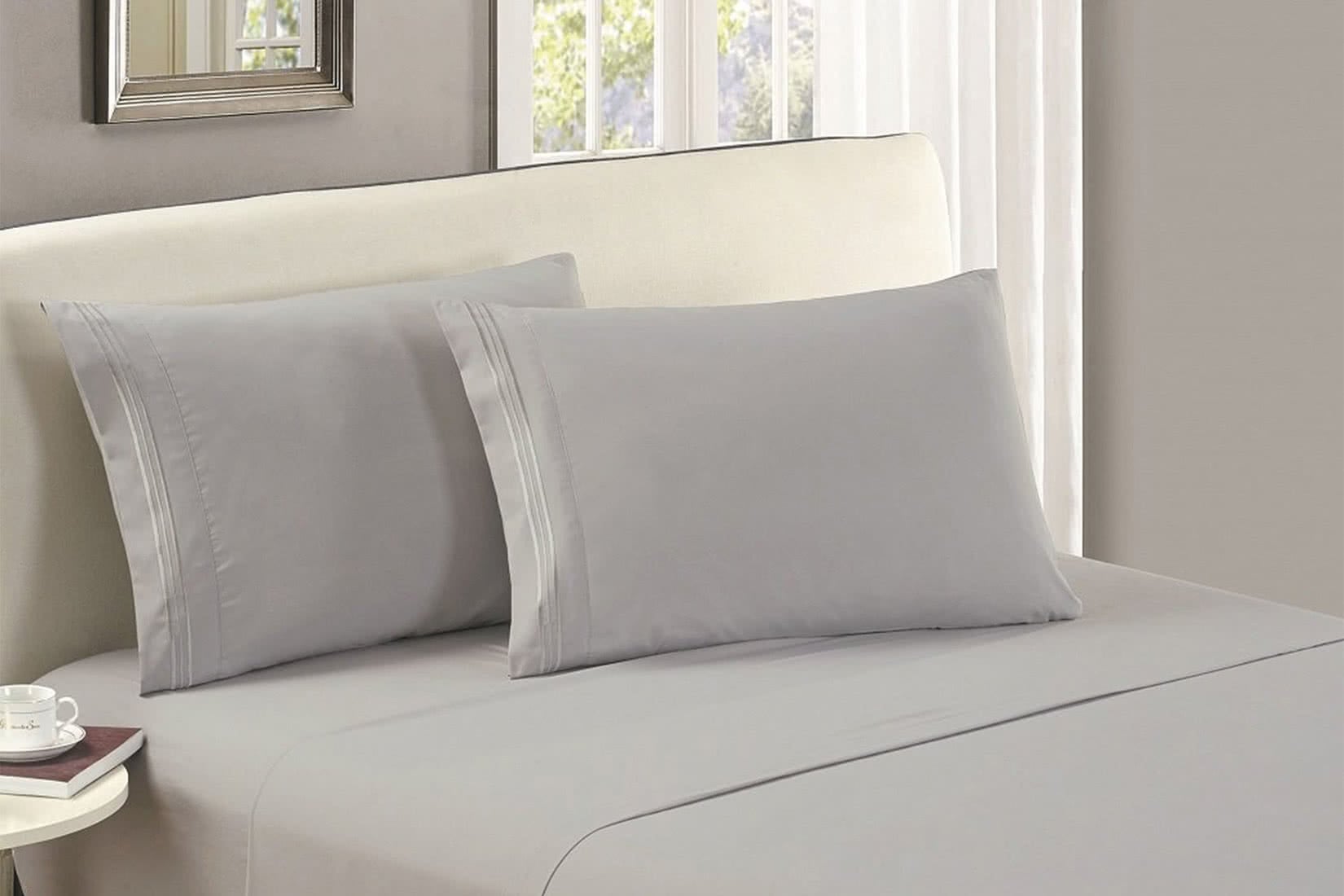 Quality and affordability don't have to be mutually exclusive. Made only of the highest quality double-brushed microfiber, Mellanni's famous 1800 Collection provides quality ZZZs and year-round comfort. Even better: these silky-soft sheets are resistant to stain, wrinkles, fade, and shrinkage.
The sheets come in variations to fit a wide range of bed sizes—including extra deep options for taller mattresses—and in over 40 colors and prints to match any bedroom decor. Plus, they count over 250,000 reviews with an average 4.5-star rating.
All this for less than $50? Consider us sold.
Material: 100% polyester microfiber
Thread count: N/A
Deep pocket sheets: Yes, mattresses up to 16"
Sizes: Twin, Twin XL, Full, Queen, King, Cali King, Split King
Colors: White, Royal Blue, Taupe + More
Frette Hotel Classic Sheet Set: Best luxury bed sheets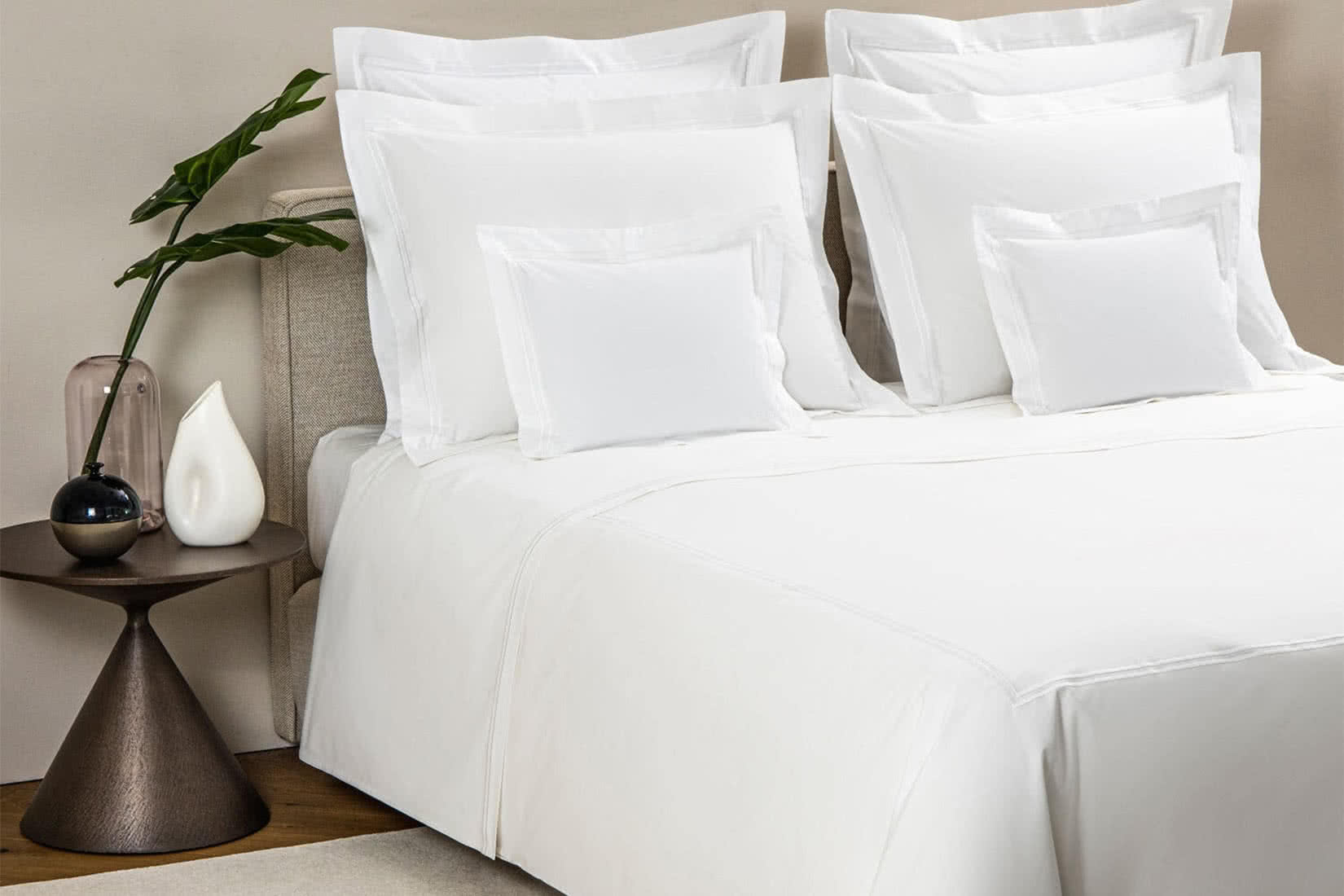 If you live for a bedroom that exudes a sophisticated luxury hotel vibe, these white sheets are for you. Found dressing the luxury beds of over 500 European royal families and the finest hotels across the globe (from Claridges to Shangri-La and The Ritz-Carlton), Frette's luxurious sheets are the definition of royal treatment.
With Frette Hotel Classic Sheet Set, you not only get the best premium-quality high-end 100% cotton percale sheets (the hyperbole is justified, promise), you also experience pure Italian indulgence.
The timeless, understated design of the Frette's hotel sheets will complement most interior styles. Pair with the Duvet Cover for the ultimate luxury hotel staycation, at home.
Material: 100% cotton
Thread count: N/A
Deep pocket sheets: No
Sizes: Twin, Queen, King, Cal King
Colors: White, White-Grey, White-Khaki 
Saatva Organic Sateen Sheet Set: Best sateen sheets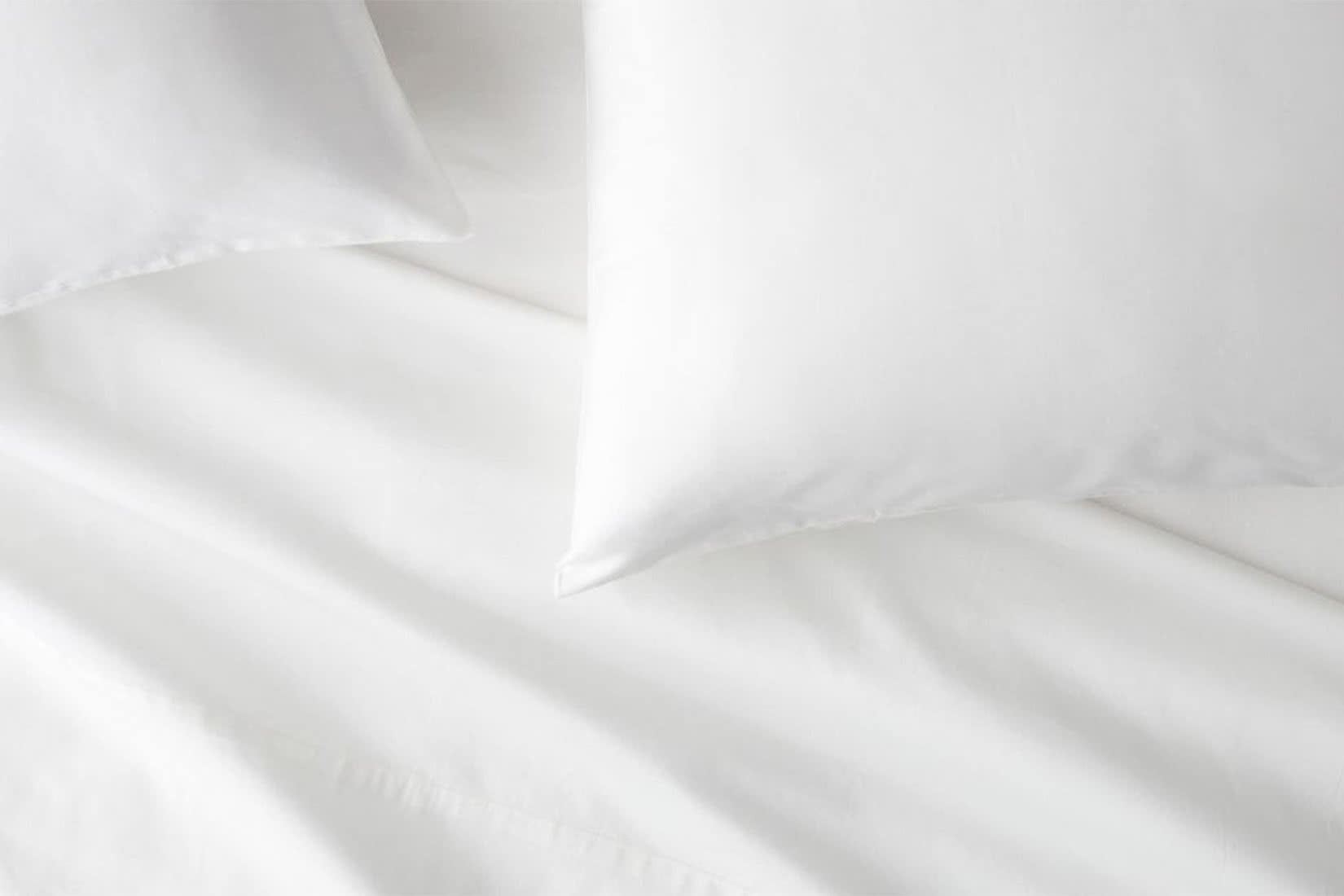 Not only does Saatva produce some of our favorite luxury mattresses, but they also offer some of the best organic sheets on the market.
The Saatva Organic Sateen Sheet Set is a prime example of quality sateen sheets—a lovely balance of soft, smooth texture without the shiny look of silk.
What you get: the set consists of one fitted sheet, one pillowcase set, and one duvet cover. Available in a smoky palette of white, ivory, and light grey, these luxurious, GOTS certified organic sheets in a silky-soft, 300-thread count sateen weave whisper understated chic and scream utmost comfort. And we are all ears.
Material: 100% GOTS certified organic cotton
Thread count: 300
Deep pocket sheets: Yes, mattresses up to 16"
Sizes: Twin, Twin XL, Full, Queen, King, Cali King, Plit King
Colors: White, Ivory, Grey
Parachute Brushed Cotton Sheet Set: Best brushed sheets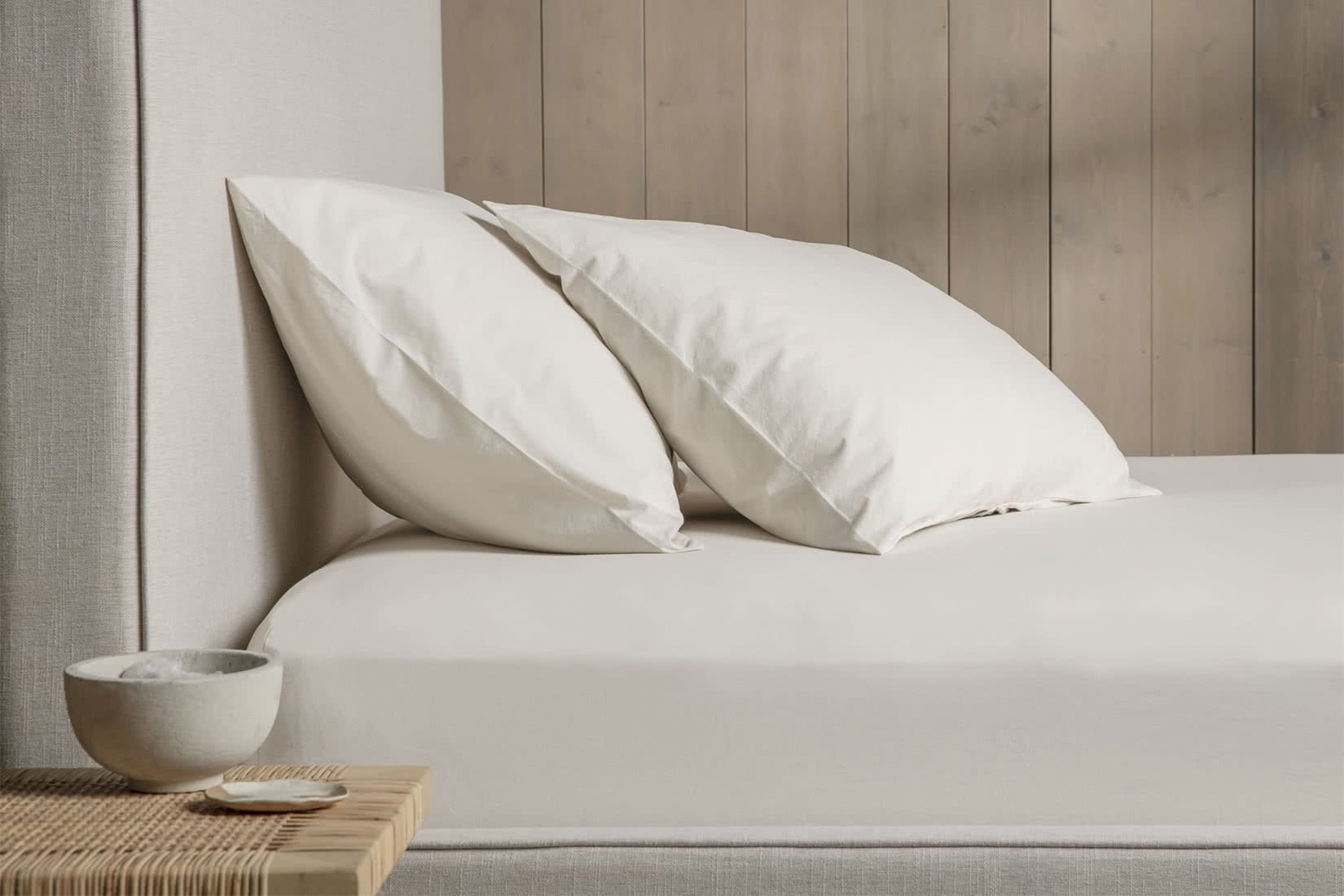 We love Parachute's commitment to comfort and style, and these cotton sheets are another testament to why.
Like snuggling up with your favorite lived-in t-shirt, Parachute's brushed cotton sheets are the ultimate in cozy—They are brushed, and then garment washed for a buttery soft finish.
Crafted in Portugal from 100% cotton, these sheets wouldn't be out of place in the swankiest of boutique hotels. For the ultimate room upgrade, add a brushed cotton duvet cover.
Sweet dreams have never looked and felt so good.
Material: 100% cotton
Thread count: N/A
Deep pocket sheets: No
Sizes: Full, Queen, King, Cali King
Colors: Ochre, Latte, Dusk + More
Brooklinen Washed Linen Sheets Set: Best linen sheets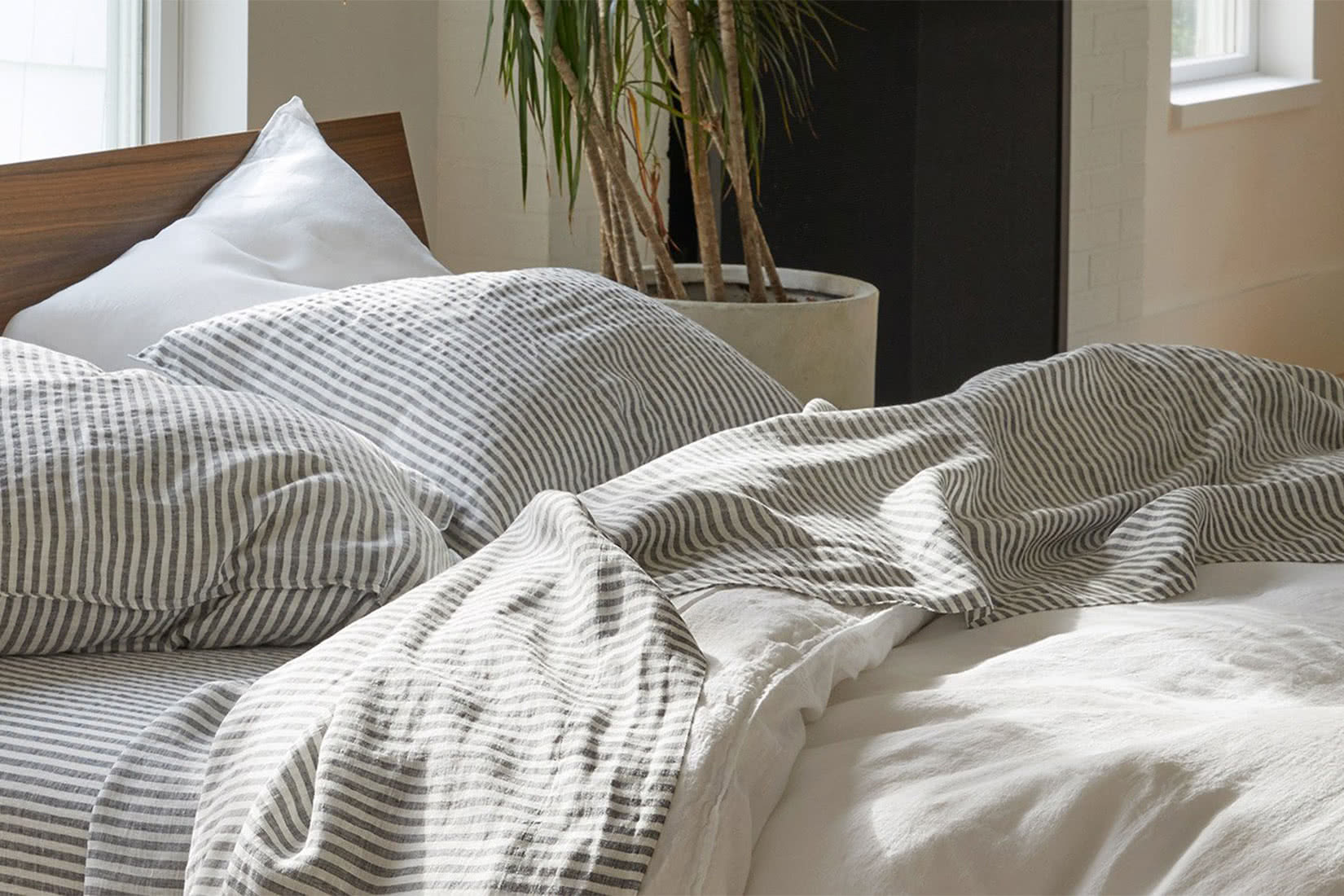 There's hardly a better feeling than waking up, absolutely refreshed, after a night with some high-quality linen sheets—airy, lightweight, and insanely soft.
If that unbeatable hotel-esque luxury laidback feel is what you desire, choosing Brooklinen's Linen Core Sheet Set may be the best decision you make all year.
You've heard of small-batch beer, right? How about small-batch bed sheets? Yep, that's a thing too. Brooklinen uses a small-batch dye process to ensure each set brings forth an air of individuality—no two sets are the same (unless you choose white, of course).
Expertly crafted with 100% Belgian and French flax, the result is truly premium.
Material: 100% Linen, made from European Flax
Thread count: N/A
Deep pocket sheets: No
Sizes: Twin, Twin XL, Full, Queen, King, Cali King
Colors: White, Cream, Charcoal Chambray + More
Piglet In Bed Linen Bundle: Best mix & match sheet set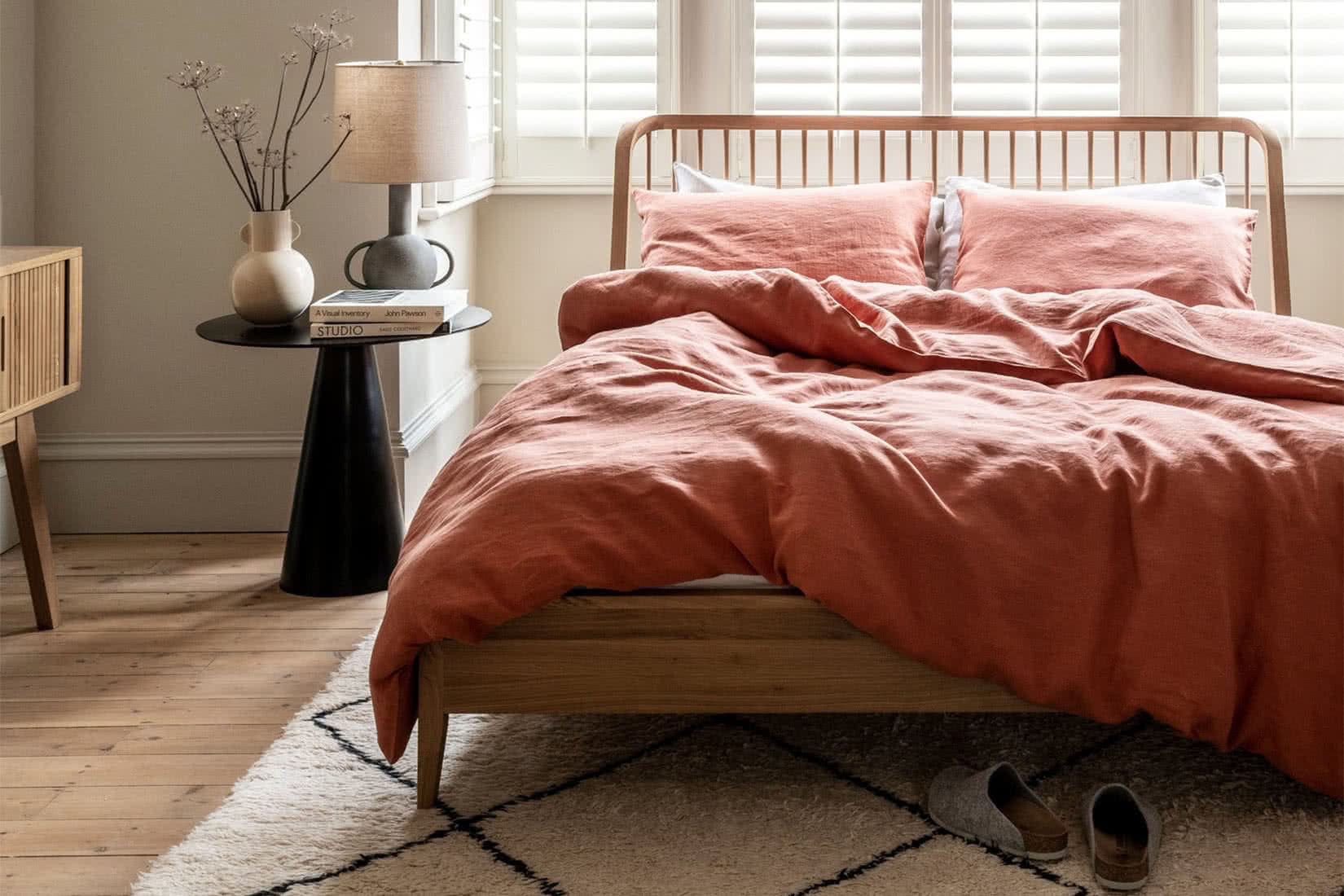 Few things make a boho-chic bedroom more inviting than effortlessly elegant linen bed sheets; except maybe when they come in an unmatched range of colors that you can customize to build your ideal palette.
The Piglet In Bed Linen Bundle gives you everything you need to get started on your linen bedding journey and will convert even the crisp cotton lovers. Made from super soft 100% stonewashed French flax, the sheets feel relaxed and just the right amount of cozy.
The best part: who could fail to love sheets that look best when unironed and gently wrinkled?
Material: 100% linen
Thread count: N/A
Deep pocket sheets: No
Sizes: Twin, Twin XL, Full, Queen, King, Cali King
Colors: Blush, Sage Green, Charcoal Gray + More
Snowe Percale Sheet Set: Best percale sheets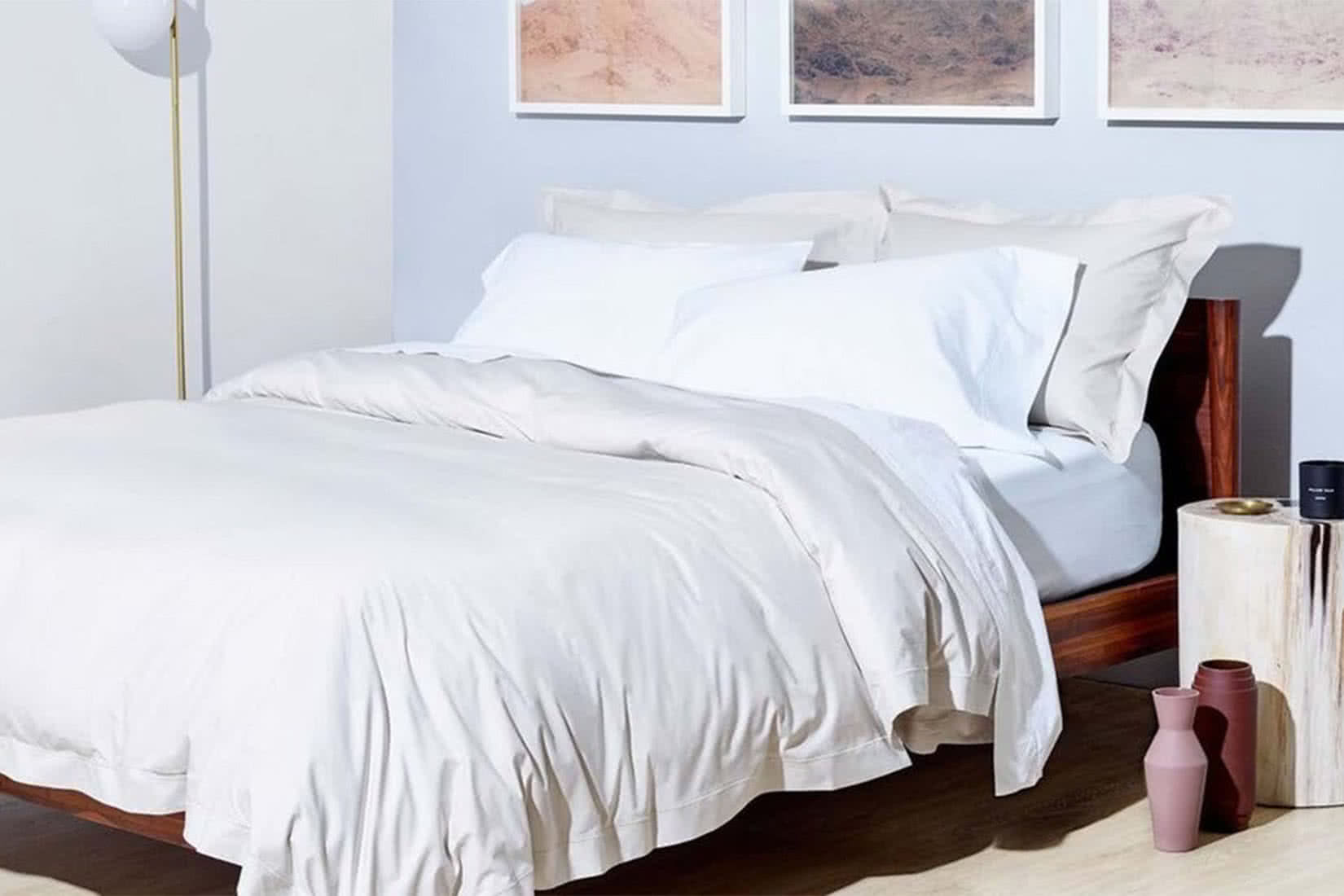 Between the sheets is the place to be when they are these good. Snowe delivers the kind of crisp, yet ultra-soft bed sheets you'd find at a fancy boutique hotel.
Snowe's 500-thread-count sheets are crafted from Italian milled percale; they are breathable, incredibly comfortable, and timelessly elegant. Kind of like your perfect white button-down shirt in sheet form—crisp, clean, and classic.
Material: 100% Long-Staple Cotton Percale 
Thread count: 500
Deep pocket sheets: No
Sizes: Full, Queen, King, Cali King
Colors: White, Blush, Ash Grey, + More
Casper Flannel Set: Best flannel sheets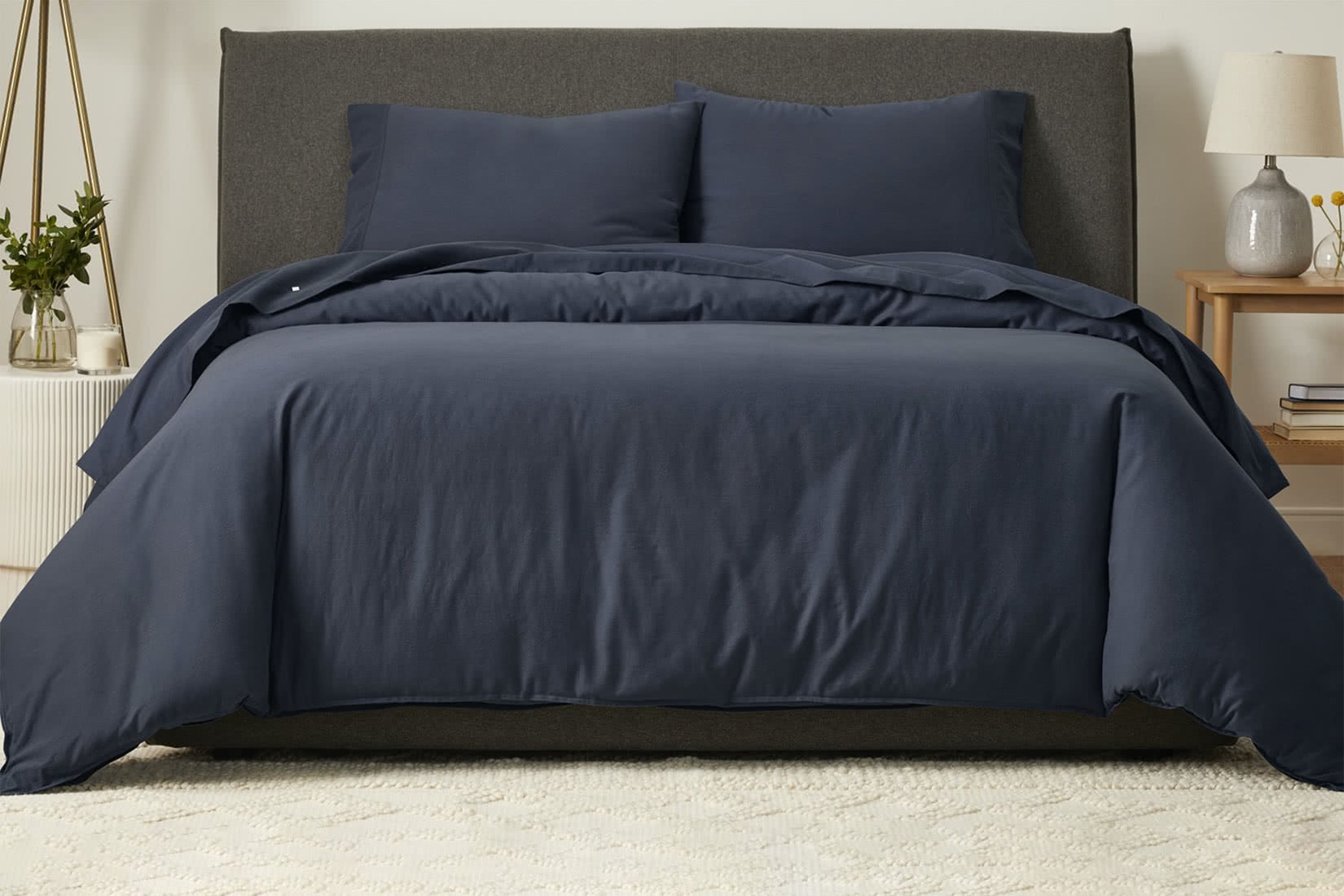 Premium quality doesn't always come with a premium price tag. Promising to 'set a new standard in sleep innovation' Casper's researchers, designers and engineers have spent years developing an exceptional product range.
Made with 100% brushed organic cotton, Casper's Flannel sheets are what dreams are made of (and made in).
Designed with a breathable weave, the cotton flannel adds an extra layer of lightweight warmth without sacrificing that cozy feel.
The set includes a flat and fitted sheet, two pillowcases, and a duvet cover. Available in an array of tasteful colors in muted hues, there's something for everyone.
Material: 100% organic cotton
Thread count: 248
Deep pocket sheets: Yes, mattresses up to 14"
Sizes: Twin, Twin XL, Full, Queen, King, Cali King
Colors: White, Oatmeal, Olive + More
Tempur-Pedic Premium Soft Sheet Set: Best deep pocket sheets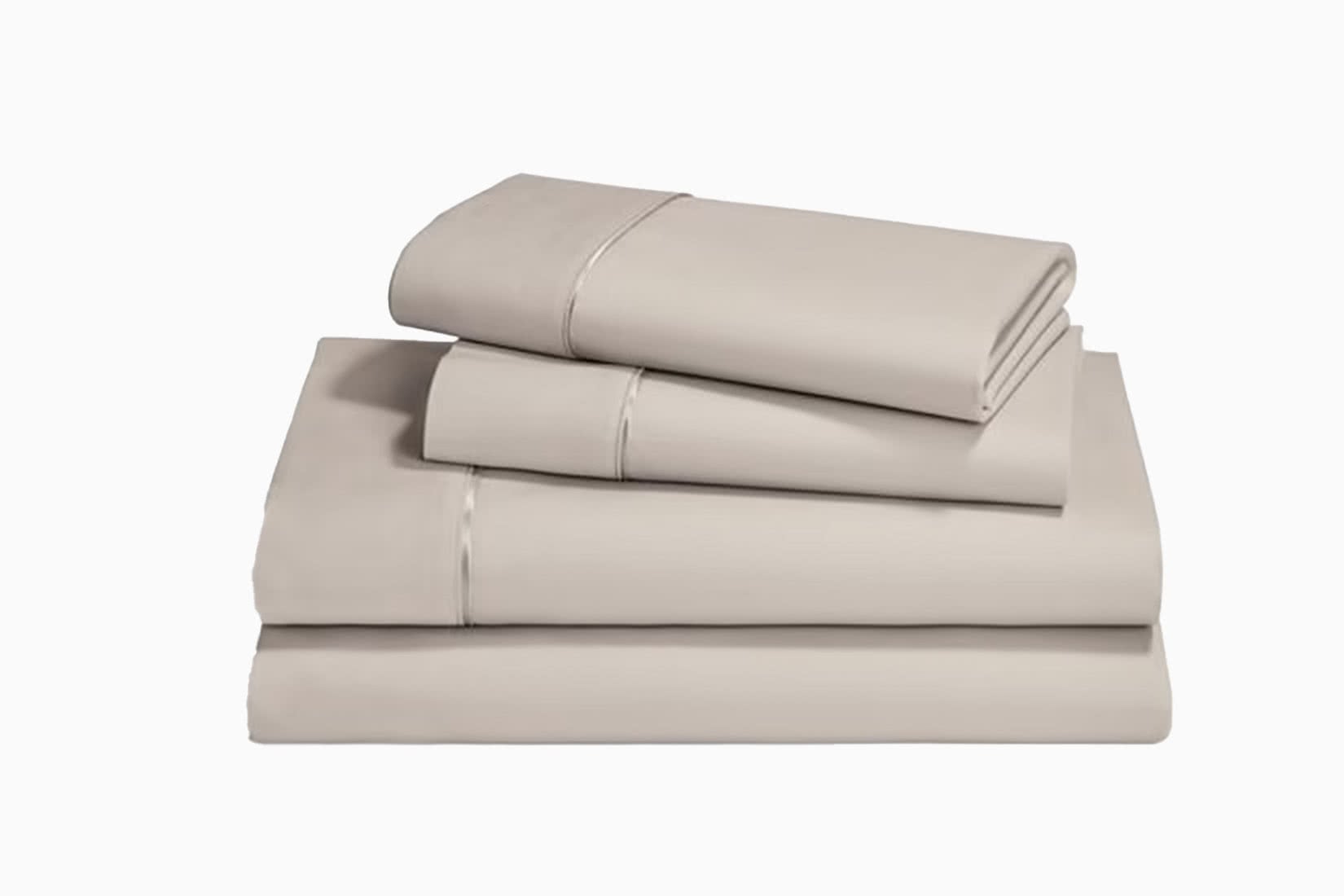 Tempur-Pedic may not have the sexiest sounding name, but we give a big resounding yes to their deep pocket sheets (and luxury mattresses).
Made of a mix of rayon, from bamboo and cotton, this Tempur-Pedic's deep pocket sheets are the perfect chance for a bed do-over that promises utmost comfort year-round.
The fitted sheets feature patented bands for a snug, tailored fit and colored-coded corner straps for easy bed making.
Material: 70% rayon from bamboo/30% cotton blend
Thread count: N/A
Deep pocket sheets: Yes, mattresses up to 16"
Sizes: Twin, Twin Long, Full, Queen, King, Cali King, Split King, Split CA King
Colors: White, Ecru, Sand + More
Ink + Ivy Heathered Cotton Jersey Knit Sheet Set: Best jersey sheets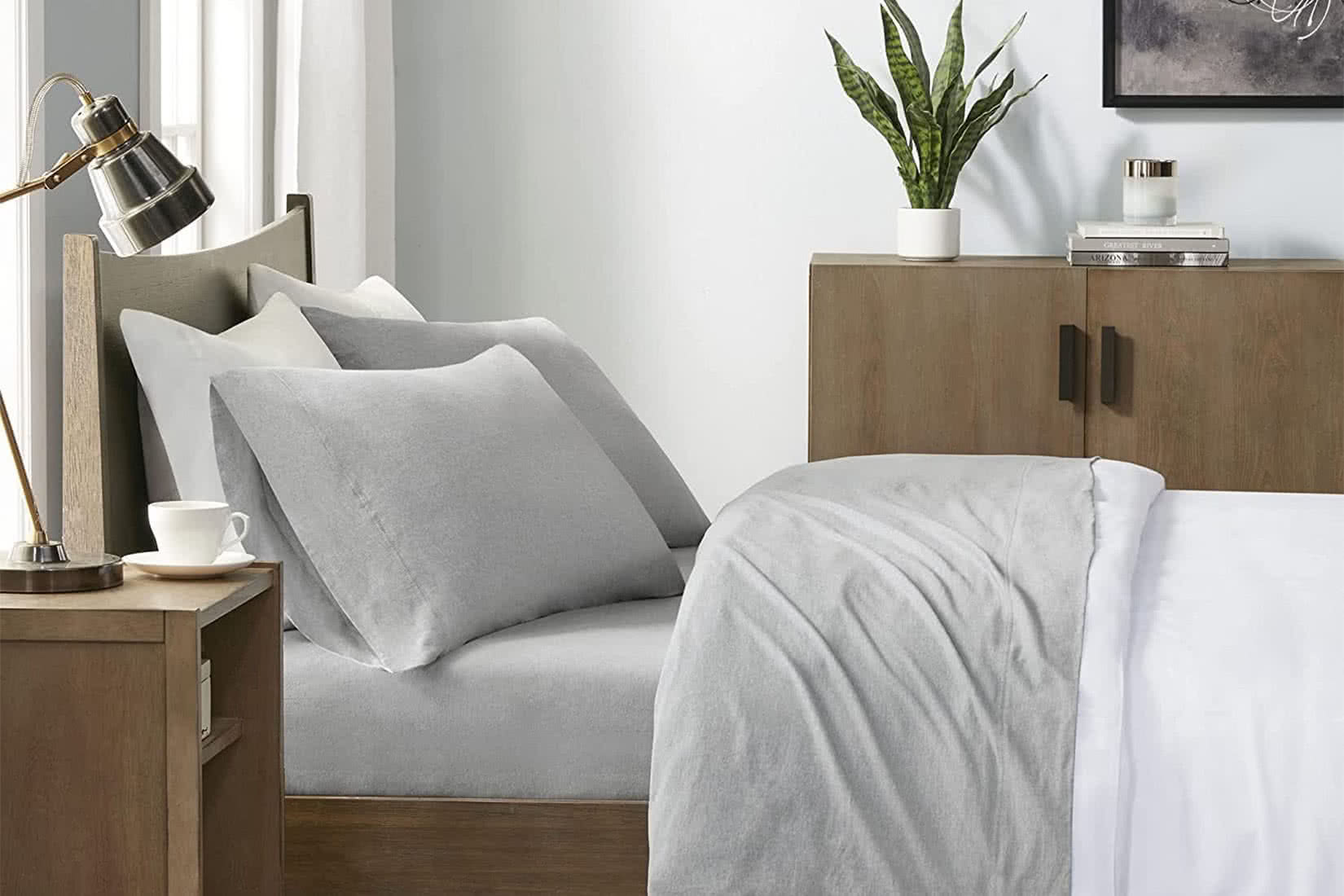 Finally, a serene sleep space that feels like our favorite cotton jersey knit—soft, durable, and oh so comfortable.
Made from 100% cotton and available in dusty, muted shades for a relaxed casual look, Ink + Ivy's jersey sheets are great to use all year long.
Material: 100% Cotton
Thread count: N/A
Deep pocket sheets: Yes, mattresses up to 16"
Sizes: Twin, Twin XL, Queen, King
Colors: Natural, Navy, Grey + More
Luxor Linens Valentino Egyptian Cotton: Best Egyptian cotton sheets
Crisp, white sheets are emblematic of high-end hotels. And who doesn't want that luxury feel at home?
Super-soft, the Valentino Egyptian Cotton bed sheets have a 1,200-thread count. No, that's not a typo. Twelve-hundred.
The weave delivers a super soft and pillowy yet crisp effect. Turns out, you can have it all.
These crispest and whitest of bed sheets are made from the finest 100% Extra-Long Staple Egyptian cotton. Indeed, while that's quite a mouthful of credentials, the result is nothing less than pure elegance.
These deep pocket sheets are the way to go if you've got a deeper than average mattress: the bottom sheet will comfortably fit over mattresses up to 19 inches (48 cm) deep.
Material: 100% Egyptian Cotton
Thread count: 1,200
Deep pocket sheets: Yes, mattresses up to 19"
Sizes: Twin, Twin XL, Full, Queen, King, Cali King
Colors: White, Ivory, Dark Grey + More

LilySilk 19 Momme Seamless Silk Sheet Set: Best silk sheets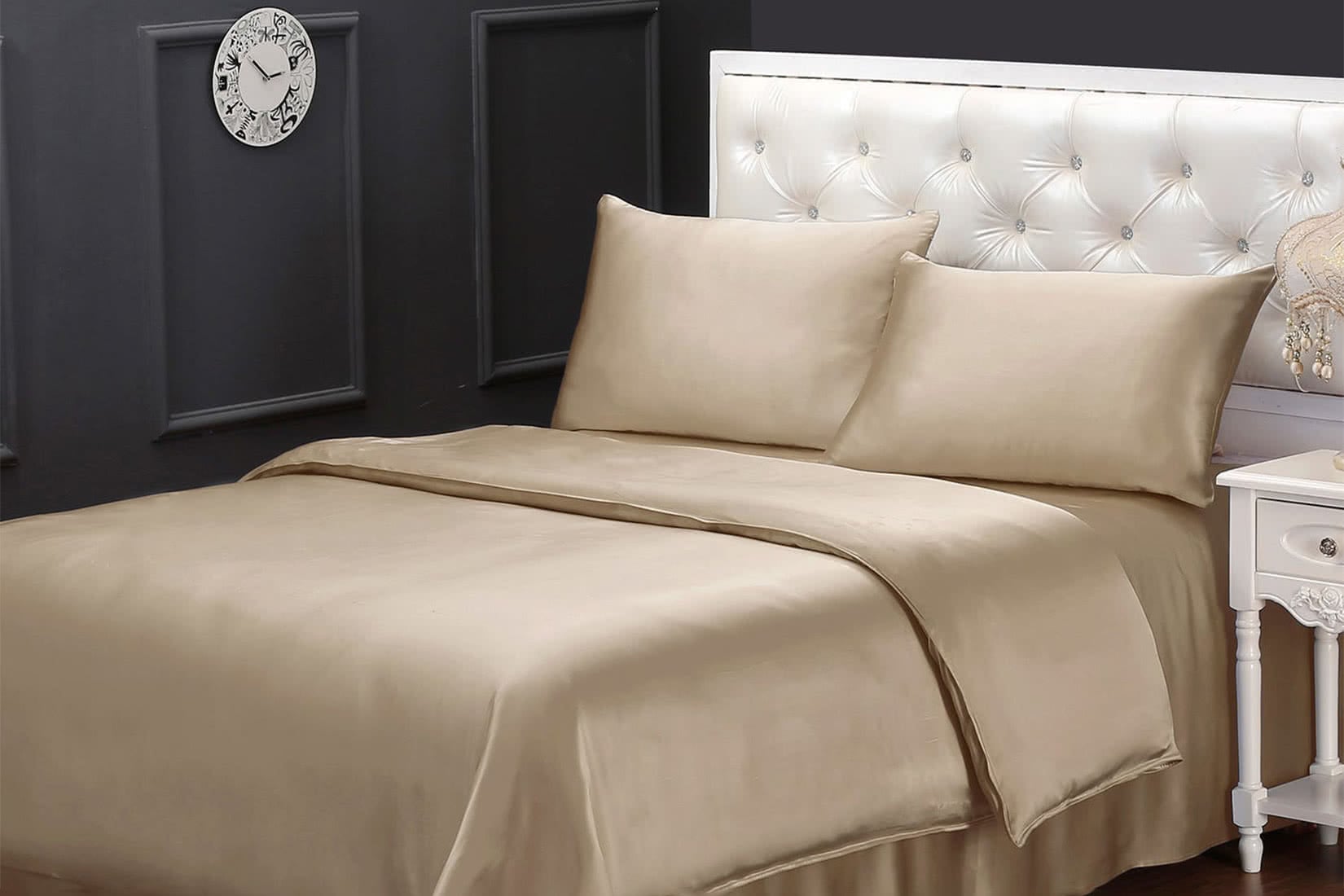 LilySilk's Silk Bed Sheet Set looks like it's been taken right out of Marie Antoinette's Versailles chambre. If you too have palatial taste, these high-quality silk sheets could be precisely what you're looking for.
LilySilk uses raw silk, taken from silk cocoons. It takes 2,500 silk cocoons to produce one single pound of raw silk. Those are some hard-working silkworms, that's for sure.
Much like linen, silk is temperature-regulating, and slow-aging breathable fabric will keep you neither too hot nor too cold, but just right.
Oh, and the sheets are OEKO-TEX standard, so you can trust they're much kinder on your skin.
Material: 100% Grade A mulberry silk
Thread count: N/A
Deep pocket sheets: Yes, mattresses up to 16"
Sizes: Twin, Full, Queen, King, Cali King
Colors: Ivory, Silvergray, Taupe + More
Plushbeds Ultra Soft Bamboo Sheet Set: Best sheets for sensitive skin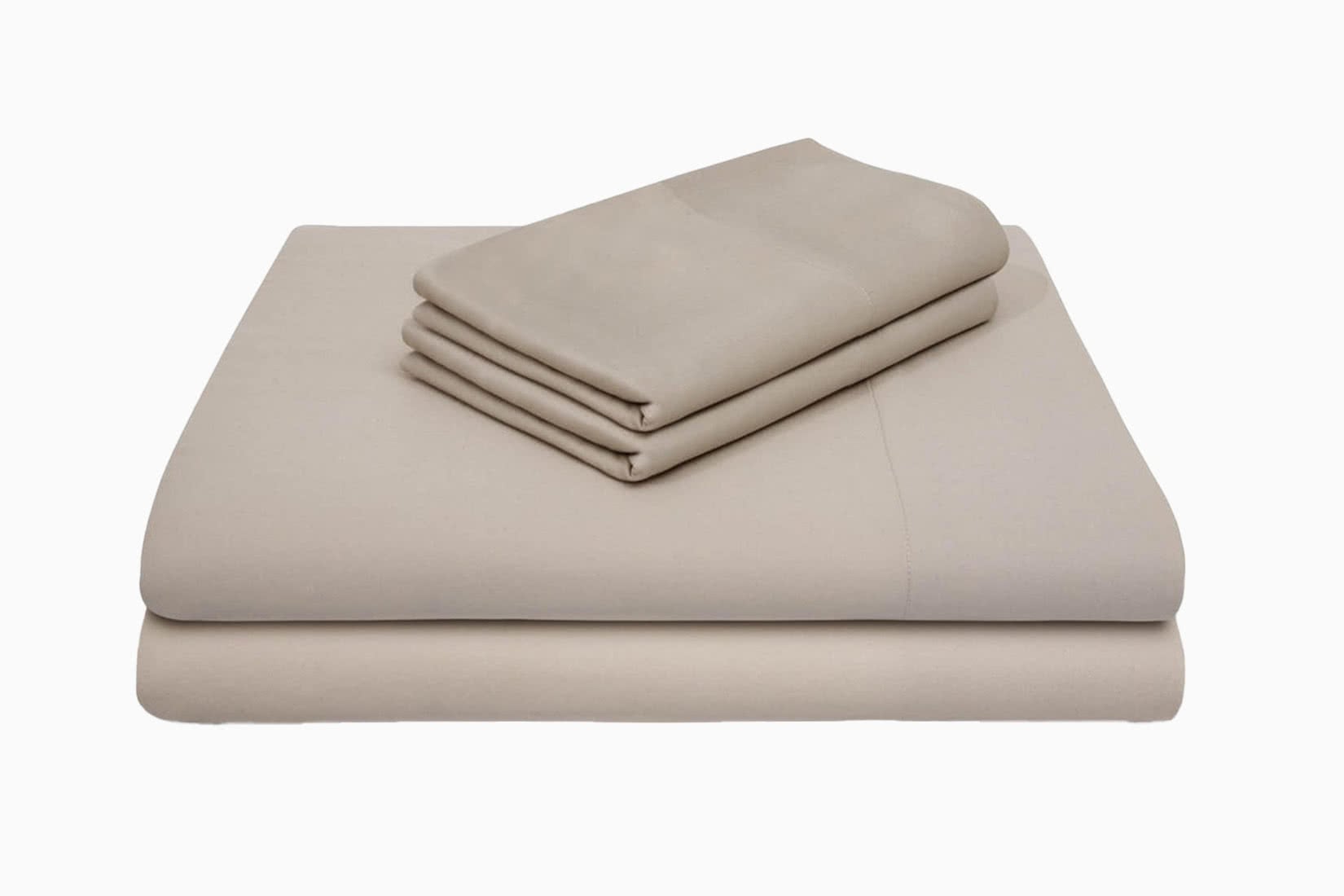 Naturally antibacterial, hypoallergenic, highly sweat-absorbent, and thermo-regulating, bamboo is an unsung hero, no matter whether you sleep hot or sleep cool.
The Bamboo Bed Sheet Set by Plushbeds embodies all these characteristics, which make bamboo so popular for those with the most sensitive skin.
Far from the bamboo plant—which in its raw form doesn't exactly scream 'comfort'—the rayon from bamboo actually produces a silky soft fabric. The fibers are smooth and round, resulting in a naturally smooth 'anti-itch' surface.
Available in deep colors and gentle pastels, the easy-on-the-eye aesthetic reflects the kindness of the fabric nicely.
Material: 100% bamboo rayon
Thread count: N/A
Deep pocket sheets: Yes, mattresses up to 22"
Sizes: Twin, Full, Queen, King, Cali King
Colors: White, Citron, Ash + More
Leesa Sheet Set: Best wrinkle-resistant sheets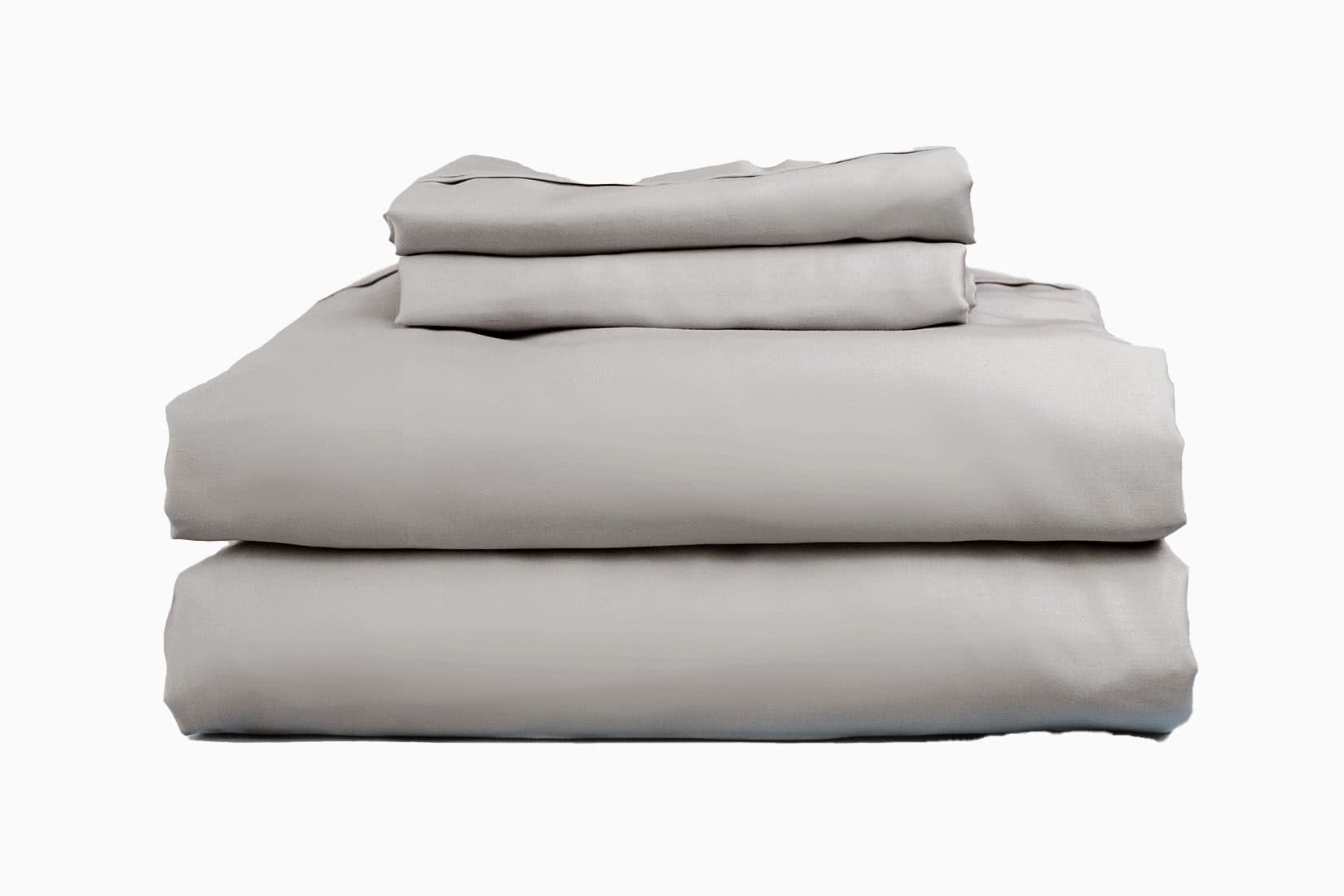 We love the Leesa brand for their hybrid mattresses, and now we can't get enough of their organic sheets.
Made from 100% organic cotton, these 400-thread-count sheets by Leesa are smooth, soft, breathable, and wrinkle-resistant.
Like loungewear for your bed—easy to slip on but tough to want to take off—the sheets will leave you in a relaxed, peaceful state all night (or all day, no judgment here) long.
Did we mention they only get softer with each wash?
Material: 100% GOTS-certified, organic cotton
Thread count: 400
Deep pocket sheets: No
Sizes: Twin, Twin XL, Full, Queen, King, Cali King
Colors: White, Cream, Blue Breeze + More
Nectar Luxury Cotton Bed Sheet: Best cooling sheets for hot sleepers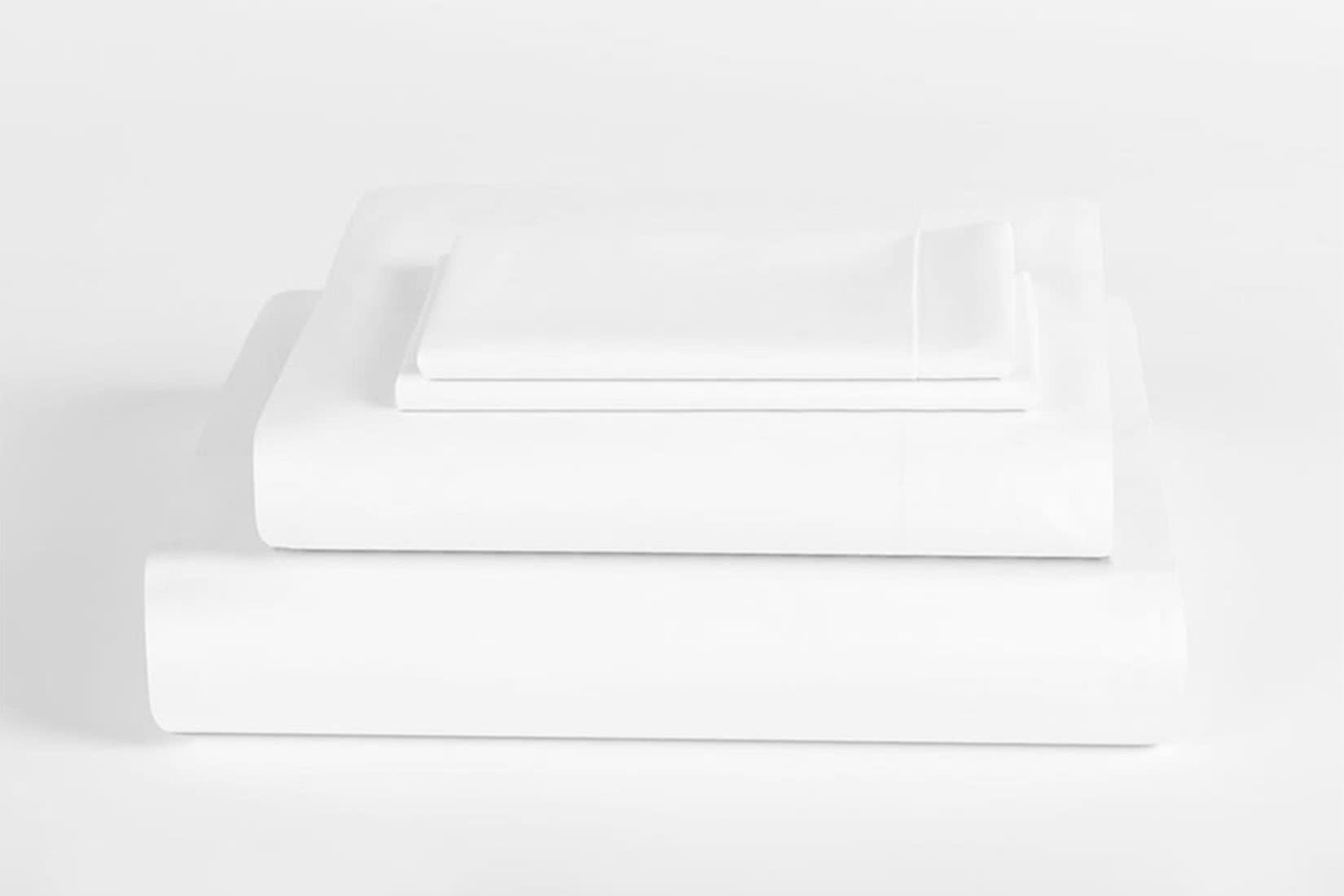 We're all too familiar with the chagrin of summertime slumber: being too warm under our duvets, yet feeling the need to be encased in them regardless (with maybe one leg out—you know).
If you relate, Nectar Sleep's Luxury Cotton Bed Sheets could be the answer:
They feature a diagonal twill weave which is both soft and breathable, keeping you refreshingly cool on those balmy summer nights.
The extra-long staple cotton is designed to become softer with every wash. Much like a fine wine, Nectar Sleep sheets actually get better with age. Cool to the touch, these could be the best bed sheets to see you through the summer months.
Material: 100% Long-Staple Cotton
Thread count: N/A
Deep pocket sheets: Yes, mattresses up to 14"
Sizes: Twin, Twin XL, Full, Queen, King, Cali King
Colors: White
Avocado Deep Pocket Superfine Suvin Sheets: Softest bed sheets (Vegan)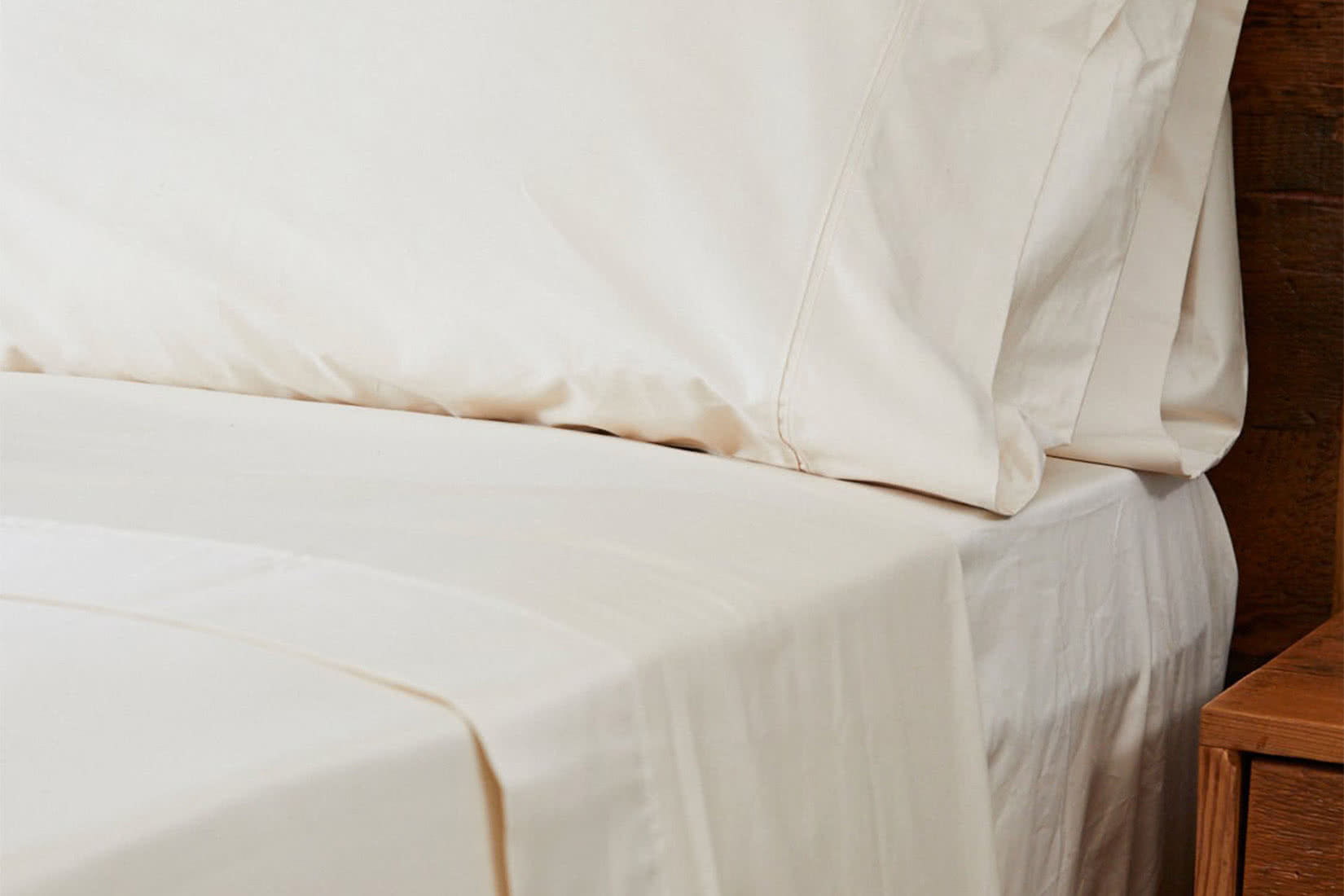 Seeing as we spend (if we can) around 8 hours wrapped in our bed sheets every night, it makes sense to choose organic, as we often do in other areas of our lives.
With environmental standards that push eco-luxury to new heights, these sheets with a sateen pearlescent finish have Mother Nature's seal of approval and definitely ours, too.
Avocado's Deep Pocket Superfine Suvin Sheets are made from GOTS organic certified Indian Suvin Cotton—the longest, finest, and rarest cotton in the world (It is not called 'White Gold' and 'Cashmere of Cotton' for nothing).
Sheets that are stylish, lavishly soft, and sustainable? We are sold.
Material: 100% GOTS organic certified Indian Suvin Cotton
Thread count: 1,000
Deep pocket sheets: Yes, mattresses up to 19"
Sizes: Queen, King, Cali King
Colors: Natural
5 tips to create a luxury hotel feeling in your bedroom
Keep your bed neatly made-up. Even if you're not going to see it all day. One of the most often-quoted 'habits of successful people' is the discipline of making their bed in the morning.
That small effort in your morning could result in big changes in your life! A tidy room is a tidy mind.
For help with those 'hospital corners' try the Bed Scrunchie. This nifty gadget works with all bed sheets, mattress toppers and protectors to keep your bottom sheet in crease-less order.
Exercise minimalism. William Morris famously said "Have nothing in your house that you do not know to be useful, or believe to be beautiful". As one of the founding fathers of modern interior design, his words deserve to be heeded.
A bedroom should be a sanctuary—separate from the hustle and bustle of life and preserved as a place of rest and reflection. Hotel rooms achieve this well, and that is of course part of their appeal. Minimalism even applies to areas you don't see. Give a little TLC to the area under your bed. If it's jam-packed with useless clutter, consider investing in some pretty storage containers to organize all that chaos.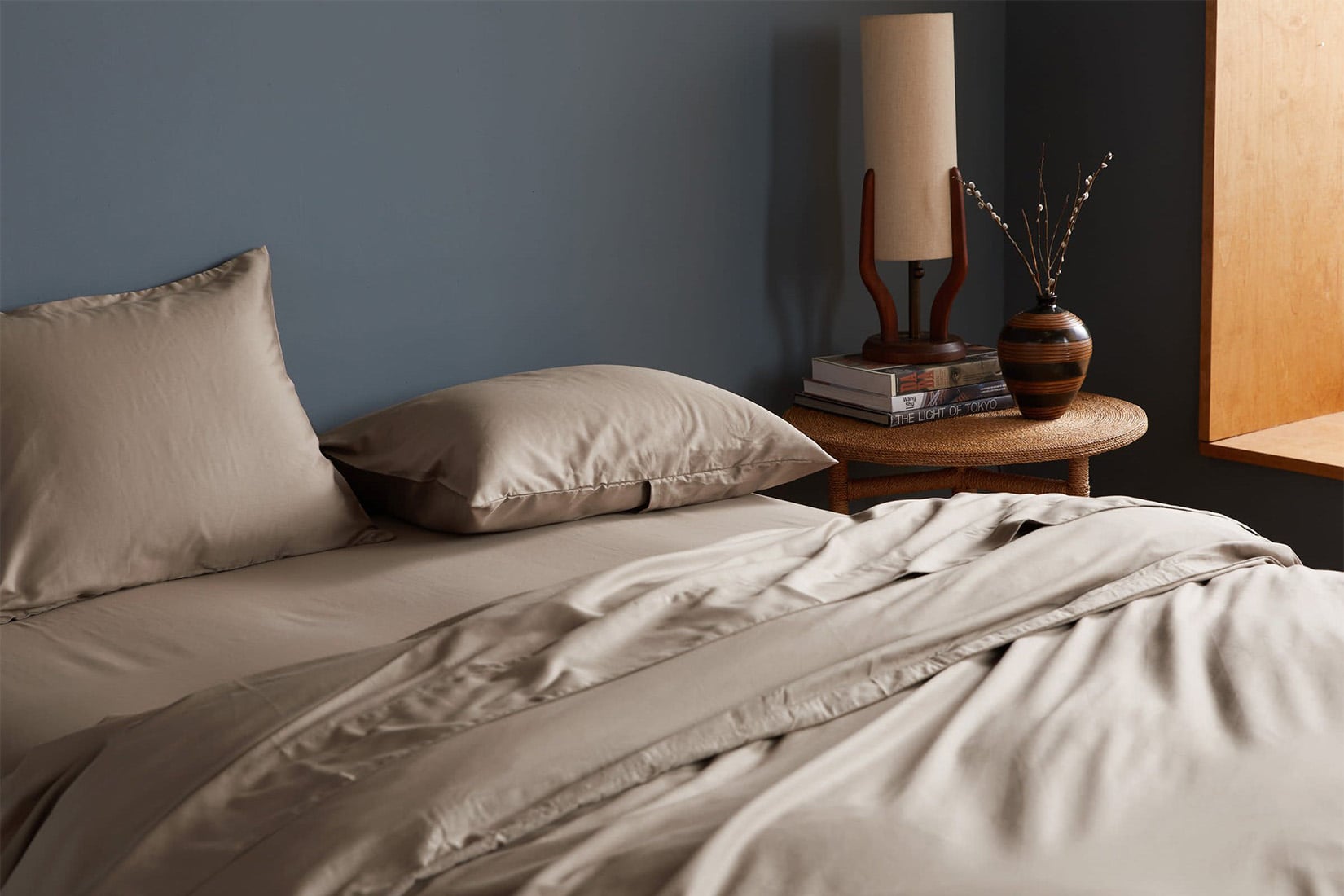 Install light-switches by your bed (and table lamps). Any hotel worth its salt will have these simple features. There is simply nothing worse than:
Reading or relaxing under the glare of a relentlessly bright ceiling light. After said read or relaxing, having to untuck yourself from the duvet cocoon and make the treacherous journey to the main light switch.
These easy installments require minimal effort but produce maximum results. You can thank us later.
Be mindful with your decor. Hotel rooms vary greatly in style and color scheme, and that's fine. Of course, in your own bedroom you're free to decorate as you wish.
However, the recurring theme found in high-end hotels is consistency and elegance—both of which can take very different forms. Just ensure you select a complementary color scheme and choose tasteful pieces of furniture (preferably from the best online furniture stores). The key is making sure all elements work together.
Calming colors are typically recommended when choosing a bedroom color palette. You'll want to amplify the 'personal oasis' atmosphere, and very bright clashing colors are often detrimental to this.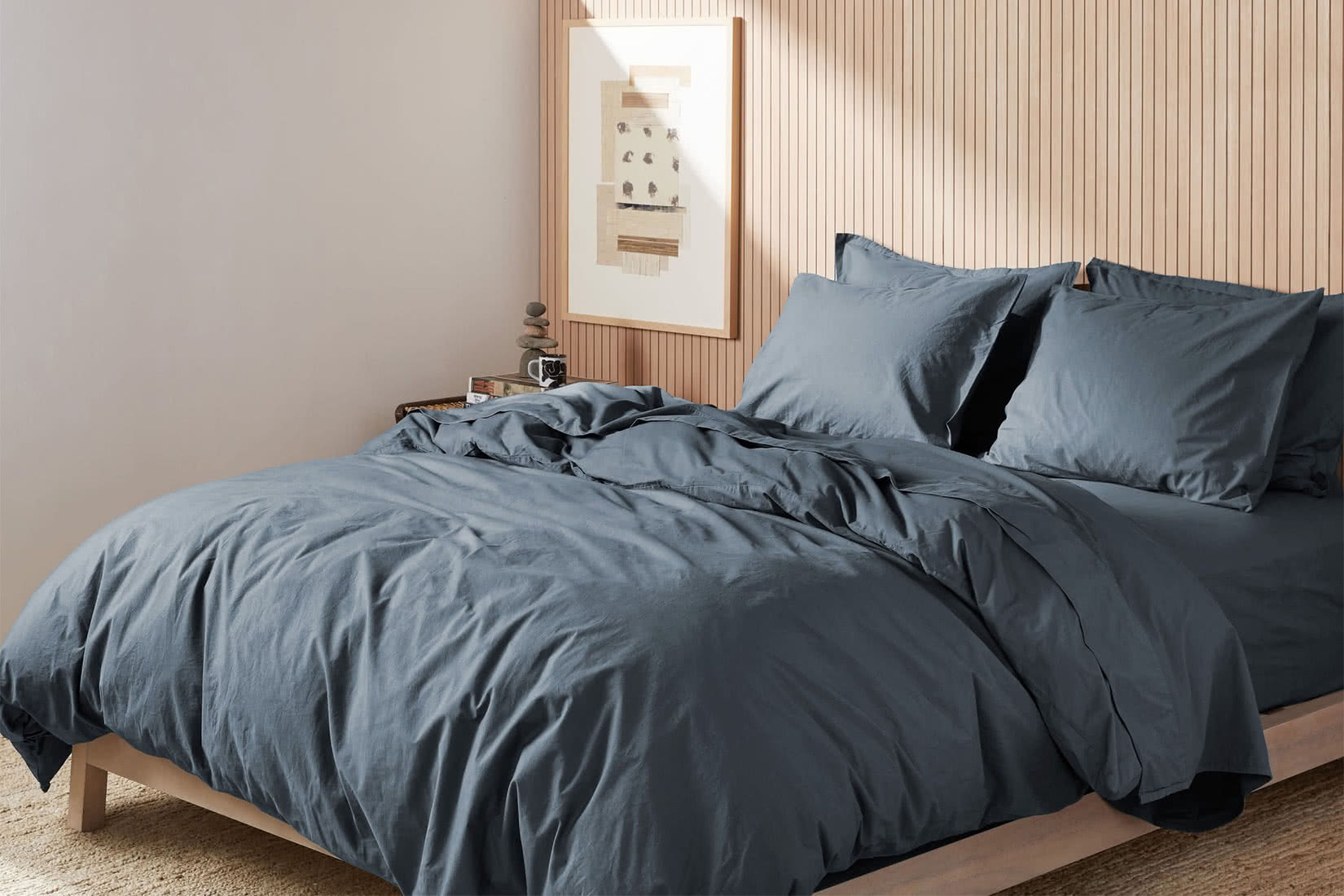 Finishing touches. Okay, maybe not chocolate on pillows (although why not?). But we're talking fluffy towel bathrobes, puffed up pillows, sleep masks, and tasteful features like soft-dimming lighting.
Well-placed mirrors also tend to help rooms to appear bigger, if space isn't on your side. In addition, sophisticated artwork placed thoughtfully on the walls helps to draw the eye and inspire creativity.
These subtle nods borrowed from hoteliers could make a difference in the atmosphere of your bedroom; promoting peace, tranquillity, and mental clarity.
Bed sheets buyers guide: How to choose the best bed sheets for your bedroom
Useful tips on selecting materials
Egyptian cotton: Expect a luxurious finish. The fabric is made from extra-long fibers resulting in a soft and smooth feel. It is recommended that you wash them on cold water, gentle cycle. Remove them from the washing machine as soon as possible to prevent creasing. Dry them on a low setting or on a line; high heat may cause shrinkage.
Percale: Typically lightweight and crisp to touch. Percale cotton is great for year-round usage, as the breathable nature of the fabric helps to regulate temperature.
Ideally to be washed on a warm cycle with a mild detergent. Gentle drying is recommended with percale, too.
Linen: Twice as durable as cotton bedding, linen is a breathable fabric that keeps you warm in winter and cooler in summer. Beyond effortless elegance, linen also possesses a few secret weapons, making it truly irresistible. It maintains a natural pH balance and is anti-allergic, rendering it a must-have for those with problematic skin, and a good choice for children, too.
Sateen: Characterised by a soft, luxurious and silken touch, with a slight subtle sheen. While sateen is technically made from cotton fibers, the specific treatment process renders sateen a superior material. The raw cotton fibers are combed to make them longer, and then an intricate process called mercerisation takes place to 'seal' the fibers. This results in more durable cotton complete with an attractive sheen.
Of course, the individual care guide should be adhered to, however it's usually safe to wash sateen sheets on a normal, hot cycle. Gentle drying is recommended, as is color separating.
Flannel: Tends to be more soft and pliant than other bed sheet fabrics. Flannel retains warmth which makes it great for the winter months.
Washing with hot water can encourage unwanted shrinkage and create pilling. Therefore, a warm cycle with a gentle detergent is preferable. To dry, it's better for the longevity of the sheets if you hang them out to dry on a line, where possible.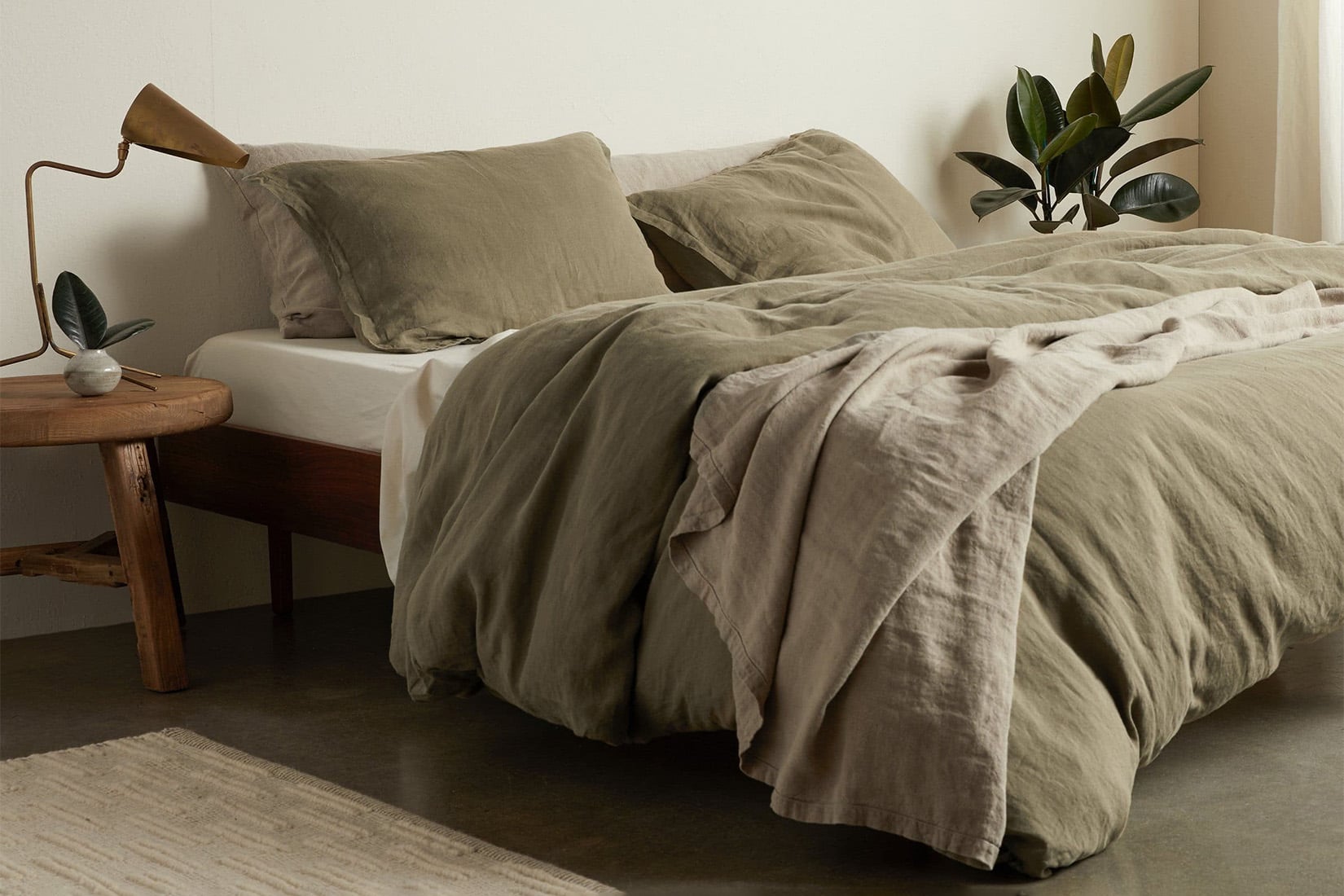 Jersey: Jersey sheets are usually stretchy and lightweight—traditionally made from 100% wool, but now you'll find a lot of jersey is a combination of wool, cotton and polyester.
Good for year-round use, they're usually quite durable. Therefore, a normal warm wash is ideal. No ironing is necessary, and drip dry or a low tumble-dry is preferable.
Silk: Wonderful if you're looking for a grandiose aesthetic and comfort. Silk certainly makes more of a statement than other materials, and executed correctly can truly be the making of a bedroom.
Bamboo: The rayon from the bamboo plant is used to create a soft, gentle fabric. Great for those who suffer from sensitive skin—the fabric is hypoallergenic, antibacterial and temperature-regulating.
Ideally, wash on a cold cycle, or no more than 30 degrees. Again, line-drying is beneficial, or a low tumble-dry if this is not possible.
Thread count
What is the best thread count for bed sheets, you may ask? The general rule is the higher the thread count, the softer the sheets. A good thread count is between 200-800. Higher thread counts are usually better. However, it's important to consider other factors such as type of cotton, ply count, and weave.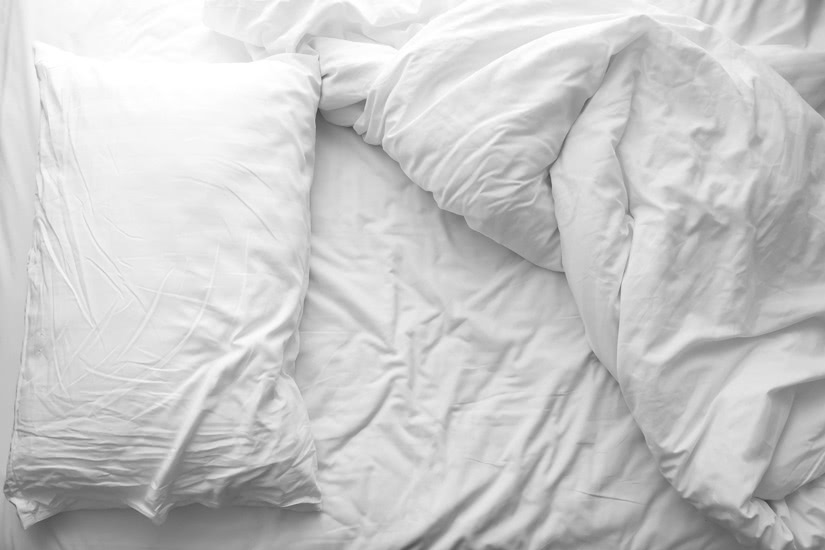 Know your sizes
Navigating bedding sizes can be a bit of a minefield. As is quintessential of American culture, they tend to supersize things… Thus, where a king size bed in the UK is 72 by 78 inches (150 by 200 cm), the US standard for a king size is 76 by 80 inches (193 by 203,5 cm).
The same trend applies to other bed sizes, too:
A UK queen size bed is 60 by 78 inches (120 by 190 cm), whereas a US queen size is 60 by 80 inches (152,5 by 203,5 cm).
With double/full size beds; they tend to be 54 by 75 inches (135,5 by 190,5 cm) both in the UK and across the pond. That's one less cause for confusion, at least!
With twin/singles, in the UK the standard is 36 by 75 inches (90 by 190 cm), and the US is 39 by 75 inches (96,5 by 190,5 cm).
Finally, the Californian king bed: predictably more common in the US, the standard is 72 by 84 inches (183 by 203,5 cm).
Check the specific dimensions of your bed and align them with your prospective sheets to ensure they match up.
Frequently asked questions about bed sheets
What are the most luxurious sheets?
Frette is revered for their supreme quality sheets. They're famed for dressing the beds of royalty and are hugely popular among high-end hoteliers. We also love luxurious sheets from more affordable luxury brands like Brooklinen, Parachute, and Piglet In Bed. Check our list of the best bed sheets for more inspiration.
What are the best bed sheets to buy?
Brands like Brooklinen, Saatva, Avocado, Parachute, Snowe are all strong contenders for the highest quality bed sheets to buy. Check our list of the best sheets for more inspiration; We've carefully selected bedding brands that pay fastidious attention to their materials, methods and practices.
What kind of sheets do 5-star hotels use?
Frette is a global highflyer for supplying high-end bed sheets to 5-star hotels. Not just luxury hotels, though. The brand is proud to state that over 500 European royal families have rested their weary bodies on Frette's elegant, premium bedding.
What kind of bed sheets are the best?
Depending on what you're looking for, our list of the best sheets details the benefits of the most popular bed sheets on the market. Whether you're a restless sleeper looking for cooling summer sheets or you're looking for an authentic luxe hotel finish to your own bedroom, we've got it covered.
What material makes the most comfortable bed sheets?
Linen, Egyptian cotton, Percale cotton, sateen, silk, and bamboo are all lightweight materials ideal for good bed sheets. Flannel is also a great option—while still breathable, it retains heat better making it preferable for winter bedding.