We all love those moments when we can sit and enjoy our morning coffee in peace. However, we're busy people. We live life on the go. Whether you're traveling for work or play, your coffee's going to need to come with you.
The best coffee mugs for traveling have all of the feel-good benefits of the mugs you have at home…with all of the benefits of being able to safely and securely bring them wherever you want. With these travel tumblers and mugs, you'll also enjoy eco-conscious benefits.
Whether you're brewing your coffee at home or toting a reusable cup to your favorite coffee shop, you need to have the best travel mug for your specific lifestyle.
With features like auto locks, triple insulation, and gorgeous, aesthetically-pleasing facades, the world is your oyster when you're looking for the best travel mugs to keep coffee hot (or ice cold!).
We've compiled a definitive ranking of the best travel coffee mugs, so you know precisely what to look for. From chic reusable coffee cups to sturdy stainless steel coffee mugs, you'll find them all right here.
The best travel coffee mugs
Zojirushi: Overall best coffee travel mug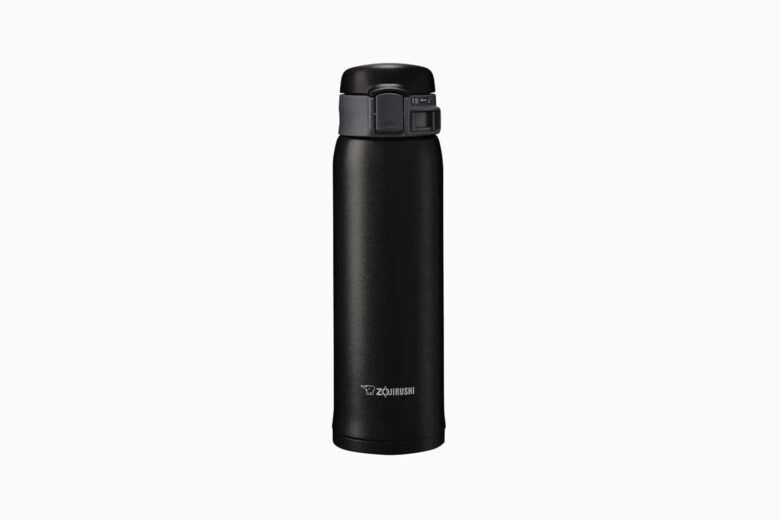 If you're looking for industry-approved insulation, look no further. Zojirushi makes the same coffee urns that are used in coffee shops worldwide – so you know that the brand's personal insulated mugs are going to keep your drinks hot or cool for hours on end. And, just as importantly, these mugs can do it while looking sleek and chic.
A powder-coated exterior, an easy-clean nonstick interior, an ultralight body: Nothing about this mug gets in the way of your everyday coffee experience. It's all there to enhance. The BPA-free plastic lid on this best travel mug to keep coffee hot has a 2-step release process to avoid accidental spills, gushing, or overflowing.
Best of all, the Zojirushi Stainless Steel Vacuum Insulated Mug simply ensures that your coffee will be the precise temperature you want, even hours later.
Best for: Coffee aficionados who like their drinks piping hot or icy-cool — with no in-between.
| | |
| --- | --- |
| Capacity | 0.48 L (16 oz) |
| Material | BPA-free plastic, stainless steel |
| Colors | Matte Blue, Black, Cinnamon Gold |
S'Well: Best high-end thermal mug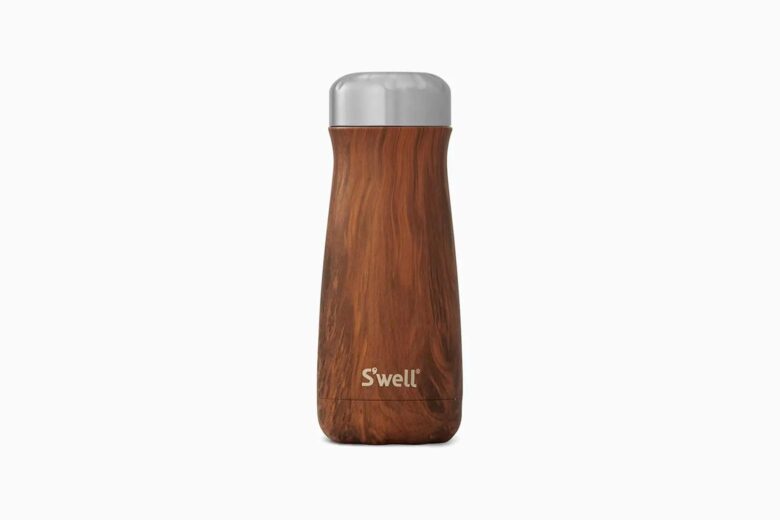 If you're anything like us, your coffee mug is one of your favorite daily accessories. If you're spending a lot of time using it, you might as well enjoy the process, right?
Turn to S'Well for a bottle that works well and looks good doing it. With triple-layered construction that keeps beverages cold for 24 hours (and hot for 12), your drinks will always be just the way you like them. Each Traveler Mug by S'Well has unique patterns, prints, textures, and colors. You're sure to find one to perfectly complement your own personal aesthetic.
The seal on these mugs are impeccable, the opening of the mug is wide enough for ice cubes and comfortable sipping, and they're perfectly sized for most cup holders. They're also far and away the best travel mug for iced coffee.
Ultimately, when you're looking for a gorgeous traveler mug to fit into your lifestyle, the S'Well Traveler is the way to go.
Best for: Drinking perfectly-heated-or-iced coffee on the go—in style.
| | |
| --- | --- |
| Capacity | 0.47 L (16 oz) |
| Material | Food-grade stainless steel |
| Colors | Teakwood, Calacatta Gold, Onyx |
MiiR: Best value stainless steel coffee mug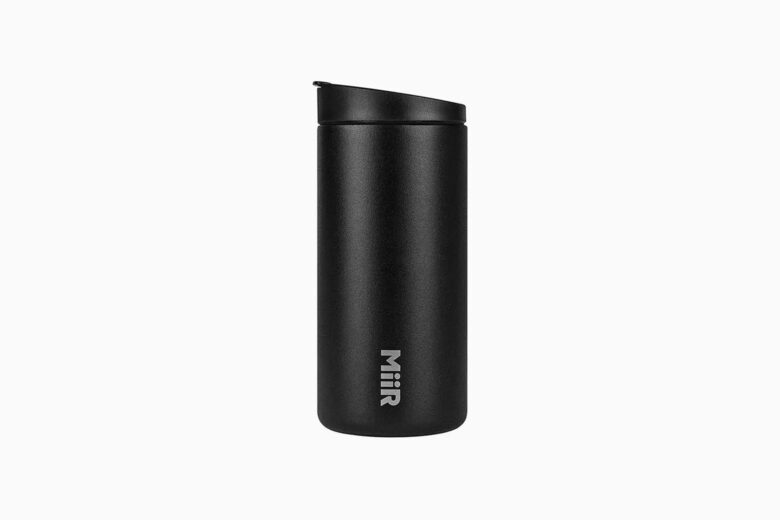 Travel mugs already have the potential to save you a lot of time and money, as you can use them to bring drinks from home instead of stopping at your favorite coffee shop (or stopping for coffee anyway, but having your favorite mug to use instead of a single-use cup). When it comes to value, though, this MiiR Insulated Tumbler really steps up to the task.
This dishwasher-safe, double-wall-insulated mug will give you perfectly-heated (or cooled) beverages without condensation. The hard shell powder coating won't deteriorate over time. It'll always look good and feel good to hold while you're enjoying your morning (or afternoon) coffee.
The lid of the MiiR Insulated Tumbler flips open so you can easily drink your beverage — but locks so you don't have to worry at all about leaks. With three gorgeous color choices and a low price point, it's safe to say that this tumbler is definitely worth it.
Best for: Those who appreciate the reliability of a mug that can truly go the distance.
| | |
| --- | --- |
| Capacity | 0.35L (12 oz) |
| Material | Medical grade stainless steel |
| Colors | Black, Blue, White |
Contigo Transit: Best reusable coffee cup for your car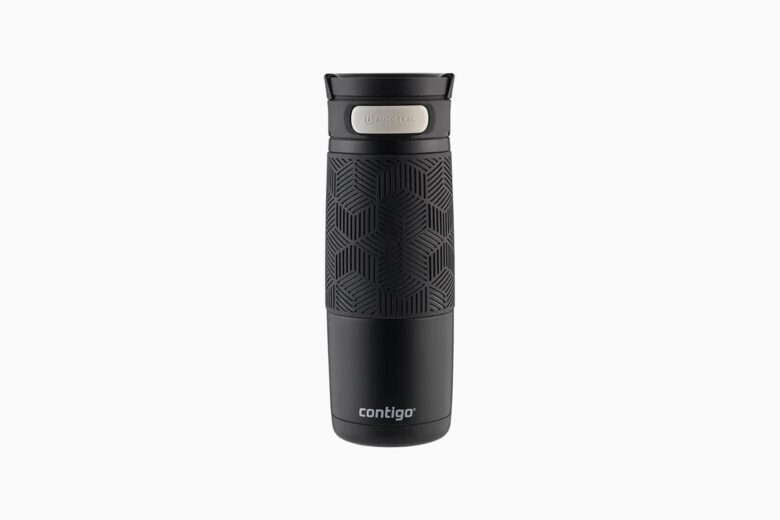 When you're enjoying your morning commute, you need to be alert. This stainless steel mug can provide you the java you need to drive safely and even get your thoughts in order before you park at work, ready to start your day.
This coffee mug does its job as well as you do: it's sized to fit in most standard car cup holders, it keeps your beverage at the temperature you want it, and it won't leak or spill if it suddenly tips over, should you need to brake quickly.
Its non-slip grip sleeve makes it easy to sip your coffee with one hand, and it's got the same non-slip material on its base. This coffee mug won't be going anywhere unless you want it to!
For a frustration-free car coffee experience, the Contigo Stainless Steel Mug is the right pick.
Best for: A tried-and-true co-pilot for your next road trip.
| | |
| --- | --- |
| Capacity | 0.47 L (16 oz) |
| Material | Stainless steel |
| Colors | Matte Black, Teal, Navy |
Trudeau: Best insulated coffee mug for work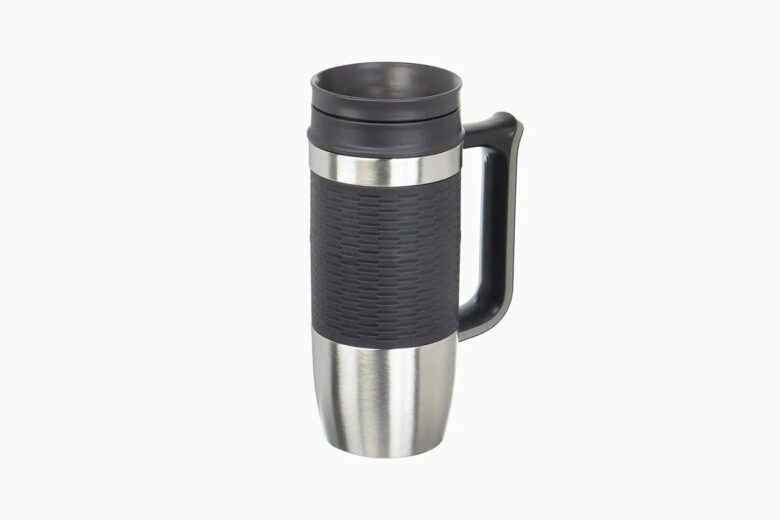 When you're enjoying your coffee in-office, you need a professional-looking travel coffee mug that's up to keeping you alert through meetings, deadlines, conferences, and more.
The leak-proof lid of this coffee mug swivels and even pops off so you can have a regular mug drinking experience — without the risk of getting coffee stains all over your tech and your documents. The durable, hand-washable faux-leather accents are a nice touch, as well.
What's more, the no-frills, industrial vibe of the Trudeau Board Room Mug can literally tell others (and remind yourself) that you mean business.
Best for: A veritable savior for your morning commute (even if that's just from the kitchen to your living room!
| | |
| --- | --- |
| Capacity | 0.47 L (16 oz) |
| Material | Stainless steel |
| Colors | Black |
bubba: Best coffee travel mug with straw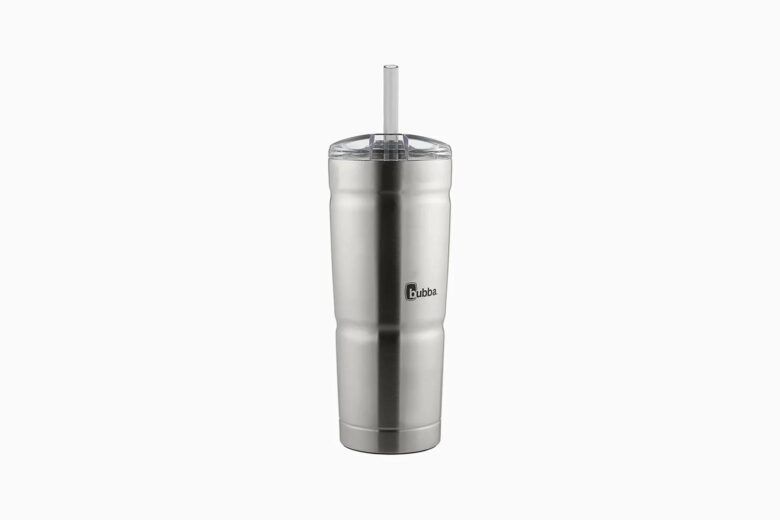 The thing about travel coffee mugs is that they almost universally come in sip-friendly models. One of life's great joys, however, is enjoying an iced coffee through a straw. If you're missing out on that experience when you use reusable travel mugs, don't worry.
Enter: The bubba insulated coffee mug. Its easy-clean lid can be used with or without an included plastic straw, which is dishwasher-safe — so you can clean it easily, as well.
With a sleek double-walled body that fits in most cupholders and a sweat-free exterior formulation, this bubba Vacuum-Insulated Mug will be pleasant to use for years to come. (Since it comes with a lifetime guarantee, you'll be able to use it for that long, too.)
Best for: Those who enjoy sipping through a straw, but want a sustainable way to do so.
| | |
| --- | --- |
| Capacity | 0.7 L (24 oz) |
| Material | BPA-free plastic |
| Colors | Smoke, teal, watermelon |
YETI: Best coffee mug with handle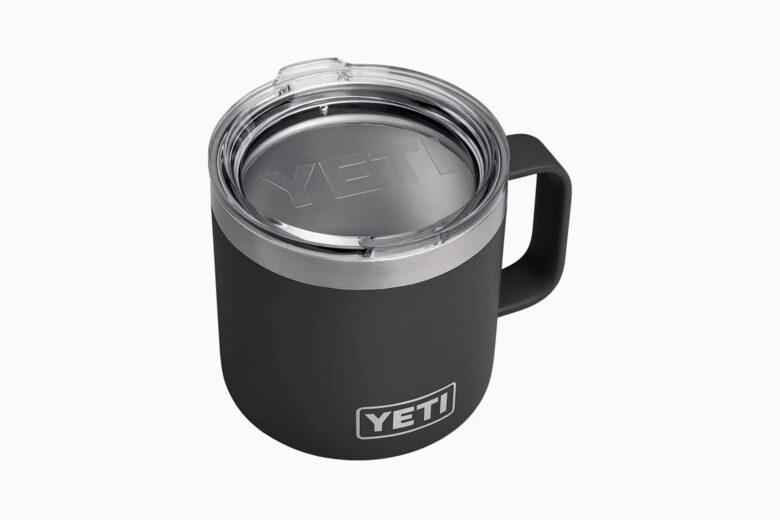 Many coffee travel mugs don't actually look like mugs, when you think about it. For the very thing which defines a mug — an eminently grippable, practical handle to make drinking your coffee kinesthetically pleasing — is often absent from sleek, modern travel cups.
This YETI Rambler Mug is here to change that.
With an impeccably-engineered shape, feel, and insulation system, this travel mug has a low, wide body and a large handle for easy grabbing and pleasant sipping. Even if you're wearing gloves, this mug will easily fit around your mitts!
The no-sweat dura coat cover ensures that the color of your choice will remain bright and cheery forever. You'll see no peeling, fading, or scratching with the YETI Rambler. Its ability to keep drinks hot or cold all day long is just as hard-working as its frame: Until the last sip, your beverages will be precisely as you need them, every single time.
Best for: A travel tumbler that can handle literally anything before you.
| | |
| --- | --- |
| Capacity | 0.41 L (13.92 oz) |
| Material | Aluminium |
| Colors | Black, white, silver |
Contigo Autoseal: Best stainless steel travel tumbler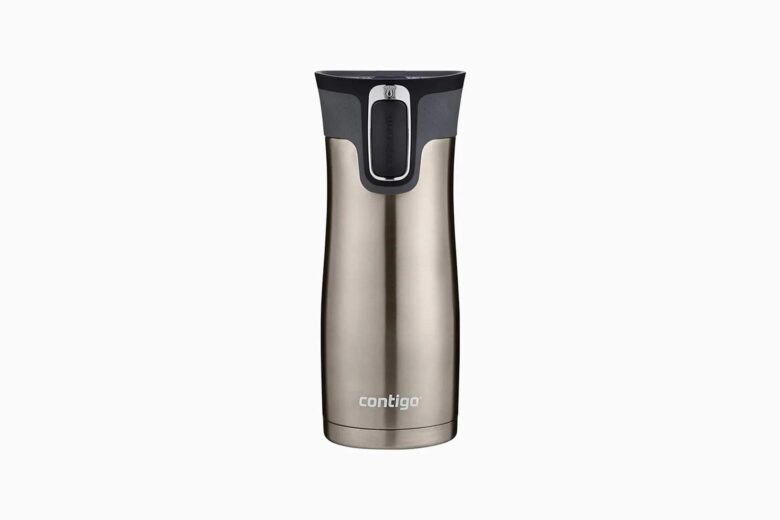 Raise your hand if you've ever accidentally knocked your travel mug over to your great chagrin. (Our hands are raised.) This can ruin your day before it even begins. Finding a travel mug that would never, ever do that would be a game-changer.
Introducing: the Contigo Autoseal Travel Mug.
With Contigo's Autoseal technology, you can be sure that will never happen. (You can also simply toss this travel mug into your bag and be perfectly confident your belongings are safe. It's that good at what it does.)
Just the push of a button and you can enjoy one-handed drinking of perfectly-heated (or cooled) drinks. The lid opens completely so you can clean it thoroughly — and locks, so you don't have to worry about a thing.
Absolute peace of mind in a travel coffee mug. That's what we like to see.
Best for: Those who seek reliability and safety with their coffee mug. No leaks, here.
| | |
| --- | --- |
| Capacity | 0.60 L (20 oz) |
| Material | Stainless steel, BPA-free plastic |
| Colors | Teal, black, marble |
Swig: Most trendy travel coffee mug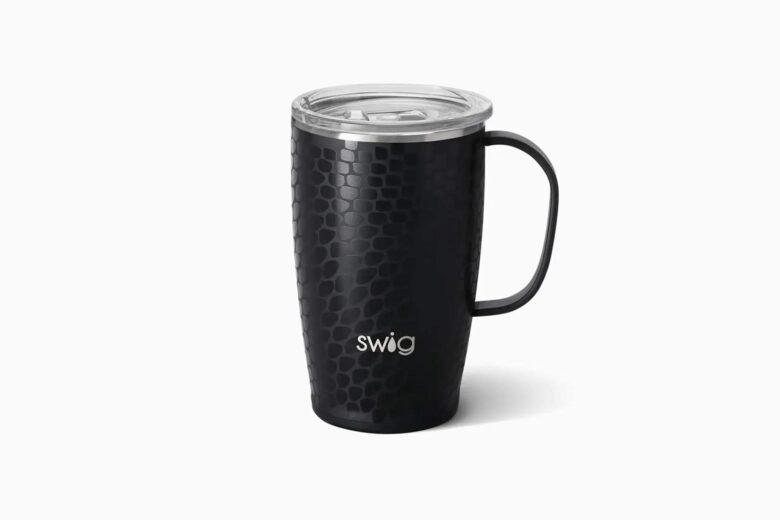 When you're using your coffee mug, you're walking out and about. You're at work. You're strolling through your office. You want that mug to be reflective of who you are…and your personal style.
And, sometimes, you might just want to have a little fun with your accessories. That's where the Swig Triple Insulated Mug comes in. With countless gorgeous, fun, and trendy designs, this handled mug is one you'll want to reach for in the morning.
A silicone base keeps this mug completely scratch-free, slip-free, and noise-free. It looks good, and keeps your coffee hot for up to nine hours. When it comes to a coffee mug, what more could you want?
Best for: A gorgeous coffee truly worth of your #ButFirstCoffee 'grams.
| | |
| --- | --- |
| Capacity | 0.53 L (18 oz) |
| Material | BPA-free tritan, professional-grade stainless steel, silicone |
| Colors | Dragon glass, matte white, matte hot pink |
Mora Ceramics: Best ceramic travel mug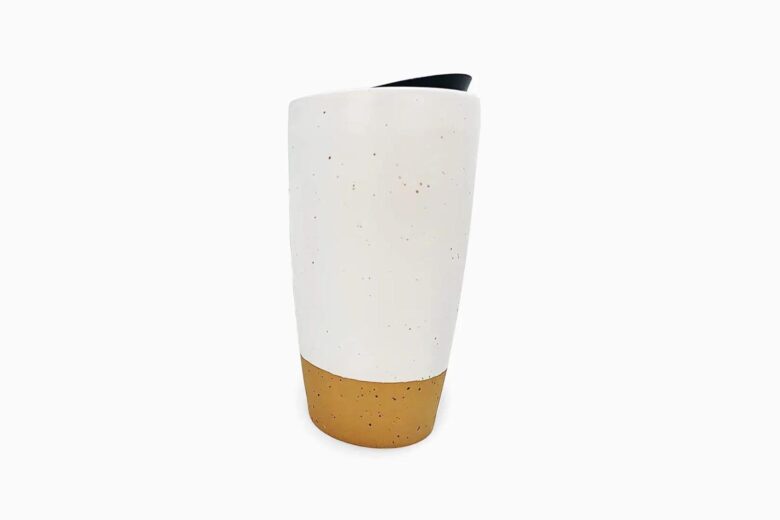 If you'd rather steer clear of a mug with an industrial, workaday feel, perhaps it's time to hit pause.
Named for the Latin word meaning 'pause', this ceramic mug by Mora Ceramics is a constant reminder to slow down, take stock, and rest as you go throughout your day.
With an organic, natural feel, the glazed ceramic of this mug is something you'll enjoy cupping in your hands as you begin your day. However, this mug isn't all about looks. It incorporates a splash-resistant lid, a double-walled ceramic body with paladin clay, and a base that will slip smoothly into any standard cup holder.
Instead of rushing through your day, take a moment to pause. With the Mora Ceramics Travel Mug, invite calm into your productivity. Your future self will thank you.
Best for: Moments of caffeinated chill among the chaos of busy days.
| | |
| --- | --- |
| Capacity | 0.41 L (14 oz) |
| Material | Ceramic, silicone |
| Colors | Cotton white, dusty blue, overcast grey |
JOCO: Best glass coffee travel mug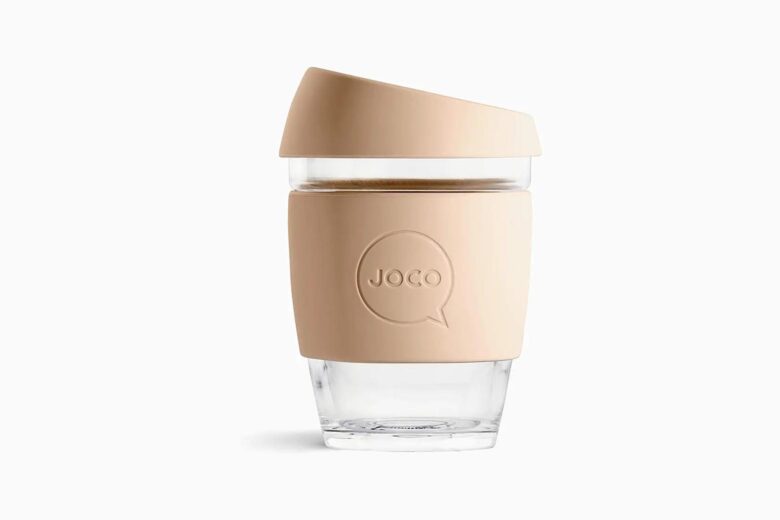 An artisan glass travel coffee mug. Does such a thing exist?
As it turns out — yes. The artists behind the JOCO Glass Travel Tumbler precisely formulate these mugs with wide-mouth, comfort-sip designs, steady flow function, and gorgeous clarity. If you want to drink your beverage instead of wearing it, you'll enjoy the anti-splash ergonomic experience of the lid.
JOCO has made sure that nose-to-lid collisions are minimal with the intuitive shape of the lid; the thermal silicone sleeve keeps your drink hot and the mug touchable; and — as this mug is 100% plastic-free — it is odor-resistant, oven- and microwave-safe, and very easy to clean.
If you're looking to eliminate plastic from your life and you like the thought of incorporating a beautiful work of art into your coffee experience, the JOCO Glass Travel Tumbler is the one for you.
Best for: The fans of coffee in a glass who enjoy one-of-a-kind artisan pieces.
| | |
| --- | --- |
| Capacity | 0.35 L (12 oz) |
| Material | Glass, silicone |
| Colors | Blue, black, army green |
Thermos: Best tumbler for coffee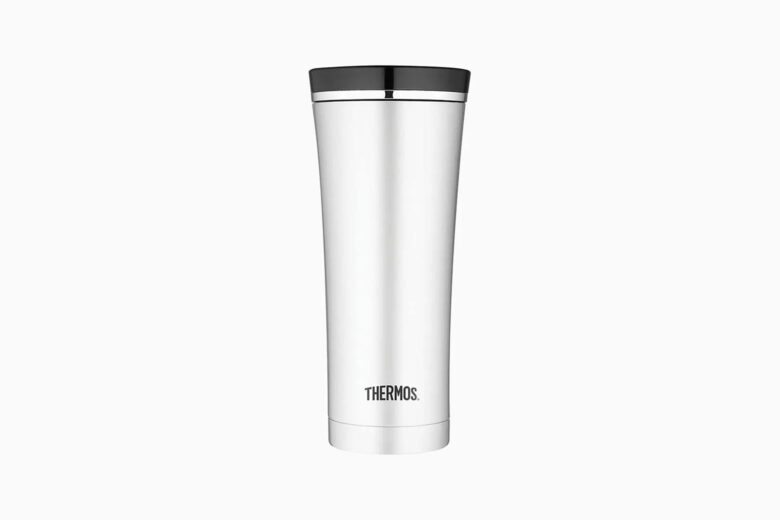 A sleek, fluted style. Unique functional features. And a company name that has literally come to define travel coffee mugs.
Thermos' Sipp line has been completely re-engineered and redesigned to give you maximum temperature retention. With vacuum insulation and a durable stainless-steel interior and exterior, this thermos is made to be at your side to endure whatever life throws at you.
Thoughtfully crafted with a one-hand push-button drinking operation, a built-in tea hook for tea bags or infusers, and a minimalist, streamlined body that can easily be cleaned in the dishwasher: The Thermos Travel Tumbler brings sophistication to the table encased in a slim, smooth profile.
Best for: Anyone who prefers the simple classiness of pure functionality.
| | |
| --- | --- |
| Capacity | 0.47 L (16 oz) |
| Material | Stainless-steel, BPA-free tritan |
| Colors | Matte white, rose gold, silver |
Juro: Best budget travel coffee mug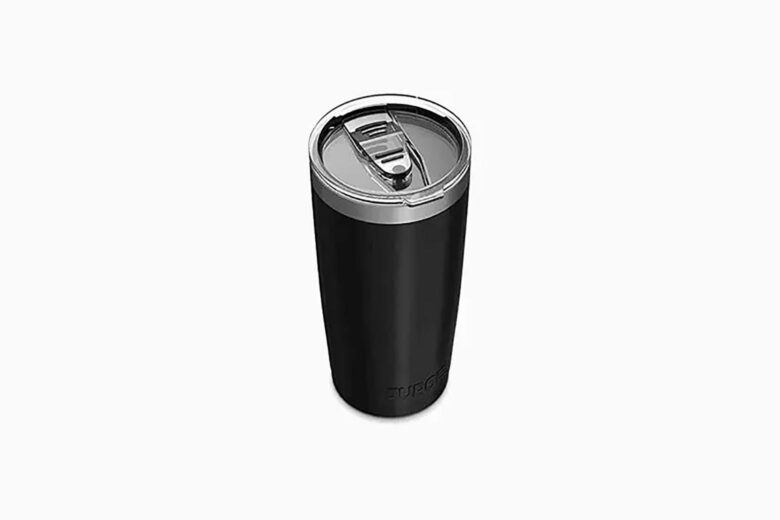 BPA-free, large-capacity, a matte black facade that blends in with any outfit or environment: This travel coffee mug is everything you need out of a basic coffee mug…and it's available for an extremely economical price.
The Juro Stainless Steel Tumbler keeps cooler drinks cold for a full day, and hot drinks piping hot for six hours. The unique feature of this mug is its lid. When you're enjoying your coffee, all you need to do is slide the moving part of the lid back and forth. There are no rotating parts to break or line up. There's a tight clip seal on the lid when you need it to stay put.
Zero worries, reliable insulation, and a lightweight design that holds a lot of coffee. That's pretty much the dream! This insulated travel coffee mug also comes with a lifetime warranty. All in all, the Juro Stainless Steel Tumbler offers incredible value for a bargain price.
Best for: Those who'd rather keep their coffee and their pocketbook safe from spills.
| | |
| --- | --- |
| Capacity | 0.60 L (20 oz) |
| Material | Stainless steel and BPA-free plastic |
| Colors | Matte black |
Buyers guide: Finding the best travel coffee mug for your life
Your life, your daily rituals, the specific needs you have as you move throughout your day: They're all as delightfully unique as you are. Therefore, the coffee mug that you use to help bring you comfort and energy needs to be special, too. Luckily, there are many different types of mugs, features, and accessories that you can choose from.
We're here to help make yours an informed choice with this helpful guide. When you're looking for your ideal travel coffee mug, keep the following features in mind.
The insulation: One of the primary reasons you purchase a travel coffee mug is to keep your drink at an optimal temperature. Make sure that your coffee mug can handle both warm and cool beverages, and that it has enough insulation to keep your drink hot — and your hands safe.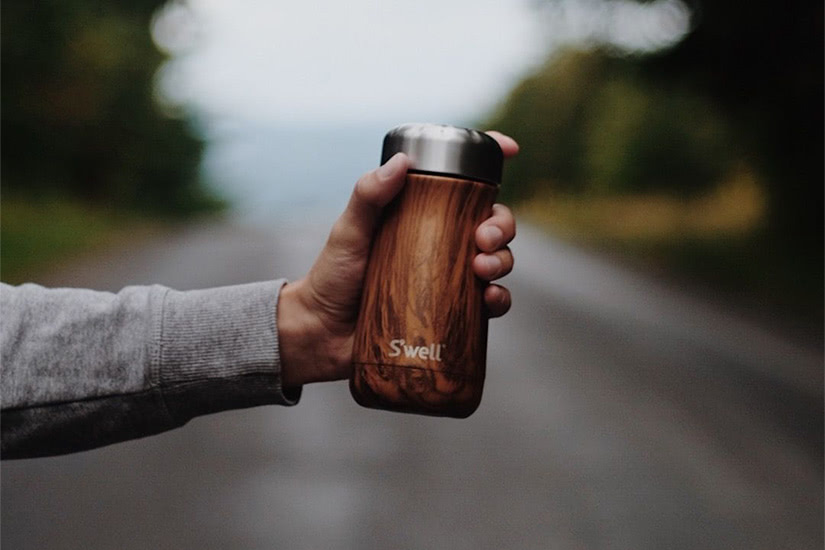 The lid: Your travel coffee mug can't spill — that's a must. When you're considering your purchase, keep the anti-spilling tech in mind. Some coffee mugs have locking features on their lids. Others might slide open with the twist of your hand.
The washability: You'll be drinking from your mug daily, so you'll need a way to make sure that your cup is freshly clean and safe quite often. If you prefer using a dishwasher, check to make sure that your travel mug is dishwasher safe. If not, just examine it to see if it's easy-clean or if you'll need to purchase a special bottle brush to sanitise it.
Sip vs. straw: Think about the way that you like to enjoy your coffee. Would you rather a sipping lid, or would you prefer at least the option of a straw? Remember, you can use your travel coffee mug for hot or cold beverages — and sipping iced coffee through a straw can be simply divine. However, if that's not a feature you would use, a straw could be just another thing that you have to regularly clean.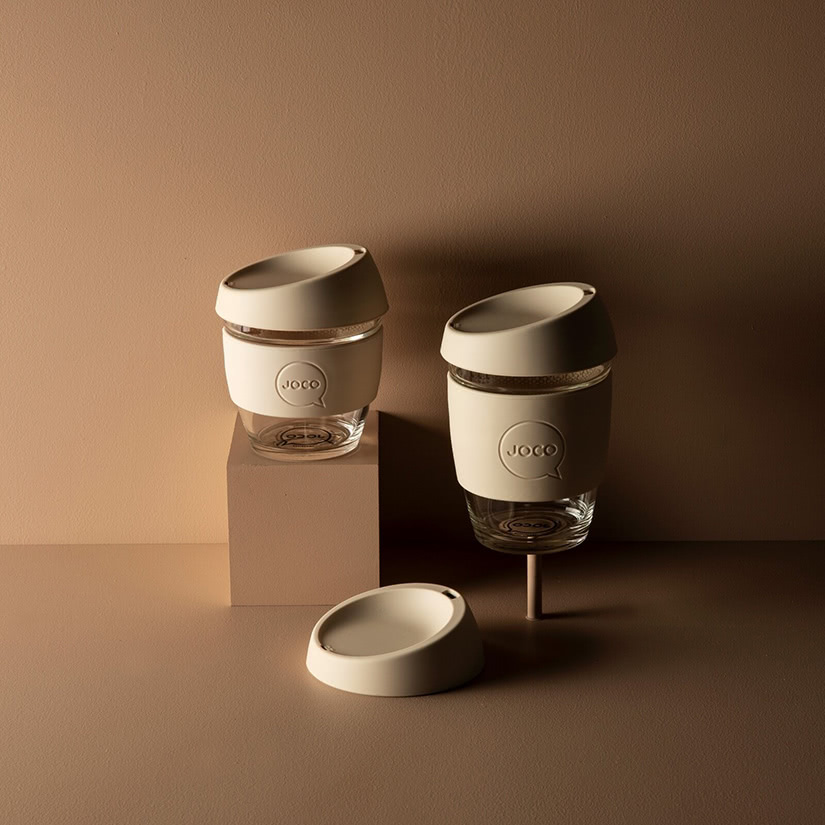 Hot vs. cold: If you do plan on using your travel coffee mug for both hot and cool drinks, make sure you purchase one that is engineered for both —there are some that are better for hot drinks, and others that are better for cool ones (that reduce condensation on the exterior surface, for example).
Size: Lastly, pick a coffee mug that has a volume you can work with. The very point of having a travel coffee mug is so you don't have to refill it too often. Think about your consumption needs and pick one that's large enough to give you a satisfying amount of your favorite beverage — without it being too bulky for you to comfortably carry it around.
Frequently asked questions about the best travel coffee mugs
What are the best travel coffee mugs?
The best travel coffee mugs are the ones that you use the most! Think about your daily life and what you need — a handled coffee mug, one with a straw, or one with an airlock lid. The one with features best suiting your life will be the best travel coffee mug for you. (We like the Zojirushi Insulated Mug, however, for just how good it is at regulating temperature!)
Which travel mug keeps coffee hot the longest?
The Zojirushi Insulated Mug keeps coffee hot the longest. Zojirushi is used industry-wide for coffeeshop thermal needs, so, if you're looking for professional-level insulation, that mug is the way to go!
What is the best thermal mug?
The best thermal mug is the S'well Stainless Steel Traveler. It keeps hot drinks hot and cool drinks chilled for long periods of time…and it has the different color options to ensure that you enjoy your mug as an accessory, too.
Are stainless steel coffee mugs safe?
Stainless steel coffee mugs are safe when you can be sure that the company is using the right type of stainless steel. If you see that a mug uses food-grade, performance-grade, or medical-grade stainless steel, you can be sure that they'll be safe to use.