Let's face it—buying a new swimsuit at the end of Winter isn't fun. You haven't exactly spent the last few months basking in the sun. And if you're anything like us, 'pizza and a movie' is a little more fun than going for a run in the rain.
The last thing you need is a day of trying on skimpy women's bikinis in poor lighting and deceptive mirrors. Either you leave the mall depressed and discouraged. Or you get home, only to find that the changing room was a little too generous and you'll have to return tomorrow. Worst case scenario, you decide to keep the unflattering fit and squirm every time you put it on.
As women, we all know that feeling. But Andie Swim actually did something about it.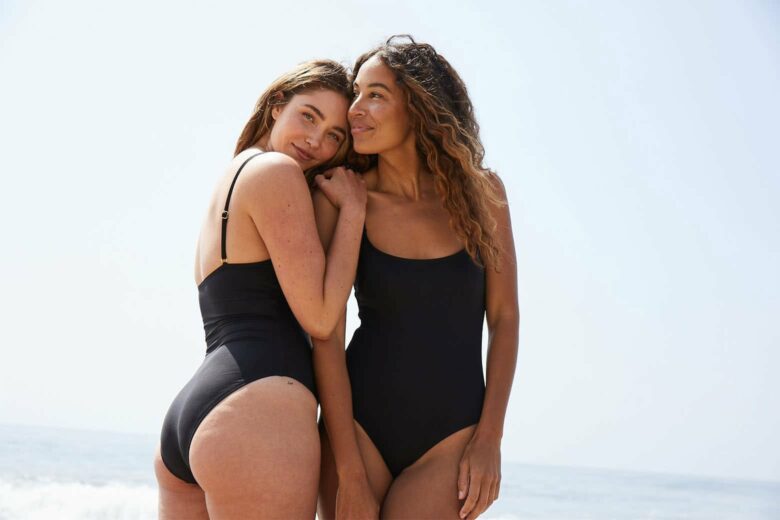 Founded by Melanie Travis in 2017, the wanderlust-inducing Andie swimwear line aims to make swimsuit shopping a little more comfortable. They've incorporated fit feedback from over 300,000+ women to ensure a style to suit every shape.
Tailored to the female form and engineered for modern life, every swimsuit is well-made, well-cut, and designed to make you feel fantastic. They also offer optimal sun protection and intend to get active.
Long story short, you can forget about your figure and focus on making memories this Summer and beyond.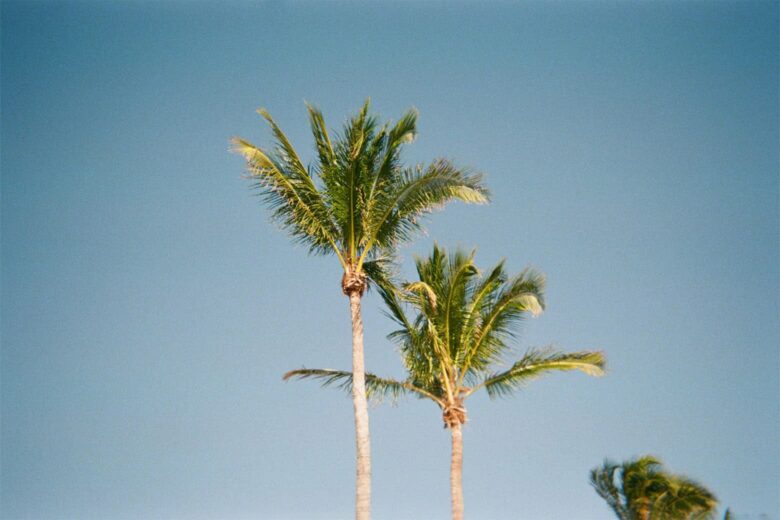 We've tested the waters and found Andie Swim to be one of the best swimsuit brands. Not only have they changed how we shop, but they've also completely transformed our attitude towards getting out there in swimwear.
So let's take a plunge into this new wave of swimwear to see if they make a splash for you, too.
Andie swimwear review
Our verdict
Nothing makes us happier than confident women. And thousands of Andie swim reviews showcase just how they do it. We take our hats off to this empowering swimwear brand for making it happen. Their timeless designs whisper tones of minimalist sophistication. And we love that they celebrate the female form with a wide range of shapes and sizes.
The Andie Fit Finder: Concierge-style support
Flourishing in a bathing suit comes hand in hand with finding the right fit. And the Andie Fit Quiz is the effortless, ego-boosting way to do it. Andie Swim understands women. They know what we need (even when we don't) and understand how to flatter our figures.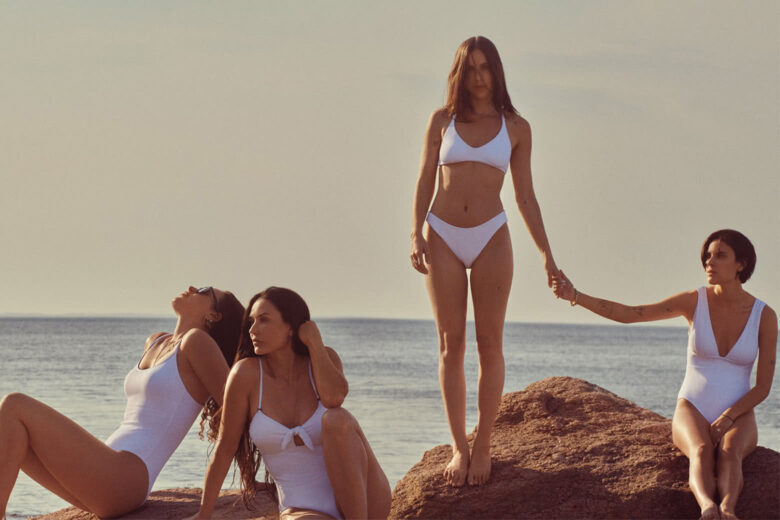 So they've uncovered the twelve essential questions—from your biggest swimwear frustrations to the parts of your body you love most—to inform a flawless fit. (No more adjusting, tugging, or pulling).
They've worked with every kind of body shape. And after listening to years of Andie swim reviews, their Fit Guide is all you need to find your complementary cut. And just like that, you'll have a flattering fit delivered to your door; to try on in the comfort of your home (warped-mirror-free).
Alternatively, allow one of their Fit Experts to make suggestions based on your preferences. You can chat through your doubts and insecurities. And they can even make an order for you (consider it free therapy).
Deep dive into Andie Swim
The whole experience will make you question why you ever spent so much energy trying to trim your figure to fit a swimsuit rather than finding a swimsuit to flawlessly fit your figure.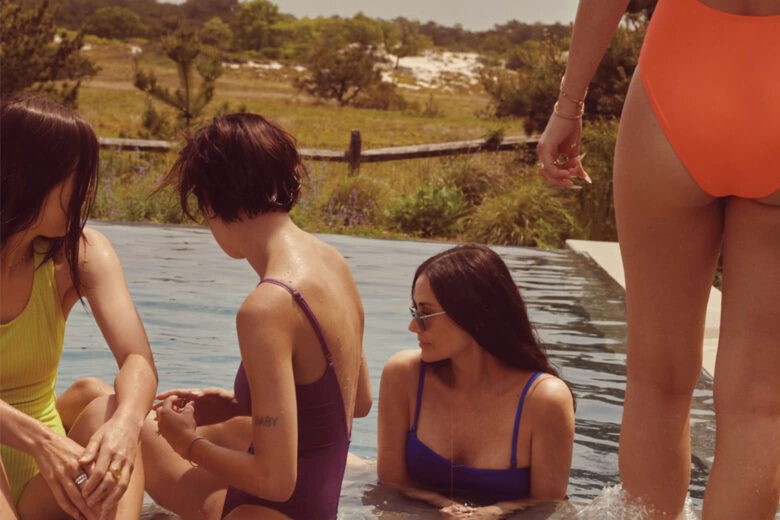 Once you've found the cuts, styles, and colors that interest you—you'll have your selected swimwear delivered to your door (we recommend a catwalk moment for family or friends).
If you don't like the swimwear you receive (spoiler alert: that's not gonna happen), you have 21 days to exchange your suit. And sending back Andie swim returns is seamlessly simple. It's the no-strings-attached style of swimsuit shopping to kickstart your sunny season.
Quality & materials
Your swimsuit style isn't determined by a size that fits; you determine the style of your swimsuit. Choose between a sea of textures—from ribbed to glossy to nylon and more. Their minimalist color palette embraces natural beauty. And with the perfect fit, cut, color, and texture—feeling confident in your own skin has never felt easier.
Comfort, fit & sizing
While many brands design their bathing suits for model figures and upsize from there, Andie Swim is careful to redesign each cut in every size. And as a result, all sizes are styled to sculpt the varying silhouettes they dress.
But it's not as simple as sizing. No two "mediums" look the same. One may have a longer torso while the other flaunts excessively long legs. One may have a Pamela Anderson chest, while another has an athletic physique. Andie Swim considers it all with a variety of cuts designed with unique body shapes in mind.
Care & maintenance
Andie swimsuits are made to outlast the season. So you can consider it a good investment in your self-confidence. The brand suggests a light rinse after wearing to remove salts, oils, or chemicals. After that, a soft hand wash in cold water should do the trick. Andie Swim recommends laying your swimsuit flat to dry to avoid the stretch that hanging wet fabrics can cause.
Who is it best for
The Andie woman is independent and adventurous. She looks for coverage, comfort, and flexibility. And with that, she plans to swim against the stream in her Andie bathing suit.
Our handpicked favorites: Getups for every getaway
The Tulum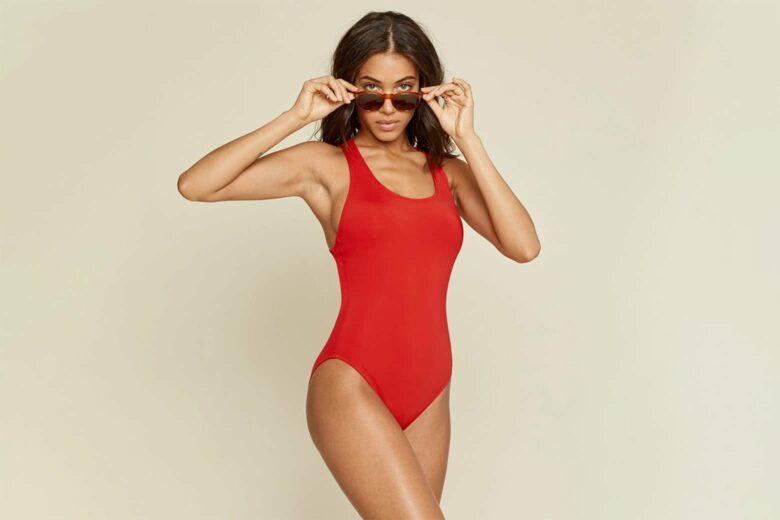 This is the perfect opportunity for your Baywatch slow jog in a cherry red one-piece. But running after toddlers or catching waves are also deemed worthy excuses to get your hands on this suit. The classic cut is detailed with a minimalist cross-over back for optimal support and a sleek style.
The Tulum style comes in deep navy, modish black, pure white, or cherry red (our favorite). Fabrics come in flat or ribbed. And a variety of cuts are designed to accommodate different torso lengths and coverage preferences.
This chic piece is perfect for an active lifestyle. And when we say 'active,' we include all young mamas looking for an elegantly practical swimsuit for those on-the-go days.
The Mykonos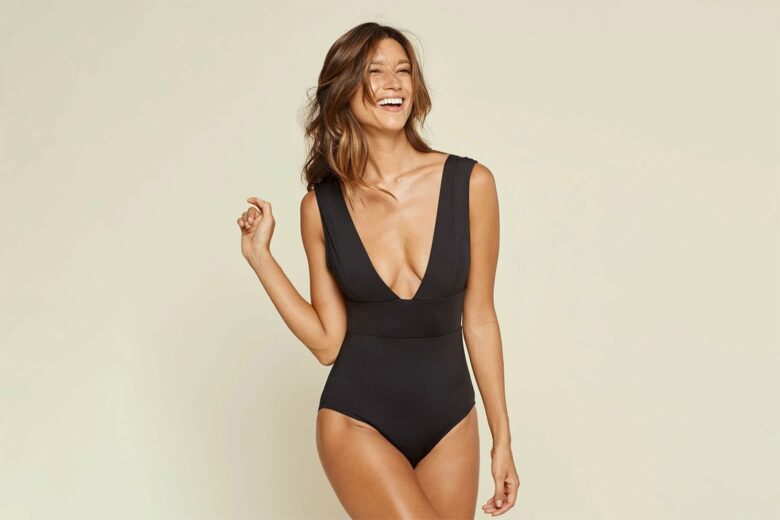 Burning for a romantic getaway or girls' weekend? This sumptuous swimsuit is your sign to book it (as if you need one). The Mykonos flaunts a deep plunge neckline and thick waistband to sculpt an hourglass silhouette. This sumptuous swimsuit maintains an air of sophistication but can't help but add that cheeky touch.
The one-piece comes in the same neutral colorway and accommodates different shapes with longer torsos and greater coverage. And while the flat fabric promotes all-day comfort with compressive lining and four-way stretch; the slender style also comes in ribbed or eco-materials.
The Mykonos is the ultimate vacation suit. It's made for lounging at the pool (cocktail in hand) or kayaking down the coastline. Whichever's your style—you'll feel like a million bucks.
The Amalfi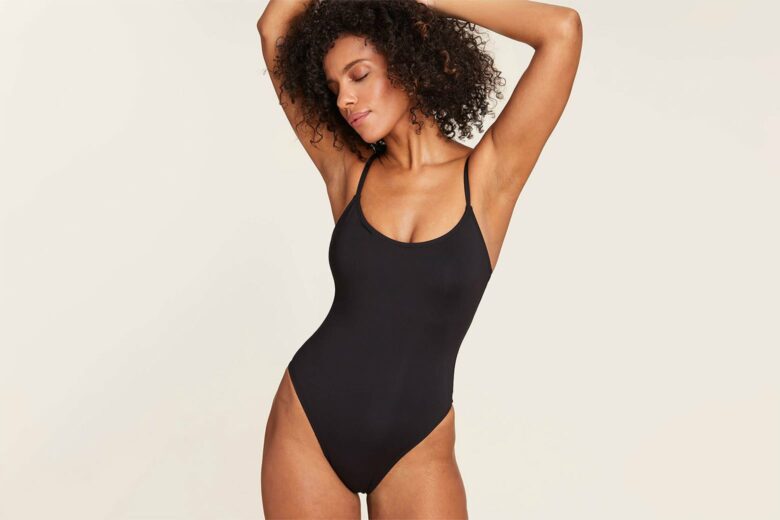 You can tailor this versatile Andie bathing suit to fit your figure along with your lifestyle needs. The timeless cut features adjustable straps, a scoop neck, and a range of coverage for the ultimate flattering fit.
While thin straps are often criticized for a lack of support, these adjustable straps do just the opposite. They also add an air of femininity to the minimalist design. And the scoop neck is just enough to include that flirtatious touch. The neutral colorways never grow old, and a vast range of coverage will accommodate any preference.
This flexible one-piece gives you the power to decide which parts to reveal and which to conceal. And while fitting your form to a tee, you'll exude new confidence this season.
The Malibu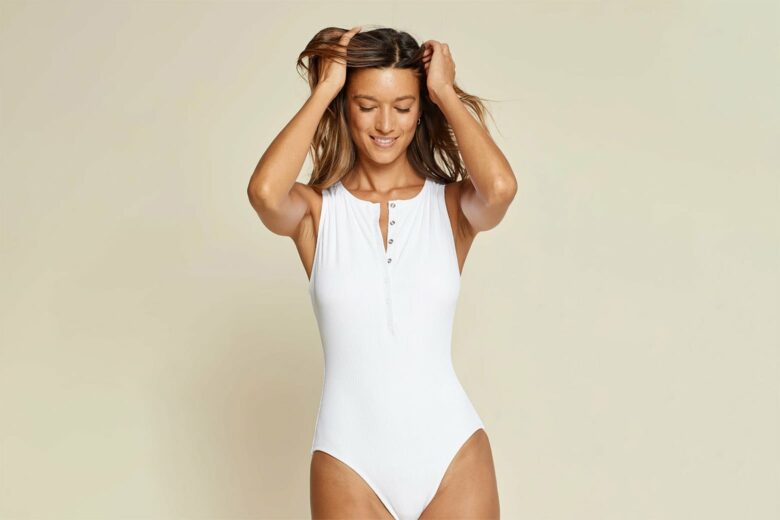 This is the holy grail of beachwear for women. The flexible swimsuit is ideal for young mamas and surfers alike. The Malibu offers all the support you'll need both on and off the beach. The button-up neckline provides fantastic coverage, while a quick button-down is the ideal breastfeeding hack.
This chic cut calls for bolder colorways. And plum, horizon, or clay tones will do just the trick. Although it also comes in our favorite neutral hues. Flat, ribbed, and glossy eco nylons will give you the specific look you're after.
We love a swimsuit that doubles as a bodysuit. And once you've got it on, you'll never want to take it off.
The Maui Top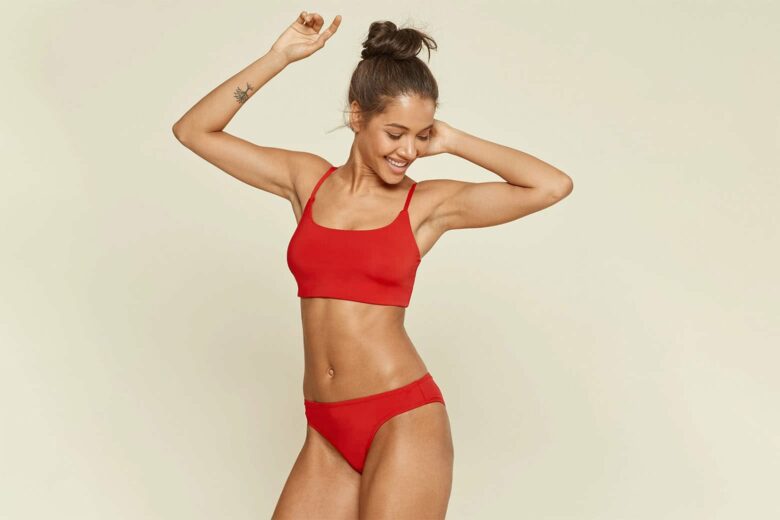 It's comfortable. It's stylish. And it's Andie's most supportive top yet. From the volleyball court to coastal jogs and beach bats—this women's bikini top is the perfect complement to an active lifestyle.
The Maui bikini for women comes in similar simple colorways. And fabrics come in ribbed or gingham (for that old-school edge). The adjustable straps ensure optimal comfort and support. And the versatile top can be paired with a range of matching bottoms.
This sturdy bikini top is made to tackle any tide. It'll keep the girls in place and give you the freedom to frolic without the fear of an accidental slip (we've all been there).
High Waisted Cheeky Bottom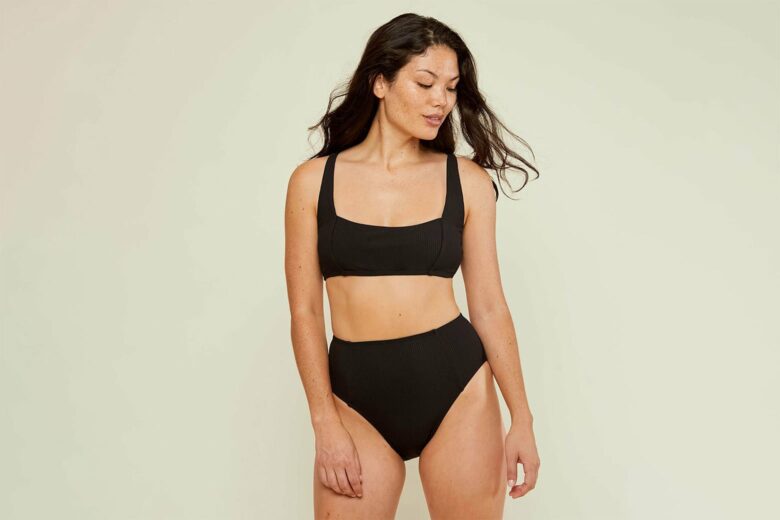 Contrast coverage with a cheeky cut in this flattering fit. This bikini for women is the perfect way to bring the heat this Summer without showing too much. And the high leg rise creates that athletic silhouette (without the pain of a HIIT class).
You can keep it sleek and chic with black or get brave with a bright neon yellow. Fabrics come in ribbed, terra, or eco poly. And can be paired with a multitude of matching tops.
These vintage-inspired bottoms are designed to make you feel fantastic. And while you may think it impossible to feel bold in a bikini post-youth—we dare you to give them a try.
Is Andie Swim worth it?
At the end of the day, you pay for quality. And Andie's price range lies somewhere between expensive and cheap. In fact, we don't think you can find this level of quality for less. So if it does fall slightly outside of your price range, we highly suggest splashing out on a brand that empowers you this season. Your self-confidence is worth it.
Andie Swim discount code & coupon
Give a little and get some back. Andie Swim is all about boosting fellow females. You can send your friends a $15 discount code and get a $15 coupon for each referral. They'll love you for it and you can afford another swimsuit. It's a win-win.
Where to buy Andie Swim?
The Andie Swim official website will give you the luxury shopping experience you're looking for. Their Fit Finder is an effortless way to find your dream swimsuit. All pieces are delivered to your door swiftly. And Andie Swim returns are seamless within seven days.
Frequently asked questions about Andie Swim
How does Andie Swim fit?
Every Andie swimsuit is well-cut and well-made from high-quality fabrics. Their goal is to provide the best bathing suits for women of every shape and size. And so, every size is redesigned to flatter the figure it fits. Furthermore, a vast range of cuts caters to varying body shapes. There's almost certainly a swimsuit made for you. And if you're struggling to find it, the Andie Swim Fit Finder will do it for you.
Is Andie Swim sustainable?
Andie's Eco fabrics are made out of recycled materials. The sustainable materials maintain the same compression, stretch and feel as their other fabrics whilst contributing to waste reduction. Although the brand does use other fabrics, almost all their cuts and styles come in an eco fabric option. And it is easy to filter your options to find them on their site.