She's simultaneously soft and strong. She's organized to a tee yet slightly rebellious and sometimes spontaneous. She's fiercely feminine but occasionally loves boyish clothes. The Anine Bing woman is multifaceted. And born to power-dress every aspect of her many personalities, the eponymous label embodies its founder's unique sense of style. Rooted in Scandinavian minimalism and accented with LA bohemian rock details, Anine Bing defiantly proves that she can, in fact, do it all, all at once—and perhaps so can you.
At a glance
| | |
| --- | --- |
| Brand: Anine Bing | |
| Founded: 2012 | Founders: Anine Bing and Nicolai Bing |
| Origin: United States | Industry: Fashion, Footwear, … |
| Collections: Womenswear and Accessories | Website: aninebing.com |
| Shipping: International | Headquarters: Los Angeles, United States |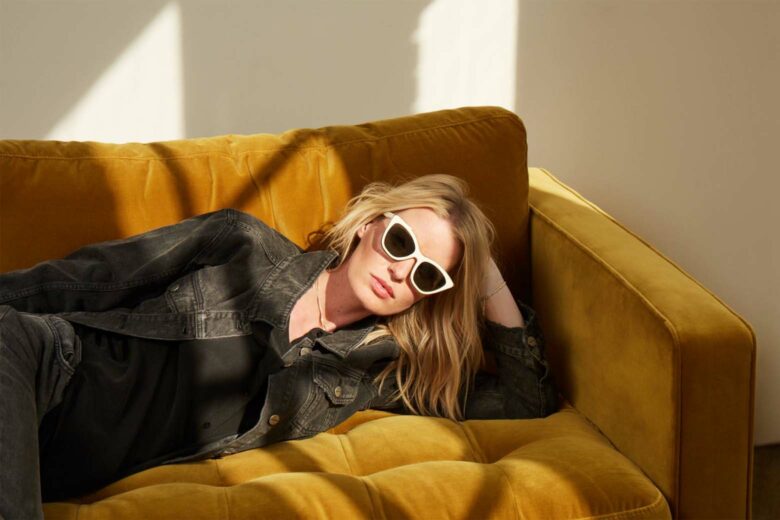 Behind the brand
History of Anine Bing
In 2012, Danish model turned designer, Anine Bing launched the eponymous brand from her garage in LA in partnership with her husband Nicolai Nielsen. From the beginning, she worked hard at balancing motherhood and business, and in doing both successfully, she inspires women worldwide to dream big and go for it. Bing is a strong advocate for female empowerment and strives to dress the multifaceted modern woman. As a walking personification of the namesake label, she is deeply connected to what she wants women to feel in her clothes. And showcasing rebellious fabrics such as leather and denims (Bing's personal favorites) her collections are both elegant and defiant—just like Bing herself.
As a globe-trotting model, Bing started a blog to share updates with friends and family back in Sweden—naturally, this highlighted her unique sense of style. Inspired by her Scandinavian upbringing, Bing's style was rooted in simple yet cool essentials, whilst simultaneously epitomizing her LA lifestyle with an effortless bohemian-rock edge and topped off with vintage accessories. Unsurprisingly, her distinctive ensembles gained a cult-following of their own as readers became intrigued by her latest wardrobe edits.
The questions that pursued pertaining to her style, inspired Bing to start a line of her own. Bing launched in her garage with a small collection of carefully considered pieces. When she launched, Instagram was already booming but it wasn't yet overpopulated with paid influencers and intrusive advertisements. And so she was able to leverage her loyal following and the platform itself to maintain authentic relationships with consumers by engaging with them personally. As a result Anine Bing became a favorite amongst celebrity stylish and everyday it-girls. And over the past decade it has grown into the powerhouse brand we know today.
Interesting facts about Anine Bing
Founder Anine Bing has always been a strong advocate for female empowerment. And so is the eponymous label. Anine Bing was born to dress independent and free women. Pieces such as studded leather jackets and drapey suits were designed to marry everyday dichotomies. Just like the contemporary women (and Bing herself), each collection proves that soft simplicity and strong exteriors can co-exist. While carefree edgy details complement delicately feminine silhouettes. From its launch, the bold brand has defied expectations of what a working woman should wear. And instead it sets out to reimagine ensembles that are comfortable and confident, sophisticated and stylish. A tall order, we know—but one we shouldn't have to compromise on.
In 2020, Anine Bing partnered with Dress for Success. The global nonprofit organization empowers women to achieve economic independence. And since its launch in 1997, it has helped over 1.2 million women by providing a network of support, professional attire and the tools needed to thrive. The Anine Bing x Dress for Success collaboration is a collection of work-appropriate pieces that are confidence-inducing and effortlessly stylish. And for every #bossgirl blazer purchased, they're donating one to the female-forward organization. Ladies, we'll see you in the boardroom.
But first: let's pull a few pieces together. Style aficionado Anine Bing may be a natural at flouting fashion norms. But for many of us, the thought of curating new everyday ensembles is just a case of overwhelming decision fatigue. Enter: the brand's one on one styling initiative. Daring you to be bold, to diverge from what you know and to truly uncover your unique sense of style, Anine Bing's virtual shopping and styling appointments can be booked by anyone at no extra cost. By talking to a style expert one on one, you're empowered to express yourself with complementary cuts, colors or accessories. And when you're done, you can walk around confidently with the surety that you most definitely aren't missing the fashion mark.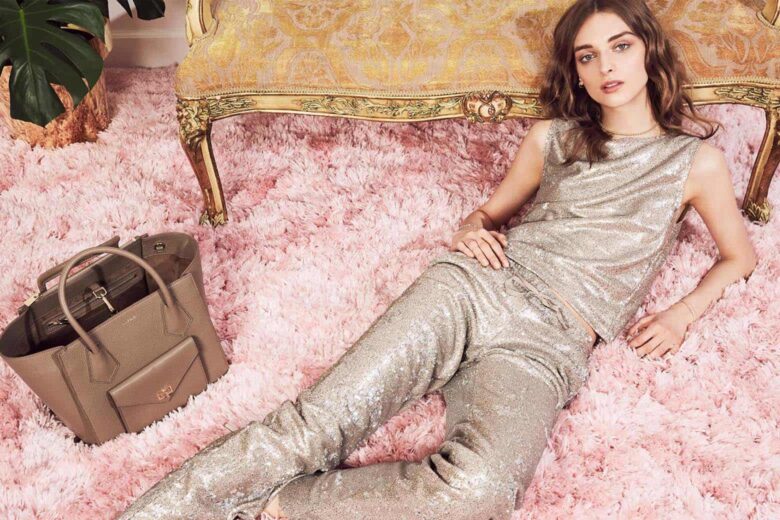 Anine Bing product range
Anine Bing dresses strong independent women with edgy feminine pieces. And whilst the brand may have started in a garage with a small line featuring denims and leathers, they've subsequently expanded into a womenswear line that could make up our entire wardrobes.
Featuring some one of our best suit vests for women, their collection of boardroom-ready blazers and suits empowers us to achieve our office-goals in style. While sultry LBDs and delicate white dresses appeal to our more feminine sides. Sumptuously soft cashmere sweaters invite us to Netflix & Chill. While radiant raincoats won't let anything get in the way of walking to work. Some of our best beach bags and towels know when we need a vacation. And effortlessly stylish slides pave the way to Cali coastlines and city escapes.
Signature materials and craftsmanship
Anine Bing aims to elevate our wardrobes whilst minimizing our environmental impact. The responsible brand is transparent about the fact that they are not yet perfect. And they are committed to constantly evolving and seeking new ways to reduce their footprint even further.
By using only the highest quality materials and considered craftsmanship, every piece is made to last. Whilst neutral hues and classical fits maintain a timeless aesthetic. This means that Anine Bing apparel doesn't conform to a fast-fashion mindset that sees garments sent to landfills after one or two wears. But rather, they are concerned with designing quality versatile items that live a new life in our wardrobes over and over again.
To ensure that their materials outlast multiple seasons of wear, Anine Bing adheres to a strict buying process. By testing fabrics and designs before they reorder, they guarantee product performance. And they reduce the risk of over-ordering materials that can't be used. They further curtail excess waste by sharing fabrics with other affluent labels. This means that they use up deadstock before ordering new materials wherever possible.
Anine Bing only uses 100% organic cotton for their graphic tees. This is one of the most sustainable luxury materials as it is void of harmful fertilizers and pesticides and uses very little water in production. Additionally, the conscious label only dyes their vegan-leathers and sustainably-sourced leathers with non-harmful chemicals. And they ship ecommerce orders in recycled nylon mailers, preventing 246kg of green gas emissions and saving 34,500kW of total energy annually.
Clearly, they're not just chic—they're eco-chic.
Where is Anine Bing made?
Rooted in Scandinavian minimalism and inspired by an offbeat Cali lifestyle, every garment is designed in LA by Anine Bing herself. But not all pieces are manufactured in the same place. In order to obtain the highest quality materials, the brand determines where a piece is manufactured depending on individual requirements and sustainability practices. Leather, cotton and gold items are ethically produced in Turkey alongside other affluent labels. Whilst a few other pieces are produced around the U.S.
Brand values
| | |
| --- | --- |
| Vegan options | Yes |
| Carbon-neutral | No |
| Gives back | Yes |
Our favorite finds from Anine Bing
Anine Bing Classic Blazer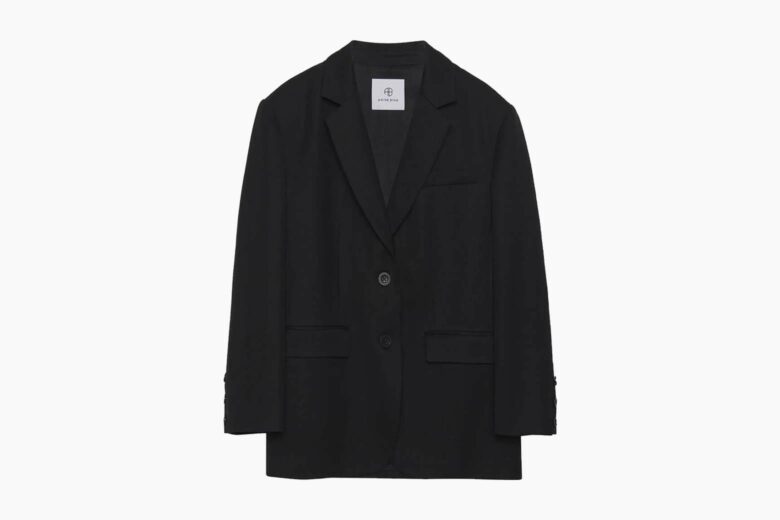 Boss blazers and soaring stilettos—they're our quintessential guide to power-dressing. But what makes this Anine Bing one of our best women's blazers, is the flawless culmination of complementary contrasts. Inspired by menswear, the garment exudes a daring approach to "work-appropriate" apparel. Whilst the tailored silhouette is exquisitely designed to fit and flatter the female form. Slightly rebellious and effortlessly elegant, this elevated blazer proves that feminine women belong in the boardroom as much as men do. And paired with a decadent Anine Bing bag it remains determined to look fabulous doing so.
Anine Bing Lili Tee Burnout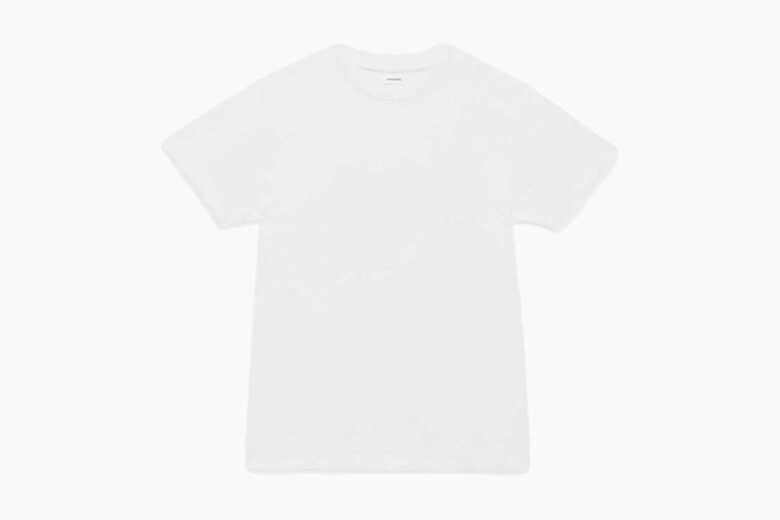 Ah, the humble white tee. A staple for sure, but it must be something special if it's a brand bestseller. With very little room for statement-making detail, this Anine Bing t-shirt is all about achieving perfection. Made from 100% organic cotton, we love that it's both sustainable and sumptuously soft. The drapey fit and boxy cut are effortlessly chic and cool. And like the vintage-inspired Anine Bing sweatshirts, the longer style exudes an elegant nonchalance with a "I woke up like this" feel. Tuck it in or let it all hang out—the Lili is your blank canvas. So go wild and express your unique take on the LWT (little white tee—yep, we're coining that term from now on.)
Anine Bing Jeremy Baseball Cap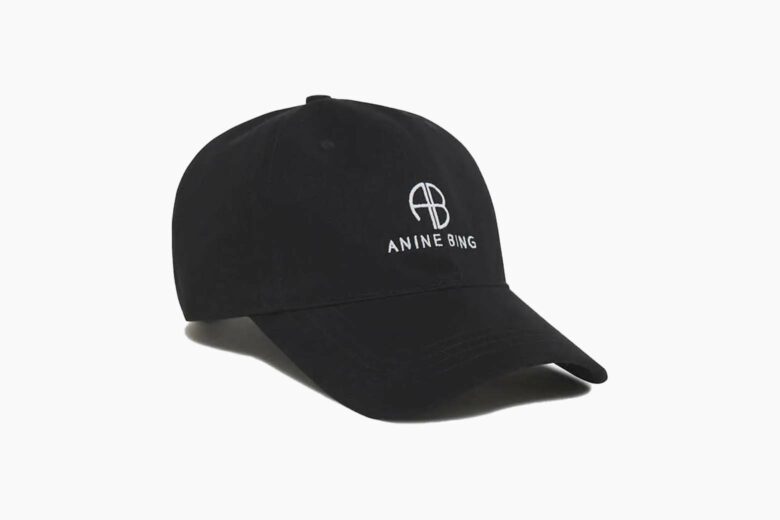 Could anything scream "Cali street style" more than an Anine Bing baseball cap? Judging by the sheer number of A-list celebs taking to the palm-lined streets in theirs, we don't think so. From Gigi Hadid to Hailey Baldwin, it's clear that this minimalist cap is a favorite among many famous faces. But it's also one of our best baseball caps for women. Unlike many other branded iterations, it's cool and classy enough to style almost any ensemble. In fact, we can already see it with your Anine Bing hoodie, drapey suit or relaxed denims.
Where to Buy Anine Bing
Scattered around the U.S and Europe, Anine Bing stores are distinctively decadent from top to toe. From minimalist white walls and gray marble floors to contemporary chic glass showcases and earthy indoor plants, every store perfectly captures the label's simple-but-edgy attitude. However, if like us, you prefer to shop from the comfort of your couch and have your purchases delivered straight to your door, you'll be equally impressed by Anine Bing's official site. We particularly love being the first to set eyes on their new styles launched every Tuesday. It's kind of addictive—but in a good way.
Anine Bing price
Falling into the category of affordable luxury, Anine Bing is more accessible than other affluent brands but it is still the furthest thing from fast fashion. Because their collections range extensively from small accessories to decadent suits, so do their prices. The Anine Bing sales page is always a good place to start as it frequently offers discounts of up to 70%. Otherwise, blazers are typically priced around $500. The iconic Charlie boots cost $700. Tees are priced around $100. And you can get a cap for $70.
Anine Bing shipping
Anine Bing offers free worldwide shipping. However, they do have two different versions of their website. Their main website serves the United States and everywhere else in the world (besides Europe and Israel.) Whilst the other website only serves Europe and Israel. If you select a country that isn't accommodated by the site you're on, you should be redirected to the correct one. However if you see a shipping fee at checkout, this is likely to be because you weren't redirected, in which case you'll need to go onto the correct site yourself.
Orders within the US or Europe typically arrive within 5 business days. Whilst orders from countries further away such as Africa, New Zealand or Australia can take up to 10 business days.
Anine Bing return policy
Anine Bing offers free returns and exchanges on all full-price purchases. But returns must be sent back unworn and unwashed within 14 days of receiving your order. Exchanges are processed immediately and provided they have your desired size and color you should receive your new items soon after. Refunds however take 2-3 weeks to process.
Anine Bing social media profiles
Frequently asked questions about Anine Bing
Is Anine Bing a luxury brand?
Anine Bing is most definitely a luxury brand. Anine Bing apparel is made to last and they only source the highest quality materials. Each piece is crafted and designed with immaculate attention to detail. And neutral palettes and simple silhouettes remain timelessly trendy. Whilst subtle edgy accents give the brand's pieces a distinct rebellious flair.
Who is Anine Bing's husband?
Anine Bing may be the face of the eponymous label. But she actually launched it in partnership with her husband Nicolai Nielsen. Nicolai is the Chief Executive Officer of the brand. In short, he takes care of the company's finances and future strategies, whilst Anine designs and markets the apparel as Chief Creative Executive.
How do you pronounce Anine Bing?
Born in Denmark, Anine is pronounced "uh-nee-nuh."
Is Anine Bing Swedish?
Anine Bing was born in Denmark. But she grew up in Sweden before she moved to LA at the age of 21.