Intrigued by the innate comfort of Merino Wool, Allbirds set out to push the boundaries when it came to simple styles, comfortable designs, and harnessing the beauty of renewable resources. Achieving that and flying high in A-list circles, Allbirds has certainly left its mark in fashion. Whilst their carbon-neutral status is just another feather in their cap. We guess you could say Mother Nature made them do it. And as always, we're siding with her.
At a glance
| | |
| --- | --- |
| Brand: Allbirds | |
| Founded: 2016 | Founders: Tim Brown and Joey Zwillinger |
| Origin: New Zealand | Industry: Fashion |
| Collections: Womenswear and menswear | Website: allbirds.com |
| Shipping: International | Headquarters: San Francisco, United States |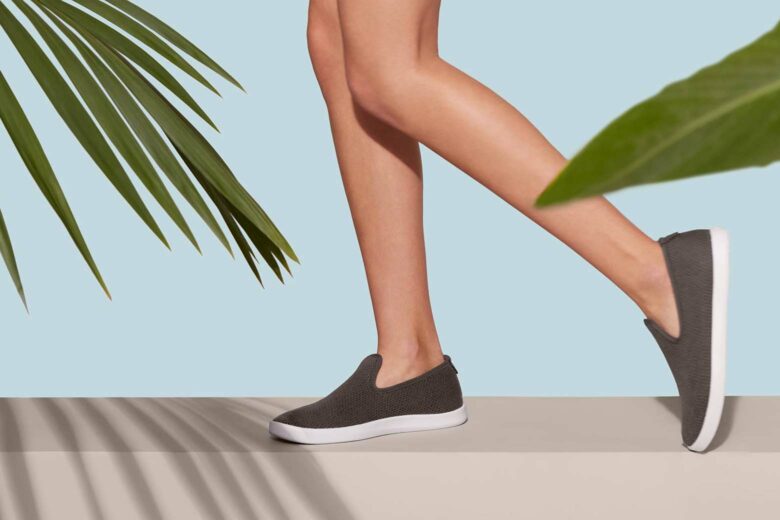 Behind Allbirds
Allbirds history
After captaining the New Zealand team in the South Africa 2010 World Cup, Allbirds founder— Tim Brown—retired from professional football with a single-minded goal: to create a pair of trainers that he was actually excited to put on. And whilst it may be a bit far-fetched to propose the lack thereof as the cause for his retirement, very few understand the importance of a comfortable shoe as one who earns a living off sprinting up and down a field.
Brown may have been sponsored by big brands such as Nike and Adidas, but the popular labels didn't fit his minimalist everyday sense of style. And over the many years as an athlete, he failed to find a trainer that ticked all his boxes: comfort, sustainability, and simplicity. With more time on his hands, he became intrigued with Merino wool as a premium, soft material that was yet to enter the footwear market. He began working with the New Zealand Industry Group and agricultural scientists to patent a wool shoe that was tough enough to endure maximum stress whilst maintaining the fabric's intrinsic comfort.
New Zealand's unusual number of sheep (over 5 sheep to every person) may have been the inspiration for the aspirational sneaker, but Brown certainly didn't follow the flock when it came to challenging fashion trends. We've already mentioned that Merino wool was at the heart of the design, but Sweetfoam (a sugarcane-based rubber) comprised the soul (and sole) of the sustainable shoe.
In 2014, Brown debuted the sockless model on Kickstarter, cutting the campaign short after selling out and raising the necessary funds in only five days. In 2016, he teamed up with co-founder Joey Zwillinger (an engineer and renewables expert) and together they launched Allbirds. Their USP was environmentally friendly footwear. And their business model revolved around perfecting one or two simple Allbirds shoes and selling them directly to the consumer at lower prices. Simple, sustainable comfort proved popular amongst the eco-conscious, utilitarian dressers and minimalist millennials alike. And Allbirds sold over a million pairs in only two years.
Interesting facts about Allbirds
Allbirds mission statement is to create better things in a better way. And whilst they've achieved carbon-neutral status through a number of innovative green initiatives, simply put—they source natural fibers, use recycled materials and offset the difference. Allbirds shoelaces are made entirely from recycled plastic bottles, meaning that for every discarded plastic bottle, a pair of Allbirds laces emerges. Yes, reincarnation is a beautiful thing—especially when it preserves and protects the planet.
Allbirds shoes' signature Sweetfoam soles are a prime example of the brand's trailblazing approach to natural materials. Sweetfoam is made from sugarcane, a fully renewable resource that grows quickly and removes carbon from the atmosphere in the process, making it the world's first carbon-negative green EVA. But besides being a sustainable sweetheart, Sweetfoam's low-density is extremely lightweight, bouncy, and malleable—allowing the shoe to mold effortlessly to your foot.
Since its launch in 2016, the radical brand has extended its line of Allbirds sneakers to include minimalist, comfortable lifestyle sneakers—because these days it's cool to wear runners to run errands too. We're particularly obsessed with the Plant Pacer, which is inspired by tennis court classics. The light earthy hues are a winner for everyday versatile sophistication. And their signature plant-based leather aces a featherlight footprint, reducing carbon emission by 98%. Needless to say, these Allbirds sneakers are unmatched in style and sustainability.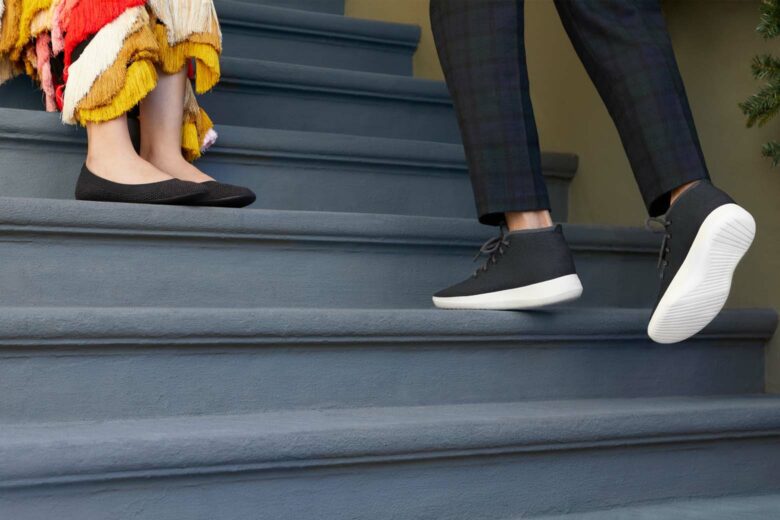 Allbirds product range
Staying true to the Allbirds vision statement, create better things in a better way, every Allbirds product is made with perfection and preservation in mind. And whilst they started with simple, sockless Merino shoes, in 2022 their product range extends to apparel and accessories. Although (sole)-restoring footwear remains their hallmark. Allbirds men's shoes now include luxury fashion sneakers, utilitarian water-repellent shoes, and casual everyday trainers. We also love the Allbirds slip-ons, high tops, as well as their shoes designed for standing all day.
Amongst their collection of women's sneakers, you can expect to find the most comfortable flats, our favorite white sneakers and the iconic Allbirds Tree Runners—made from natural eucalyptus fibers. Sweetfoam flip-flops and wool loungers are well worth adding to your arsenal of comfort-wear. And their line of Smallbirds for kids is both adorable and practical. After all, you only have so long to indulge in Insta-worthy matching outfits.
Signature materials and craftsmanship
With Mother Nature as their muse, Allbirds' sustainability is intrinsic to the trailblazing brand. And all of their renewable materials are carefully considered and ethically sourced. Starting out as Allbirds' trademark, Merino Wool was chosen for its premium softness as well as its low impact on the environment. New Zealand's enormous sheep count provides all the wool for Allbird's materials, using processes that require 60% less energy than it typically takes to manufacture synthetic fabrics. Plus, the superfine natural material is breathable, moisture-wicking and temperature-regulating.
Continuing to build on Mother Nature's brilliance, Allbirds has extended its footwear range to include Tree Runners and Tree Dashers made from eucalyptus fibers. Not only is the material biodegradable, but the chemicals used are recoverable and recyclable. The eucalyptus trees also rely entirely on South Africa's rainfall, requiring no irrigation and minimal fertilizer. This means that the process uses 95% less water and half of the carbon emissions of materials like cotton.
Sugar Cane is another one of the brand's superheroes in nature. Hitting the sweet spot (sorry, we had to) between comfort and sustainability, the lightweight soles also come with a non-existent footprint. In fact, Sweetfoam is the world's first carbon-negative EVA polymer, meaning that it actually has a net-effect of removing carbon dioxide from the atmosphere rather than adding to it. This comes down to the fact that it relies fully on Brazil's rainfall, grows incredibly quickly and its biomass is used to fertilize the following season's crop.
When transformed into Sweetfoam, the naturally soft, light, and bounce material adds a sweet spring to each step. Sweetfoam soles also contour to your foot for an effortlessly tailored fit. And they're totally machine-washable—adding a whole new dimension to functional fashion in footwear.
Where is Allbirds made?
Designed in San Francisco with an on-the-go modern minimalist lifestyle in mind, Allbirds' products are then manufactured around the world, depending on what eco-conscious materials are required. Most of their sneakers are assembled in Busan in South Korea. They work with a team that offers environmental education and training programs for workers in Peru. And they support partners in North Carolina and Vietnam, amongst others.
But regardless of where the product is made, Allbirds takes a responsible approach to ensure safe, lawful, and ethical manufacturing processes with frequent third-party audits. They also partake in the annual ILO Better Work Initiative in Indonesia, which aligns factory practices and local laws to the UN International Labor Organization standards.
Who wears Allbirds
The answer is simple—everyone wears Allbirds. Whether you're a professional athlete, career-driven boss, vegan yogi, or fashion aficionado, Allbirds has its place in your rotation. Take a page out of Blake Lively's elegant sartorial style and opt for the Allbirds Wool Runners in white. Or follow in Mila Kunis' footsteps (literally) with a pair of Tree Dashers.
Leonardo DiCaprio made his thoughts on the burgeoning brand known early on. Not only did he walk the walk, but he put his money where his mouth was and invested in the eco-chic label. And Barack Obama, Matthew McConaughey, Jennifer Garner, and Oprah Winfrey also count themselves among the brand's fans. But at this point, we've lost count of how many star-studded feet Allbirds has styled. All we know is they're not your run-of-the-mill shoes.
Brand values
| | |
| --- | --- |
| Vegan options | Yes |
| Carbon-neutral | Yes |
| Gives back | Yes |
Our favorite finds from Allbirds
Allbirds Tree Breezers for Women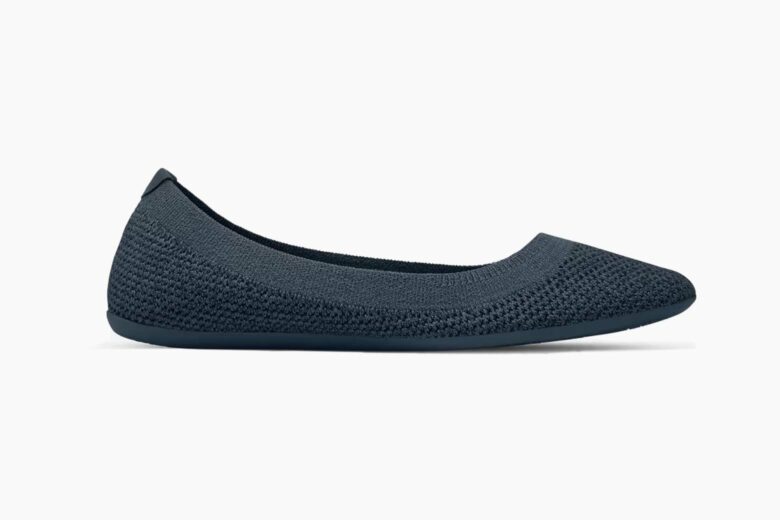 Allbirds Tree Breezers for women are endlessly versatile. They're great as office footwear. They're great for running errands. And they're great for more dressy occasions such as coffee dates with the girls. But for us, their distinctive user case is travel. The contouring, breathable eucalyptus fiber practically feels like you're barefoot. They're super lightweight and foldable for tucking into tiny crevices. They're machine washable, so regardless of what unbeaten tracks they endure on vacation, it requires minimal effort to restore them back to polished condition. And of course, Allbirds Tree Breezers are made from the sustainable brand's signature renewable fabrics and eco-conscious processes so you can strut around with a guilt-free conscience.
Allbirds Wool Runners for Men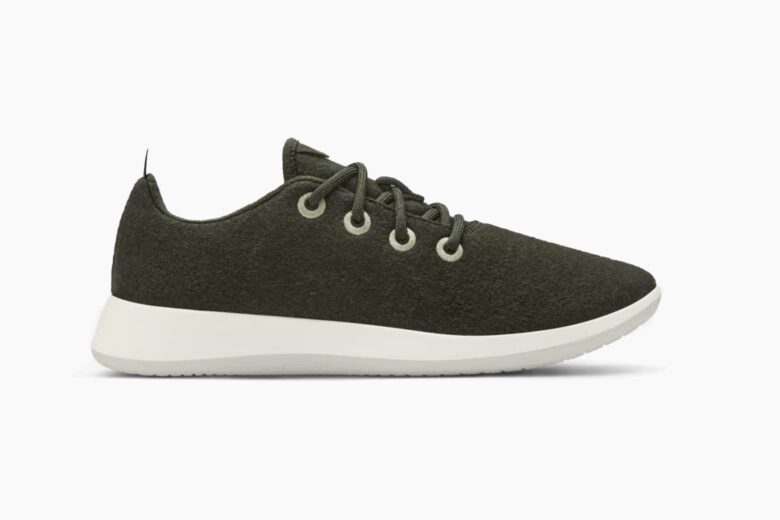 As the brand's flagship product, Allbirds Wool Runners for men are essentially a pair of sneakers that feel like slippers. And while they're called runners, we think these wool shoes are better suited to everyday wear. The temperature-regulating design makes it the ultimate seasonless shoe. And their effortless foldability is a game changer for light travel—weight-wise and eco-wise. But the real hero for us is the shoe's unparalleled all-day comfort. The super soft material blew our socks off—quite literally as they're designed to be worn sockless. That may seem like a small thing, but we're yet to find a pair of secret socks to outlast a full day on foot. So if you don't like your socks showing, you'll know that achieving this is no small (feet).
Allbirds Tree Dashers for Women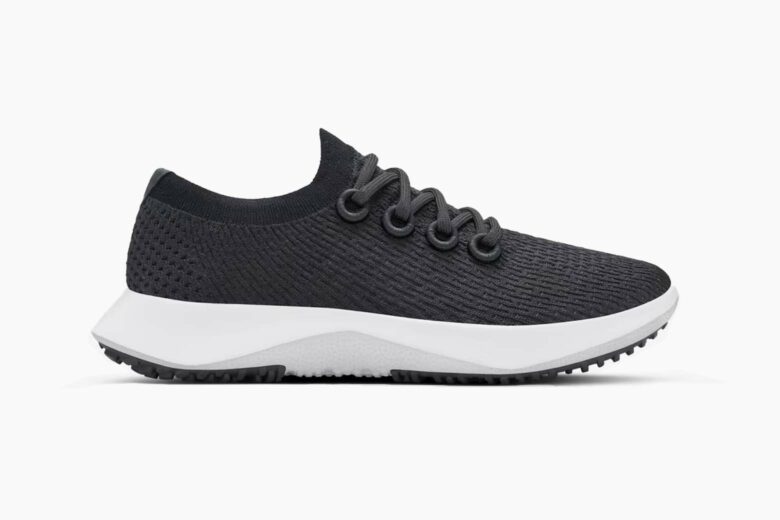 Allbirds Tree Dashers for women are one of the brand's later models. As a result, they're even more evolved than their previous runners. The most noticeable differences to us were the extra responsive foam and grip. The brand's signature Sweetfoam sole is slightly thicker and more supportive than previous iterations, meaning that you literally do feel like you're walking or running on clouds. And the extra grip means that you can tackle slippery surfaces and off-road adventures with greater confidence. The Allbirds Tree Dashers are also part of the brand's collection made from breathable eucalyptus fibers, so you never feel like ripping them off after endless hours on foot—quite the opposite, actually.
Allbirds Tree Runners for Men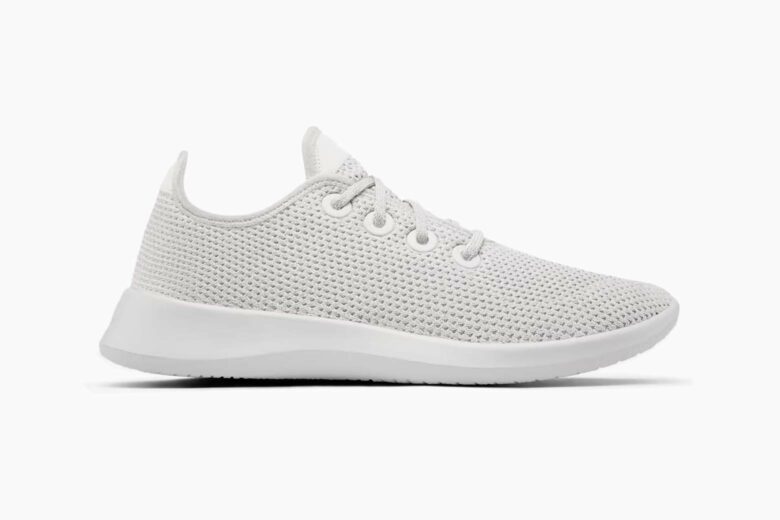 After the success of their flagship wool shoes, Allbirds began experimenting with Mother Nature's gifts. And after living in our Allbirds Tree Runners, we owe our style and (soles) to the sustainable brand. We may have originally eyed them out for their less-flashy minimalist style. But after trying them on, we realized that we'd probably buy them regardless of what they looked like. Fortunately for spouses around the world, they also look fantastic. But for us, it's the breathability of eucalyptus fiber combined with the softness of the Sweetfoam sole that makes them truly unique. The only problem with the Allbirds Tree Runners is that they kind of ruin traditional sneakers for you.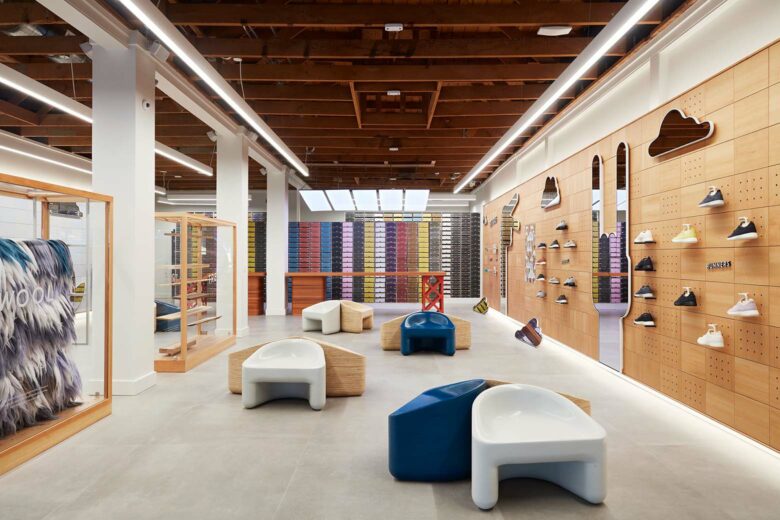 Where to buy Allbirds
Allbirds has opened 18 brick-and-mortar stores around the US and Europe. But to buy their sustainable shoes and apparel from anywhere in the world, we recommend ordering directly from their official online store. The effortless e-retailer features all the brand's styles in every colorway and size. It is also very easy to filter to find exactly what you're after.
Allbirds price
Allbirds are as comfortable on our wallets as they are on our feet. They are priced well below other affluent labels, making them excellent value for money. Allbirds sneakers are priced around $100-$160. Allbirds sandals start at around $30. And their sweatpants range between $70 and $120.
Allbirds shipping
Whilst Allbirds doesn't ship to every country, they do ship to most European countries, Australia, and all US states. All orders over $75 dollars are free of charge. For orders under $75, standard shipping costs $5 and takes about 6-8 business days. 3-5 day express shipping costs $6. 2-day expedited shipping starts at $16. And next-day shipping starts at $25.
Allbirds return policy
Allbirds offers a money-back guarantee on shoes within a 30-day trial period. That means that you can return your shoes for free, no questions asked, even if you've worn them out in the wild. Yes, they're that certain that you'll love your shoes. This policy, however, does not apply to other apparel. In order to return other products, they must be unworn, undamaged, and in their original packaging.
Allbirds social media profiles
Frequently asked questions about Allbirds
Why do people like Allbirds?
Allbirds catapulted to cult-status due to its simple and sustainable approach to comfortable footwear and apparel. The brand uses innovative natural materials such as Merino wool, eucalyptus fibers, and sugarcane to achieve materials that are soft, breathable, and carbon-neutral. Plus, their minimalist style makes Allbirds shoes endlessly versatile and easy to dress.
Are Allbirds meant to be worn without socks?
Allbirds shoes are designed to be worn sockless. The sustainable brand uses natural materials that are breathable, moisture-wicking, and temperature-regulating. This means that you can comfortably endure endless hours on foot without worrying about your socks falling down. 
Do Allbirds get smelly?
Allbirds use natural materials such as Merino wool and eucalyptus fibers for maximum breathability. But they are also temperature-regulating and moisture-wicking, meaning that your shoes remain sweat-free and odorless. However, if they've been enduring long marathons and need a wash, Allbirds can simply be thrown into the washing machine. 
Can Allbirds get wet?
Allbirds shoes aren't all waterproof, so we recommend leaving them at home in the case of heavy downpours. Their wool shoes are designed to keep your feet dry in light rains. Whilst Allbirds Tree Collection can only endure a slight drizzle. But if you do get caught in a rainstorm, your shoes won't be harmed, and you can simply chuck them in the washing machine.