Footloose and fancy-free, Axel Arigato may not be liberating us from all our commitments, but they are liberating us from the depressing choice between mediocre quality and unaffordable price tags.
Marrying Western minimalism with the ubiquitous Eastern attention to detail, this contemporary label catapulted to cult-favorite status with simple sneaker designs that captured the (sole) of the next generation. Their signature Japandi style has already been signed off by all our favorite street-style icons. And whilst we probably don't have quite the same influence as the Biebers or Hadids, we'll still unapologetically endorse this trendsetting label.
At a Glance
| | |
| --- | --- |
| Brand: Axel Arigato | |
| Founded: 2014 | Founders: Max Svärdh and Albin Johansson |
| Origin: Sweden | Industry: Fashion |
| Collections: Men, women and kids' shoes, apparel and accessories | Website: axelarigato.com |
| Shipping: International | Headquarters: Gothenburg, Sweden |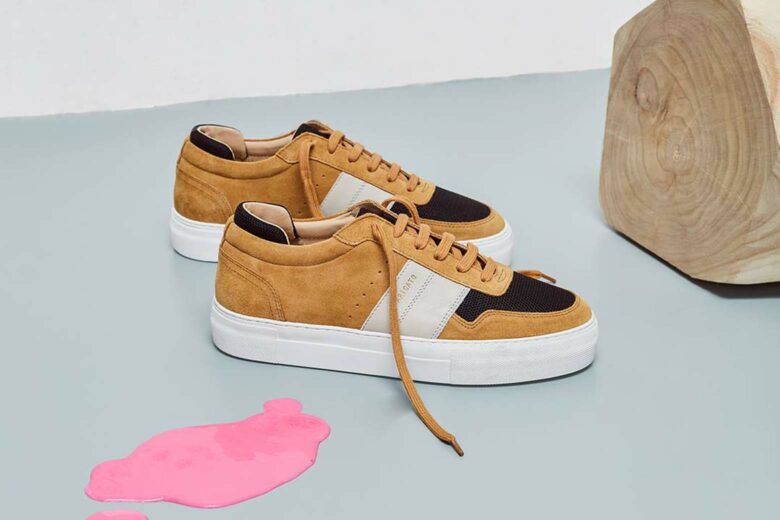 Behind the Brand
History of Axel Arigato
You wouldn't have guessed by their instantly recognizable aesthetic, but Axel Arigato is actually still a relatively young brand. Founded in 2014, they catapulted to cult-favorite status overnight. So how exactly did they do it? Well in short, they gave power to the people, created real relationships and imagined their brand as a destination that just so happens to sell products too.
Axel Arigato was founded by sneakerheads and entrepreneurs—Max Svärdh and Albin Johansson in Gothenburg, Sweden. Both Max and Albin grew up in "Sweden's Little London." And after being introduced to each other through mutual friends, it didn't take long for them to bond over a passion for sneakers and branding, as well as a dissatisfaction with what the current market provided.
Together, they started envisioning the burgeoning brand through a " Axel Arigato sneakers first and then the rest" lens. The focused product range meant that they could put all of their energy into perfecting the design of their minimalist shoe. But they could also cultivate a label that truly connected with its audience through social media and events.
As fashion enthusiasts themselves, Max and Albin worked from their own mutual failure to find a brand that they could truly identify with. They wanted to do everything differently. And essentially their goal was to create a luxury label that spoke directly to the increasing-but-necessary demands of the next generation of avant-garde trendsetters, especially when it came to diversity, sustainability and design. In true Millennial fashion, the in-the-know duo leveraged digital resources to talk directly with customers, to build an online community and tap into the power of social media marketing.
Not only did this result in a loyal fan base and customer-centric designs, but it also meant that they were able to sell directly to the consumer and cut out unnecessary wholesale costs. This was something that was paramount to the founding team from day one. They wanted to achieve couture quality craftsmanship, but with a more accessible price tag. And handcrafted in Portugal from premium Italian materials, that is exactly what they did.
Along with their overnight-Insta fame of the brand, came the extension of Axel Arigato's product range into apparel and accessories. They also set up brick-and-mortar futuristically-style stores which would also later become the stamping ground for their culturally-cadent au courant events. Embracing the now and looking to the future, the brand's frequent pop-ups, album signings, magazine launches and music releases harness the talent of the next generation and support local communities and young creatives. But it also didn't hurt that street-style-icons such as the Biebers and Hadids all seemed to simultaneously sign off on the effortlessly cool brand almost as soon as it launched.
Interesting facts about Axel Arigato
The name Axel Arigato was chosen to symbolize a mythical figure that would essentially live long after the founders. This fits directly into the very essence of the brand—that being a "people-powered" culture. Since its launch, the founding team has been emphatic about the fact that they did not want to be the face of the brand, but rather they wanted their loyal fan base to mold and shape what the label would become.
As well as alluding to the brand's intangible presence, the exotic-sounding name also nods towards Axel Arigato's Japanese influence on their minimalist aesthetic. While Arigato translates loosely to "thank you" in Japanese, a more profound interpretation translates to "difficult to exist." Essentially the idea is that precious things are hard to come by. And whilst we appreciate the sentiment as undeniably true, ironically (or perhaps not), we can't help but recognize that Axel Arigato seems to make it a whole lot easier.
Not only does Axel Arigato make discovering those rare sartorial gems easier, but it also makes sourcing them sustainably a breeze. The eco-conscious brand's XChange program facilitates the resale of pre-loved Axel Arigato products. The platform empowers the brand's customers to prevent the incineration of good quality clothing. And it adds the idea of the label as a community rather than just a store.
Axel Arigato further facilitates the reduction of waste with the "Drop of the Week." The business model neglects traditional seasonal collections and instead releases a new style every week. This means that the brand continues to incorporate customer feedback in the development of new styles. And healthy stock levels eliminate the waste of materials, resources, energy, and water.
As a brand that strives to identify with future generations, Axel Arigato's inclusion of the bee-eater bird in their avant-garde designs does exactly that. The bee-eater is the only species to walk, swim and fly. And first embroidered onto a hoodie in 2017, the bird symbolizes an independence that moves freely and challenges limitations—a message embodied by the essence of the brand itself. Aesthetically, we've always thought that Axel Arigato makes some of the best hoodies and sneakers for men and women. But it's details like this that make their designs that much more significant.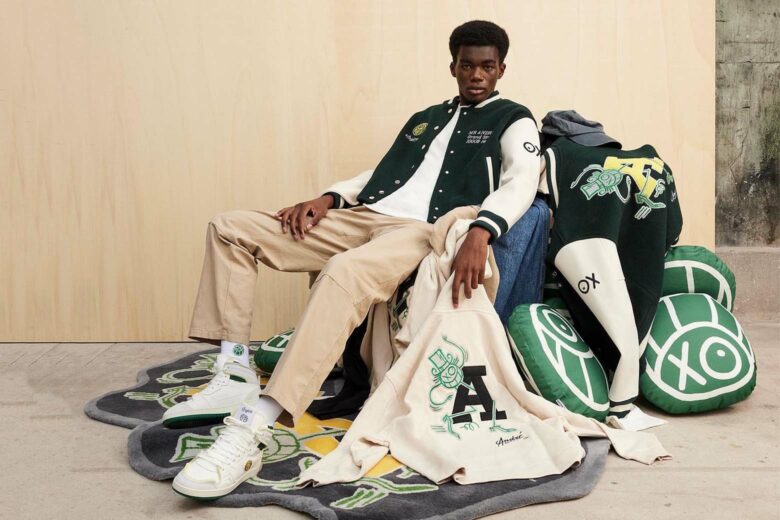 Axel Arigato product range
First and foremost renowned for its modern minimalist sneakers and shoes, Axel Arigato is now also our go-to for contemporary streetwear-inspired clothing and accessories. Axel Arigato sneakers range from everyday clean white iterations to chunky-sole street-style renditions to high-performing Axel Arigato trainers—many of which are amongst our best luxury sneakers for men, as well as our best luxury sneakers for women.
Whilst sneakers are undeniably their hallmark, Axel Arigato shoes also include some of our favorite slides for men and equally alluring slides for women. And their line of ready-to-wear sartorial staples ranges from quintessential trench coats for women and slightly rebellious leather pants to oversized hoodies, tees, and accessories for men and women.
Signature materials and craftsmanship
Environmental concerns have always played an instrumental role in how Axel Arigato shoes are made. But with futuristic scientific research and enhanced traceability, the sustainable brand is committed to reducing its carbon footprint even further. In-depth knowledge of the supply chain means that the brand is able to choose manufacturers that use renewable energy and eliminate waste—both of which are paramount to the trendsetting label.
Besides sustainable production processes, Axel Arigato deeply considers the impact that their materials have on the environment. Axel Arigato's leathers are manufactured in factories certified by the Leather Working Group—the most reputable certification for ethically sourced, environmentally-compliant and high-quality leathers. And they only use leather which is a byproduct of the meat industry, meaning that no animals are specifically harmed to create garments.
Cotton is also one of Axel Arigato's signature materials. And whilst we're cognizant of the justifiably poor reputation that the cotton industry has gained for its intensive chemical usage and poor working conditions, we're equally impressed by the brand's endeavor to only source 100% organic cotton that is GOTS-certified. As one of our most sustainable materials, organic cotton is renewable, bio-degradable and free of chemicals. But it's also one of the most breathable and softest fibers for everyday wear.
Axel Arigato also uses recycled polyester as the base of many of its garments and footwear. As a synthetic fiber, recycled polyester is endlessly recyclable, deflects used polyester from landfills, and requires few resources to produce. As well as this, Axel Arigato's recycled polyester is compliant with GRS standards, which ensures healthy working conditions and good social practices.
Where is Axel Arigato made?
Dreamt up in Sweden, Axel Arigato's contemporary designs marry Japanese innovation with Scandi simplicity. And whilst their distinctive Japandi styles speak to modern minimalism, the manufacturing processes speak to a time-honored art form.
Axel Arigato products are crafted by family-run businesses around Europe, with the majority of production taking place in Porto, Portugal. However, a few of their pieces require workers who are highly skilled with technical products and quality synthetic fibers. These pieces are manufactured in the Far East, in factories that comply with the brand's extremely stringent standards for what constitutes good working conditions and social responsibility.
Brand values
| | |
| --- | --- |
| Vegan options | Yes |
| Carbon-neutral | No |
| Gives back | Yes |
Our favorite finds from Axel Arigato
Axel Arigato Clean 90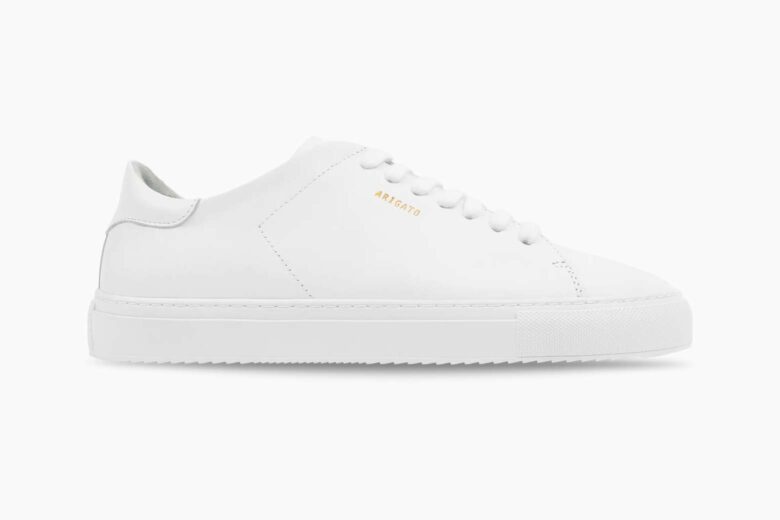 Decadent designer white sneaker: a seemingly simple task, but one that's almost impossible to perfect. As one of our best white sneakers for women and our overall best white sneakers for men, it's no secret that we think that Axel Arigato Clean 90 absolutely nailed the modern minimalist aesthetic.
Handcrafted in Portugal from sustainable Italian leather, the carefully curated shoe feels like a premium product from the moment you unbox the lid. And whilst you may already have a pair (or two or three) of everyday white trainers, we think that you should limit those slightly scruffy iterations to denim shorts and weekend tees. And save these sumptuous sneakers for more sophisticated ensembles. The Clean 90 for women finishes off a feminine dress with a slightly sporty edge. While the Clean 90 for men dresses down a chinos ensemble with ease.
Axel Arigato Marathon Runner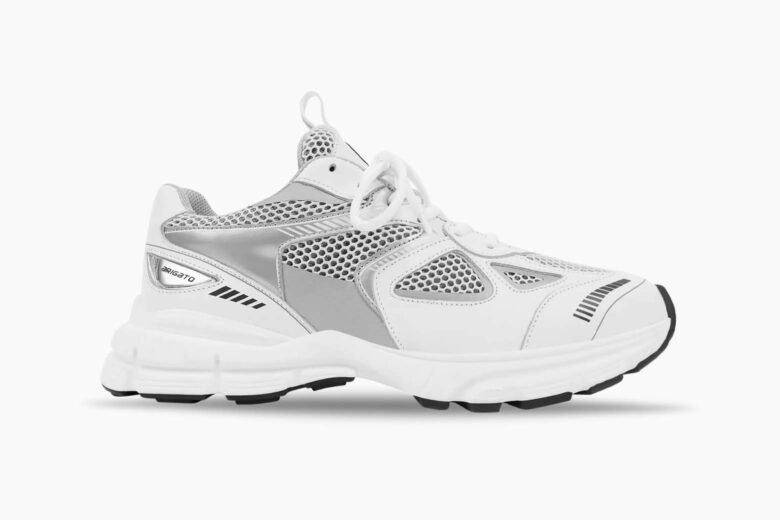 Distinguished by their sporty aesthetic, these sneakers are inspired by the iconic 90's runner. However, despite their appearance and misleading name, the Axel Arigato Marathon Runner isn't actually intended for running—or sport in general. But rather the exaggerated soles, mesh paneling and mixed media upper are designed to add an athletic edge to your everyday ensembles.
Ladies: we can already see you owning the street-style look by pairing these women's Marathon Runners with your bicycle shorts, oversized hoodies and square sunnies. And gentlemen: well, once stepping into the Marathon Runners for men, we doubt we'll see you in anything else.
Axel Arigato Dice Lo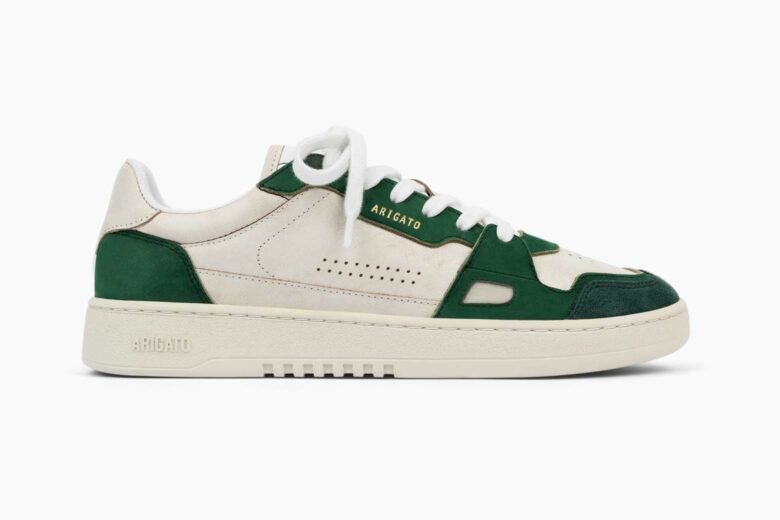 Acing the court classic aesthetic, you may not actually want to scuff these Arigato trainers up in a game, but at least you'll look the part. Ironically, the vintage-inspired silhouette has returned as a quintessential modern staple. And whilst various designers have taken a shot at the sophisticated-but-sporty style, we think very few have achieved it with this level of finesse.
Made with premium leather uppers and partly recycled rubber soles, these shoes epitomize conscious, elevated living. The white sneaker flaunts an array of colored accents and high or low top styles. And we particularly love the women's Dice low tops styled with distressed denims and casual tees. Whilst the men's Dice low tops pair equally well with more relaxed ensembles.
Axel Arigato Legend Hoodie for Men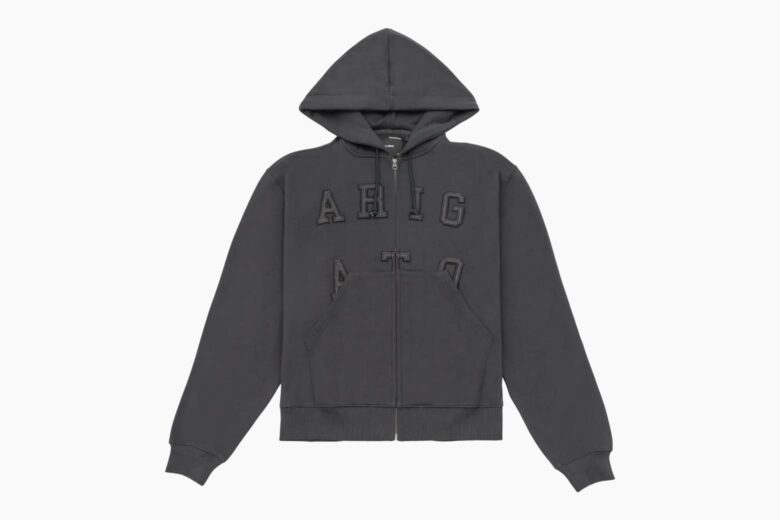 Ah, the humble hoodie—well actually not so humble in the case of Axel Arigato. The Legend hoodie continues with the brand's signature sporty aesthetic with college culture-inspired elements.
The tonal varsity letters, oversized fit, exaggerated kangaroo pockets and drawstring hood take us back to eating two-minute noodles out of the carton. Whilst the slightly more polished neutral hues and premium materials remind us of how far we've come since then. Pair this men's zipped hoodie with matching sweats, and you've got a refined loungewear look that is more than happy to embrace unexpected company. Just like the good ol' days.
Axel Arigato Rhode Down Jacket for Women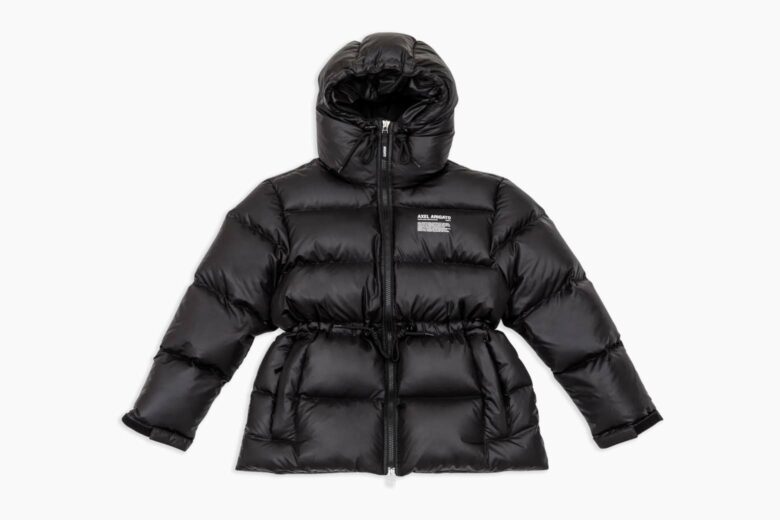 Slightly conceited and puffed up with good reason, the Axel Arigato Rhode Down Jacket is amongst our best Winter coats for women. The adjustable drawstring ties at the waist, proving that you don't have to look like the Michelin man to achieve cloud-like comfort and unparalleled warmth. Whilst the minimalist logo is ever-so-subtly printed on the chest as an understated nod towards the brand's cult-favorite status.
Made from recycled polyester and reprocessed, the insulated interior is as sustainable as it is snug. And the versatile all-black colorway lends itself to a myriad of everyday styling options. From relaxed denims to black trousers, we don't see you taking this puffer jacket off all Winter long.
Where to buy Axel Arigato
Since launching as a direct-to-consumer online store, the affordable luxury label has opened cool and contemporary brick-and-mortar stores around Europe and Dubai. And whilst the experience and events are totally drip (we think that's what the kids say?), their official online store remains the best way to shop everything Axel Arigato in the United States and around the world.
Who wears Axel Arigato
Counting the likes of Bella Hadid and Justin Bieber amongst its fans, Axel Arigato certainly isn't short of big-name wearers. The Axel Arigato Marathon Runners in white are considered a key component of Hadid's unofficial travel uniform. And Bieber has made his affiliation with the label very public by taking the Axel Arigato Paradaisu T-shirt onstage. Apparently, Margot Robbie also loves the Clean 90 sneakers. While Chris Evans prefers his Arigatos in black full-grain leather.
Axel Arigato price
Whilst still considered a luxury brand, Axel Arigato is a lot more affordable than other affluent labels, despite having equal standards for quality. The Axel Arigato Clean 90 silhouette is priced between $275 to $290. The Axel Arigato Marathon Runner is slightly more expensive and priced between $370 and $430. Whilst the Legend Hoodie is priced at $240 and the Rhode Down Puffer at $610.
Axel Arigato shipping
Axel Arigato ships to 130 countries, including the United States, across Europe, Dubai, and various other countries. The luxury brand offers free shipping to specific locations, but otherwise, shipping costs are based on where you are ordering to. The time expected for delivery is also dependent on your location, but the brand itself aims to dispatch orders within 24 hours. All shipping costs and expected delivery times are made clear on checkout, so you shouldn't encounter any surprises.
Axel Arigato return policy
Personally, we've never even considered returning a new order of Axel Arigato shoes, but if for some reason you need to, the brand's return policy is very easy to navigate. In order to receive a full refund, all purchases (including sale items and underwear) can be returned within 30 days of having received the order in their original condition and original packaging.
Axel Arigato social media
Frequently asked questions about Axel Arigato
Is Axel Arigato a luxury brand?
Handcrafted in Portugal from premium Italian materials, Axel Arigato is absolutely a luxury brand. Showcasing impeccable attention to detail, they live up to high-end quality standards. But by cutting out the middleman, they are able to achieve couture craftsmanship at much more accessible price points.
What country is Axel Arigato from?
Axel Arigato was born in Sweden, the home country of both its founders—Max Svärdh and Albin Johansson. The two sneakerheads had the vision to combine the West's minimalism with the East's attention to detail to create sneakers that spoke to the next generation of street-style trendsetters.
Who is the owner of Axel Arigato?
Axel Arigato was founded by Max Svärdh and Albin Johansson. Both Max and Albin grew up in Gothenburg, Sweden, where they were introduced by mutual friends. The duo bonded over a mutual obsession with high-quality, fashionable sneakers and their dissatisfaction with the brands on the market. They wanted to create a label that identified and connected with the next generation. And that's exactly what they did with Axel Arigato.
How did Axel Arigato start?
Axel Arigato was founded by Max Svärdh and Albin Johansson in 2014 in Sweden. And whilst they've extended their collection to include apparel and accessories, they started only with Axel Arigato sneakers. By focusing on one product, they were able to perfect their signature minimalist design. Their direct-to-consumer sales approach resulted in a more affordable price tag. And by leveraging social media, they were able to connect to their audience and give them what they wanted.