Merging the carefree spirit of skinny dipping with the confidence of slipping into a designer suit, Naked Cashmere is all about feeling as good on the inside as you look on the outside. Fuelled by the most noble of fibers, the innovative brand doesn't follow the flock. And instead of settling for your run-of-the-mill sheep wool, they strive to be the G.O.A.T in cashmere apparel with unprecedented sustainability, softness, and stylish sophistication.
You know where to find us when temperatures drop: cocooned in Naked Cashmere.
At a glance
| | |
| --- | --- |
| Brand: Naked Cashmere | |
| Founded: 2016 | Founders: Leslie and Bruce Gifford |
| Origin: Los Angeles | Industry: Fashion |
| Collections: Womenswear, menswear, home and accessories | Website: nakedcashmere.com |
| Shipping: International | Headquarters: Los Angeles, United States |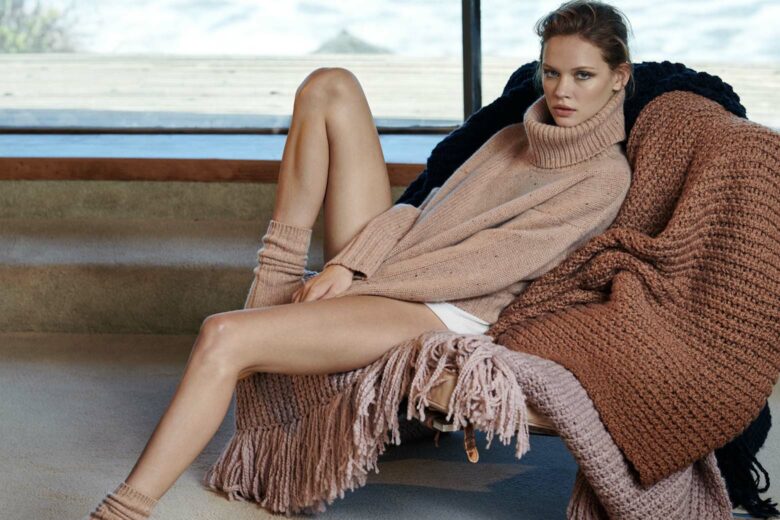 Behind Naked Cashmere
History of Naked Cashmere
Sourced from Mongolian mountain goats, cashmere can be one of the most naturally eco-chic materials when sourced and produced sustainably. It is also one of the most sumptuously soft and exquisitely luxurious fibers—but you already knew that.
Founded in Los Angeles in 2016 by husband and wife—Leslie and Bill Gifford—Naked Cashmere was born to harness the noble fabric's natural sustainability and effortless softness. Their aim was to reinvent capsule wardrobe classics with sophistication, comfort, and style. But of course, the highly sought-after material understandably comes with a much steeper price tag than most. And so Naked Cashmere cut out the middleman and started by selling directly to the consumer. Not only did this online-only approach allow for the luxury label's timeless cashmere apparel to be sold at an unprecedented price, but it also meant that it instantly became accessible to everyone.
Naked Cashmere's launch campaign featured Kate Moss cocooned in the brand's elegant, soft cardigan. With the boost of a famous face and their impeccably high standards for what constitutes quality, the burgeoning brand quickly became a sartorial cult classic. And as A-list celebs and the rest of high society followed in the British model's featherlight footsteps, Naked Cashmere has evolved into an everyday staple for everyone.
They say: "you don't buy Naked Cashmere, you collect it." And we tend to agree as their versatile, ageless apparel elevates our capsule wardrobe collections one cashmere piece at a time.
Interesting facts about Naked Cashmere
Launched in Spring 2020, Cashmere Reborn is the brand's first fully-recycled collection. The women's line of apparel is just another example of the label's exemplary sustainability efforts as it transforms discarded cashmere sweaters into brand-new Naked Cashmere iterations. Whilst this seems easy enough, a 100% recycled cashmere sweater is very tough to come by. The process involves sorting fibers by length—a tedious and time-consuming, but noble task.
Further adding to the eco-chic brand's sustainability efforts, Naked Cashmere packages all of its items in reusable storage bags. These multi-purpose bags are both environmentally friendly and designed to protect your cashmere pieces. With a soft touch, the luxurious fabric prevents wrinkles. The breathable vents keep your cashmere fresh. And they can be used for storing to prevent moths from snacking on your favorite sweaters.
Not only is Naked Cashmere conscious about the environment, but they're conscious about human beings too. The luxury brand has supported the Breast Cancer Research Foundation since 2017 with an annual LOVE collection of cuddly cashmere wraps and accessories. Over the past five years, the BCRF x Naked Cashmere collaboration has raised nearly $300,000 and funded 5,719 hours of research—a number that will only continue to grow year after year.
Naked Cashmere really is for everyone—A-list celebs included. We've already Kate Moss as a key player in the label's 2016 launch. But since then, she's remained one of the brand's loyal customers, saying that "when [she] first put on Naked Cashmere, [she] didn't feel like I was anyone other than myself. It was amazing." A Naked Cashmere wrap cardigan is a quintessential travel staple for Selena Gomez. And Jessica Alba has also been spotted wearing the brand's cashmere sweater on more than one occasion.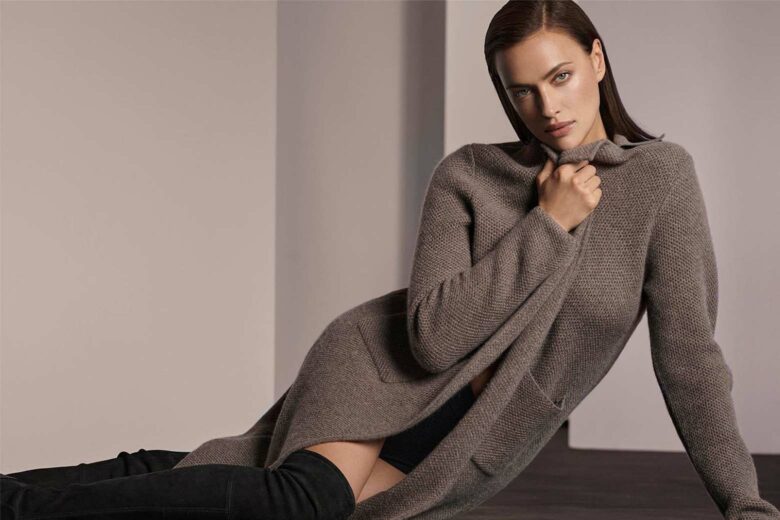 Product range
Renowned as one of the best loungewear brands, Naked Cashmere launched with a line of women's cashmere sweaters, cardigans, wraps, and ponchos. But as the brand has grown, so has its cashmere clothing product range. Their collection of womenswear now includes things like cashmere camis, maxi skirts, pants, dresses, jumpsuits, matching sets, coats, and even intimates such as a Naked Cashmere bralette or dreamy pajamas.
Their menswear collection is a lot smaller but of equally high quality. Sweaters range from cardigans to turtlenecks to zip-ups. Their oversized hoodies and sweats are the ultimate men's loungewear staple. Whilst trendy blazers and button-up shirts add a sophisticated edge to unparalleled comfort.
Unsurprisingly, we're also huge fans of the brand's boutique home and accessories collections. And whether it's snuggly slippers, an elegant robe, a soft pillow case, or a sumptuous scarf, you can't go wrong with gifting Naked Cashmere—to yourself and others.
Signature materials and craftsmanship
With its intrinsic softness and elegant aesthetic, cashmere is naturally one of the most luxurious fabrics. Harvested from Mongolian mountain goats, the delicate fibers are considered to be eight times finer and eight times softer than your traditional wool. And with the right care and maintenance, it only gets softer over time. Although cashmere is typically associated with Winter apparel, it is moisture-wicking and temperature-regulating, making it a fantastic seasonless fabric.
Not only is cashmere one of the softest, most luxurious materials, but it can also be one of the most environmentally friendly when sourced sustainably. As a natural fiber, cashmere is both biodegradable and renewable, leaving little impact on the environment once produced. It is only harvested once a year, meaning that for most of the year, the Mongolian goats are able to roam freely around the mountains.
Sourcing only traceable, cruelty-free cashmere, Naked Cashmere gets its raw materials from herders that use non-harmful shearing techniques such as hand combing. They also only harvest the wool at a time that is favorable to the goats, not during cold Winter periods. Dagne Dover also pays herders in advance to ensure regulated working conditions and better financial freedom. In return, they receive the finest quality cashmere that is perfectly soft with just the right amount of fluffiness. And in an industry where low-quality knockoffs are becoming the norm, we certainly don't take that for granted. 
Where is Naked Cashmere made?
Designed in Los Angeles, Naked Cashmere apparel and accessories speak to an elegant Cali lifestyle. Be it low-key matching sets for lounging at home or sporty-chic streetwear, the sophisticated brand is at the forefront of sustainable timeless trends.
The luxury apparel may be designed amongst style icons and celebrity faces, but they're engineered in the vast Mongolian landscapes—where we find the finest mountain goat fibers. And whilst the Asian country is slightly farther from home, Naked Cashmere remains intrinsically involved in the manufacturing process with frequent check-ups to ensure that their sustainability requirements and working conditions are being met.
Brand values
| | |
| --- | --- |
| Vegan options | No |
| Carbon-neutral | No |
| Gives back | Yes |
Our favorite finds from Naked Cashmere
Naked Cashmere Iman V-Neck Sweater for women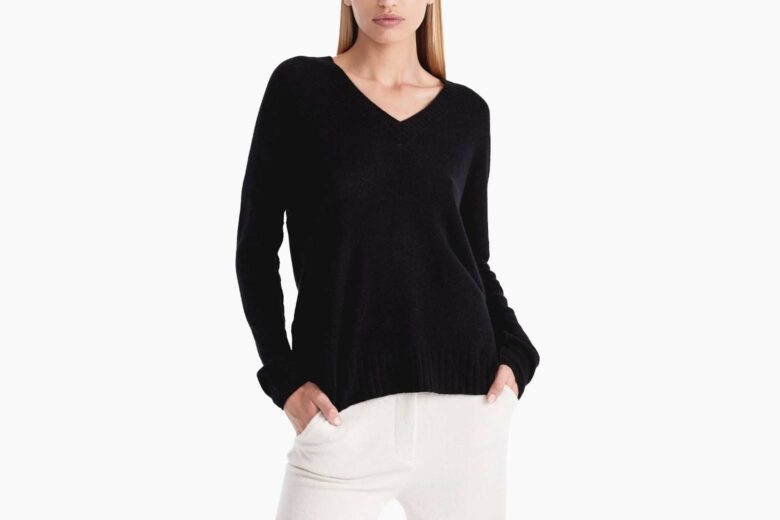 We love contrasts. And we especially love combining feminine elegance with slightly more masculine aspects. That's exactly what Naked Cashmere's Iman sweater does. The 100% pure cashmere, lightweight silhouette, and classical hues exude sophisticated finesse. But at the same time, the oversized slouchy boyfriend fit and relaxed V-neck pullover style add an air of laidback nonchalance. And whilst we know we speak about capsule wardrobes a lot, this luxurious sweater is really one of the most versatile pieces we own. In fact, after wearing yours with almost everything for a couple of months, we're pretty sure you'll invest in a second colorway. We did.
Naked Cashmere Travel Set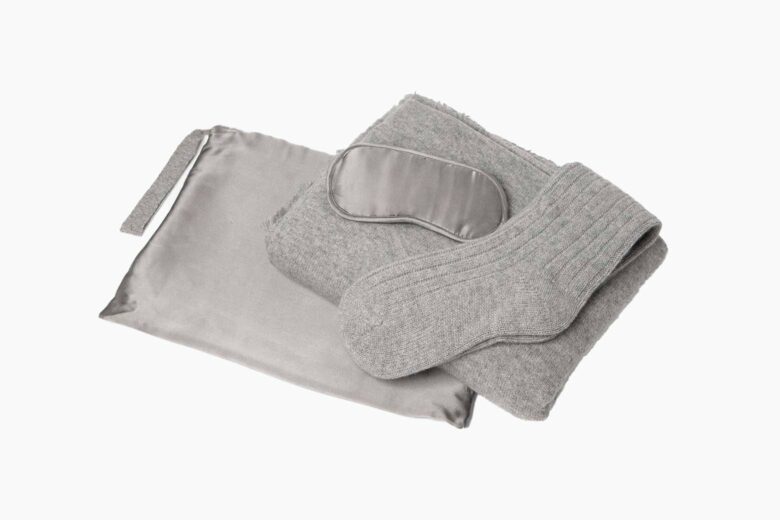 A travel set has got to be one of the most underrated accessories. And it's usually not until you're miles off the ground that you truly appreciate their value. However, we prefer not to leave things up in the air and to always fly prepared. When you're miles from home with limited legroom and swollen ankles, it really is the small things that make all the difference. And Naked Cashmere knows that. The silk pillowcase and eye mask are buttery smooth against your skin. While the lightweight cashmere socks and throw are lightweight, moisture wicking and temperature-regulating. Plus, the brand offers custom monogramming, making this travel set the perfect go-away gift for anyone (including yourself).
Naked Cashmere Jake Hoodie for Men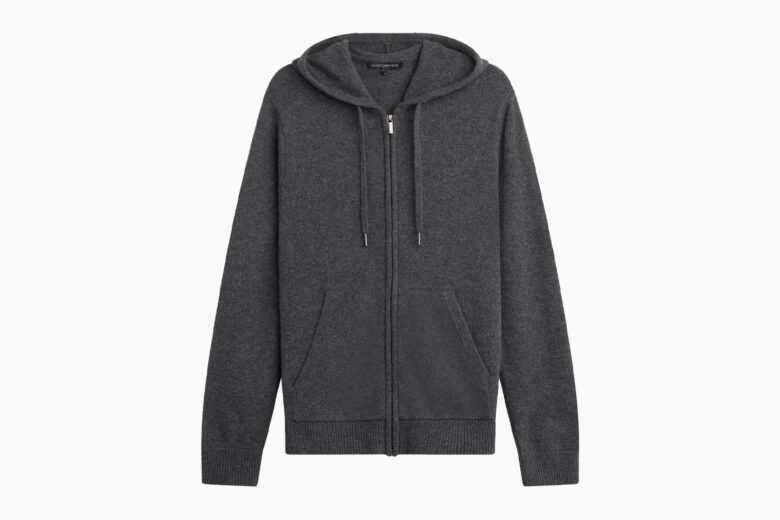 Ah, the humble hoodie—except not so humble when it's made from the finest cashmere. In fact, the Jake hoodie is the kind of loungewear you actually want to be caught in when answering the doorbell at an unexpected hour. But let's be honest, when it comes to loungewear, it's more about how you feel on the inside. And in our minds, there's no question about it, you simply can't beat the intrinsic comfort of Naked Cashmere's moisture-wicking, temperature-regulating, lightweight oversized zip-up. Crawling into this decadent hoodie at the end of a tough workday feels like the ultimate act of indulgence—especially when paired with Netflix and pizza.
Naked Cashmere River Shawl Cardigan for Women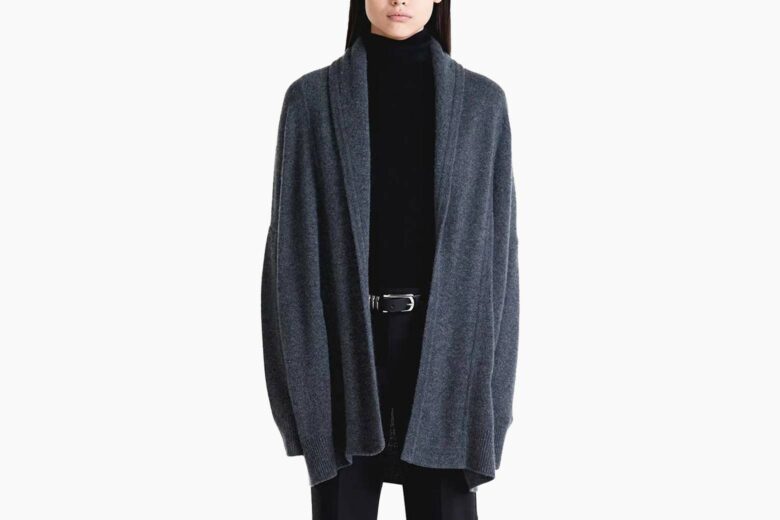 Naked Cashmere's River shawl cardigan is kind of like the sartorial equivalent of a hug. It's comforting at any point of the day—be it at the office, on the couch, or even at the bar. It's so comfortable, it almost feels like you shouldn't be allowed to wear it out. Yet the elongated silhouette acts both as a blanket and as an elegant style statement. The open-front and neutral hues make this cashmere wrap perfect for layering and throwing over just about anything when your colleague decidedly turns up the air conditioning. Whilst the slouchy fit and sophisticated shawl collar fuse high-end luxury with a relaxed attitude.
Where to buy Naked Cashmere
Naked Cashmere launched as a direct brand-to-consumer label with their ecommerce site. And to this day the official Naked Cashmere website remains the best way to shop their elegant apparel. By cutting out the middleman, the high-end brand makes luxury more affordable. But the online platform also makes it more accessible internationally.
Naked Cashmere's website is always well stocked with a full range of the different colors, styles, and sizes available. And it's easy to navigate in order to find exactly what you're looking for.
Naked Cashmere price
Whilst the brand delivers unparalleled quality cashmere products, by cutting out the middleman, they can do so at a more affordable price. Accessories such as pure cashmere socks and gloves start at around $75. Middle-range products such as camis and bralettes are priced around $105. Whilst sweaters cost around $325, and a cashmere puffer jacket is priced at $865.
Naked Cashmere shipping
Naked Cashmere offers free shipping to anywhere in the U.S. If your order is over $500, you also have the option to pay $20 for overnight delivery. Deliveries typically take 3-8 business days. If you are outside of the U.S, you will have to pay for shipping, with the price being dependent on where you are ordering to.
Naked Cashmere return policy
Returning an order from anywhere in the U.S is seamless and free of charge. If however, you paid $20 for overnight shipping, this is non-refundable. International shipping costs are also non-refundable, and you will have to pay for return shipping too. Orders must be returned unworn in their original bag within 21 days of receiving your order. Once the brand has received your return, your refund will be processed and should be received within 14-21 business days.
Naked Cashmere social media profiles
Frequently asked questions about Naked Cashmere
What is cashmere made from?
Cashmere is made from the undercoat of Mongolian goat fur. Because the goats live in the mountains, this undercoat is designed to keep them warm in icy climates. It is also eight times more fine and eight times softer than traditional sheep's wool. In Spring, the goats naturally shed their fur, and during this time, the fibers are harvested using harmless hand combing techniques.
Is it ethical to wear cashmere?
If the raw materials are sourced without harming the animals, cashmere can be one of the most sustainable fabrics. Because it is a natural fiber, it is both biodegradable and renewable. Brands such as Naked Cashmere only source their cashmere from ethical farms. This means that the fibers are only harvested once a year when the goats naturally start shedding their fur. And they are harvested with a hand comb so as not to harm the animals. Ethical farms also ensure good working conditions and fair pay for the herders. 
Do vegans wear cashmere?
Strict vegans are unlikely to wear any kind of animal products. Whilst others may be more open to wearing fabrics where they can be sure that no animals were harmed in the process. In this case, they may wear cashmere products from brands like Naked Cashmere that only source their cashmere from ethical farms. These farms only harvest fibers once a year when the goats naturally shed their fur. And they use hand combing techniques that do not hurt the animal.
What is the highest quality cashmere?
According to Naked Cashmere reviews, the luxury brand has the highest quality cashmere. And we tend to agree. Whilst cheaper cashmere brands opt for low-quality, short fibers, these won't last as long, and they will pill with wear. Naked Cashmere on the other hand only uses high-quality long fibers that are unparalleled in softness and last over time.