Ah, the all-hailed yet rarely upheld phenomenon: less is more. And whilst many of us misuse the phrase to excuse skin-baring sultry slips and under-seasoned roasts, Cuyana sees it as the key to an authentically sustainable but stylish lifestyle. Renowned for its fewer, better mantra, the sustainable brand doesn't stop at fewer like so many endorsers of the philosophy. They're also committed to better—better quality craftsmanship, better timeless designs, and better sustainable fabrics. Essentially, they make an eco-chic lifestyle effortless.
At a glance
| | |
| --- | --- |
| Brand: Cuyana | |
| Founded: 2011 | Founders: Karla Gallardo and Shilpa Shah |
| Origin: United States | Industry: Fashion |
| Collections: Women's bags, clothing, and accessories | Website: cuyana.com |
| Shipping: International | Headquarters: San Francisco, United States |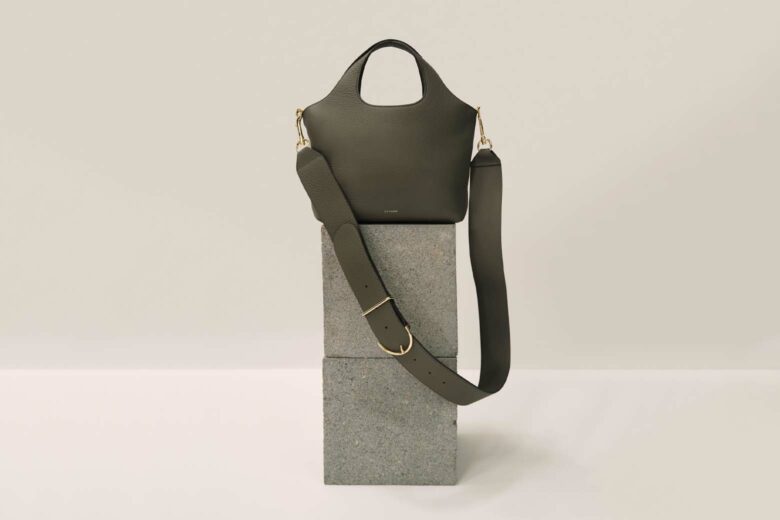 Behind the brand
History of Cuyana
Cuyana was dreamt up when Karla Gallardo moved from Ecuador to the United States to study applied mathematics at age eighteen. As a lifelong fashion enthusiast, the first thing that struck her as vastly different from where she grew up was the huge amount of products. She felt overwhelmed by noisy, bustling shopping centers and endless sales. And whilst the latest trends were shoved in her face at every turn, she struggled to find quality pieces that she could afford.
Karla started working with Shilpa Shah (computer science major) straight out of business school in 2011. And whilst neither of them had any experience in the fashion industry, they used their multifaceted skills and determination to grow a brand that refuted the overriding fast fashion mentality. . The female-led brand had to do a lot of education to convince consumers that although Cuyana bags were priced a lot lower, they weren't compromising on quality.
Cuyana launched its best-seller Classic Tote in 2012, making its way into carefully curated A-list closets. The female-led startup then went on to raise $30 million in 2019. And since then, Cuyana has continued to grow its collections to include a considered list of sustainable bag designs, long-lasting womenswear, and smaller simple accessories.
Interesting facts about Cuyana
Meaning "to love" in Quechua, Cuyana (pronounced "koo-yana") lives up to the eponymous principle in a multitude of different ways. Whilst the core collection promotes a long-lasting love for timeless pieces that transcend fickle trends, the limited editions evoke a love for change and fresh perspective.
With a move towards slow fashion, capsule wardrobes are trending. But if we're honest, many of us struggle to see just how a cupboard of neutrals can bring the same style excitement to each day. Cuyana perfectly depicts how a capsule wardrobe should be curated to promote both sustainability and style. And the sustainable brand's core essentials and limited edition statement-makers are designed to flawlessly fit together to inspire a plethora of versatile and elegant ensembles.
To love also means to acknowledge each item's inherent value. Whilst Cuyana bags are designed to last a lifetime in style and durability, we all need a change-up every now and then. But instead of hoarding accessories or worse—sending them to landfills—Cuyana's Lean Closet Program allows us to exchange gently-used items for credit. These pre-loved items are sold on Cuyana Revive, where even more people are given the opportunity to embrace a fewer, better lifestyle.
Cuyana also manifests love through individuality and many of the products can be personalized with sentimental monograms. And in return for all the love they show us (and the planet), it's no surprise that the considered brand receives love in equal measure. Thanks to its loyal customer base—including famous faces such as Angelina Jolie, Jessica Alba, and Meghan Markle— Cuyana sells through 90% of its products. This is extremely high for the industry where the average sell-through rate is just 60-70%.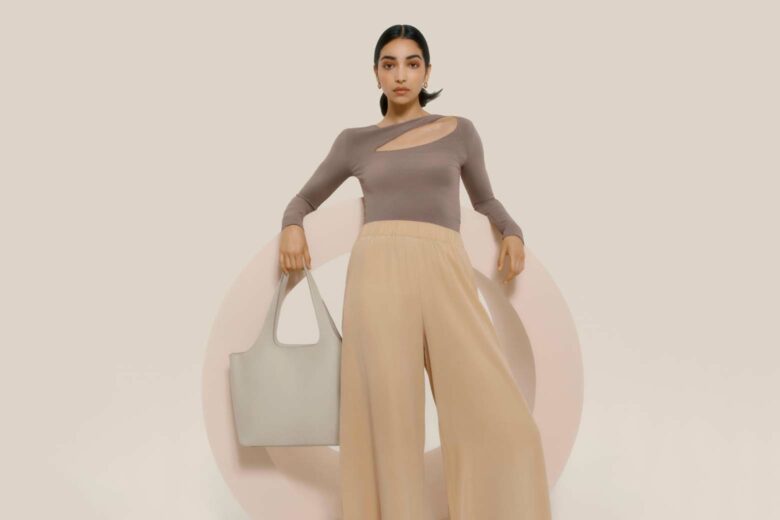 Cuyana product range
Cuyana will always be known for its signature leather totes. But as the brand continues to grow, so does its product range. Cuyana bags include totes, slings, crossbodies and messengers for everyday wear. Their leather backpacks are the ultimate commuter's accessory. Whilst spacious weekenders implore you to take some time off. And smaller accessories such as women's wallets, cardholders and clutches complete your set with optimal organization.
The luxury brand has also extended into a line of Cuyana clothing for women. Elegant, feminine maxi skirts and wide-leg pants pair perfectly with their halter tops and blazers. Silk wrap dresses and sultry slips are well worth adding to your Summer wear rotation. While soft knits and wool coats are our go-to quintessential Winter essentials. We also love their collection of sleepwear and loungewear for optimum comfort.
Signature materials and craftsmanship
Driven by their fewer, better ethos, Cuyana is committed to finding materials that are both sustainable and handcrafted to stand the test of time. In 2020, the brand promised that 100% of its products would be made from sustainably-certified materials by 2022. And sitting at 99% already, they're well on their way to achieving that.
Recycled plastic is one of the brand's signature sustainable fabrics. Made in Vietnam, plastic bottles are saved from landfills and transformed into a collection of sling bags. The innovative fabric is both durable and machine washable, making it a fantastic choice for travel accessories and bags that receive a lot of wear—both of which are true of Cuyana's recycled slings.
The eco-chic brand is constantly seeking new ways to promote sustainability in fashion. And whilst recycled plastic is a clear example of that, their responsibly sourced leather is a less obvious depiction of environmental consciousness. Yes, it is still an animal product but it is a byproduct of the meat industry. And whilst we appreciate that many believe it's an industry that shouldn't exist, whilst it does, we'd rather see the whole animal used than parts of it. Besides its non-vegan-friendly qualities, leather is traditionally tanned with extremely harmful chemicals. But not Cuyana's—all of their leather is tanned with natural dyes and are certified by the Leather Working Group.
Cuyana also uses many other renewable and biodegradable natural luxury fabrics such as silk and cashmere. Both of these fabrics are validated as sustainably-made by the highest certifications. They use minimal resources to manufacture and are sourced from farms that value safe working conditions, environmental consciousness and animal safety. Plus, they're incredibly soft against the skin as they epitomize indulgence and comfort.
Where is Cuyana made?
Whilst all Cuyana pieces are designed in San Francisco with modern minimalism in mind, the globetrotting brand takes us on a journey with each new piece. Their recycled plastic sling bags are made in Vietnam. Their recycled cashmere sweaters and signature leather bags are handmade in Italy where artisanal craftsmanship is a generational trade. Their ethical cotton loungewear is grown, spun and pieced together in Peru. Toquilla straw panama hats are handwoven by women in their home in Ecuador. Wrinkle free linen pants come from Romania, canvas weekender bags from Turkey and stretch activewear from Portugal. But regardless of country, each manufacturing company is carefully chosen for their commitment towards ethical working environments, sustainability efforts and impeccable attention to detail.
Cuyana brand values
| | |
| --- | --- |
| Vegan options | Yes |
| Carbon-neutral | No |
| Gives back | Yes |
Our favorite finds from Cuyana
Cuyana System Tote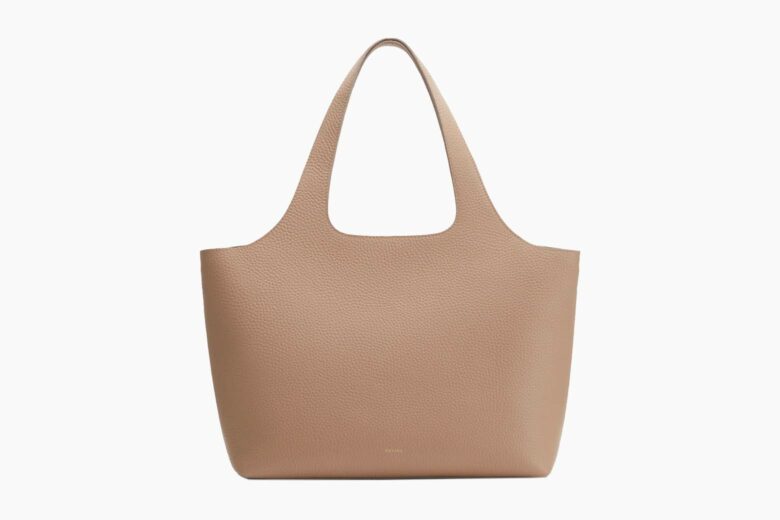 They say that with the right systems in place, life runs smoothly. If they don't say that, well, we just did. And by that, we mean with a System Tote by your side, you'll never encounter those last-minute panics and embarrassing scrabbling. Yes, this supple leather silhouette is also a beauty to look at. But as modern, professional women, we're way past judging our everyday accessories purely based on looks—it's what's on the inside that counts, right? As one of our best designer work bags, this Cuyana tote has a plethora of pockets and slips for laptops, bottles, and elusive keys and cards. Because when we feel in control, we look good—both in the boardroom and out.
Cuyana Leather Backpack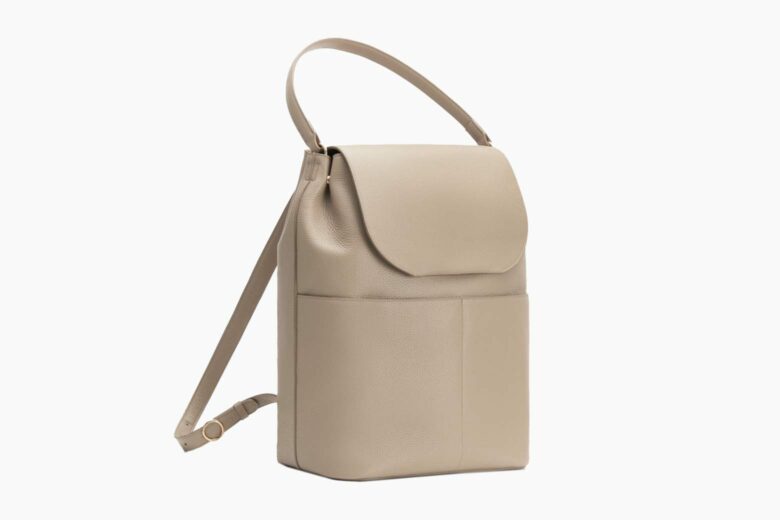 Yip, what was once forcibly double-strapped over your shoulders by a practical parent, is now deemed cool. And in the era of functional fashion, it's perfectly acceptable for a professional adult to work with a backpack in tow. But whilst some brands focus too much on redeeming their childhood foe with a trendy street style aesthetic, others seem more than happy to relive a nerdy past with uber-utilitarian iterations. Fortunately, Cuyana backpacks hit that elusive sweet spot flawlessly. When it comes to practicality, they've thought of everything—from adjustable straps to laptop sleeves and slips. Whilst the elegant leather exterior is both effortlessly sophisticated and versatile—making this backpack a dream for long commutes and hands-free shopping sprees.
Cuyana Wallet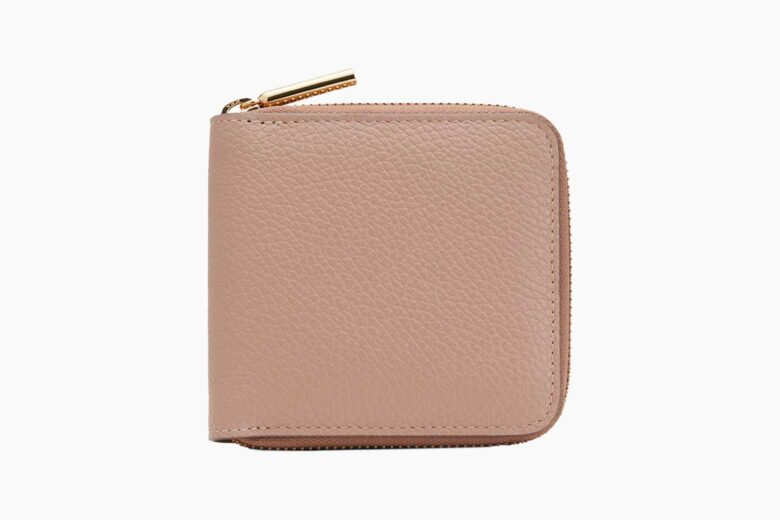 Simple yet sophisticated, this Cuyana wallet is the perfect gift for anyone who values quality accessories (yourself included). The sumptuous leather silhouette is impossibly soft. And manufactured in a woman-owned factory in Turkey, it comes with a backstory appreciated by many. The classic zip-around design is super organized with separate slots of cards, cash, and IDs. And the personal monogramming option is perfect for adding a sentimental touch to any celebration.
Where to buy Cuyana
You'll find a full display of Cuyana's core essentials, limited edition pieces, and Cuyana sale items on their official site. If you're new to the store, you can sign up to their newsletter and get 10% off your first order using the Cuyana promo code. You can also shop pre-loved Cuyana items on Cuyana Revive.
Cuyana price
Cuyana is an affordable luxury label with high-quality pieces ranging from $25 to $500. Smaller items such as silk scarves, airpod cases and cardholders range from $25 to $100. Most everyday bags and apparel range from $100 to $300. Whilst larger weekend bags and coats range between $300 to $500.
Cuyana shipping
Cuyana offers free shipping on orders over $95 in the United States. And orders under $95 cost $5. All domestic orders typically take 3-8 business days. You can have a U.S order shipped within 2-days at an extra cost of $25. And overnight shipping costs $35. Cuyana also offers international shipping for $35. But the time of delivery will depend on where it is being shipped to.
Cuyana return policy
Cuyana offers a full money-back guarantee on all unworn items within 30 days of shipment. You can also return unworn items to any of their physical locations. We're yet to return a Cuyana purchase, but according to Cuyana reviews, you should receive your refund within 3-8 business days after the brand has received your return. On the other hand, international purchases are final and Cuyana will not receive returns.
Cuyana social media profiles