There aren't many sneakers out there with the same level of fan adoration as Kanye West sneakers—Yeezys. Originally released to the world back in 2009, Yeezy sneakers have progressed into a whirlwind of sizes, shapes, colors, and designs, with both Nike and Adidas curation along the way.
Much like 'Ye himself, Yeezy types span from the cool to the crazy. Kanye West shoes tend to come with at least a little sprinkling of personality from the man himself, which means outrageous colorways, futuristic designs, and some downright unusual elements.
With an artistic flair like the best Jordans and an almost-household level of popularity like the best Nikes, it's fair to say that Yeezy shoes continue to work their way up in the world.
There's the classic 350s—the most popular Yeezys—which you'll see on the feet of fans all around the world. And then there are the more out-there options, the Yeezy trainers in neon tones and seriously chunky styles.
And that's not forgetting the other side of Adidas Yeezy sneakers: the thousands of dollars paid for resale. Ever thought about spending almost two million dollars on a pair of luxury sneakers? One person did.
Read on for the best of the best when it comes to all Yeezy models.
The 19 best Yeezys of all time
To help you find the perfect pair of Yeezys, check our buying guide after the list.
1. Adidas Yeezy 350 V2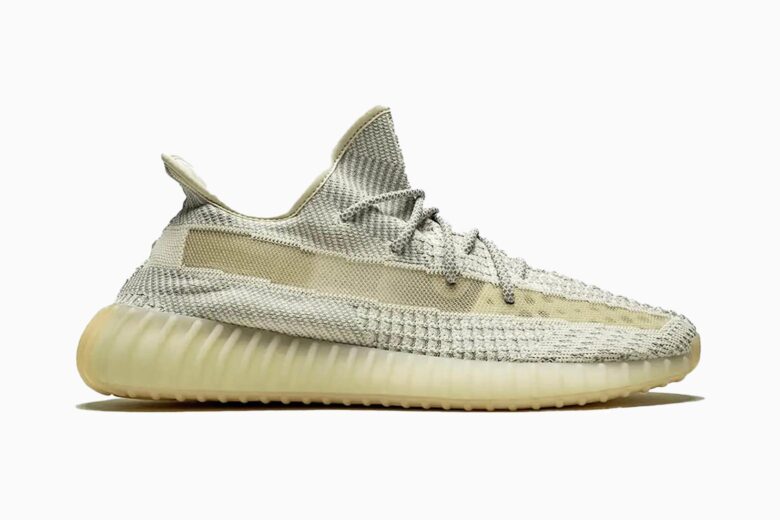 The Adidas Yeezy 350 V2 is subtly different from the rest of the Yeezy shoes, with additional attention to detail and small changes keeping it a foot—pun intended—apart from the rest of the brand.
The V2 Light in particular, with its light-sensitive color palette, ensures these Yeezy sneakers are top of the game when it comes to not just fashion but also tech. There's also the seriously suave Yeezy Hyperspace, with its light grey and translucent colorway. A big must-have for die-hard Yeezy collectors, it's one of the newest releases from the brand. The 350 V2 is thought to be the most popular Yeezys.
| | |
| --- | --- |
| Released in: | 2021 |
| Original price: | $230 |
| Colors: | Off White, Ash Pearl, Cinder |
2. Adidas Yeezy 700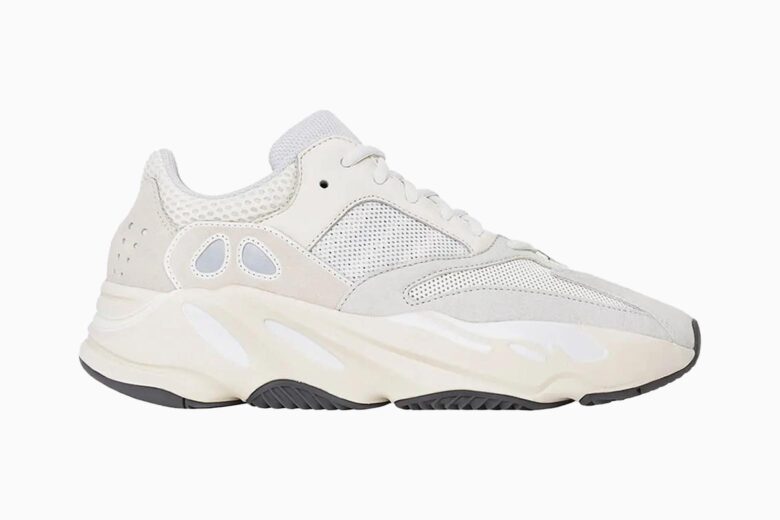 Chunky silhouette or multi-layered look? Enter: Adidas Yeezy 700, a fusion of both, with a range of vibrant colorways and an equally vibrant personality. One of the most budget-friendly Yeezy models released, the 700 comes in a huge number of colors for all personalities.
These shoes are just as comfortable as their bulky exterior would suggest and that's partially why their resale price shot up so much, too. You'll also find the Yeezy 700 with a few different spin-offs: the Yeezy Boost 700 v2, Yeezy Boost 700 v3, and the Yeezy Boost 700 MNVN.
| | |
| --- | --- |
| Released in: | 2017 |
| Original price: | $240 |
| Colors: | Wave Runner, Sun, Mauve |
3. Adidas Yeezy Slide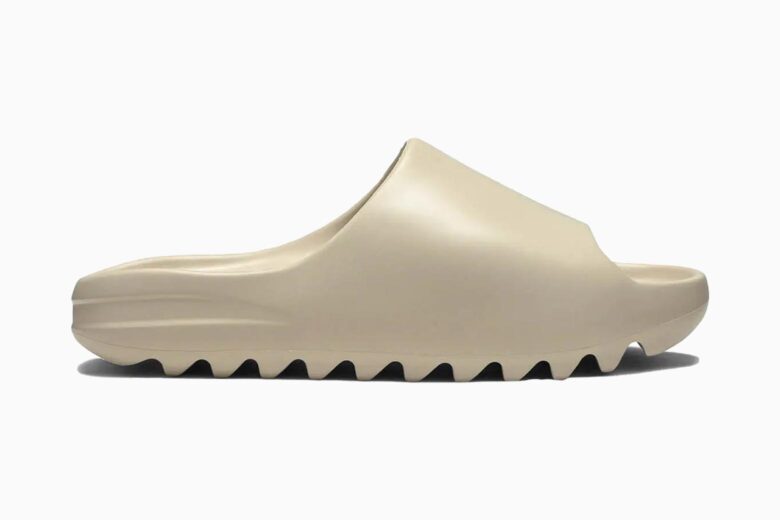 One of the best slides for men, the Adidas Yeezy Slide is a little different from either your standard slider or your standard Yeezy. Bulky and vibrant, Yeezy slides come in a huge range of colors as well as a few prints. It's a Yeezy for casual occasions; a throw-on shoe that ensures you look like you mean business without any kind of unnecessary effort.
Expect the same signature energy and the same molded, snug fit, but with a laidback flair and unique touch of injected EVA foam.
| | |
| --- | --- |
| Released in: | 2019 |
| Original price: | $55 |
| Colors: | Glow Green, Black, White |
4. Adidas Yeezy Foam Runner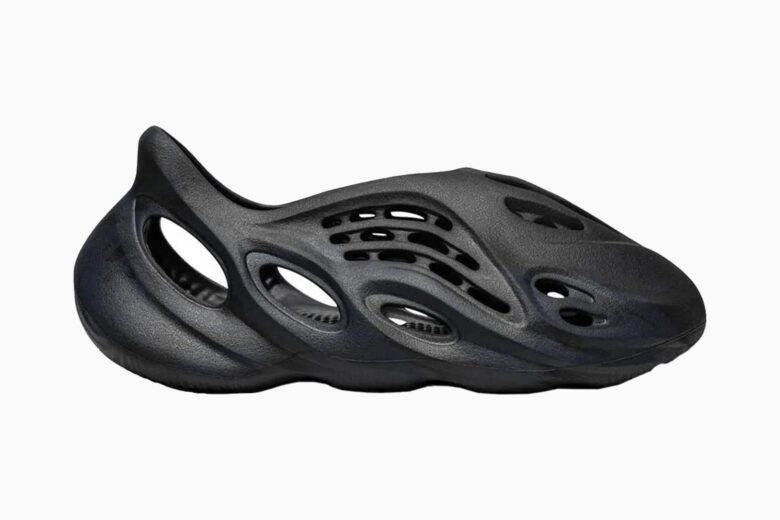 The Adidas Yeezy Foam Runner is less of a traditional shoe and more of a statement piece of fashion: a surprise drop with a futuristic yet simplistic design that's designed to be slipped on and off instantly.
It was also an opportunity to add a new material into the Yeezy family; a blend of harvested algae and EVA materials making these shoes just as friendly for the environment as they are for your wardrobe and comfort.
Wondering how to rock this pair? Check our guide on how to style the Yeezy Foam Runner and the best outfit to match them with.
| | |
| --- | --- |
| Released in: | 2020 |
| Original price: | $240 |
| Colors: | White, Red, Earth Brown |
5. Adidas Yeezy 350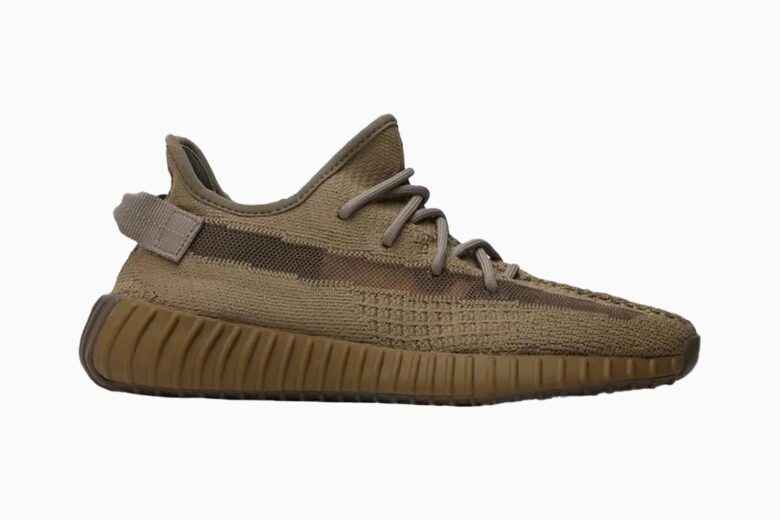 You can't really beat the Adidas Yeezy 350 when it comes to searching for that traditional Yeezy silhouette. One of the OGs in the world of Kanye sneakers, the Yeezy 350 has resurfaced plenty of times since its original release, each time coming back with cooler-than-cool colors and added touches.
If you're looking for an instantly recognizable pair of Yeezys, the 350 is the one to go for. It's remained one of the most popular Yeezys, despite endless new releases.
| | |
| --- | --- |
| Released in: | 2007 |
| Original price: | $200 |
| Colors: | Cloud White, Neutral, Earth |
6. Adidas Yeezy 380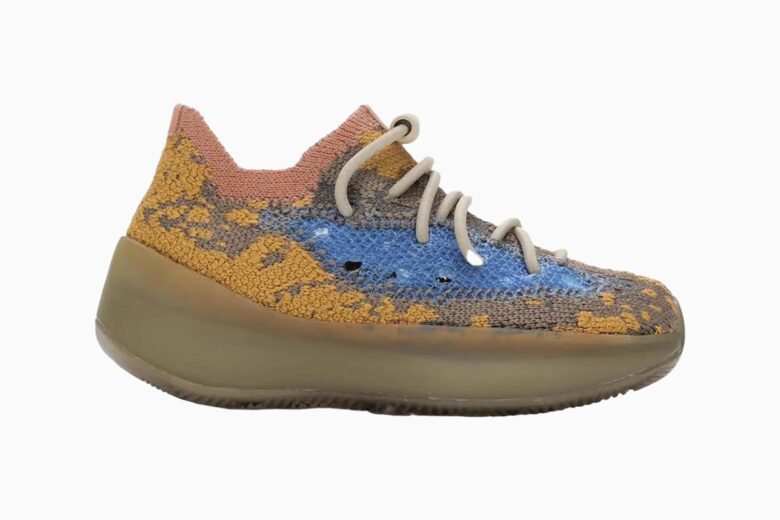 The 350, but stepped up a notch—literally. Meet the Adidas Yeezy 380. One of the most futuristic sneakers out of the entire Yeezy line, the 380 promises extra inches both in physical height and personality.
Not for the fainthearted, the 380 possesses a style like no other to boost your look, with a huge range of tonal shades adding an extra spark to any outfit. They're also widely available still at retail price.
| | |
| --- | --- |
| Released in: | 2019 |
| Original price: | $230 |
| Colors: | Blue Oat, Covellite, Pepper |
7. Adidas Yeezy Boost 700 "Wave Runner"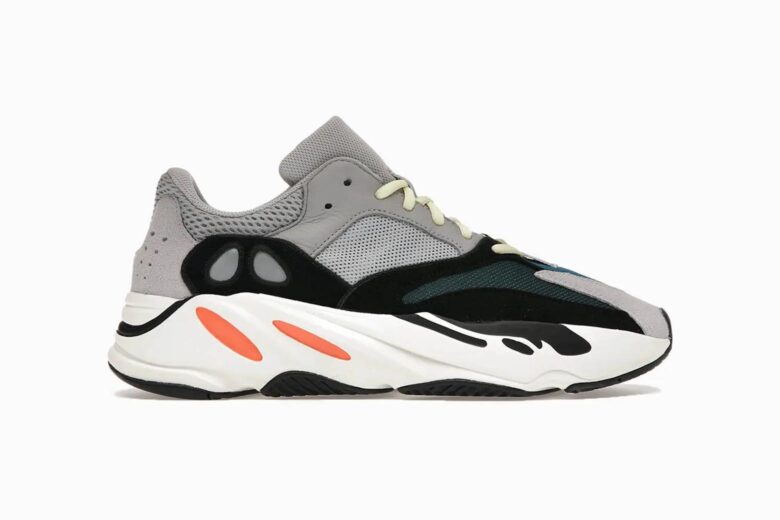 The Adidas Yeezy Boost 700 "Wave Runner" first debuted during the Yeezy Season 5 fashion show in 2017, demanding attention with a chunkier look than seen before and a range of new colors to match. You'll find new releases of this shoe each year but, if you're looking for the original release, expect to pay close to $1,000 per pair.
A timeless design, it comes with a new creative palette from both Yeezy and Adidas with a slightly lower retail price point than other pairs.
| | |
| --- | --- |
| Released in: | 2017 |
| Original price: | $240 |
| Colors: | Solid Grey, Mauve, Wash Orange |
8. Adidas Yeezy QNTM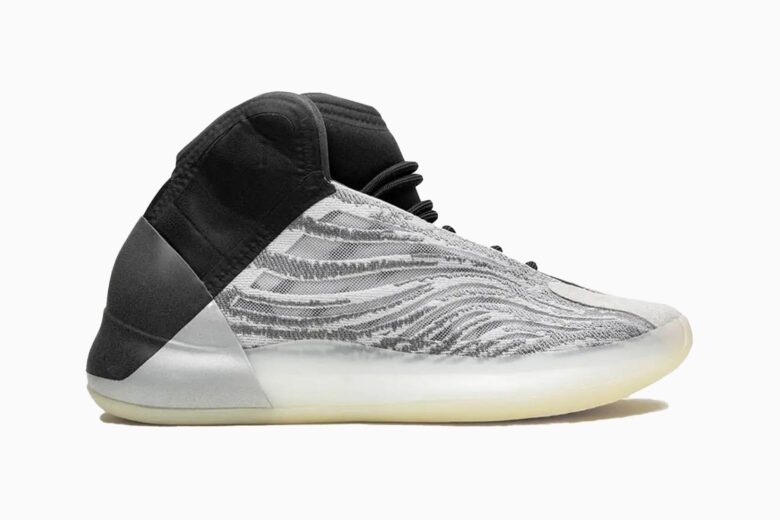 Adidas Yeezy QNTM (or Quantum) is the star of the show in the footwear world. Suitable for those who like to make an entrance, it's a flashy design that doesn't hold back. Not only is the alternative look of this shoe something to talk about, but it also comes with 3M reflective detailing on the heel.
This basketball-centric silhouette was originally referred to as the "Flaora", which was a shortened version of one of the initial colorways released: Flash Orange.
| | |
| --- | --- |
| Released in: | 2021 |
| Original price: | $250 |
| Colors: | Flash Orange, Onyx, Teal Blue |
9. Adidas Yeezy Boost 350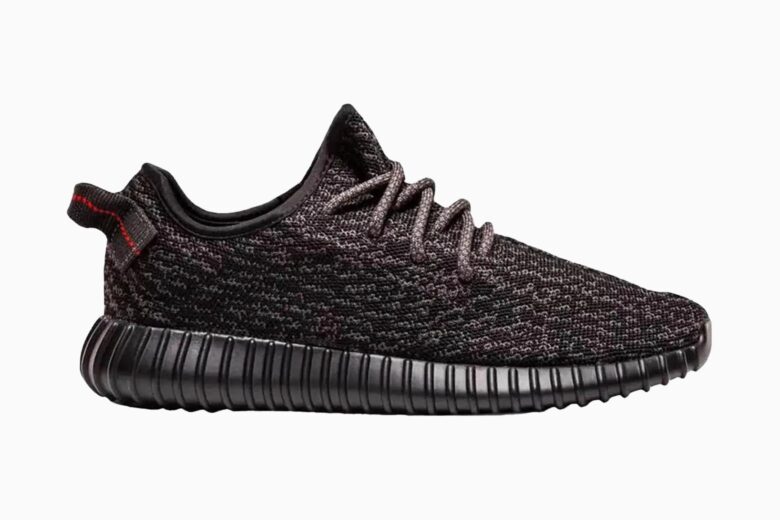 The Adidas Yeezy Boost 350 is constantly in the headlines of the sneaker world, thanks to its consistent new colorways and attention-grabbing design. A chunkier version of the Adidas Yeezy 350, the Boost version comes with a little extra padding under the toes and a whole lot more personality.
Resale value for these sneakers starts at around $850, with even the child-size shoes selling for around $250. Choose a popular colorway and you're looking at spending more than $1,000 on a pair.
| | |
| --- | --- |
| Released in: | 2015 |
| Original price: | $220 |
| Colors: | Dove Grey, Ash Stone, Slate Red |
10. Adidas Yeezy 450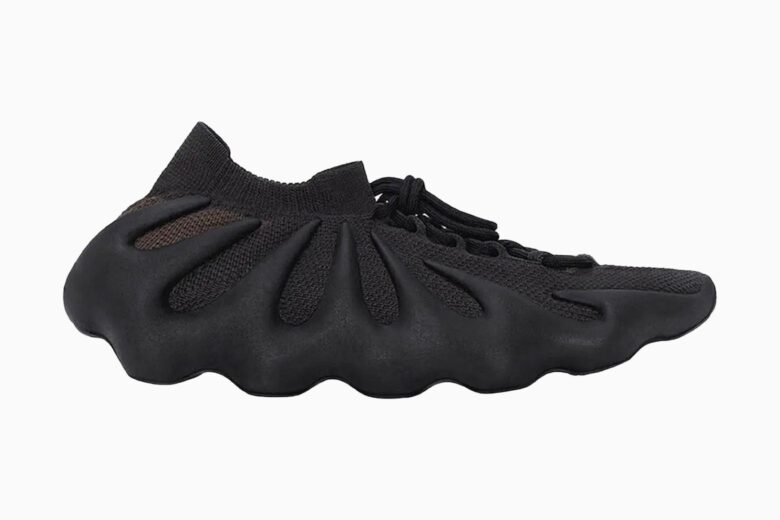 There's no doubt about it: the Adidas Yeezy 450 isn't for everyone. Its unique silhouette makes this shoe stand out from the rest, in a way that means it would work just as nicely as a piece of interior art as it does as a shoe.
With a simplified two-piece construction, the 450 is renowned for being seriously comfortable. Its sock-like Primeknit upper means that, when you've stopped talking about the design of this shoe, you'll start talking about its breathability.
| | |
| --- | --- |
| Released in: | 2021 |
| Original price: | $200 |
| Colors: | Dark Sulphur, Resin, Dark Slate |
11. Adidas Yeezy Boost 380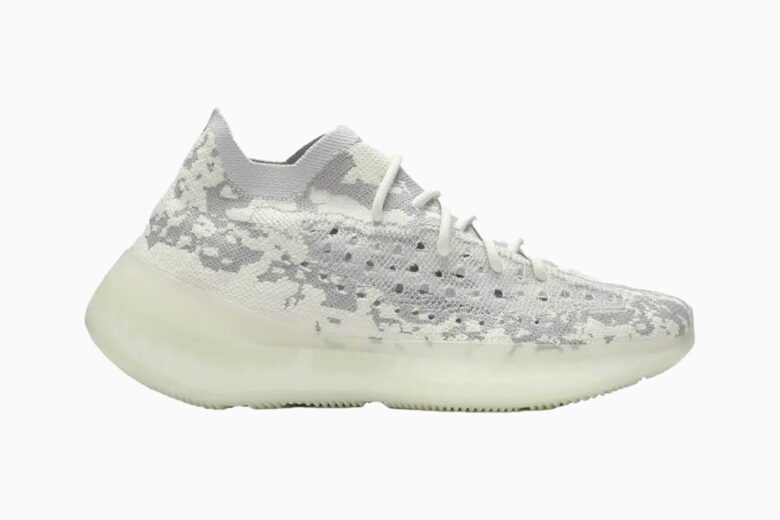 The Adidas Yeezy Boost 380 is the closest thing you'll find to a glove for your feet. Known for its knit-mesh uppers and smooth rubber sole, which gives it its namesake Boost, the 380 initially made its debut during an interview with Forbes.
A full reveal came shortly later in the form of paparazzi photos showing the world a new silhouette with a new name to match. The striking design of the 380 gives them a slight advantage over the 350—a previous favorite.
| | |
| --- | --- |
| Released in: | 2019 |
| Original price: | $230 |
| Colors: | Alien, Covellite, Stone Salt |
12. Adidas Yeezy Calabasas Powerphase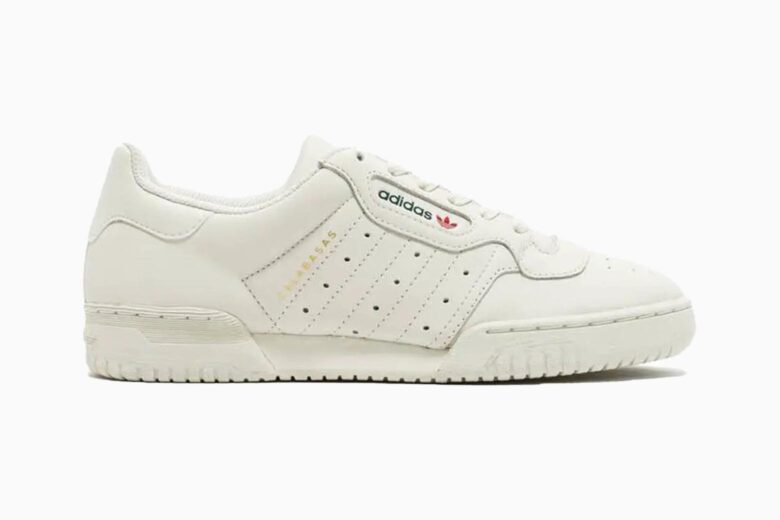 The Adidas Yeezy Calabasas Powerphase caused a bit of a stir when it first came out, with a very different look to the standard Yeezy shoe. Not only that, but it was the first to be released without the ubiquitous Boost technology or design.
Instead, the Yeezy Calabasas Powerphase comes with a retro, relaxed design and a standard sole. Inspired by the '80s, this is a shoe for the hardcore Yeezy fan, who prefers a laidback, minimal look.
| | |
| --- | --- |
| Released in: | 2017 |
| Original price: | $120 |
| Colors: | Core White, Calabasas Grey, Core Black |
13. Adidas Yeezy 500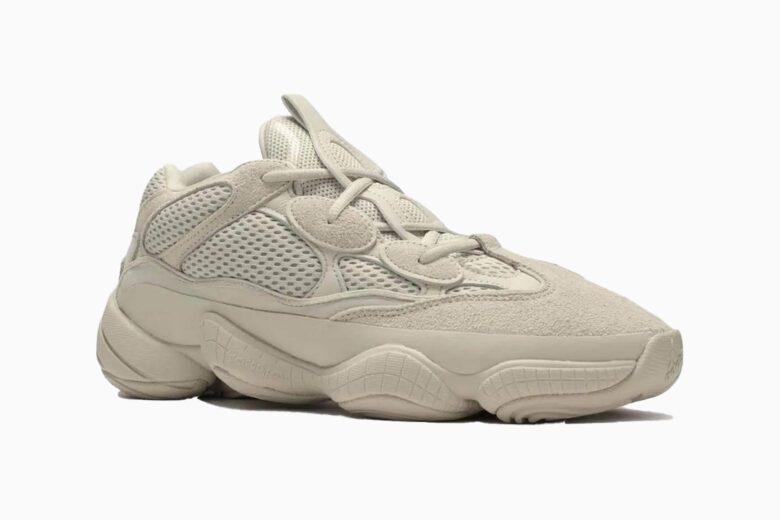 There are dad trainers, and then there's the Adidas Yeezy 500. Suede and mesh combine with a larger-than-life statement silhouette in a shoe designed to steal the show. Taking another step outwards in the Yeezy design kingdom, the 500 is one of the easiest Yeezys to style, thanks to its muted colorways and blocky design.
An essential addition to your Yeezy rotation, these shoes might take a little extra effort to clean but it's definitely worth it.
| | |
| --- | --- |
| Released in: | 2019 |
| Original price: | $200 |
| Colors: | Blush, Desert Rat, Utility Black |
14. Adidas Yeezy 700 V3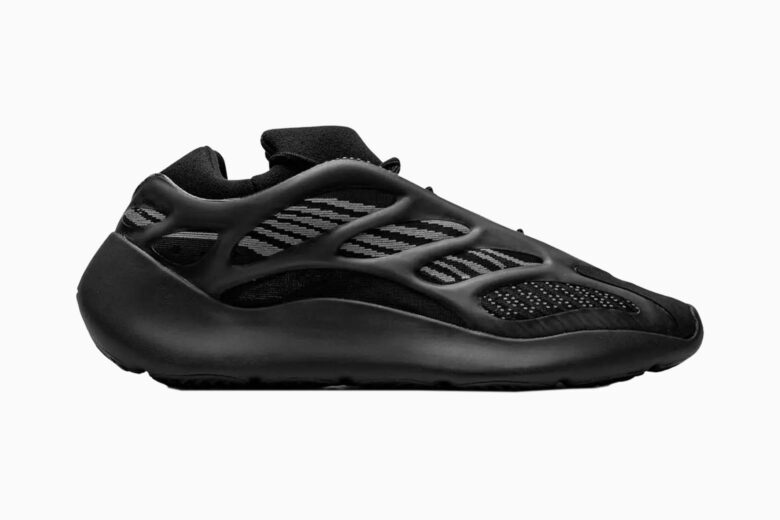 The Adidas Yeezy 700 V3 first teased the scene back in 2018 via a Kanye Twitter post but wasn't officially available to buy until 2019. Its birth came about as part of a sneaker-focused interview with Forbes, which saw Kanye hand-gifting a pair to DJ Khaled.
Another unique style, these blocky sneakers are robust and loud, with a number of new colorways growing the collection each year.
| | |
| --- | --- |
| Released in: | 2019 |
| Original price: | $200 |
| Colors: | Safflower, Kyanite, Alvah |
15. Adidas Yeezy Boost 700 MNVN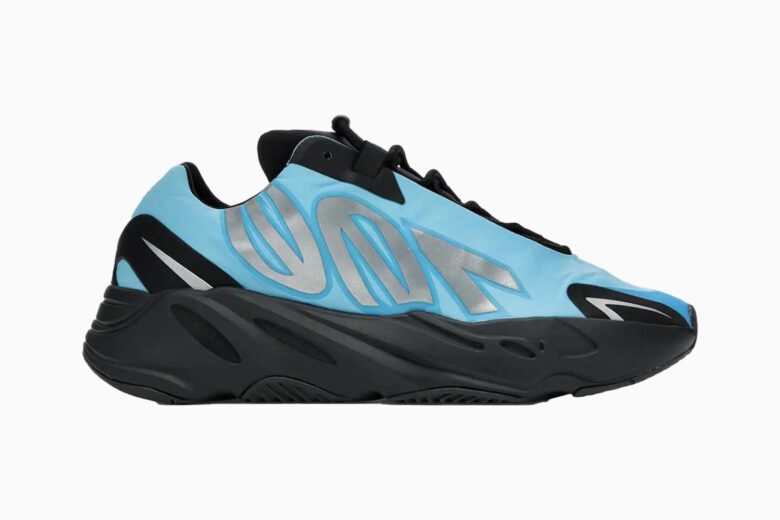 There were a lot of guesses as to what the "MNVN" in the Adidas Yeezy Boost 700 MNVN stood for. The answer? Minivan. This sneaker was a prime example of an artist not being appreciated during his prime, as the MNVN was initially highly criticized for its bulky design.
The huge "700" print in reflective material and range of bright colors ensured this sneaker stood apart from the rest of the 700 range. Iconic stripes and new colorways ensured popularity and high resale prices, once people realized this sneaker was seriously cool, after all.
| | |
| --- | --- |
| Released in: | 2020 |
| Original price: | $ |
| Colors: | Triple Black, Blue Tint |
16. Adidas Yeezy 500 High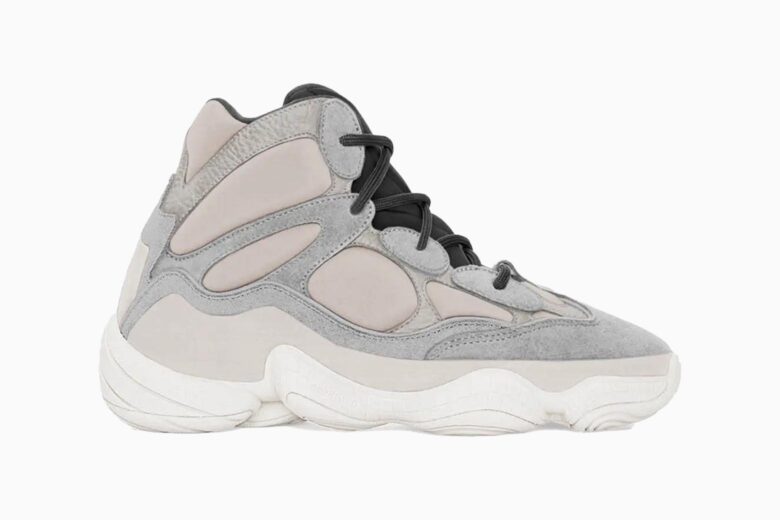 Yeezys are one of those brands that receive attention anytime a new release comes out but the Adidas Yeezy 500 High is definitely one of the most underrated releases. With its puffy Neoprene tongue and signature adiPrene midsole, the Adidas Yeezy 500 High followed some of the brand's previous moves but with a brighter color palette.
A collection of grayscale hues started the launch of the 500 High, followed by a vibrant burst in the form of the Frosted Blue release.
| | |
| --- | --- |
| Released in: | 2019 |
| Original price: | $220 |
| Colors: | Mist Stone, Frosted Blue, Slate |
17. Adidas Yeezy Boost 750 "OG"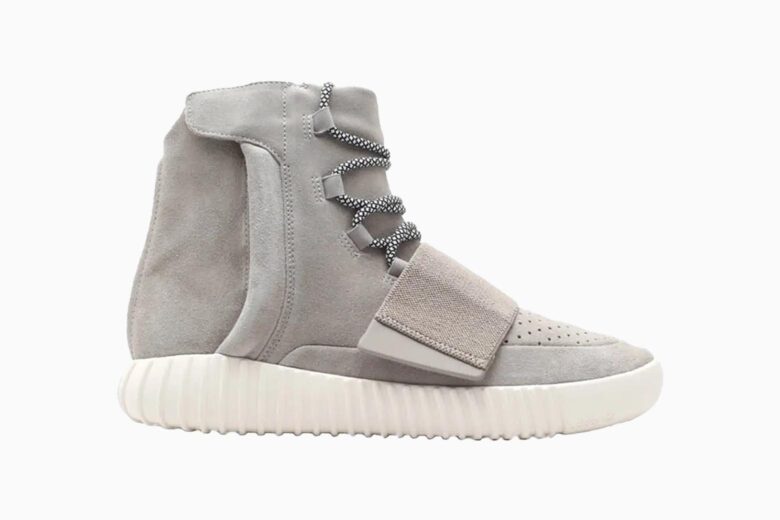 Buy a pair of the Adidas Yeezy Boost 750 "OG" nowadays and you'll easily spend around $6,000 thanks to their sky-high retail value. Made from a robust, luxurious suede in Kanye's traditional muted color palette, the Adidas Yeezy Boost 750 "OG" was released in a far smaller number than other Yeezy releases.
The Adidas Yeezy Boost 750 was the first sneaker released by Adidas, which is where its OG namesake comes from. It's continued to be one of the most sought-after releases.
| | |
| --- | --- |
| Released in: | 2015 |
| Original price: | $ |
| Colors: | Black, Chocolate, Grey Gum |
18. Nike Air Yeezy II "Red October"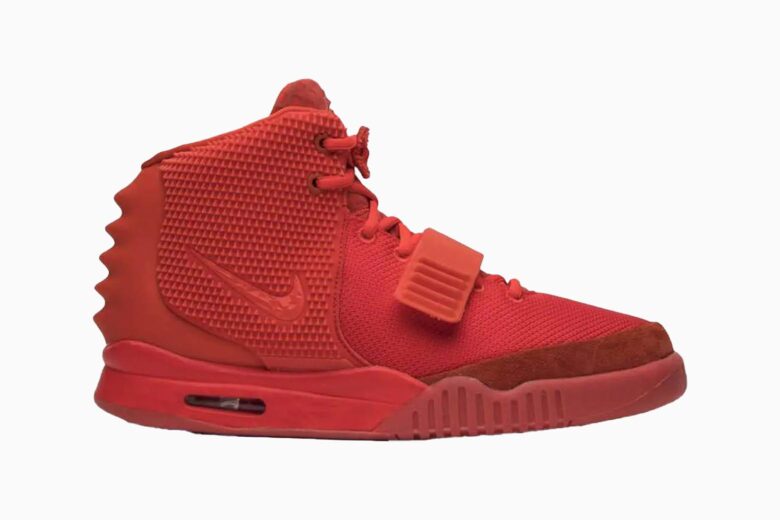 There aren't many Yeezys quite as recognizable as Nike Air Yeezy II "Red October". Even the least Yeezy-orientated sneakerheads are likely familiar with the Red October, a chunky, oversized boot of a sneaker that's known for its exclusivity.
Some of that comes from the contract between Kanye West and Nike ending, but also from the shoe's surprise and unexpected release. While this trainer might have sold at retail for a similar price to the rest of the brand, it now resales for around $20,000 for one pair.
| | |
| --- | --- |
| Released in: | 2014 |
| Original price: | $245 |
| Colors: | Red October, Pure Platinum, Solar Red |
19. Nike Air Yeezy I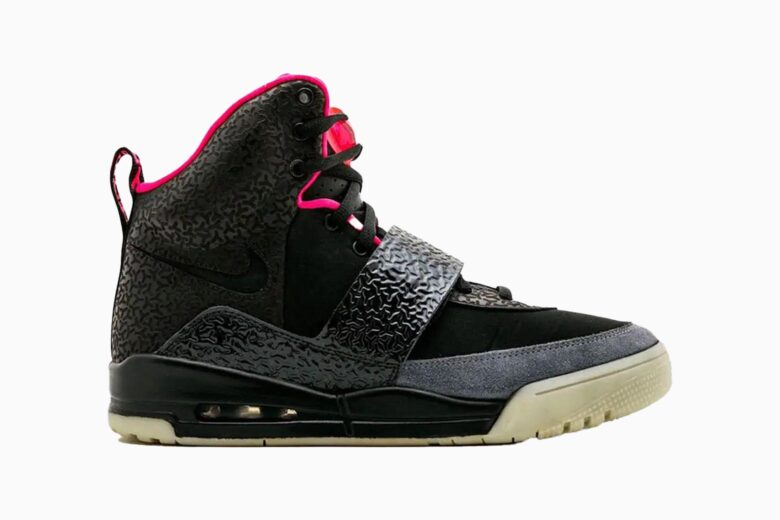 The Kanye West Nike Air Yeezy 1 prototype sold for $1.8 million, which is really all you need to know when talking about theseYeezy sneakers. Known as the first pair of trainers to break the $1 million sale barrier, Sotheby's called the shoe "one of the most prized and sought-after sneakers in existence".
Kanye wore the shoes in 2008 and, especially since his partnership with Nike ended a few years later, these shoes quickly became some of the most talked-about in the industry.
| | |
| --- | --- |
| Released in: | 2012 |
| Original price: | $245 |
| Colors: | Blink, Net Tan, Grey |
Buyers guide to Yeezys
How much are Yeezy sneakers?
Yeezy sneakers can range hugely in price, depending on the release and whether or not you're buying them at retail price. Most Yeezys cost between $200 – $250 for the retail price and around $450 – $500 for resale, but some pairs can cost thousands of dollars depending on their colorway, condition, and release date.
Where to buy Yeezy sneakers?
If you're lucky, you'll be able to get your Yeezy sneakers for retail price directly from the Adidas website. If you're not one of the lucky ones, you'll likely have to buy your Yeezy sneakers on resale. Less popular colorways and newer releases can often be found on retailers like Farfetch and Mr Porter.
First introduced in August 2019 by Ye (formerly Kanye West) and Adidas, Yeezy Day is one of the most significant dates in any sneakerhead's calendar with restocks and new releases of the Adidas Yeezy collection. So make sure to mark your calendar for Yeezy Day in August 2023.
Do Yeezy sneakers run small?
Yeezy sneakers generally run a little small, and most releases are thought to run half a size small. When buying online, aim to buy a pair at least half a size larger than usual, or a full size up if you're between sizes.
Do Yeezy slides run small?
Yeezy slides run the smallest of all of the Yeezy releases. If you're looking to buy your Yeezy slides online, it's recommended to buy at least one size up and, if you err on the larger side of your size, to even buy two sizes up.
Are Yeezys comfortable?
Yeezys are known for being comfortable sneakers, especially those with boost technology. The bulkier designs can take a little bit of getting used to at first.
How to tie yeezys
Three of the most common ways to tie your Yeezys include the Factory Knot, the Noose Knot, or the unlaced look. A Factory Knot involves replicating the knot you'll see Yeezys originally tied with and means you won't have to untie and re-tie each time you wear the shoes.
A Noose Knot is the midpoint between a 'standard' knot and a Factory Knot. The unlaced look involves keeping the laces inside the shoe tight enough so they don't slip off your feet, but loose enough so the laces don't dangle over the sides.
There are different ways to learn how to do these knots to your liking, and plenty of tutorials online for your chosen style.
Most expensive Yeezy sneakers ever sold
Most Yeezys will set you back around $250 for a retail pair or double or triple that for resale. But rare pairs sell for significantly more, like the "Grammy" Nike Air Yeezy 1 Prototype, which sold via Sotheby's for $1.8 million in 2021.
Sold to sneaker investment platform Rares via a private sale, these Yeezy shoes were designed by Kanye West and Nike creative director Mark Smith. The hip-hop star wore them during his legendary performance at the 50th Annual Grammy Music Awards.
Kanye West's $1.8 Million 'Nike Air Yeezys'—the most expensive Yeezy shoes and one the most expensive sneakers ever sold—was set to return to auction in 2022 as part of the launch of a new Christie's division, Department X, exclusively dedicated to luxury sneakers, streetwear, and collectibles. However, the auction house canceled the private sale amid the ongoing Ye controversy.
Frequently asked questions about Yeezys
Who made Yeezys?
The Yeezy brand is a collaboration between Kanye West and Adidas. Our full guide breaks down the coolest Yeezys on the market.
What is the best Yeezy?
Some of the best Yeezys, in our opinion, include the Yeezy Boost 380 in Alien Blue, the YEEZY Boost 350 V2 in Ash Pearl, and the Yeezy 700 V3 in Kyanite.
What is the most common Yeezy?
The Adidas Yeezy 500 is thought to be the most common type of Yeezy shoe. Read our full guide for all of the best Yeezys around.
Which Yeezy are the rarest?
Some of the rarest Yeezys include the Nike Air Yeezy in Black/Glow, which has a resale value of $65,000 and the Adidas YEEZY Boost 350 in Turtledove, which has a resale of between $2,000 – $3,000.
How much do real Yeezy shoes cost?
Real Yeezys sell at retail price for around $200 – $300 depending on the pair. Resale prices tend to be around double retail up into the thousands.