The online popularity of the best luxury brands in the world is a dependable predictor of future sales.
By now, you must be familiar with our annual ranking of the top luxury brands online. This is the sixth consecutive year that Luxe Digital publishes a list, ordered by popularity. Over the years, our ranking has become an important and reliable indicator of future performances for the world's best luxury brands.
Every luxury brand on our list is enjoying significant customer attention. They each drive substantial online conversations across social media channels and search. They are at the center of what matters to modern affluent consumers.
We know what you're thinking: In this economy?
So it appears.
33%

of global luxury sales will take place online by 2030.
Amid global headwinds and the recent banking turmoil, sales for luxury brands demonstrate (once again) the resilience of the luxury industry.
In April 2023, shares of LVMH (the parent company of 75 prestigious Houses, including Louis Vuitton, Dior, Tiffany & Co, and some of the best Champagne brands in the world) surged to a fresh record high, cementing the French luxury group's lead as Europe's most valuable company.
LVMH became the first European company to surpass $500 billion in market value, while the owner of LVMH, Bernard Arnault, became the world's richest man.
In a rapidly evolving global environment, however, luxury brands must remain agile. 
The question is: Which luxury brands will be the best at balancing between adapting to new luxury paradigms in an uncertain context and preserving their brand essence?
The three macro trends that we identified for the future of luxury in 2023 are more important than ever.
$607B

global sales of personal luxury goods by 2030.
The need for luxury brands to embrace digital is critical to support their growth and remain relevant to new generations of affluent consumers.
So, if you're wondering if and how the finest luxury brands in the world performed online, ponder no longer. We lift the lid on all the juicy data and details in our brand-new ranking of the best luxury brands online in 2023. 
In this article, you will discover which luxury brands are the most talked about and sought-after online in 2023. We also highlight particularly noteworthy digital initiatives and successful new product launches that help explain their current popularity online.
How do we estimate the online popularity of a luxury brand? We take into account a combination of brand value, search share of voice, and social media conversations to create this list. You can read more details about our methodology and data sources at the end of this article.
For this ranking, we focus exclusively on brands in luxury fashion, beauty, and "hard luxury" (jewelry and watches). We have a separate report for the best luxury car brands.
The top 15 most popular luxury brands online
Questions? See our methodology, definitions, and sources at the end of this article.
1. Dior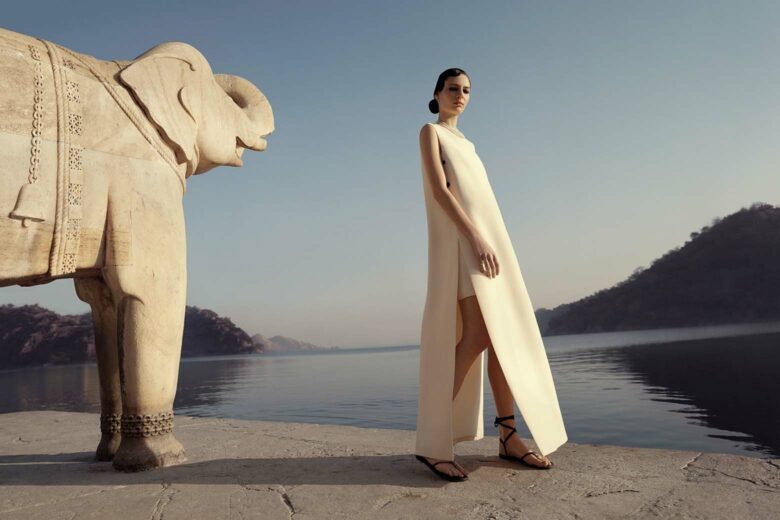 Taking the number-one spot from Gucci, Dior tops our ranking of the best luxury brands online for the first time. The LVMH-owned house steadily grew, rising from #7 in 2019 to #5 in 2020, #4 in 2021, and #2 in 2022 to finally reach the first position in 2023.
From pioneering collaborations with virtual idols and exploring the metaverse to venturing into new geographies, we're impressed by the French luxury brand's remarkable growth trajectory and vanguard spirit.
Christian Dior, or just Dior for short, is strengthening its lead by showcasing its timeless modernity.
Dior is also connecting more directly with its customers via its expanding network of directly operated stores, fully controlled e-commerce distribution, live streaming, and a strong social media presence—including in China.
The launch campaign of the Lady 95.22 (a new release and reinterpretation of the iconic Lady Dior bag) starring Chinese brand ambassador Dilraba has driven hundreds of million views for #DIORLADY9522 on Weibo.
We previously mentioned the growing importance of the Indian market for luxury brands. Well, Dior was the first European luxury brand to hold an official calendar show in India with its Pre-Fall 2023 collection. The show's strong visuals, with the Gateway of India as its backdrop, garnered attention across socials.
Traffic to Dior's website also grew a whooping 48% year-over-year in 2023. While LVMH's second biggest brand remains very selective with the multibrand retailers allowed to sell its products online, the breadth of product categories for sale on its own website continues to grow and attract new customers.
Product-wise, the luxury brand benefited from the continued success of its iconic Dior handbags and the popularity of its bestselling men's fragrance Sauvage, and women's perfumes Miss Dior and J'Adore (enriched by the successful global launch of Parfum d'Eau—a patented, alcohol-free Dior formula). Dior's make-up (Dior Addict and Rouge Dior) and premium skincare (Prestige) also contributed to the dynamic growth of the French Maison.
In January 2023, Delphine Arnault, the daughter of LVMH owner Bernard Arnault, became the new Chief Executive of Christian Dior. We're excited to see how she builds on the brand's momentum.
Most popular Dior items online
When searching for Dior online, people most often look for the following products:
Dior perfume (Dior Sauvage, Miss Dior)
Dior shoes
Dior sneakers
Dior makeup
Dior bracelet
Top Dior items for women
Top Dior items for men
Online interest for Dior over time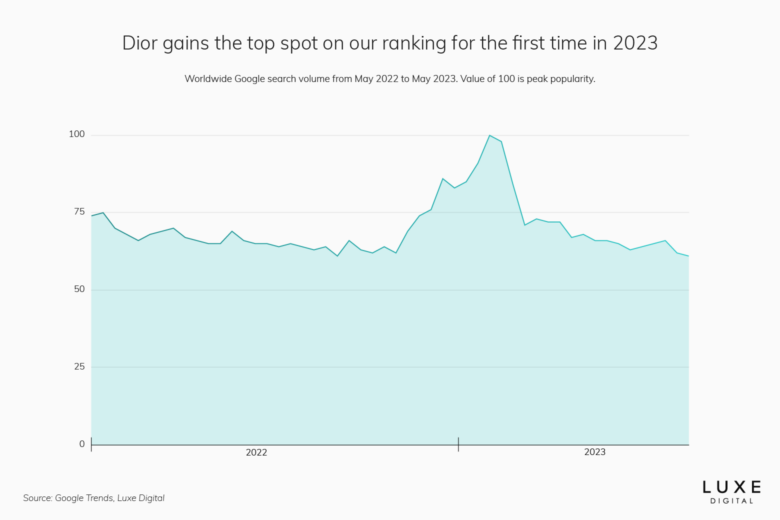 2. Gucci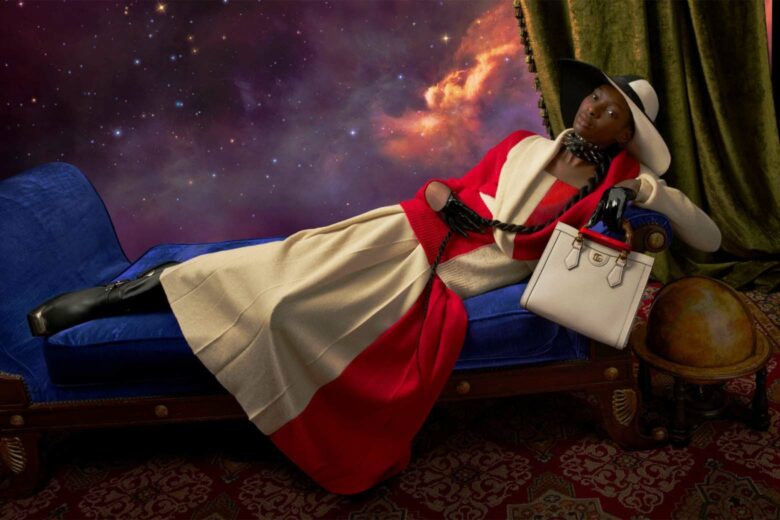 Italian luxury fashion house Gucci loses its crown for the first time in 2023, dropping to second place on our list of the most popular luxury brands online.
The change hardly comes as a surprise after observing the Kering-owned megabrand steadily decline over the past years. Gucci went from owning 22.34% of the share of online search interest in 2019 to just 13.4% in 2023.
Gucci remains one of the industry's best-in-class digital performers, however.
Traffic to Gucci's website grew 13% year-on-year in 2023. The brand's efforts to grow its direct online sales through Gucci.com seem to be paying off.
The Florentine fashion house continues to venture further into the Metaverse with a multiple-year collaboration with Yuga Labs, founder of web3-native projects like Bored Ape Yacht Club and CryptoPunks. But with the recent exit of Metaverse Ventures' CEO (Gucci's in-house Web3 division) only six months in the role, we're curious to see how and if the brand will continue to scale its Metaverse roadmap.
Talking about ongoing changes, the Italian brand is still transitioning to a new design direction following the abrupt departure in November 2022 of Alessandro Michele (whose maximalist designs were seen on the likes of Harry Styles and Lady Gaga).
Appointed in January 2023, Gucci's new Creative Director, Sabato De Sarno (a senior fashion designer from Valentino), is tasked with reviving the fortunes of Kering's star brand. His debut runway collection is scheduled for September 2023 at the Milan Fashion Week.
On top of digital innovations, Gucci banks on its elevation strategy, with a focus on the wealthiest shoppers. In April 2023, Gucci launched its world's first Gucci Salon store—a by-appointment-only ultra-luxury boutique for VIP clients—on Melrose Avenue, Los Angeles.
Gucci also continues to embrace gender fluidity and a more sustainable supply chain. The Italian brand launched new deadstock and resale programs in March 2023.
Most popular Gucci items online
When searching for Gucci online, people most often look for the following products:
Gucci shoes
Gucci belt
Gucci t-shirt
Gucci watch
Gucci lipstick
Top Gucci items for women
Top Gucci items for men
Online interest for Gucci over time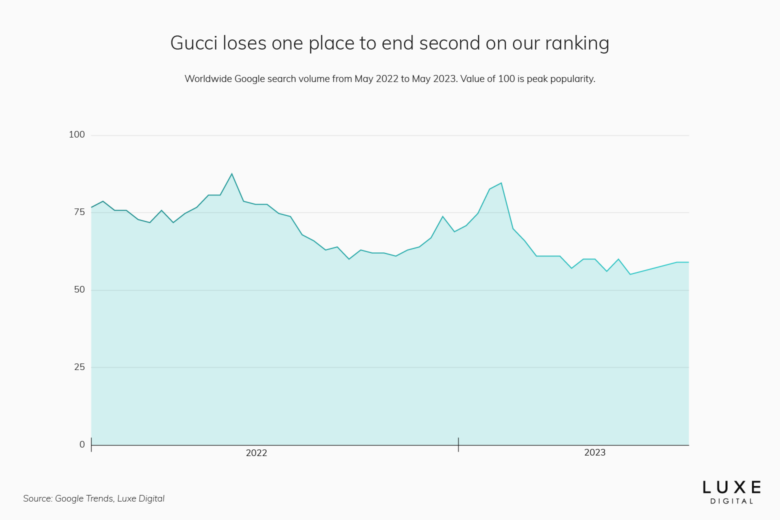 3. Chanel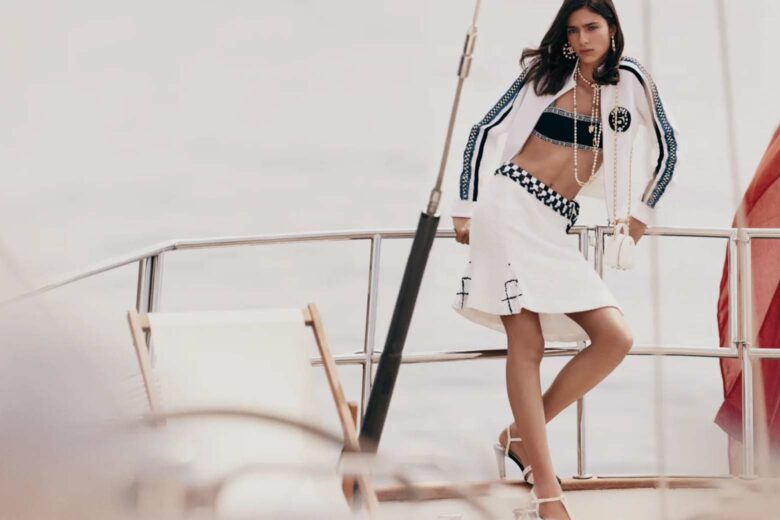 Luxury French fashion house Chanel maintains its third position on our list of the most popular luxury brands online in 2023.
One of the last digital holdouts in luxury fashion, Chanel is famously known for its resistance to resale (that being said, you can buy second-hand Chanel products on reliable luxury resale websites like The RealReal, Fashionphile and Vestiaire Collective) and shying away from selling its clothes and iconic handbags online.
The historic luxury French Maison still managed to grow its website traffic by 26% in 2023, however.
One of the most recognized luxury brands in the world, Chanel, most famous for its "little black dress", continues to be an international byword for luxury driven by strong demand across all product lines and, in particular, its ultra-luxe quilted Classic Flap Bag (which now has a purchase limit of 2 classics per person per year).
The introduction of a quota system, regular price increases in Chanel bags, and the promise of invite-only private boutiques set to open for its top customers this year are further consolidating the brand's exclusivity drive.
Chanel No. 5 perfume continues to contribute to the growth of the Fragrance category together with the success of Coco Mademoiselle and Bleu de Chanel. Chanel announcing 27-year-old actor Timothée Chalamet as the new brand ambassador for its bestselling Bleu de Chanel is a testament to the brand's interest in capturing a growing, younger audience. Skincare also contributed to the growth of the beauty segment.
Lately, the French luxury house has been living the American dream.
Chanel dressed many top celebrities (like Dua Lupa, Nicole Kidman, Blackpink's Jennie, and Penelope Cruz) at the Met Gala—always a big moment for brand exposure, and especially for Chanel in 2023. This year's theme was "Karl Lagerfeld: A Line of Beauty", so it comes as no surprise (Karl Lagerfeld was Chanel's longtime creative director) that the French house was the top-performing brand at the fashion event, earning $110.7 million in Media Impact Value (according to Launchmetrics).
Chanel also opened its largest boutique in the United States—a new 30,000-square-foot flagship store on Rodeo Drive in Beverly Hills.
Chanel remains a privately held company owned by Alain and Gerard Wertheimer, grandsons of Pierre Wertheimer, an early business partner of Coco Chanel.
Most popular Chanel items online
When searching for Chanel online, people most often look for the following products:
Chanel perfume (Chanel 5, Chanel Chance)
Chanel earrings
Chanel necklace
Chanel lipstick
Chanel wallet
Chanel shoes
Top Chanel items for women
Top Chanel items for men
Online interest for Chanel over time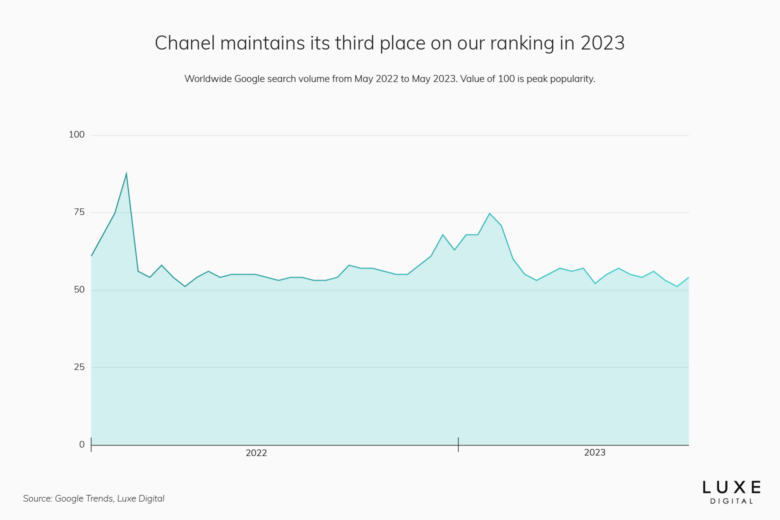 4. Louis Vuitton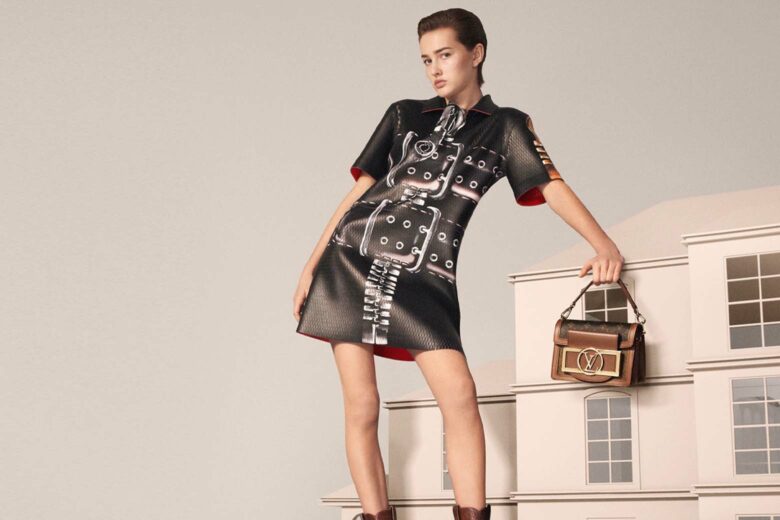 Immediately below the podium, we find French luxury house Louis Vuitton, maintaining its fourth position on our ranking of the most popular luxury brands online in 2023.
The brand surpassed €20 billion ($21.9 billion) in revenue for the first time in 2022.
It's not all upside for Louis Vuitton, however.
The actual share of search interest for Louis Vuitton continues to decline to 9% in 2023, from 15% in 2020. Smaller brands on our ranking gained a relatively larger share of search interest in 2023, eating away at Louis Vuitton's online popularity.
Noteworthy, Louis Vuitton boasts the largest volume of traffic to its website, with 16.5 million visitors per month on average. Not only that, traffic to Louis Vuitton's website continues to grow healthily in 2023 (up 25% year-on-year).
LVMH's flagship brand continues to anchor its growth in the constant reinvention of its iconic product lines and its dialogue with art and artists.
Talking about a strong association with art, this year's immersive LV Dream exhibition in Paris celebrates the brand's rich history of collaboration with artists. The space also includes a gift store, and a café and chocolate shop.
The only luxury company to make the top 10 most valuable European brands, Louis Vuitton also continues to demonstrate its popularity in China—a strategically important market for luxury brands. 
We are curious to see how much the recent appointment of Dior's Pietro Beccari as CEO and Grammy Award-winning musician/entrepreneur Pharrell Williams as Creative Director of Menswear will benefit the online popularity of the iconic Maison. "Because I'm happy" (just to get the song in your head 😜).
Most popular Louis Vuitton items online
When searching for Louis Vuitton online, people most often look for the following products:
Louis Vuitton wallet
Louis Vuitton shoes
Louis Vuitton sneakers
Louis Vuitton cardholder
Top Louis Vuitton items for women
Top Louis Vuitton items for men
Online interest for Louis Vuitton over time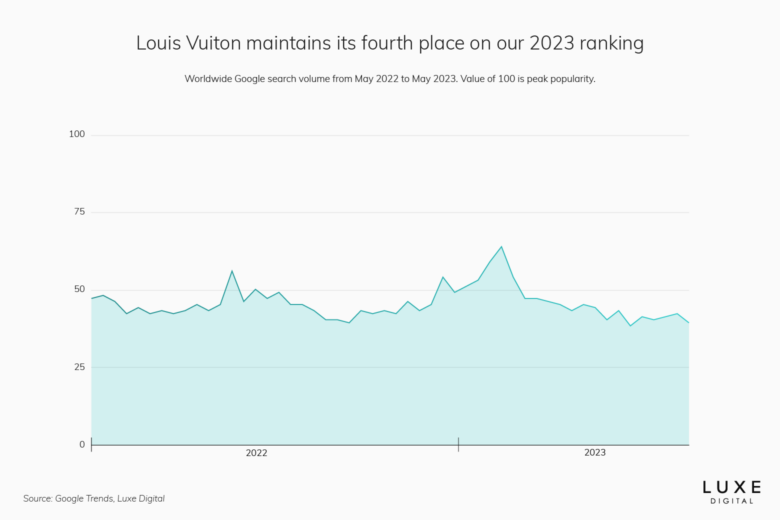 5. Hermès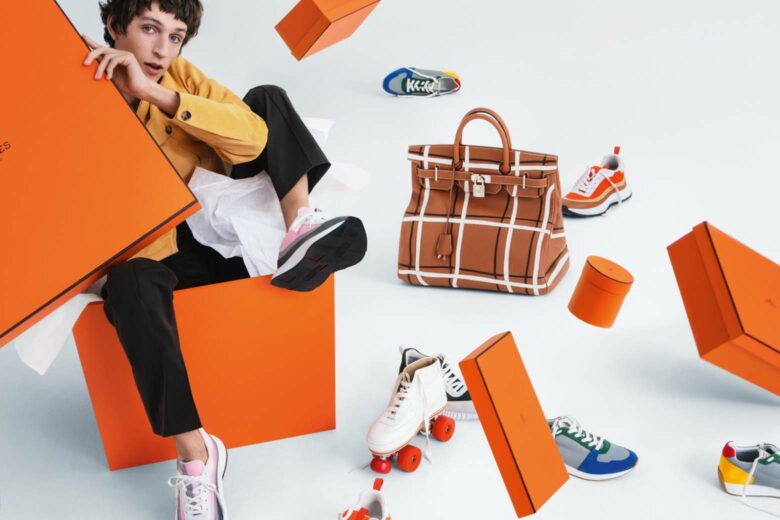 After losing two places last year, private luxury house Hermès maintains the fifth place on our list of the most popular luxury brands online in 2023. Hermès isn't staying still, however, with a healthy 33% traffic growth to its website.
French fashion and leather goods house Hermès continues to enjoy excellent desirability for its timeless classics, especially in the handbag category—often seen as investment pieces—like the sought-after Birkin bag, which often generates long waiting lists despite price increases. This could explain why the secondhand market for Hermès remains strong on resale sites such as Fashionphile and Farfetch.
For the first-hand market, Hermès remains very conservative when it comes to its distribution network, with only a curated selection of high-end watches available exclusively on Mr Porter. Hermès doesn't currently work with any of the other multibrand online retailers. The brand has considerably increased the number of products available on its official website, however, with a broad range of categories now for sale online.
Also worth noting: Hermès won its landmark lawsuit against the creator of "MetaBirkins", setting a precedent for NFTs in the luxury fashion industry.
With a market capitalization that soared past €200 billion ($218 billion) for the first time in April 2023, Hermès is now the second-most valuable luxury brand in the world.
Most popular Hermès items online
When searching for Hermès online, people most often look for the following products:
Hermès Birkin
Hermès Kelly
Hermès sandals
Hermès scarf
Online interest for Hermès over time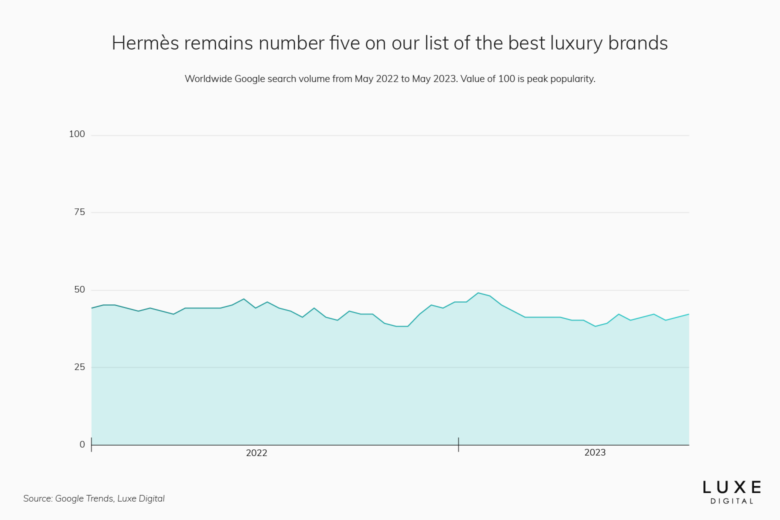 6. Rolex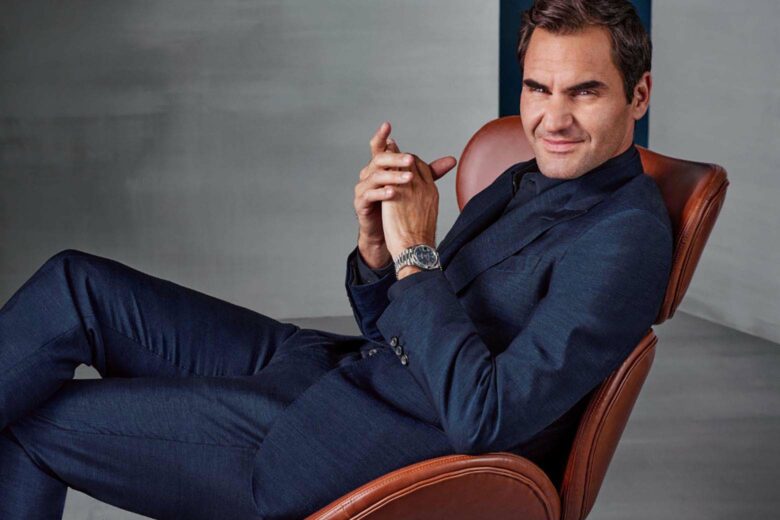 The most sought-after luxury watch brand online and the biggest luxury watch brand in the world, Rolex remains remarkably stable in 2023, maintaining its sixth position on our ranking of the most popular luxury brands online. After losing two places in 2021, the Swiss luxury watch brand managed to maintain its place thanks to a combination of sustained appeal of its core collections (Submariner, GMT, Explorer, Daytona), new model releases and the growing interest in second-hand watches online.
The constantly increasing resale value of vintage Rolex watches is indeed fueling interest in the brand as a safe investment asset class to protect against inflation. It's also generating substantial online conversations. Just take a look at our list of the top 15 most expensive Rolex to see the affluent consumer's interest in rare pieces despite record-breaking prices and auctions.
Rolex scarcity and waiting lists aren't new, but it's increasingly noticeable. Rolex's "Exhibition Only" watch displays in brick-and-mortar stores are believed to be driving customers online.
A private company, Rolex still doesn't offer e-commerce options (nor does it allow its authorized dealers to sell its watches online), a rare breed in 2023. But the rising popularity of online luxury resale sites creates more opportunities for people to buy Rolex watches online.
Rolex launching its Certified Pre-Owned program in November 2022 is a prime example of major luxury players taking control (everything from data, dollars, and experience) of their second-hand markets.
If you do decide to buy a vintage Rolex, make sure you buy it from select Rolex retailers, trust the seller or go to reputable online retailers like Farfetch or Jomashop.
Thanks to its exceptional brand recognition, Rolex generated estimated retail sales revenue of $10.3 billion (9,300 mCHF) in 2022, well above the rest of the watch brands. Pretty impressive for a brand that unlike others on our list sells just one product—watches.
The watch brand also further increased its market share, ending the year with 31% of the global luxury watch market, up from 29% the previous year.
For now, the brand's prestige and cult following continue to support sales growth as young, affluent consumers represent a larger segment of consumers on the market for the best luxury watch brands.
Most popular Rolex items online
When searching for Rolex online, people most often look for the following products:
Rolex Submariner
Rolex Oyster Perpetual
Rolex Daytona
Rolex DateJust
Rolex Yacht-Master
Rolex Explorer
Top Rolex watches for women
Top Rolex watches for men
Online interest for Rolex over time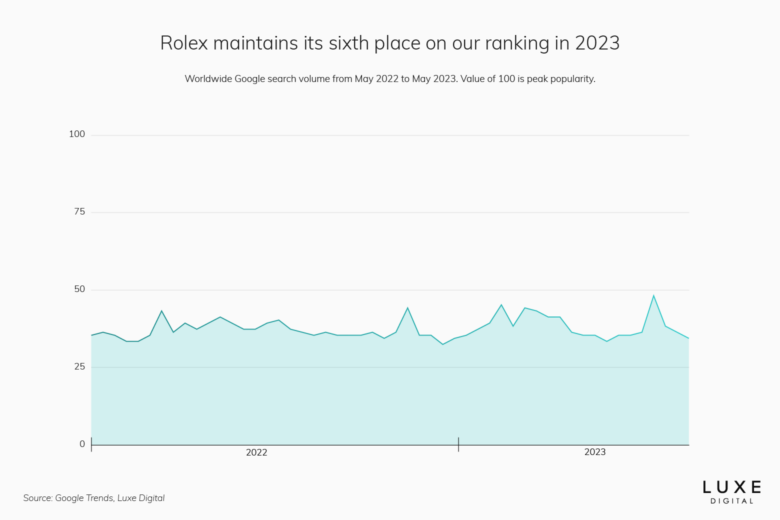 7. Prada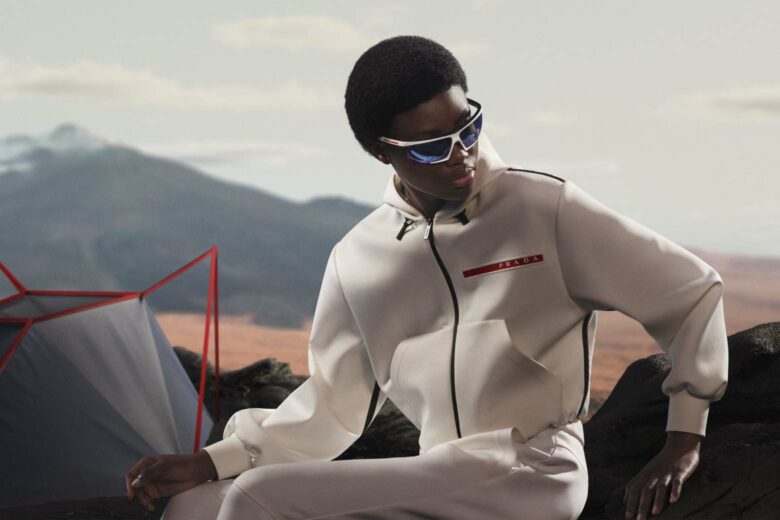 After a remarkable international momentum over the past few years, family-owned Prada gains one more place in 2023 to end seventh on our best luxury brands online ranking. All the online brand visibility metrics are positive for the Italian luxury fashion house, with traffic to its website growing 49% year over year.
Following a shift upmarket and online to revive sales, Prada increasingly appeals to younger affluent consumers.
A founding member of the Aura consortium, Prada also embraces new technology (like blockchain) across physical and digital retail to enrich its customers' journey. Following a first foray into NFTs with Adidas Originals last year, Prada continues expanding its Web3 presence and pushing further into the metaverse. Prada Timecapsule—whereby exclusive, limited-edition physical items are sold together with accompanying gifted non-fungible tokens (NFTs)—creates both excitement and loyalty, especially among younger cohorts. Prada also offers its community on Discord fashion experiences and access to unique events.
The launch of Eternal Gold (the brand's fine jewelry collection made of 100% certified recycled gold) and Prada Paradoxe (the first women's fragrance created from the Prada-L'Oréal partnership) with its refillable bottle both illustrate how sustainability efforts and new product launches are intertwined at Prada.
With the appointment of Andrea Guerra as Group CEO and Gianfranco D'Attis as CEO of the Prada brand, it will be interesting to see if this change will help ease the generational transition as hoped by Prada.
Most popular Prada items online
When searching for Prada online, people most often look for the following products:
Prada bags
Prada sneakers
Prada shoes
Prada perfume
Prada sunglasses
Online interest for Prada over time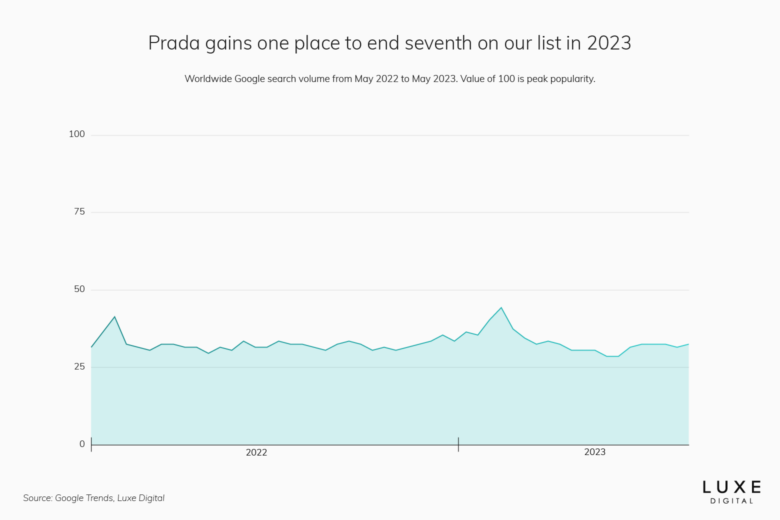 8. Tiffany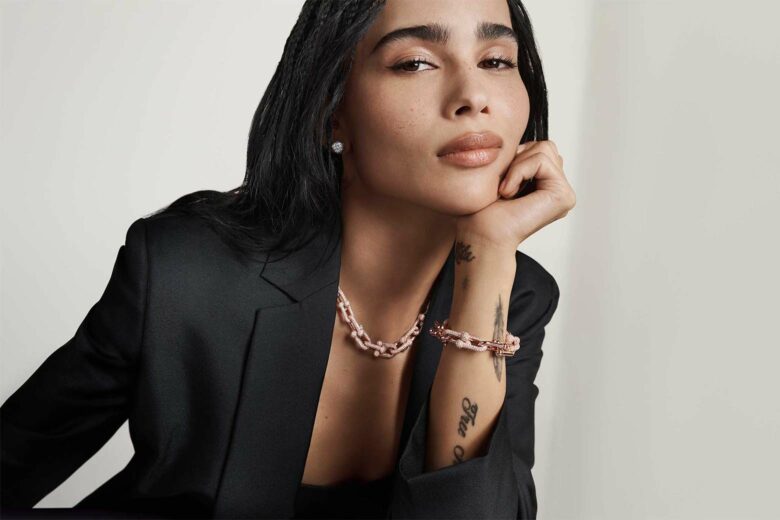 The American, French-owned, luxury jewelry brand Tiffany & Co. loses one spot on our list this year, swapping places with Prada. In 2023, the iconic jewelry brand focuses on growing its product portfolio, engaging younger generations of affluent consumers, and refreshing its retail stores' network.
After the acquisition of Tiffany in 2021 for US$16.1 billion—the largest takeover in the luxury industry to date—LVMH CEO Bernard Arnault named his son, Alexandre Arnault, as Vice President of Product and Communications at Tiffany & Co. Alexandre Arnault rapidly leveraged his experience and network to refresh the hard luxury brand. Following a playbook he developed after supporting the acquisition of RIMOWA by LVMH, Alexandre Arnault recruited Beyonce and Jay-Z to create an iconic ad campaign, setting the tone for the new Tiffany vision.
Collaborations like Tiffany & Co. x Nike and Tiffany & Co. x Fendi (Baguette Bag), and Dua Lipa's 200-carat Tiffany & Co. diamond necklace at the 2023 Met Gala stirred up quite a buzz on the internet. While the appointment of K-pop artist Jimin as global brand ambassador imbues a sense of modernity in the historic jewelry house.
One of the most talked about events of 2023 for Tiffany is the total refresh of its iconic and historical store in New York. Together with Gal Gadot and Tiffany CEO Anthony Ledru, Alexandre Arnault cut the ribbon to mark the reopening of the store in April. The flagship store generated 10% of Tiffany's global sales before closing for renovations in 2019.
Moving forward, Tiffany's CEO wants to renovate the brand's global retail network, which he deems essential for Tiffany to bridge the gap with Cartier—the world's largest jewelry label, which belongs to Richemont.
Most popular Tiffany items online
When searching for Tiffany online, people most often look for the following products:
Tiffany engagement rings
Tiffany watches
Tiffany necklace
Tiffany bracelet
Tiffany earrings
Tiffany perfume
Online interest for Tiffany over time
9. Versace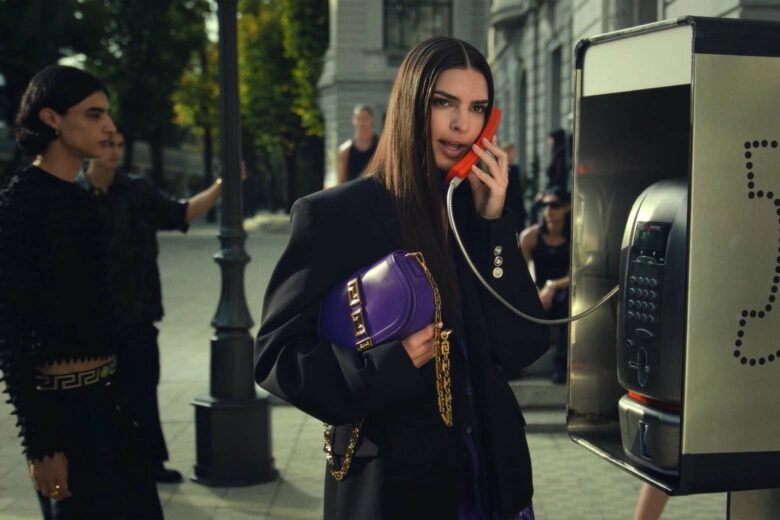 Founded by Gianni Versace in 1978, the flamboyant Italian luxury brand Versace consolidates its position in the top 10 on our list of the most popular luxury brands online in 2023, after rocketing ten spots up the chart in 2021.
Versace was already showing promise among younger affluent consumers when Capri (then still named Michael Kors Group) acquired the Italian brand in 2018. And thanks to fashion events and celebrity red-carpet dressing moments (worn by Zendaya and Doja Cat), Versace generates extensive media and social media coverage for its unmistakable style.
Donatella Versace's star-studded FW23 runway show that took place in Los Angeles on Oscars weekend led to millions of views on TikTok and a brand search increase.
From its roots in haute-couture to ready-to-wear, footwear, accessories, eyewear, watches, jewelry, fragrance, and home furnishings, Versace delivers a unique lifestyle that welcomes customers in its glamorous Italian world. The brand plans to "expand Versace's women's and men's accessories to 50% (versus 20% in Fiscal 2022) of the brand's revenues over time".
Versace sells its products through a diversified distribution network, which includes its own boutiques and e-commerce sites but also multi-brand retailers and e-retailers. And Versace is planning on elevating the brand's e-commerce sites to expand its global capabilities.
Most popular Versace items online
When searching for Versace online, people most often look for the following products:
Versace perfume (Versace Dylan Blue fragrance, Versace Crystal Noir, Versace Eros)
Versace sunglasses
Versace t-shirt
Versace watch
Versace shoes
Online interest for Versace over time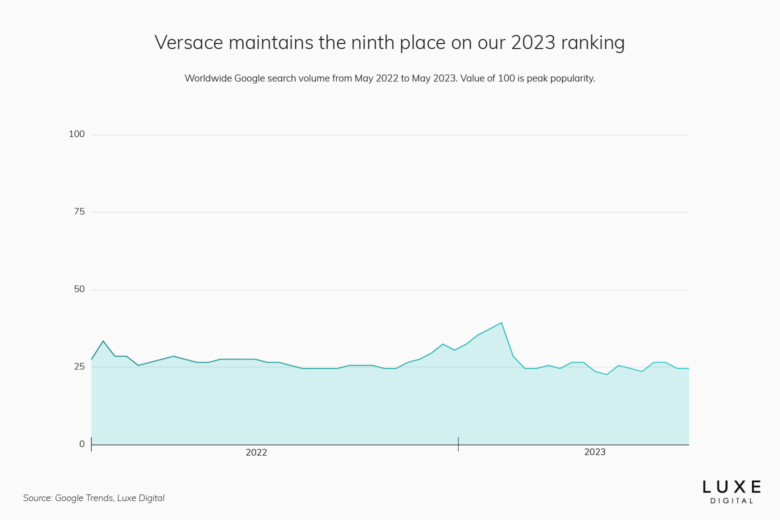 10. Burberry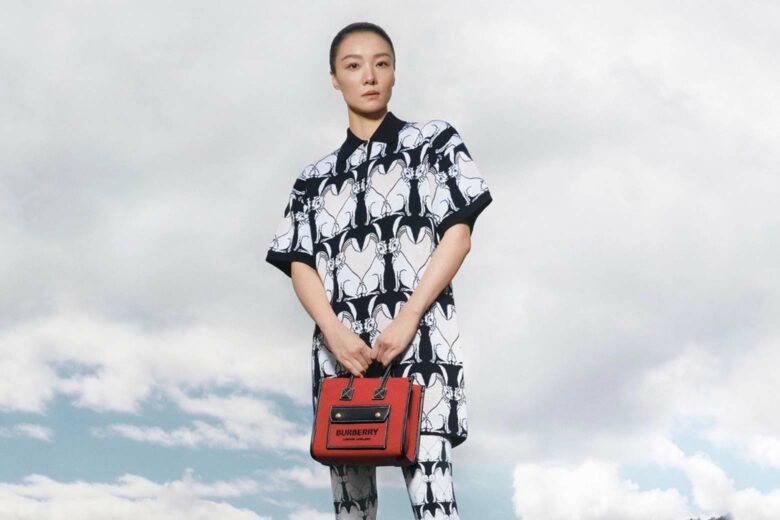 Completing the top 10 of the best luxury brands online in 2023 and making a strong comeback (the brand dropped from our ranking last year) is British heritage brand Burberry.
With both a new Chief Creative Officer and a new CEO (Jonathan Akeroyd) coming on board last year, Burberry is hitting the refresh button to boost its appeal among a new generation of consumers.
Following somewhat of a midlife crisis, Burberry is back in the spotlight.
Burberry broadens its appeal with a refocus on Britishness and tradition but also a more modern luxury aesthetic—the quintessential "British modern luxury" brand (now fronted by new talents, such as Burna Boy and rapper Kano).
Burberry unveiled a new logo (again) in February 2023, which reinstates the equestrian knight first seen in 1901, along with a serif typeface. (The equestrian logo was discontinued under Riccardo Tisci, who replaced it with a "TB" monogram, an ode to the founder, Thomas Burberry).
The century-old inventor of the iconic gabardine trench coat is exploring new terrain with outerwear but also expanding its leather goods and shoes portfolio. And with Daniel Lee's creative vision (the designer is best known for having revived Bottega Veneta), the brand's ambition to grow accessories to more than half of Group sales in the medium term seems within reach.
Burberry consolidates its position as an early adopter of digital technologies and ecommerce.
In December 2022, Burberry won the inaugural Metaverse World and Gaming Experience Award that can be credited to its recent collaborations—from launching NFTs on Blankos Block Party to its capsule phygital collection with Minecraft.
Notably, the British brand is also pioneering digital activations in China, from experimenting with Tmall Luxury Pavilion's livestreaming feature to dressing virtual avatars in its monogrammed clothing on Douyin (China's version of TikTok).
Sustainability is another area of significant potential for Burberry which aims to reduce production chain emissions by 46% by 2030 and be "climate positive" by 2040. The company also banned the use of exotic skins—such as alligator and snake—in its entire collection.
Most popular Burberry items online
When searching for Burberry online, people most often looked for the following products:
Burberry perfume
Burberry shirt
Burberry bag
Burberry coat
Burberry hoodie
Burberry scarf
Online interest for Burberry over time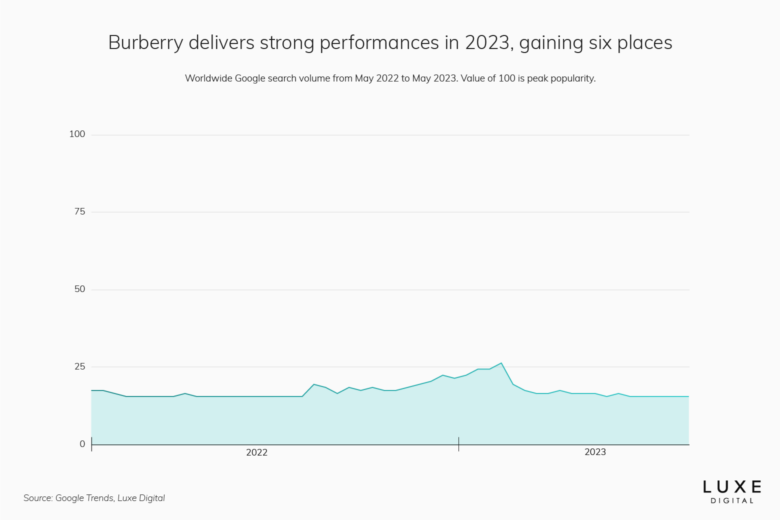 11. Balenciaga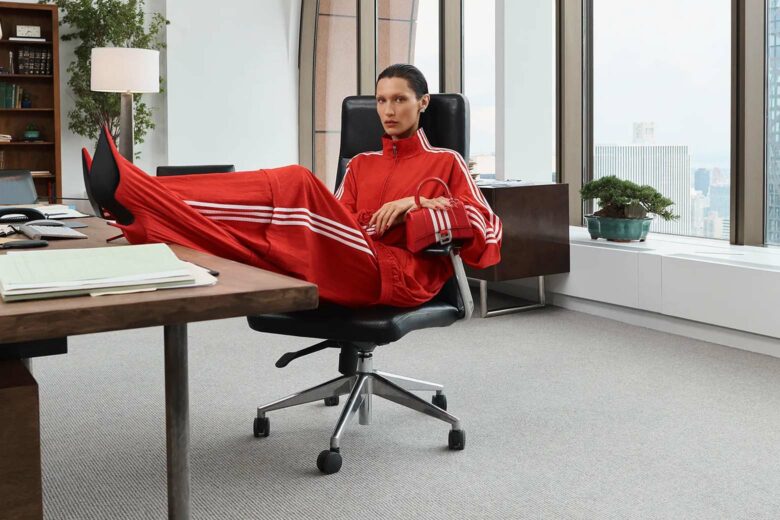 In what might be of little surprise to many, Balenciaga climbed to the 11th position on our ranking of the most popular luxury brands online in 2023.
Helmed by designer Demna Gvasalia, the reinvention of Balenciaga with a streetwear and athleisure feel has attracted Millennials and Generation Z luxury shoppers.
The fashion house's designer sneakers (like the chunky new 3XL silhouette) and bold shoes (Looking at you, Technoclogs) continue to be an ongoing topic of conversation and a big online popularity factor.
However, online chatter this year was not all positive.
We are talking about the controversy surrounding the brand's 2022 Q4 holiday campaign. Kering-owned Balenciaga swiftly pulled out the infamous ad campaigns and issued a formal apology (albeit later than it should have), but that didn't stop people from searching for it online for the weeks that followed and launching the #cancelbalenciaga movement, calling for a boycott of the brand. Even Kim Kardashian, the brand's principal ambassador, publicly distanced herself from the brand.
After a fashion hiatus, Balenciaga's highly anticipated 2023 runway return at the Carrousel du Louvre was luckily well-received, albeit less theatrical than what we have come to expect from the bold label.
Balenciaga (whose desirability was strongly stimulated by media hype and provocations in the past) is returning to a more product-focused approach and hoping to reposition the label upmarket. Which means a focus on direct sales and exclusive distribution.
On the sustainability front, Balenciaga entered the resale market with its Re-Sell program.
Notably, generative AI memes have taken the internet by storm lately. And everyone from Pope Francis to Harry Potter is wearing Balenciaga outfits—a sign that the brand, founded in 1917 by Cristóbal Balenciaga, is still very much influential and sparking conversations online. Be it good or bad.
Most popular Balenciaga items online
When searching for Balenciaga online, people most often look for the following collections:
Balenciaga sneakers (Balenciaga Triple S, Balenciaga Track, Balenciaga Speed Trainer)
Balenciaga shoes
Balenciaga slides
Balenciaga hoodie
Balenciaga jacket
Top Balenciaga items for women
Top Balenciaga items for men
Online interest for Balenciaga over time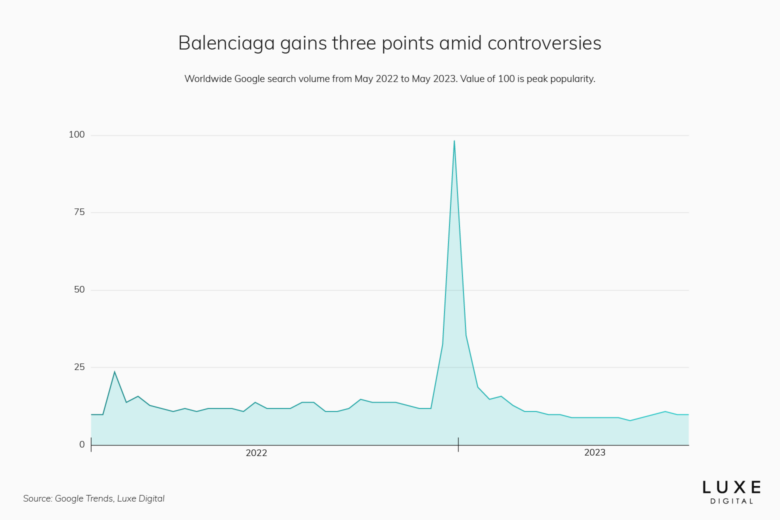 12. Swarovski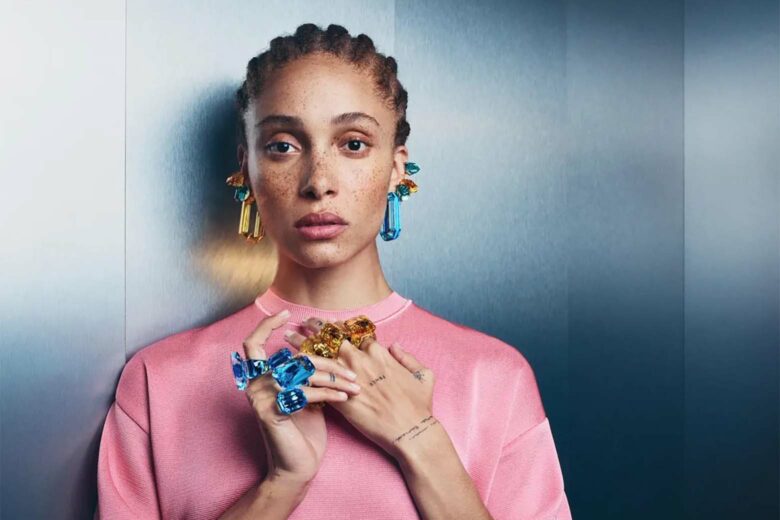 Family-owned Austrian crystal brand Swarovski makes its debut in our ranking of the most popular luxury brands online in 2023, landing at number 12.
The historic brand hovered between #16 and #20 for the past few years but never managed to attract sufficient attention online to make it to our list.
What changed in 2023?
A sparkling facelift.
The rejuvenation journey started with the appointment of Giovanna Engelbert as global creative director back in 2020, and in 2022 the brand's first external CEO in the brand's long history.
And the strategic direction to transform the heritage brand for a new generation seems to be paying off.
With the launch of new jewelry collections (the first one was Swarovski Collection 1), Swarovski (one of the best jewelry brands) has proved it can move with the times yet retain its timelessness.
Doja Cat wearing 30,000 Swarovski crystals from head to toe at this year's Paris Fashion Week, brand campaigns with Bella Hadid, the rollout of its new retail concepts (with selfie walls, of course), and collaborations with luxury brands like Aquazzura and BMW let Swarovski shine in a new light.
Swarovski also designed the tiaras for the 2023 edition of the Vienna Opera Ball, one of the oldest and most prestigious cultural events (and part of the Billionaire's Social Calendar)
In December 2022, Swarovski announced a ten-year licensing agreement with EssilorLuxottica for Eyewear to bring an additional facet to Swarovski's product offering (the first collection will be available for FW23).
With a healthy average of 5.7 million monthly visitors to its website, Swarovski also successfully completed its adoption of ecommerce to grow online sales.
The brand is also planning a move into lab-grown fine jewelry. The future is shining.
Most popular Swarovski items online
When searching for Swarovski online, people most often look for the following products:
Swarovski necklace
Swarovski watch
Swarovski earrings
Swarovski rings
Swarovski bracelet
Online interest for Swarovski over time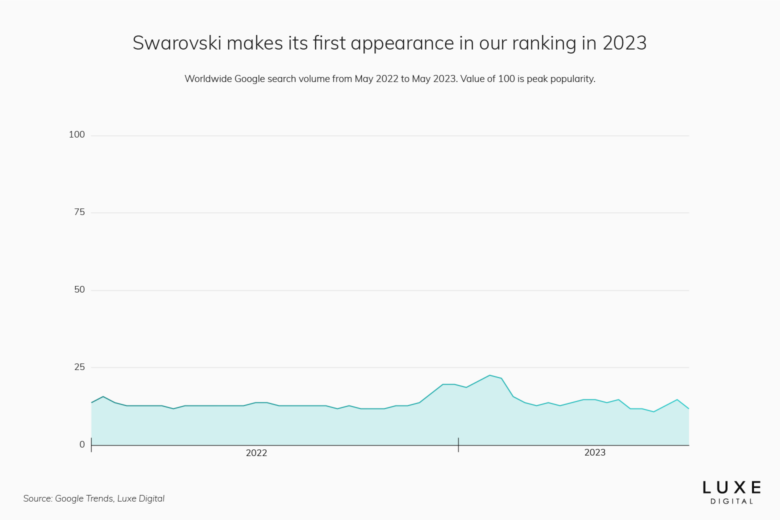 13. Saint Laurent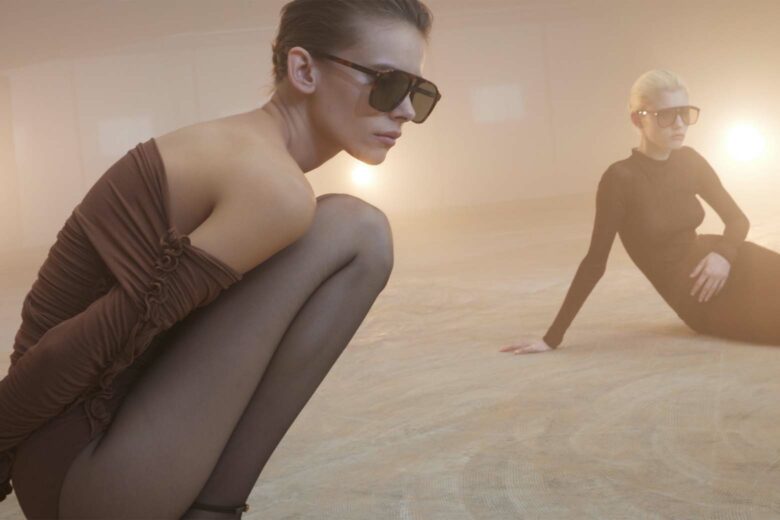 One of the fastest risers this year, Saint Laurent makes a strong comeback on our list. The French luxury fashion house climbed six spots in 2023 to become the thirteenth-hottest luxury brand online.
Founded in 1961, Yves Saint Laurent is a French luxury fashion house and Kering's second-largest brand.
Yves Saint Laurent's current success can be attributed in part to the success of the House's elevation strategy and its outstanding performances in leather goods, in particular its iconic YSL bags.
Carried by many celebrities, including Bella Hadid, Rosie Huntington-Whiteley, and Angelina Jolie, Saint Laurent's Icare quilted tote bag reached It-status.
Saint Laurent's affiliation with K-pop stars also seems to support the French label's ongoing relevance.
From Austin Butler to Hailey Bieber, Saint Laurent dressed celebrities for the 2023 Oscars and Vanity Fair After Party.
But clothes aren't the only Saint Laurent creations to make it to the red carpet.
The brand is set to become the first luxury brand to show films at the Cannes Film Festival in May 2023. (In April 2023, the brand announced the creation of its new film production division, Saint Laurent Productions, spearheaded by its artistic director Anthony Vaccarello.)
The trio of Saint Laurent-produced films is bound to bring additional visibility. It will be interesting to see how this influences the brand's position in our next ranking.
Most popular Saint Laurent items online
When searching for Yves Saint Laurent online, people most often look for the following products:
Yves Saint Laurent cologne
Yves Saint Laurent perfume
Saint Laurent handbags
Saint Laurent shoes
Online interest for Saint Laurent over time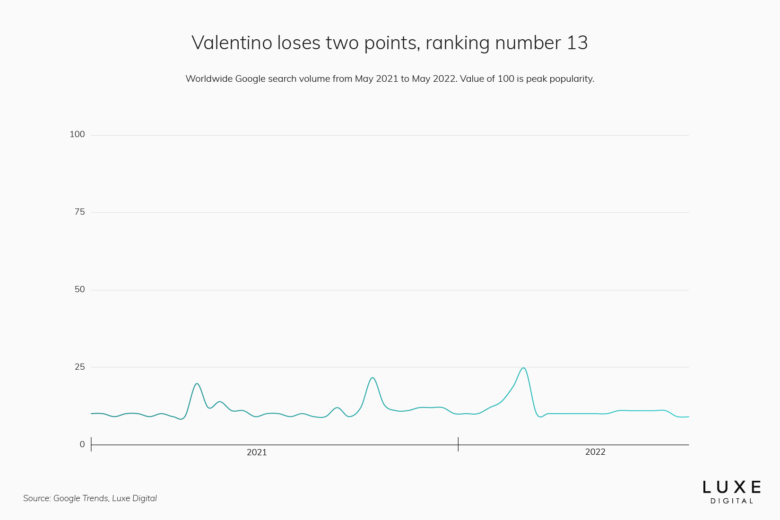 14. Omega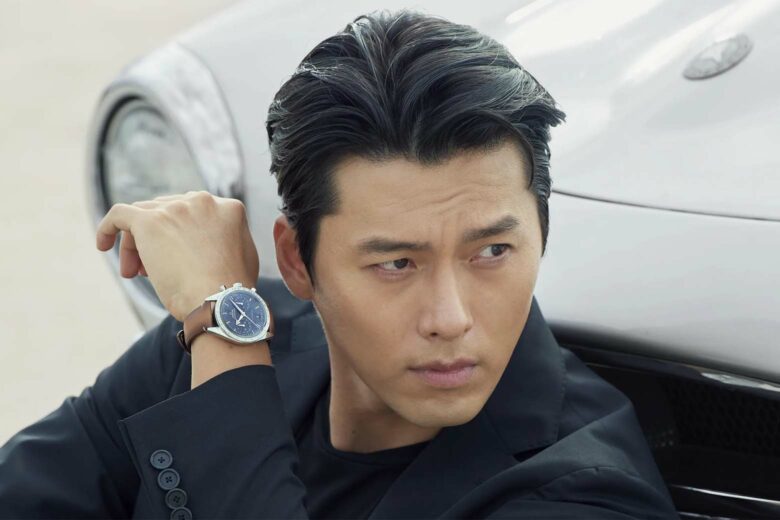 One of the best luxury watch brands in the world, according to our watch editors, Omega makes a comeback on our list at number fourteen, after disappearing last year. 
While significantly smaller than its arch-rival Rolex, luxury watch manufacturer Omega enjoys a strong audience of brand aficionados. 
For 2023, Omega hired Zoë Kravitz, Zhou Dongyu, and Eddie Redmayne as brand ambassadors to promote its Aqua Terra Shades campaign. The three personalities are featured across the entire Swiss watchmaking brand's retail network wearing the Seamaster rendition in bold new colors.
From lifestyle events to a celebration of women's watchmaking, James Bond (2022 marked the Bond franchise's 60th year), and sport (Omega was the Official Timekeeper at the Beijing 2022 Olympic Winter Games), Omega is ticking all the right boxes for online popularity.
Perhaps the most surprising (and viral) release of the year is the brand's partnership with the affordable Swiss brand Swatch. Drawing its design cues from the quintessential space watch Omega Speedmaster, the Bioceramic MoonSwatch Collection brought peak traffic to the Omega website.
A first for the two icons of Swiss watchmaking, the watch collaboration provocatively disrupted the luxury watch industry as a whole, going viral, both on social networks and in the news.
The MoonSwatch launch was teased by an ad campaign and backed by a social media campaign, followed by a MoonSwatch global tour across Europe, USA, and Asia that kept the buzz going for months.
Omega also launched its most complicated movement to date and welcomed new markets for the brand's e-commerce.
Most popular Omega items online
When searching for Omega online, people most often look for the following products:
Omega Seamaster
Omega Speedmaster
Omega Constellation
Omega x Swatch
Online interest for Omega over time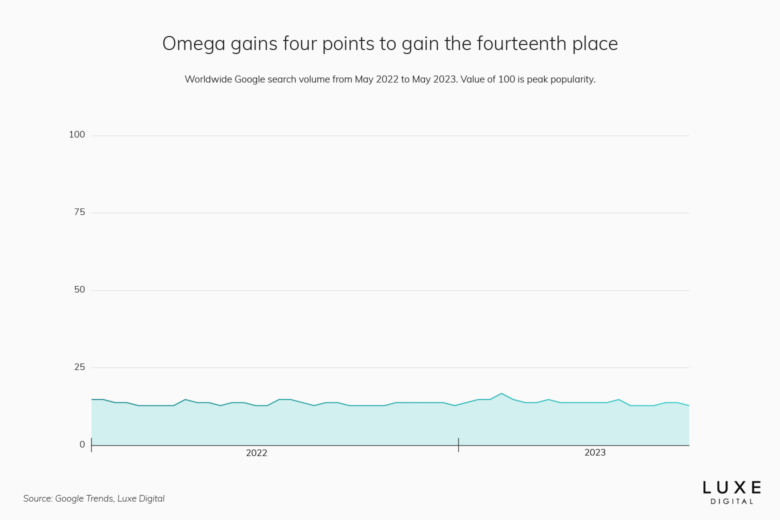 15. Armani
Completing our ranking of the best luxury brands is Armani, which plummeted four spots.
The privately-owned Italian luxury fashion house founded by fashion veteran Giorgio Armani in 1975 streamlined its brand portfolio, focusing on three main brands: Giorgio Armani, Emporio Armani, and A|X Armani Exchange.
Michelle Yeoh makes history as the first Asian woman to win the Best Actress Award at the Golden Globes 2023 in Beverly Hills wearing a sequined Armani Privé gown.
For Spring/Summer 2023, Emporio Armani debuted its 'sustainable collection' made from organic and recycled materials, which symbolizes the Italian House's wider shift towards environmentally conscious design. Noteworthy, a digital ID (enabled by a QR code) accompanies each piece from the collection and informs consumers of its sustainability credentials.
Armani also partnered with online retailer Yoox Net-a-Porter (already managing armani.com) to implement an AI-backed omnichannel business model that supports more sustainability, transparency, and circularity by enabling Armani customers to check product availability in inventory across its digital stores and physical boutiques.
Most popular Armani items online
When searching for Armani online, people most often look for the following products:
Armani T-shirt
Armani jeans
Armani perfume (Acqua di Gio, Armani Si, Armani Code)
Armani watch
Armani shoes
Armani sneakers
Armani makeup
Online interest for Armani over time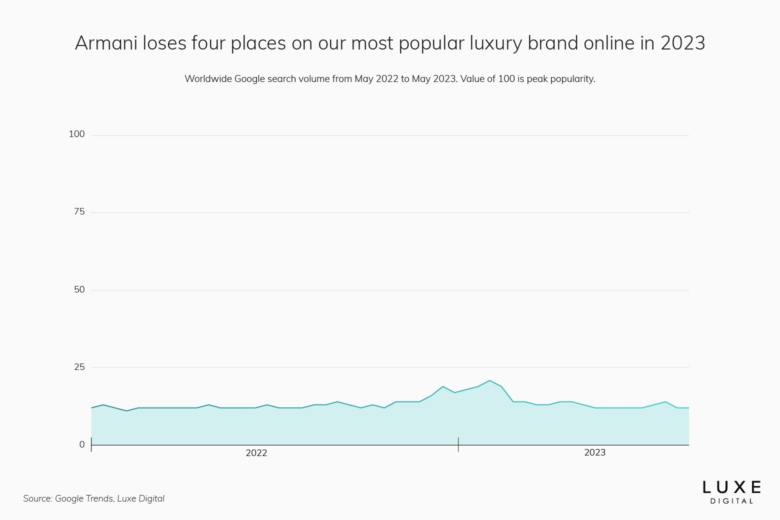 Ranking summary
Here's a summary of the 2023 ranking of the best luxury brands online, from top to bottom: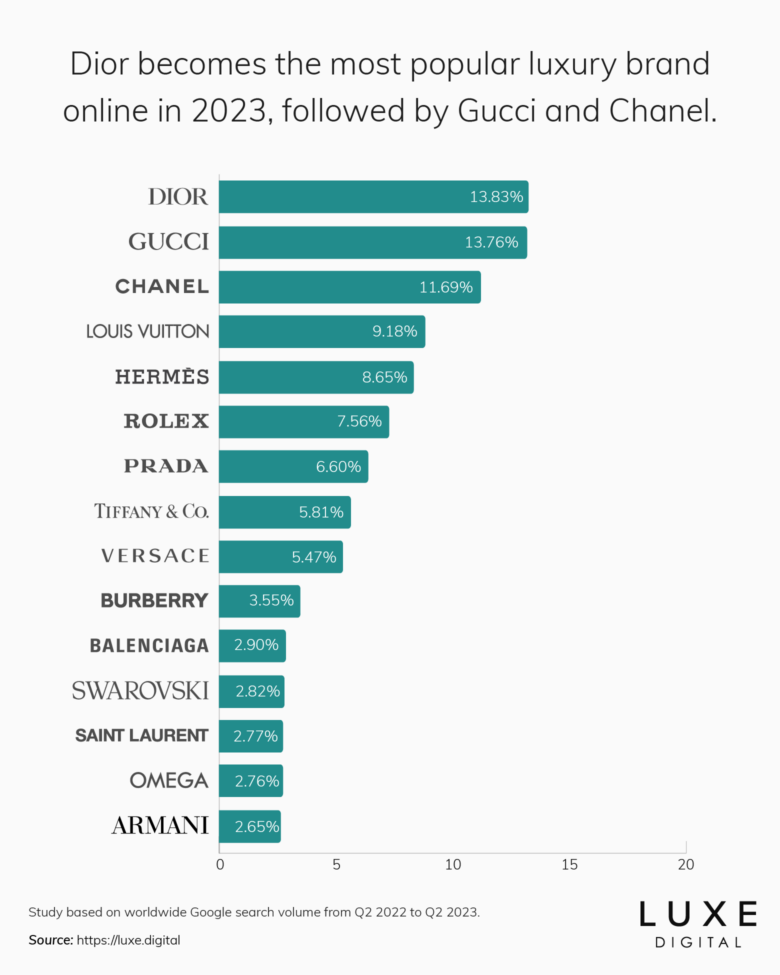 Best luxury brands of 2023: Key takeaways to be popular online
Online (driven by the growing importance of brands' own websites) will soon become the single most valuable sales channel for luxury brands, with 33% of global luxury sales expected to occur online by 2030.
This means digital players compete to reach the top spot in a fast-growing segment.
Our series on the future of digital luxury retail explores how the space is fast evolving, with luxury brands opening their own online store (brand.com) while multi-brand retailers try to reinvent themselves into platforms and technology providers.
The majority of the best luxury brands now offer the option to shop online through their directly operated websites, such as Gucci.com.
We can expect increasingly blurring boundaries between online and physical mono-brand stores as brands look at elevating their direct store network.
Some luxury brands are still resisting online sales, however. Most notably, Rolex still does not sell online, nor does it allow its authorized dealers to sell its luxury watches online.
Other brands are limiting their distribution in the name of increased control and more exclusivity, like Dior and Louis Vuitton, which, outside of their direct ecommerce sites, only sell through 24 Sèvres, the online multi-brand retailer owned by the same parent company—LVMH.
Luxury is also changing—in generations and in geographies.
Millennials and Gen Z are the growth engine of the industry, accounting for all of the luxury market's growth in 2022 (according to Bain & Co).
And this generational shift will only accelerate.
Gen Z and the even younger Generation Alpha will make up a third of the luxury market by 2030, growing three times faster and buying luxury items three to five years earlier than previous generations.
Beyond new demographics, new worlds of luxury are on the map.
Home to a third of the world's billionaires, India stands out as a promised land for luxury brands. (Its luxury market could grow 3.5 times and reach US$200 billion by 2030).
Yet Bain remains confident: In the mid to long term, the "next China" is China.
However, with affluent Chinese shoppers buying more domestically (you must have heard of Guochao, China's national trend), it will be interesting to see which Western luxury brands will be coming out on top.
Palpable polarization and premiumization
The share of top customers is expanding. The top 2% of customers accounted for about 40% of luxury sales in 2022.
No wonder brand elevation is top of mind for many luxury leaders exploring growth opportunities.
Many of the top brands are reinforcing their attributes of exclusivity by developing hyper-exclusive propositions to court their very important customers (VICs): from Chanel's recent VIP-only exhibition in Hong Kong to Gucci's first Salon in Los Angeles.
Prada focuses on enriching the top of its product pyramid with more timeless, high-end products. Gucci plans to transition from a 'reinvention' era to a new chapter of 'sustainable elevation.' Hermes and Chanel continue their periodic price increases across their iconic product ranges. Burberry is back in the headlines with an elevated take on Britishness.
But many top luxury brands are also capitalizing on younger generations with aspirational categories and limited edition drops. And brand collaborations (or cool-laborations as I coined them) like Nike x Tiffany & Co. and Louis Vuitton x Yayoi Kusama are still hot on the agenda for 2023 and helping to reach a wider audience.
Sustainability for sustainable growth
From circular collaborative collections to next-generation materials, the message is clear: sustainability is more important than ever for luxury brands.
Affluent consumers are increasingly pursuing positive changes in their lives and expect luxury brands to do better—for the people and the planet.
Prada debuted its fine jewelry collection made with 100% Certified Recycled Gold.
Balenciaga made a coat from mushrooms (more precisely, EPHEA).
Amongst our favorite sustainable-meets-collab moves of the year (so far), Gucci launched in March 2023 Gucci Continuum, an initiative that invites designers to transform deadstock and previous-season Gucci pieces into limited-edition creations informed by their respective identities. (We love the casual sneakers by Vans). The collaborative collection is available to shop at the Vault virtual concept store on the Gucci website.
While companies like Chanel and Hermès have remained skeptical about resale, others have started to embrace the increasing popularity of the secondhand market—from Balenciaga's Re-sell Program (with Reflaunt) to Gucci Preloved (with Vestiaire Collective).
Retail resurgence
While some retailers have been lost along the way, physical retail is far from dead.
Rather, retail is undergoing a renaissance.
The physical store is still a key component of the retail equation. When done right.
And luxury brands are getting the memo. They are resuming their store-opening plans, redefining the role of traditional boutiques and experimenting with new retail formats.
Luxury brands' experiential flagships (new, revamped, or expanded) create a more immersive and exclusive shopping environment enhanced by architectural delights, carefully selected art exhibits, concierge service, cafés, and a dedicated space for brands to host events for VICs.
Digital dares
The metaverse and NFTs offer new opportunities for luxury brands to connect with younger consumers, generate new revenue, build brand awareness, and test new products and services.
From Gucci to Prada and Balenciaga, top luxury brands are experimenting with Web3 (blockchain-based iteration of the web) and phygital collections—where you can, for example, dress up your avatars in the virtual world and access exclusive drops in the real world.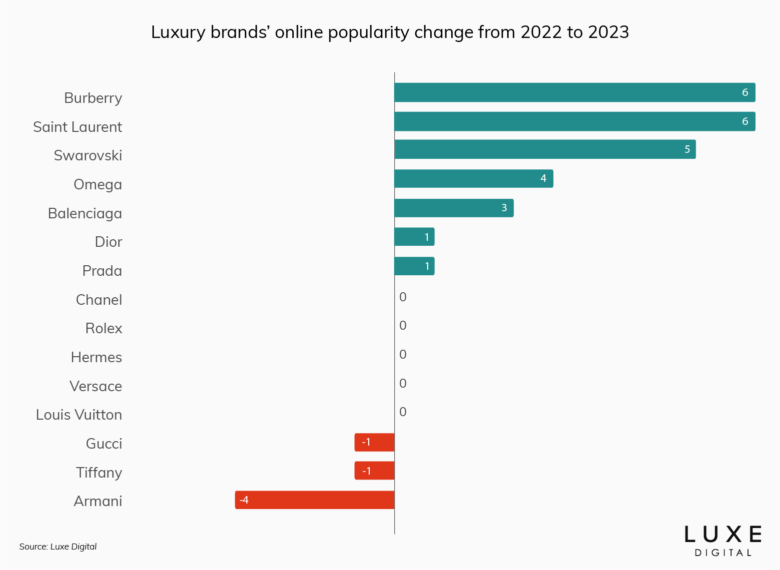 Final thoughts
In the face of changing consumer behaviors and an unpredictable environment, customer centricity and a multi-touchpoint ecosystem are sources of resilience for luxury.
To remain relevant to younger consumers—the driving force of growth for the global luxury market—we think focusing on value-led, conscious elevated living is key.
Delivering a timely and timeless form of meaningful value and empowering expressions of individual identities will widen the lead of the best-performing luxury brands against the poor digital performers.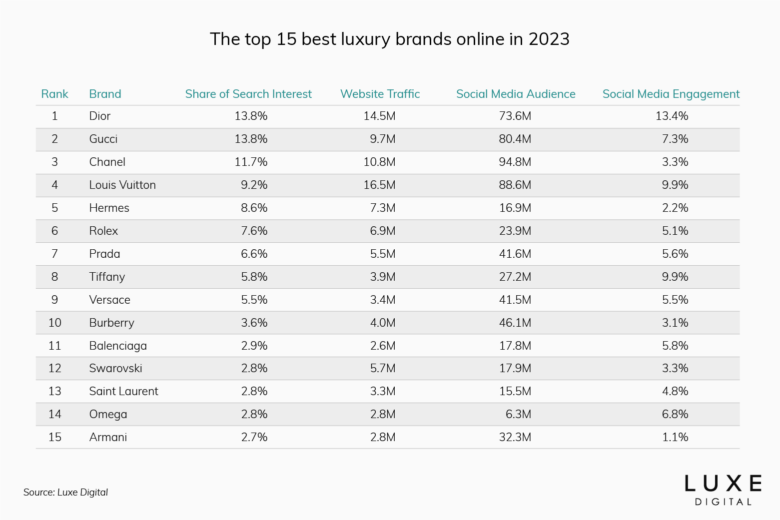 Methodology and sources: How we rank the best luxury brands of the year
Luxe Digital's luxury brands ranking aims to provide real-time and insightful analysis of the most popular brands online. Our ranking offers a clear picture of how each brand is performing online and can help business leaders predict future growth.
With over a decade of experience in luxury and online marketing, our team has a deep understanding of what drives a brand's popularity among affluent consumers. We know how crucial a thoughtful digital marketing strategy is to business growth. Get in touch with our marketing agency to see how you could grow your online presence and create a loyal customer base.
To create this ranking, we start our analysis by using a list from Deloitte of the world's top 100 luxury goods companies based on their consolidated sales.[1] Deloitte's report also includes the group's perspectives on key future trends that will shape the luxury industry and is worthwhile reading for anyone interested in the industry.
We then extract luxury companies from Forbes' top 100 most valuable brands list.[2] Forbes' list is arguably more open to interpretation as it takes into account several data points that are not necessarily consistently available for all brands. When combined with the actual sales figures from Deloitte's reports, however, we were confident that we had a solid starting point.
Next, we use Google Trends to measure actual search interest for each luxury brand online.[3] This year, Gucci continued to dominate the share of search, so we use the brand as the standard against which we measure all the other brands on our list to have a single comparison point.
After observing a significant concentration of the share of search interest among the top 15 luxury brands on our list, we summed up their individual average search interest for 2021 to get a baseline of the total search interest for the top 15 brands. We then calculated a ratio for each brand against that total to get their share of the total search interest.
For each of the remaining top 15 brands, we then used a combination of SimilarWeb[4] and Rival IQ[5] data to measure their web traffic and social media audience and engagement, respectively.
Definitions
Our summary table at the top of this article refers to the following terms:
Share of search interest is calculated based on worldwide Google Trends data. We measure the absolute search interest for each of the top luxury brands during the period, then calculate how much attention they receive compared to the other brands in our ranking as a percentage of the total search interest for luxury brands.
Website traffic is estimated based on SimilarWeb data, using the primary brand domain.
Social media audience is calculated based on Rival IQ reports for each brand as of May 2022. It represents the sum of Facebook Fans, Instagram Followers, Twitter Followers, and YouTube Subscribers.
Social media engagement rate is calculated based on Rival IQ reports for each brand as of May 2022. It represents the total number of engagement actions across all tracked social channels, combining comments, likes, and shares, and divided by the total audience.
Best luxury brands: Frequently asked questions
---
Footnotes and references
You will find below all the sources for our data: