Proving that luxury and affordable can, in fact, be used in the same sentence, Mansur Gavriel harmonizes exclusivity and accessibility. The female-led brand describes Mansur Gavriel bags as guided by nature with art as a muse, craft as a foundation, and color as the language through which the individual wishes to express themself. The end result: a timeless accessory to fit your one-of-a-kind sense of style.
At a glance
| | |
| --- | --- |
| Brand: Mansur Gavriel | |
| Founded: 2013 | Founders: Rachel Mansur and Floriana Gavriel |
| Origin: New York | Industry: Fashion |
| Collections: Women's bags, shoes, and accessories | Website: mansurgavriel.com |
| Shipping: International | Headquarters: California, United States |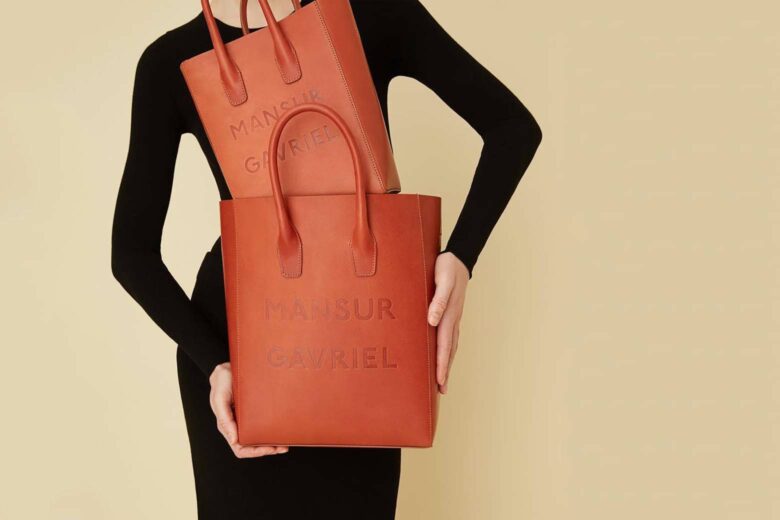 Behind Mansur Gavriel
History of Mansur Gavriel
After serendipitously meeting at a concert in LA, Rachel Mansur and Floriana Gavriel realized that they were kindred spirits—both with an appreciation for high-quality products and simple designs. And more significantly, both of them were struggling to find less-exorbitant handbags that ticked the boxes. As any fashion aficionado will know, nothing serves as a better foundation than a relatable product problem. And as any business women can attest to, nothing ignites an entrepreneurial spirit like a gap in the market—that being, in this case, the lack of luxury seasonless bags at accessible price points.
After two years of back-and-forth experimentation and development, Rachel and Floriana proposed two prototypes at design shows in New York. Their hallmark was simplicity. Their guide was nature. And both models were carefully constructed to harness the power of the vegetable tan leather's natural tannins. That meant no studs, no bedazzles, and nothing vaguely grunge—just the implicit elegance of supple lambskin leather, impeccable attention to detail, and excellent craftsmanship.
Noticed (and ordered) by famed NY-based designer, Steve Alan, the eponymous brand was a success before it even debuted. But even at that time, Mansur and Gavriel couldn't have anticipated the overnight sell-outs and thousands-long waiting lists that were coming their way. Mansur Gavriel launched in 2013 with only two silhouettes—the tote and bucked bag. Catapulting to Instagram cult status, the bucket bag was a street-style star. And after its viral appearance at New York Fashion Week later that year, it emerged as the first-post-recession-it-bag—a title that will seemingly never wear off as the much-loved label continues to fill up our Insta feeds.
Interesting facts about Mansur Gavriel
We don't know many fashion brands that have achieved Mansur Gavriel's overnight success. But we certainly don't know any that have catapulted to Insta-fame with only two silhouettes. Prizing modern minimalism and highlighting the natural elegance inherent to high-quality Italian leather, the luxury label launched in 2013 with only a bucket bag and tote—proving that meticulous attention to detail trumps overly-ornamented fluff and frills.
Thanks to their simple designs, Mansur Gavriel is also effortlessly sustainable as their products naturally avoid landfills. This could be attributed to their 100% sell-out rate and lack of excess stock, as well as their timeless designs that transcend seasonal trends. Whilst many brands would see that as good enough, Mansur Gavriel goes the extra mile to maximize their materials and minimize waste. And in 2022, the female-led brand launched its first-ever up-cycled capsule of woven totes. These eco-chic Mansur Gavriel bags were designed entirely using superfluous scraps from previous collections.
Yes, simplicity is the timeless brand's trademark. But so is one-of-a-kind accessories, which are flawlessly achieved through The Monogram Shop. After choosing your new style accomplice online, you can add a hand-painted monogram to Mansur Gavriel bags, shoes, or wallets. Simply choose from their signature collection of fonts, sizes, and colors for the ultimate personal touch.
On that note, color is Mansur Gavriel's language for differentiation. And whilst their minimalist silhouettes are designed to dress a myriad of unique women, their signature colorways speak to individualistic styles and accessories. This notion of color as a language is further emphasized in their collaboration with Veja. The Veja x MG Collection is a capsule of saturated shoes for sustainably-inclined, minimalist fashion aficionados.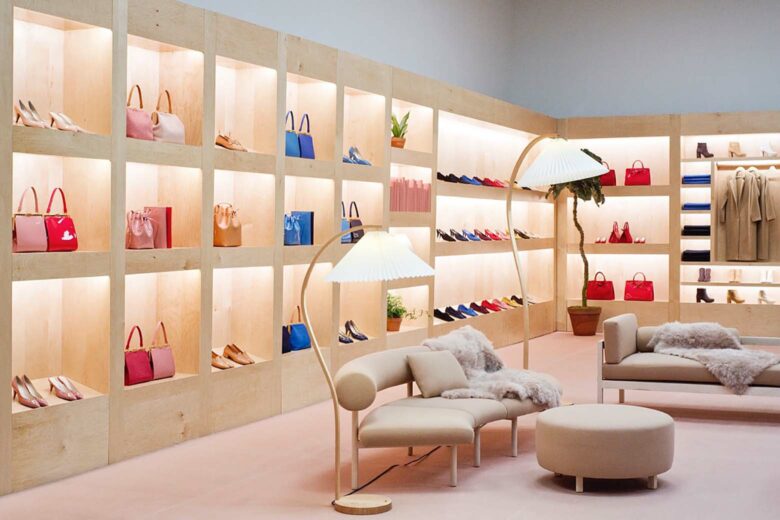 Product range
Since launching in 2013 with only two silhouettes, Mansur Gavriel's product range has grown quite significantly. Featuring some of our best totes for women, their early silhouette comes in a myriad of sizes, colorways, and materials. Their signature bucket bag has similarly been reinvented with contemporary twists, limited editions, and functional differences.
Mansur Gavriel has also extended their accessory line to include some of our best women's wallets, designer cardholders, and crossbody bags. But they have also taken their eye for detail to the world of luxury footwear. And unsurprisingly, their collection of women's shoes already includes some of our most comfortable flats, heels, and ankle boots.
Signature materials and craftsmanship
Determined to create a product that was seasonless, sustainable, and affordably priced, Mansur Gavriel prioritizes high-quality and ethically sourced materials and manufacturing processes. And even as their bags flew off the shelves and their demand far exceeded their ability to supply, these were areas in which they refused to compromise.
Mansur Gavriel started with a vision to harness the natural elegance of vegetable-tanned leather, achieved through meticulous attention to detail. Their vision also included color-blocking the interiors and exteriors—which of course could only be perfected by a country in which artisanal craftsmanship is a storied, generational livelihood. As a result, all of Mansur Gavriel's products and materials are made in Italy. And whilst meeting their impossibly high standards for quality and style, they are simultaneously supporting small family-run businesses.
Mansur Gavriel is always looking forward and exploring new sustainable alternatives. Their packaging is ever-evolving into even smaller, more recyclable iterations. And they only use vegetable-based ink printing on their boxes. Similarly, they're committed to maximizing material use and minimizing waste through a variety of sustainable initiatives. Our favorite example of this is their use of archived leather trimmings to create an elegant capsule of upcycled woven totes. Not only are the bags timelessly exquisite, but they're also environmentally conscious.
Where are Mansur Gavriel bags made?
Designed in New York, Mansur Gavriel bags are at the forefront of everything fashion. The considered silhouettes are masterfully sketched to accommodate the modern, professional woman, meaning that they have ample space for essential digital devices such as laptops and oversized iPhones. But whilst designed with a forward-thinking mindset, the timeless pieces are manufactured in Italy using century-old artisanal techniques and only the highest quality materials.
Brand values
| | |
| --- | --- |
| Vegan options | Yes |
| Carbon-neutral | No |
| Gives back | Yes |
Who wears Mansur Gavriel?
Influencer, Garance Dore may have been partially responsible for skyrocketing the burgeoning brand to fame after its debut, but these days Mansur Gavriel seems to be on every it-girl's radar. Kirsten Dunst is counted amongst its fans. And she has been seen sporting the flamma Mansur Gavriel Bucket Bag on more than one occasion. Kate Bosworth has also made her affiliation with the brand known, styling the raffia Mansur Gavriel Cloud Clutch.
And whilst it's obvious that the designer label is A-list-approved, we're even more impressed by Mansur Gavriel's determination to make luxury accessible to hard-working fashion aficionados everywhere.
Our favorite finds from Mansur Gavriel
Mansur Gavriel Bucket Bag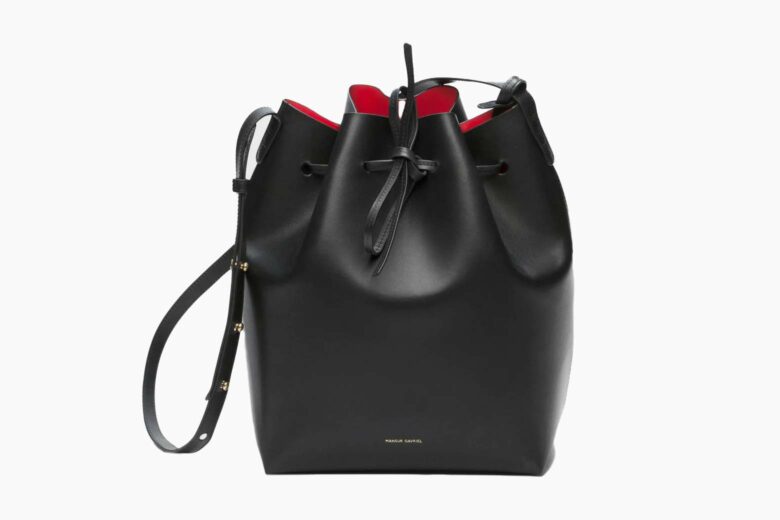 It's the influencer bag that went Insta viral overnight. And let's face it, the Mansur Gavriel bucket bag looks almost too good to be an everyday basis. It kind of seems like an accessory to save for big occasions and standout-style moments. But then again, there's no reason to hold back on your day-to-day, especially when it's also likely to be the most practical bag in your rotation. We adore the Mansur Gavriel bucket bag draw-string silhouette. But for us, the real hero is its unique ability to fit a 13" laptop without feeling uncomfortably full.
Mansur Gavriel Tote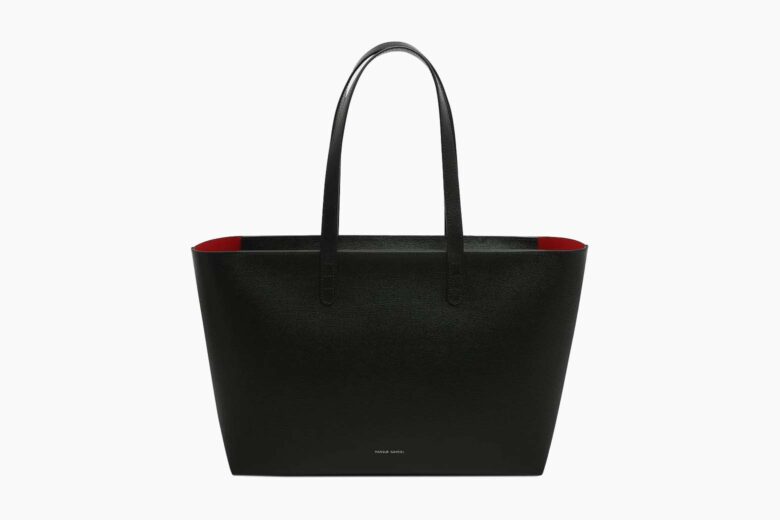 Being one of only two silhouettes to debut the luxury handbag and shoe brand—and to see to its overnight success—this Mansur Gavriel bag will forever remain one of our quintessential capsule wardrobe classics. The modern minimalist style reflects everything the timeless label stands for and conveniently complements any ensemble. But it's the meticulous attention to detail that really sets it apart as a designer bag. The zip closure has prevented unwelcome (and rather embarrassing) spillages over many commutes. And even though we've featured the small size, we're constantly amazed by just how much the Mansur Gavriel tote holds—yes, even your 13" laptop. We think Mary Poppins would approve. 
Mansur Gavriel Lady Bag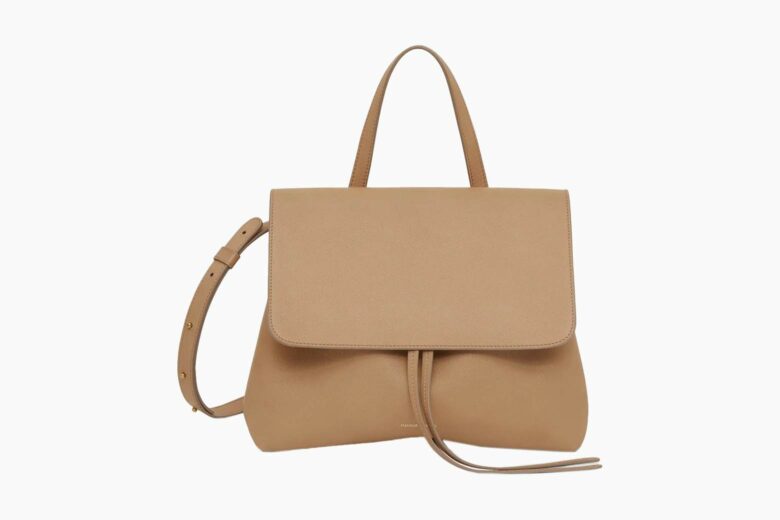 Ooh but it is just so soft and sumptuous. Naturally, the Mansur Gavriel Lady Bag oozes grace and femininity—an attribute that we struggle to find amongst other minimalist silhouettes. Some days (most days), we just need a poised accessory to complement our laid-back distressed denim and oversized tees. And on those days, this Mansur Gavriel elegant bag is our first port of call. Whilst it maintains an effortless sophistication, it's also hugely practical with zipped-up internal pockets and plenty of space for an iPad. We also love that it has a top handle and comes with a detachable crossbody strap.
Mansur Gavriel Cloud Clutch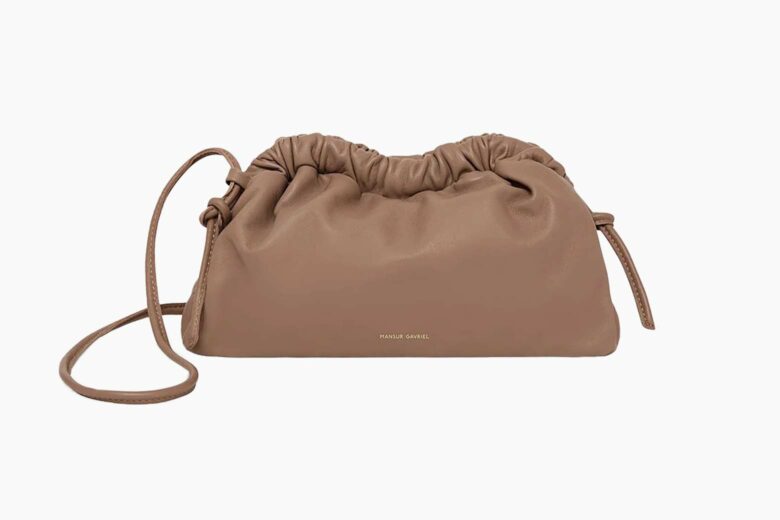 The Mansur Gavriel Cloud Clutch is comparable to Bottega Veneta's iconic Donna Busta—all but in price. And if you've been eyeing the gorgeous style for a while but can't quite splurge that much, Mansur Gavriel's supple iteration is a fantastic alternative. In fact, we almost think it's better—at least when it comes to functionality. The unique curved frame not only evokes the feeling of floating on clouds, but it also has the uncanny ability to hold much more than you would imagine. We've used our Mansur Gavriel Cloud Clutch to carry a wallet, iPhone Max, keys, glasses, and lipsticks and the slouchy shape doesn't look overpacked. Plus, the adjustable side straps are a quintessential detail for when hands-free crossbody navigation is required (yes, we're talking about canape and cocktail hours).
Where to buy Mansur Gavriel
Various Mansur Gavriel iterations are available on reputable e-retailers such as Farfetch, Luisaviaroma, and Net-a-Porter. But to truly appreciate the brand's diverse collection of styles, sizes, colorways, and accessories, we recommend shopping on Mansur Gavriel's official site. Navigation is effortless. And whilst scrolling through their myriad of styles is one of our best pastimes, it is also easy to find exactly what you're looking for with filtered searches.
Mansur Gavriel price
Mansur Gavriel is pioneering the concept of "affordable luxury" with timeless, high-quality pieces that are priced well below other affluent designer brands. Their little accessories such as card holders and wallets are priced from $53. Their best-selling bucket bag is $765. A pair of ballerina flats cost $545. And their most expensive bag is the Everyday Tote Bag in natural shearling, priced at $1,125.
Mansur Gavriel shipping
Mansur Gavriel is unique in that it provides free international shipping. Addresses within the U.S can expect their orders to be delivered within 2-7 business days. Whilst addresses outside of the U.S should expect 3-7 business days. After ordering, you will receive an email with your tracking number so that you can track your order at any time. Next-day delivery comes at an additional cost of $50.
Mansur Gavriel's return policy
Mansur Gavriel has a longer money-back guarantee period than most e-retailers. In order to receive a full refund, the product must be returned unused, in its original packaging within 30 days of purchase. However, any items bought on sale cannot be refunded or exchanged. Returns are free of charge internationally.
Frequently asked questions about Mansur Gavriel
What is Mansur Gavriel known for?
Mansur Gavriel is best known for its signature, Insta-famed bucket bag. The luxury label launched in 2013 with only two silhouettes—the tote and the bucket bag. It quickly became an overnight success with instant sell-outs and long waiting lists. Today, it is known for its range of affordable luxury bags, shoes, and accessories for women.
Is Mansur Gavriel French?
Whilst the eponymous brand does have a French ring to it, Mansur Gavriel was actually founded in New York. Today it is based in LA. Although all of the brand's materials are sourced in Italy, and all of their luxury bags, shoes, and accessories for women are handcrafted by highly-skilled Italian artisans.
Does Mansur Gavriel use real leather?
Yes, Mansur Gavriel uses the highest quality, ethically sourced, vegetable-tanned leather from Italy. However, they also have vegan options in many of their styles.
Is Mansur Gavriel a luxury brand?
Mansur Gavriel is a luxury brand with a more affordable price point. Their timeless products are handcrafted in Italy, using only the highest quality materials. And whilst their luxury bags, shoes, and accessories rival affluent labels in style and quality, they are priced to be more accessible to fashionable women everywhere.
Mansur Gavriel social media profiles